Shimmering blue and green waters reflect the passing white clouds of an azure sky. At its center, Lake Tahoe measures 1,644 feet deep, making it the second deepest lake in all of the United States. Driving up the rugged mountainside, you'll wind your way through 71 miles of scenic shoreline. You've got found the perfect spot to pitch a tent; Lake Tahoe camping offers some of the best views all around.
Where are the best spots for Lake Tahoe camping? Well, it depends on who you ask. The horned peaks framing the lake are year-long destinations for travelers who seek its shores. And three out of every four days, the sun is shining. So you really can't pick a bad spot. Luckily for you though, we're here to show you nothing but the best.
The Best Spots for Lake Tahoe Camping
Lake Tahoe is the ultimate adventure spot. Travelers come from around the world to its sunny shores to experience all the wonder of the great outdoors. In the summer, swimming, kayaking, boating, windsurfing, stand up paddling (SUP), and other water sports take over the scene. For wilderness adventures, hikers, campers, and backpackers dot the scene.
If you ask us, Lake Tahoe camping is at the top of our list. All 71 miles of shore offer spots for campers, so you won't be competing for the best spot to set up shop. Whether you've had your eye set on South Lake Tahoe camping or you're looking for RV campsites, we've got you covered.
1. The Best South Lake Tahoe Camping
Credit: Yelp
If you're looking for some South Lake Tahoe Camping spots, look no further than Camp Richardson. The stunning location and amenities make it the perfect spot for a family vacation. Close to the water, you'll find prime RV and tent sites while a nearby path leads adventurous bikers out to explore the lovely greenery of the forest.
The kids will certainly appreciate the ice cream parlor next door; it's a great one at that. Also nearby, you'll find a mountain center with bike rentals and boat rentals at the conveniently located marina. Just make sure you keep in mind that Camp Richardson has a strict no-pet policy. So if you're looking for a place to bring your pup along, this isn't the spot for you.
2. Pet-Friendly Lake Tahoe Camping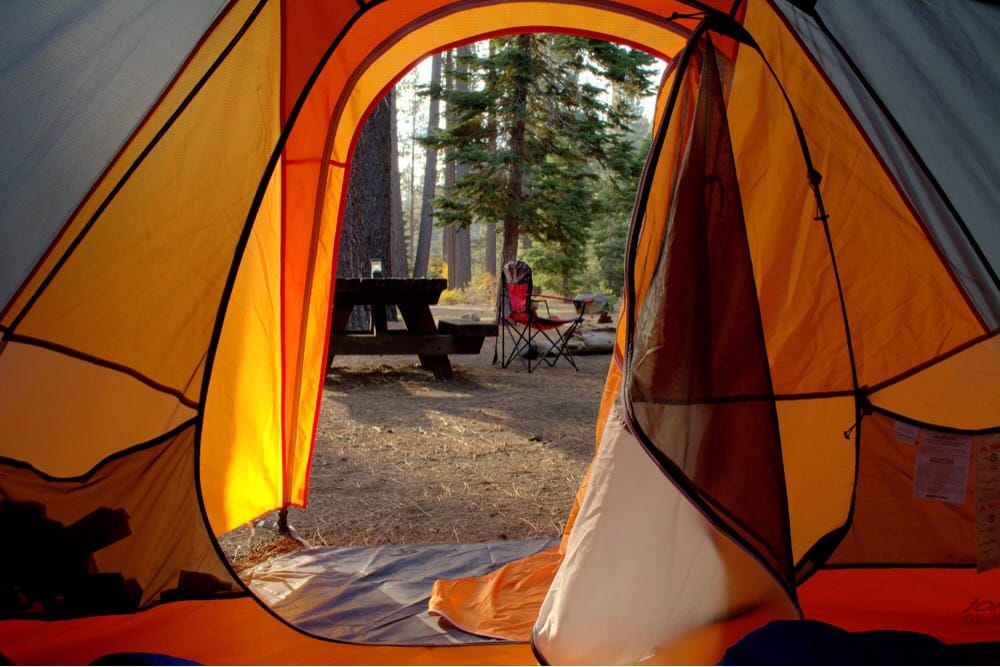 Credit: Yelp
In the chance you are looking for a pet-friendly campsite, Fallen Leaf Campground offers a safe place for Fido. Ideally located along the north shore of the Fallen Leaf Lake and adjacent to Taylor Creek, it offers a scenic escape from the crowds and a great base camp to explore all the recreational sites in the area. Just a heads up, it's not completely off the grid. Fallen Leaf is still a pretty popular campground and tends to fill up quickly. So, if you're interested in booking a more private campsite nestled amongst towering native pine, aspen, cedar, and fir, this could be the spot for you.
While Fallen Leaf Campground doesn't offer lake views, it does offer some pretty great opportunities nearby for boating, tubing, windsurfing, and waterskiing. While fishing is available at both lakes, you'll definitely have better luck over at Lake Tahoe.
3. The Best Beachside Lake Tahoe Camping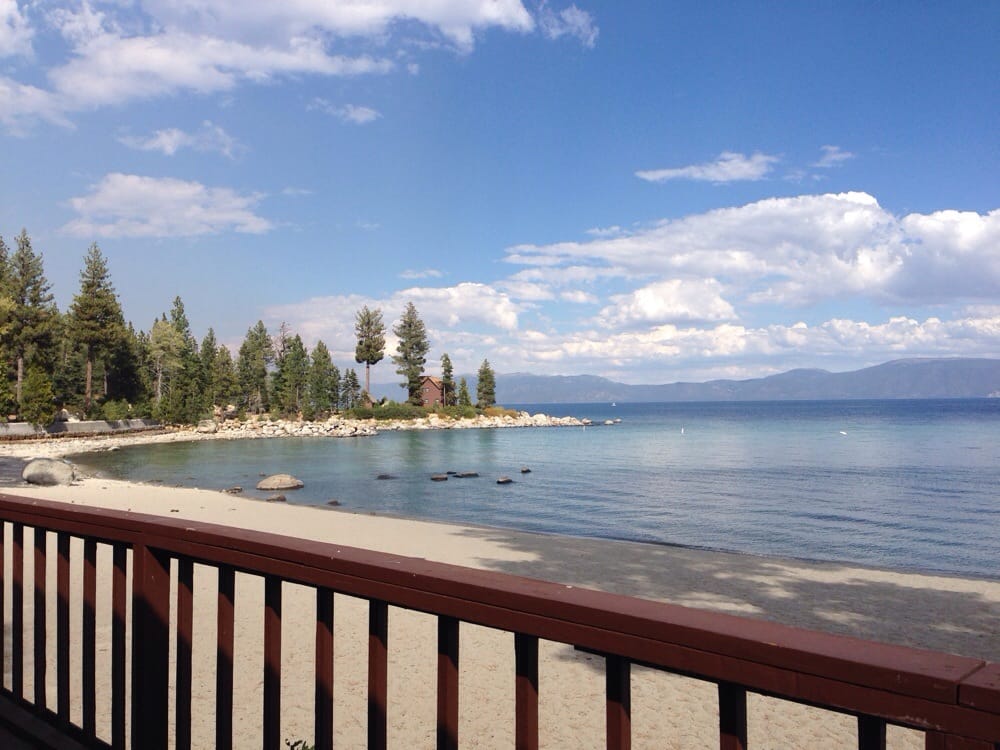 Credit: Yelp
If you're all about the views, you won't find any more beautiful than the ones at Meeks Bay Resort. The stunning white sand beach and vibrant turquoise waters definitely look more like a scene from Santorini than a stretch of land straddling the California/Nevada border. Meeks Bay Resort is located on the west shore in California, 20 miles south of Tahoe City.
Throw down your towel and work on your tan or head to the water for some adventure. At the adjacent marina, you can rent kayaks, pedal boats, stand up paddle boards (SUP), and powerboats. While there are plenty of RV and tent sites available, this is one of the most popular spots in Lake Tahoe, so you should make your reservation far in advance. For those who prefer indoor lodgings, there are also cabins available for rent. Last but not least, pets are not allowed at Meeks Bay so make sure to leave your pup at home.
Related Article: ​11 Things to Do in Lake Tahoe This Summer​​​
4. The Best RV Site for Lake Tahoe Camping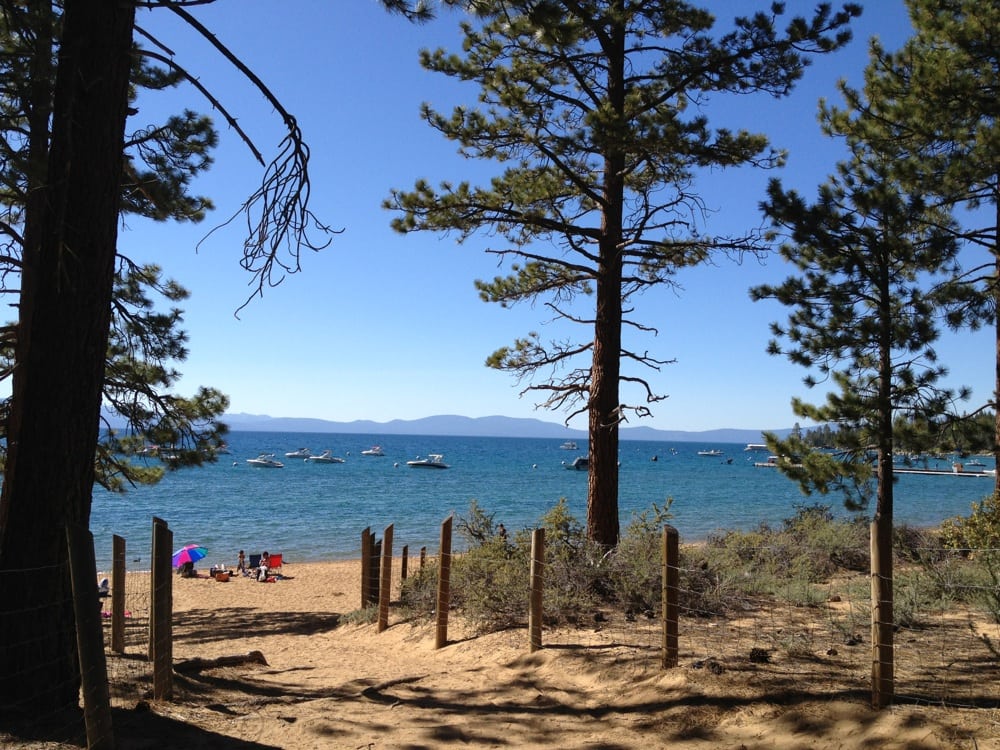 Credit: Yelp
Don't worry about finding a place to park that massive RV, we've got you. If you're looking for the best RV site for Lake Tahoe Camping, it's Zephyr Cove Park – hands down. This lovely beach and full-service marina are conveniently located next to everything you might need. You'll find this park on the south side of Lake Tahoe, just across the street from the beach.
All of the RV sites are fully-equipped with hookups, including cable and Wi-Fi. Families, in particular, will love the camping experience with all the comforts of home. Did we mention that the main house even has heated floors and a coin laundry service? This is super helpful if you plan on spending a few days or more on-site and don't want to feel too grubby (we all know how it is).
Here's our pro tip: When booking your site, check and see if 178 or 179 are available. Both back up the gorgeous surrounding forest and offer the quietest places to stay.
Last but certainly not least, catamaran trips depart daily from the Zephyr Cove Marina. Couples, we're talking to you – what better way to enjoy the beauty that Lake Tahoe has to offer than a sunset champagne cruise?
5. Boat-In Lake Tahoe Camping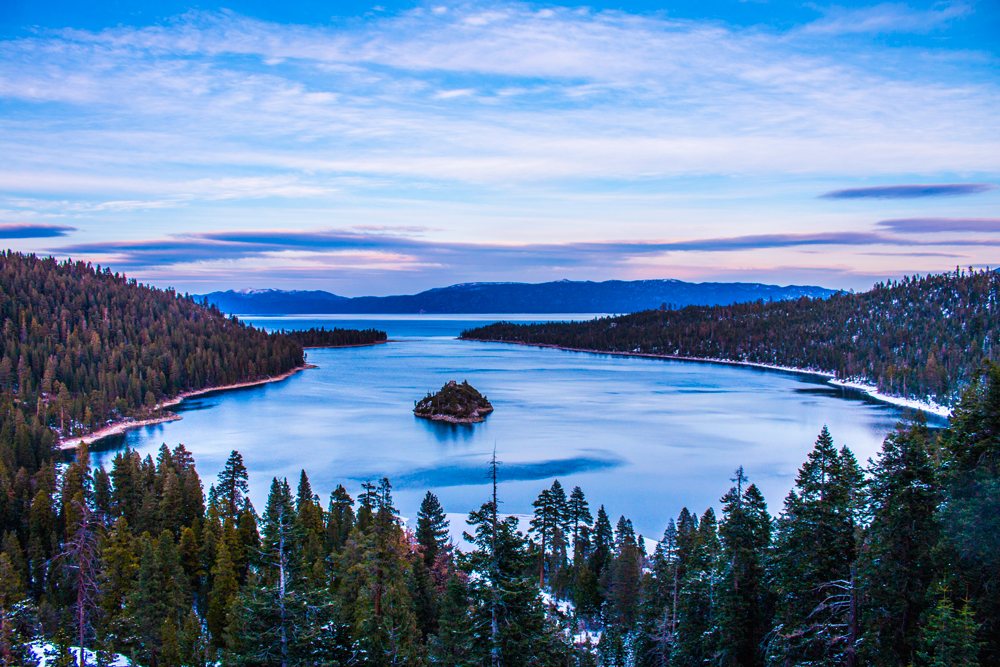 Credit: Yelp
We bet you didn't even know this was a thing. We'll admit we just found out about it too. Located at the north end of Emerald Bay State Park, this campsite can only be reached by boat; there are no connecting roads to the campground. This is truly a one-of-a-kind experience where you can enjoy all of the natural beauty without the crowds. What's more wonderful than a scenic wilderness area to yourself?
Emerald Bay Boat Camp is perhaps most famous for its shimmering gem-toned waters. It's also one of the most popular sites for daily boat tours and a prime location for bald eagle watching. Believe it or not, sightings of these majestic birds are actually pretty common.
All in all, there are twenty-one lakefront campsites and a shared boating dock. We've said it before and we'll say it again. Book months in advance. To get to this secluded campsite you can either launch your own boat or take advantage of the rentals at one of South Lake Tahoe's many marinas. Just be prepared to get a little wet on the way.
6. Best Lake Tahoe Camping for Cycling Enthusiasts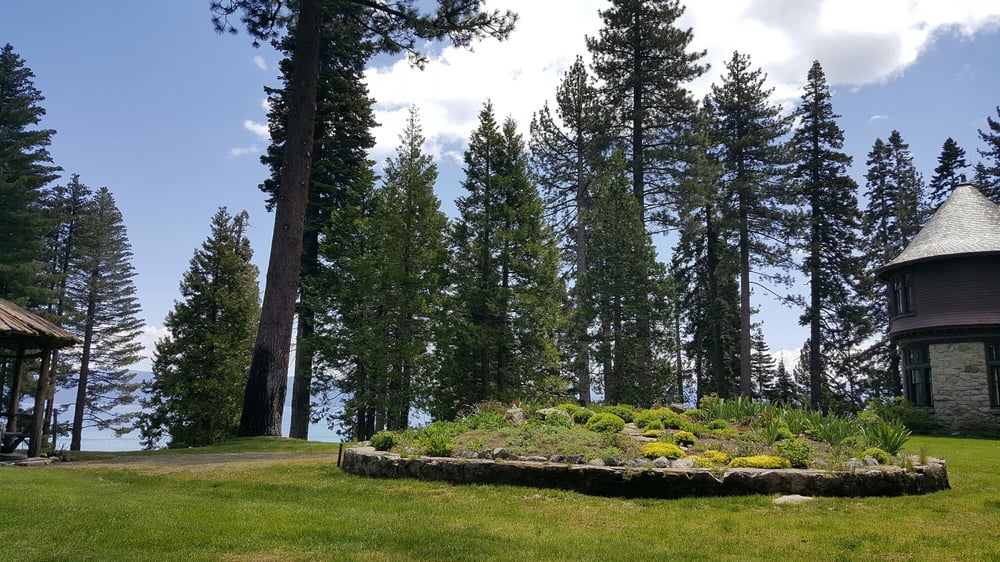 Credit: Yelp
If you're one of those people that brings your bike pretty much everywhere, stop your search and book a stay at Sugar Pine Point State Park. This quiet wooded scene is excellent for tent camping. A small, clear path is perfect for cyclists and mountain biking enthusiasts. What better way to get a workout than riding around the beautiful shores of Lake Tahoe? While all of the sites are gorgeous, there's one loop that stands leagues above the rest. The 126-175 loop takes riders up to the lovely Lily Pond (which is a pretty great spot for photo ops too by the way).
If you're looking for a longer route, head out to the paved bike path connecting Sugar Pine Point State Park and Tahoe City. It's about 10 miles long and quite the popular route. The lakeshore at Edwin Z'berg National Preserve is just a short ride away or a ten-minute walk from the campground.
7. Best Lake Tahoe Day Camping Spots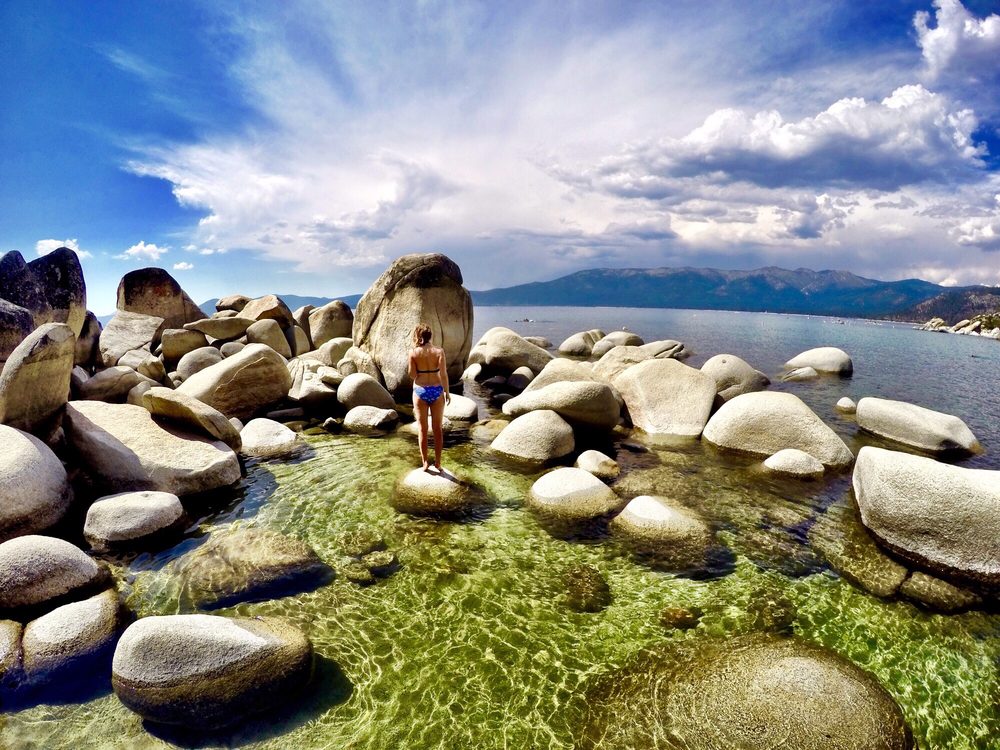 Credit: Yelp
Think sandy beaches, rocky coves, stunning turquoise waters. The natural scenery and plenty of amenities make Sand Harbor the perfect spot for day camping at Lake Tahoe. Located on the eastern shores, you'll find warm shallow water and a fun environment, perfect for families. There's also a nature trail for hikers, picnic area, and a conveniently-located marina with kayak and boat rentals.
If you're interested, there's a fun annual Lake Tahoe Shakespeare Festival and bi-weekly lakeshore concert schedule to keep you busy with activities. Keep in mind that a daily Nevada state park fee is charged for entrance.
Book Your Vacation Now and Enjoy the Best Spots for Lake Tahoe Camping
Summer's coming up fast and the heat waves are already rolling in. If you're looking to book the best spots for Lake Tahoe Camping, now is the time. Whether you're looking to hit up the hot spots or opt for something a bit more secluded, the 71-mile stretch of coast offers it all. We hope you enjoyed learning about our favorite picks for places to camp in the Tahoe area. Now go book that spot and go on your new adventure!
Do you have any questions or comments for us? We'd love to hear from you. Feel free to leave us a message in the comment section below.
Related Article: How to Find Awesome Free Campsites in the US (and Canada)