You've been hiking around Big Sur for the past few hours and wish you could stay longer. No one told you about the beauty of Mcway Falls. Instead of leaving in the afternoon, you decide to help yourself to the free camping spots and pitch a tent. Enter the MSR Hubba Hubba NX, a quintessential 3-season backpacking tent.
Your hiking prayers have just been answered in the form of a tent – the MSR Hubba Hubba NX. It's time to pitch a tent and go camping. While this may sound silly, just listen. It's incredibly easy to set up. It's not one of those annoying ones that keep collapsing as you fumble around in the dark muttering to yourself like a madman and scaring all the other campers. It's incredibly easy to set up, lightweight and has two doors, so you can come and go as you please without disturbing your partner. While it may look smaller on the outside, the pool configuration creates a roomy interior with nearly vertical walls and excellent livability. 
Better yet, with a weight of only 3.5 pounds, it won't be too heavy to carry along with you as you find that perfect place to set up shop. To say nothing of MSR's design job would be a shame. We really have to hand it to them on this one. If you're looking for a comfortable and lightweight tent to take on your next adventure, the MSR Hubba Hubba NX should definitely make your shortlist.
MSR Hubba Hubba NX Tent Setup and Design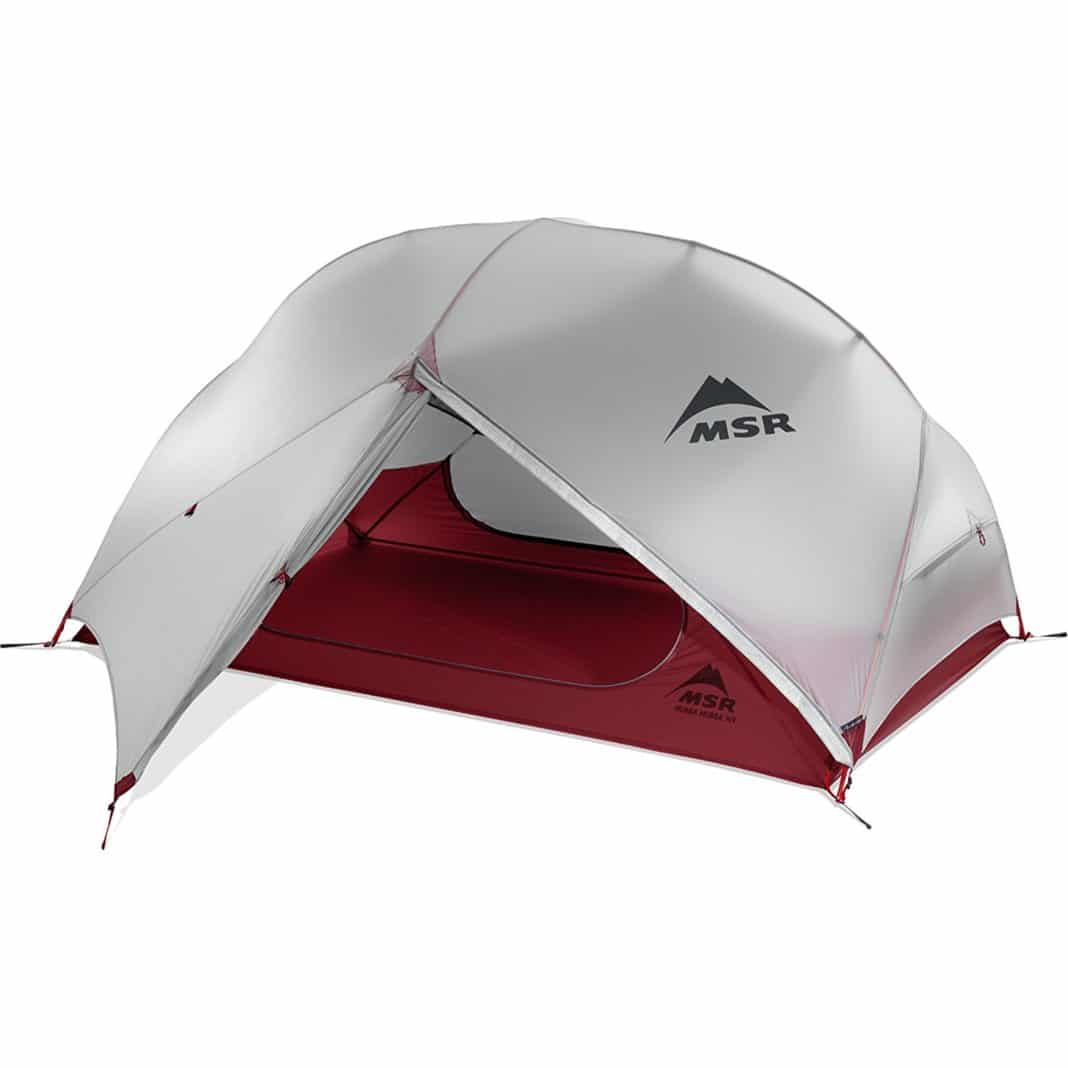 Credit: Amazon
Let's take a look at the tent's setup and design, shall we? We've said it once and we'll say it again. Setting up the MSR Hubba Hubba NX is incredibly easy. Seriously, you'll be thanking your lucky stars. It's basically the tent version of Martha Stewart's magical food she puts in the oven and then… *ding!* It's ready. The tent comes with a segmented tentpole with two hubs and a roof cross piece. These unfold to form the exoskeleton of the inner tent. Each corner is attached to a small piece of metal hardware with a hole drilled through it. The other has a webbing strap attached to it and is used to stake out the tent. 
The tips of the tentpole slide into these holes easily, forming a curved arch. You attach the inner tent to them using sturdy plastic clips. The roof cross piece is attached to the long multi-segmented pole, so it can never be lost. It clips into two other plastic connectors right above the inner tent doors. Since the segmented pole can be a bit bulky to pack, we recommend tying it to the outside of your backpack if you're short on space.
A Quick, Painless Setup
All in all, this setup is quick, painless, and you probably won't even have to read the instructions to set it up – even though you kind of just did. If you need to take a look though, they are attached to the sack the tent comes in. So even if you wanted to lose them, you can't. It's foolproof.
Next, you're going to want to drape the exterior cover over the skeleton of the tent. There are color codes in grey and red to ensure you match the fly corners in the right direction. Once that's done, go ahead and stake the corners and tighten the webbing straps. After that, stake out the tent vestibules. The MSR Hubba Hubba NX requires two or more tent stakes for the vestibules. We recommend staking out the corners with at least four or more stakes. Over the vestibule doors, there are additional guy lines you can employ to give the tent additional stability in windy or stormy conditions.
MSR Hubba Hubba NX Weatherproof Quality
Credit: Amazon
The MSR Hubba Hubba NX has also added rain gutters to keep you dry inside and the rain outside your doors. These rains gutters are simply extensions to the fabric flaps over the vestibule zippers. They help to channel the flow of water running down the fly fabric. Perhaps more important, the vestibule zippers are designed to run along the sides of the tent, not the middle. This makes it easy to come and go without having to crawl over your gear or brush against a wet door. This is just one example of how thoughtfully this tent is designed.
So take it out in rain or shine. You'll stay dry. If you're going somewhere colder, make sure to bring insulated sleeping bags for extra comfort. This tent is surprisingly warm though. You won't need much to make it a comfortable stay. Just make sure you don't bring too much gear. The tent is fairly spacious but too much gear can make it overcrowded.
MSR Hubba Hubba NX Fast Fly System
Credit: Amazon
Worth noting is the fast fly system. In short, you can just pitch the fly without the inner tent on the MSR Hubba Hubba NX, using the aforementioned pole and clip system. This means you'll set up the fly first and the inner tent second. It'll help prevent the interior from getting wet if there's a slight drizzle. This is a big improvement over other tents that require you to purchase an additional footprint for fast fly options. 
MSR Hubba Hubba NX Livability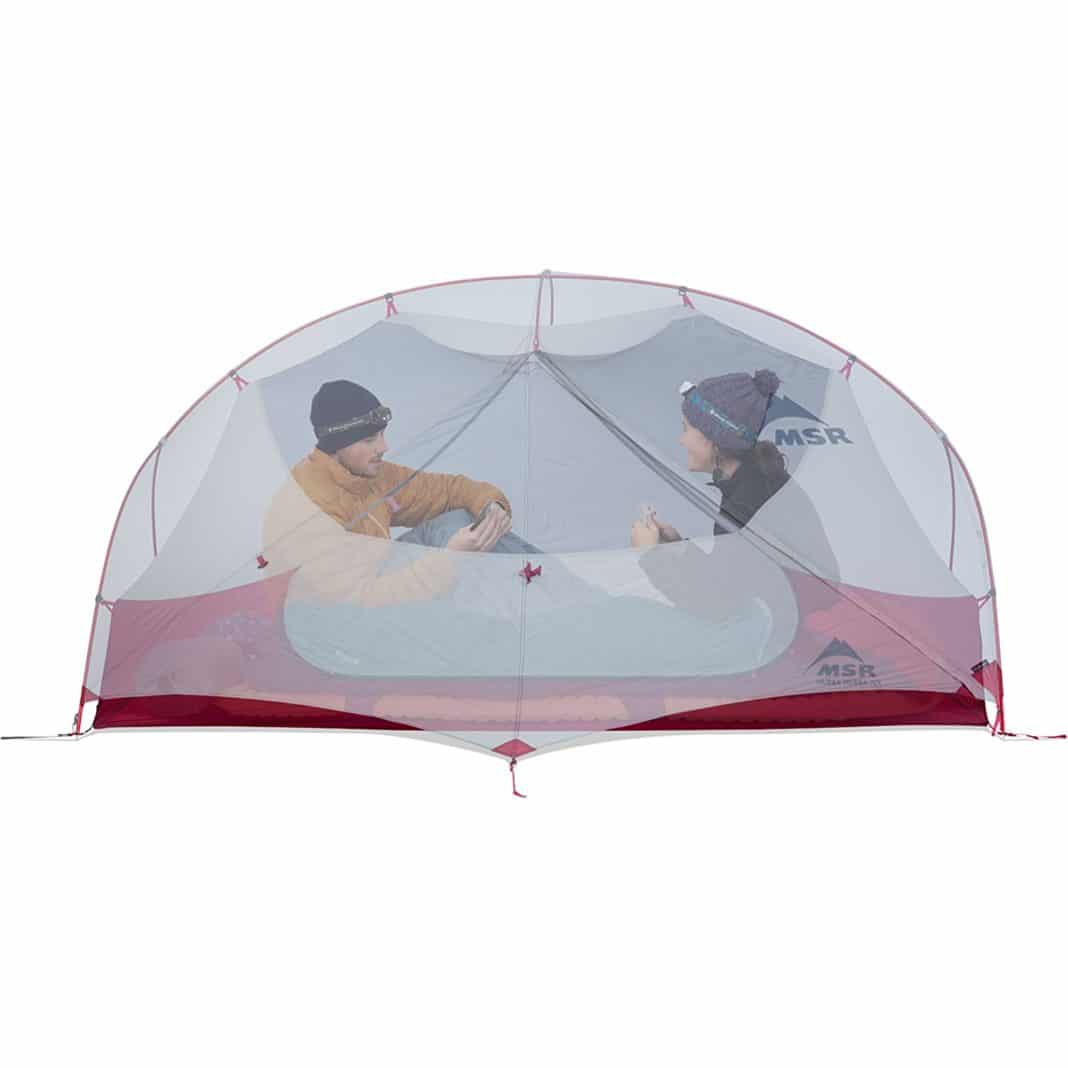 Credit: Amazon
Don't get too excited. We're not telling you to ditch that $2,000 a month apartment rent and go live the nomad life in a tent. We're just saying the MSR Hubba Hubba NX is pretty livable. The interior isn't tapered at the ends but rather, rectangular, giving the interior a very spacious feel (aka you don't have to be pressed right against your partner as he snores at night). The ceiling is high enough so you can comfortably sit up in it, measuring 34" at the ends and 40" at the center. Last but not least, the nearly vertical walls make it easy to move around without constantly bumping into the ceiling. 
Amazon cites the measurements at 84 x 50 x 39 inches. We think it might feel just a tad roomier. Either way, the width of the tent can be a bit snug if you're sharing it with a partner. Most backpackers carry 20" width sleeping bags to reduce weight and crowding. We think this is a pretty good idea. Don't try to fit a bigger one in here; it's not going to work comfortably.
The tent's internal storage is pretty sparse. However, the interior is long enough that you can store a small amount of gear for easy access. In addition, the side vestibules are large enough to store high-capacity packs without blocking ease of door access.
MSR Hubba Hubba NX Durability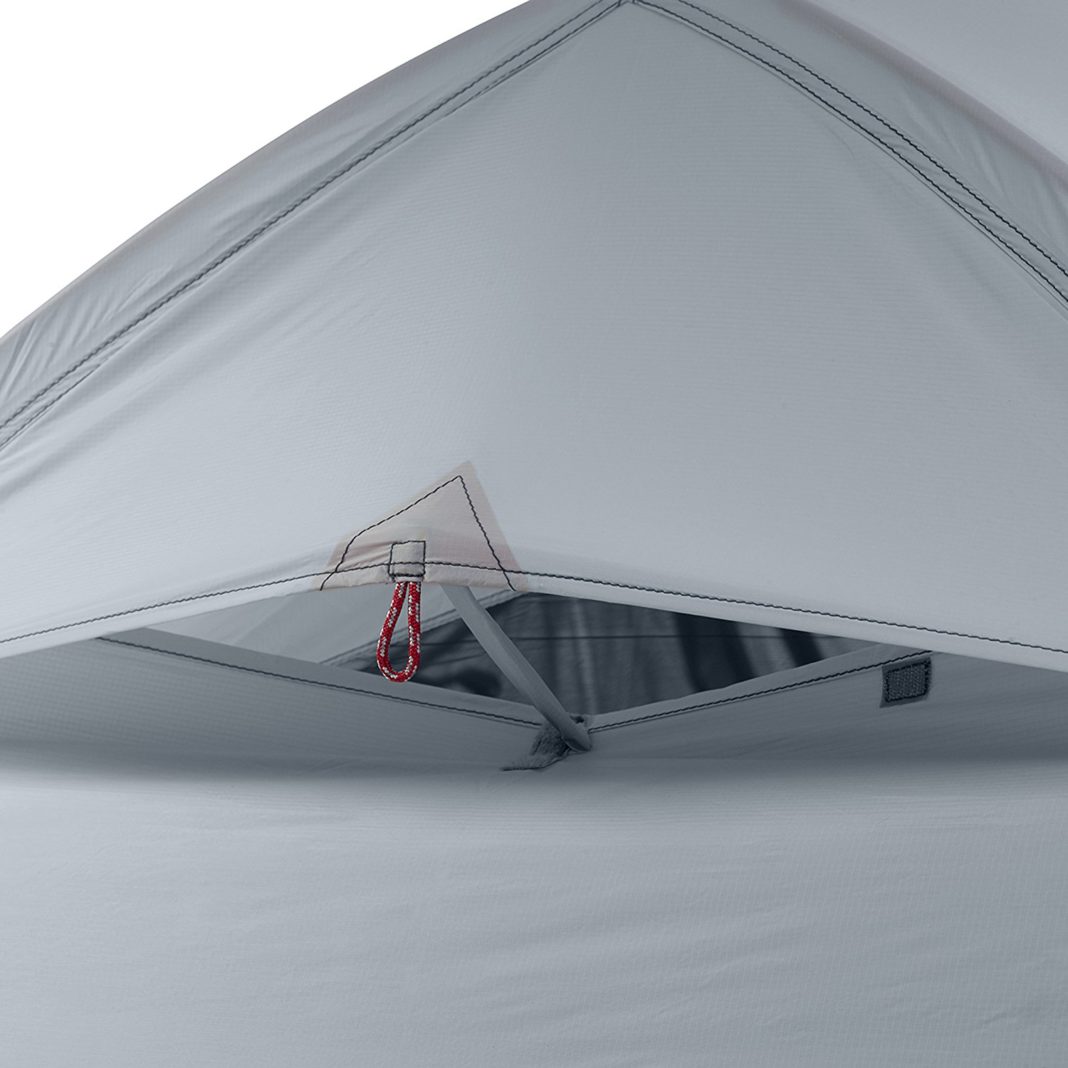 Credit: Amazon
The MSR Hubba Hubba NX is much more durable than its competitor ultralight Tarptent Double Rainbow. We'll just be honest. MSR has sacrificed durability for lightweight weather-resistant performance. In moderate winds, it is a great find. The site selection and proper setup are very important with this tent to prevent it from being damaged. 
Pros: 
check

Easy to set up

check

Dual doors

check

Rectangular, non-tapered floor

check

Fast fly option does not require footprint purchase
Cons: 
check

Bulky tentpole, difficult to pack internally

check

On the heavy side for a 2 person backpacking tent w/minimum of 6 tent stakes)

check

Lightly colored rain fly lets in a lot of light on moonlit nights

check

Requires careful rolling to use included storage sack.
Key Specifications
check

Minimum weight: 3 pounds 4.6 ounces (without stakes or stuff sacks)

check

*Trail weight: 3 pounds 6.6 ounces (including 6 stakes)

check

Product weight: 3 pounds 11.3 ounces, including all components.

check

Rain fly: 18.9 ounces

check

Tent stuff sack: 2.7 ounces

check

Tent stakes (10): 3.46 ounces, MSR needle stakes; minimum 6 stakes required

check

Floor fabric: 30D ripstop nylon 3000mm Durashield polyurethane & DWR

check

Number of doors: 2

check

Fly fabric: 20D ripstop nylon 1200mm Durashield polyurethane & silicone

check

Tent stake bag: 0.1 ounces

check

Pole sack: 0.5 ounces

check

Inner tent 18.9 ounces

check

Poles: 14.8 ounces
Alternative Camping Tents 
If you'd still like to shop around a little before you make your purchase, here are some alternative camping tents that travelers love. 
Black Diamond Hilight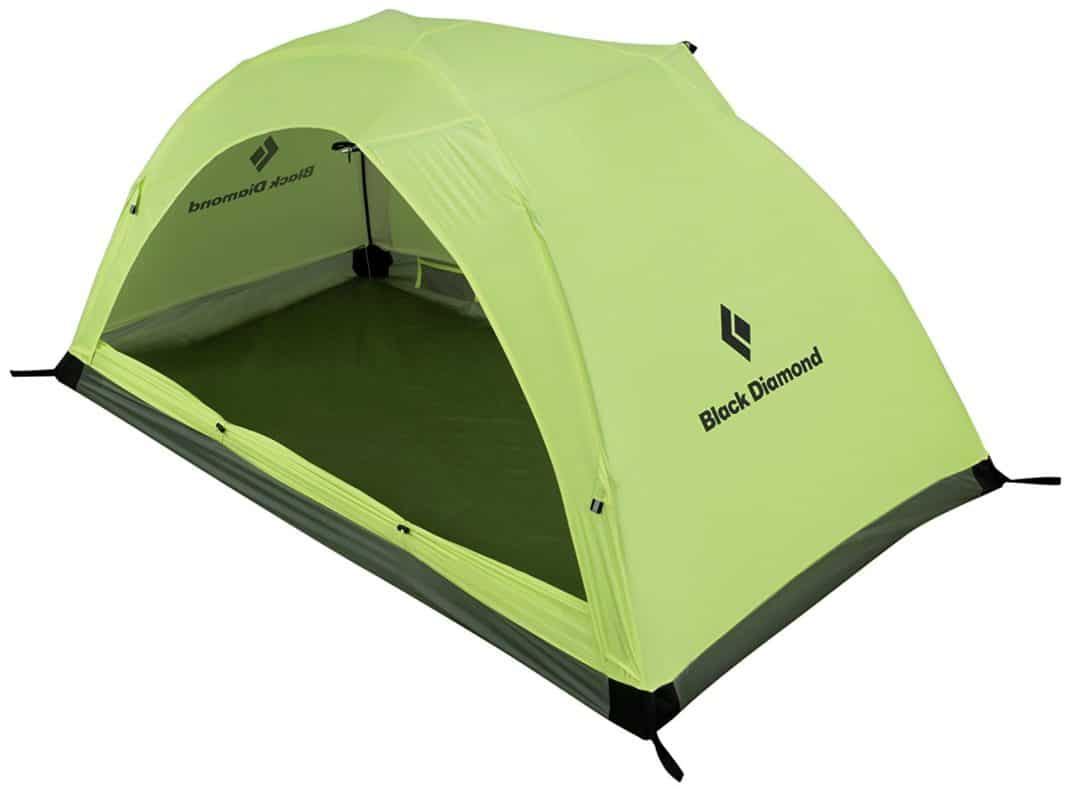 This lightweight water-resistant tent offers a comparable alternative to the MSR Hubba Hubba NX. It's a bit more spacious than the MSR version, offering a little more room to traveling couples. In addition, it offers mesh windows on the door and back wall for ventilation.
Coleman Sundome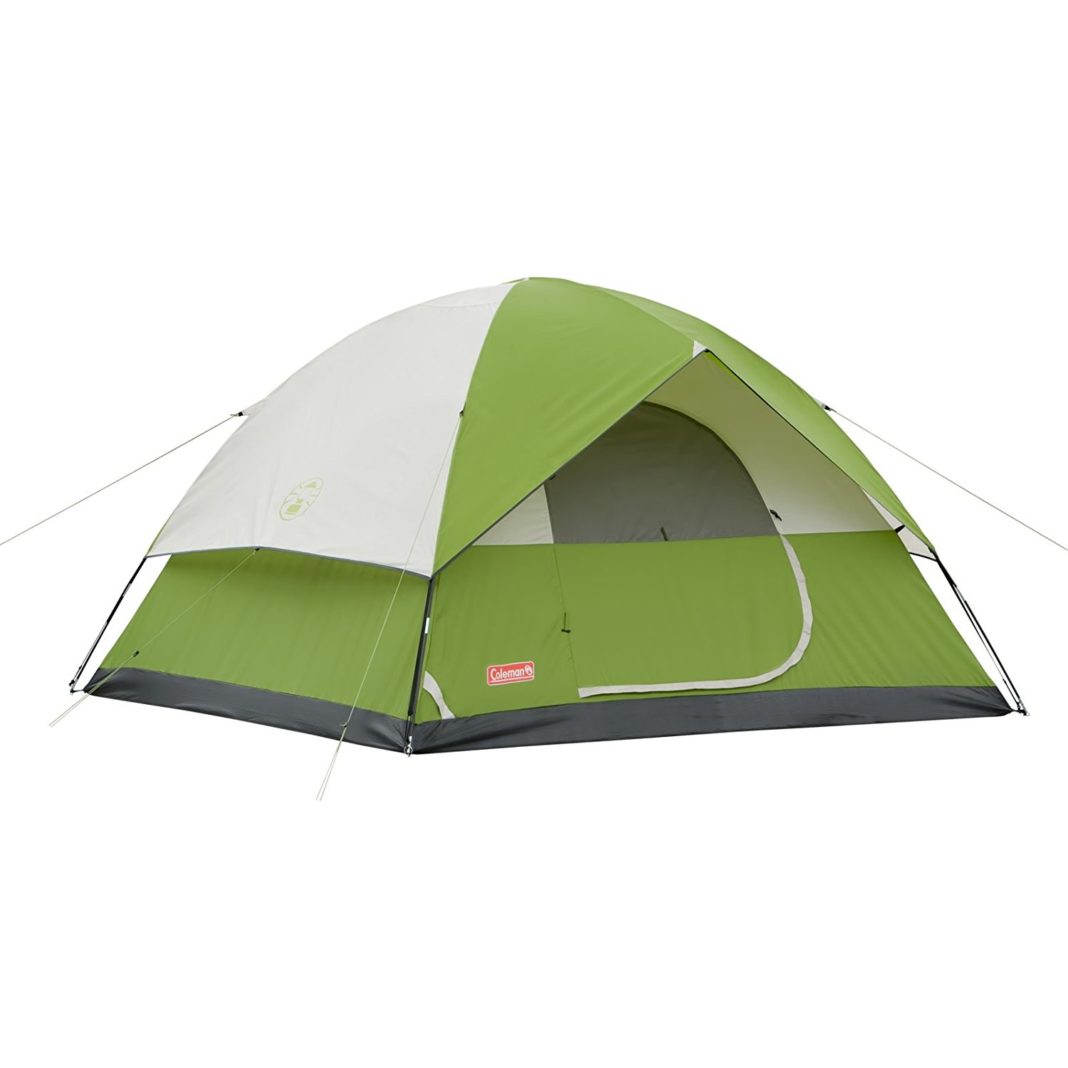 If you're looking for something a bit more spacious, this six person tent offers just that. Despite its size, it is also super easy to set up. In fact, you can have your tent pitched and good to go within just 10 minutes. It also offers floor venting for maximum ventilation and large windows to help cool the tent. If you're going camping in the summer with the family or a group of friends, this is a great pick.
What Travelers Are Saying About the MSR Hubba Hubba NX
Travelers praise the MSR Hubba Hubba NX as an awesome tent. It's very light compared other backpacking tents; It isn't "ultralight" (2-3 lbs) but it is light (4-6 lbs). But for the price it is perfect. If you do not feel like paying 50% more for the ultralight gear – which is usually only for serious long-term backpackers (months at a time) that need to compact their bags to under 20lbs – it's great. 
The material is light and yet strong. And did we mention, it's easy to put up! I have got it down to 2.5 minutes up and about 5 minutes down (folding and whatnot). The alternate configurations really help when it's raining – It is wind resistant and rain resistant. The tent is always dry inside except for a little condensation but opening a slight opening at top of the door helps that issue. The fly and tent have good separation and the tent has awesome ventilation, especially without the fly! Overall, travelers couldn't be happier and would argue this might be the best tent as far as quality vs. price goes on the market.
Here's something to note: the poles are straight before you put it up the first time. But after that, the poles will slightly keep their bend. This is normal and verified via MSR. They will replace if there is a significant issue with the poles bending though as they always stand behind their products.
Our Take On the MSR Hubba Hubba NX
The MSR Hubba Hubba NX is a two-person camping and backpacking tent a roomy interior that is super easy to set up. Offering a rectangular floor, vertical sidewalls, and two doors, the attention to detail is impeccable. Furthermore, this tent is very livable for two people for a short trip in the great outdoors. While it's not the lightest tent on the market, it isn't too heavy to carry around with you, weighing in at 3.5 pounds. 
All in all, It strikes a perfect balance between comfort, practicality, and ease of use. In short, if you're looking for a solid two-person tent, the MSR Hubba Hubba NX is definitely at the top of our list. It's also a good benchmark by which to judge other tents that fall within its category. 
Do you have any questions for us about the MSR Hubba Hubba NX? If so, we'd be more than happy to answer them. Feel free to leave us a message in the comment section below.
Related Article: 5 Best Camping Tents For Outdoors Adventurers