Nestled Away in Ridgedale, Missouri is Big Cedar Lodge. It Is the Ideal Log Cabin Retreat That We Know You Will Love.
With 800-acres of land, scenic landscape, and activities for the entire family, Big Cedar Lodge is an ideal location for a rustic retreat. The Lodge is located just south of Branson, Missouri. Some of the Lodge accommodations offered include lodge rooms, comfy cottages, and private log cabins. There is more than enough space for you to breathe and find refuge at Big Cedar Lodge. Travelers will enjoy the many services and amenities available on the property as well. Some of these activities include swimming, playing mini golf, kayaking, roasting marshmallows by the bonfire, playing sand volleyball, and so much more. In addition to the many activities available on the property, the Lodge also serves up some of the tastiest dishes. From breakfast to dessert, your taste buds will be satisfied by the culinary delights offered at Big Cedar Lodge.
Does a vacation to the Lodge interest you? If it doesn't already, you will be hooked once you hear about the lodging, dining, amenities and activities available on the property. Fall is the perfect time of year to plan a trip to Big Cedar Lodge because of how marvelous the surrounding landscape looks with colorful tree leaves peppered about. Those wanting a true log cabin getaway experience should look no further than Big Cedar Lodge.
Lodging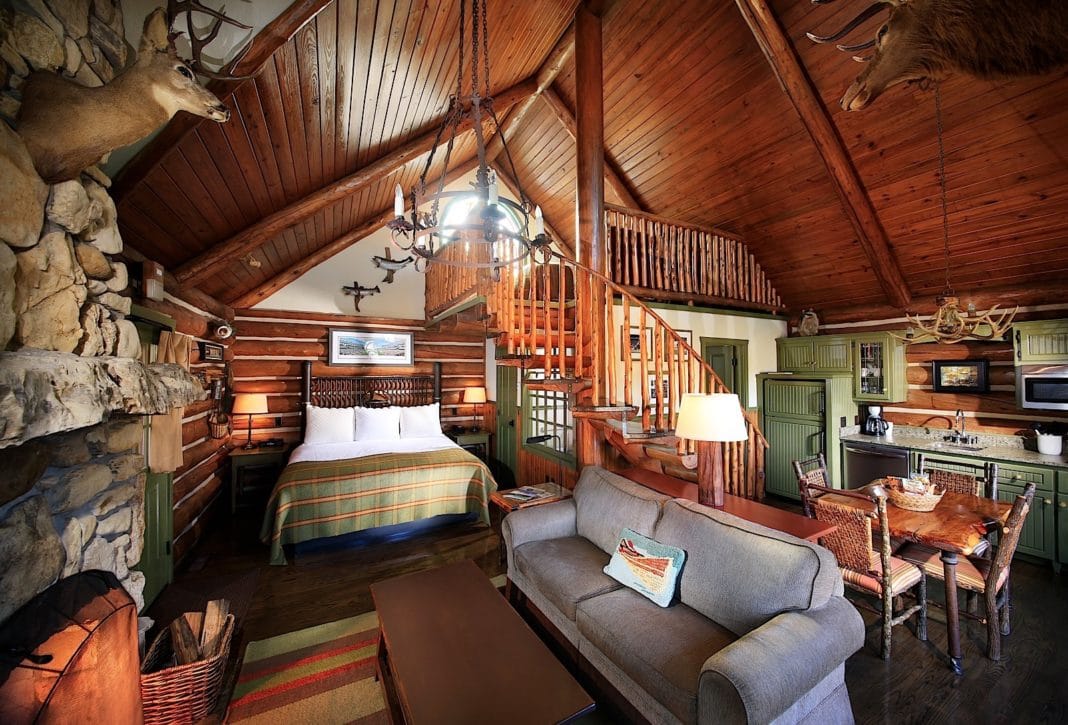 Big Cedar Lodge provides accommodations to fit every traveler's needs. Every room, cottage, and cabin is fitted with authentic cabin-style décor to create a cozy, relaxing ambiance for guests. At the most basic level, all lodging options come with a television, DVD player, a small refrigerator, and are equipped with wireless internet access. However, many come with far more than that. Guests will feel at home immediately upon entrance into their room. Drop off your suitcases and collapse onto the plush comforter. Or, begin discovering all there is to do, see, and taste at Big Cedar Lodge! Your rustic room will be waiting for you when you return. The accommodations at the Lodge all provide guests with the utmost comfort after an exciting day of exploring.
Some rooms come with the option of having a balcony or patio. The balconies and patios provide wondrous views of the surrounding scenery – trees clothing the landscape with their beauty. Should you be desiring more privacy, consider the cozy cottage options available at Big Cedar Lodge. Cottages come in varying sizes to accommodate 2 to 6 individuals. Many of the spacious cottages come with a full kitchen, a covered front porch, a fireplace, and a gas grill. This allows for guests to really make their home at Big Cedar Lodge. Taking things to another level are the private log cabins at Big Cedar Lodge. Authentic décor hugs the walls and a wood burning fireplace blazes to keep guests warm. Large families will particularly enjoy how roomy both the private log cabins and the cottages are.
Dining
There are plenty of dining options available at Big Cedar Lodge, and the Lodge has a passion for providing delicious meals and treats for their guests. With high-quality service as a top priority, guests will find friendly faces and accommodating service at each of the restaurants, bars, and cafés on the property.
Devil's Pool Restaurant is a casual dining environment that serves up southern-style cooking within the cozy comfort of a log cabin. Just below Devil's Pool is Buzzard Bar. Every night there is live entertainment for guests to enjoy within this eclectic space. Uncle Buck's Fish Bowl & Grill is where travelers can find all of the classic American favorites. Those include tasty burgers, sandwiches, fish and chips, pizza slices, and salads. To pair with your meal, order a chocolate shake or root beer float!
Those wanting a sunset view while they dine can head to Mountain Top Grill. Open for breakfast, lunch, and happy hour, Mountain Top Grill offers a beautiful space to enjoy the color-changing sky and the company of friends and family. More sweeping mountain views can be seen from Osage Restaurant and we highly recommend spending an evening in this upscale dining room.
We have barely scratched the surface on all of the dining and drinking options at Big Cedar Lodge. In the mood for a quaint coffee house experience? Journey to the standalone Truman Coffee & Café which displays charm and tradition, while providing fresh pastries, homemade soups, and smooth coffee drinks. End of the Trail All-American Wine Cellar is another favorite spot for travelers, as is Buffalo Bar.
Activities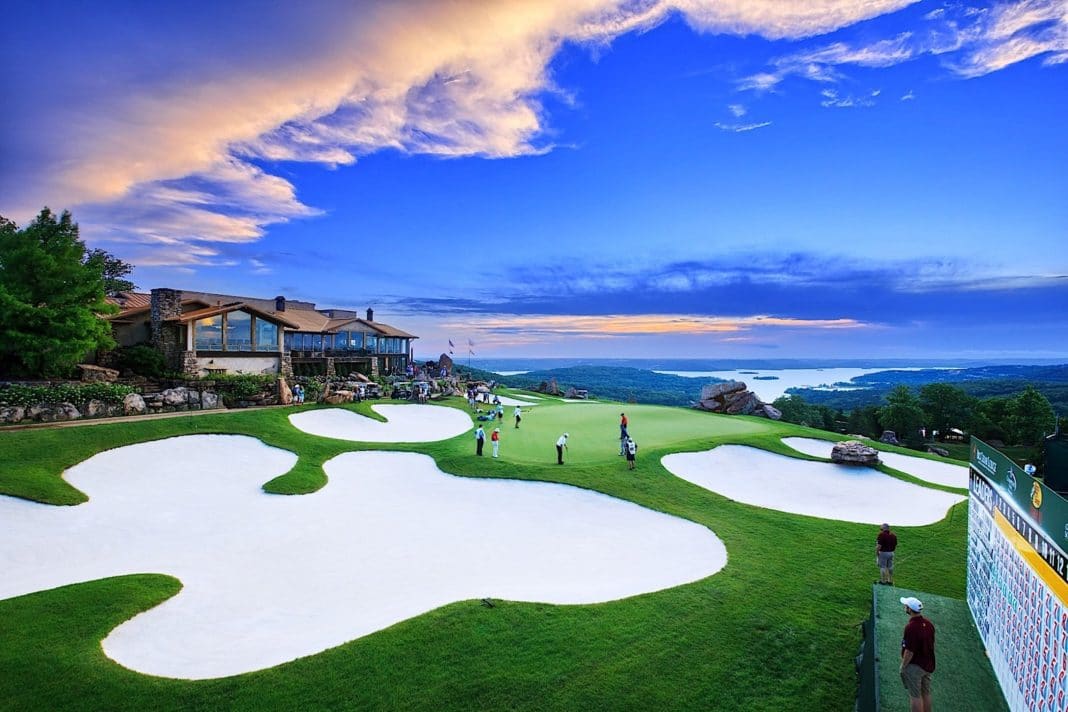 Whether you are traveling to Big Cedar Lodge for refreshing relaxation or thrilling activity, you will discover your paradise at Big Cedar Lodge. For the souls in need of rest, there is a host of board games waiting for you at the Lodge. Challenge your friends or family to a game during a quiet afternoon. DVD checkouts offer a variety of movies for guests to check out and watch during their stay. Movie marathon in the comfort of your one-of-a-kind cabin-style room, anyone?
Swimming pools and hot tubs invite guests to unwind as well. There is even a lazy river to lounge in, trails to leisurely stroll on, and bonfires where guests can roast marshmallows and make s'mores. The Lodge also has a world-class spa where guests can pamper themselves. Cedar Creek spa has treatment rooms (each with their own fireplace!), saunas, hot spas, steam rooms, an ice room, and a full-service salon.
Active travelers seeking more movement and adventure will be glad to hear about the other activities available on the property. There is a fitness center, housing all of the popular fitness equipment and machines, paddle boats, kayaks, canoes, pools (and kiddie pools for the little ones!), paved jogging trails, a playground, sand volleyball courts, and a miniature golf course. If you want to take it up a notch, Big Cedar Lodge has incredible real-deal golf too. There are world-class golf courses for golfers to play on. Travelers, pack your clubs because you won't want to miss the golfing destinations around Big Cedar Lodge.
Weddings, Meetings, and Private Gatherings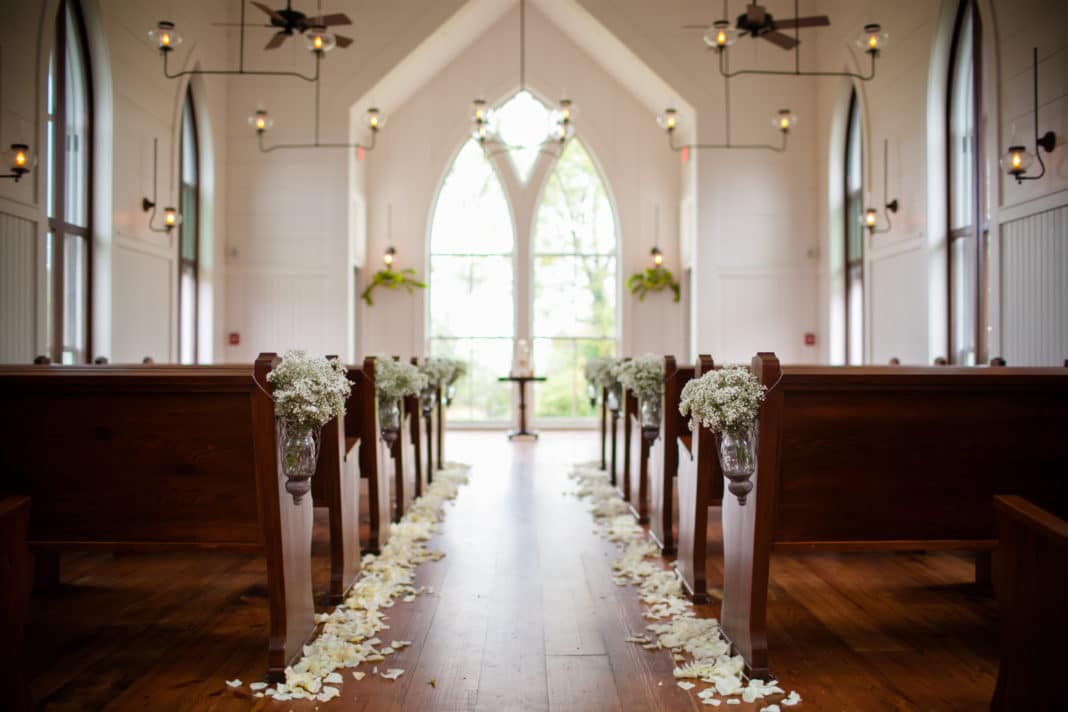 Those wishing to get married on the magnificent property of Big Cedar Lodge are welcome to do so. There are a number of settings for couples to celebrate this memorable day in, including elegant chapels, spacious lawns, rustic buildings, beautiful patios, a grand ballroom, and more! There are over twenty venues to choose from, each with marvelous views. Customizable in every way, there are plenty of options to create your dream wedding at Big Cedar Lodge. Couples can plan to host everything from the rehearsal dinner, wedding ceremony, and reception at the Lodge. Cedar Creek Spa offers a private suite for bridal parties to get ready in, equipped with stone vanities, full-length mirrors, a private patio, a cozy fireplace, and French doors for even greater charm.
The Lodge is also the perfect space for engagement parties, bridal showers, and bachelor & bachelorette parties. Honeymooners will find Big Cedar Lodge to be a romantic honeymoon destination too.
More than a memorable destination for weddings, the Lodge is also ideal for hosting other large groups. From family reunions to business meetings, guests will find ample space to accommodate their family, friends, and/or coworkers. The size of meeting rooms vary, but the property is equipped to accommodate up to 1,000. The overall hospitality and warm service guests will receive is sure to have you coming back the following year for another family reunion or corporate meeting.
Big Cedar Lodge is the Rustic Retreat for You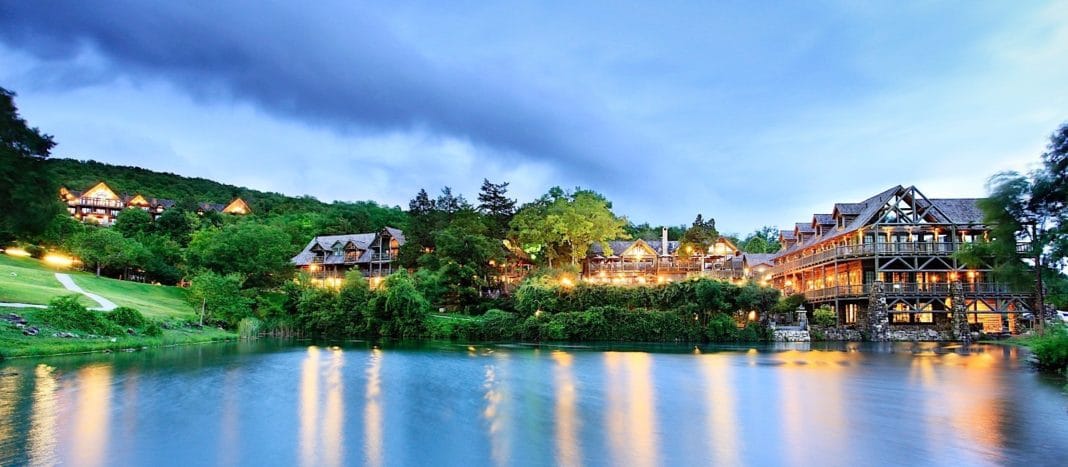 Big Cedar Lodge is ready to host you, whether it be for a solo getaway trip, a family vacation, a wedding, honeymoon, family reunion, or corporate meeting. This luxury resort situated in the serene Ozark Mountains of Missouri is saturated in charm, beauty, and history. Come breathe in the crisp mountain area and behold the glorious surroundings. Go horseback riding, fishing, golfing, hiking, biking, or canoeing during your stay. Care to unwind? Sit back, kick your feet up, and exhale all of your worries at the Cedar Creek Spa. There are many activities to do, or not do, at Big Cedar Lodge. Because of this, the Lodge is a wonderful mountain cabin retreat for anyone, any time of year.
Yet again, we especially adore Big Cedar Lodge in the fall. With cool mountain air to breathe and bright crunchy autumn leaves to admire, you should plan your trip to the Lodge as soon as possible. Now is prime time to journey to Ridgedale, Missouri and enjoy some time in this dream cabin escape.
During your vacation to Big Cedar Lodge, how would you spend your time? Hiking, kayaking, playing board games, reading, roasting marshmallows? Share in the comments below!
Related Article: Mohonk Mountain House in New Paltz, NY: A Lavish Resort Getaway