Mohonk Mountain House was founded in 1869 by the Smiley Family, and you are sure to be all smiles when you leave after a refreshing weekend at this lavish resort. Mohonk Mountain House is planted 90 miles north of New York City and offers 40,000 acres of land to explore. This Victorian-style, castle-like resort is an extravagant place to escape for a romantic getaway or for a family vacation. Outdoor activities, an award-winning spa, live entertainment, mountain views, and locally sourced dining options make the Mohonk Mountain House a fantastic place to be. The resort will "wow" you from the moment you arrive. We love Mohonk Mountain House and have reviewed the ins and outs of the resort for your convenience. Check out all of the wonderful aspects of the resort in this review of the Mohonk Mountain House.
Mohonk Mountain House Accommodations
On the Mohonk Mountain House property, the accommodations range from rooms and suites to cottages and the Grove Lodge.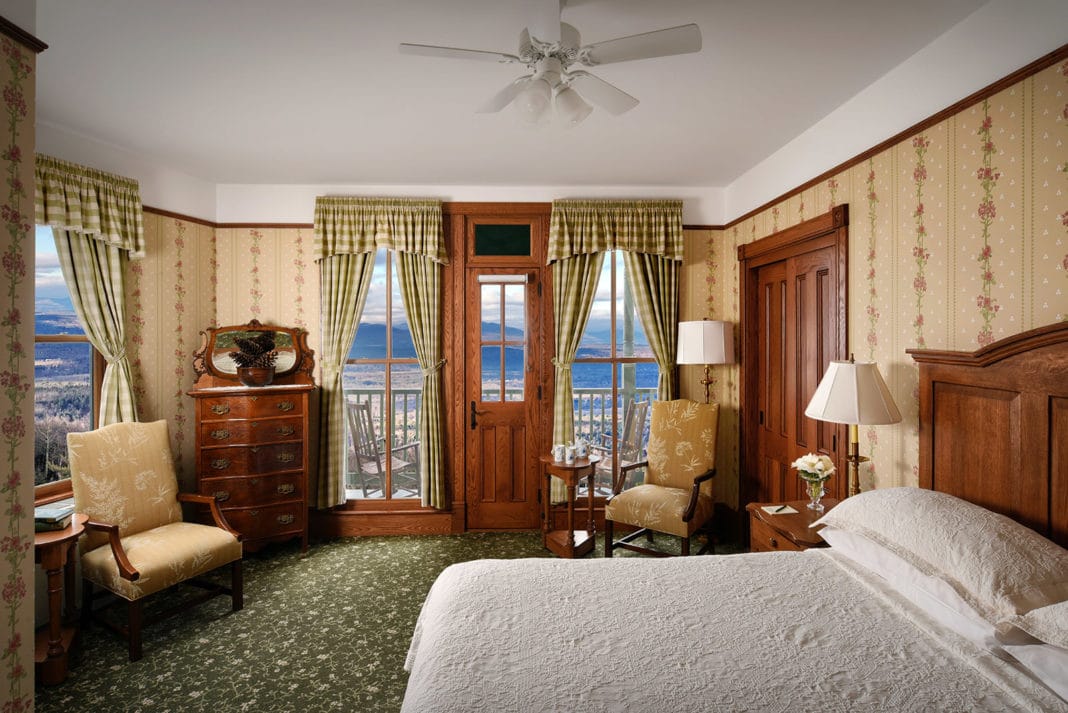 Rooms
As far as the rooms available, they all showcase the antique-style, Victorian furniture and display beautiful views. There are three types of rooms you can choose from: The Traditional Rooms, Victorian Rooms, and the Tower Rooms. Each room varies in size to meet the needs of what you are looking for.
Suites
Most of the suites offered at Mohonk Mountain House have fireplaces, private balconies, and also antique furniture. Snag a suite with a view of the mountains, or a view of the lake. There are family suites and VIP suites to take advantage of.
Cottages
The cottages available on the Mohonk Mountain House property give off a more vacation-rental feel. These cottages are each unique and vary in size; however, all have a full kitchen for guests to cook and do as they please during their stay on the property.
Grove Lodge
Grove Lodge is a tucked away escape within walking distance of the Mountain House. Reserve Grove Lodge for a large, private, family getaway. The Lodge provides 6 rooms and an open family room. 4 of the guest rooms have 2 queen-sized beds each. The other 2 guest rooms have 1 king bed each.
Mohonk Mountain House Resort Activities
Summer
The number of activities that Mohonk Mountain House offers is exhaustive. There are 85 miles of hiking trails waiting for your feet to set off on. There is a lake to dip paddles into as you kayak across the waters. A private beach welcomes you to relax on the shore. Tennis courts are available for you to strike up a game, or take a Tennis lesson. Schedule a tee time or book a golf lesson. Fly fishing, archery, and horseback riding are all other activities to try during your stay as well. In the summertime, venture outside to hike (including rock scrambles), rock climb, mountain bike, or play disc golf. On rainy days, take a swim in the indoor pool (that plays underwater music!), or take a water aerobics class.
Winter
In the winter, the lake next to the Mountain House freezes. Snow-covered trees dust the landscape like a winter wonderland. It is the perfect time to sip hot cocoa by the fireplace, or layer up and go ice skating, cross-country skiing, snow tubing, or snowshoeing.
All Year Round
For those who don't enjoy outdoor activities, visit the Barn Museum to learn about the founding of Mohonk Mountain House. The Mohonk Greenhouse is another must-visit area on the property. Only a short walk from the Mountain House, the Mohonk Greenhouse is home to colorful flowers and plants that are scattered all around. You can even take a tour of the greenhouse and garden area.
The resort also offers a number of daily activities that you won't want to miss during your stay. These include fitness classes, lectures, live entertainment, art exhibits, craft demonstrations, Kid's Clubs, and more. So, be sure to check the list of daily activities taking place while you are at the resort. The events are always changing, and are always fun ways to spend your time at Mohonk Mountain House. And after a morning of exploring the acres and acres of land that surround Mountain House, spend the afternoon at the award-winning spa.
Mountain House Spa & Wellness
Award-Winning Spa
If you come for the Spa alone, your trip will be worth it. You will leave pleased and revived, no doubt. The Spa offers more than 80 treatments to choose from. They range from massages and facials to energy therapy and manicures and pedicures. There are also kids & teens spa treatments that include manicures and pedicures for little fingers and toes, and massages for the young teens.
Fitness Center and Classes
The wellness area provides a full fitness center that offers fitness classes and personal training. Some of the group fitness classes include Aqua Chi, Core Strengthening, Pilates, Tai Chi, Total Body Conditioning, and Mosaic Barre. For yoga-lovers, there is Aqua Yoga, Yoga Flow, and various other yoga group classes offered.
Private wellness sessions are made by appointment and can be for individual or couple private workout sessions. These include customized personal training, Pilates, Mosaic Barre, Mountain Lake Chi-Robics, Tai Chi for Neck & Back, Tai Chi Stretch, Yoga Hike, Yoga, Aqua Yoga, and Aqui Chi.
Meditation classes and private sessions also allow for quiet spaces to clear the mind. Group meditation classes are offered frequently throughout the week and private sessions can be scheduled by appointment, either prior to arrival at Mohonk Mountain House or upon arrival at the resort.
Mohonk Shopping
The Mountain House has shops upon shops to wander through. These include the Mohonk Gift Shop that offers handmade gifts, jewelry, soaps, art, and Mohonk apparel. After a tour of the Mohonk Greenhouse and Garden, pop into the shop and purchase a candle, plant, or bird feeder to take home with you. The Spa & Fitness Boutiques feature skin care and body care products, as well as athletic apparel. The Mohonk Florist (who arranges the stunning arrangements for the guest rooms) can arrange a beautiful display of fresh flowers for you to purchase when leaving the resort. The Golf Shop and Tennis Shop are two other shops that have apparel, rentals, and equipment for purchase that guests can't help but peruse through.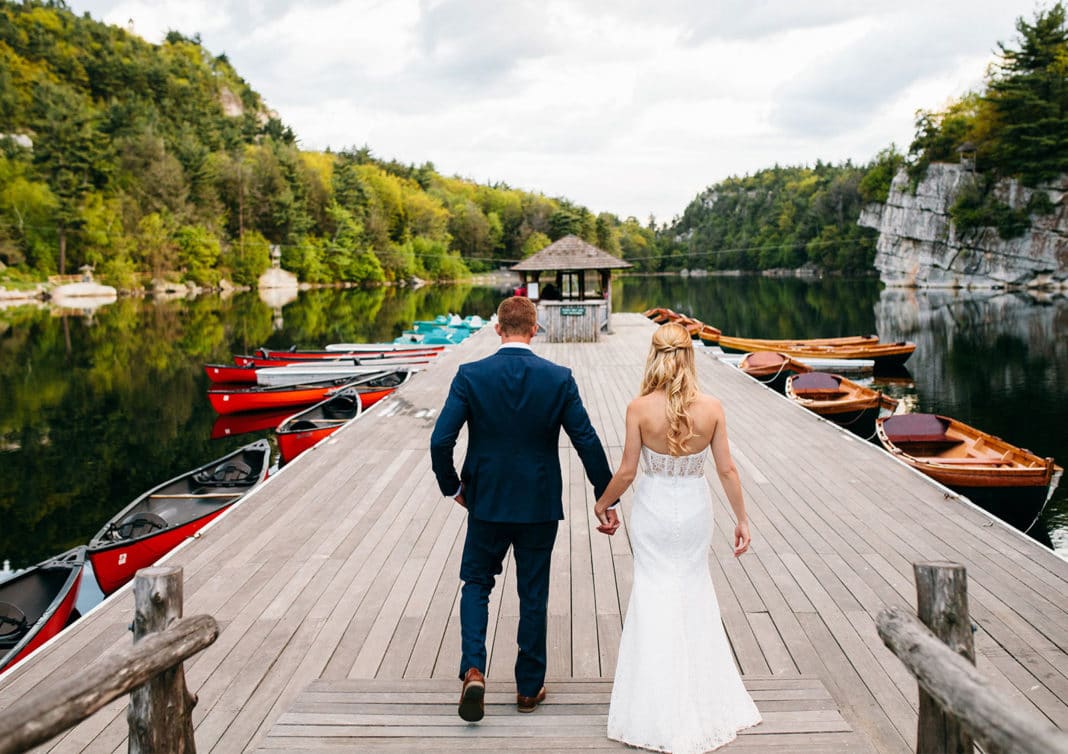 We highly recommend a stay at the Mohonk Mountain House for families wanting an adventurous resort experience, or couples seeking a romantic getaway. The resort offers the perfect balance between activity and relaxation (and delightful farm-to-table cuisine). The price tag is no small amount to stay at the Mountain House, but for an extra special treat, Mohonk Mountain House makes for an extravagant escape any time of year.
Have you been to this resort before? What did you think about your stay?