New York City is an incredibly rich place, filled to the brim with things to do and sights to see. From experiencing the unique flavors of different restaurants to basking in the beauty of various exhibits, you can only fit in so much in one trip. Don't get us wrong—having options is a gigantic blessing, but choosing is a challenge for the indecisive traveler. We're hoping we can make the decision process a little easier by giving you a jumpstart on your itinerary. Here are the top ten cool things to do in NYC.
1. Go for a Ride on the Staten Island Ferry
Riding on one of the nine giant vessels of the Staten Island Ferry is an absolute must-do when visiting New York City. For residents of Staten Island and Manhattan, this is simply their way of traveling between the two NYC boroughs. But it's more than just a means for an everyday commute, and even more spectacular for the visitor. The ride spreads five miles long, lasting for 25 glorious minutes as you take in the jaw-dropping views from your vessel. You'll get clear views of the Statue of Liberty and towering skyscrapers and buildings in the distance. And to top it all off, passage on the Staten Island Ferry is 100% FREE. Seriously guys, finding cool things to do in NYC is not an easy feat. You'll be sorry if you leave the City without doing this.
2. Book a Tour at the Brooklyn Brewery
If you're a beer fanatic, this one's for you. The Brooklyn Brewery is a fantastic microbrewery in Williamsburg that's located in an old steel foundry which makes for a unique brewery setting. They offer what they call Small Batch Brewery Tour every day of the week, which are only $18 dollars and have to be reserved in advance. This is an incredibly good deal for the value you get—trust us. Enjoy a guided exploration through Brooklyn Brewery's facilities and a tasting of four refreshing Brooklyn beers. If you're not feeling a whole tour of the Brewery, they're also open to the public on Fridays, Saturdays, and Sundays. Their hours are a bit irregular, so click here to make sure they'll be open when you're planning to go. Happy brew tasting!
3. Take a Helicopter Tour of New York City with FlyNYON
This is one of the most unique things to do in NYC, so if you do nothing else—do this. They call themselves "The Ultimate Aerial Photo Experience," and for good reason. FlyNYON is a helicopter service that's open to literally everyone. Want to take the perfect aerial photo of New York City for your blog or company? Or maybe you just want to experience the exhilarating ride and unparalleled view. Either way, FlyNYON makes it possible to do both. One of the coolest aspects of this company is that they have no set routes. That means that you can request a helicopter ride that's 100% tailored to your preferences.
Fly at night and watch the city lights twinkle beneath you, or fly in the morning and chase the perfect aerial shot. FlyNYON charges anywhere from $219 to $749 per seat depending on your ride. Sure, it may be one of the pricier activities, but it definitely deserves its spot on the list of the top cool things to do in NYC. It's the experience of a lifetime!
4. Eat the Pizza
This might already be on your list of things to do in NYC, but it's so important that we felt we should mention it. Tasting the scrumptious pizza of New York Pizza—no, experiencing it—is a requirement when visiting, no questions asked. You can find this stuff on just about every corner, but of course, you want the best of the best. One place everyone loves is Juliana's which is located in Brooklyn and is in walking distance from the Brooklyn Bridge. Serving up perfectly crafted thin-crust pizza, Juliana's is owned by the king of pizza, Patsy Grimaldi—so you know this place is the bomb. Another pizza joint you'll love is Keste Pizzeria in the West Village of Manhattan, where you should definitely get the Keste pizza. Your stomach will certainly thank you later.
5. Watch a Broadway Show
This may be a no-brainer, but it's worth the mention. You will seriously regret it if you leave New York City without seeing a Broadway show. There's nothing like sitting back and being sucked into another world by talented actors and actresses. Which ones to see? The two most popular Broadway shows out right now are Hamilton and Wicked. Feeling a creative history lesson? The Tony Award-winning musical, Hamilton, will plunge you into the time of the Founding Fathers. Love the Wizard of Oz? Wicked will give you the alternative story of the life of the Wicked Witch of the West—and be warned, it's not the story you're familiar with! It might seem overrated, but we beg to differ. Trust us, you'll see why it made the list of cool things to do in NYC after seeing for yourself!
6. Eat Your Face Off at Smorgasburg
If you're a foodie (or a wannabe foodie), we guarantee that this will become one of your favorite things to do in NYC. Smorgasburg the biggest outdoor food market that's open every weekend on Saturdays in Williamsburg and Sundays in Prospect Park from April to October. It remains open rain or shine, teeming with at least 100 vendors selling their delicious, local food and beverages. Entry is completely free, so you get the luxury of tasting your way through delicacies until you've found what you want to purchase. Make sure you know what you're prepared with their helpful FAQ, because you might be here all day. There's really nothing like it, so we suggest you make this a priority on your list of cool things to do in NYC!
7. Take a Stroll Through the Museum of Modern Art
This is the perfect thing to include in your itinerary to the Big Apple on a hot summer day. After you've walked around in the brutal heat, duck into the Museum of Modern Art for a creative and thought-provoking experience. Wander through one of their many or more art exhibitions and be moved by the creativity of each piece, or watch one of their awe-inspiring and unique films. This is perfect for a creative break in your adventures to relax and wonder.
8. Plan a Visit to the Brooklyn Botanic Garden
Calling all nature lovers: put this on your top list of cool things to do in NYC. There's something peaceful about walking through a garden, gazing at plants and flowers that you're unsure how to pronounce (or do). That's why we think you'll love the Brooklyn Botanic Garden. With fifteen gardens, six conservatories, and more, there's no shortage of natural beauty to survey. It's only $15 for adults, is $8 for seniors and students, and totally free for children, making it the perfect outing for the whole family. If you enjoy spending time in nature, this will be a fresh activity to do during your trip to New York.
9. Go to the Top Deck of the Empire State Building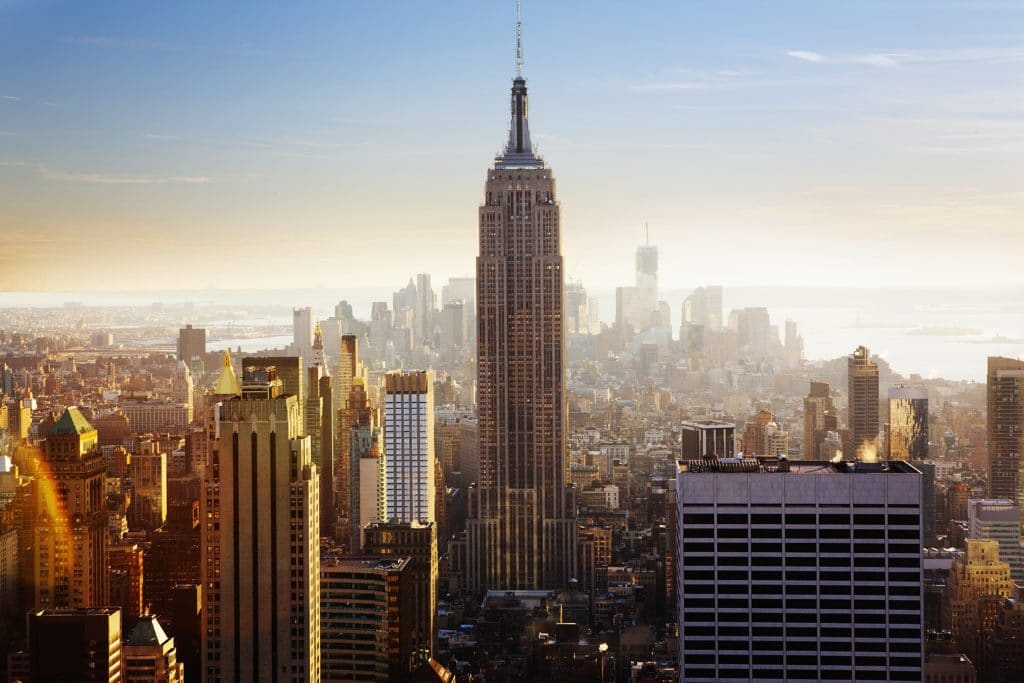 Of course, it would be cool enough just to go to the Main Deck on the 86th Floor of the Empire State Building, but doesn't the 102nd floor sound so much better? You won't get a more amazing view of the serene Central Park, the Hudson River, and more from anywhere else. Want to make this experience even better? Go with your significant other around midnight for a romantic outing and spectacular view of New York City at night. Sounds dreamy, right?
10. Get Milk and Cookies at Untitled
Okay, this might sound like a joke, but we're completely serious. Untitled serves up the best milk and cookie combination you will probably ever have in your life. The Madagascan milk is infused with bourbon and vanilla, so it's not your ordinary milk. And the cookie? Well, it's filled with giant chocolate chunks and is the perfect combination of soft on the inside and crispy on the outside. If heaven had a taste, we're pretty sure it'd taste like this delectable pair from Untitled. We had to top the list off of cool things to do in NYC with a dessert. Dessert is vital.
Again, there are more cool things to do in NYC than this, but if we were forced to choose, these would be our top picks.
We hope that you'll consider at least a few of these on your next trip—we promise you won't regret it!
Have you done any of these things, or are there any other things to do in NYC that you think are worth mentioning? Share your thoughts and experiences in the comments below!
Related Article: The 40 Best Bars in NYC You Must Try During You Visit