The Pizza Capital Offers a Slice For Everyone
If you've ever had the opportunity to visit iconic NYC, there's a good chance that you didn't leave without trying local pizza. While you certainly can find a true Italian pizza around these parts, NYC has a terrific range of American-styled pies and slices that will keep you guessing.
And if there's one food that continues to evolve and get better and better in this city, besides Bagels, it's got to be pizza. After seeing the pies that America's pizza capital has to offer, you'll want to pack your bags and head off to the Big Pizza, I mean Big Apple, ASAP.  So whether you fancy deep-dish or thin-crust, plain or stacked with toppings, you'll find the best pizza in NYC at these locations.
Speedy Romeo
Credit: Speedy Romeo
Earning itself a spot at the top of the list of best pizza in NYC, this St. Louis style pizza shop challenges all the conventional ideas of an average pie. Made with yeast, this crispy crust is ultra-thin (good luck folding it) and is one of the only places you'll find it in the city. It's topped with the popular Provel Cheese which is simply a blend of cheddar, provolone, and Swiss. While this kind of pizza is commonly served in square slices, Speedy Romeo crafts their pies both ways, square and in a traditional circle. Located in Lower East Side & Brooklyn, Speedy Romeo has made a name for themselves selling some of the best pizza in NYC.
The good eats don't stop there though, as they offer an array of other popular items, such as burgers and steaks. It's not surprising that they have one of the best takeaway menus in the city as well. However, you'll have to try their magic for yourself to see just why it's the best pizza in NYC.
Di Fara Pizza
Credit: Di Fara
All things considered, Di Fara Pizzeria makes quite possibly the best pizza in NYC, thanks to its owner, Dom DeMarco, who makes every single pie by hand. With over 40 years of experience, Dom has perfected his recipe, with his family working with him in the kitchen. Making Di Fara Pizzeria even more unique, almost all of the ingredients used are imported straight from Italy, crafting a taste almost impossible to replicate.  Locals and tourists alike have dubbed Di Fara Pizzeria as the best pizza in NYC, proving that hard work pays off. To this day, Dom still cooks up to 150 pies a day in his hot retro oven keeping customers lining outside its doors every day of the week. So if you don't mind the wait, be sure and pay Midwood's Di Fara Pizza a visit to witness this legend in action for yourself.
Joe's Pizza
Credit: Joe's Pizza
If you're one to keep things simple, Joe's Pizza is the place for you. Specializing in the classic "NYC Slice", you'll find one of the best pizza in NYC in plain slices at this retro shop. Opened in 1975, Joe Pozzuoli has been creating and operating Joe's Pizza for over 40 years. Believe it or not, he still owns and operates the shop to ensure only the top quality pies are delivered.
Joe runs and backs his pizzeria with pride. "We still are what we've always been: a classic NY slice joint.  No glossy corporate backing, no fancy pants pies, no pretentious nonsense and no gimmicky budget pizza either.   We are tried and true – the real deal." New York Magazine dubbed Joe's Pizza as "Best of New York", and GQ Magazine listed them as one of the "Best 25 Pizzas on Earth" in 2009. If you're on a search for the best plain-and-simple pie out there, look no further than Joe's Pizza. Certainly one of the best pizza in NYC, you won't be let down.
Lucali's Pizzeria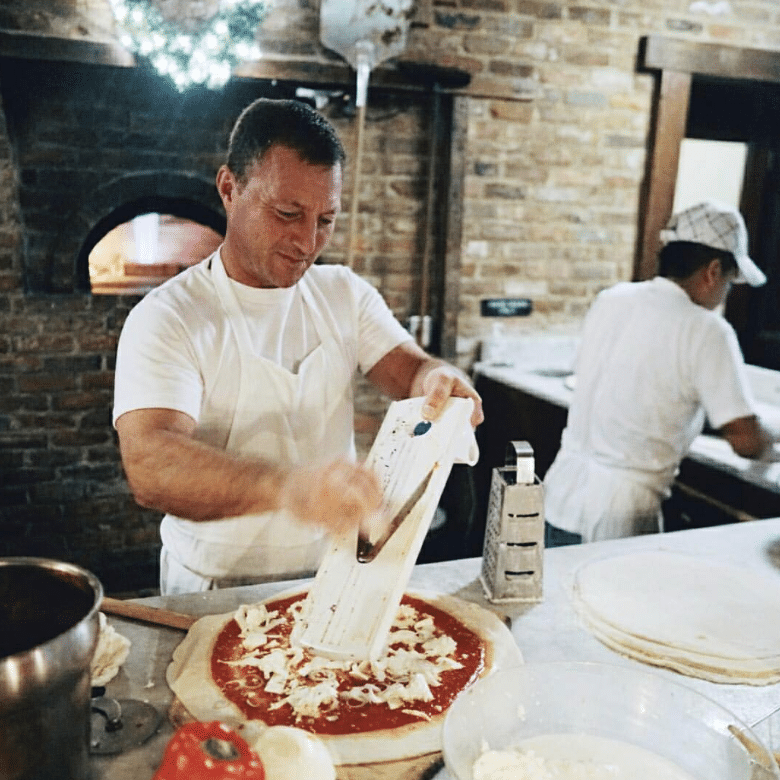 Credit: Lucali's
We've all dreamed of spotting a celebrity in a restaurant, well at least I have. You might just have that chance if you visit Lucali's Pizzeria. Besides serving up a 5-star pie, Lucali's is a hotspot for celebrity spottings, as superstars such as Beyonce and Bella Hadid have been frequently seen eating at this popular shop. If you don't get the chance to see one of these celebs halfway-through a slice, you shouldn't be disappointed. Besides their killer pizza, shop owner Mark Icon believes that the calzones are even better than the pies, but you'll have to be the judge of that one.
Lucali's pizzas have made them one of the most popular names in the industry, along with being one of the best pizza restaurants in NYC. However, due to popularity, you'll probably end up waiting 2 hours on average to try it for yourself. If you don't mind waiting for one of the best pizzas in NYC and possibly a celeb sighting, then your wait is well worth it. But the proof is in the pudding, well, in this case, sauce, and we reckon you'll feel the same.
Pizza Beach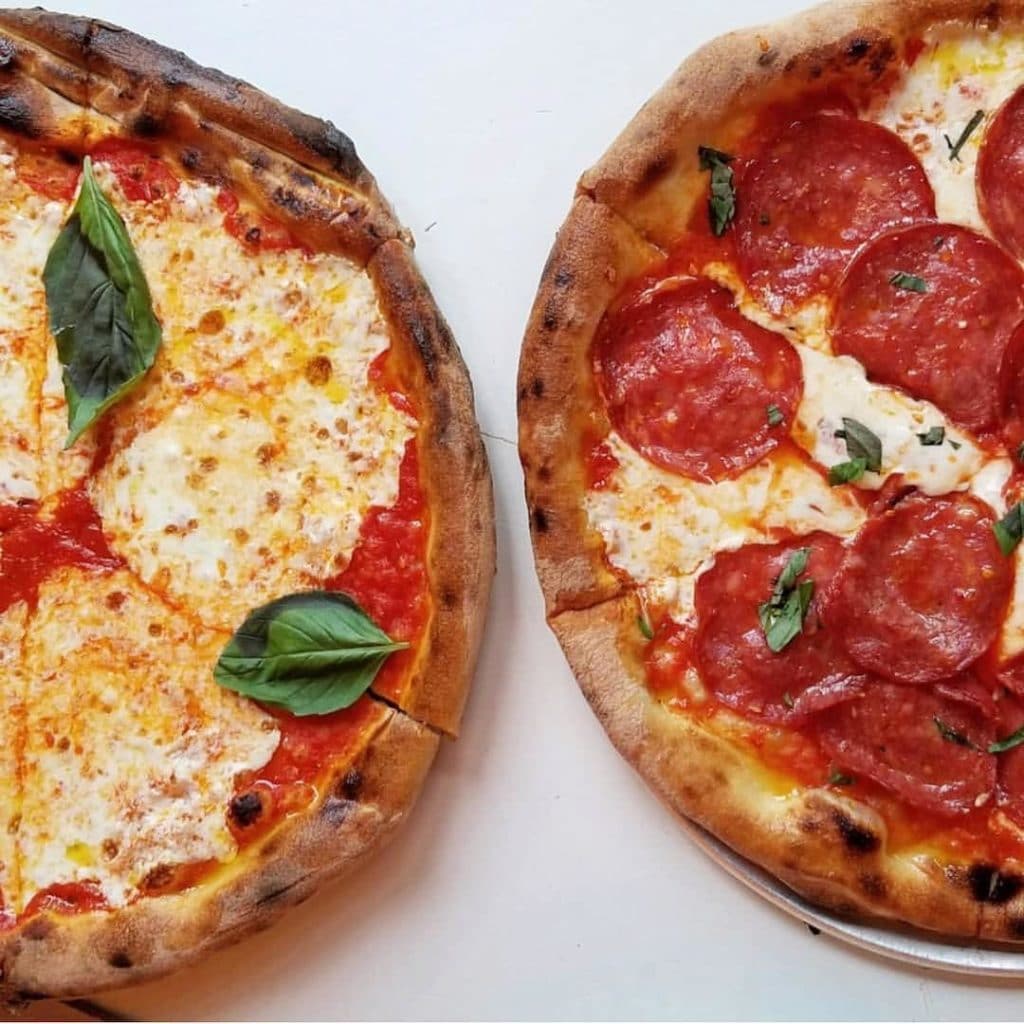 Credit: ​Pizza Beach
Bringing a refreshing beach vibe to the bustling streets of New York, Pizza Beach isn't your average pizza shop. Separating itself from the traditional NYC pizza scene, Pizza Beach's bright and vibrant decor will give you nothing but good vibes. Not only is the shop unconventional compared to the rest, their pies are as well. At their two locations, you can order anything from a pink vodka pie to a taco slice. But the good eats don't stop there. Pizza Beach offers delicious tropical-inspired drinks and deserts or even a conventional meal such as a burger or meatballs. Pizza Beach's California themed shop truly makes the best pizza in NYC or at least one of them.
Margot's Pizza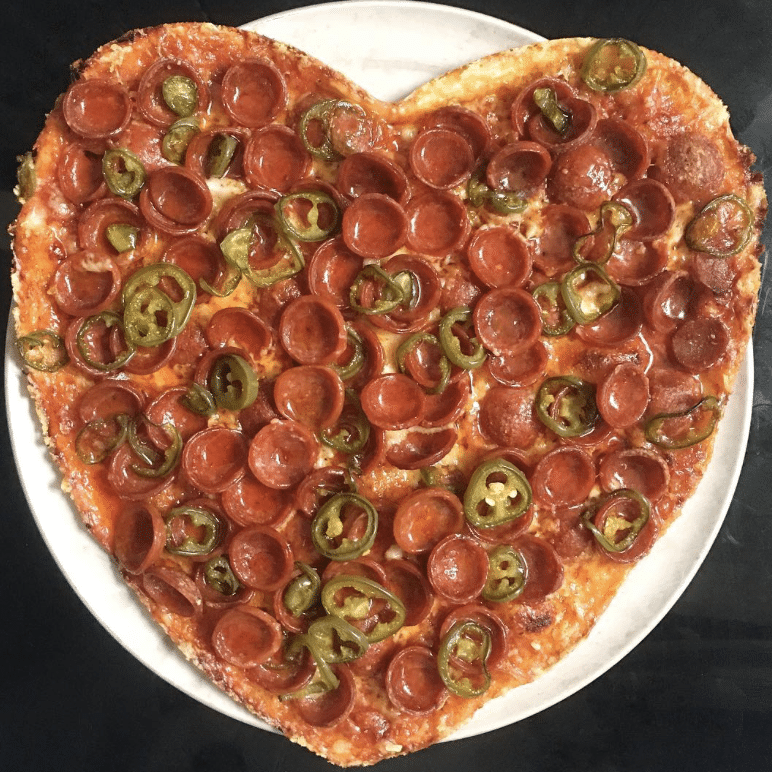 Credit: Margot's
One of the best pizza in NYC you can find is also one of the most intersting. Margot's Pizza Shops is a little pop-up that operates out of Emily in Clinton Hill, right in the heart of Brooklyn. Keep in mind that Margot's is a ticketed pop-up, which means that can't simply show up. The pop-up is said to appear only once a month and tickets sell out very quickly. The only way to sign up for a ticket is through their email list  to get a chance to try their bar pizza for yourself. You may be wondering what in the world is bar pizza.
The owner and operator, Adam Kuban believes that every pizza should be served with a drink, so 25$ will get you a full pie and a drink. Keeping things on the simple side, their most popular is the Ranchero, a pie topped with a blend of Kublend cheese, pickled jalapeños, and buttermilk ranch. Many claim Margot's to make the best pizza in NYC, and if you're a foodie hype-beast, then this pop-up is for you.
Motorino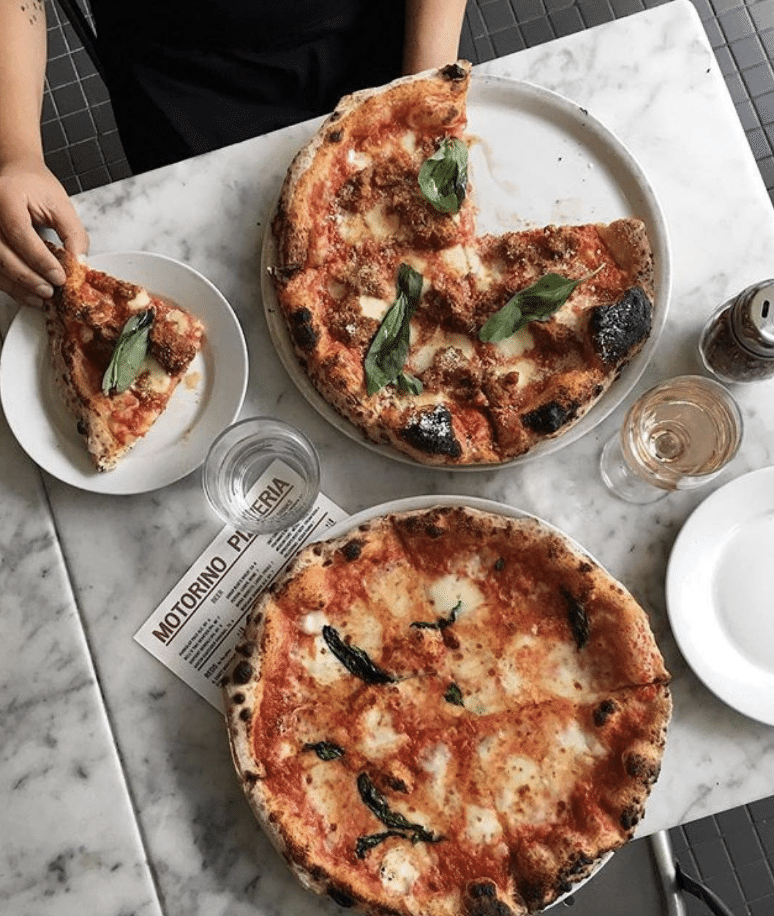 Credit: Motorino
With joints all over the world, Motorino Pizza makes some of the best pies around. All of their bubbly crusted pizzas are cooked in wood-burning ovens and their array of toppings are endless. You can find Motorino in three locations around NYC, at Upper West Side, East Village, and Williamsburg. One thing that makes Motorino unique is that they don't accept reservations, so you might end up waiting a while. However, your wait won't be wasted as chefs and fans all over the world rave about Motorino's pizzas. Make sure you try their smoked pancetta pie with Brussel sprouts for the full experience.
&Pizza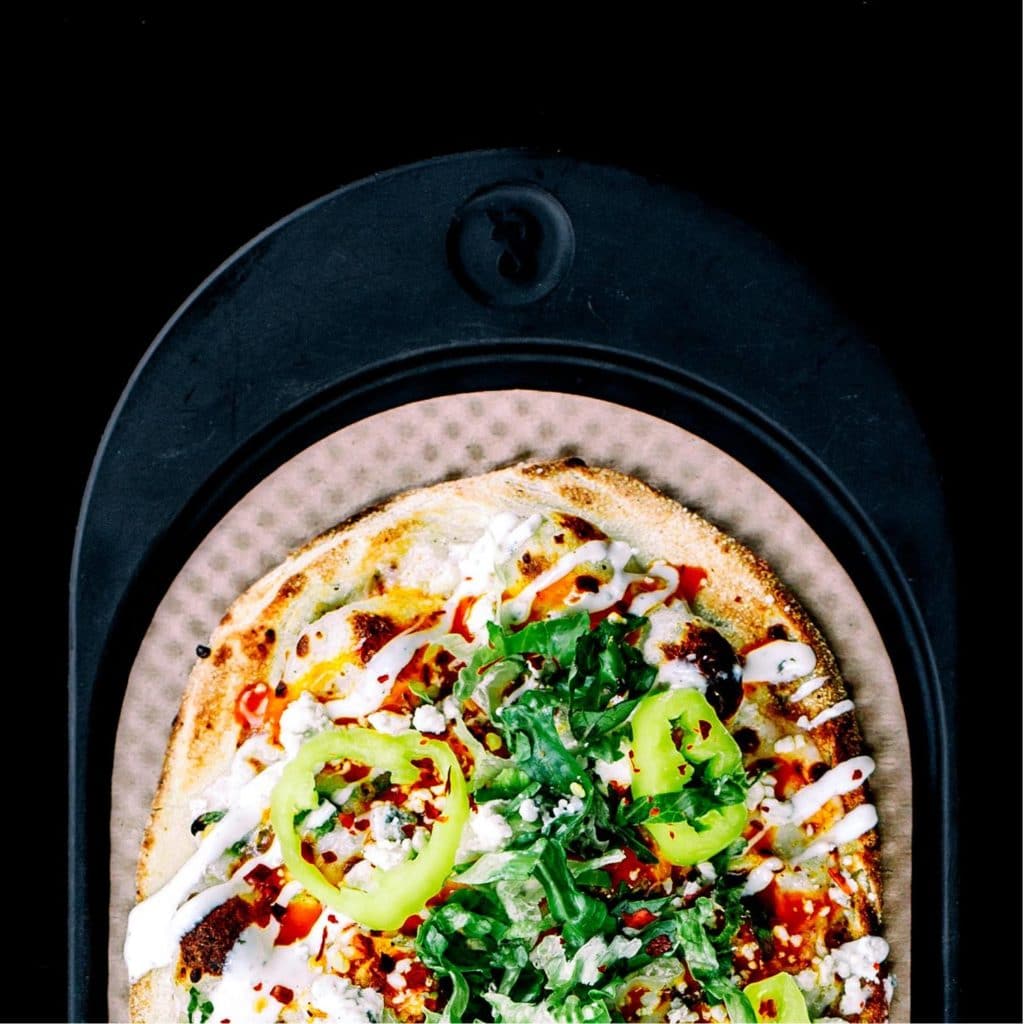 Credit: ​&Pizza
Joining the list of pizza shops that have truly thought-outside-the-box, &Pizza have made their way up from Washington D.C. and into the Boroughs. &Pizza's pies are known for crafting their pizzas into large ovals instead of the conventional circle or square. For those searching for the ultimate taste bud stimulation, try their "Gnarlic" (similar to a white pie) or the little more unique "Moonstruck" (mushroom). Of course, you can stick to a more traditional taste. The "OG" will provide you with nothing less than the classic mozzarella, tomato, olive oil, and basil.
Screamer's Pizza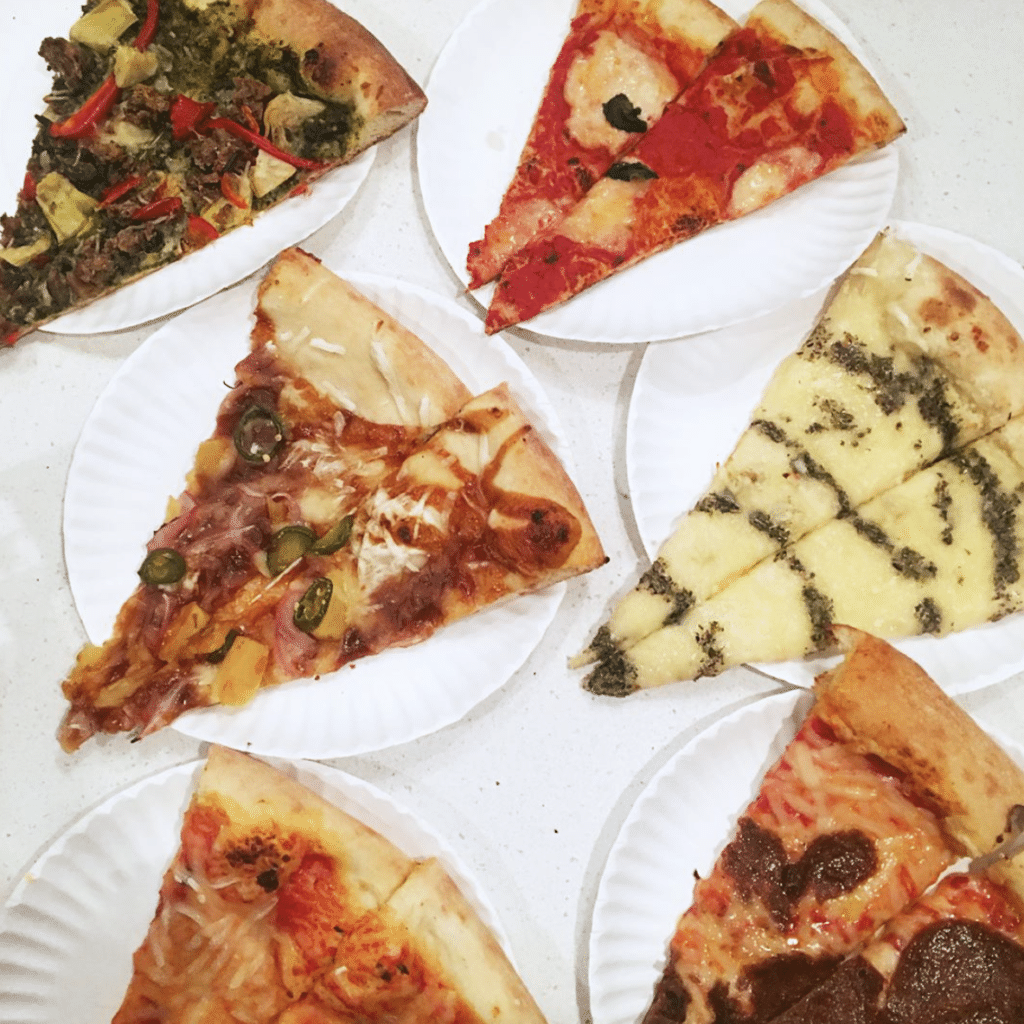 Credit: Screamer's
Yes, I was actually screaming laughing when I discovered that vegan pizzerias do in-fact exist. But hey, according to the critics, Screamer's Pizza proves to sell some of the best pizza in NYC. Every slice that this surf-inspired pizzeria sells is all-vegan, from crust to toppings. Still feeling saucy? Pop into Van Leeuwen's next door to enjoy some vegan ice-cream.
Another thing that had me struck with laughter was the creativity that Screamer's named their toppings. One of their most popular, the BBQ Jack, comes topped with "bbq jackfruit" and the hilarious "Canadian fake'n". However, according to meat eaters (like myself), the taste is on par with real meat. You'll have to visit this shop for yourself as this vegan pizzeria has created fans and fanatics alike. Vegan or not, you won't know if you'll like it or not until you give it try.
NYC- The Place With Pizza For Everyone
Whether you're in the market for an inexpensive classic plain slice or an upscaled sit-down pizzeria, you'll find the best pizza in NYC here. While these pizzerias offer some of the best pizza in NYC, the options are truly endless. Having explored several pizzerias myself in the pizza capital, no other city compares. All in all, if New York does one food with excellence, it's pizza. So make sure you try one of these top joints on your next trip to NYC.
Which shop do you think sells the best pizza in NYC? Let me know in the comments below!
Related article: 10 Best NYC Mexican Restaurants for Burrito Lovers