Desiring both waterproof tunes and solid audio may seem like a lot to ask for, but in our JBL Charge 3 Review, you will see that it can be done.
When searching for a high quality bluetooth speaker, it seems like the market is flooded with potential bargains and expensive promises. It can be hard to find a durable, state of the art music player without breaking the bank. Before you purchase a bluetooth speaker, take a few minutes to think about what features you need. On the other hand, think about which ones are worth passing up for the ways you plan to use it. If you plan on taking it on rugged camping trips and in the river, you'll want a durable, waterproof speaker. If, however, you want the highest sound quality money can buy, expect to pay a little more. But, it will not be recommended to take on your intense adventures. For the all-around best speaker in my opinion to meet your needs, check out the JBL Charge 3.
In our JBL Charge 3 review, we will see that this speaker boasts phenomenal sound quality, unique features, and can be purchased in any of five colors. Whether you want to charge your phone, use speakerphone while lounging in the pool, or simply listen to music, the JBL Charge 3 should be near the top of your list.
JBL Charge 3 Speaker Features & Benefits
Wireless Bluetooth Streaming​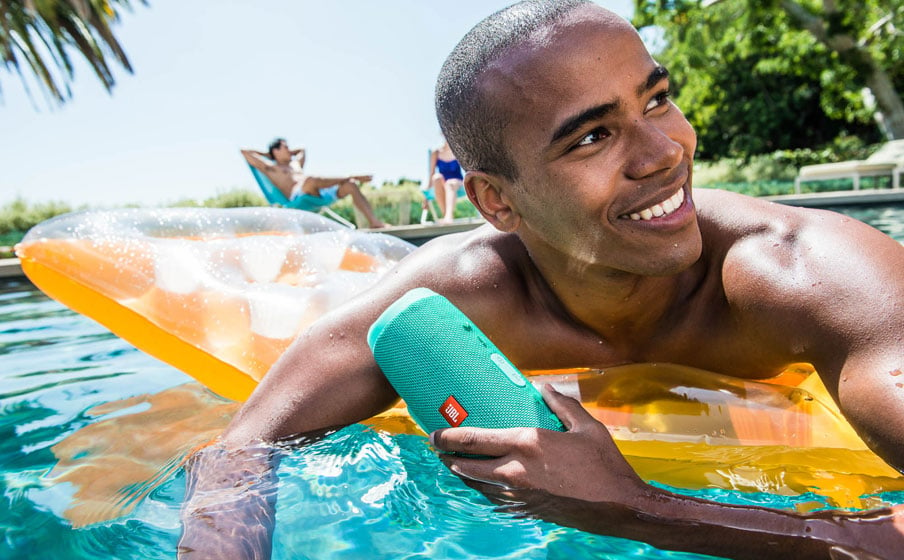 Credit: JBL
The ability to be hands-free is a necessity these days, and not just for talking on your phone in the car. With the JBL Charge 3 bluetooth ability, you can connect up to three tablets or smartphones. This feature will allow you and your friends to trade off being the DJ. Don't be dismayed by this though, it still has an auxiliary cord port if you'd rather plug it in to an ipod or another device. Throughout this JBL Charge 3 Review, you will see that the speaker was created to maximize your adventure. The bluetooth feature delivers freedom that would otherwise be unattainable. With it, you won't be chained to stay within three feet of the speaker to keep your music going.
Waterproof Exterior
What better time to call mom then when you're kayaking down the river? With the JBL Charge 3, you can do just that. It's IPX7 waterproofing on the outside allows it not just to get splashed, but to be fully submerged in water. This feature makes it a stellar choice for lounging poolside or cheering up a rainy evening back at camp.
 Large Battery for Charging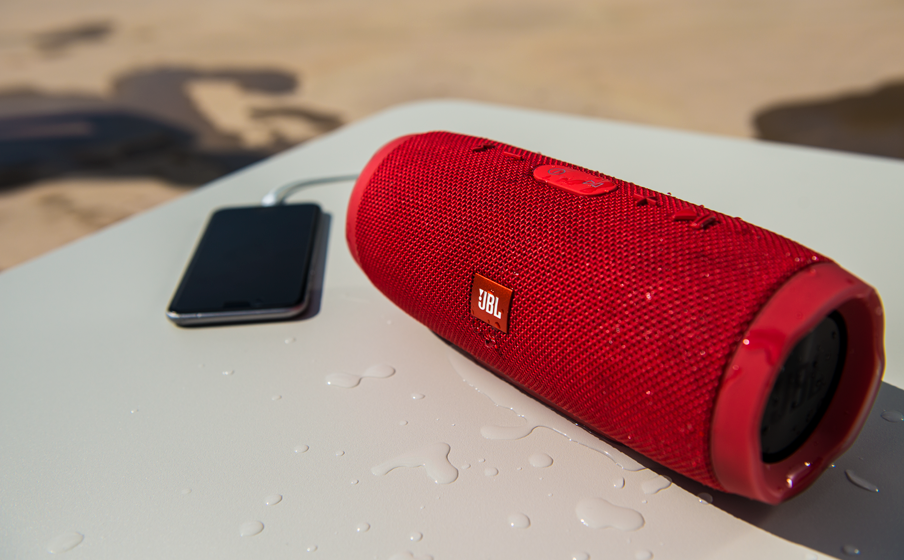 Credit: JBL
The JBL Charge 3 battery life is exceptional due to it's 6000mAH power bank. The rechargeable Lithium Ion battery is the latest and greatest of it's kind, allowing up to twenty hours of play time. This hefty battery is also able to charge your phone or tablet via USB if you're running low on juice. Keep in mind that if you are charging other devices, you will have less than the promised twenty hours play time. But, this is a unique feature that is not common in many other speakers on the market currently. So, with it's multiple use battery, this is definitely a winning feature of the JBL Charge 3 Speaker.
JBL Bass Radiator
The baseline of the best music these days is so crucial to the experience. JBL understands those of you who love feeling the bass vibrating through your body at a concert. That's why they've included dual external passive radiators in their latest speaker. Located on either end of the speaker, you'll be able to feel and see the bass thanks to the design. Don't worry though, the bass doesn't distort the sound quality and will vary based on the song.
Built-In Microphone
Credit: JBL
In this JBL Charge 3 Review, you will learn that this speaker can not only talk to you, but it can also listen. With the built in microphone, you can have your best friend on speakerphone while you plan the next adventure. If you're phone is not waterproof, this is a spectacular way to have conversation in and around water. Don't spend too much on a waterproof phone cover when you can use this instead. Also, if you're needing some help, you can also use the Voice Assistant Integration to call on Siri or Google Now. So, whether it is hands-free calling while you raft down the raging rapids or even a phone call in the shower, the JBL Charge 3 has your back.
What exactly comes in your JBL Charge 3 box?
For one sleek speaker, there are six things that come in the JBL box. First, of course, is your brand new speaker. Keep in mind though that if you're wanting to save money, there are a few refurbished ones on Amazon for a lower price. Your speaker has six sleek buttons, including volume adjustment, the power switch, bluetooth, and play/pause.
In addition, you will get the charging micro USB cable and adapter. The cable can also be used to charge devices using the JBL Charge 3. There will also be a safety sheet, quick start guide, and most important, the warranty card. JBL backs all of their products up with a one year warranty. This doesn't count if you lose it in the ocean or drop it off a cliff, but for normal issues they will send you a new one.
How about accessories?
If you plan on taking your JBL Charge 3 on any adventures, we would highly recommend the case. With solid padded protection and a quality zipper to keep it in place, this will limit wear and tear on your new device.
Also, remember that the JBL Charge 3 can connect with other JBL speakers for a 360 degree sound experience. This means all your JBL equipment can be considered an accessory as well! In addition, the JBL Charge 3 comes in your choice of five colors: red, blue, gray, black, and green. With these choices, JBL assures you can have a long lasting and personal bluetooth speaker.
What Travelers Are Saying About this JBL Charge 3 Waterproof Speaker
Adventurers and thrill seekers are raving about the JBL Charge 3 volume and durability. While slightly larger than the Charge 2, many reviewers say that it is twice as loud. If you've already got a few JBL products around, it can also use the JBL Connect feature to link them together for a surround sound experience. The thought and care that JBL has poured into their latest speaker shows incredible attention to detail and knowledge of their customer base.
With a 4.5 star review from TechRadar and 4.6 stars from Amazon, customers all around the board are extremely satisfied with the product. On the Soundguys JBL Charge 3 Review, they praised it for having bluetooth connectivity up to 60 feet. Their total review gave it 9 out of 10 stars. All in all, JBL makes it clear that their 70+ years of experience in the music industry lends them to have the best prices and products on the market.
Alternative Bluetooth Speakers
Bose SoundLink Revolve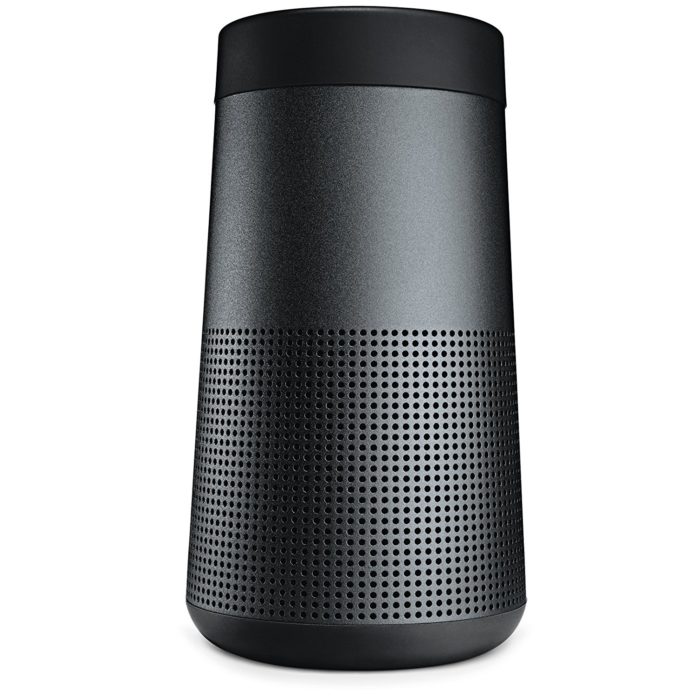 Credit: Bose
This speaker is not for the rugged trekker, but if you appreciate exceptional sound and beautiful design, this may be your choice. The 360 degree surround sound gives everyone equal listening pleasure. It is also splash proof, but by no means waterproof. If you're an audiophile willing to pay a few extra dollars for unbeatable sound, look no further than Bose.
UE Wonderboom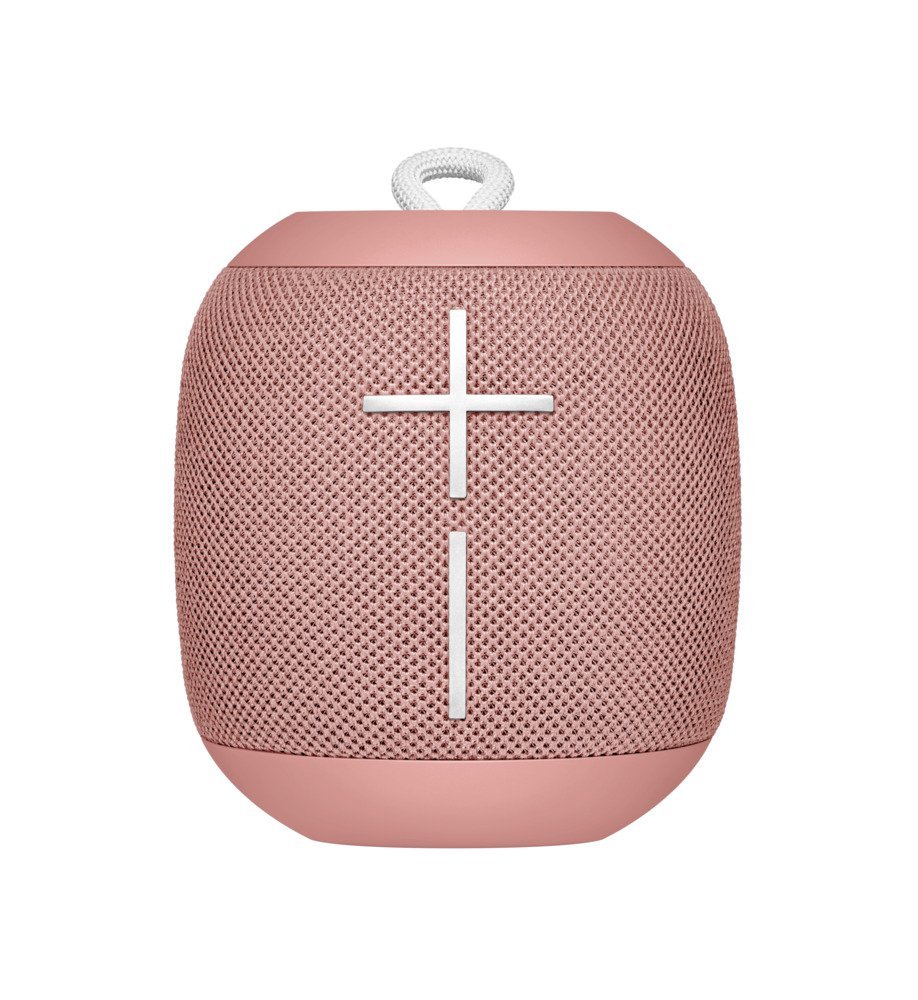 Credit: Ultimate Ears
The UE Wonderboom is an exciting, unique little speaker. Being smaller, it only has 10 hours of battery life. Don't let that keep you away, though, as it's fully waterproof and can even float in the water. With surprising bass, let this little powerhouse be your next poolside companion. A more unique and eye-catching speaker, this is definitely the hippest speaker. This choice will also save you around 50 dollars against the JBL Charge 3 price.
Oontz Angle 3
Credit: Oontz
For those on a budget, the Oontz Angle 3 is a fantastic choice. For only 25 dollars, you can get solid sound quality, bluetooth capabilities, and a built in microphone. While the playtime is only seven hours, if you're good at remembering to charge your gadgets, this is a steal. It is also water resistant so you don't have to worry about a little splash. The volume will not go as high either as the JBL Charge 3, but what else can you ask for in a budget-friendly speaker?
With exceptional sound quality and ample features, the JBL Charge 3 comes out as the best speaker to take on your next adventure.
With the JBL Charge 3 price being under 150 dollars, it is hard to beat. If it is the waterproof exterior or the unbeatable battery life that entices you most, this speaker won't disappoint. The features included in this are unparalleled in any other bluetooth speaker in this price range. Don't be afraid to adventure hard either with the JBL one year warranty backing up the device. So, enjoy the delight of stunning sound with the JBL Charge 3 Speaker.
Related Article: 10 Best Bluetooth Speakers Money Can Buy | Review​