Grab a bite to eat at one of the best restaurants in Brooklyn.
Brooklyn plays host to some of the top dining spots in the U.S. The vibrant, diverse community in this borough has influenced the creation of countless unique restaurants. From classic New York pizza to Michelin-star quality fare like crab Rangoon, Brooklyn contains a variety of tasty food options. While visiting this eclectic location, you might not know where to start when attempting to satisfy your cravings. That's why we've created a list of the 10 best restaurants in Brooklyn. The next time you visit this New York locale, you'll know exactly where the most delicious cuisine can be found.
1. Lilia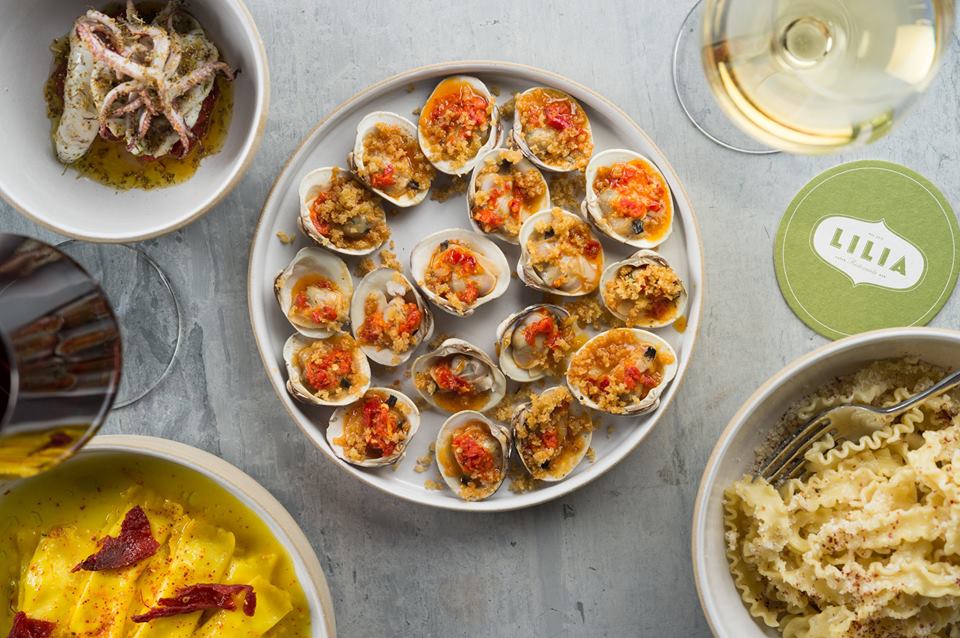 Credit: Facebook / Lilia
Looking for a romantic place to share a plate of pasta? Lilia offers diners the delicious flavors of Italy through their carefully crafted dishes. Chef Missy Robbins, who earned a Michelin star before opening Lilia, remains a pasta aficionado. Cheese dumplings in basil pesto, ricotta gnocchi, and agnolotti with saffron butter include just a few of the menu items. You'll struggle to find your favorite dish when you stop by this Italian dining locale. With its tasty, gourmet pastas, Lilia remains one of the best restaurants in Brooklyn.
This restaurant emphasizes pasta above all else, though they do have more food options on their menu. Guests can order a plate of prosciutto antipasto with parmigiana butter, or mozzarella and garlic bread. Those who like meat with their pasta should order a wood-fire roasted lamb leg to eat as well. Other items for consumption, like black bass and gold potatoes, will satisfy your desire to have some fresh seafood. After eating a hearty dinner, make sure to try some of Lilia's sweet desserts. The restaurant serves soft-serve gelato, which provides a refreshing way to end your meal.
2. Tanoreen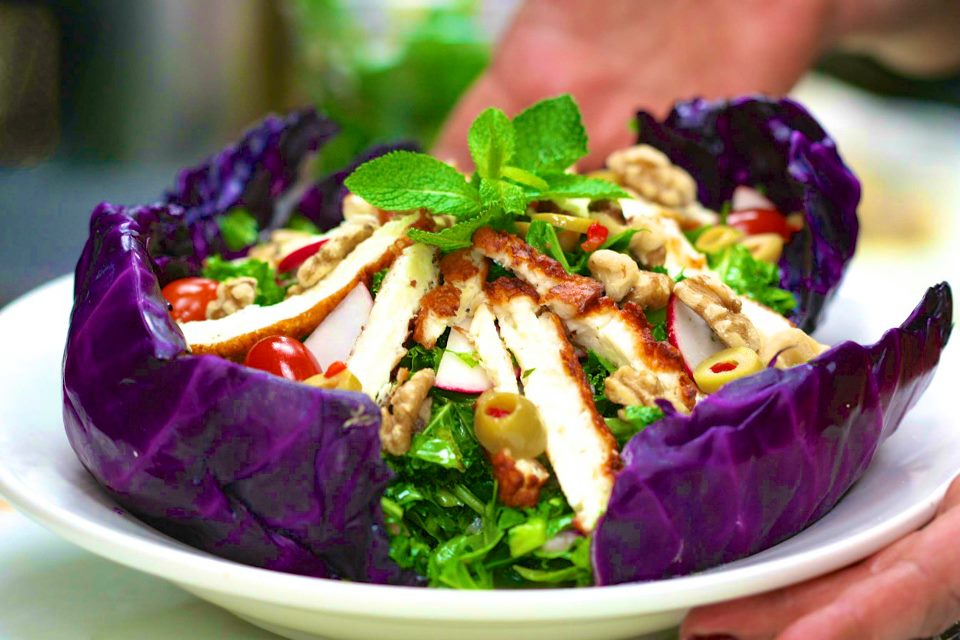 Credit: Facebook / Tanoreen
The Middle Eastern cuisine served at Tanoreen uses bold flavors for strong, exciting tastes. Tanoreen's owners have created dishes inspired by their Palestinian roots, giving the foods an eastern Mediterranean flare. Though the chefs utilize traditional recipes, they also give the dishes a unique, modern twist. Many of the plates here don't have ancient origins, but rather have been crafted with Middle Eastern flavors in mind. However, as one of the best restaurants in Brooklyn, Tanoreen's foods taste delicious by remaining authentic to the owners' origins.
On Tanoreen's menu, diners can find numerous dishes to satisfy their cravings. Eggplants charred in charcoal, tangy yogurt, and hand-crafted pita represent foods that come straight from the owner's childhood. Bigger plates remain ideal for sharing with groups of friends or family. Roasted lamb, baba ghanoush, and musakhan – a pita-dough pizza topped with chicken and onions – include some of the menu options. Each of the meals prepared combines a variety of rich spices to make every mouthful filled with delicious flavor. Many of these platters can be served banquet style, so everyone around the table may try a bite. Don't miss out on the intoxicating dishes at Tanoreen, an example of the best restaurants in Brooklyn.
3. Aska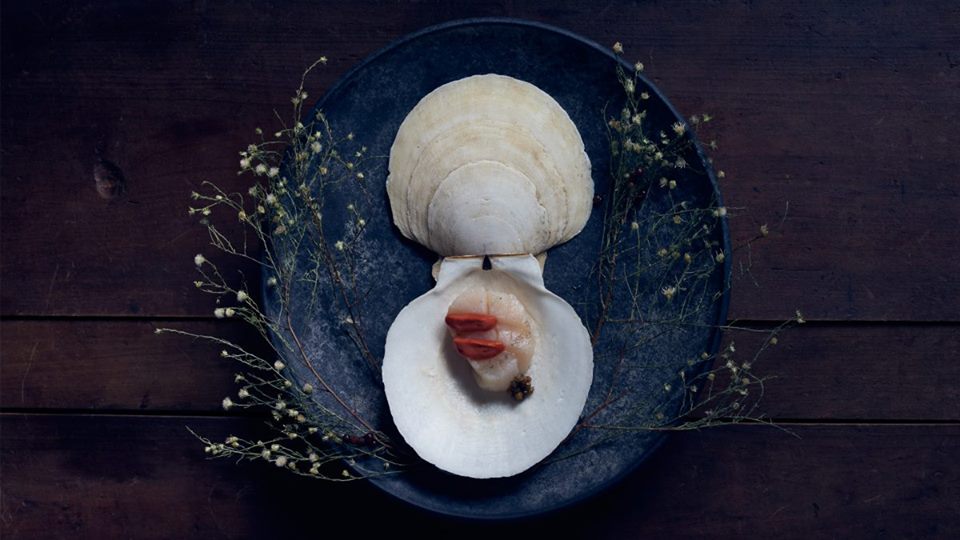 Credit: Facebook / Aska
Those with luxurious tastes will want to book a table inside Aska, one of the best restaurants in Brooklyn. This Michelin-starred dining location serves top-notch, gourmet cuisine to its many guests. The Scandinavian dishes at Aska can't be found anywhere else in this New York borough. Since the dining room only takes reservations, you'll want to plan to eat here in advance before arriving in Brooklyn. These reservations include options for a 10-course or 19-course meal, so you'll be dining here for a while. A garden out back and cellar bar provide venues for guests who prefer more casual eating.
What makes Aska worth the expensive price? You'll have to try some of the food served here to truly understand. The dishes at this restaurant have been crafted using the most decadent and fresh ingredients. Scallops served in brown butter, pig's blood pancakes, and charred lamb heart include a few dishes available for consumption. Beyond the extravagant flavors, the meals look sophisticated and enticing, as they remain plated with style. Items such as pickled elderberries, caramelized cream, and pine-mushroom vinegar sit brightly on their plates, begging you to taste them. Once you spend a few hours here, you'll understand why Aska remains one of the best restaurants in Brooklyn.
4. Sunday in Brooklyn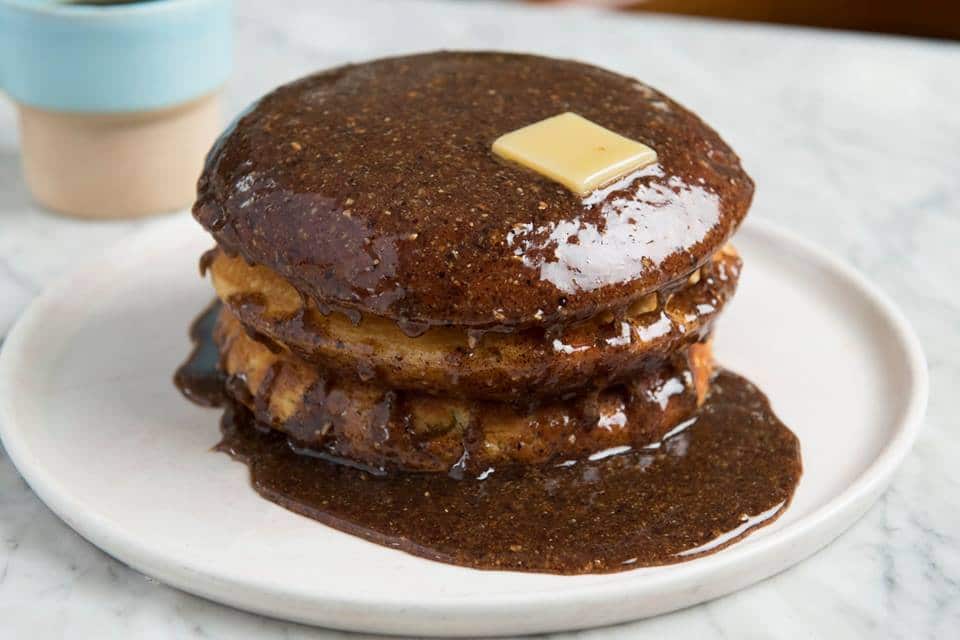 Credit: Facebook / Sunday in Brooklyn
You can now have brunch any day of the week when you dine with Sunday in Brooklyn. This restaurant offers all your favorite Sunday meal dishes, like eggs, bacon, and pancakes. However, Sunday in Brooklyn has upgraded all the breakfast classics using unusual and gourmet flavors. The brunch menu offers such items as hazelnut-maple pancakes and avocado toast with preserved tomatoes. Seafood fans will love the plate of smoked salmon, or pastrami black cod on sourdough bread. With fresh, innovative dishes like these, it's understandable why this dining spot represents one of the best restaurants in Brooklyn.
Any meal-goers who don't exactly love brunch may prefer to come to this restaurant for dinner. The evening menu contains some of the brunch items, like the cod, as well as other fare. You could order fried chicken and fancy ranch, or even dry aged pork chops with mustard greens. Of course, Sunday in Brooklyn also serves traditional brunch drinks, like mimosas, but with unique twists. For example, the cocktail, Champagne Problems, combines champagne, orange juice, berries, and mint. Those looking to sip on something with a bit more kick should try the Juanny Appleseed. This cocktail mixes tequila with hot apple cider, brown butter, and cinnamon.
5. Maison Premiere
Maison Premiere brings the energy and flavors of New Orleans to the plates of Brooklyn meal-goers. As one of the best restaurants in Brooklyn, this dining location doesn't disappoint when it comes to serving superior meals. As a cocktail bar, Maison Premiere's menu serves an array of delicious drinks. Sip on a San Domingo Julep, made with Venezuelan rum, gomme syrup, and mint. Or, order the Carondolet, a refreshing mix of gin, orange-flower water, salt, and citrus. If you're hoping to have a multiple course meal, you might want to skip this dining locale. Those who want to enjoy a few oysters alongside some zesty cocktails may find this restaurant ideal.
Besides the tasty cocktails, Maison Premiere also maintains a romantic atmosphere, reminiscent of the historic bars found in New Orleans. Stunning green walls and a faux patina produce a vibrant, heady setting, evoking the style of the city's French Quarter. An outdoors garden provides the ideal place to spend a sunny afternoon with drinks and friends. Iron tables, an oyster bar, and crawling vines make for an inviting location to enjoy a summer meal. The best restaurants in Brooklyn, such as Maison Premiere, make diners hesitant to leave even after finishing their food.
6. Peter Luger
Located in Williamsburg, Brooklyn, this eating spot emphasizes extravagant meals. At Peter Luger, diners can enjoy hearty dishes that highlight meat, with steak a main specialty. A famous dish served here includes the porterhouse for two, which contains 44 ounces of prime beef. Daily luncheon specials differ depending on the day, so make sure to look ahead if you want something specific. Monday's fare includes pot roast and chopped steak, while Thursday's servings involve roast prime ribs of beef. Diners hoping to try some authentic American cuisine should stop by Peter Luger, one of the best restaurants in Brooklyn.
Not a meat enthusiast? Peter Luger also offers lighter fare for those with smaller appetites. Appetizers such as sliced tomatoes and onions and an iceberg wedge salad may satisfy your vegetable cravings. Delicious sides can additionally be ordered, like German fried potatoes, creamed spinach, or onion rings. The desserts here match the heavier fare served at this restaurant, with apple strudel remaining a favorite among meal-goers. You could even try Luger's Special "Holy Cow" fudge sundae, which will be topped with homemade whipped cream.
7. Llama Inn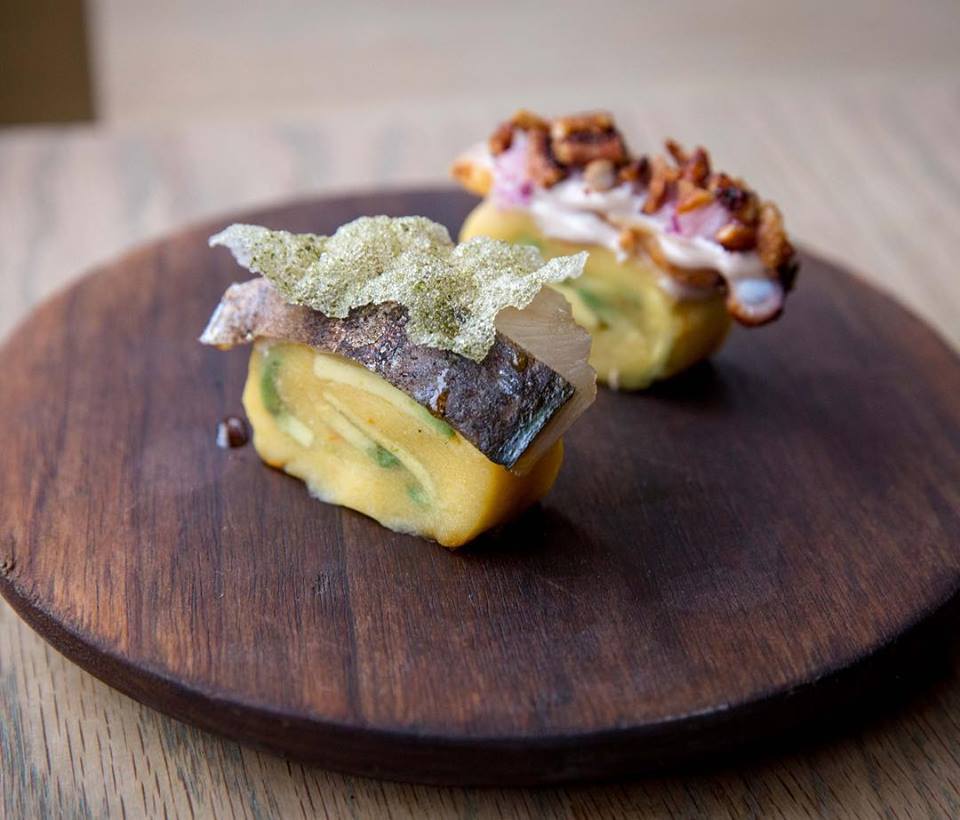 Credit: Facebook / Llama Inn
If you've never had the opportunity to try authentic Peruvian food, make Llama Inn your next go-to Brooklyn restaurant. The chef of this dining spot brought his traditional recipes to Brooklyn from his original home of Peru. Yet, the menu items here don't just take inspiration from Peru. In fact, the dishes served at Llama Inn also utilize the flavors of Spain, China, and Japan. The fascinating mix of tastes offered at this dining spot can't be found anywhere else in New York. After trying the cuisine served here, you'll know exactly why Llama Inn remains one of the best restaurants in Brooklyn.
While eating at Llama Inn, diners should try the beef tenderloin stir fry, which includes soy-sauced beef, tomato, and onion. Thick cut French fries top this platter, making it perfect for sharing with friends. Scallion pancakes wrapped around sliced avocado and pickled chilies provide fun and tasty finger foods. Most of the menu has small dishes for tasting or eating in between sips of a few drinks. The modern layout, with long rectangular tables and unique light fixtures, also makes Llama Inn an exciting place to dine.
8. Olmsted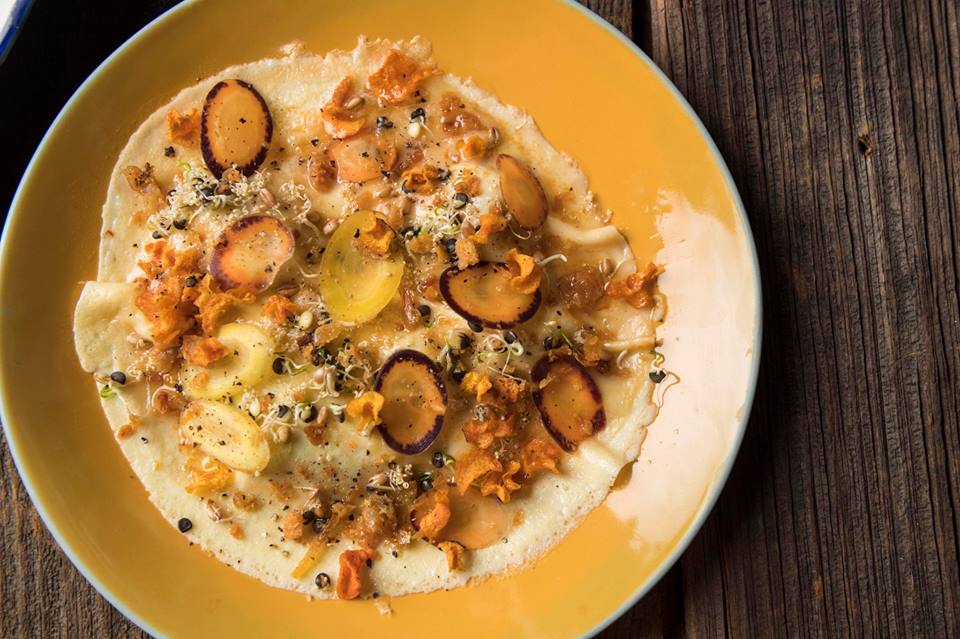 Credit: Facebook / Olmsted
The colorful, innovative dishes served at Olmsted set this restaurant apart from other Brooklyn dining spots. Every plate remains tenderly crafted to ensure diners receive only the freshest, most flavorful cuisine. Olmsted emphasizes fresh produce in each of their dishes, so you won't find hearty steaks on the menu here. However, that doesn't mean this eating venue fails to create satisfying meals. Items such as egg custard with crispy artichokes and Burgundy truffles make for awe-inducing mouthfuls of food. The grilled scallops, flavored by pasilla chile, alongside creamed corn and stewed blueberry might just become your new favorite dish.
Additional fare on the menu at Olmsted includes duck with eggplant, olive and apricot, as well as refreshing frisée salads. The lightness of the dishes here makes for healthy meals, while providing rich flavors that never leave you unsatisfied. When you eat at one of the best restaurants in Brooklyn, you'll also love the dining space's charming atmosphere. Wooden accents and bright green plants sitting atop the walls give this restaurant an earthy, enchanting ambiance. As you dine, you may feel as if you've left the excitement of the city and entered the calming countryside.
9. Di Fara Pizza
Credit: Facebook / Di Fara Pizza
A list of the best restaurants in Brooklyn wouldn't be complete without a classic pizza joint. Di Fara Pizza offers everything you could want from a slice of New York pizza. Even the most astute pizza fans will find themselves blown away by the pies served here. These Neapolitan pizzas remain carefully crafted by talented chefs, so every bite will remain full of flavor. Crispy thin crusts, charred in just the right way, ensures your slices won't be soggy or greasy. The Parmesan used to season the dough provides just the right amount of flavor, without overpowering the pizza.
You can order your favorite kind of pizza at Di Fara Pizza. Regular slices come topped with cheese and fresh basil, while extra toppings can be added if desired. Specialty toppings include sun-dried, roasted peppers, green olives, mushrooms, prosciutto, and more. A classic pizza pie arrives loaded with sausage, pepper, mushrooms, and onions. Diners can even order a white pizza, which forgoes the typical tomato sauce. As one of the best restaurants in Brooklyn, this eating venue provides many options, guaranteeing every diner remains satisfied. Yet, the simplicity of the pies means you can get the authentic New York slice you want.
10. Pok Pok Ny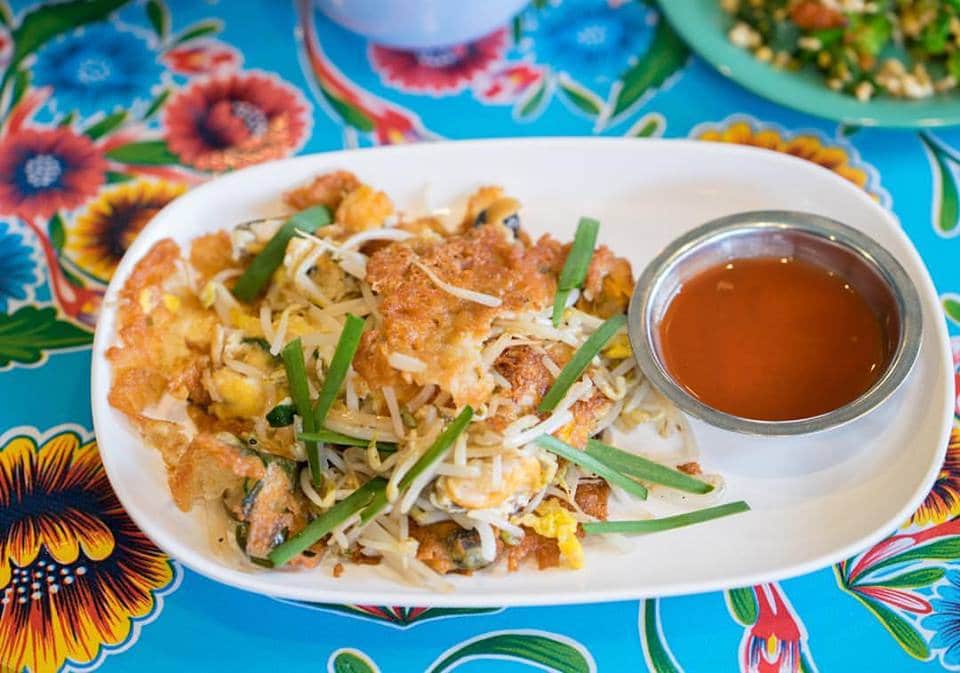 Credit: Facebook / Pok Pok Ny
Pok Pok Ny maintains a reputation as one of the best restaurants in Brooklyn. This highly popular dining spot serves Thai-inspired cuisine that tastes authentic and flavorful. The restaurant stands out from other sites in the New York borough by utilizing the flavors of Southeast Asia. On Chef Ricker's extensive menu, meal-goers can choose delectable dishes like sweet-and-sour pork curry, fish-sauced chicken wings, and noodle soup. A house-cured sausage comes decked out with crispy cabbage and beans, which can be dipped in green chili. Spiced catfish served atop vermicelli rice and dill garnishes remains a favorite among those who enjoy traditional Thai fare.
Additionally, a tented dining room with colorful string lights and hanging ceiling plants creates a fun and casual eating environment. You won't wonder if you're under-dressed for the occasion while dining here. Instead, you might just feel at home while enjoying dishes inspired by a distant world. When you're finished eating your savory meal, look again on Pok Pok Ny's menu for some sweet treats. The ice cream sandwich – a hot dog bun filled with ice cream – provides the perfect end to your dining experience. After enjoying authentic Thai food, you'll make this dining spot your top pick among the best restaurants in Brooklyn.
Taste the best dishes Brooklyn has to offer.
The best restaurants in Brooklyn offer tasty food as well as a unique dining experience. As you eat your meal, the atmospheres of each location will make you feel welcomed and inspired. At the same time, with so many different types of cuisine available, you'll always have something new to try. Whether you enjoy American dishes, such as burgers and fries, or more gourmet fare, Brooklyn's dining scene has you covered. Make sure to check out these top dining locations the next time you visit this New York borough.
Related Article: Best Italian Restaurants In NYC A Foodie Could Dream Of