Travel should always be an adventure. What better way to start a trip than staying at one of the coolest hotels around the world?
Have you ever thought about the hotel being the adventure? When most travelers picture their vacation, activities and scenic locales come to mind. But what if your hotel stay was an adventure in and of itself? While this might seem far-fetched at first, we have plenty of places to show you that will blow your mind. The coolest hotels around the world run the gamut of options.
Sleep under the magical dance of the northern lights, layer under blankets in an ice hotel, live out your childhood Tarzan dreams in the ultimate tree house. Here are our choices in no particular order.
Here Are Our Picks for the Coolest Hotels Around the World
1. Manta Resort, Pemba Island, Zanzibar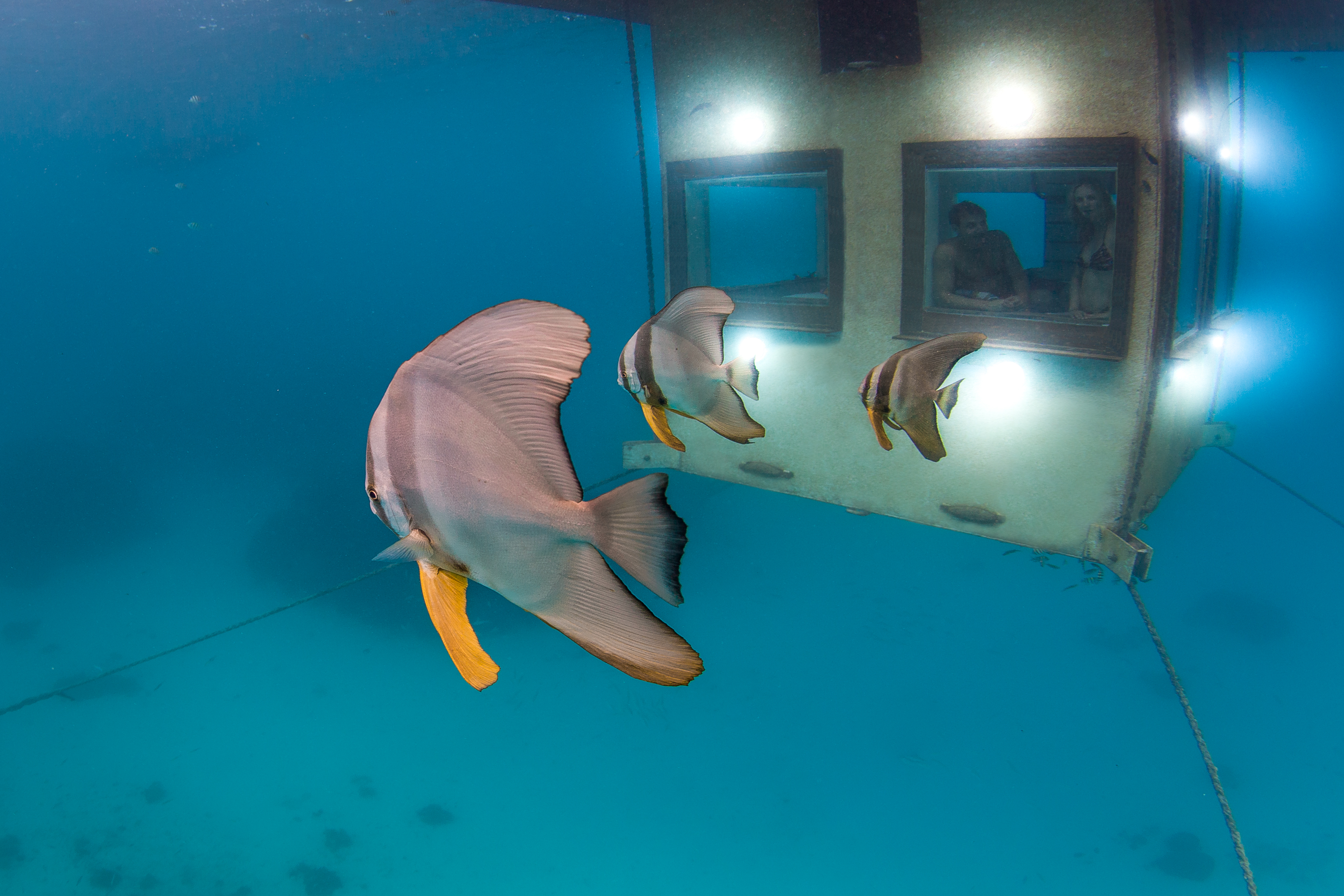 Credit: Jesper Anhede
You've never seen paradise like this. Take the road less traveled and you'll be pleasantly surprised. These gorgeous beach villas are set on a remote island off the coast of Africa. The Manta Resort is a true gem, untouched by tourism. While any room would be lovely, the Underwater Room offers the most immersive, unique experience. It is definitely one of the coolest hotels in the world.
Anchored in the ocean floor, sleeping in the Underwater Room will top any experience you've ever had. Colorful fish glide right past your windows around your bed. At night, you can turn on spotlights under the windows to attract fish and octopuses. The sea-level floor offers a spacious living room and bathroom. This floating structure is a feat of Swedish engineering, offering three levels – each worthy of its own story.
When you're ready to wind down for the night, the rooftop patio offers an amazing spot to take in the pure Milky Way views at night. If you can manage to pull yourself away from your room, the hotel has so much more to offer than the breathtaking views. A world-class spa, scuba diving, and wildlife explorations around the island all have your name on them.
2. The Inntel Hotel Amsterdam Zaandam, The Netherlands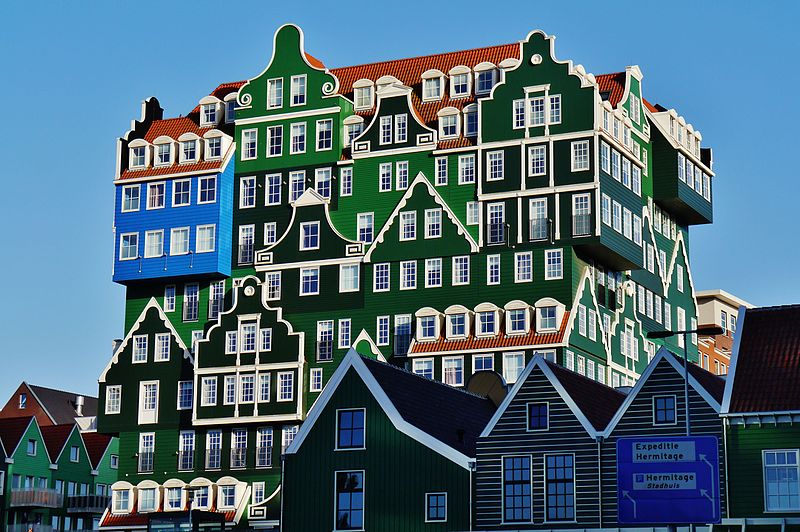 Have you ever seen a more charming hotel front? The Inntel is certainly a feat of engineering too. This four-star hotel in the Netherlands was in such a way that it appears 70 traditional houses have been stacked together. Welcome to the Zaan region. The interiors offer nothing short of an amazing stay, reflecting the culture of the area.
Traditional products from craft industries have been incorporated throughout the lobby and rooms. If you didn't already know the mad-skill of the local craftsman are what make Zaan famous. In a nutshell, you'll get the best combination of traditional culture and comfort right here. Besides offering nostalgia-invoking rooms, the hotel also features a wellness club and swimming pool, Bar & Restaurant Puur Saen and free WiFi.
When discovering Zaanstreek and just Amsterdam in general, this is the place to be. In just a ten-minute train journey, you can be right in the heart of Amsterdam. Schiphol airport is only 18 minutes away. Last but certainly not least, we love that Inntel Hotels is a part of the Surprisingly Sustainable program, working towards a green future.
3. Golden Crown Levin Iglut, Levi, Finland
Credit: Levin Iglut
What's more magical than spending the night in an igloo? Besides the spectacular view of the night sky, these glass igloos at Golden Crown Levin Iglut also offer luxurious amenities. Drift off to sleep in a warm, comfy bed while admiring a sky full of stars. Each igloo is fully-equipped with electrically heated glass (it doesn't fog!), air conditioning, a small shower, toilet, and WiFi.
Want to know our favorite feature? Motorized beds can be adjusted to just the right spot to watch the northern lights. Talk about having the best seat in the house; this is one of the coolest hotels ever.
4. Book and Bed Tokyo, Tokyo, Japan
Credit: Booking.com
Bibliophiles, unite! This accommodation bookshop is the perfect place to stay. Here's the fun part. It looks like a regular bookstore inside. That is, until you slide open a bookshelf to reveal a cozy space with a simple bed, reading light, and outlet. This minimalist stay offers 30 sleeping pods, stacked together like shelves in a cabinet. Each is big enough for one person.
Before you wind down for the evening, choose from over 3,000 titles of texts in both Japanese and English. Bathrooms are shared and comfy couches in the library offer a communal space for reading and meeting the other guests. Here's the craziest part of it all. On average, it only costs about $35 a night to stay here.
That's way cheaper than your average hostel. Sign us up for books, bunks, and plenty of leftover cash to explore Tokyo with. It sounds like a win-win-win to us. Book and Bed is definitely one of the coolest hotels in the world.
5. Dromen Aan Zee, Harlingen, Netherlands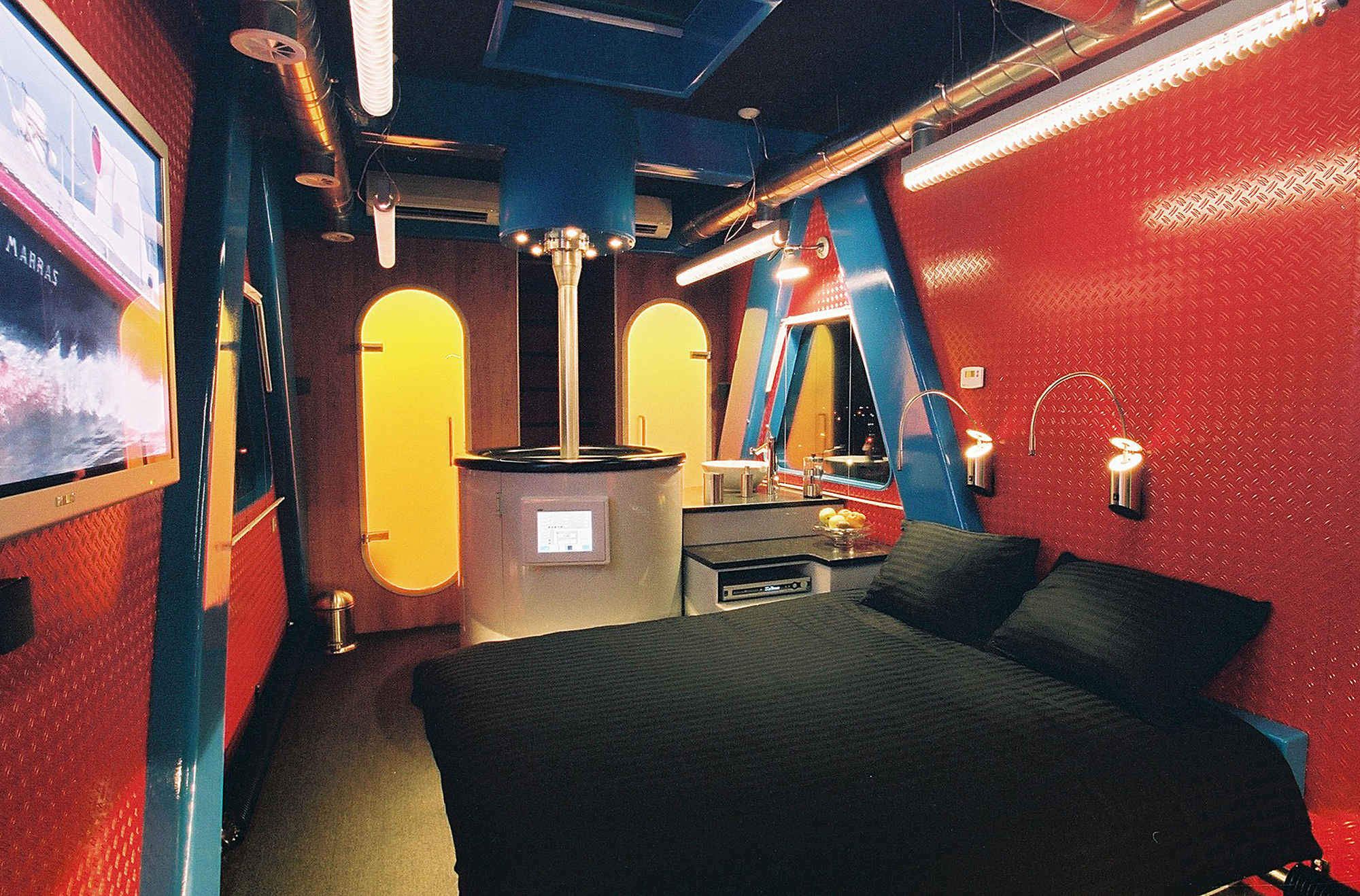 Celebrate the Netherlands' seafaring culture in three special types of accommodations. Dromen Aan Zee offers an unforgettable stay. Choose from sleeping in a lighthouse, a lifeboat, or a harbor crane. The Havenkraan (harbor crane) hangs 56 feet above the ground. Up until the mid-1990s, it was used to unload goods from ships. Today, both the machine and control rooms have been converted into a trendy apartment-style stay, complete with panoramic views of the Wadden Sea below.
Characterized by popping hues, this hotel feels like something out of a Wes Anderson film. With a built-in entertainment system, kitchen, double shower, and rooftop patio, you'll feel more like you're on a yacht than a crane above it. Nearby, the decommissioned lighthouse offers another promising stay. Each one is complete with full amenities, a panoramic view of the sea, and city views courtesy of a 72-foot-high patio. If this isn't one of the coolest hotels in the world, we don't know what is.
If you're looking to get closer to the water, there's no better option than sleeping in the lifeboat. Reddingsboot has been converted into a chic, modern room. You can even take it out on the water for a two-hour cruise if you'd like. Enjoy meals on the water and spectacular views of the surrounding harbor.
6. Hotel Costa Verde, Provincia de Puntarenas,

Costa

Rica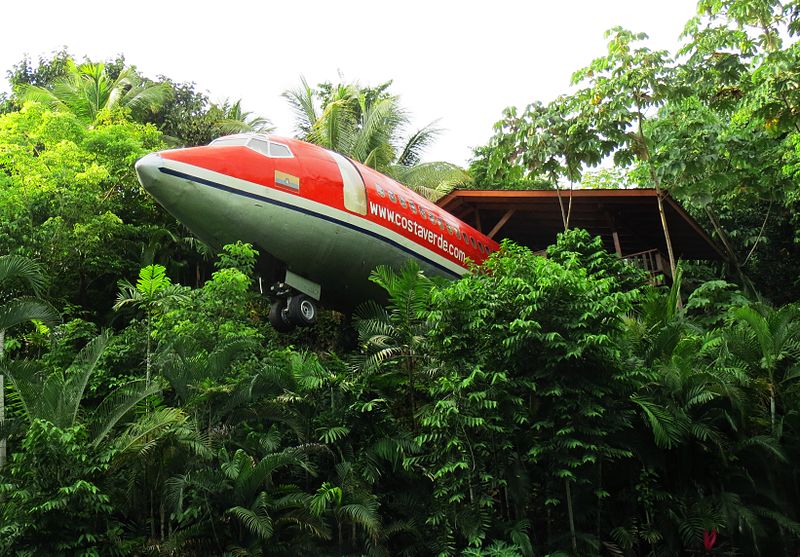 Escape city life in the lush jungle of Costa Rica. As if a tropical escape weren't enough, you can also choose to spend the night in the "Cockpit Cottage." That's right. Guests at the Hotel Costa Verde can book their stay to sleep in a repurposed Boeing 727, now a luxury two-bedroom guesthouse. While the distinctive shape is still intact, the inside is lined with rustic wood, giving off a warm cabin-feel ambiance.
Throughout the interior of the plane, the windows offer prime jungle and ocean views. Lovely covered patios extend out over the wings. Each of the bedrooms offers air conditioning and their own bathroom. Enjoy dinner in the kitchenette area or some drinks over at El Avion, the hotel's restaurant and pub. The coolest part about it all is the history. El Avion is held inside of a C-123 Fairchild plane used during the Iran-Contra Affair in the 1980s.
7. Huilo Huilo Montaña Mágica Lodge, Chile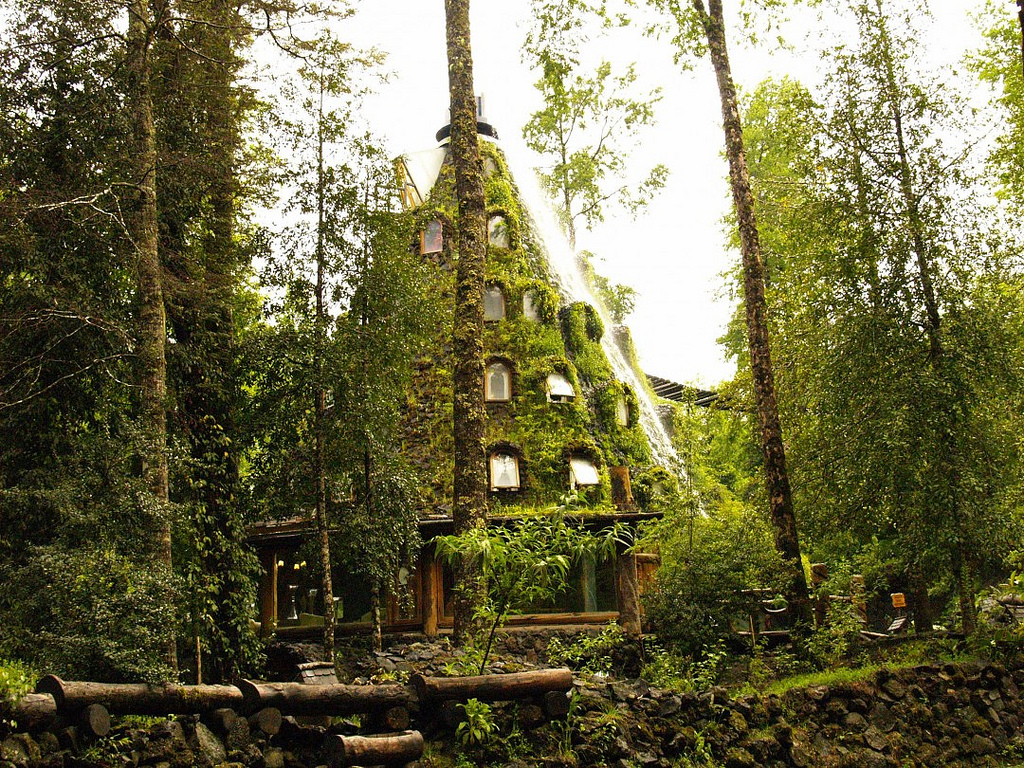 Close your eyes. Imagine a magical hotel hidden away beneath a waterfall in the Chilean rainforest. Now open them and take in all the wonder that is the Huilo Huilo Montaña Mágica Lodge. Located in Huilo Huilo, Chile, this is one of the coolest hotels in the world. A man-made pyramid, it is only accessible via a suspended monkey bridge.
From far away, it looks like a mountain with a waterfall running down the face from the peak. But upon taking a closer look, you'll see windows and doors peeking out from behind the mist. Here, you're hidden away from the rest of the world inside 230 square miles of pure forest. While the outside looks like something straight out of Swiss Family Robinson, the interior is far from quaint.
Surrounding the hotel are hot tubs carved out of tree stumps. On the grounds, there is even a mini golf course where guests can put around. And for adrenaline junkies, there's no better place to be than among the treetops. South America's longest zip line is just nearby. While you're here, it's highly likely that you'll also be the space with some of the indigenous wildlife. One of the most adorable animals native to the region is the Pudu, miniature deer that measure about 13 inches tall.
You'll be able to look out upon it all from your room. Just make sure to reserve it far in advance. There are only 12 rooms in the entire hotel and rumor has it, they get booked up fast. Each of the rooms looks like something straight out of a tree house fantasy. If you can manage to pull yourself away from your room, there is also a lovely on-site spa as well as a restaurant serving up traditional Chilean meals.
Book Your Stay at One of the World's Coolest Hotels
When you're traveling, where you stay is part of the adventure. A hotel is so much more than a place to lay your head at night; it should be an integral part of your trip. As you can see, there is no shortage of creativity when it comes to the coolest hotels around the world. Which one would you like to stay in the most? Let us know in the comment section below.
Questions and Comments
Do you have any questions or comments for us? If so, feel free to leave us a message below. We will be sure to get back with you soon.
Related Article: ​​5 Most Romantic Hotels Around the World to Rekindle Romance​​​