Travelers flock to Faena Miami not only for its beach scene but also for its art center, world-class service, and charm.
Meet us on the beach. Come and discover a place like no other at the Faena Miami hotel. Here, it's always sunny. From the candy cane striped umbrellas and plush chaise lounge chairs to private cabanas at Faena Pool, you're bound to find your place in the sun – or shade here while you hit up all of the amazing local beaches. There are plenty of things to do in this city. In a city of constant growth and change, you've got to stand apart. Faena does just that. With a rare sleek sophistication and classic charm, the Faena Miami looks like something straight out of a Wes Anderson film.
Let's Talk Accommodations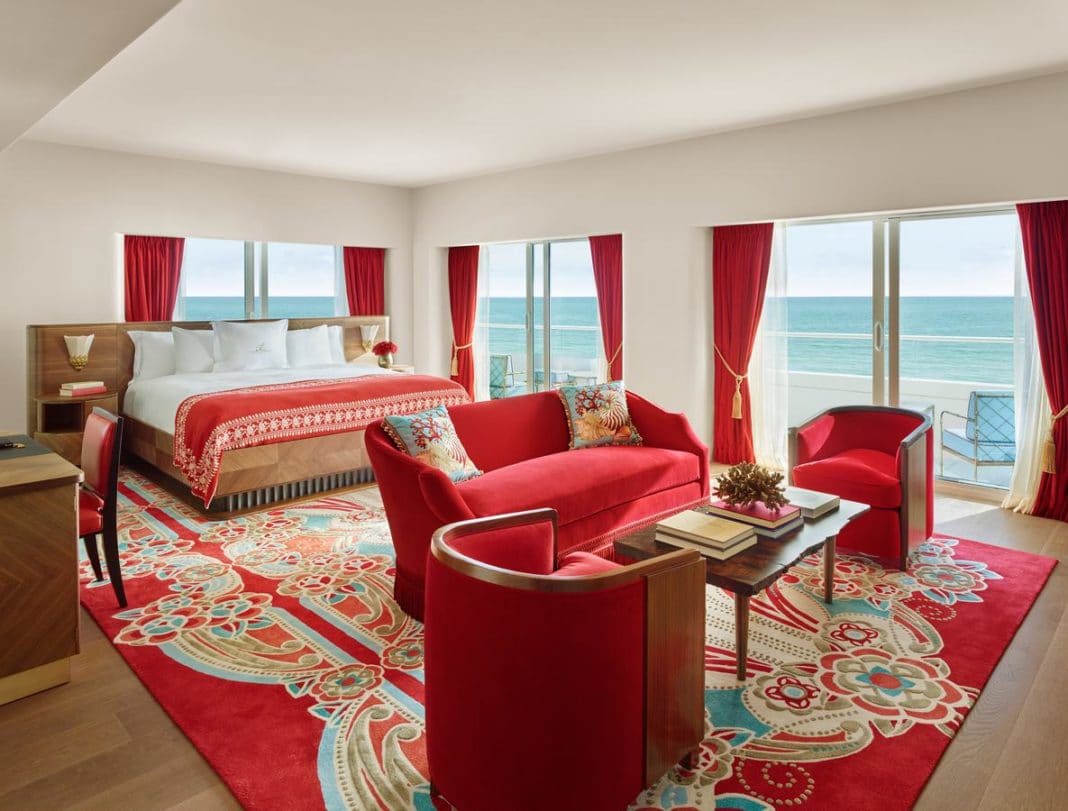 Credit: Booking.com
Step into a chic retro 60s vibe room that blurs the lines between dreams and reality. All of the Faena Miami hotel rooms are a wonderland of color, comfort, and glamor, expanding the imagination and soothing the spirit. Slip off your shoes, slip on your robe, and unwind in a space where sunshine restores, ocean air refreshes, and wonderful service fulfills.
Take your pick. There are eighteen different room styles to choose from. From the classic Bay View Room comfortably fitting one or two guests to the Penthouse Suite, spanning a jaw-dropping 14,507 square feet (a mansion size if you ask us), there is something for everyone. Bay Rooms start at $550 a night. Penthouse Suites are pretty much for the rich and famous. They'll set you back $50,000 a night. Yes, you read that right.
Whatever room you book (reasonable to luxury car price), each offers stunning views of the bay and Intracoastal Waterway from your balcony. Enjoy gorgeous Miami sunsets and sweeping views of the downtown skyline. Elegant custom wood furnishings, Carrara marble, and exclusive amenities are found throughout.
Let's Talk Dining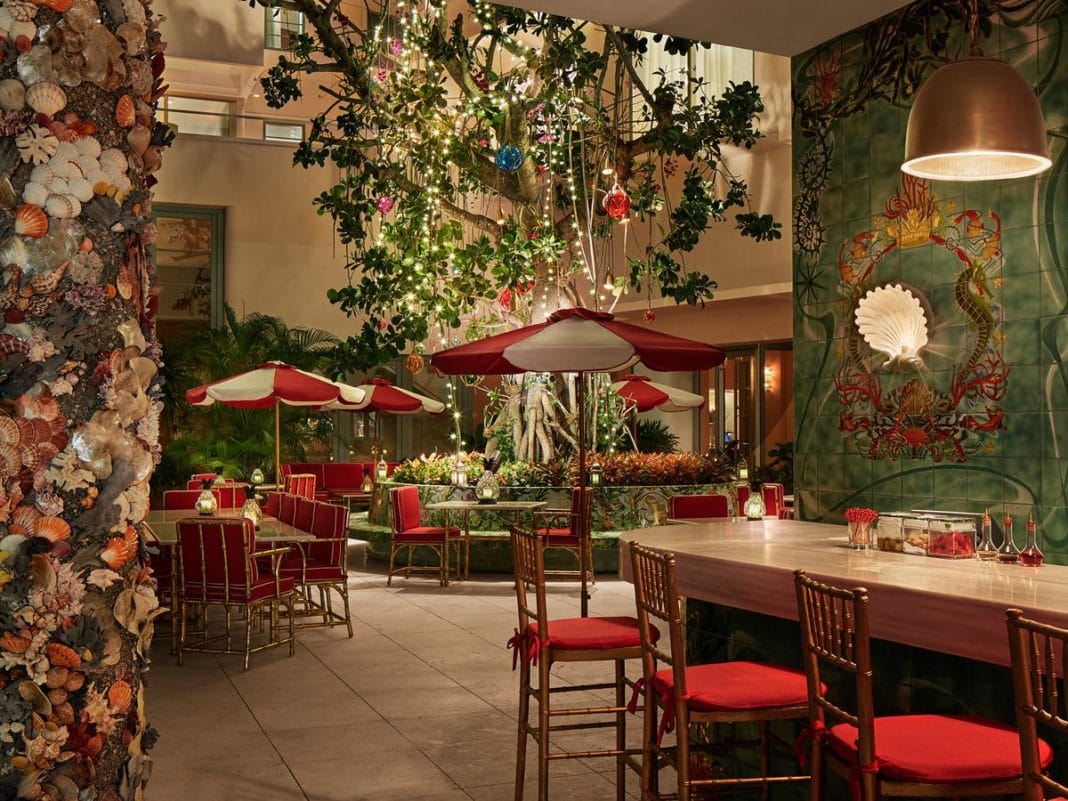 Credit: Booking.com
Among all the theatre in Faena's presentation, perhaps the best treat are their restaurants and bars. Discover the art of open-fire cooking, tempt your palate with savory Filipino-inspired dishes thought up at Pao by Paul Qui, or dine in style under the Magic City's glimmering sun at the tropical Veranda. The choice is all yours.
Los Fuegos by Francis Mallmann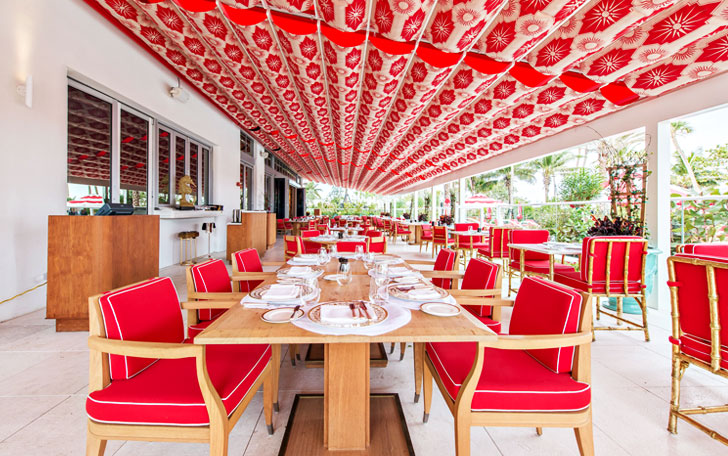 Credit: Pinterest
Think award-winning, Argentine, open fire meals. Now, you have a small idea what Los Fuegos offers. Born from a passion for the ancient art of South American open fire cooking, the Argentine legend Francis Mallmann dreamed up this stunning restaurant. Welcome to a contemporary asado experience complete with an open fire kitchen, only the finest local ingredients, and a gaucho's signature touch. The result is amazing traditional rustic recipes and to die for savory dishes.
Pao by Paul Qui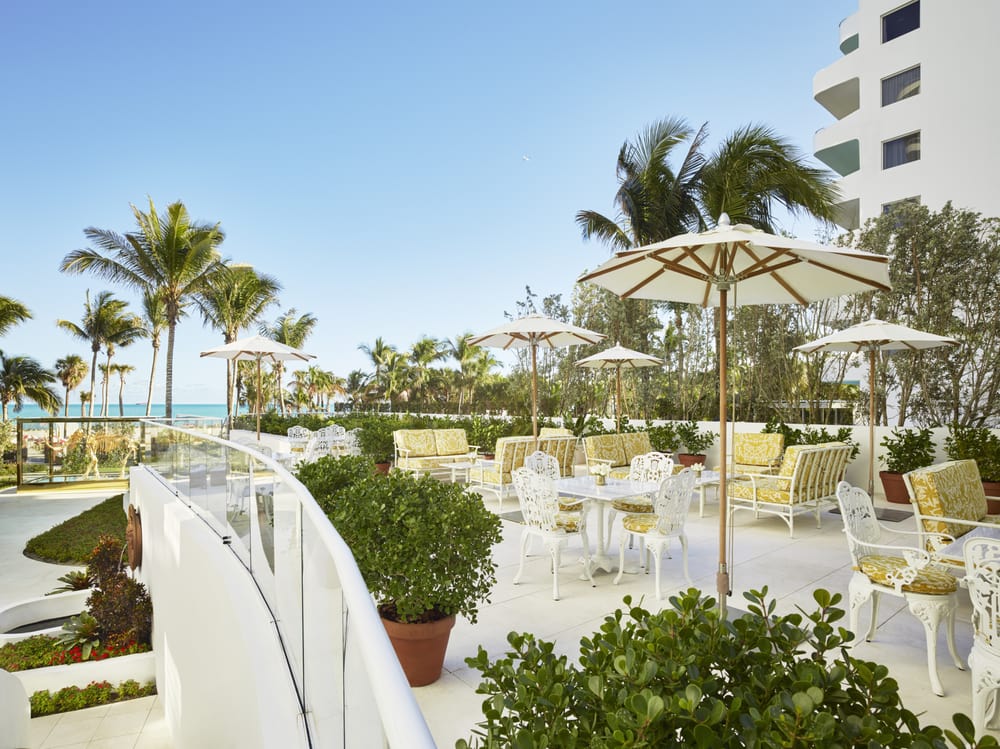 Credit: Yelp
Think award-winning, modern Asian, ocean views. Welcome to Pao by Paul Qui. This memorable restaurant draws from a range of international styles, including Filipino, Spanish, Japanese, and French. It all comes together in a harmonious blend of culture in a wonderful cuisine. Add ocean views and you really can't dream up anything better.
Veranda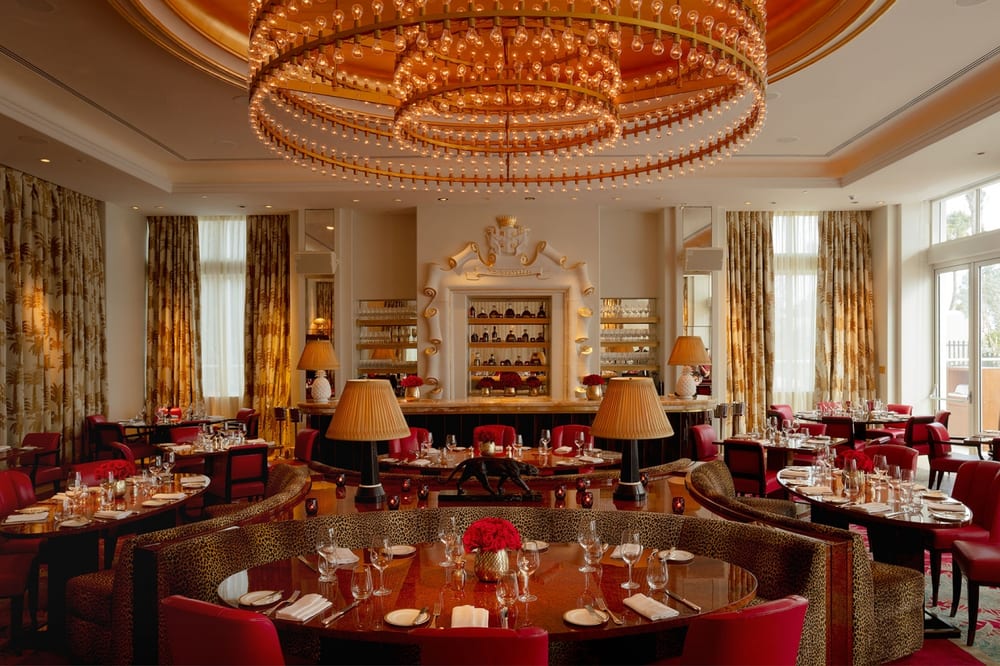 Credit: Yelp
It's all in the name. Think breakfast, ocean views, and a refreshing sea breeze. Veranda offers spectacular view of the Faena Miami Pool, ocean, and a perfectly inviting place for a morning cup of coffee or leisurely breakfast. We don't know about you, but we're going for the mimosa.
The Living Room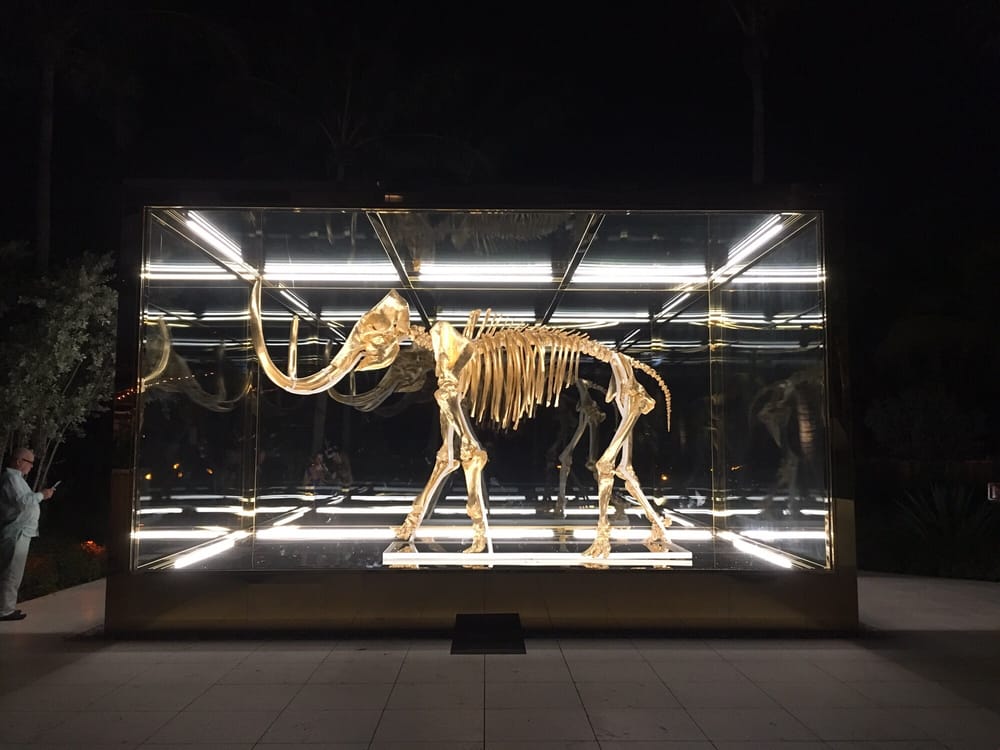 Credit: Yelp
If we could sum up the Living Room bar in three words, it would be: Indoor, cocktail, metropolitan. But it's so much more than that. This well-appointed space features popping colors, bold prints, and some of the best bespoke cocktails and wine to enjoy over an evening with live entertainment.
Faena Miami Theater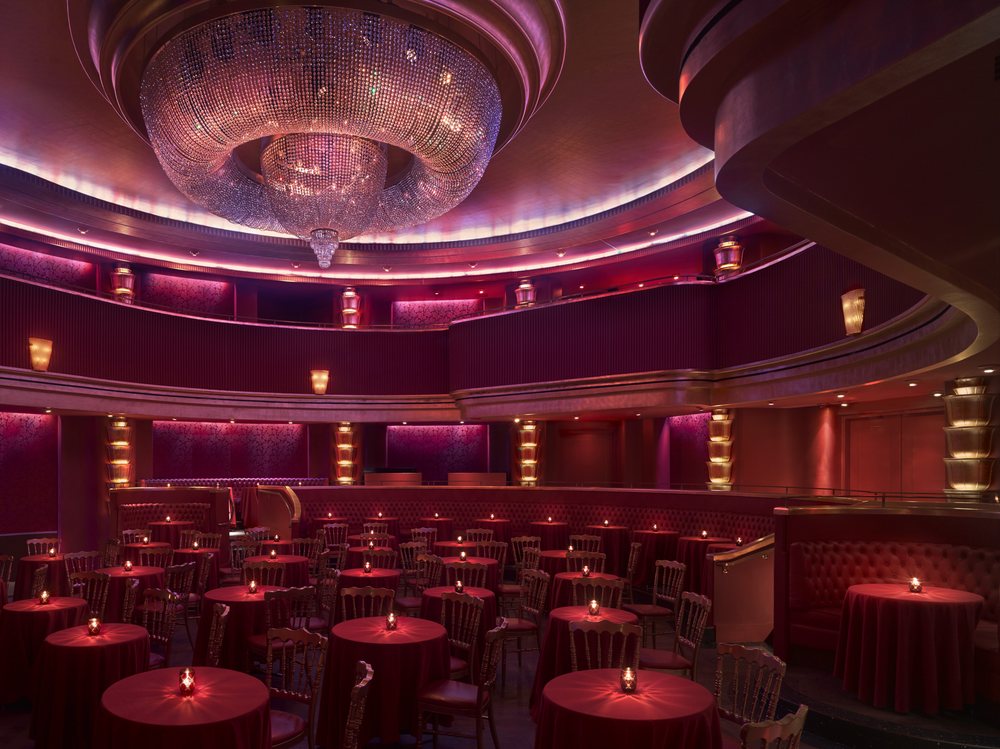 Credit: Yelp
Live shows, entertainment, and nightlife all come together in the Faena Theater. You don't even have to leave the hotel to find some of Miami's best culture. Step inside and you'll be blown away. Inspired by Europe's grand opera houses and the glittering allure of classic Hollywood, you'll feel like you entered an old film. The intimate theater showcases delightfully artistic productions and Faena's very own, highly acclaimed cabaret performances.
Saxony Bar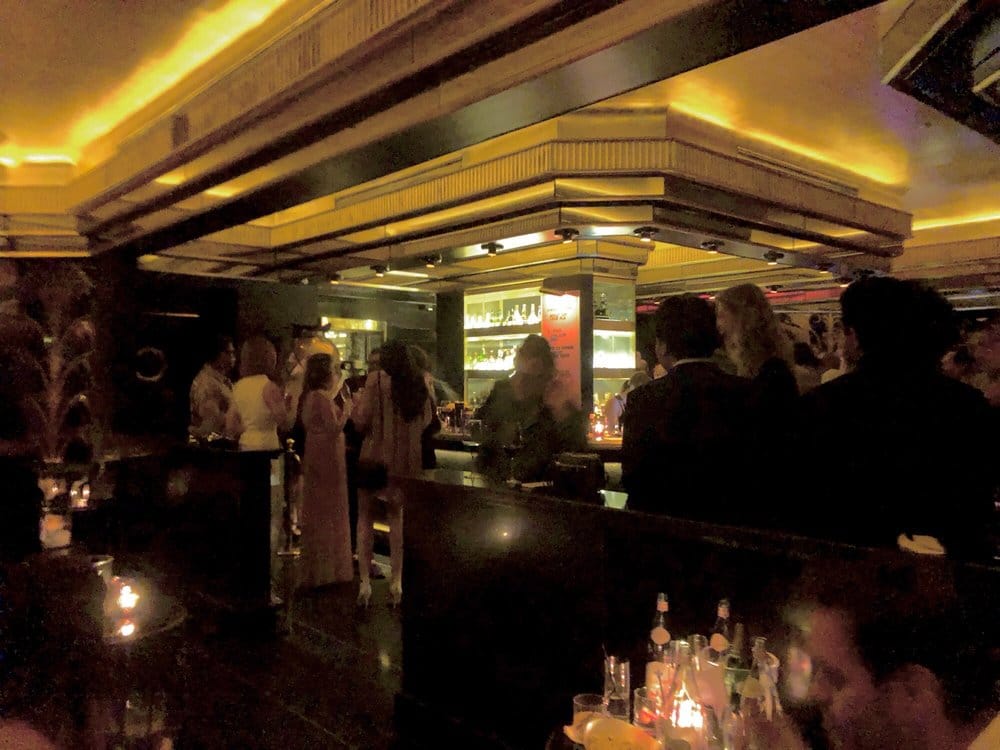 Credit: Yelp
Intimate, mixology, classic. The Saxony Bar is a chic, private setting steeped in golden age glamor. This lively lounge is the perfect place to grab a nightcap. Choose from the time-honored list of curated cocktails, listen to music from one of the DJ sets, and join Faena Miami here every Thursday – Saturday night.
Tree of Life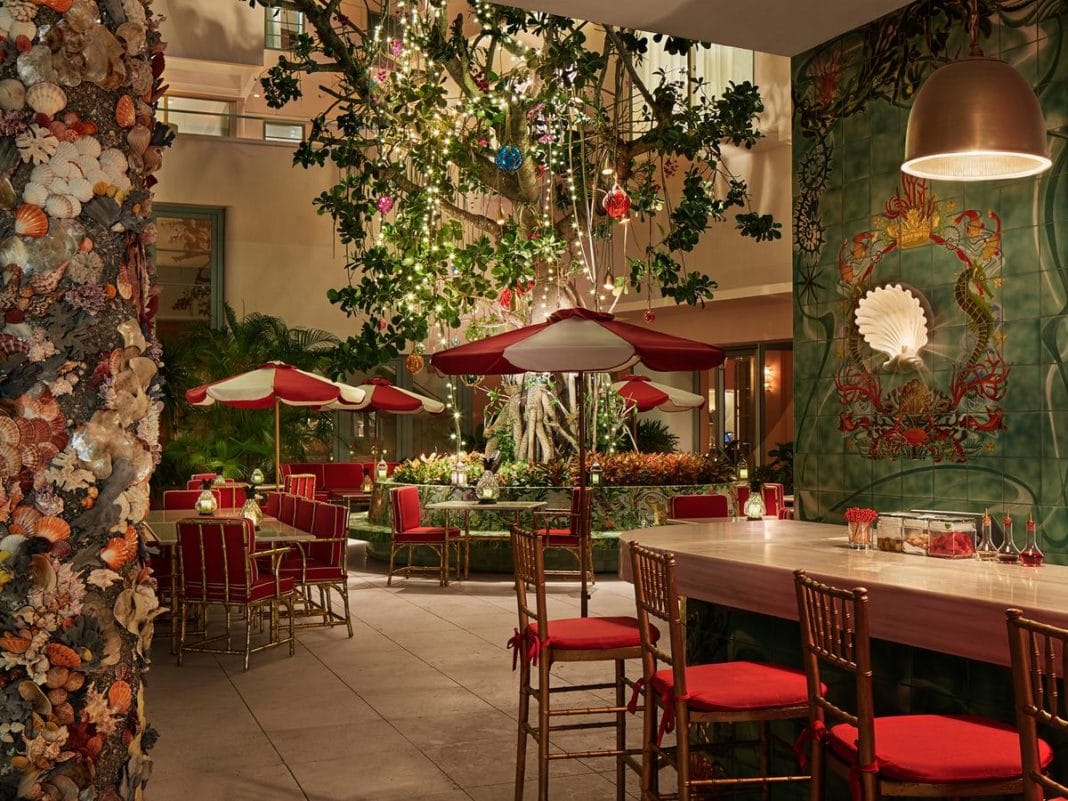 Credit: Yelp
A cozy gathering place with outdoor seating, the Tree of Life features creative cocktails and just as colorful as a setting. The walls are painted a leafy green, lined with pearls and shells, and a quirky, shimmering bead chandelier hangs in the courtyard as a main centerpiece. Bring your significant other or a group of close friends and enjoy imaginative cocktails, delicious small plates, and choose from a wide array of wines. Sip, wine, and dine all with spectacular views of the pool and ocean.
Let's Talk Amenities and Activities
Faena Miami offers a state of the art 22,000 square foot spa and so many activities for guests to enjoy. Let's take a more in depth look at their services and amenities.
Tierra Santa Healing House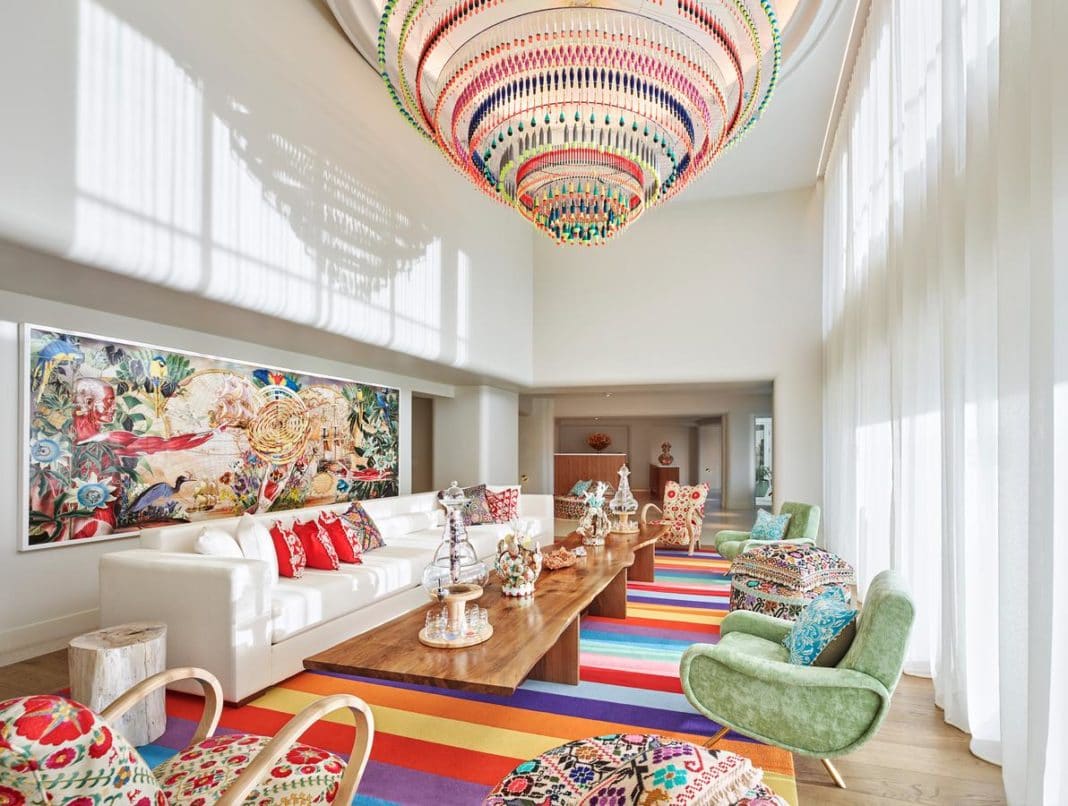 Credit: Booking.com
Set on the third floor of the Faena Miami, the Tierra Santa Healing House is a 22,000 square foot relaxation space, one of the largest Hammams available on the East Coast. They offer shaman body healing rituals, as well as technologically advanced facial treatments including Naturopathic and Biologique Recherche skin care lines.
Explore Treatment Options
The treatment options at Tierra Santa are seemingly endless. Here, holistic healing, fitness, and relaxation come together to form the binding philosophy of the Healing House.
The Body Rituals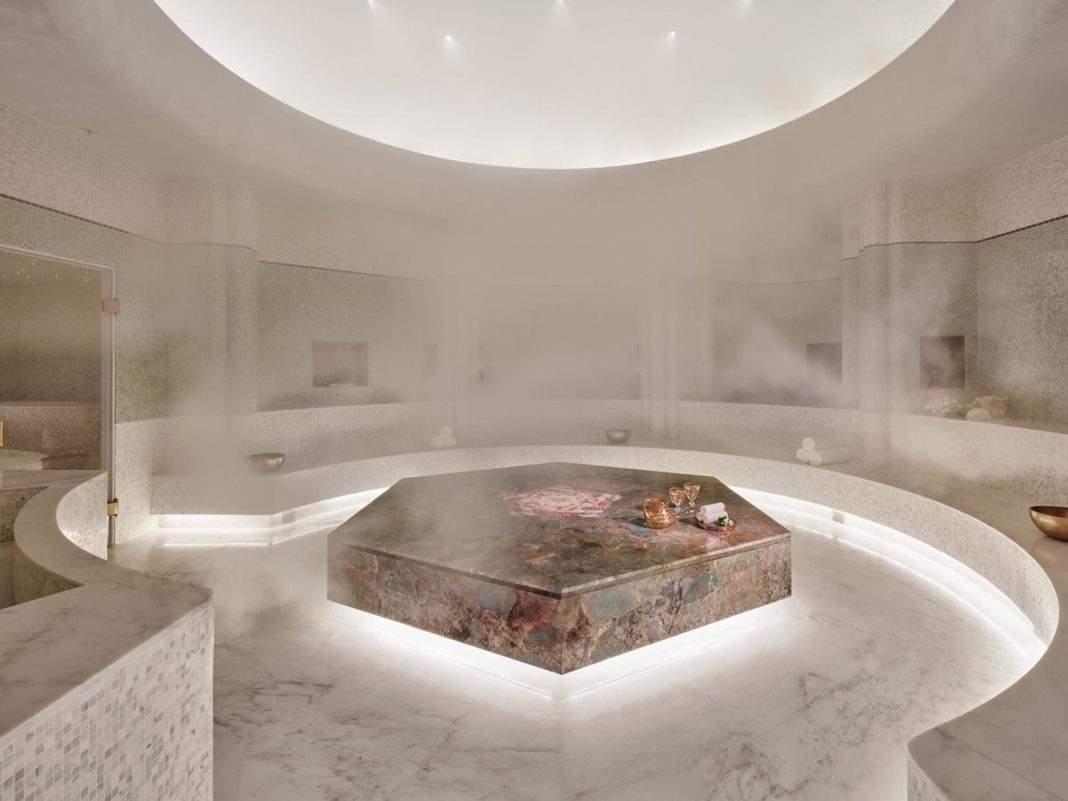 Credit: Booking.com
Purify both your mind and body at Tierra Santa's wet spa area. Their approach to healing is wonderfully simple. Only plant-based, hand-blended muds, oils, and scrubs are used. The experience is based around traditional shaman wisdom.
The Wet Spa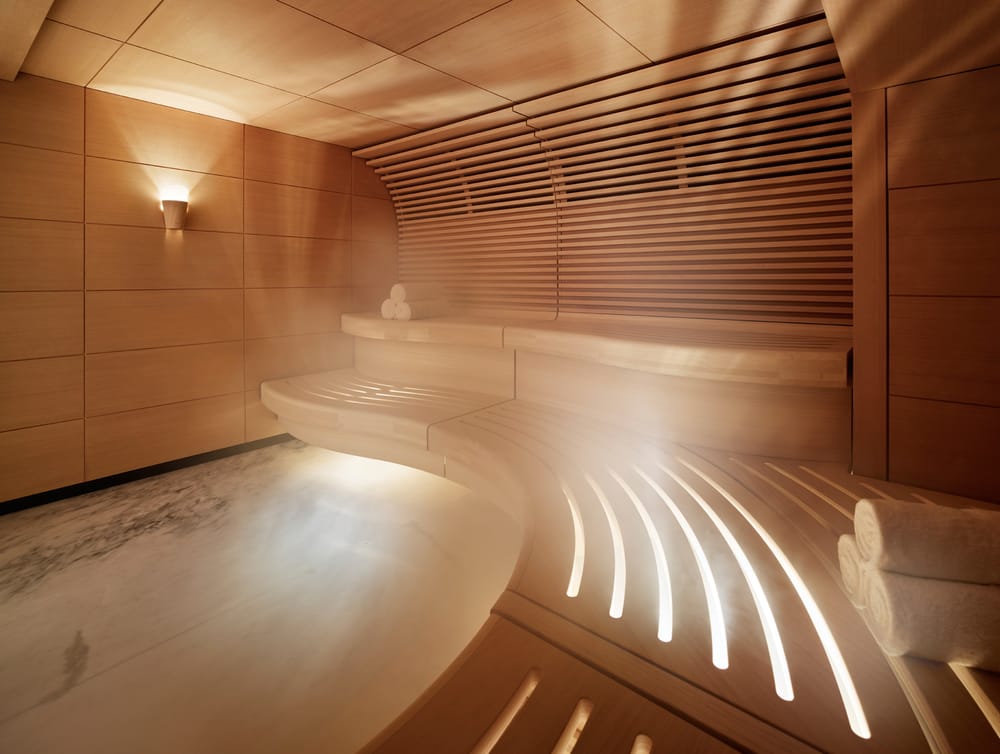 Credit: Booking.com
Homeopathic ingredients are activated by heat and steam, resulting in profound physical and mental rejuvenation and restoration.
Unique Healing Arts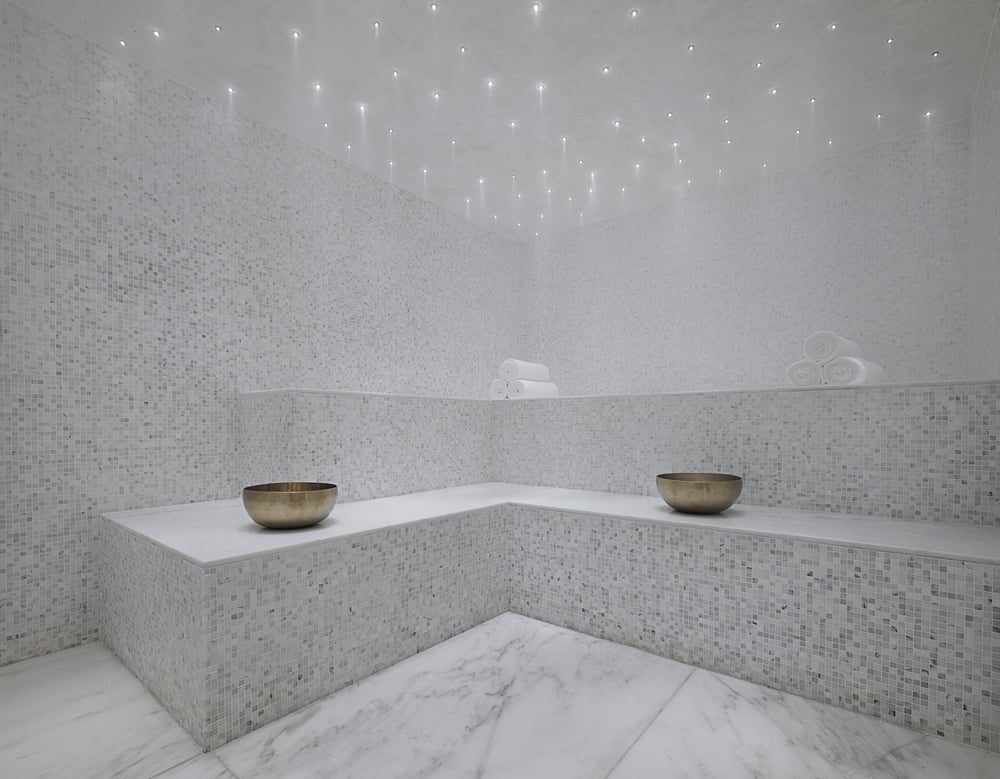 Credit: Yelp
The unique healing arts introduce guests to a myriad of shamanic-inspired therapies, including Pranic Healing and massage arts. Each of the treatments are performed with organic, hand-blended oils, resins, healing stones, and poultices. Traditional curative practices are coupled with indigenous ingredients ethically sourced from South America. Each treatment offers the opportunity to improve your health and transform your life through the power of touch, taste, sound, and scent.
Advanced Beauty and Facials
At the Tierra Santa Healing House, therapeutic treatment spans from head to toe. Choose from an array of advanced beauty, skincare, and facial techniques from advanced aestheticians. Each spa is outfitted with the latest technology and trusted brands, Biologique and Naturopathica. Treatments range from revitalizing oxygen facials to hydro-protecting and dermo-slimming body massages.
Preventative Medicine and Holistic Therapies
Experienced doctors and trained health practitioners guide you towards life-changing programs to better your overall health. These programs are offered by referral to Dr. Juan Rivera and Dr. Matthew Cooper.
Day Spa Packages
Choose from one of the healing day spa packages and enjoy customized itineraries catered to your needs. Options range from 50-minute massages, private yoga classes, face and body treatments with Biologique and Naturopathica, a Rossano Ferretti Salon experience, and scrumptious vegetarian meal options.
Spa Suite & Couples Treatments
Enjoy the ultimate romantic and relaxing experience for couple's treatments. The Tierra Santa offers highly-customized treatments for two love birds seeking some much needed R&R. Enjoy the ultimate spa complete with prime views, a lush indoor soaking tub, and a private balcony overlooking the ocean. Guests have the option to choose from any of the unique healing arts, including massage therapies, body work, and Hammam rituals. Spa suite reservations are custom priced according to time and experience. Consult the Spa Concierge for more information on these bookings.
Nail Studio
The Faena Miami nail studio offers up more than just a simple manicure and pedicure. We wouldn't expect anything less. Here, you'll find the latest trends in nail art, hand treatments, and waxing services. Book one of the bespoke experiences for a time of pampering and relaxing you'll just keep coming back to.
What Travelers Are Saying About the Faena Miami Beach
Guests love getting the celebrity treatment at Faena Miami Beach. It's one of Booking.com's top picks for a place to stay in the city and it's easy to see why. In the hotel reviews, guests lauded the room size, cleanliness, and overall stylish experience. Visitors who seek a stay know it's more than just a hotel. There is so much to see and look at in the property. There are lots of nice touches from the furniture, art books to peruse, ornaments in the room, and lovely beach service.
Our Take on the Faena Miami Beach
Welcome to a Miami masterplan. While the Faena Miami Beach is definitely one of the pricier hotels in the city, it is clearly geared towards luxury living. Guests who booked a stay there appreciated the immersive experience. From the flamboyant, bright prints and colored furniture, ritzy breakfasts, and holistic spa experience, the hotel shouts that it was designed for higher end living and guests who swing that way.
While it certainly is a beautiful place to stay and the amenities are superb, don't book it if you can't shell out a good amount of money. While the rooms are costly, it doesn't end there. Prices add up fast. Make sure you budget for your trip properly.
But if you're already done your research and have your heart set on booking a stay, we know you'll love it. Get ready to dive into a Wes Anderson-like experience and make sure to take plenty of pictures along the way.
Related Article: The 10 Best Hotels In Miami