Travel in style with the Briggs and Riley Baseline Large Shopping Tote.
When you're a frequent traveler, finding a decent travel bag can be a challenge. Many travel bags fail to match all of your expectations. Some travelers require lots of space in a bag, while others want smaller, more compact products. At the same time, your bag should be easy to carry, and not uncomfortable to wear on your body. Similarly, you shouldn't have to sacrifice features like a stylish appearance for a functional bag. With the Briggs and Riley Baseline Shopping Tote, you'll never have to worry about finding another travel bag again. This product maintains a comfortable, fashionable design, and a small size that makes it ideal for air travel. Read our article below to learn more about this tote bag and its awesome features.
Briggs and Riley Baseline Large Shopping Tote Features & Benefits
Spacious Interior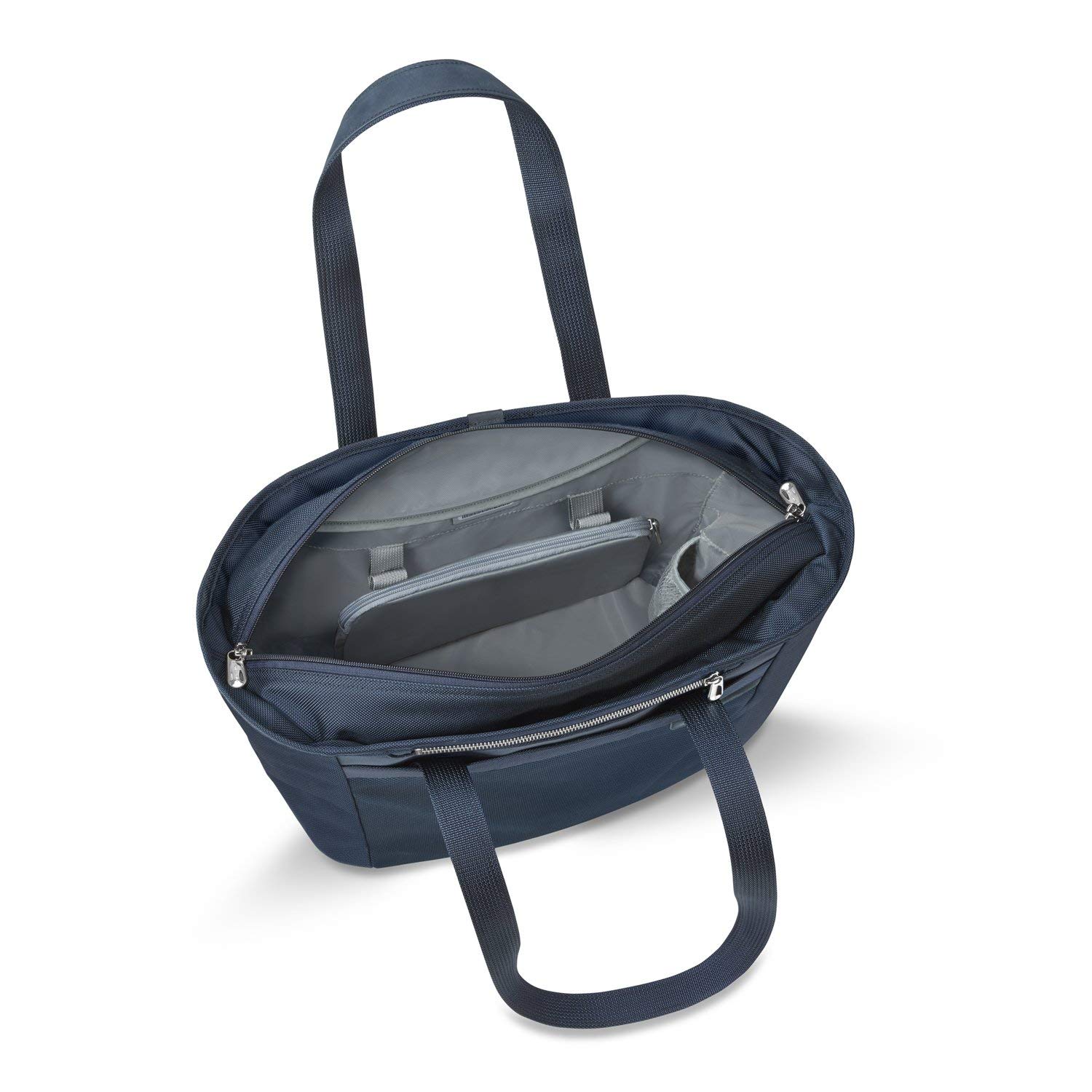 When you're looking to buy a travel bag, you need a product that provides adequate space for your belongings. Many travel bags don't have enough room to hold all your important items, like wallets, books, and cell phones. These might have been designed to fit in carry-on compartments, but they don't offer enough room for items. Similarly, sleeker-looking bags, while attractive, simply lack the interior space travelers need.
With the Briggs and Riley Baseline Large Shopping Tote, travelers will get to carry all their necessary items. Instead of lugging along other bags to hold their belongings, travelers may throw everything in this roomy tote. The roomy bag provides enough space to stow countless items, such as laptops, chargers, passports, and other things. You won't have to leave anything behind when you decide to bring the Briggs and Riley Tote on your travels.
Airplane-Friendly Aspects
Certain tote bags remain especially designed for travel by air. These carry on bags contain features that make them more convenient for transport through airports and on airplanes. Things like places to put your passports and identification, or locks to secure your items, remain a few common features. Airport-specific designs on these bags make them even more enticing, as you know they'll come in handy when you fly.
The Briggs and Riley Baseline Large Shopping Tote contains various features that have been designed with flying in mind. A slip-through back pocket lets the bag glide over top of the handles on luggage, making it easy to transport. Magnetic closures on the front pocket of the bag allow travelers to easily open and close the pocket. You won't have to go rummaging through the whole tote in order to grab your ID or wallet. Similarly, the SpeedThru pocket on this tote enables quick and simple storage of belongings when you're at a security check. You'll also be able to fit this sleek tote underneath your seat on an airplane, or in the overhead compartment.
Comfortable and Durable Design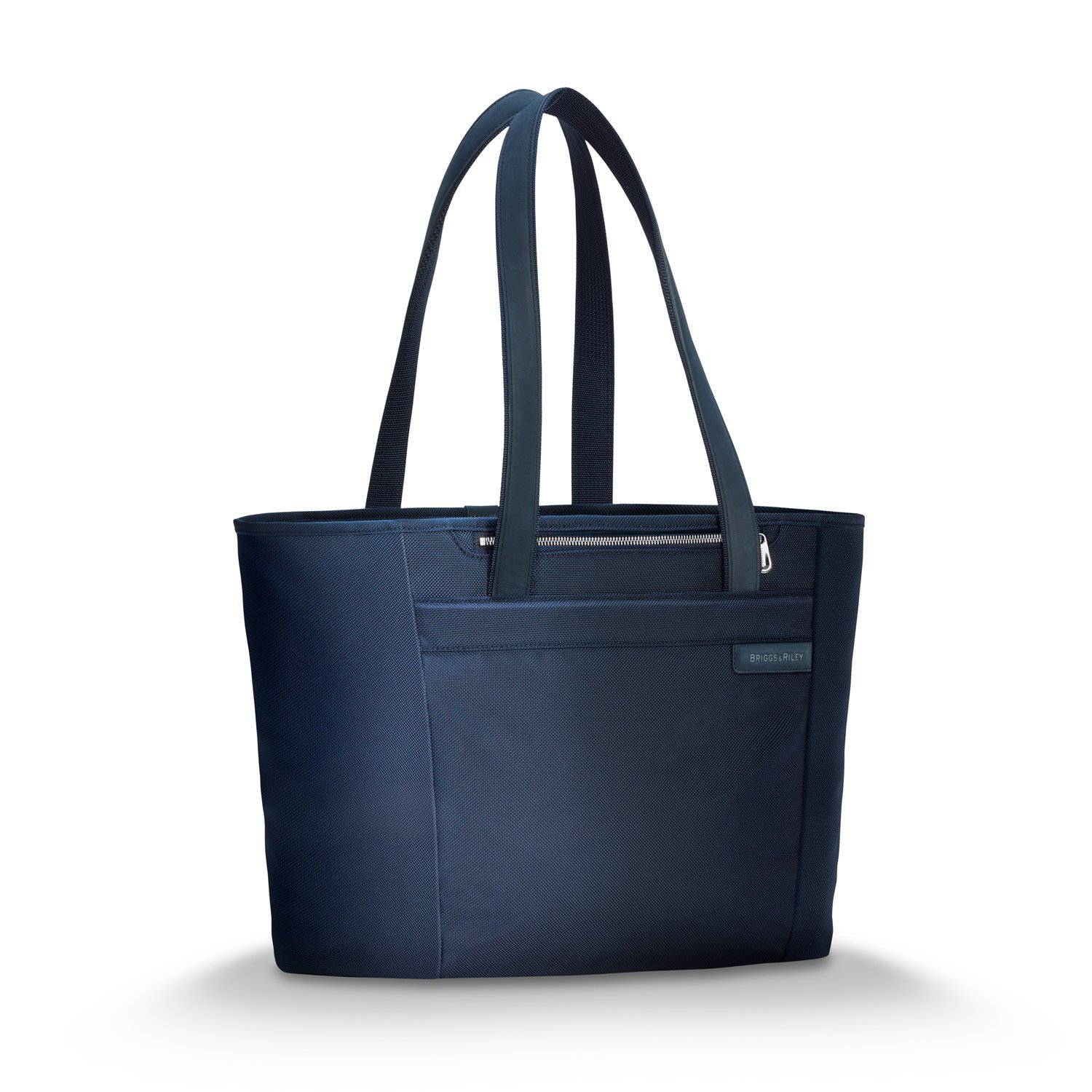 Travelers know the importance of having a bag that feels comfortable to carry. The worst thing that can occur when you travel involves realizing your bag puts strain on your back or shoulders. This leads to pain and frustrations, making your travels not as exciting as they could be. At the same time, your bag should also remain intact after many uses. Rips and tears in the fabric of your bag mean your belongings could fall out at any moment.
Thankfully, the Briggs and Riley Baseline Large Shopping Tote maintains both a comfortable and durable design. Travelers can wear the bag on their shoulder for hours without feeling pain with the leather, webbed straps. You won't have any discomfort while wearing this tote, even if the bag remains full of items. Additionally, the 1680D ballistic nylon material used to construct this bag makes it incredibly resistant to wear and tear. Water and dirt won't collect on the outside of this bag, while holes in the fabric will not appear.
Organizational Features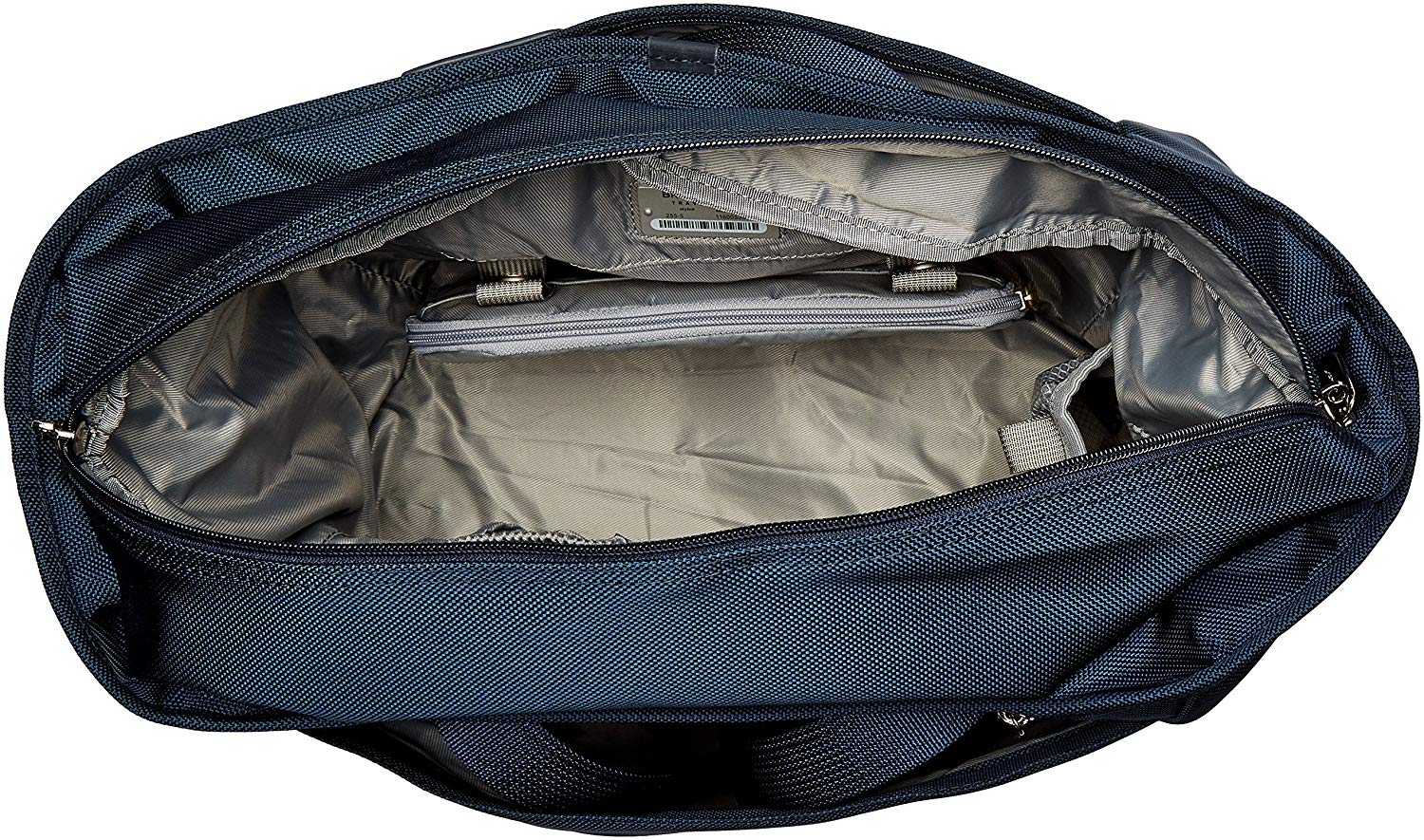 One of the most important things about a travel bag includes its ability to organize your items. If you have a lot of belongings you need to bring, you also should have pockets to organize them. Some travel bags may appear to provide space for your belongings but lack these pockets. This means your items will get thrown in the bag randomly, causing frustrations when you need to find something quickly.
With the Briggs and Riley Baseline Shopping Tote, travelers will be able to organize with ease. The SpeedThru pocket on the tote enables you to quickly store items after you've been through a security check. The front pocket lets travelers store items they'll need in a flash, like licenses, wallets, and passports. A dual-purpose slip through back pocket allows for the bag to glide over the handle of your luggage. This means you can even organize the way your luggage sits, letting you move hands-free.
Stylish Appearance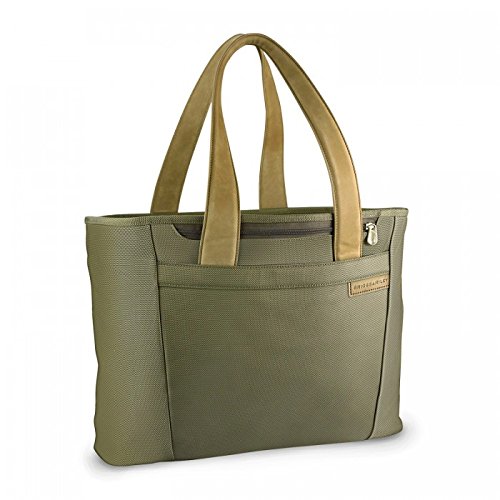 Many travelers like portable bags that appear attractive, rather than basic or boring. Certain travel bags follow a similar design pattern, appearing plain and black. These types of bags may match with various outfits and occasions but look repetitive after a while. If you're going to carry the same bag along on various expeditions, the bag should appear a little exciting.
When you purchase the Briggs and Riley Baseline Shopping Tote, you'll get to follow your own personal style. The bag's design, which includes leather, webbed straps, and a sleek structure, appears elegant and sophisticated. Instead of carrying around a hefty, bulky backpack, this tote will appeal to your sense of fashion. Additionally, travelers may choose from multiple colors, including navy blue, olive green, and black. Briggs and Riley has produced a top-quality product for travelers.
What Travelers Are Saying About the Briggs and Riley Baseline Large Shopping Tote
Travelers who purchased the Briggs and Riley Baseline Shopping Tote loved the product's spacious interior. Reviewers could stow away all of their important belongings, like wallets, passports, and cameras, inside the bag. Even after most of these items were placed in the bag, there was still room left over for extra belongings. Another feature that reviewers raved about was the tote's fashionable exterior. The nylon material looked sleek and sporty, while the leather straps provided a more elegant aspect to the bag. These leather straps also felt comfortable on reviewer's shoulders even after they were worn for hours. Additionally, the Briggs and Riley Baseline Tote remained durable despite countless trips on airplanes and to and from work.
A few travelers thought that the Briggs and Riley Baseline Shopping Tote could have felt a little lighter. With items inside the bag, the tote was quite heavy for some, making it difficult to carry for long periods. The larger size also meant that the tote wasn't as convenient to slide underneath airplane seats. However, overall, reviewers found the Briggs and Riley Shopping Tote to be an excellent bag for daily travels.
Other Travel Totes Bags You May Like
1. Yaluxe Women's Vintage Style Soft Leather Work Tote Large Shoulder Bag
If you weren't completely sold on the Briggs and Riley Baseline Tote, consider the Yaluxe Women's Leather Shoulder Bag. This vintage-looking bag will appeal to travelers who like to feel stylish when they carry their belongings. You'll get to tote around this attractive tote on your shoulder and enjoy the fashionable look it maintains. While this bag does have an elegant, fashionable appearance, it doesn't skimp on interior space. The leather work tote has a large enough size to fit most laptops, as well as books, wallets, and planners. Travelers may stow all of their important belongings inside this bag, and never worry about having enough room. With cow split leather and gunmetal hardware, the Yaluxe Women's Shoulder Bag maintains an extremely durable design. Despite many months of usage, the bag will remain intact and undamaged. The bag also comes with an adjustable shoulder strap if you get tired of carrying it by hand.
2. BAGGU Travel Cloud Bag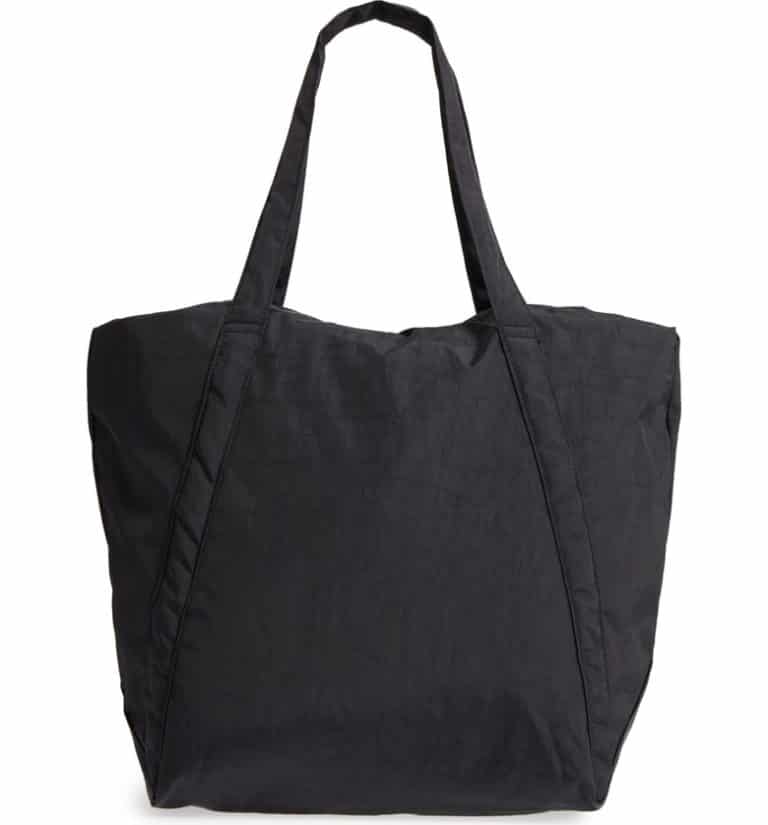 The BAGGU Travel Cloud Bag remains an ideal alternative to the Briggs and Riley Baseline Tote. With a spacious interior, you can fit as many items as you need inside this bag. While you may carry tons of belongings in the bag, the product maintains a lightweight design. This means that your shoulders won't feel weighed down after carrying the bag for long periods. In comparison to other tote bags, the BAGGU Travel Cloud Bag remains more versatile and portable. The bag can be folded down in a cinch and transformed into a detachable inner zip pocket. If you don't need all the extra space, you can simply fold the bag down and store it somewhere else. Additionally, the BAGGU Travel Cloud Bag contains a top zipper closure as well as an inner zip pocket. Travelers who like to stay organized will benefit from these pocket features. A shoulder strap drop design with additional handles also means you can choose whether to hold the bag or not. This bag remains a great option if you're looking for small totes that remain perfect for quick getaways.
3. Kensington LM650 15-Inch Laptop Tote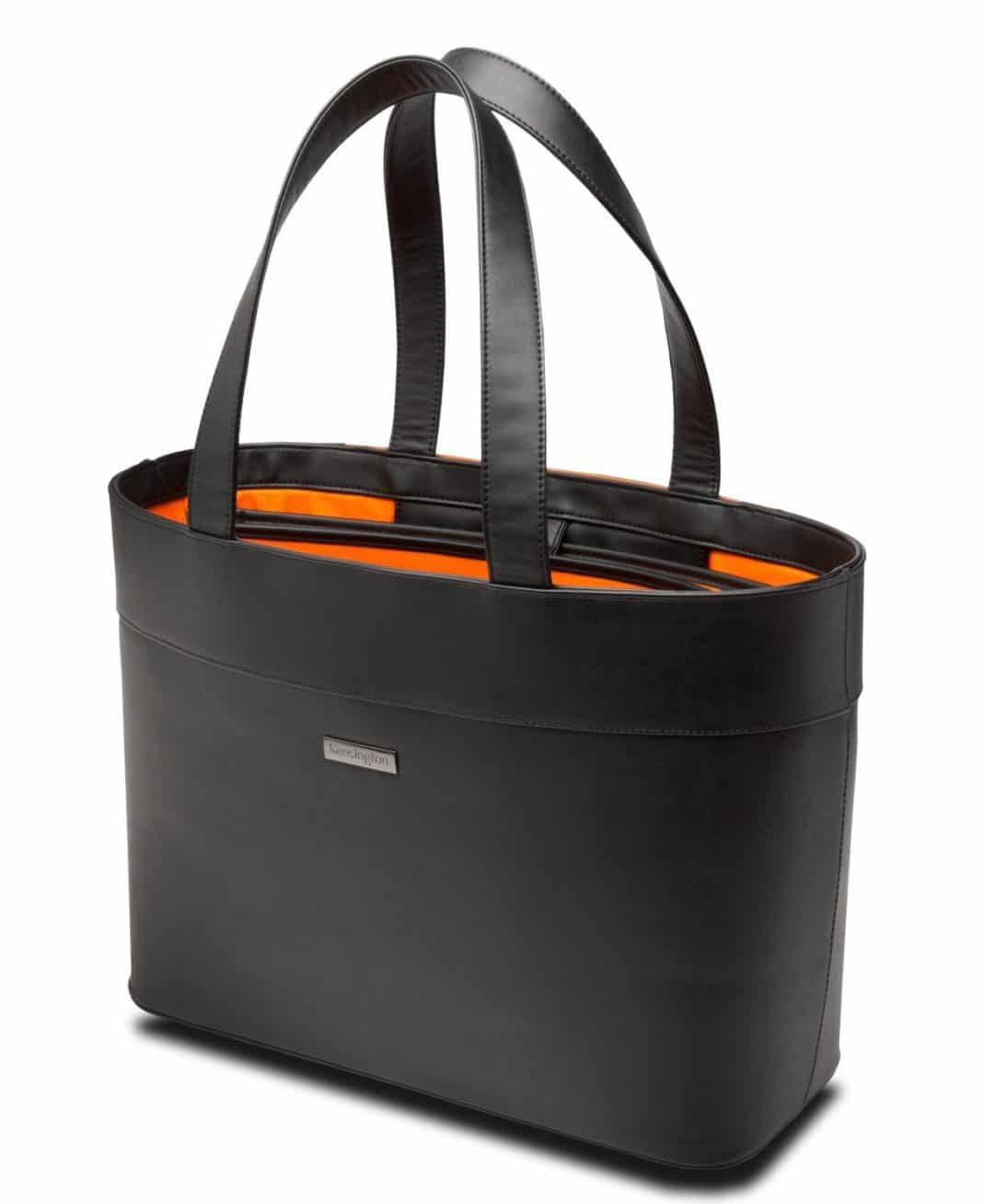 With the Kensington LM650 Laptop Tote, travelers will get to store their computers in a gorgeous leather bag. Many laptop bags appear utilitarian and lack stylish designs. If you prefer your laptop tote to match your personal tastes, pick the Kensington Laptop Tote. This product contains a dermal, faux leather construction for a sophisticated and durable look. You won't have to forget about your style if you decide to buy the Kensington Laptop Tote. Like the Briggs and Riley Baseline Shopping Tote, the Kensington bag has a spacious interior for storing lots of items. Besides a padded laptop compartment, the tote also has space for holding various personal belongings. Multiple interior pockets remain designed for storing items such as cell phones, wallets, passports, and books. A metal clasp in the center of the bag ensures your items will stay in place when you travel. This tote would also be an ideal product for long-distance travels, as it can attach to retracting handles on luggage. If you're looking for the best cheap tote bags, this might be a great bag for you.
Forgo heavier carry on bags and pick up the Briggs and Riley Baseline Shopping Tote.
If you're going to travel often, you need a great travel bag. Some travelers might prefer large backpacks to carry their items, while others appreciate smaller-sized products. Whatever you desire, you'll still want certain features, like durability and comfort while carrying the bag. Thankfully, the Briggs and Riley Baseline Large Shopping Tote combines multiple features for an all-around amazing travel bag. You can take this bag on flights and never worry about having enough room to put your belongings. The tote's stylish design also means you can bring it from place to place and feel confident about your appearance. Be sure to check out the Briggs and Riley Baseline Shopping Tote before you head out on your next adventure.
Related Article: The 6 Best Travel Tote Bags for Women We Just Can't Get Enough Of