A durable, lightweight travel bag that can still hold absolutely everything I need? Yes, please!
Finding the perfect large travel bag for under a hundred dollars is tricky. It needs to be roomy and cute, but it would be so nice if it was washable, too. Well, BAGGU bags has created a spectacular new release called the Travel Cloud Bag. There's no more leaving behind your favorite sweater because it didn't fit with this most wonderful of BAGGU bags. Stylish enough to go from a night out to work and the gym afterward, you won't mind toting it around just about anywhere. It can hold more than enough for a long weekend or even a week if you're a minimalist packer. But, whatever your traveling style, we're sure that the Travel Cloud will quickly be your favorite of all the BAGGU bags available right now.
BAGGU Travel Cloud Bag Features & Benefits
Spacious and Roomy Interior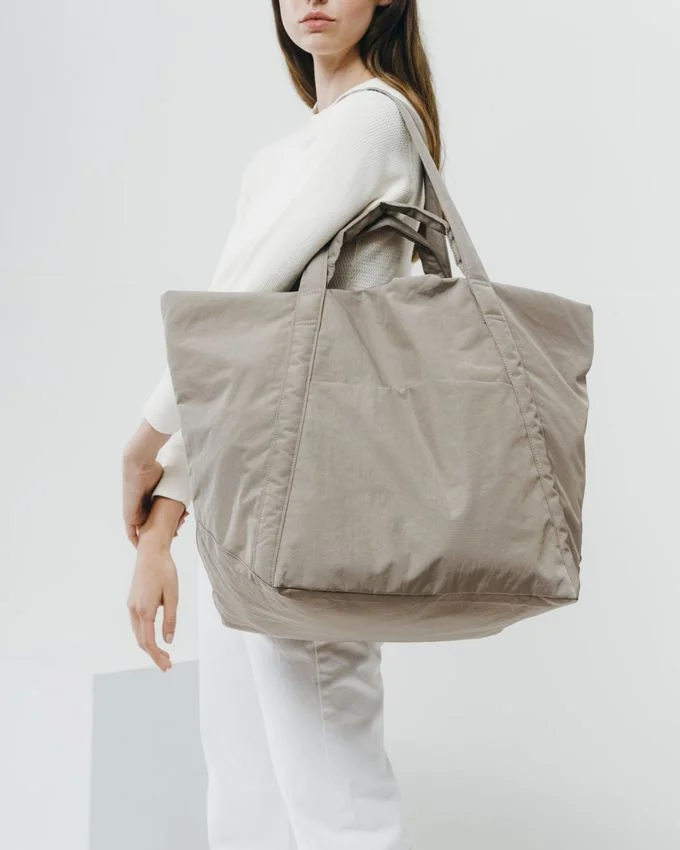 Just looking at this bag, you can see that it's ready to hold just about anything you could need. Coming in at 25 inches tall and 17 inches long, this BAGGU bag will fit your laptop along with your shoes and favorite jacket. It is 9.75 inches deep, allowing for plenty of space to sort through all of your things. With all of this durable nylon, you would expect the bag to get a little heavy. However, nylon is quite light, even when made this thick. Less than fourteen ounces, this bag exceeds our expectations for durability and roominess for its weight. So, for a large, catch-all, seemingly Mary Poppins bag, BAGGU bags are the way to go.
Compressible Yet Timeless Look
The relaxed, heavyweight canvas give off a timeless vibe that shows you're not trying to hard to look downright awesome. But, we all know there comes a time when you're not ready to tote around a large bag, even if you might need it later. Thankfully, BAGGU bags has created the Travel Cloud to fold down inside its inner pocket. This means this spacious and roomy bag can become a small, handheld item! This is so handy if you're not sure you'll need an extra bag on the way home. You can pack it in your carry on, then when you need it, ta-dah! You're all ready for more things. So, if you love to shop when you're jet setting, keep this in mind when you come home with more things!
Secure Top Zipper with Organization Everywhere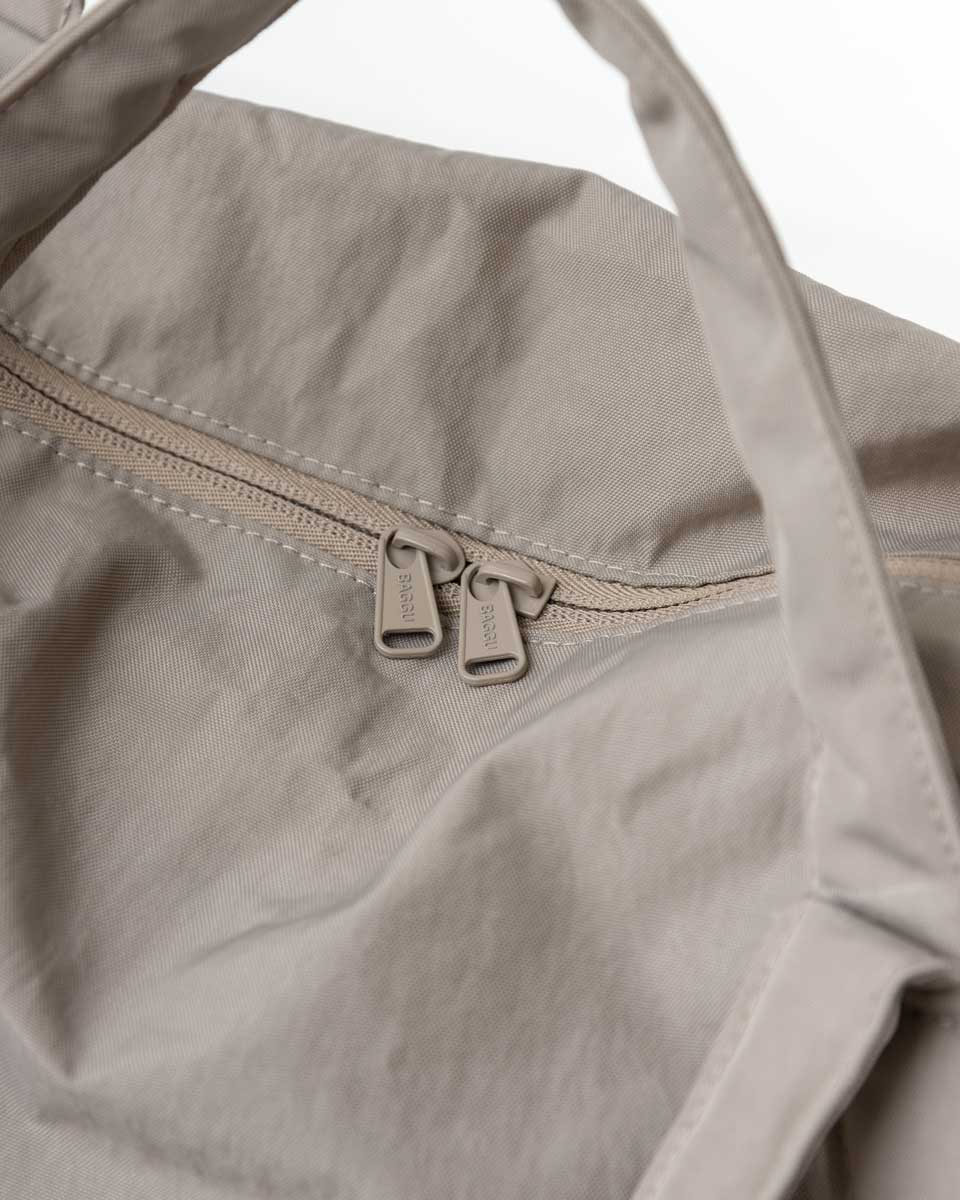 So many of us have lost something valuable. Whether that is a phone, wallet, favorite necklace, or even a purse. Thankfully, the Travel Cloud bag is large enough you can't misplace it easily. In addition, it has a top zipper for maximum security. Made with their own BAGGU bags zipper, it will last you quite a while. Having everything zipped carefully inside will give you extra confidence whether you're going through security or sneaking it under the seat in front of you on a plane.
We also love BAGGU bags because of their great but not over the top organization. The BAGGU Travel Cloud has one large exterior pocket and one interior zippered pocket. The outer one is perfect for sliding things you need easy access to, even a water bottle. The inner pocket is great for the wallet, keys, or phone that you want to keep secure.
Double Straps for Carrying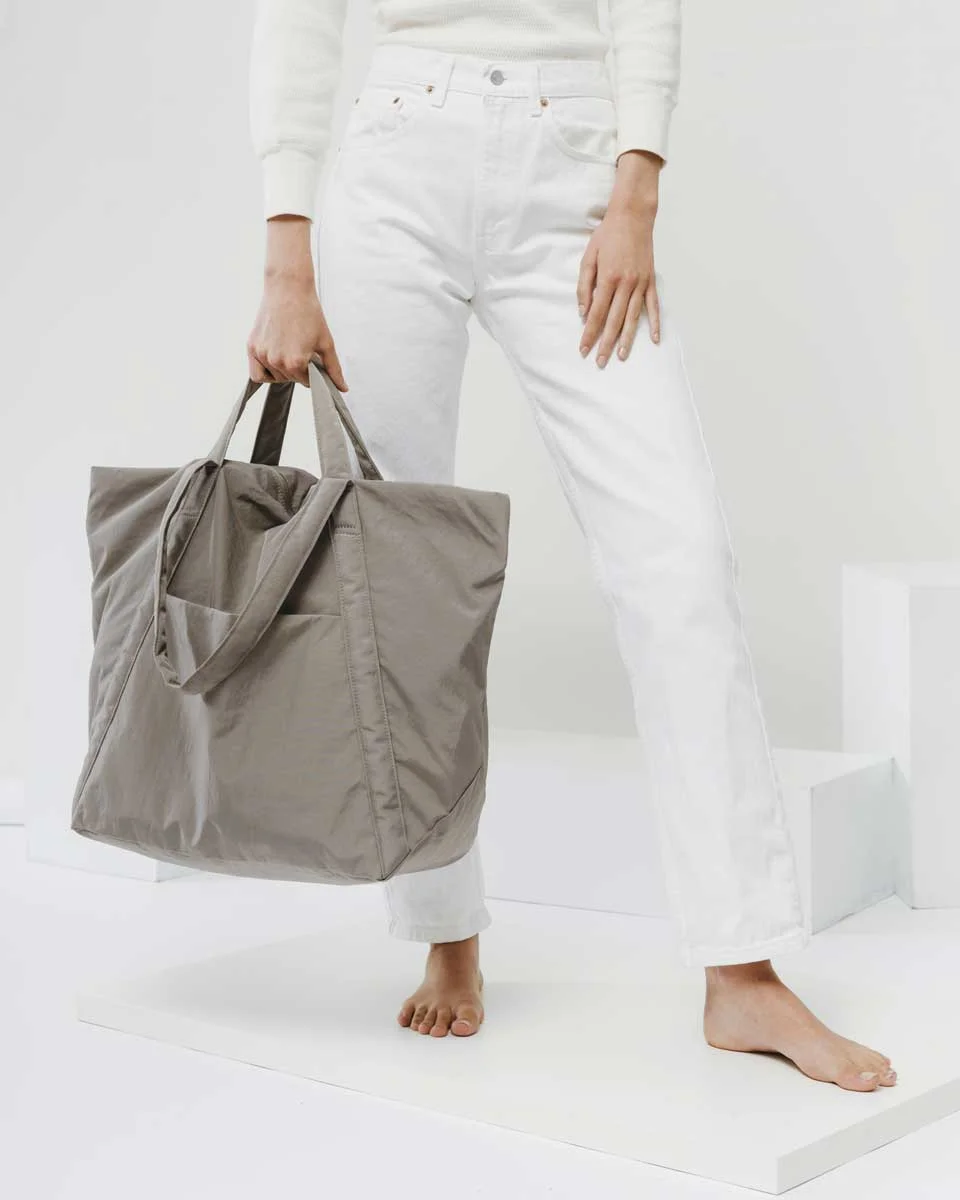 Some of us are shoulder carriers, while others prefer to hand carry. That being said, there's a time and a place for both. Sometimes you just can't have a bag leaning against your perfectly ironed adorable outfit. With the Travel Cloud, you have both sets of straps to choose from without worrying about the hassle of clipping one on. For shoulder carrying, the straps are eleven inches long. This gives you plenty of room for even wider armed women. The smaller handles are easy to grab and go as well if you're in a hurry. But, overall, we are so glad that BAGGU bags are created to be versatile for anything we need!
Four Colors to Match Any Style
We're not all about to start carrying around jet black bags every day. But, there is something to say about the chic and timeless nature of them. If that's your style, then lucky for you BAGGU bags has a Travel Cloud in black. But, if you want a little more spark with your tote, than look at the other colors as well. Mushroom and Poppy are both available on Amazon, while Terracotta is available on their website. If you're a little nervous about light or bright colors getting dirty, don't fret. The Travel Cloud by BAGGU bags is machine washable on cold. Just make sure to hang it to dry or you might shorten its life. So, there's a Travel Cloud color for any style.
What Travelers Are Saying About the BAGGU Bags & the BAGGU Travel Cloud Bag
Travelers all around the internet love the BAGGU bags brand for their ingenuity and knowing exactly what the consumer wants. They truly took over the reusable shopping bag market, introducing the now famous BAGGU bags for saving the dolphins, one plastic bag at a time. They also have a stylish leather tote which is an incredibly well priced and durable option. This being said, their Travel Cloud is their newest addition to their BAGGU bags line. So, while there aren't long-standing reviews yet, we can be assured that this bag will last.
The favorite feature of the BAGGU Travel Cloud bag is its packability. There are few durable, chic, and functional bags that pack down so easily. When you combine this with its large exterior pocket and overall roominess, you know that BAGGU bags has come out with another winner. So, invest in one of these phenomenal Travel Cloud BAGGU bags and see what the hype is all about.
Other Travel Totes Bags You May Like
Briggs & Riley Baseline Large Shopping Tote
While it calls itself a shopping tote, this tote is truly made for travel and leisure. The high quality leather and webbing combination provides an incredibly beautiful and durable bag for any occasion. From work to happy hour and a red eye flight after, this bag can follow you wherever you need. It doesn't just look good, either. It has a slip-back pocket for easy attachment to a carry on suitcase in addition to two exterior pockets as well. This bag is made for the organizer. With a waterproof water bottle pocket, a key keeper pocket, and a few zippered pockets, you can have a place for each item you need. In addition, there is a snap-in removable pocket for getting through TSA security like a breeze. So, if you're looking for a more sleek and stylish alternative to BAGGU bags, keep Briggs & Riley in mind.
Kensington LM650 15-Inch Laptop Tote
If you're hoping for a lower-priced option, check out the Kensington LM650 15-Inch Laptop Tote. Made of faux-leather, you will be paying quite a bit less, but still getting an attractive tote. The pop of color of the lining keeps this travel bag fun without going over the top. We like the Kensington as an alternative to BAGGU bags because it has a special sleeve for your laptop. We know how hard you worked to afford that sweet MacBook, so protect it! With the padded sleeve and security clip, you can be assured the laptop will make it safe wherever you go. This bag also has a pass-thru sleeve for attachment to a carry on suitcase. It doesn't have any exterior pockets and is quite a bit smaller than the expansive Travel Cloud by BAGGU bags. So, depending on what you're looking for, the Kensington LM650 15-Inch Laptop Tote could be a solid alternative.
CLELO Women's Tote Bag in Genuine Leather
A genuine leather bag for under sixty dollars with great reviews. Now that we've got your attention, you might just fall in love with the CLELO Women's Tote Bag as an alternative option to the BAGGU Travel Cloud. This bag is large enough for a tablet and a few notebooks or other items, but not nearly as roomy as the Travel Cloud. However, if you're looking for more of a purse, keep reading.
The CLELO Tote has two main compartments, one large zipper pocket, two small pockets for your phone, keys, or wallet, and one small zipper pocket. On the outside, there is a small zipper pocket as well. So, with plenty of small spaces to tuck your things, you will be organized if you don't have too much. It has both an over arm strap, as well as a crossbody removable strap for when you need to be hands-free. These are both adjustable to give you the perfect fit. So, for a stylish but small alternative, go with the CLELO Women's Tote Bag in Genuine Leather.
Overall, BAGGU bags are a well loved brand, and their Travel Cloud has recently taken the market by storm.
From a weekend getaway or just a long day trip, the BAGGU Travel Cloud is ready for your adventure. With a solid name behind it, you can trust this bag has just the right amount of bells and whistles without being obnoxious. We love its packability and massive exterior pocket. That is hard to find these days. So, if you're ready to have a lightweight, packable, durable, washable tote bag, look no further than BAGGU Bags Travel Cloud. We know we love it, and so will you.
Related Article: The 6 Best Travel Tote Bags for Women We Just Can't Get Enough Of​