Escape to San Diego's most talked about hotel. The US Grant is waiting.
Newly restyled, the Luxury Collection Hotel US Grant enthralls guests with historic grandeur and an unmatched dedication to excellence. You'll find this lovely stay in downtown San Diego's lively Gaslamp Quarter, only steps from some of the best shopping, dining, and entertainment, in southern California. Even better, it's just a short drive from beautiful beaches and famous family attractions.
You'll find everything you need here and then some. Elegantly designed accommodations offer a refined luxury and unsurpassed serenity. Grant Grill and Lounge is a treasure among the San Diego dining and cocktail scene. Their spectacular meeting and event venues set the tone for remarkable occasions. Whatever your reason for visiting the US Grant Hotel, you can rest easy knowing that the memories you make here will last for a lifetime.
Let's Talk Accommodations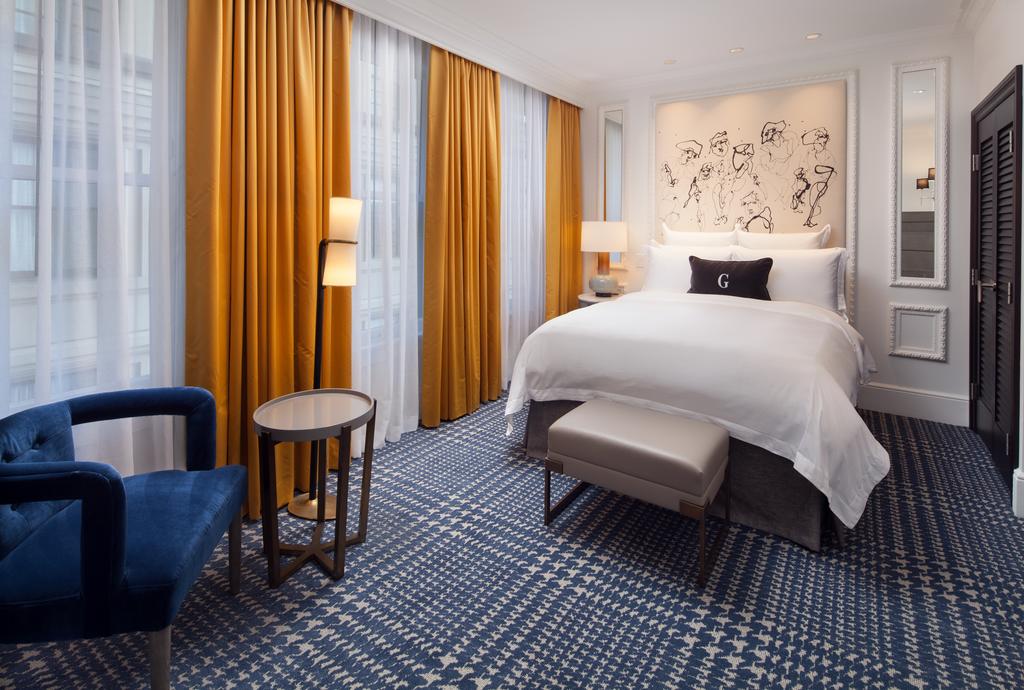 Credit: US Grant Hotel
When it comes to accommodations, the US Grant Hotel offers something sure to suit every style and taste. Choose from four types of guest rooms, six types of suites, or the presidential penthouse. Guest rooms span from 280-425 square feet, offering a an urban oasis to recharge in the midst of the city. Expect elegantly appointed decor, fine linens, and all the comforts of home. Standard amenities include wifi, a flat screen television, phone, an in-room safe, access to the spa and fitness center, and more. Suites span anywhere from 375 square feet to 1,300 square feet.
Let's Talk Dining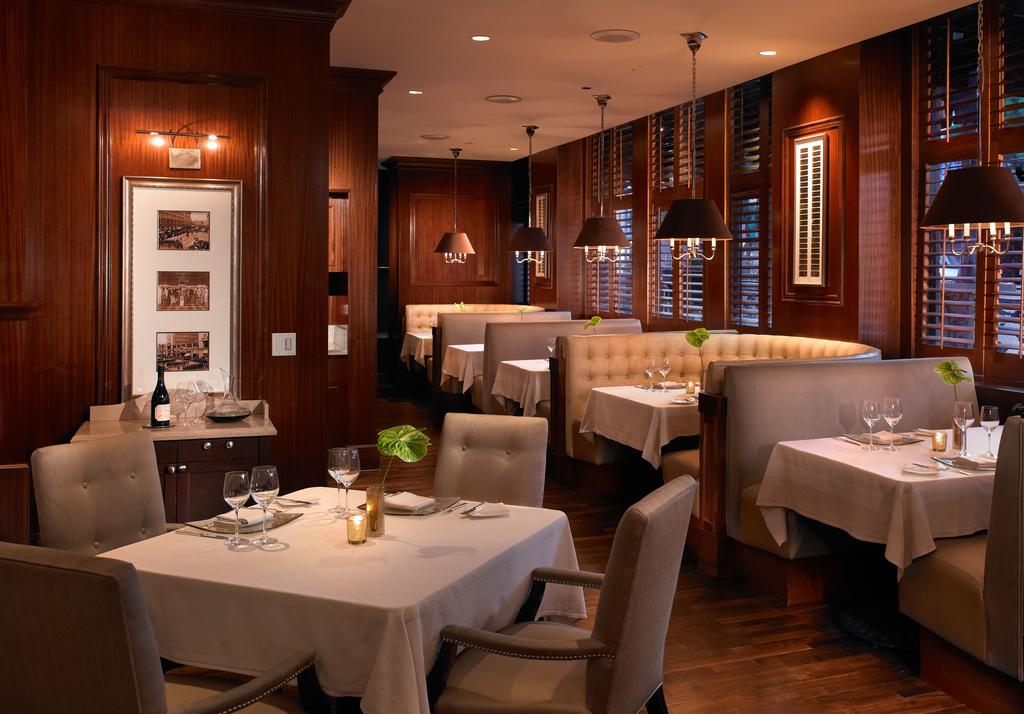 Credit: US Grant Hotel
The US Grant Hotel's dining options have become something of a local legend in downtown San Diego. While you're here, why not treat yourself? Enjoy flavorful California fare over at the Grant Grill, the hotel's signature restaurant. The next night, switch things up a bit with some truly unique beverages in the Lounge. The culinary team at the US Grant Hotel are here to satisfy your foodie cravings day or night. Think 24-hour room service.
If you're a local and want to become a Starwood Preferred Guest, you can earn Starpoints when you dine receive 10% off Grant Grill's lunch and dinner cuisine. You can find more information here.
Grant Grill
Ever since 1951, the Art Deco-style Grant Grill has offered guests nothing short of scrumptious cuisine and urban sophistication. This Four Diamond restaurant will dazzle you with amazing market-fresh dishes, inspired by local roots and served up in a classic San Diego setting.
Grant Grill Lounge
Get lost in the ambiance of and classic romance paired with modern tastes at the Grant Grill Lounge. The hotel bar is at the vanguard of the beverage industry. Here, you'll find an enticing selection of signature and proprietary cocktails, craft beers, and wines. Grab your friends or dress up with that special someone and head over to Grant Grill for one of their weekday happy hour specials. Or, you can choose to experience the energy of the Gaslamp Quarter with their live entertainment on the weekend. The choice is entirely up to you.
In-Room Dining
Don't want to leave the comfort of your room? No problem. Let the US Grant Hotel staff bring the restaurant to you during your! Enjoy a delicious meal from the Grant Grill in your hotel room 24 hours a day. Choose from breakfast, lunch, dinner – or enjoy a delicious late-night snack.
Let's Talk Amenities and Activities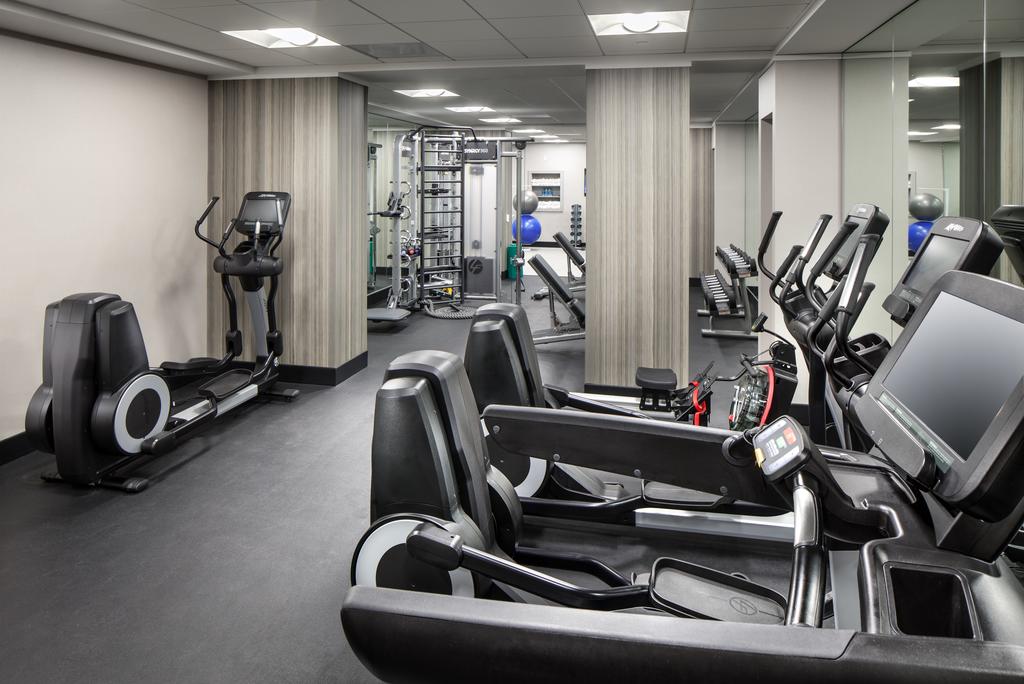 Credit: US Grant Hotel
While you're here, take in all the lovely amenities and activities the US Grant Hotel has to offer. From a luxury art collection to an intimate spa and convenient fitness center, the hotel really does have everything you need for a memorable stay.
US Grant Hotel Art Collection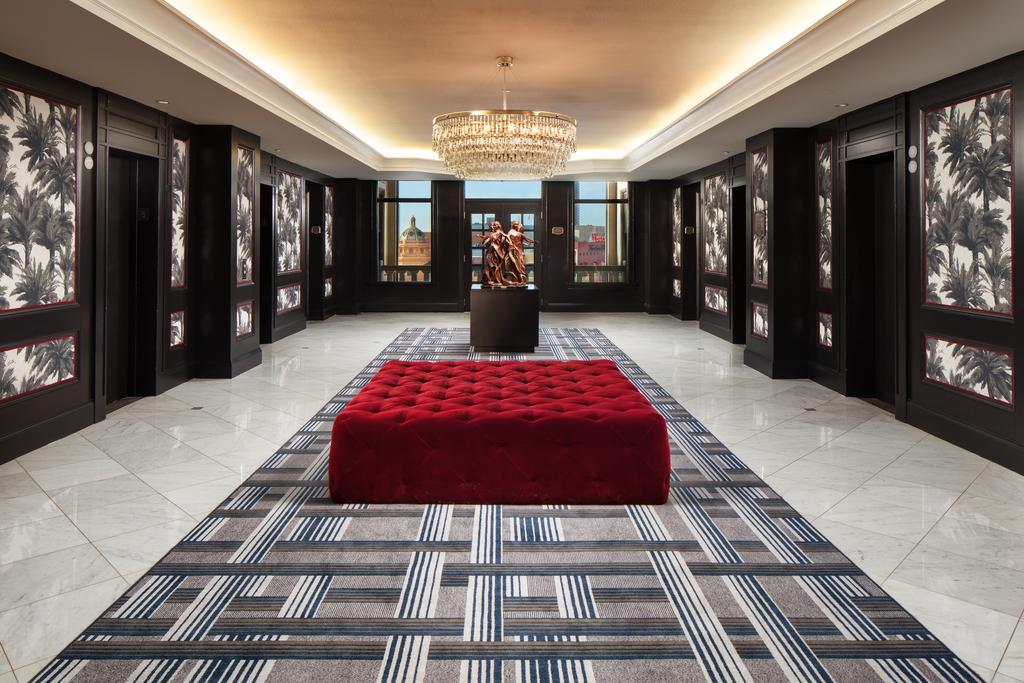 Credit: US Grant Hotel
Did you know that the US Grant Hotel is home to a $6.5 million collection of distinctive artwork? The collection includes stunning sculptures, ironwork, murals and paintings. Throughout the collection, you'll find carefully selected, world-renowned artists from European, American and Native American backgrounds.
The artwork heralds the storied past and modern renaissance of this cultural landmark. Among the works of art, you will find pieces from Yves Clement, Gene Locklear, Chris Maresca, David Montour, Marie Najera, Johnny "Bear" Contreras, and more.
The US Grant Hotel Spa
Create your own oasis. The Us Grant Hotel Spa offers the perfect spot for tranquility amidst the energy of downtown San Diego. You'll find it located on the 8th floor of the hotel. While it's not a full-service spa it does offer a serene setting and the promise of renewal for when you want to pamper yourself a little during their stay.
Rest and repair your body with a massage or a skin care treatment. You can also bring the spa experience to your own hotel room, and relax in complete privacy (additional fees apply). Treatments are available from 9AM to 9PM, 7 days a week. Advance reservations are recommended.  Before and after hours services are subject to availability and incur a $25 surcharge.
US Grant Hotel Fitness Center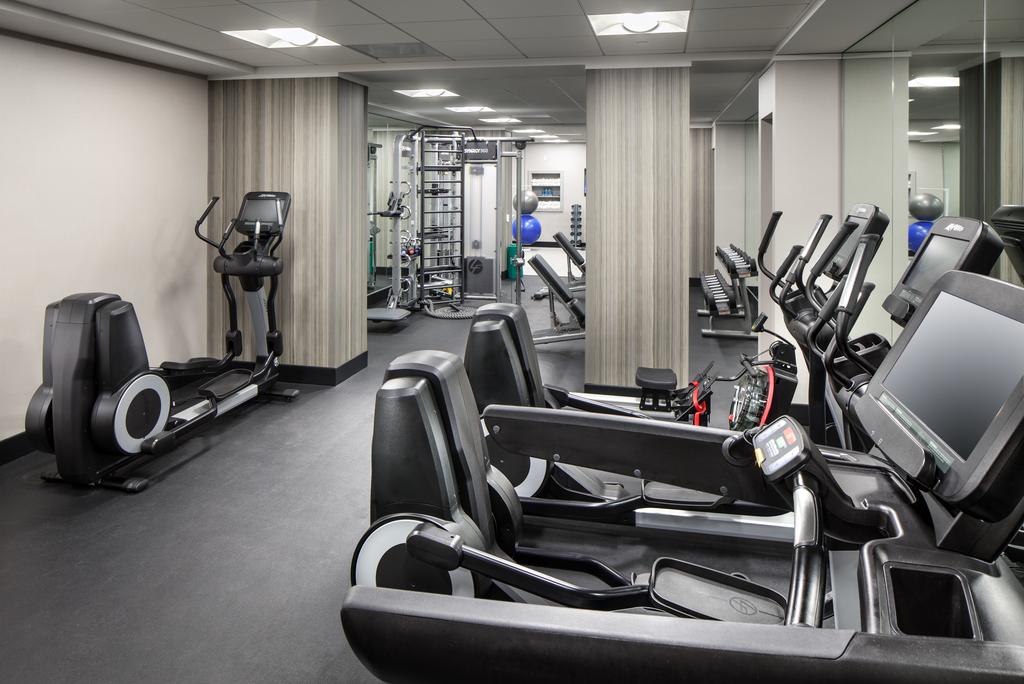 Credit: US Grant Hotel
Looking to work out before you explore the city? You'll find the fitness center located on the lower level of the US Grant Hotel. This little space radiates all the charm you need for your morning motivation, offering state of the art machines and amenities.
In addition to professional TechnoGym cardio equipment—including treadmills, stair climbers, ski machines, and a stationary bicycle— you will find that the Fitness Center is stocked with Hampton free weights and a Radient weight machine too. For warm-up and cool-down, there is a dedicated stretching area with additional fitness accessories. Help yourself to some towels, fresh fruit, and water.
Meeting Spaces and Social Event Venues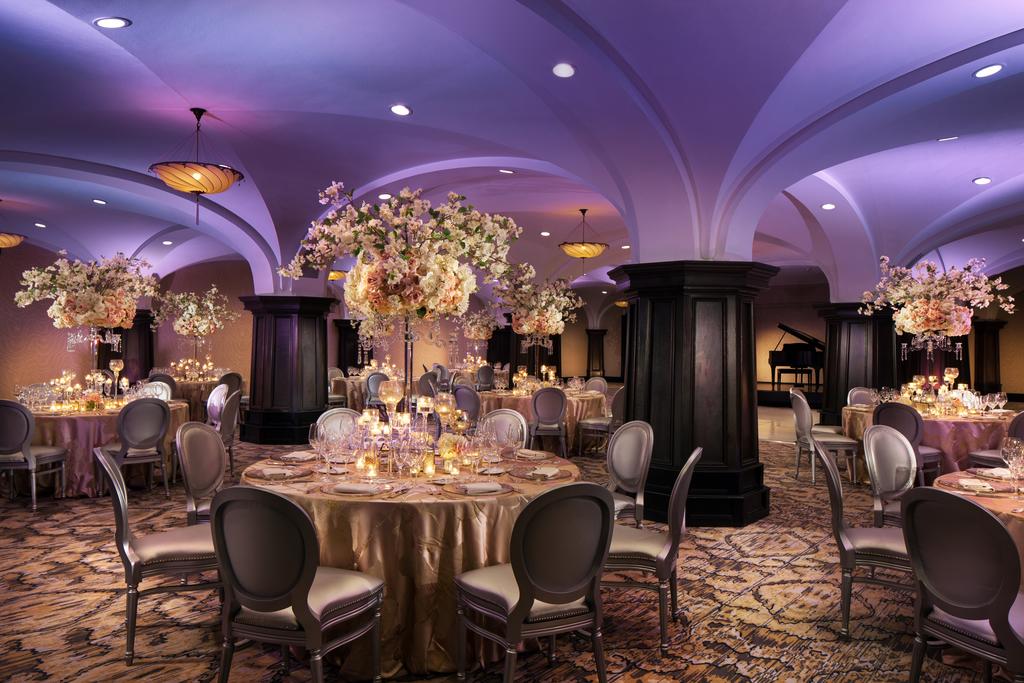 Credit: US Grant Hotel
Hosting an event? Check out the US Grant Hotel's meeting spaces for your next get together. The stately Palm Court Ballroom, famous Bivouac Ballroom (which once served as a speakeasy in the Prohibition) or the elegant Crystal Ballroom all offer well-appointed spaces. All together, the US Grant Hotel offers 33,000 square feet of event space. Let's take a look at each of the four total ballrooms:
Presidential Ballroom
The Presidential Ballroom first opened in 1910 as an open-air palm terrace and garden salon. Closed in the 1950s, it's regal status remains with a built-in theatrical stage and adjoining foyer. Today, the decorations pay tribute to the 15 US Presidents who have stayed at the hotel with a regal design.
Bivouac Ballroom
It has often been said that the heart and soul of the hotel lies in the Bivouac Ballroom. Spanning 6,000 square feet, it boasts a legacy having served as the hotel's original Bivouac restaurant. Later on, it was turned into a lively speakeasy, dancehall and finally a ballroom. Today, you know it as where San Diego's first Comic Con was held. The iconic vaulted ceiling of the Bivouac Ballroom shines with dangling pendant lights, offering an unequaled ambiance for meetings and events.
Palm Court
This 3,000-square-foot space is a sight to see. Four towering columns draw attention to the high cove ceilings and nine chandeliers. All are flanked by a series of westward-facing windows, allowing light to flood the space. This magnificent room originally opened to the public as the Grant Hotel Dining Room and today offers a sophisticated setting for meetings and events.
Crystal Ballroom
First unveiled in 1927, the Crystal Ballroom quickly became the spot for socialites to gather. While it was once built to complement the hotel's Grand Ballroom, today it is famous in its own rite. Having been restored to its original splendors, the venue boasts a gorgeous travertine floor, embellished European plasterwork, and a hand-painted ceiling.
US Grant Hotel Extraordinary Wedding Venues
Credit: US Grant Hotel
Have you ever imagined tying the knot at a National Landmark? Well know you can. This utterly romantic spot is something out of an old Hollywood film. It certainly has all the glamor. Tucked within the heart of downtown SD, the iconic US Grant Hotel is ready and waiting to make that fairytale dream of yours a wonderful reality.
Walk down the aisle of our Crystal Ballroom to your special someone, all under the glow of brilliant chandeliers.  Take each other's hand for your first dance within one of the lovely bespoke venues. Indulge in a gourmet cuisine, wonderfully prepared and presented by a team of attentive experts. And after the final farewells, retreat to the radiance of San Diego's most romantic guest room and suite accommodations – just an elevator ride away from your reception.
From the moment you begin planning your wedding with the staff at the US Grant Hotel, you will know that you have chosen the right place to celebrate special day. The luminous ballrooms and distinctive event venues are just the beginning. A world-class level of service, paired with the attention to every last detail, serves to set The US Grant Hotel reception venues a world apart.
Book Your Dream Stay at the US Grant Hotel in Lovely San Diego
We hope you enjoyed reading our article on the US Grant Hotel. As you can see, this lovely boutique stay offers all you need for an urban oasis in the heart of downtown San Diego. In addition to spacious rooms and quality amenities, you will experience world-class service and facilities. All of this is within a wonderfully close proximity to some of the most famous and celebrated attractions in the city.
Common Questions
Do you want some more inside information on the best places to go and things to do in San Diego and nearby? Check out these articles:
Questions and Comments
Do you have any questions or comments for us? If so, please feel free to leave us a message below. We will be sure to get back with you soon.
Related Article: The 5 Best Hotels In San Diego for A Luxurious Stay