The Etekcity Camping Air Mattress is instant, comfortable, & durable. What more could you ask for?
Rest easy on this inflatable air mattress that can support up to 660 pounds. With the Etekcity Camping Air Mattress, you have a quality that you can count on. It's so comfortable, you'll forget that you're not sleeping on a regular mattress. Even if you don't have enough blankets to lay down, the flocked top feels super soft against your skin.
Etekcity Camping Air Mattress Features and Benefits
Specifically designed for outdoor use, this air mattress offers both a unique inner construction and a 0.4mm nontoxic PVC top. It's not only durable but will insulate you from the cold, hard ground since it is raised up 9 inches. It also offers a quick and easy setup. When you're ready to hit the hay after a long day of travel, you will appreciate this fast installation. All you have to do is unfold and inflate it.
Quick and Easy Setup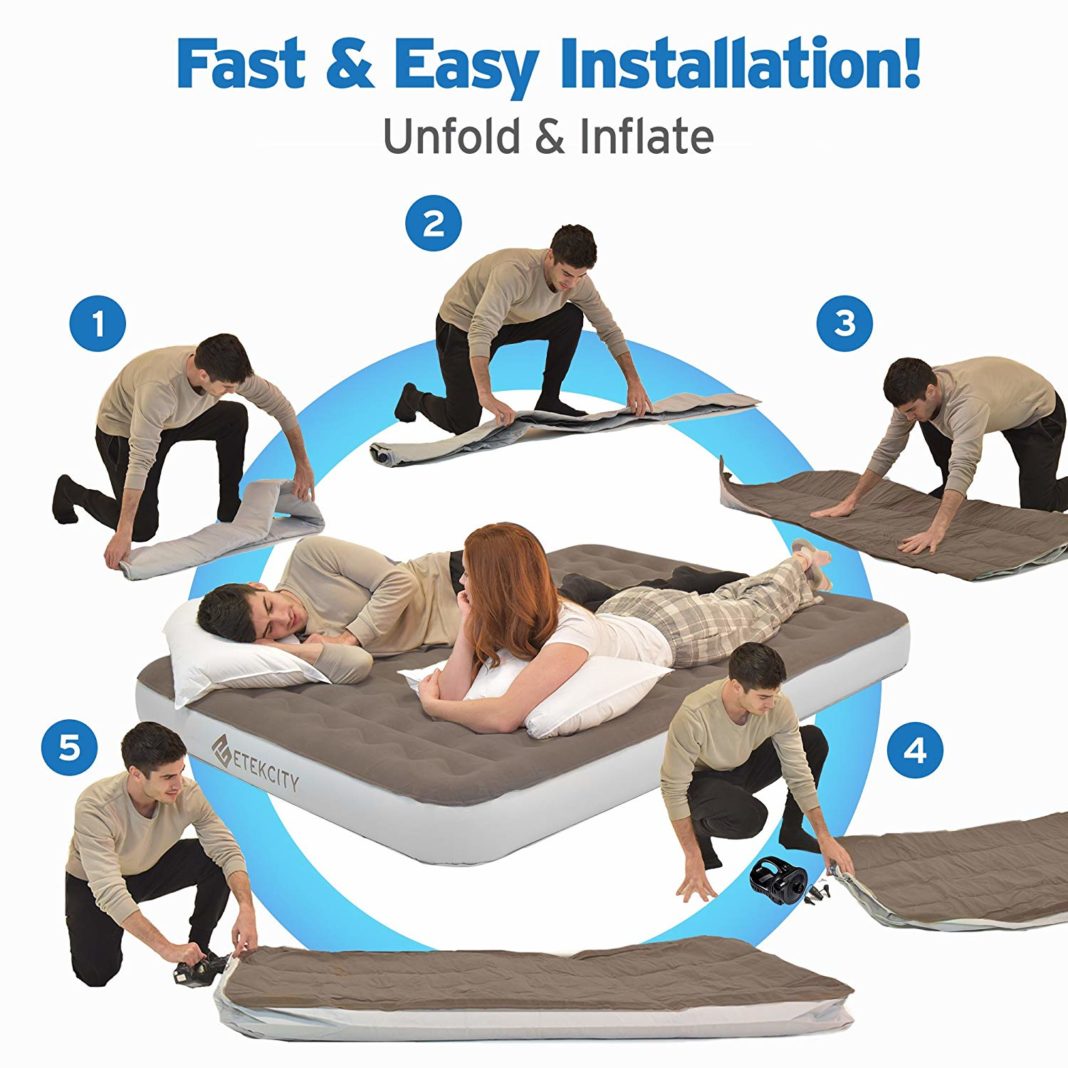 Credit: Amazon
After a long day of road tripping and hiking, the last thing you want is gear that's difficult to set up. Camping should be a breeze and Etekcity knows that. You won't have to hassle with a million pieces that feel like they should belong to an Ikea furniture set. On the contrary, the Etekcity Camping Air Mattress only takes a few minutes to inflate and deflate. Furthermore, it comes with a portable, rechargeable electric pump. Charge it at home in advance of your trip or simply bring it along for the ride with a car charger. The portable pump only takes one minute to charge up.
Easy Storage
Credit: Amazon
There's nothing we love more than reliable, portable travel gear. When you're camping or backpacking, the last thing you want is gear that weighs you down. We're happy to say that the Etekcity Camping Air Mattress is not only lightweight to carry but it's also easy to pack away too. After you are done using it, simply let the air out of the valve and fold it up. The entire process to set it up and take it down is less than five minutes. A carry bag is included for easy transport to and from your car and luggage to your campsite.
There's No Air Leaks
Here's another thing you won't have to worry about with the Etekcity Camping Air Mattress – pesky leaks. This style features an upgraded seam and superior welding crafts. Since it's completely airtight, you can rest easy knowing it won't sink in all the wrong places. If the mattress is too firm, you can use the valve to let a little air out. Adjust it according to your unique sleeping needs.
Have you ever woken up in the middle of the night to find your mattress deflated and now you're basically lying on the cold, hard ground? Avoid headaches, back pain, and an achy neck. By investing in quality gear like the Etekcity Camping Air Mattress, you'll save yourself from a fitful sleep and wake up feeling refreshed and ready to take on the day.
It's Multipurpose
While our preferred use for the Etekcity Camping Air Mattress is camping, it's a great multi-purpose product. It's ideal for both indoor and outdoor use. Use it camping, hiking, for a temporary bed when you move to a new city, or when you have extra guests over to your house. Etekcity provides a one year warranty for the product and lifetime support.
Tech Specs:
Nontoxic material and comfortable flocking top

Thick 0.4mm PVC material

Easy to set up and take down

Lightweight and portable

Multi-purpose

Will not leak air

Comes with a portable, rechargeable air pump and carry bag
What Travelers Are Saying About the Etekcity Camping Air Mattress
We've taken the guesswork out of your purchase. After plenty of research and taking it out on the field, we're happy to say that this is a great little camping mattress. As soon as you open it up, you can't help but notice the nice packaging and how firm the mattress is after you inflate it. While some of the reviews noted that it lost air over a few days, it's important to note that you should refill it slightly every night for the firmness you desire. Travelers noted what a good value it is for the money and how well it holds up on the road.
Did you know that is more than just your comfortable, convenient sleep solution? It's actually therapeutic since you can inflate it to your own comfort level, the design is such that it will either cradle you or give you the firmest of support, and it accommodates a memory foam topper well if you have the need. Travelers say that this mattress is probably the greatest camping purchase they have ever made on Amazon. If you go camping regularly, it's definitely worth it to have one of the best camping air mattresses around.
Having an air mattress that comes with a pump makes your life so much easier. Plug it in, turn the dial, wait a few minutes, and get ready for bed. Some said they even used it for an entire week vacation and it held up well. There was no leaking at all. It only takes 1 minute to blow it up. In addition, it is pretty high as well so it does look like an actual bed once you have the comforter on it. The overall quality of the Etekcity Camping Air Mattress.
Alternative Camping Air Mattresses to Consider
Coleman SupportRest Double High Airbed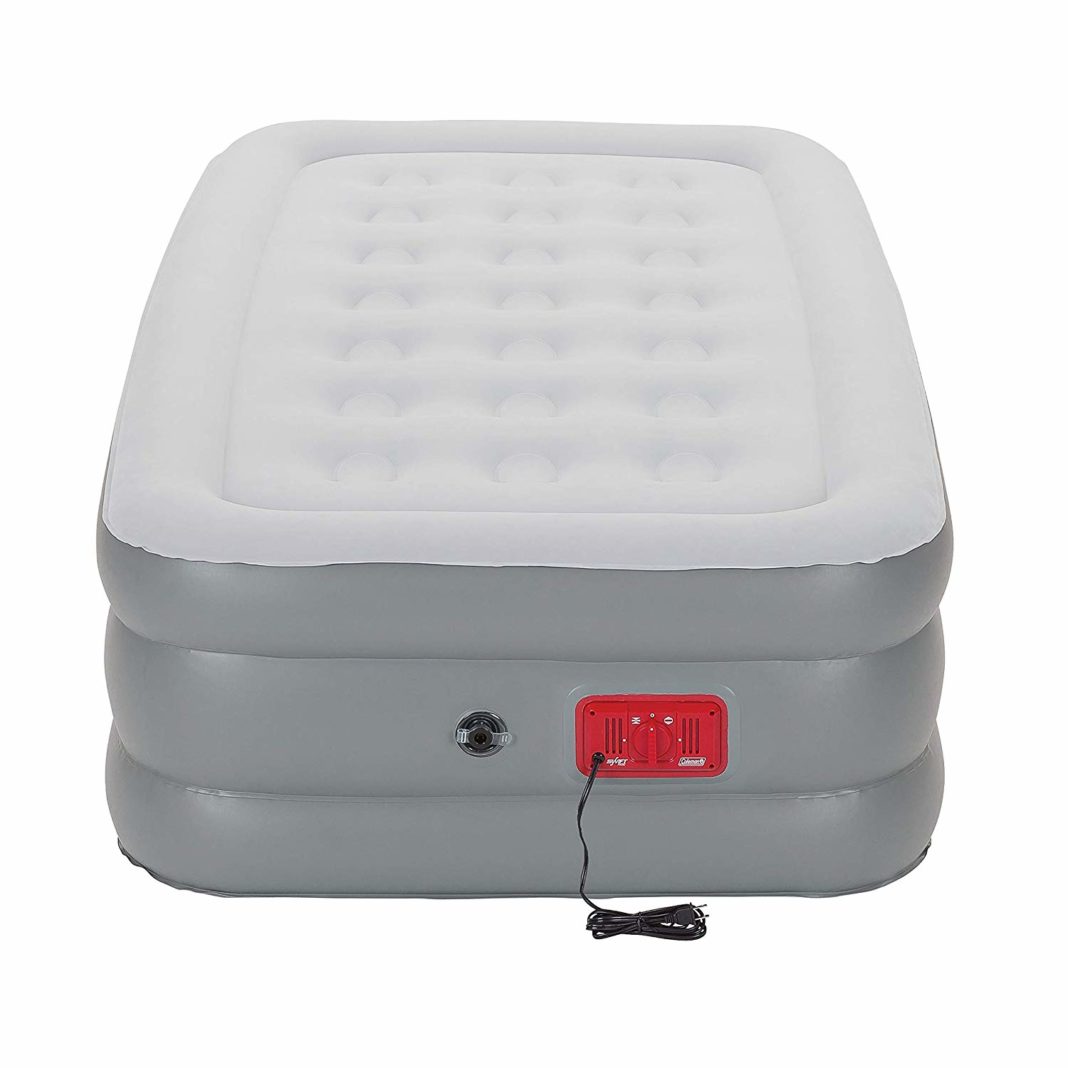 Are you looking for a more raised air mattress? Like the Etekcity Camping Air Mattress, it is super easy to set up. While it doesn't come with a built-in air pump either, you can rest easy knowing the process is still sweet and simple. Another similarity is the soft, flocked surface. But Coleman takes it one step further. The fabric is antimicrobial. This means you don't have to worry about germs and picking up funny odors along your travel route. A simple wipe down every now and then should do the trick.
We appreciate its airtight design. There are no leaks here. The PVC and tight airlock make the Coleman SupportRest Double High Airbed a great investment in terms of comfort and durability. The high-quality construction ensures that the mattress won't sag over time. This makes it a great choice for your camping adventures. The mattress is made to hold up well against all of the elements of the great outdoors – inside of a tent of course. Coleman's Airtight system ensures the mattress won't leak air overnight, so you won't have to struggle with refilling your bed every couple of hours. Trust us. We've been there and it's not a fun place to be. In terms of aesthetics, we appreciate the minimalist design.
Our favorite feature about the Coleman SupportRest has to be the lifted design. It makes it feel like you're sleeping on a regular bed. But you still get all the benefits of being able to stargaze and enjoy the crisp, cool night in the great outdoors. Not only does this design offer extra cushioning for sleep but it makes it easier to get in and out of bed.
When the mattress is inflated, it measures 75" x 39" x 18", fits standard sheets, and can support up to 300 pounds in weight. The only thing you will have to be careful about with a double high design is making sure the mattress isn't too tall to comfortably fit inside of your tent. Measure the floor to ceiling and length to width dimensions of your tent before investing in a camping air mattress.
Tech Specs:
Soft to the touch PVC fabric

Takes only 1 minute to inflate and deflate

Dimensions when inflated: 75" x 39" x 18"

Can support up to 300 pounds in weight

Double high design

Antimicrobial

Does not leak air

Portable
Invest in the Etekcity Camping Air Mattress for Your Next Camping Trip
Road trips and hiking are a blast. But at the end of the day when your tent is set up, you want a comfortable bed you can flop onto and fall asleep. The Etekcity Camping Air Mattress is easy to set up and use. Since it comes with a portable, rechargeable air pump, you can pump up the bed from anywhere you would like to.
By investing in the right gear, your travels will go so much more smoothly. It's important to know that even in the great outdoors, comfort is key, By getting a good night's rest, you'll be able to tackle the next day so much better. While it is important to get the right sleeping bag and camping pillows, that's not enough on its own. One of the best camping tips we can give you is to invest in a good air mattress. The Etekcity Camping mattress is not only affordable but durable and high-quality too. It's just what you need for your next trip.
Related Article: The Best Camping Air Mattress: Our Top 5 Picks