Are you looking for a lightweight hydration pack with a lot of fun features? Check out the Osprey Hydraulics Reservoir.
Hikers, bikers, and all-around adventurers, we are talking to you. There are a lot of ways to get and transport water while you're hiking. While most novices opt for disposable plastic bottles, they often cause a lot of unnecessary waste. Furthermore, that waste contributes to the degradation of our planet. More so than ever, companies are moving towards eco-friendly hydration options. And we're beyond excited. The Osprey Hydraulics Reservoir is a green and efficient way to get your water on the go.
When you're looking for hydration options that are good for the planet, you have a few options. Reusable water bottles, hydration packs, and reservoirs are a few of them. We love that Osprey always offers good quality products you can fall back on. They've been around for years and have established themselves in the industry as a leader for outdoor gear. If you are looking for a durable hydration reservoir that you can take everywhere with you, the Osprey Hydraulics Reservoir has everything you need and more.
About the Brand
Osprey grew out of one person's desire to make comfortable, durable, and workable outdoor gear. When you're on the go, you need gear that will not only keep up with you but make your day a little easier. We're happy to say that their products do that and more. Over the last 40-something years, they have stayed true to their brand ethos, uplifting quality and championing customers and adventurers around the world. Their founder, Mike Pfotenhauer still spearheads all of their major designs and innovations. Furthermore, they guarantee that everything they make is built to last but should anything happen, you will get a free functional repair or replacement as needed.
Osprey Hydraulics Reservoir Features and Benefits
Ease of Use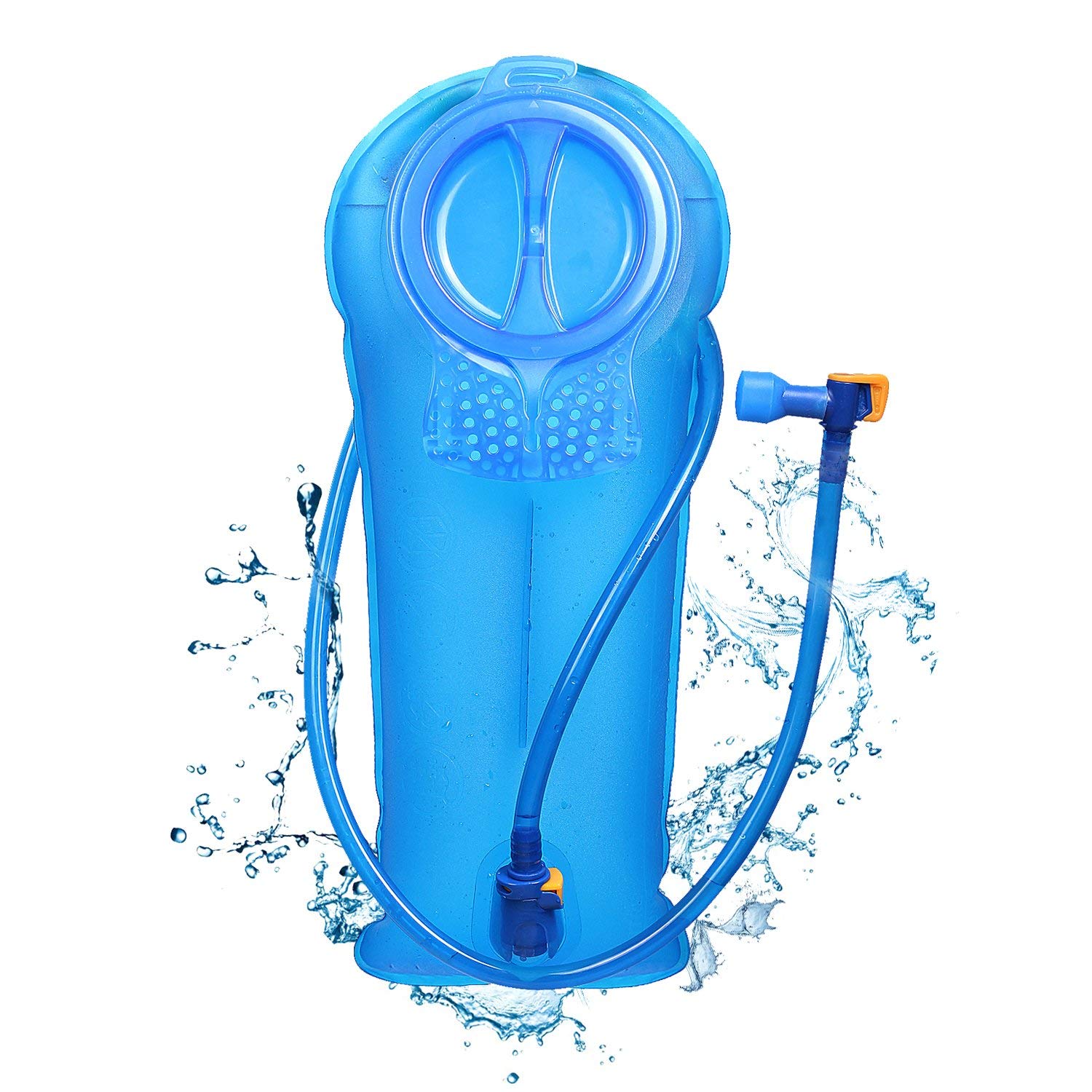 Credit: Amazon
We'll put this as simply as possible. This reservoir is easy to use – and we appreciate that. The last thing you want when you're out on a hot hike is to struggle how to figure out your water reservoir. The bite valve is wonderfully easy to use. It will never leak and when you need a sip, you can enjoy ample water flow without a lot of concerted effort on your end. Furthermore, this model is able to be paired with other valves and tubes if you'd like to switch something out. The magnet is great too. You can easily attach it to your tube or on your pack pretty much wherever you would like. The easiest place to wear it is on your chest while running, hiking, or biking though.
Another great feature that makes the Osprey Hydraulics Reservoir easy to use is the quick release hose. If you know anything about Osprey hydraulics, you'll soon find that it has the same type of style. The quick release falls around the halfway point of the hose. So, should you want to detach your bladder without messing up your gear, you can do so.
Easy to Clean and Care for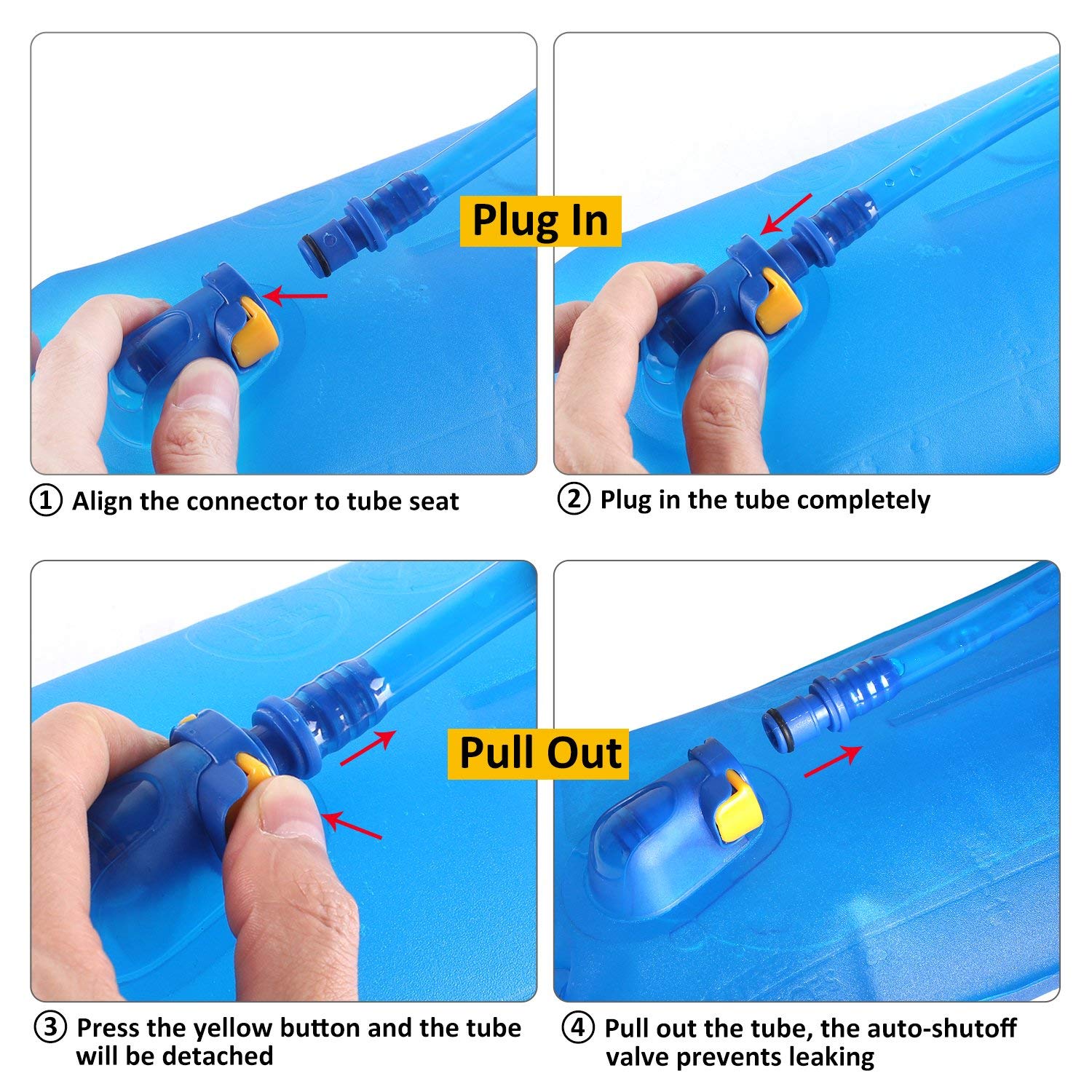 Credit: Amazon
Okay, while this might not sound like a big deal, trust us it is. You have no idea how gross regular hydration packs can get after a few days of camping. While the Osprey Hydraulics Reservoir is certainly not as convenient as reversible types of reservoirs, it does allow for you to clean inside with ease. How? Well, with the large opening, you can easily get a brush inside and some soapy water. Scrubbing isn't very difficult either. Just wash, rinse it out, and allow it to dry. For extra clean measures, stick it in the freezer to kill out any bacteria that is left.
It's Simple to Fill Up Too
We said it. Everything about the Osprey Hydraulics Reservoir shouts sweet simplicity. If you've ever used other water reservoirs, you probably know that they are not all easy to fill up. But with that said, that just makes you appreciate the ones that do that much more. Thanks, Osprey. Just like other HydraPak models, this bladder is easy to fill up in both deep and shallow environments. The attached handle and extended tongue allow you to fill it up quickly and without complication whenever you need to. Collecting water from streams or shallow fountains is a breeze.
Durability and Quality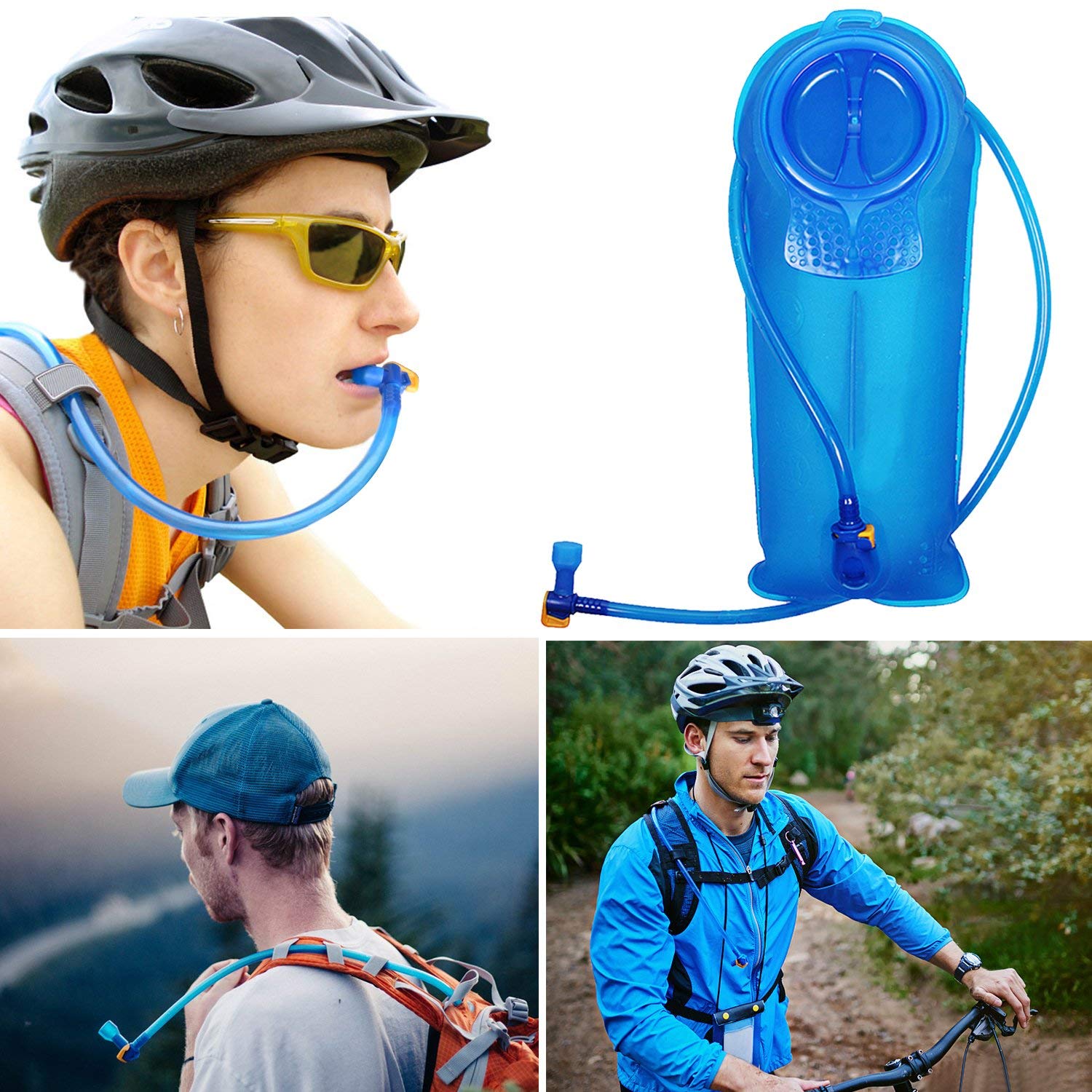 Credit: Amazon
We've tested it out. The Osprey Hydraulics Reservoir has held up tried and true. Even after months of use, it doesn't show signs of wear or tear and it doesn't leak. The bite valve has held up strong (even after I little bit of mindless chewing on the trail). However, it is important to keep in mind that this reservoir is constructed from a TPU film. This means that while it is durable it is not as puncture resistant as other more thick options on the market.
Weight and Portability
Credit: Amazon
We're gonna be honest here. While the Osprey Hydraulics Reservoir looks light, it is a little bit heavier than other flip top types. With this said, it still weighs in at only 6.15 ounces. For a 2.5L-capacity hydration bladder, that is pretty good. All around it is a great pack.
What Travelers Are Saying About the Osprey Hydraulics Reservoir
When it comes to long-haul hikes and hard treks, the Osprey Hydraulics Reservoir gets the job done. As we mentioned earlier, this brand is well established in the outdoor gear industry and with good reason. The most commonly lauded features are the durability and overall ease of use. Most of the reviewers have been able to use the reservoir without any problems like leaks or other complications.
They aren't concerned about giving it a little wear and tear. Even if it does suffer some scrapes along the way, it holds up surprisingly well. And if it does pick up some dirt and grime after or along your trip, know that cleaning it is wonderfully simple.
Tech Specs:
Easy to use

Flexible for fast water flow

Liter marks for easy measuring

check

Non-leak bite valve

check

Holds up against wear and tear

check

Simple to clean

check

BPA,

phthalate-free, and lead-free
Alternative Hydration Bladders That Might Better Fit Your Needs
Unigear Hydration Water Bladder Reservoir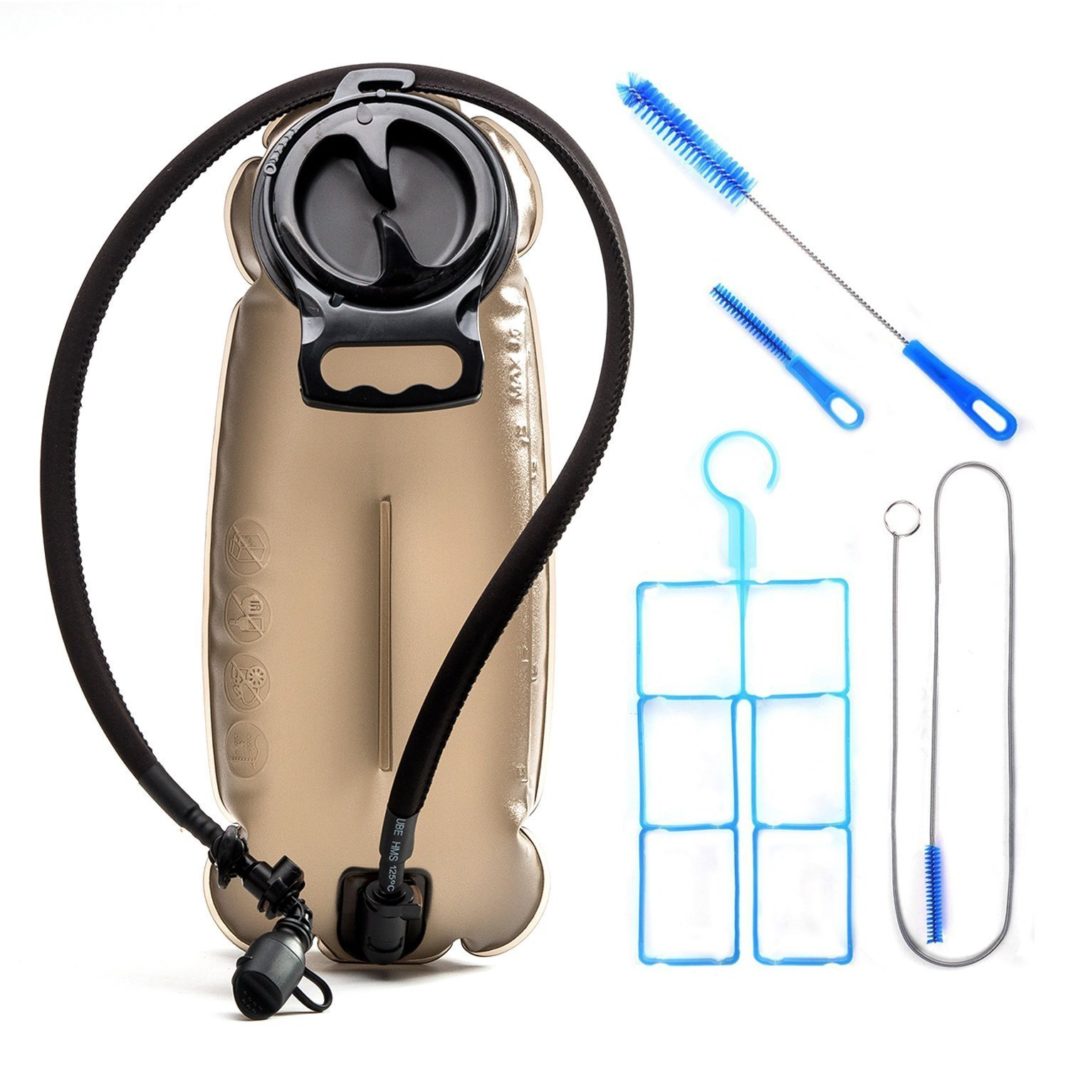 Stay hydrated on the go with the Unigear Hydration Water Bladder Reservoir. This is the choice reservoir for outdoor enthusiasts. Don't let your hydration needs interfere with your workout. Using this hydration bladder is a great way to keep your gear clean, dry, and get some H20 when you need it most.
Meanwhile, it is easy and convenient for cleaning. Dehydration in exercise is very common and can be mild, moderate or severe, depending on how much of your body weight is lost through fluids. Therefore it is important that we look out for those early signs of dehydration such as thirst and dark colored urine, these are your body's way of trying to increase water intake and decrease water loss.
Tech Specs:
Made from flexible TPU material

BPA free and FDA approved

Large opening for easy cleaning

check

Soft, antimicrobial mouthpiece

check

Insulated tube
MSR Dromedary Bag Water Reservoir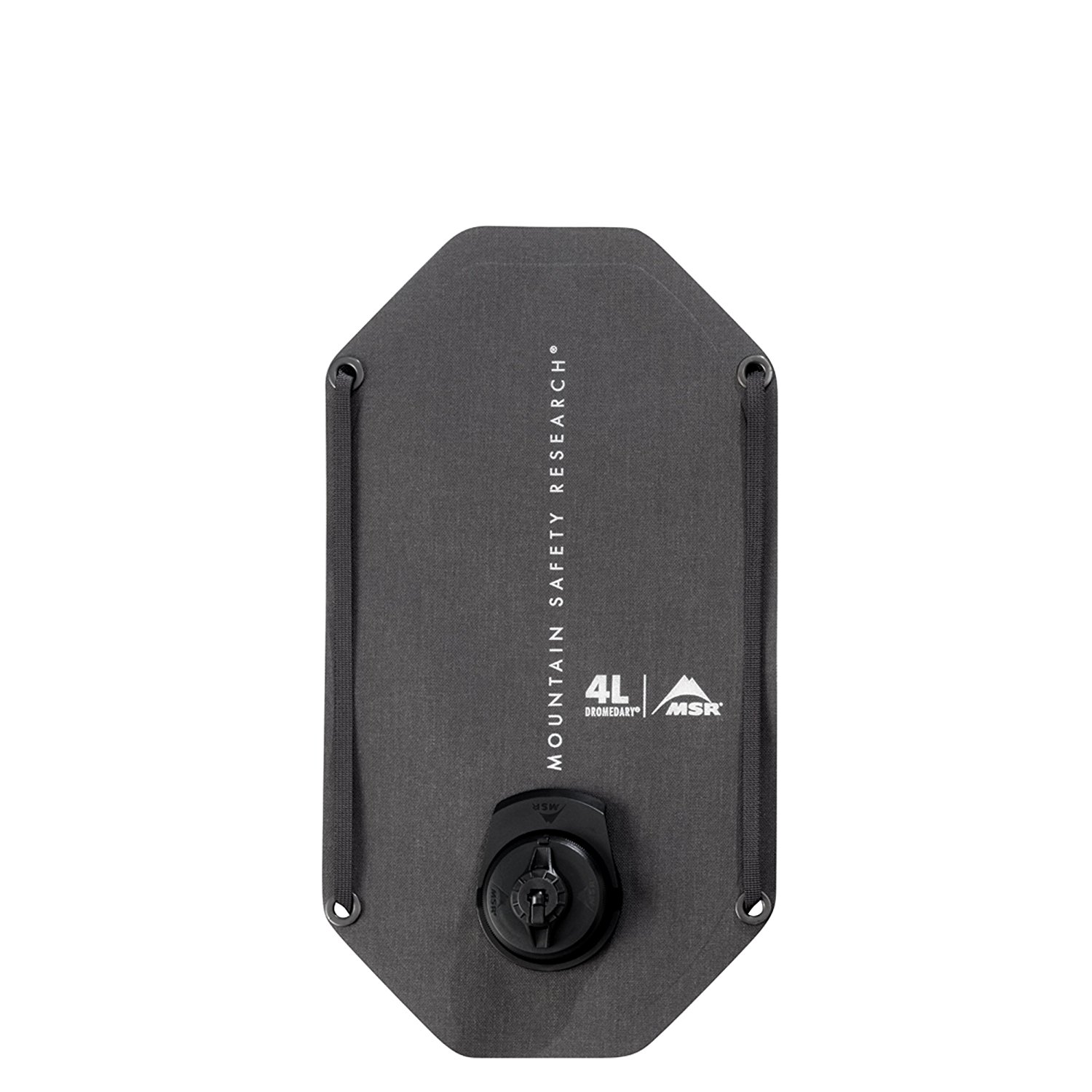 If you ask us, the MSR Dromedary Bag Water Reservoir is definitely one of the best hydration bladders on the market. Did you know that it is completely collapsible for superior packing efficiency? All in all the MSR Dromedary Bag is our burliest medium-to-large capacity water storage and water delivery system.
The Dromedary Bag comes equipped with a strong 1,000-Denier exteriors and now laminated with an improved BPA-free food-grade lining for better-tasting water, and can handle freezing and the abuse inflicted by expedition crews and hardcore adventurers. It features streamlined webbing and strategic grommets for pack attachment and hanging. Accessories like the Shower or Hydration Kits add versatility, and the included MSR 3-in-1 cap lets you fill, drink and pour with greater ease.
Tech Specs:
Collapsible water storage for treks of all kinds

​

Laminated with an improved BPA-free food-grade lining for better-tasting water

Armed with tough 1,000-Denier exteriors can handle freezing

check

The four-liter size measures 10 by 18.3 inches and weighs 6.9 ounces

check

Made in the USA
Overall, the Osprey Hydraulics Reservoir is One of Your Best Bets When It Comes to Hydration Bladders
What kind of trip are you planning for? In the event that you are seeking a hiking water hose or something related to car camping, this might be a little bit much. But if you enjoy going a bit off the grid and challenging yourself along the trail, the Osprey Hydraulics Reservoir has got you covered.
Be sure to check your water intake and see if you are getting enough for your hike. It can be difficult to choose which hydration pack is right for you but a good hydration bladder goes a long way. All in all, we love taking the Osprey Hydraulics Reservoir on our adventures.
Related Article: Choose The Best Hydration Bladder For Your Next Adventure