Lighten your load with the Samsonite Eco-Nu Wheeled Underseater Carry-On.
Choosing the right luggage can be a hassle, especially when it comes to carry-ons. You want a bag that is affordable, durable, and able to handle the bumps of the road during travel. It's additionally important that it has a good storage capacity, a strong handle, easy maneuverability, and plenty of pockets for organization. We're happy to say that the Samsonite Eco-Nu Wheeled Underseater Carry-On checks all of the necessary boxes on our must-have list.
Samsonite Eco-Nu Wheeled Underseater Carry-On Features and Benefits
Material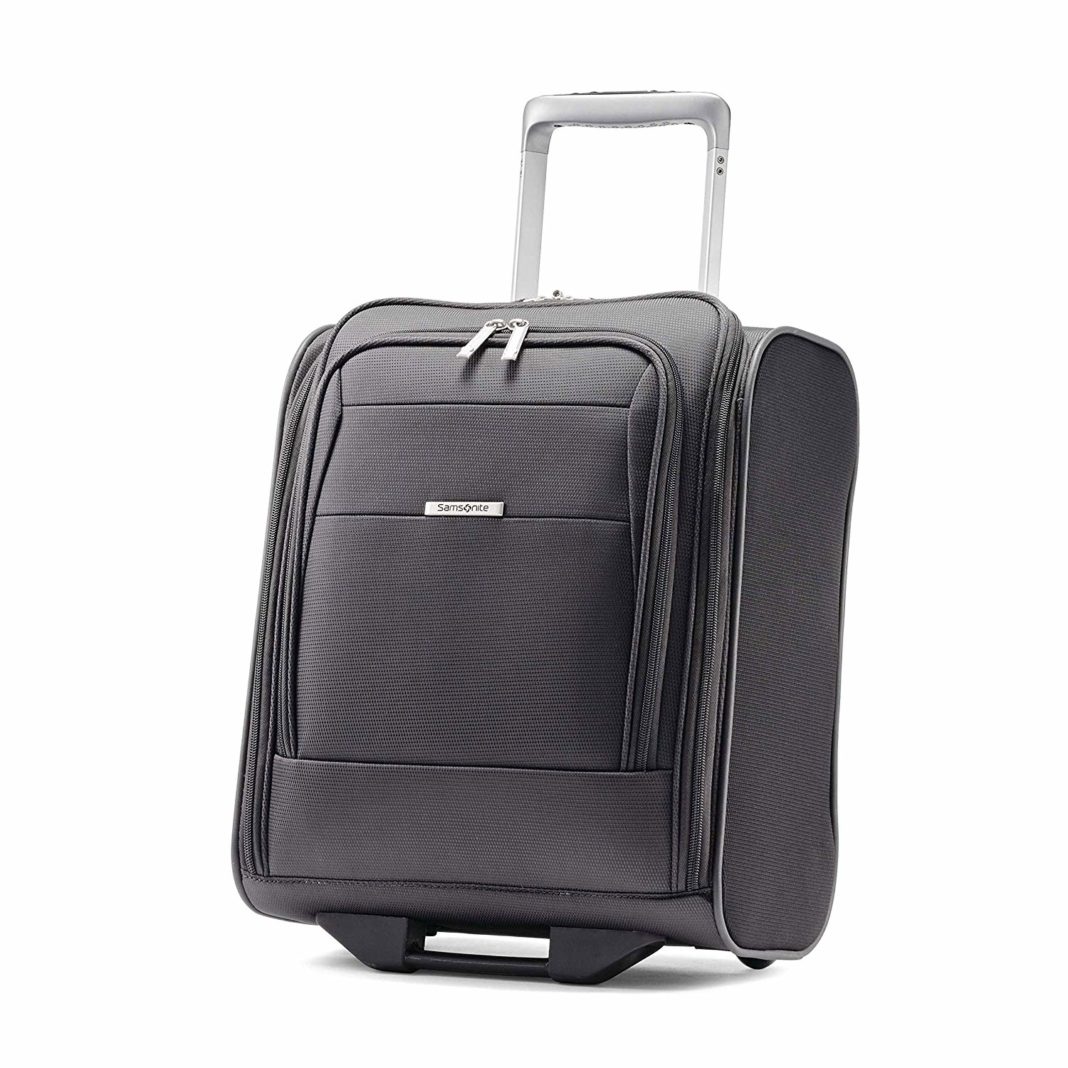 Credit: Amazon
Made from recycled fabrics, the Eco-Nu Wheeled Underseater Carry-On from Samsonite is smooth to the touch and appealing to the eye. We appreciate that all of the material including the liner is composed of 100% post-consumer recycled plastic bottles. Did we mention that it is also durable? Since the fabric is ripstop, it won't easily get caught or snagged. In addition, it is sewn extra carefully in places prone to wear and tear. 
Inline Skate Wheels
When it comes to maneuverability, you can count on the Samsonite Eco-Nu Wheeled Underseater Carry-On. The wheels are made from polyurethane with ball bearings in order to minimize frictional resistance. They offer just the right amount of support for structural integrity and durability. Thanks to reduced resistance, you will enjoy smooth rolling. Gone are the days of struggling to haul your heavy luggage around the airport terminals.
Smart Sleeve
This is one of our favorite features about the bag. So, what is a smart sleeve? If you have an additional small personal item, you can easily slide the case over the upright tube handle. This makes it easy to carry around your items without having to juggle your coffee in one hand, passport, jacket, and bags.
Retractable Handle
When extended from the suitcase, the retractable handle provides easy maneuverability. After it is fully extended, it locks into place. It is just the right height; you won't have to stoop over far to wheel your luggage. Having the right length for the retractable handle makes all of the difference. When it's not in use, you can store it easily back inside.
Interior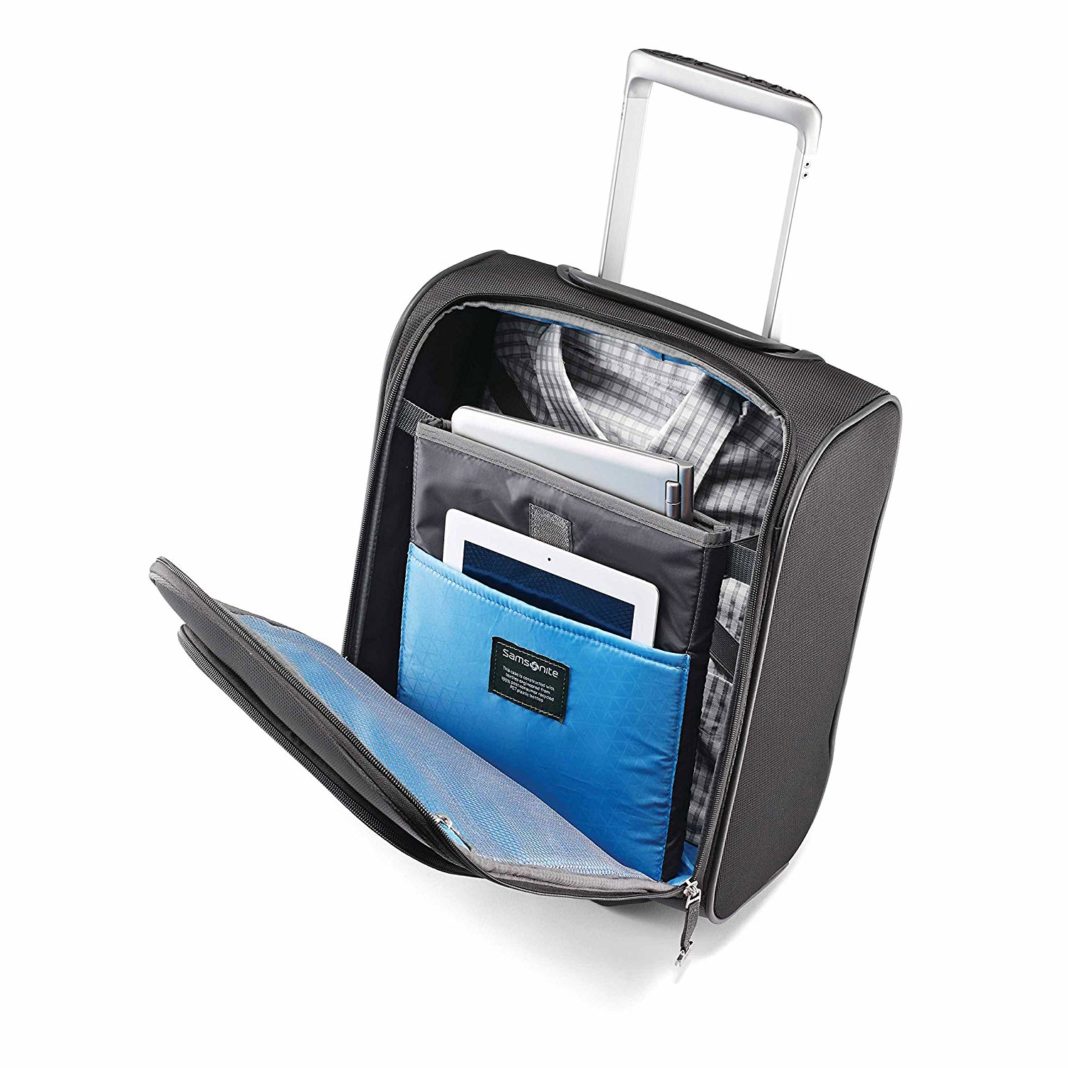 Credit: Amazon
Open up the suitcase. The underside of the front features a large mesh pocket which makes for convenient, easy access storage. You will also find two pockets above the main compartment. One is large enough to fit a laptop and the other is the perfect size to fit your tablet or iPad.
Exterior Pocket
Credit: Amazon
On the outside, you will find a thin exterior pocket. While it doesn't offer plenty of storage space, it is convenient to store thin items like documents, envelopes, and printouts of travel information. We never recommend storing your passport in your carry-on though. Your identification, debit cards, credit cards, and cash should be carried on your person at all times in a purse, wallet, or money belt.
Tech Specs:
Made from recycled fabric (100% post-consumer-recycled plastic bottles)

Inline skate wheels with ball bearings

Smart sleeve

Retractable handle that locks into place when fully extended

One thin exterior zippered pocket

Two interior pockets

Spacious main compartment

Reduce resistance for smooth wheel rolling
What Travelers Are Saying About the Samsonite Eco-Nu Wheeled Underseater Carry-On
Travelers who purchased the Samsonite Eco-Nu Wheeled Underseater Carry-On couldn't say enough about the durability and lightweight structure. This carry-on has it all. What really stuck out in reviews, however, is that the exterior and overall construction are flexible.
Users found they could compress a lot of items into the two sides with the zippers closed. The covers zipping up the sides are cool and keep everything organized. Packing cubes are definitely useful in getting everything to fit well.Users also found it to be really easy to roll and had no problems at all changing direction, rolling it the "skinny" way up the airplane center aisle, etc. The handles on the side and top functioned well, as did the lock. I really like the exterior material. It's got a texture to it and it's a bit flexible, so it stands up to a lot and does not seem prone to tears or snags. The telescoping handle functioned smoothly.
A lot of people bought this bag based on its dimensions — it will comply with any airline's carry on requirements — it's lightweight. For most, roller bags without double wheels seem too flimsy once you're on any kind of non-smooth surface. Samsonite really stands behind their product. We can't wait to see them come out with additional sizes and new offerings.
Alternative Underseat Luggage That Might Work Better For You
Eagle Creek Load Warrior 22-Inch Carry On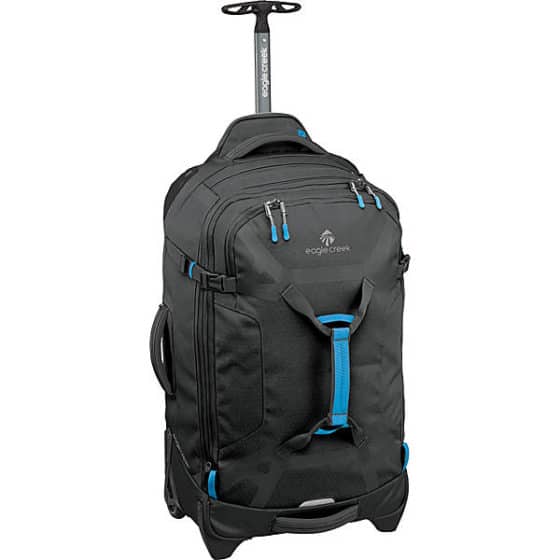 The special geo ripstop fabric is one of our favorite features about the Eagle Creek Load Warrior 22-Inch Carry On. When you're traveling, nothing is worse than wheeling your newly-purchased luggage along and realizing there's a tear or snag in the bag. You won't have to worry about that here. The material is not only abrasion resistant but water repellant as well. We're happy to say we have tried it out and it's tested true. In addition, the 210D exoskeleton strategically strengthens areas that would normally be subject to wear and tear. The result is a bag that has held up for months on the road and definitely will for years to come.
Every aspect of this bag is designed for durability. While it is constructed with heavy-duty materials and durable finishing, the Eagle Creek Load Warrior 22-Inch Carry On remains lightweight and manageable in size. With the strengthened wear points, it is prepared to face whatever bumps in the road your travels may bring.
Tech Specs:
450D geo ripstop fabric

22" tall and 14" wide

Seamless exoskeleton for support  

Easy grab storage compartment at top of the bag  

Heavy duty treaded wheels  

Exterior and interior compression  

Multi-purpose handles  

Reflective accents for visibility in both day and night
The Minima Carry-On
Are you a frequent flyer? If so, you know the significance of having a good carry-on bag. This type of luggage is not only great for weekend trips but longer ones as well. The trick is to know how to pack like a minimalist. Carry on luggage gives you a space to keep your belongings safe without having to hassle with a large, heavy bag. This way, you can get from point a to point b quickly. The lightweight, ergonomic design is just one of many reasons why we love the Minima Carry-On.
This style from Chester holds a lightweight design, making transport a breeze. Travelers who want to carry their belongings this way will never feel weighed down. You can fit clothes, shoes, toiletries, and more in this bag without it being too heavy. Weighing in at only 7 pounds, this is one of the more lightweight styles on the market. Finally, the bag is also durable and water resistant. Composed of a purely Makrolon polycarbonate hardshell, it is lighter than aluminum and more durable/flexible than most plastics.
In addition, it has been made in accordance with most airline's carry-on restrictions. With TSA and IATA approved exterior dimensions, you can relax knowing that your bag will meet both domestic and international airline requirements. Plus, it will easily fit into the overhead compartments of both small and large planes. The exterior dimensions measure as follows: 21.5" x 13.5" x 8.5. Interior dimensions measure at 20.0" x 13.5." The capacity it holds is 38 liters – (aka 3 to 5 outfits). Lastly, the The Minima Carry-On comes equipped with a TSA approved lock set by a combination code.
The hard shell exterior of the Minima Carry-On prevents major damage. Even if you drop the suitcase or it falls over, the exterior will not dent. Moving on to the interior, you will find two spacious compartments for storage. There are also interior organizers where you can put smaller items. We particularly appreciate that there are removable nylon laundry bags where you can separate your clean and dirty clothes.
Tech Specs:
Durable and lightweight

7 lbs.

Construction: Makrolon polycarbonate hard shell

TSA and IATA approved dimensions

Organized compartments

Easy handling

Aluminum telescoping handle

10-year limited warranty
Never Travel without Your Samsonite Eco-Nu Wheeled Underseater Carry-On
When it comes to airline travel, you need a good bag. There's no questioning that. The type of luggage you bring can make or break the ease with which you travel. Some bags can be too heavy when packed or uncomfortable to carry on your shoulders and back. Oftentimes luggage might appear to be spacious on the outside but have a small interior space.
We highly recommend the Samsonite Eco-Nu Wheeled Underseater Carry-On. With a lightweight, durable exterior, plenty of space, and easy maneuverability, you really can't beat this style. And if that wasn't enough, it's affordable too. We have to say we're big fans of Samsonite and their design aesthetic.
If you're looking to travel lightly, the Samsonite Eco-Nu Wheeled Underseater Carry-On is just what you need. Samsonite excelled at making a good product with a lightweight design. So, you can easily transport your belongings. The next time you travel, be sure to bring this bag with you for the ride.
Related Article: The Best Underseat Luggage For Every Journey