Minimalist packers, you've found your perfect bag in the Eagle Creek Load Warrior 22-Inch Carry On.
In the world of travel gear, it's common knowledge that Eagle Creek offers nothing but the best quality. But let's just take some time to appreciate this durable pack. With dimensions of 22" x 14" x 9," the Eagle Creek Load Warrior 22-Inch Carry On is the perfect size to bring with you on the plane.
Packing has never been easier. There are several immediately noticeable handy features that will make your life sweet and simple. First things first. We've got to mention the exterior and interior compression features. Now, you can fit even more inside your bag and then compress it down to meet the strictest of airline requirements. Plus, even if you're not one to overstuff your bag, you'll still want to leave some room for souvenirs, right?
With those holiday trips coming up, it doesn't hurt to sneak in some gifts to bring the family too. In this article, we will take a look at the features and benefits that the Eagle Creek Load Warrior 22-Inch Carry On has to offer. It's time to see if it's the right fit for you. Consider us your luggage buying guide. Are you ready? Let's go.
A Little Bit About Eagle Creek
Since they first started in 1975, Eagle Creek has revolutionized the travel luggage industry. While their initial focus was limited to hiking and travel packs, they have branched out over the years to incorporate a myriad of luggage types. Today, they offer it all – everything from great carry-on bags to affordable duffels and rolling style suitcases. We love that all of their products are protected by the brand's No Matter What lifetime warranty. Do you need some help picking out what products are best for you? Read on to find out what our favorite Eagle Creek luggage styles are.
Eagle Creek Load Warrior 22-Inch Carry On Features and Benefits
Like some of our other favorite Eagle Creek luggage pieces, the Eagle Creek Load Warrior 22-Inch Carry On is also designed with geo ripstop fabric and exoskeleton reinforcement. This means that it is able to hold up where other bags might be fragile. In addition, treaded wheels make it easy to maneuver when you're rushing to catch that flight. When you're boarding the plane, the multi-purpose handles make it easy to lift it up into the overhead compartment.
Material
Credit: Amazon
This special geo ripstop fabric is one of our favorite features about the Eagle Creek Load Warrior 22-Inch Carry On. When you're traveling, nothing is worse than wheeling your newly-purchased luggage along and realizing there's a tear or snag in the bag. You won't have to worry about that here. The material is not only abrasion resistant but water repellant as well. We're happy to say we have tried it out and it's tested true. In addition, the 210D exoskeleton strategically strengthens areas that would normally be subject to wear and tear. The result is a bag that has held up for months on the road and definitely will for years to come.
Designed for Durability
As we previously mentioned, every aspect of this bag is designed for durability. While it is constructed with heavy-duty materials and durable finishing, the Eagle Creek Load Warrior 22-Inch Carry On remains lightweight and manageable in size. With the strengthened wear points, it is prepared to face whatever bumps in the road your travels may bring.
Easy to Handle
We love a bag that's easy to handle. And we're happy to report that the Eagle Creek Load Warrior 22-Inch Carry On is one of them. With multiple access points, you won't have to struggle to get into your bag for that one item you need on the fly. Staying organized has never been easier. You won't have to guess where your travel umbrella is when you're caught in the rain. An aluminum handle, multiple grab handles, and exterior compression straps are all desirable features.
All Terrain Wheels
Picture this like an ATV for your luggage. While that might sound a little extreme, these all-terrain wheels do so much more than get you from point A to point B. Whether you're booking it through a train station or trying to find your hotel walking on bumpy cobblestone roads in England, they'll hold up. Enjoy a smooth ride on all surfaces, even if they're a little uneven. You won't have to worry about the wheels getting all scuffed and marred. Thanks to the protective wheel housing and kick plate, this little travel companion can roll with the punches.
Fun Features
Mkay, we're going to let you in on a (not so secret) secret. You already know that the Eagle Creek Load Warrior 22-Inch Carry On has plenty of handles and lash points. But did you know that it also has an equipment keeper to secure gear at the top of the bag? But wait. That is not all. It also doubles as a bottle opener. If there's ever a good time to crack open a cold beverage, it's after a long day of travel. Eagle Creek has really outdone themselves this time.
Tech Specs:
450D geo ripstop fabric

22" tall and 14" wide

Seamless exoskeleton for support

Easy grab storage compartment at top of the bag

Heavy duty treaded wheels

Exterior and interior compression

Multi-purpose handles

Reflective accents for visibility in both day and night
What Travelers Are Saying About the Eagle Creek Load Warrior 22-Inch Carry On
All in all, travelers love the Eagle Creek Load Warrior 22-Inch Carry On. It's super easy to load and no hassle. Not only that but it also fits perfectly on domestic overhead bins. It's essentially a big compartment, so if you're looking for a bag with dedicated spots for items, this isn't for you. You can use packing cubes which will make it a cinch to get everything in that you need for your trip.
Many reviews comment on how nice the zipper pulls are, as well as the compression straps. A good idea is to use the smaller compartment up front for dirty clothes on your return trip. All the extra handles are super-useful. Some users noted that they wished there was a dedicated space for bag identification. But you can solve that problem pretty easily with some fun, personalized luggage tags. That's not a deal breaker for us.
We have used many Eagle Creek bags over the years. And we've got to say they are top quality items. After purchasing the Eagle Creek Load Warrior 22-Inch Carry On, you may just want to start switching over to their gear entirely. It's just that good. While the bag is a little pricey, you pretty much get what you pay for when it comes to the world of travel. This bag is set to hold up for years and years on the road, hikes, backpacking, and everywhere in between.
With this said, there are a few features potential buyers might want to know:
First, the handle to pull the bag fits nicely in the bag. However, it's a single bar, not two. You're not going to be able to slip another bag (like a laptop case) through it. If you use a backpack as your second bag, this will be a non-issue. Second, the wheels are sturdy but there are only two wheels. This means that you're going to have lean the bag to roll it. If you're in line at security or checking in, you won't be able to let it stand on its own and just push it along. The kind of wheels a bag has can make a big difference in ease of motion.
Finally, the main flap doesn't zip all the way down. Instead, it stops short of being a complete opening. While it didn't bother us at all, we recognize that for others, this might be annoying since you won't have a complete opening into the bag to pack up.
Alternative Spinner Luggage That Might Be More Your Style
Chester Carry-On Luggage/22″ Lightweight Polycarbonate Hardshell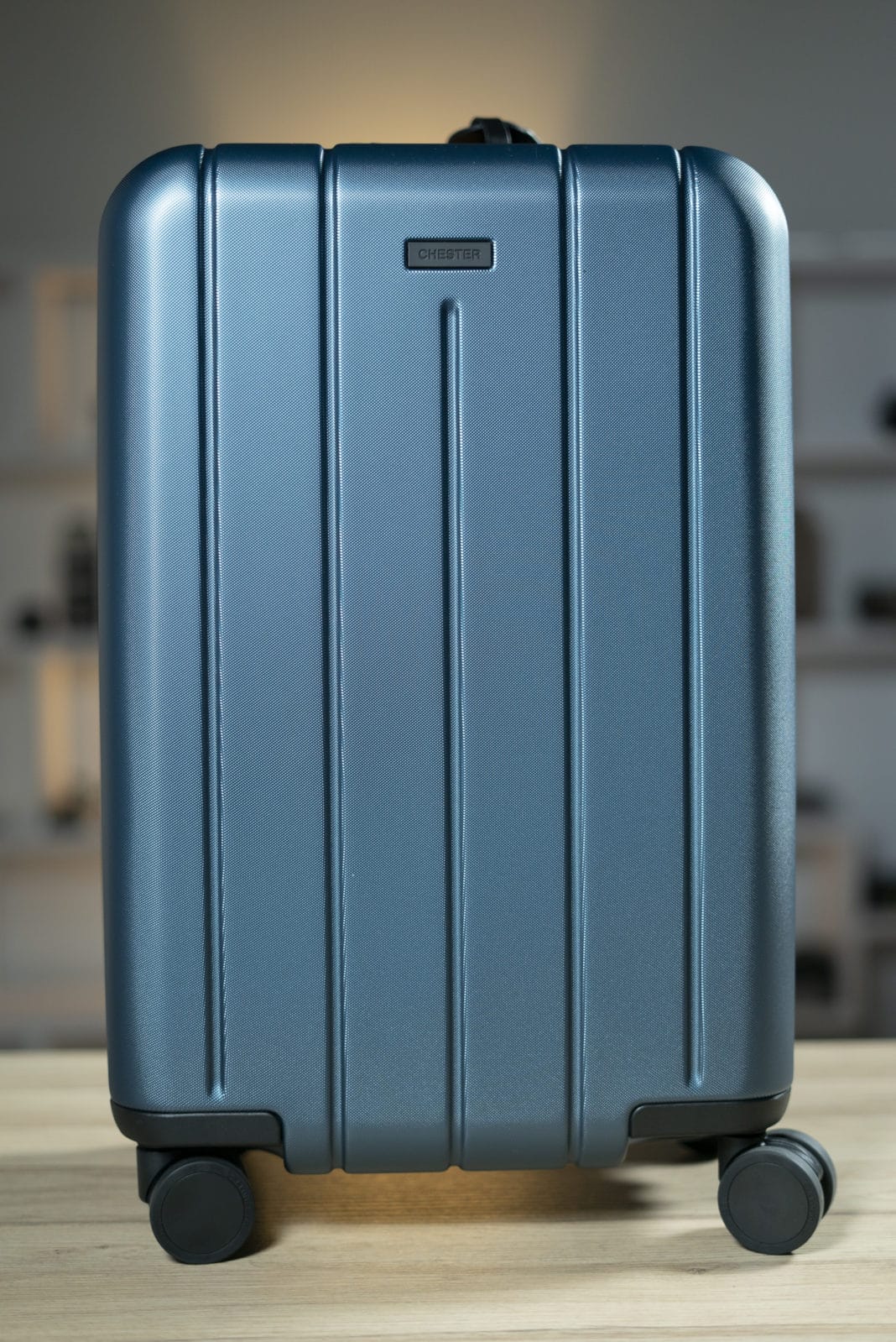 If you're looking for a slightly more affordable alternative, check out this style. Minimalists, this is your dream piece in every sense. It's stylish, sensible, lightweight, and durable. Why not treat yourself to some nice luggage? You deserve more than just the average bag.
This little bag from Chester makes transport a breeze. Unlike the Eagle Creek Load Warrior 22-Inch Carry On, this style offers more internal compartmentalization. You can fit a surprising amount of clothing in without it being too heavy. Since the suitcase itself weighs only seven pounds, it is one of the more lightweight styles on the market. Last but not least, it's made to face the elements. Made from a polycarbonate hard shell, it's lighter than aluminum and more flexible than plastics. Did we mention it's also water resistant? With a ten-year limited warranty, you can rest easy knowing your purchase is safe.
Tech Specs:
Durable and lightweight

7 lbs.

Construction: Makrolon polycarbonate hard shell

TSA and IATA approved dimensions

Organized compartments

Aluminum telescoping handle

10-year limited warranty

Easy handling
Invest in the Eagle Creek Load Warrior 22-Inch Carry On Luggage
Travelers, listen up. If you're a minimalist seeking a piece that will hold up for years on the road, you have found your perfect fit. The Eagle Creek Load Warrior 22-Inch Carry On is geared towards backpackers and outdoor adventurers. Geo ripstop fabric, an aluminum telescoping handle, and all-terrain wheels come together to form the perfect travel accessory.
Related Article: 8 Best Spinner Luggage Styles For Frequent Travelers