With the KEEN Elsa Boots, you might just be singing about how the cold never bothered you anyway all winter long.
Finding the right combination of style, warmth, height, and durability in a winter boot can take quite a bit of research. We're here to help you out. With a brand like KEEN, you know you're getting a high-quality product that was built to last. Started in 2003 with their now famous Newport Sandal, KEEN has developed a whole realm of quality footwear. They've brought together innovators, adventurers, travelers, and engineers to bring you a product with integrity and kindness built in. So, if you're ready to learn more about their cute winter boots option, keep reading. You'll quickly see all the goodness that is offered in the KEEN Elsa Boots.
KEEN Elsa Waterproof Winter Boots Features & Benefits
Waterproof Leather & Synthetic Materials
Credit: Keen Footwear
A pair of warm winter boots is only as good as its weakest quality. If one feature stops working, the whole boot is a waste. One of the most essential features in a great winter boot is its waterproofing. The KEEN Elsa Boots are fully waterproof, providing you all day dry comfort. The leather and synthetic materials have been designed and treated to keep the snow, sludge, and rain out even on long days. In addition, the seams have been sealed to ensure your feet stay dry. On top of that, the leather in these shoes is from LGW-certified tanneries. This certification declares that the leather and its tanning process is sustainable and environmentally friendly. So, not only are you getting a wonderfully waterproof winter boot, but the KEEN Elsa Boots are also a product you can feel good about purchasing.
Incredibly Warm Insulation
Credit: Keen Footwear
Warmth is another factor that is, obviously, incredibly important when considering the best winter boots for you this season. Whether you need to trudge around Chicago streets or hike mountains in Iceland, these boots are certified to keep you warm. With one hundred grams of KEEN insulation, these boots are rated to stay warm until the temperatures drop below negative four degrees Fahrenheit. This KEEN warmth comes from a brilliant blend of charcoal bamboo which is naturally light. This keeps you dancing on your feet without feeling weighed down by a heavy winter boot. The great insulation of the KEEN Elsa Boots is just one more feature that shows us how well these boots are constructed.
A Myriad of Color Options
Credit: Keen Footwear
Winter boots are a staple in so many wardrobes. You'll want a pair that you can wear day after day without thinking twice about them ruining your outfit. Thankfully, the KEEN Elsa Boots come in over twenty different colors. From Coffee Bean and Star White to Avocado or Tortoise Shell, there are so many to choose from. So, whether you want a sleek all black pair or a bohemian style, you can find it in the great selection of KEEN Elsa Boots. The boot extends just over six inches from the heel up your ankle, so pairing these with a cute pair of warm wool socks is the perfect style choice. So, if you need a high-quality winter boot that doesn't sacrifice in the looks department, look no further than the KEEN Elsa boots.
Sherpa Collar & Mesh Lining
Credit: Keen Footwear
Coziness is another factor that can't be overlooked when considering the best winter boots. The KEEN Elsa Boots come with a Sherpa Collar that adds both the cozy factor as well as a chic addition. When you pair that with the mesh lining, you have impeccable warmth and breathability. Your feet won't get clammy, even after a full day adventuring in these boots. In addition, there is heat-reflecting strobel which provides an additional thermal barrier for protection from the biting cold and wind. With each of these features, you can bet that the KEEN Elsa Boots are ready for just about any winter adventure you have in store.
What Travelers Are Saying About the KEEN Elsa Boots
Overall, travelers are exuberant about the KEEN Elsa Boots. From their style to their warmth, there are very few complaints. The best features that customers point out about the KEEN Elsa Boots are the style and warmth. These boots are a slim design, which won't make you feel like you're clogging around all winter. On top of that, these boots have been time-tested in Alaska, Iceland, Chicago, and so many other cold, windy, and snowy places. They haven't let these travelers and adventurers down. This is how they've earned a 4.5 out of 5 star average on Amazon. So, you can buy these with confidence knowing they'll serve you well for years to come.
A few KEEN Elsa Boot reviewers have had a few issues. While they are mostly loved all around, some customers wish they had more traction. The rubber sole is manufactured by KEEN and provides solid traction in wet and snowy conditions, but is lacking a bit when it comes to ice. So, keep that in mind as you think about your destinations. In addition, the sizing can be a little difficult to pin down. Most people order their normal size and are fine, but sometimes you need to order up, especially if you want to wear boot liners or thick socks with them. So, perhaps order to sizes to see which works best for you and return the unwanted pair. Either way, the KEEN Elsa Boots are a spectacular winter boot choice overall.
Alternative Women's Winter Boots You May Like
Salomon Women's Toundra Pro CSWP Winter Boots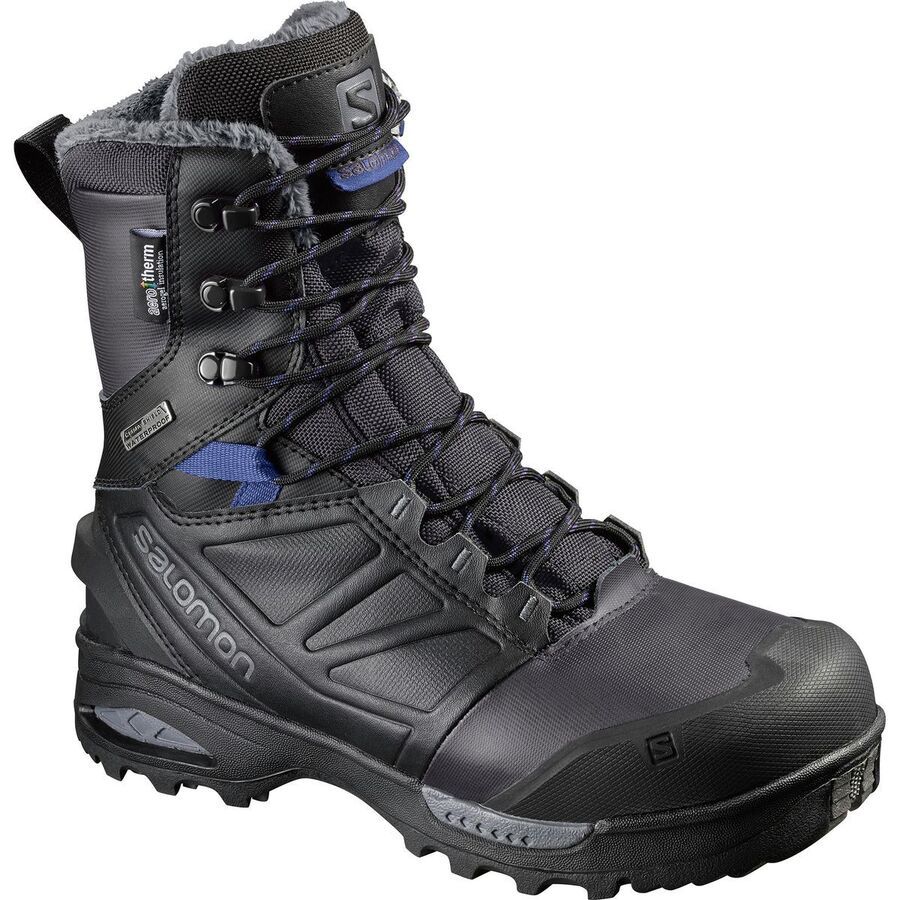 Credit: Backcountry
If you're looking for a stellar winter boot that can take you even further into the cold then the KEEN Elsa Boots, consider this alternative. The Salomon Toundra Pro Winter Boots are Salomon's warmest winter boot, keeping you warm at a blistery negative forty degrees Fahrenheit. If you're expecting incredibly long days in cold, wet, or icy conditions, these are the adventurer's alternative. Made from synthetic materials, these boots are fully waterproof. Pair that with the durable Contragrip rubber sole and you're set. These soles are known for having fierce lugs that give you traction on any surface, no matter the snow or ice that has built up. This all being said, these boots are not nearly as stylish as the KEEN Elsa Boots. But, if you need to sacrifice looks for a true adventure winter boot, this is the way to go.
UGG Women's Adirondack II Winter Boot
Credit: Englins Fine Footwear
UGG has surprised us by coming out with a great winter boot that is not only true to their cute New Zealand character but performs incredibly well. The UGG Women's Adirondack II Boots are made from leather, suede, and synthetic materials. Each has been treated to be fully waterproof. In addition, the seams are sealed to keep out any encroaching snow or moisture. Along with this, there is an ultra-plus 17-millimeter pure wool lining to keep your feet cozy in up to negative four degrees Fahrenheit. When all this is matched with the exclusive and top-notch Vibram sole, you have a spectacular boot. The lug tread pattern maximizes surface traction while still allowing your foot to flex naturally. This all goes on top of the chic, modern design for a stylish boot that can perform exceptionally well in wet and cold conditions.
SOREL Women's Glacy Explorer Cold Weather Boot
Credit: Shoe Zoo
Our last alternative to the KEEN Elsa Boots is SOREL's Glacy Explorer boot. Made from both leather and fabric, these shoes will give you more protection on your leg. They rise up a full twelve inches from the ankle, giving you extra warmth and waterproofing. The boot opening measures fifteen inches around, giving plenty of room for large calves as well. The plush fleece lining pairs with the insulation to keep you quite warm. The tractioned sole will keep you safe on snow and ice, too. All of this combines together to provide you with an all-around great winter boot. Depending on your style, however, the bold laces of these boots may turn you away. So, consider the looks of this before committing. There are a lot more color options with the KEEN Elsa Boots.
All in all, the KEEN Elsa Boots are a solid winter boot at a competitive price point.
If you've been searching for a women's winter boot that you can go right from the trail to the happy hour, these will work perfectly. From their cute, unassuming style to their spectacular warmth, you're ready for winter with these shoes. Whether you need to wear them to work, school, or out and about, these will keep you warm, dry, and happy. KEEN itself takes great pride in their products, so you can be assured you will be joining a group of adventurers, innovators, and creatives when you grab a pair of these. So, if you've been focused on a cute, warm, waterproof, and high-quality women's winter boot, your search is over. The KEEN Elsa Boots are ready to take you wherever you want to go. v
Related Article: Best Winter Boots for Women: 6 Cold-Weather Styles to Keep You Warm