Cold feet aren't good for anything. That's where the Salomon Toundra boots step in to save the day.
Having a sturdy pair of solid winter boots is essential for anyone who lives in the snow or ice country. The investment in great winter boots was my first splurge when I moved to Buffalo, New York. I'm guessing that's why you're here. You're also looking for a great boot to keep your feet warm, safe, and secure. Well, you've arrived in the right place. The Women's Salomon Toundra Pro CSWP boot is the best on the market today. Having been created in the heart of the French Alps, this boot understands what it needs to have in it to succeed in cold, icy places. From its negative forty degree warmth rating to the intense grip the sole provides, you won't be lacking any of the necessary features of a solid winter boot here. So, read on if you want to know more about the best winter boot we've tested.
Women's Salomon Toundra Pro Cswp Features & Benefits
Fully Waterproof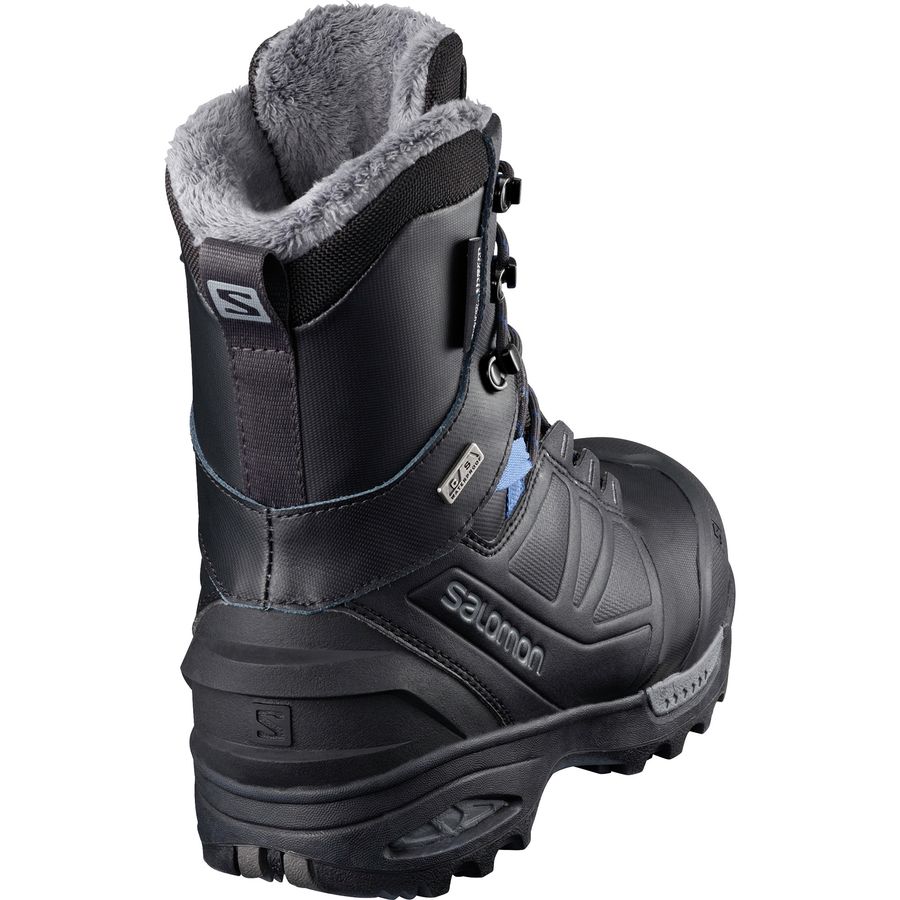 Wet feet are unhappy feet. A winter boot should be completely waterproof, from the sole to the lace. The Salomon Toundra Pro has been created just so. The waterproof, breathable Climashield membrane keeps the water, ice, and snow out while still allowing your foot to breathe. You'll be glad your feet are completely protected because they'll be snuggled in the faux fur lining inside the boot. When you pair that with a pair of warm wool socks, you have the perfect winter boot combination. So, the spectacular waterproofing that has gone into the Salomon Toundra Pro boots is ready to follow you through the muck, puddles, snow storms, or whatever else you want to throw at it.
Well-Tractioned Rubber Sole
Although a shoe is waterproof doesn't mean it is great in the winter. You also need a boot with grip to keep you upright when things get choppy. The Women's Salomon Toundra boots are outfitted with the Winter Contagrip for better traction on ice and snow. With decent lug depth and water-channeling technology, these boots will give you confidence on any surface. From ice and snow too deep puddles, you won't have to think twice about traction or grip when sporting these winter boots.
Durable, Lightweight, and Supportive Materials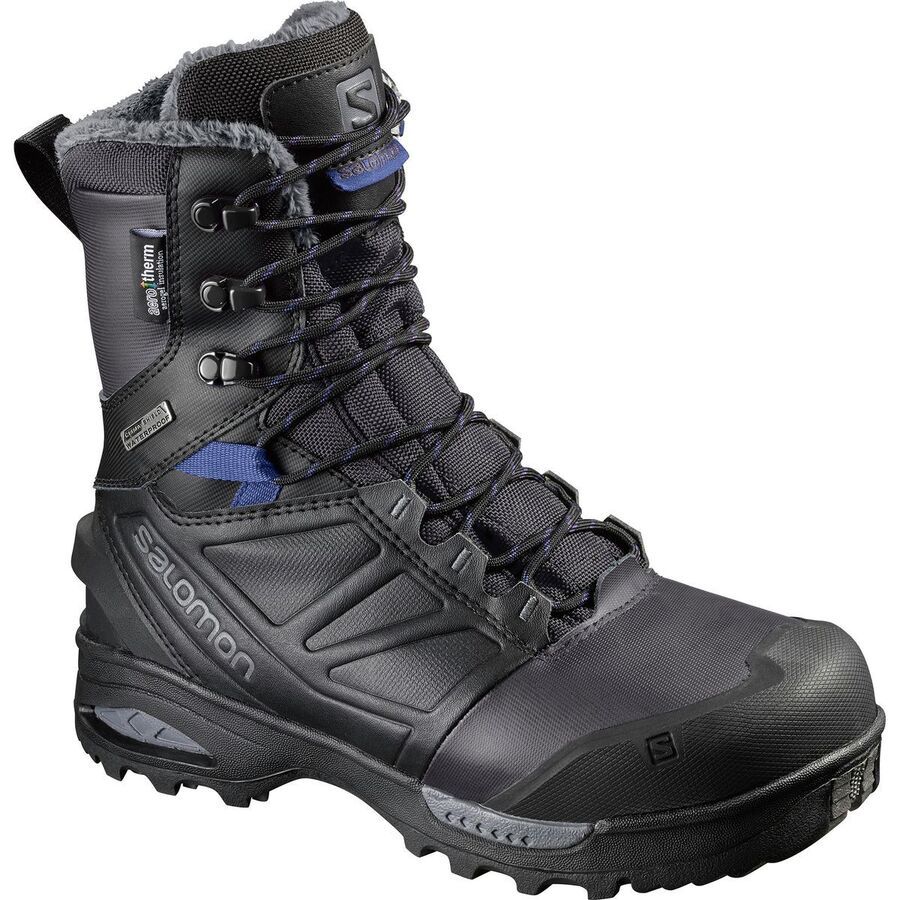 So the Salomon Toundra boots are waterproof and provide stellar traction. They are probably going to be pretty heavy, right? Actually, weighing in at just under 1.5 pounds, these shoes are quite light when you compare them to other winter boots. They'll keep you agile when you're out and about. So, when you combine the lightness of foot with the traction, you can easily consider these winter boots for a myriad of winter sports. Running and playing in the snow or snowshoeing with these are great ideas. They are truly made to get you outside and keep you outside.
In addition, they are relatively stiff when breaking them in. This means they provide great support as they conform more and more to your foot. For winter hikes and hard jobs, these winter boots will keep your feet protected from twists and turns as well as the elements.
Undeniably Warm Insulation
If you've been in negative 40 degree weather, then you're a true warrior. That type of temperature requires a special type of insulation, and that's exactly what the Salomon Toundra has. The Aerogel insulation provides reliable warmth to keep you comfortable at negative forty degrees, and your feet alive even below that. So, if you're planning an arctic expedition or spending some time in the Adirondacks in the dead of winter, it will be worth picking up a super warm boot. The Salomon Toundra Pro CSWP's promise to keep you warm just about anywhere you could go.
What Travelers Are Saying About the Women's Salomon Toundra Pro CSWP
The most commented on attribute of the women's Salomon Toundra Pro is the warmth. Whether these traveling, adventurous women find themselves hiking through a winter landscape or trudging through the wet city, these boots have kept them warm. Every hiker and outdoor adventurer is quite pleased with each feature the boot claims to have. They legitimately live up to the expectations set by Salomon. Between the waterproofing, solid grip, and true to size fit, these boots are a home run. You can see that they are well loved by their receiving an average of 4.8 out of 5 stars on Amazon.
The few downfalls of the Women's Salomon Toundra boots have nothing to do with their performance. Instead, a few reviewers have commented that these boots a bit chunky. So, while these winter boots do come in two cute colors, they won't be the best option if you're trying to look chic in the city. For them to perform so well in cold and wet conditions, they have had to compromise a bit on style. The second comment that people have and the cons of these boots are the break-in time. A few women said they rubbed their foot, specifically in the top or front, quite painfully. As with any new shoe purchase, make sure to break them in slowly and they should adapt to your foot well over time. So, with these two small downfalls of the Salomon Toundra boot, we still think you can purchase them with confidence.
Alternative Women's Winter Boots You May Like
GeoX Amaranth ABX Boots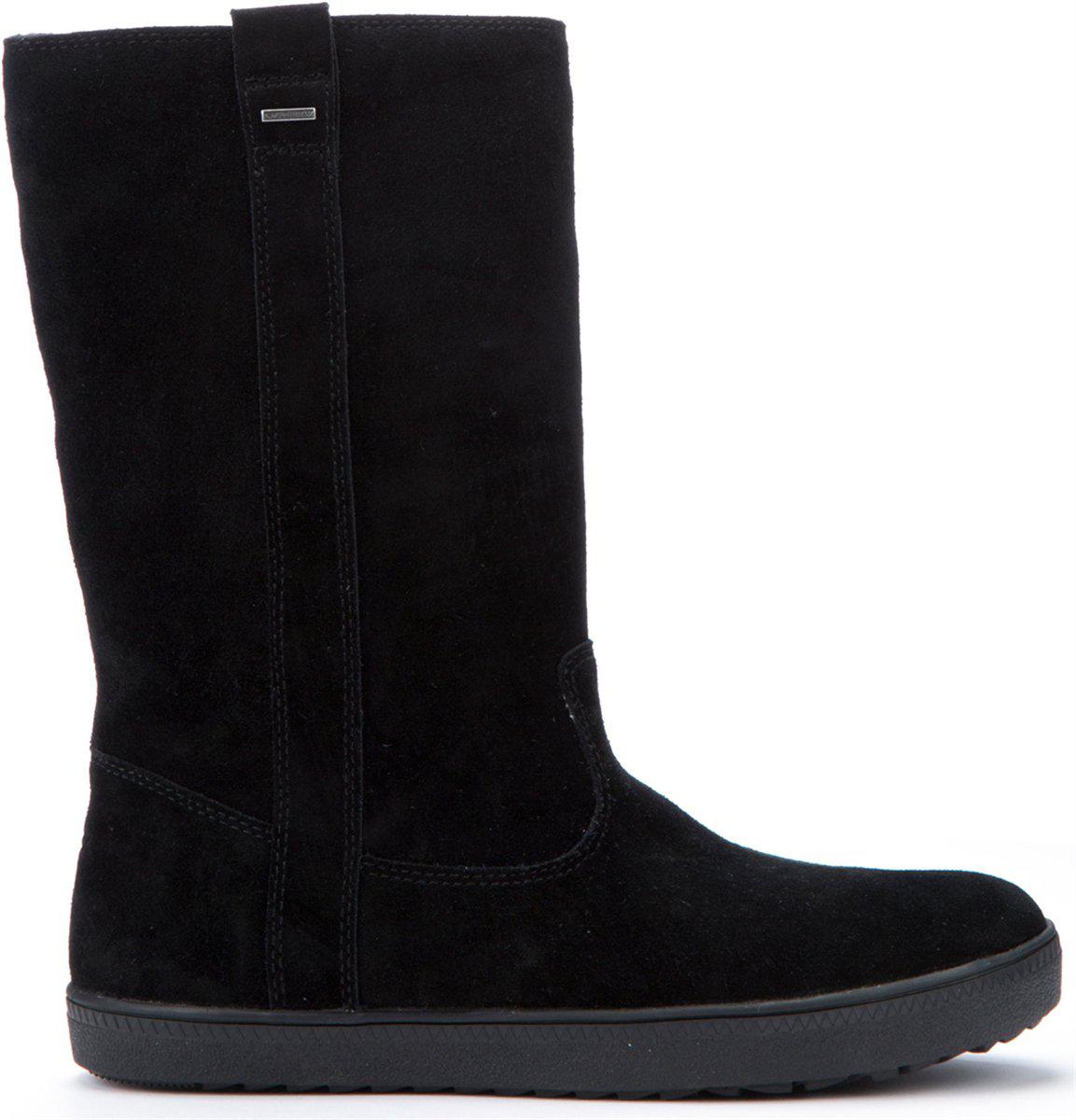 If you've been hoping for a more stylish winter boot, then we understand why you might shy away from the Salomon Toundra. Instead, consider these suede GeoX Amaranth ABX Boots. The easy pull-on design and rubber sole will keep you on the looking good on the go. The chic suede pairs well with a winter dress or with your favorite pair of leggings tucked right in. They have a waterproof Amphibiox® construction, keeping your foot dry in moderate rainfall and the occasional puddle. Because of the plush and breathable interior, you can even forego socks in these boots and still have warm feet. So, if you're on the hunt for a cute winter boot that will still keep the little piggies warm, look more into the Women's Geox Amaranth Boots.
Women's SOREL Glacy Explorer Cold Weather Boot
The durable leather and fabric combination of the ​Women's SOREL Glacy Explorer Cold Weather Boot work together to create an outdoorsy and durable look. They are entirely waterproof, keeping your feet both dry and warm even in harsh and extreme conditions. When this is paired with the durable rubber sole and its' no slip grip, you have a real winner. These boots are a great alternative to the Salomon Toundra if you want a boot that goes higher up on the leg. They measure 12-inches up from the arch and have a 15-inch opening up top. The quilted overlays, lace up closure, and plush fleece lining top this boot off to be a great winter boot. Finally, they have an adjustable drawstring closure at the top to help seal out snow. So, SOREL has developed these boots with unique features to set them apart as one of the best winter boots out there.
KEEN Women's Elsa Waterproof Winter Boot
So you want the best of both worlds? Well, KEEN has crafted an adorable winter boot that is waterproof, durable, and quite comfortable. Their Elsa Waterproof Winter Boot is a fantastic alternative to the Salomon Toundra if you can work with a little less insulation. The KEEN Elsa boot will keep you warm to -4 degrees Fahrenheit, which is still quite warm when you think about it. Made of both leather and synthetic materials, they are fully waterproof and keep the snow and ice at bay. That goes well with their rubber sole. The shoe will hit about 6.5-inches above the arch, about the same height as the Salomon Toundra. But, these boots come in so many different colors and designs, we can't help but fall in love with them. So, try on a pair of the KEEN Elsa Waterproof winter boots for a stylish option with a solid warmth rating.
All in all, the Salomon Toundra Pro CSWP winter boots are the warmest and most durable winter adventure boots you could get.
If you're hoping to snowshoe through the arctic tundra or trudge up a mountain pass, you can't go wrong by choosing the Salomon Toundra boots. They truly have been put to the test and refined until there were no flaws in them. As we head into the fall, it is the best time to buy winter boots. Trust us, you won't need boot liners with these either. From the icy Contragrip sole to the Aerogel insulation, your feet will be safe, warm, and comfortable all winter long in these. So, go ahead and try some on today to see if they truly live up to the high standard set by Salomon for all their outdoor gear.
Related Article: ​Best Winter Boots for Women: 6 Cold-Weather Styles to Keep You Warm ​