Enjoy beach luxury and Asian-inspired flair at The Setai, Miami Beach
Miami heralds a unique and exciting culture, remaining an inspiring locale for artists, musicians, and writers alike. As visitors sit in the sun and stare at the sea, they'll also feel captivated by the city's tropical climate. Since Miami remains such a popular location, a variety of incredible accommodations have been built throughout the area. At the Setai Hotel, guests get the chance to vacation inside an art deco structure complete with luxury amenities. Check out our article below to read all about the Setai in Miami Beach and its captivating features and services.
Let's Talk Accommodations
The Ocean Suites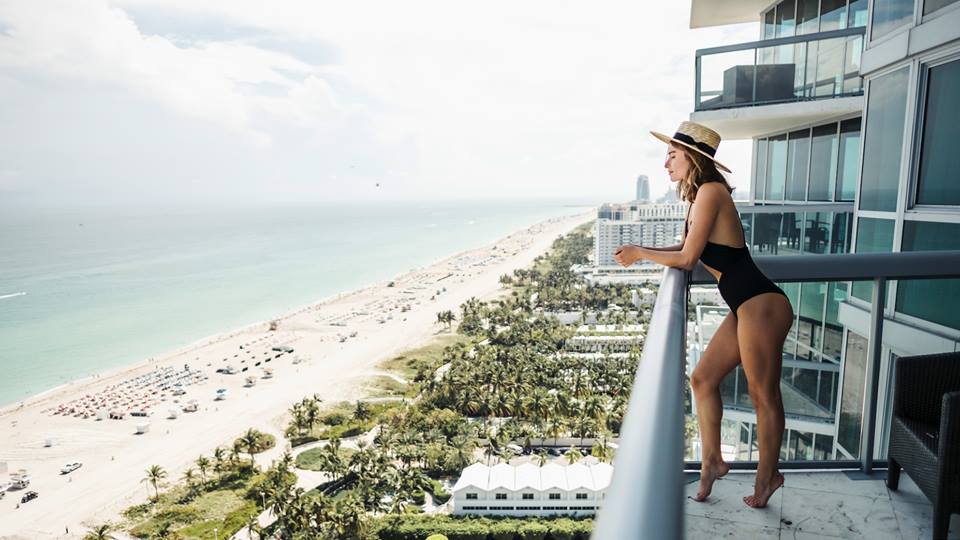 ​Credit: Setai ​Miami
The Ocean Suites found in the Setai Hotel remain ideal for guests who desire seclusion and personalized service. While others in Miami might want to experience the bustle of city life, some may prefer to stay in tranquility. These rooms offer guests a peaceful environment to kick back and relax. You'll be able to leave the stresses of daily life behind when you book a Setai Ocean Suite.
Depending on their needs, guests can choose from one to four-bedroom suites. This means families or those traveling solo will be able to find a space that accommodates their specific wishes. Inside each of the suites, guests will have unparalleled views of the clear blue ocean. With your own private balcony, you can enjoy a sunrise coffee outdoors or a cocktail during dusk.
Art Deco Suites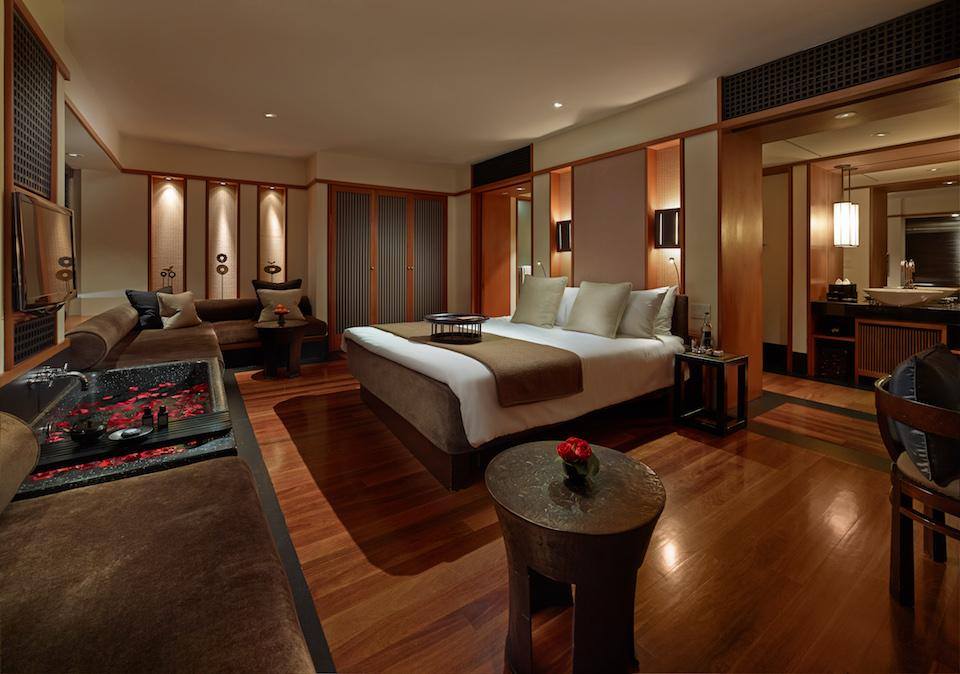 Credit: Setai Miami
Guests who appreciate unique design features in their rooms will love the Art Deco Suites. These spaces combine Asian-themed decorations alongside more beach related aspects. Originally built in the 1930's, the suites inside the Setai each contain real artifacts and artworks from the past. Rather than feeling bored by plain rooms, guests will be inspired by the carefully crafted spaces.
The Setai contains various types of suites, each of which have their own specific features. Within the Studio Suites, you'll have a spectacular view of the vibrant Miami streets. Those who want the utmost in luxury should consider booking a Bi-Level Suite. These spaces have two stories, teak hardwood, a living and dining room, as well as unique, historical art pieces.
Let's Talk Dining
Jaya
Credit: Setai Miami
Jaya, named after the Sanskrit word for victory, offers guests Asian-inspired meals and hospitality. Guests can dine indoors, or outside in the Setai's courtyard, where they can appreciate the Miami climate while eating. This dining option serves dishes that combine influences from Thailand, Vietnam, Korea, India, China, and Japan. You'll be able to try food that embodies true cultural fusion at Jaya.
Items on Jaya's extensive menu include bluefin tuna, black pepper shrimp, shortrib gyoza, and truffle dumplings. The ingredients utilized in the Jaya's cuisine come from all over Asia. Turmeric, cardamom, coconut milk, and chilies provide just some of the delicious tastes guests can expect at the Jaya. Make sure to try some tasty sake or cocktails created with Asian flavors in mind.
The Bar & The Courtyard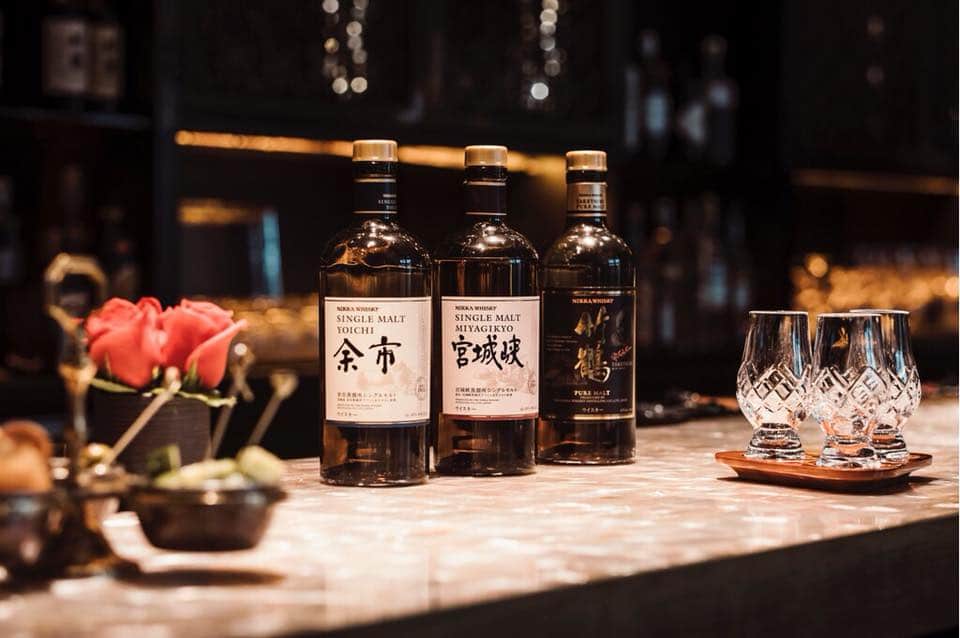 Credit: Setai Miami
At the Setai Miami's Bar & Courtyard, guests will be able to enjoy delicious alcoholic drinks and small dishes. Food coming from the Jaya menu contains Asian-inspired tastes in every tiny bite. As a complement to your meal, order some unique cocktails or wine from locations all over the globe. You could also taste a glass or two of bubbly champagne, if you like the sparkling flavors.
With the Bar & Courtyard dining setting, the Setai Hotel allows its guests to eat surrounded to nature. The retractable rooftop lets diners see the stunning blue sky and feel a few cool breezes. Since the weather in Miami tends to remain warm and sunny, guests will love enjoying their meals outdoors.
The Ocean Grill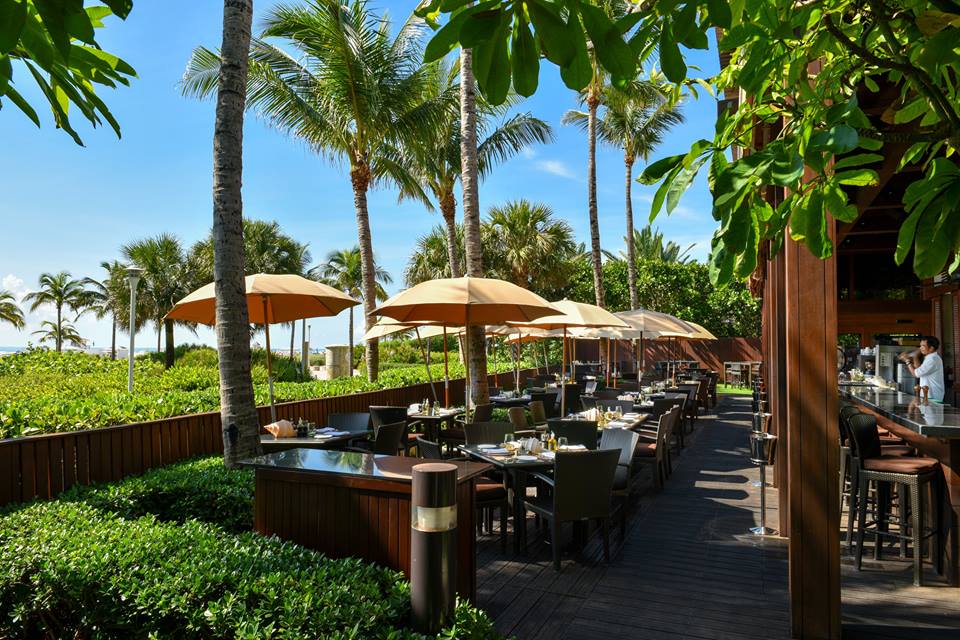 Credit: Setai Miami
The open-air setting of the Ocean Grill lets guests at the Setai eat with an ocean view. Just a few steps away from the beach, the Ocean Grill will allow you to appreciate Miami's environment while dining. At any seat in this restaurant, you can turn and gaze upon the sea, or look at the Setai's pools. The cabana-inspired designs, with wood beams and a dining deck, ensure you'll feel at peace when eating here.
.On the Ocean Grill's menu, you'll find enticing dishes with a Mediterranean flair. Try a plate of Spanish octopus, yellowish tuna tartar, truffle pizza, or Mediterranean branzino. The wood-fire grill will also give every meal a smoky, barbecued flavor. Your hunger will be satisfied by the flavorful cuisine as you enjoy the cool breeze of the ocean.
Sunday Jazz Brunch
Credit: Setai
Every Sunday, guests will be treated to a lavish brunch meal at the Setai Hotel. As you eat, you'll be accompanied by exciting, live jazz music as you fill up on delicious food. The musicians will provide vibrant background noise for guests as they enjoy a lazy, late morning meal. Take advantage of this buffet-style dining option, as you can try a variety of dishes at the same time.
Live carving stations and a number of desserts add to the enticing brunch setting. You can get your sweet fix with a tasty pastry or waffle after finishing more savory dishes. Bottomless champagne and Bloody Mary's will give you a buzz to start your day off on a good note.
Asian Night Bazaar
Credit: Setai Miami
Each Friday night, guests at the Setai Hotel will get to experience a taste of Asian culture. In the Setai courtyard, the hotel staff will transform the area into an Asian-themed marketplace. The Jaya restaurant's decadent dishes will be served during this exciting event. At various food stations, guests can try foods like Bao Buns, Dumplings, Skewers, and other fare.
By paying $65 for entry, guests can venture through the Bazaar and celebrate Asian flavors. You'll be treated to a welcome cocktail upon entering, as well as another complementary beverage. Special cocktails will be available in addition to those from the Setai's usual menu. Additionally, guests can listen to music played by a DJ, and watch performances from fire dancers and contortionists.
Let's Talk Amenities and Activities
The Spa by THÉMAÉ
Credit: Setai Miami
For travelers who desire relaxation during their vacation, the ability to visit a spa should be a priority. At the Setai Miami Beach Hotel, you can spend a few hours or a day rejuvenating your body and mind. With services created by THÉMAÉ, a Paris-based spa company, guests can experience luxurious treatments.
Treatments available at the Setai Spa have formulas inspired by Japanese teas. Green tea, with many antioxidants, as well as a soothing white and regenerating red tea, help revitalize the skin. If you're feeling tense, make sure to try a Balinese or Singapore massage, which will relieve bodily stress. You can receive your treatments in privacy, as the spa contains four secluded suites for your use.
Beach and Pool Access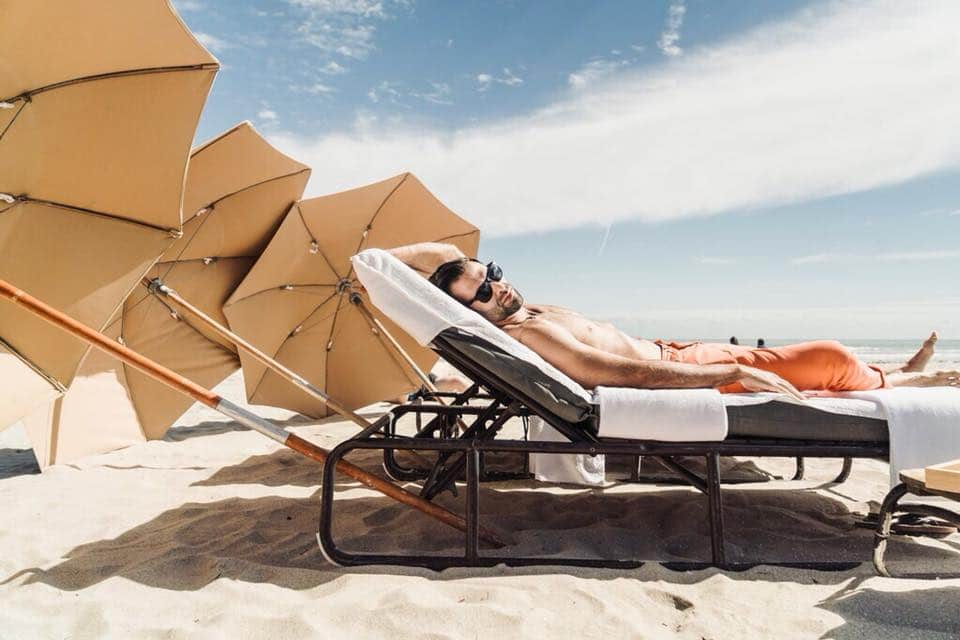 Credit: Setai Miami
When you come to visit Miami, your number one place to visit might just be the beach. With the area's white sandy coasts and warm waters, you'll love relaxing on the beach and bathing in the surf. At the Setai, guests will have access to the hotel's private beach. This way, there won't be any worries about feeling surrounded by crowds along the more popular public beaches.
Any guests who prefer swimming in a pool to the sea will appreciate the Setai's multiple pool spaces. The 75-degree pool remains ideal for guests who enjoy swimming laps for hours. A family pool, which remains around a hot 95-degrees, has enough room for everyone to spread out. Sunbathe on comfortable chairs and enjoy a refreshing drink from the nearby bar.
Bike and Picnic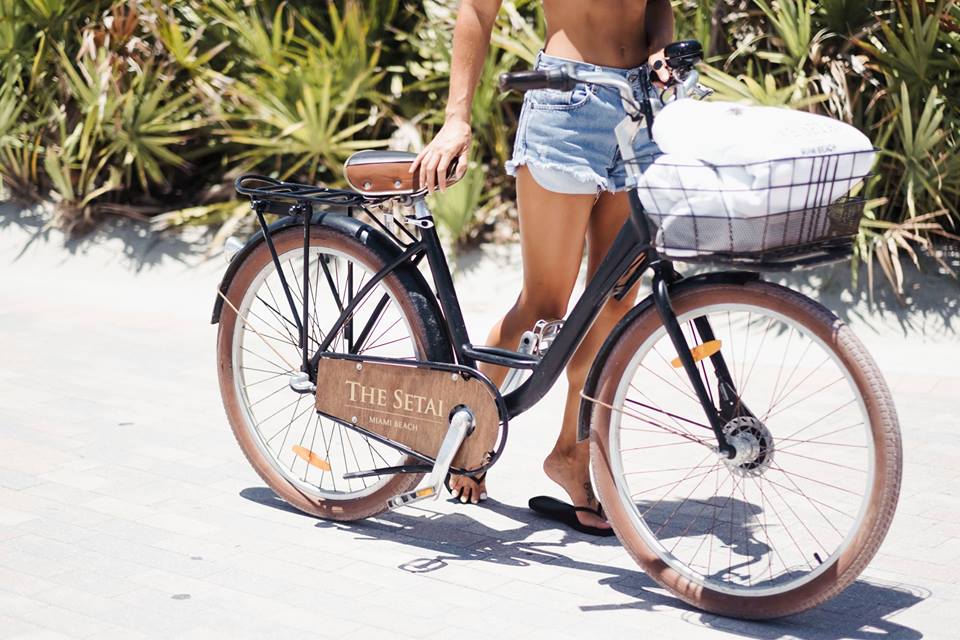 Credit: Setai Miami
If you love exploring outside while exercising, the Setai has exactly what you need. The Miami hotel contains special ocean-riding bikes perfect for traveling along the sand or down the city streets. These bikes maintain a stylish, bright design, and have baskets for storing items while you ride. You'll feel completely comfortable as you travel on the bike's plush leather seats and discover some amazing sights.
As part of the Setai Hotel's incredible services, guests can arrange a picnic to share during their bicycle outing. Prepared by the Setai's executive chef, these delicious meals will satisfy your hunger after biking for hours. You can also order a few items for beach-going, such as a towel, flip flops, and sunscreen. In this manner, you'll be fully prepared for an all-day adventure.
Bespoke Services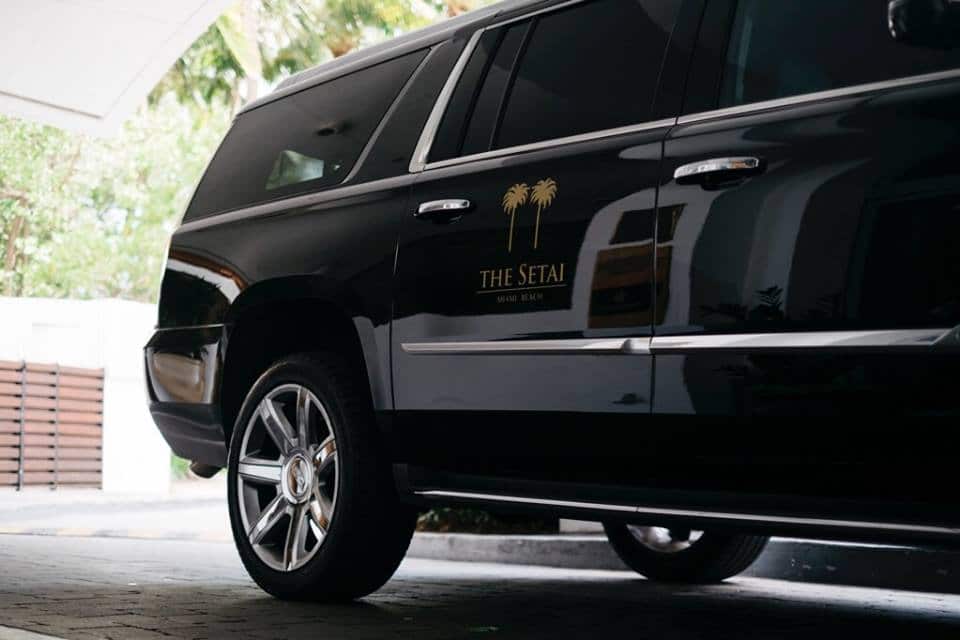 Credit: Setai Miami
During your stay at the Setai Miami Beach, you'll be able to enjoy a variety of complementary services. If you lack transportation, you can get airport transfers from nearby airports. Those who do bring a car will have valet parking available to them at any time. Beyond the normal dining choices, guests may also ask for a private breakfast in their suites. This allows for relaxation and seclusion as you enjoy your morning meal in bed.
Additionally, a concierge will help plan outings for guests who aren't familiar with the Miami area. Dedicated staff members will search for activities that appeal to you and the rest of your group's preferences. For example, the concierge can provide you with tickets to the Bass Museum of Art. This venue houses a variety of beautiful art pieces from many different eras, such as the Renaissance and Baroque periods.
What Travelers Are Saying About The Setai, Miami Beach
Guests of the Setai loved the spacious and elegantly designed suites. The Miami Beach hotel felt like true five-star luxury for those who had stayed at less-than-inspiring accommodations. Reviewers appreciated the Setai's outdoors areas, like the courtyard, which allowed for enjoying afternoon cocktails in the sun. For those who liked to swim frequently, the multiple pools with different temperatures enabled everyone to take a dip. Additionally, the dining choices were also praised for their serving of tasty dishes in a convenient location.
Some reviewers found that the Setai was lacking in a responsive management. A few guests had to wait a long time before getting their requests answered from a member of the staff. Others thought that the rooms could use new decorations, as they seemed a bit outdated. Those who prefer beach-themed rooms were told not to book the Asian-inspired spaces, though these were still beautiful.
Experience one of Miami's best accommodations at the Setai Hotel.
When you decide to visit Miami, you won't have to worry about a lack of excellent hotels. The city contains a number of luxurious accommodations that will satisfy your desire for an incredible vacation experience. Before planning a trip to the Florida location, consider the Setai as your top pick for a place to stay. The Setai Hotel will provide everything you could ever want from a Miami accommodation.
Related Article The 10 Best Hotels in Miami