Sacrificing comfort or style or a warm and waterproof pair of winter boots is not something you should have to do anymore.
Whether you trudge through deep powder on your way to work or love to go sledding with your kids, you'll be looking for the best pair of winter boots right about now. It's a great time to buy winter boots, but figuring out the best one for your needs can be tricky. Between different heights, prices, values, and styles, there are nearly limitless options these days. Different brands specialize in different types of boots as well. But, the SOREL Glacy Explorer is a commendable combination of versatility, durability, and design at an acceptable price. This company is specifically dedicated to cold weather boots, and they do it quite well. So, if you're ready to invest in your feet and have happy toes this winter, read on.
SOREL Women's Glacy Explorer Waterproof Boot Features & Benefits
Warm & Waterproof Materials
What is a winter boot if it's not warm and waterproof? You want your new winter boots to hold up to extreme temperatures and any slush that is thrown your way. The SOREL Glacy Explorer pairs waterproof leather suede with canvas to create this boot. The canvas webbing overlays keep the boot well structured and supportive while the soft suede is both chic and comfortable. With these features, these boots are perfect for playing in the snow or keeping you warm while outside. The lace-up closure is sealed well to keep out any snow that may try and work its way in. These materials all add up to a mere 20.5 ounces, keeping these boots light. They won't feel heavy and bulky when you're out and about. All in all, the materials that make up the SOREL Glacy Explorer are high quality and made to perform for years to come.
Young, Playful Design
These SOREL Glacy Explorer boots are a spectacular blend of function and bold style. The almost color block design provides a youthful look while still keeping it classy. They seem perfect for your next winter cabin getaway or a trip to the ski lodge. Sports like sledding and snowshoeing will fit these well, and you know they'll pop in those Instagram pictures. These SOREL Glacy Explorer boots provide a playful take on an often dreary and heavy winter boot. So, for a young and playful winter boot, try on a pair of the SOREL Glacy Explorer Winter Boots as soon as you can.
Grippy Outsole & Molded Footbed for All Day Comfort
SOREL takes their outdoor gear seriously. Because of this, they believe in designing all aspects of their winter boots themselves. So, the SOREL Glacy Explorer boot comes with a grippy, tractioned SOREL sole. Made of thick, molded rubber, you can have confidence in your footing even on ice and slick, wet sidewalks. This is matched with the molded EVA footbed to provide you with all day security. EVA is a high-density foam which molds to your foot while still providing a cushy bed. The heel cup and arch support will keep the aches and pains of a long day on your feet at bay. SOREL has created these stellar winter boots to keep you safe, warm, dry, and happy for quite some time.
Fleece Lining with Drawstring Closure
There's nothing like a pair of warm, fuzzy socks to keep you warm in the winter. Some winter boots need boot liners to give that feeling and keep your feet toasty. But, that's not so with the SOREL Glacy Explorer. Inside, they are fully lined with fleece for plush coziness and added warmth. This lining goes the full 12-inches up the boot, leaving no spot of you unready for the elements. The calf circumference is 17-inches, giving you ample room to sneak an extra pair of socks in if you want to. On top of this, the top of the boot has a drawstring cinch closure to ensure no pesky ice or snow bits work their way in. Just like a warm jacket, these winter boots will keep Mother Nature out and your hard-earned warmth in.
What Travelers Are Saying About the SOREL Glacy Explorer
The SOREL Glacy Explorer is well loved by all who choose to put them on their feet. They've earned a bold 4.5 out of 5 stars from all their Amazon customers. Favorite attributes of these boots are the warmth, waterproofing, and fit. As for warmth, these boots have kept people warm on winter walks through the snow in upstate New York and Minnesota. The boots, even after seasons of use, have stayed waterproof for all reviewers. On top of this, the boot has ample room for you, especially if you have wide feet or like to wear large socks with your boots. Many SOREL boots are tight around the ankle, making it difficult to slip them on. However, between the laces and the webbing, these are easy to take on and off. The drawstring at the top will keep everything inside happily warm and in place as well.
As far as downsides to the SOREL Glacy Explorer, they are few and far between. The most common one is not a structural complaint either. It is simply about the color of the boot. The bright yellow lace pops quite a bit against the chocolate and tan background. The colors are bold, and may not be for the person trying to blend in. This being said, you know ahead of time what the boot looks like. So, if it's not your style, that's totally fine. There are other boots out there in the world. The more functional complaints are that they run large if you don't wear large socks with them. Depending on your foot build as well, they may scrunch up around your ankles. These two things can easily be adjusted by ordering a size down if needed. Overall, these are spectacular winter boots.
Alternative Women's Winter Boots You May Like
Salomon Women's Toundra Pro CSWP Winter Boots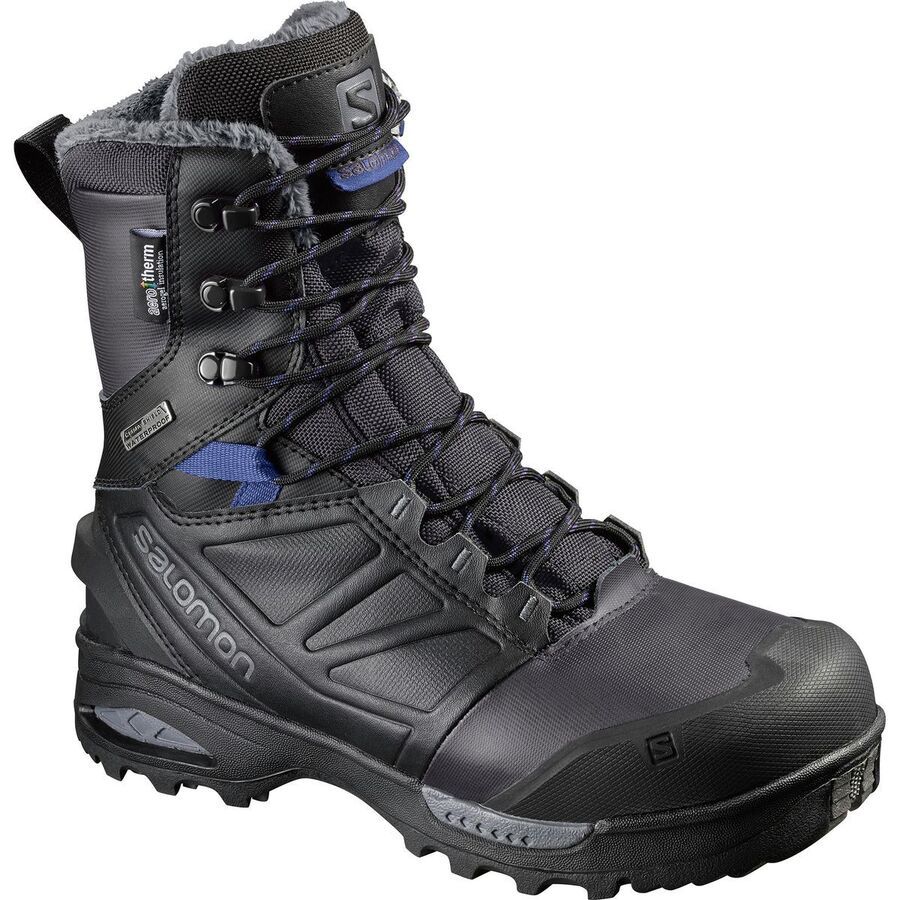 Are you looking for an even warmer boot than the SOREL Glacy Explorer? Well, the Salomon Toundra Pro CSWP is a great alternative. It is Salomon's warmest boot, rated to keep you warm to negative forty degrees Fahrenheit. Now, that's cold. These boots only go up 7 ¼-inches from your ankle, but it is still plenty to keep you warm and dry. The boots are fully waterproof, as they're made from highly tested synthetic fabrics. When you pair all of this with the Winter Contragrip sole, you have incredible traction on the ice and snow to go with that warmth. These boots are not quite as cute and playful looking as the SOREL's, but they do boast a warmer feel. So, if you need a more intense adventure or work winter boot, perhaps consider these instead.
UGG Women's Adirondack II Winter Boot
A downright fashionable alternative to the SOREL Glacy Explorer, the UGG Adirondack II Winter boots are ready for the cold. Made of high quality cow leather, suede, and synthetics, they are fully waterproof. This includes the seams being sealed on this lace-up boot. They come with the industry standard Vibram sole for the ultimate traction on ice and snow. Measuring just over 6-inches from the sole, they provide plenty of ankle support. If that's a little tall for you, you can fold down the top for a cute second style. The 17-millimeter pure wool lining keeps your feet breathing and dry while they're toasty warm. These boots are rated to negative four degrees Fahrenheit, so they will withstand whatever is thrown their way. All of this is on top of the eVent waterproof construction. So, these boots are UGG's stellar entrance into the outdoor winter boots world.
KEEN Women's Elsa Waterproof Winter Boot
Our final favorite alternative to the SOREL Glacy Explorer is KEEN's Elsa winter boot. Made of both leather and synthetic materials, they come in an abundance of color choices. This lets you pick the best boot for your style. On top of that, they are fully waterproof and seam-sealed, so no snow, ice, or moisture will make it inside. With one hundred grams of their top-notch KEEN insulation, your feet will be warm in even negative four degrees Fahrenheit temperatures. They top this all off with a Sherpa color for warmth, style, and breathability, as well as a heat-reflecting Strobel. All in all, the KEEN Elsa Winter Boot is a great choice for the cold weather adventurer, as they can go from a hike to happy hour without missing a beat.
Overall, the SOREL Glacy Explorer pairs sweet style with the ultimate winter protection and warmth, delivering you an outstanding winter boot.
SOREL has been making quality products since 1962. Based in Canada, they specialize in cold-weather gear, such as their SOREL Glacy Explorer boots. They have a heritage of expert craftsmanship, unparalleled quality, and inspirational functionality. Their boots are not just made for the fashionable, but for the workers, adventurers, hikers, builders, and creators. If you are any one of those things, then by all means, dive in. So, join in on the SOREL legacy and grab a pair of their Glacy Explorers today.
Related Article: Best Winter Boots for Women: 6 Cold-Weather Styles to Keep You Warm