Winter is coming. You should be prepared.
As fall approaches, we can't help but get excited about the luscious colors that will soon fill the trees as well as the crisp breeze that blows through. However, this marvelous season means that winter is truly coming. With it comes snow, ice, and cold temperatures. For that type of weather, you need to be prepared. Investing in solid winter boots is one of the best ways to prepare for winter, and now is a great time to shop. If you are searching for a chic winter boot that doesn't compromise in the warmth and comfort department, then the UGG Adirondack II is ready for you. Given its namesake is the gorgeous but very, very cold upstate New York, you can bet these boots will perform well under even the coldest conditions. So, if you're ready to keep those little piggies warm, read on about the UGG Adirondack II boots.
UGG Adirondack II Winter Boot Features & Benefits
Incredibly Warm Insulation
If you're investing in one of the best winter boots you can buy, you'll want it to be plenty warm. The UGG Adirondack II is just that. It is rated to keep you warm to -4 degrees Fahrenheit. If you need more than that, add in a pair of boot liners or warm wool socks and you will be set for even colder temperatures. But, UGG has already provided stellar insulation with their Thinsulate material. It is a synthetic fiber that is compression-resistant, allowing it to stay warm even after tons of use. It is lightweight and will keep your feet dry even on long days. With 200 grams of insulation, the entire boot has been lovingly surrounded in this spectacular insulation. Add on the 17-millimeter pure wool lining and you've got yourself a keeper. So, do not fear and great outdoors and chilly breeze with these winter boots.
Removable and Replaceable UGGpure Insole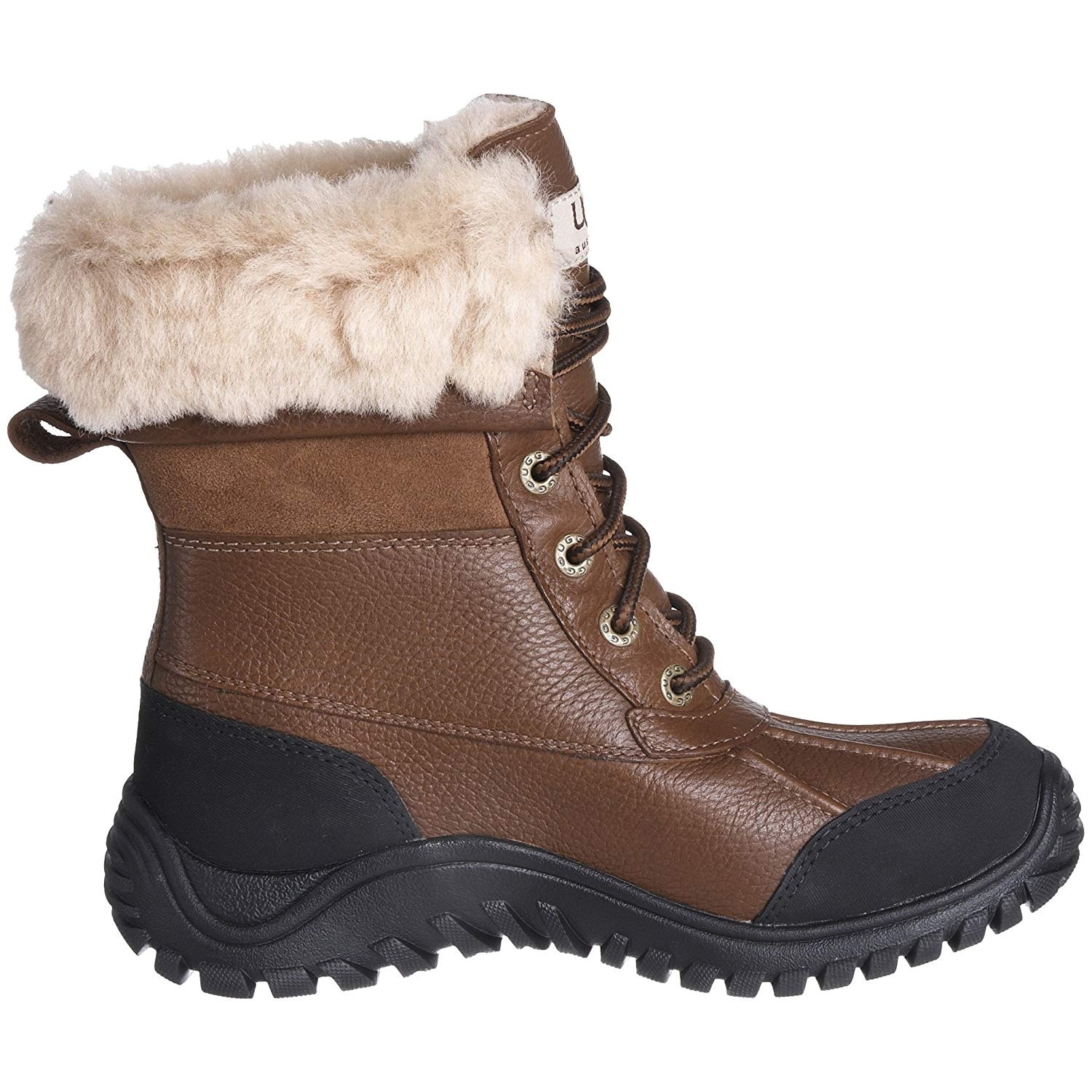 What's the point in keeping your feet warm if they're uncomfortable? Well, with the UGG Adirondack II boots you don't have to find out. They have incorporated their enerG insole with a micropod technology which gives you incredible underfoot cushioning and comfort. The light and flexible dual-layer insole uses both foam and polyurethane pods to keep you moving. These keep your feet breathing so they're dry and cozy all day long. At the end of the day, you can easily remove them to help the boot air out. If you wear through them after years of use, they are also easily replaceable. These features make the UGG Adirondack II boot a shoe that can last a lifetime.
Additionally, the top layer of the insole is made of open cell form. It breathes, wicks moisture, and fights microbes and smells. The bottom layer is made for endurance to help maintain the shape and life of your shoe. When you put these elements together, you have one unbeatable insole in the UGG Adirondack II winter boots.
Grippy Vibram Outsole
Intense weather calls for intense traction. The UGG Adirondack II winter boots have adopted the unbeatable Vibram sole for unparalleled grip. With a deep lug pattern provides you with maximum surface contact while still channeling water for when you are walking through puddles. The Vibram sole does not overdo it, though. It is still flexible and malleable, allowing your foot to flex naturally. This helps you to not feel burdened down by large, heavy boots. Instead, you'll barely notice the layers of protection and warmth on your feet.
High Quality, Waterproof Materials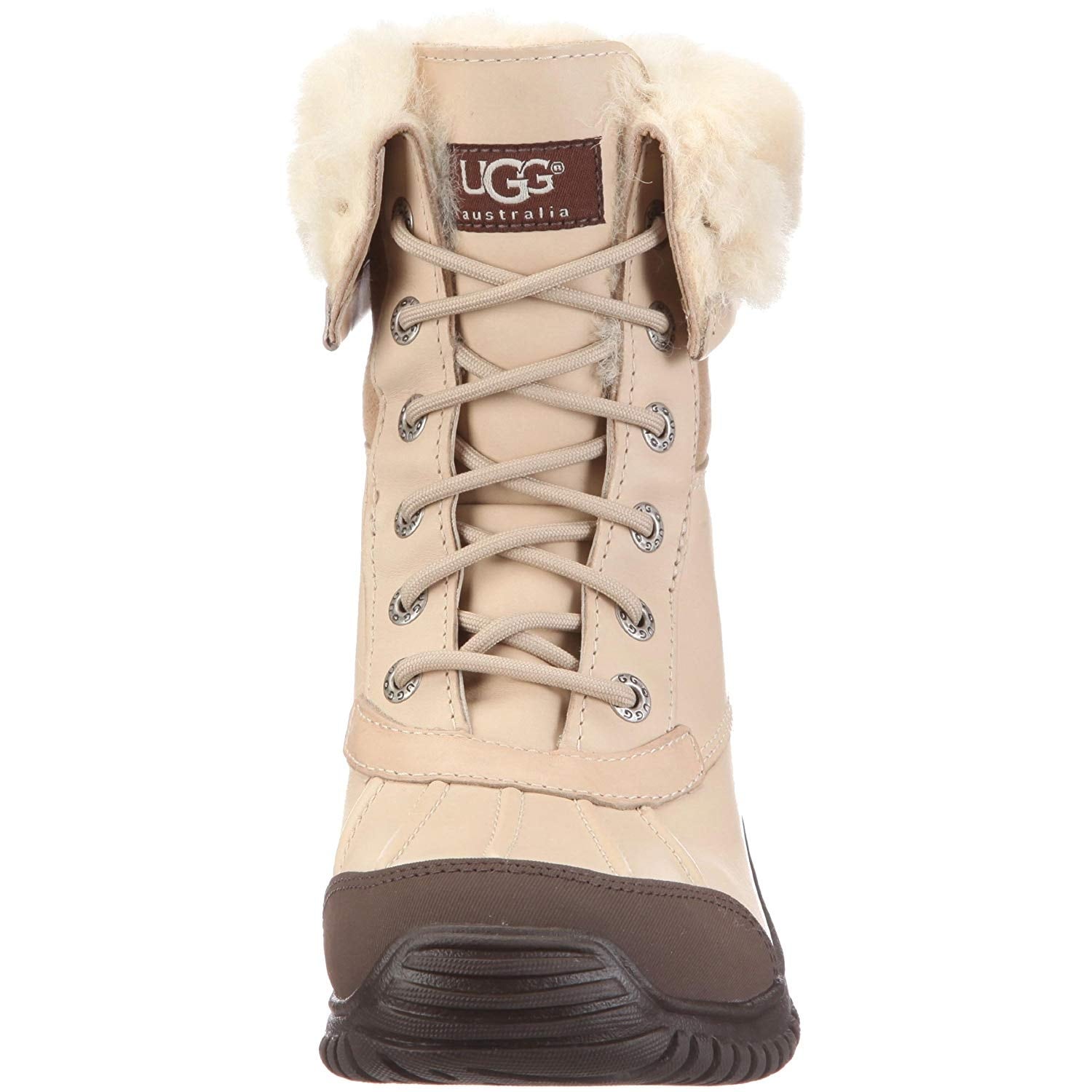 UGG is well known only using the finest leathers and other materials in their products. Their UGG Adirondack II boot is no exception. Made from cow leather and suede, along with synthetic materials, these boots are built to last. With heavy-duty stitching and a full-waterproofing, these boots can take whatever you throw at them. The laces have been seam-sealed so even a trudge through a creek won't let water in. The shaft measures 6 ¼-inches up from the arch, providing plenty of ankle support and warmth. The eVent waterproof membrane has been constructed to let your feet breathe through the microscopic pores without letting water in. this process is called Direct Venting and easily lets the sweat escape. This prevents the clammy build up so many winter boots have when they are waterproof. Combining all this together makes the UGG Adirondack II a spectacular choice.
Cute Design
We've all seen the winter boots that sure are warm and dry but make you look like Herman Munster. Lucky for you, the UGG Adirondack II winter boots are anything but that. They come in eight different colors so you can choose what suits you best. You can turn the top cuff up or down depending on the weather and your outfit. Additionally, you'll notice that the front profile of the boots is equally wide at the top and bottom. This gives your feet a slimming look that is hard to find in even the best winter boots. So, if you're looking for the cutest winter boots around, you've found them.
What Travelers Are Saying About the UGG Adirondack II Winter Boot
Closing in on one thousand reviewers, the UGG Adirondack II Winter Boots have still managed to keep a spectacular 4.4 out of 5-star average on Amazon. They are clearly set apart as a great winter boot to achieve that. The favorite features that travelers point out about these boots are the how warm and cute they are. After a full day of working outside, many adventurers noted that their feet were still warm in the frozen temperatures. On top of that, they hadn't gotten clammy inside the boot. However, the option to remove the insole in case you do lean towards sweaty feet is a marvelous one. With this, you can air them out at night and be ready to go the next morning. To top it all off, the traction is highly applauded. Each reviewer said they have yet to slip in even extremely icy conditions.
So, these boots may be seeming too good to be true. Well, you should just believe that some companies know how to make a good winter boot. When it comes to the downfall of these boots, a few customers needed to order a half size up. Depending on how you like your shoe to fit, this might be worth it. If you plan on wearing heavy wool socks, you definitely should. But, check out UGG's sizing guide to help with this. Finally, when you order your UGG Adirondack II boots, make sure they are authentic. There should be a code sewn into the left boot. You can plug this into the UGG website and it should match your shoe. If you do not have this, it is not an authentic UGG Adirondack II boot. But, UGG has provided ways to verify you have the true product.
Alternative Women's Winter Boots You May Like
KEEN Women's Elsa Waterproof Winter Boot
For another adorable winter boot option, check out the KEEN Elsa Waterproof winter boots. They are entirely waterproof like the UGG Adirondack II boots as well as being seam-sealed. Depending on your style, these are just as great for pairing with a dress or tucking into leggings. They aren't overly large like many winter boots, but they can still keep your feet warm to -4 degrees Fahrenheit. The Sherpa collar and mesh lining help your feet breathe in these boots without compromising on warmth. There is also a heat-reflecting strobel which provides an additional thermal barrier. Put all of this on top of the KEEN tractioned sole and you're ready to take on any winter weather. So, depending on your style, the KEEN Elsa's might be the perfect alternative to the UGG Adirondack II boots.
Kamik Women's Snowvalley Boot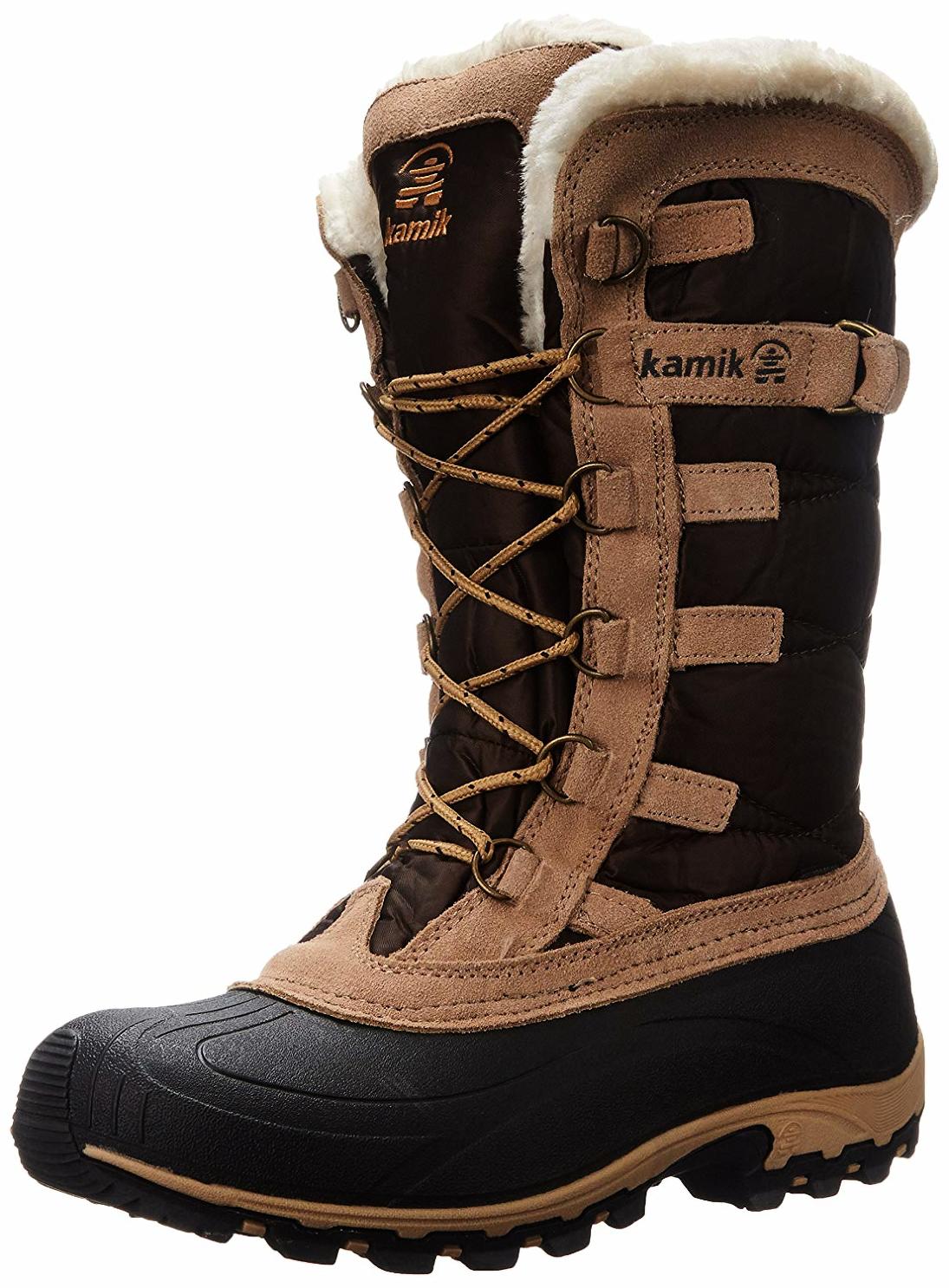 If you're looking for a winter boot that has a little more height, here you go. The Kamik Snowvalley Boot rises up ten inches from the arch. This allows a little more protection when trudging through snow drifts. Consider that when paired with the durable leather and synthetic materials and you have a stellar snow boot. The waterproof quilted nylon and suede keep you looking good while staying dry. This boot features Thinsulate insulation, just like the UGG Adirondack II. The faux-fur snow collar keeps snow from sneaking down your boot, as well as the gusseted tongue. These boots are temperature rated to -40 degree Fahrenheit. Kamik believes in making spectacular products and these boots fit that bill. So, for a warmer and taller pair of winter boots, keep these in mind.
Salomon Women's Toundra Pro CSWP Winter Boots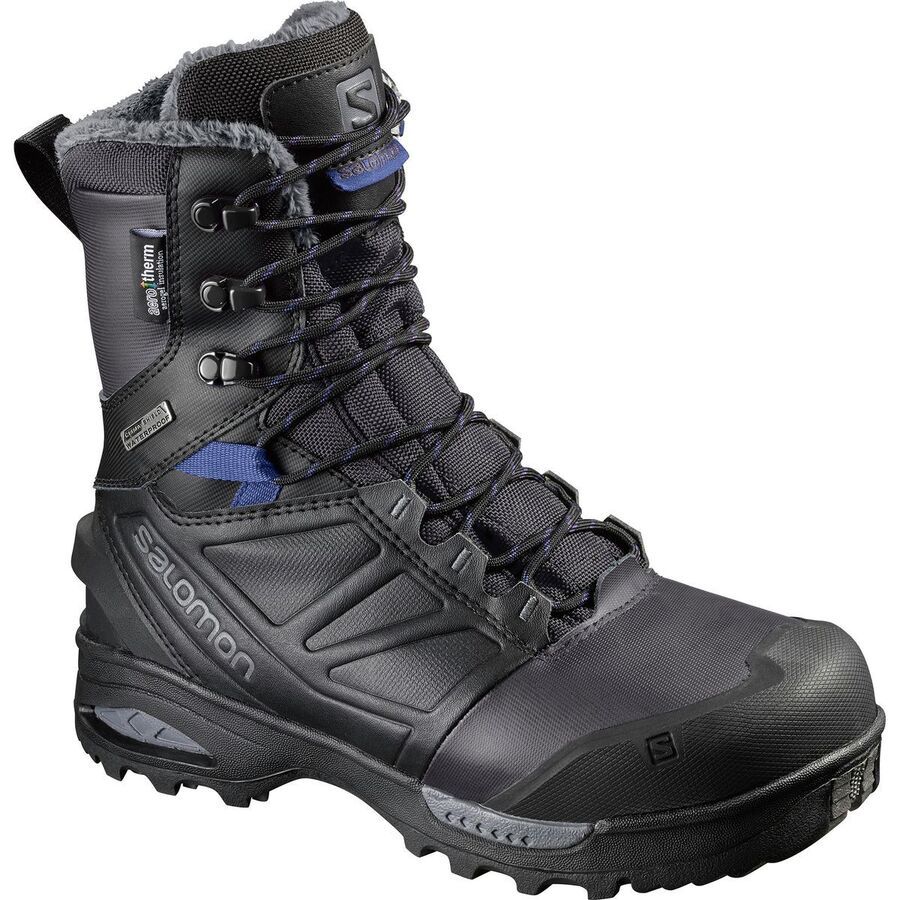 This next alternative to the UGG Adirondack II winter boot is more about rugged endurance than style. The Salomon Women's Toundra Pro CSWP Winter Boots are made for extreme conditions. They are the company's warmest boot, keeping you warm at forty below zero. They're fully waterproof, of course. This is all put on top of the grippiest sole they could create. The Salomon Contragrip sole has a deep lug height and solid sole to keep you walking through the snow and ice for years to come. This is a great winter boot if you're trying to pair it for snowshoeing, dog sledding, or other outdoor activities. Highly loved by all who wear it, the Salomon Toundra is ready to take you places. Just keep in mind, they aren't quite as cute as those UGG Adirondack II boots.
The UGG Adirondack II Winter Boots are a spectacular blend of warmth, style, traction, and value.
From a well-established company like UGG comes an unbeatable and adorable winter boot. If you're ready to invest not only in keeping your toes warm but also a fashion statement, these are for you. The blend of style and practicality in these are close to unbeatable. Combine that with the variety of colors and you're ready for your next winter adventure. So, start planning now because you're going to want to maximize every minute you can spend trotting around in the UGG Adirondack II Winter Boots.
Related Article: Best Winter Boots for Women: 6 Cold-Weather Styles to Keep You Warm