Drink your favorite beverages on the go with the Contigo Snapseal Byron Travel Mug.
If you're a traveler who enjoys their drinks on the go, you need a decent travel mug. The best travel mugs let your warm drinks stay hot, while keeping your cold drinks cool for hours. With so many travel mugs out there to choose from, it might be hard to pick the perfect mug. Some mugs provide features like stainless steel insulation, or have locking mechanisms to keep drinks from spilling out. If you're trying to find the ideal travel mug to take wherever you go, look no further. The Contigo Snapseal Byron mug has countless ingenious features to ensure your drinks stay exactly the way you like them. You'll get to carry your favorite coffee and tea throughout all your travels when you choose this mug. Read our article below to learn all about this awesome travel accessory.
Contigo Snapseal Byron Stainless Steel Travel Mug Features & Benefits
Maximum Temperature Retention
Travelers who want to bring their coffee and tea while traveling require a mug that maintains their ideal drinking temperatures. Nothing could be more annoying than to drink your coffee and realize that it has grown cold after mere minutes. If you're going to be outside in the cold, your beverage should remain hot and be unaffected by the climate. Those needing their drinks to remain cool also need a mug that won't let their ice melt in the heat.
When you use the Contigo Snapseal Byron Travel Mug, your drinks will remain at the preferred temperature for many hours. The stainless-steel structure helps keep your favorite drinks warm or cold long after you've poured them inside. A double-wall, vacuum-insulated interior ensures maximum temperature retention whenever you use this mug. No matter where you go, whether it be hot or cold, your drinks' temperatures will stay the same.
Leak-Proof Design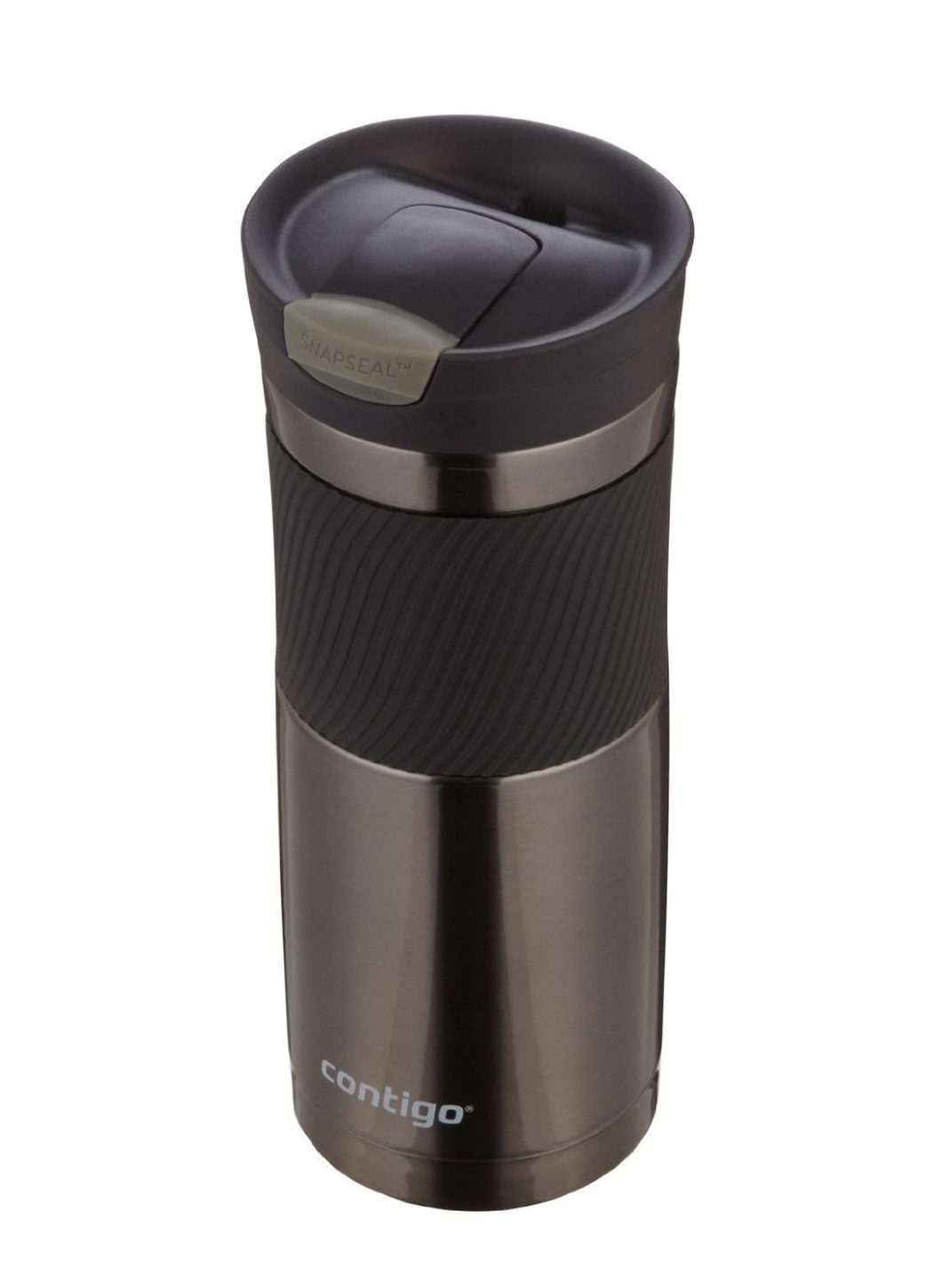 The worst part about trying to drink coffee on the go tends to be the possibility of spillage. When you're trying to sip on a drink as you travel, you might end up leaking liquid on yourself. Improperly designed travel mugs don't seal the lid as well as others, ensuring that your favorite shirt will be stained. Furthermore, any time you end up with coffee or other beverages on your clothes, your travel experience might become tainted.
Thankfully, products like the Contigo Snapseal Byron Travel Mug have been designed to prevent any sort of spillages. The mug comes equipped with a SnapSeal lid, which has a single-piece, leak-proof design. All you have to do is snap the lid closed in order to keep it from leaking out. Your clothes and belongings will stay nice and dry when you drink from this mug.
On-the-Go Functionality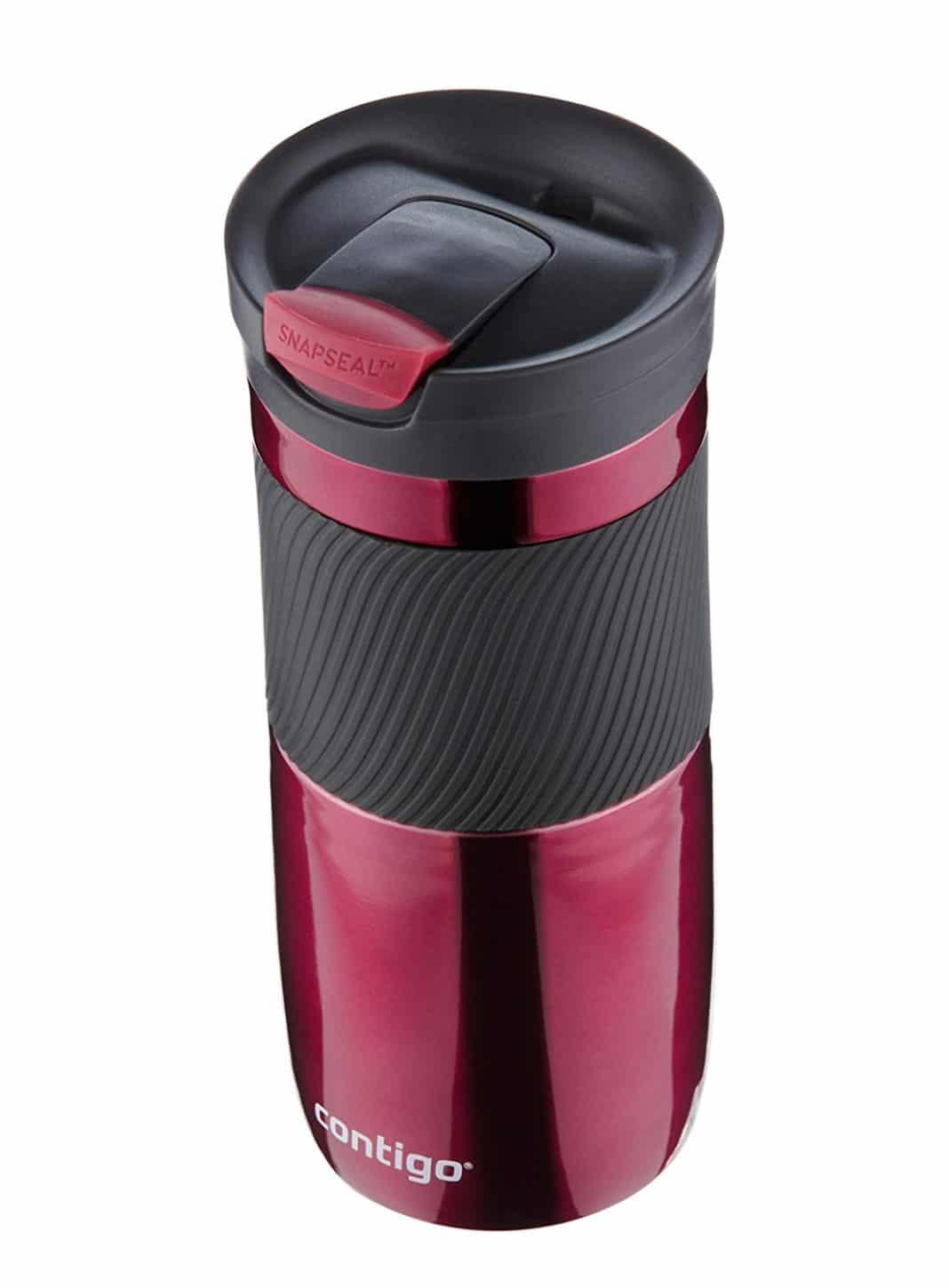 One of the benefits of travels mugs is their transportability. Those who travel every day or more than once a week can appreciate being able to drink while moving. Most travel mugs allow users to sip on beverages without much trouble as they go from place to place. However, certain travel mugs remain complicated to open and close, meaning you can't multitask when you're drinking. You won't be able to use your phone and sip coffee at the same time with these types of products.
With the Contigo Snapseal Byron Travel Mug, travelers may drink their favorite beverages using just one hand. A button on this mug allows users to simply press and let the lid open to drink. You won't need both hands in order to wrench the lid off or pull a tab to create an opening. This feature allows travelers to drink while they read, write, or use their electronic devices.
Easy Clean-Up
When you're going to use a travel mug almost every day, cleaning it can be a hassle. Many stainless-steel mugs require you to clean them by hand in your sink, so as not to damage the mug. Yet, this proves annoying after a while when you're constantly needing to wash your mug. Hand-washing takes up lots of valuable time that could be spent doing something more productive. Fortunately, many stainless-steel mugs can now be placed in the dishwasher for easier cleaning.
The cleaning process for the Contigo Snapseal Byron Travel Mug remains very low-maintenance. Travelers can simply throw the mug's lid into the top rack of their dishwasher and continue on their adventures. While you do have to hand-wash the mug's body, this proves much easier than cleaning all of it by hand. You could simply fill the mug with soapy water, let it soak, and then rinse. You'll be ready to drink more coffee in your mug in no time.
Style Options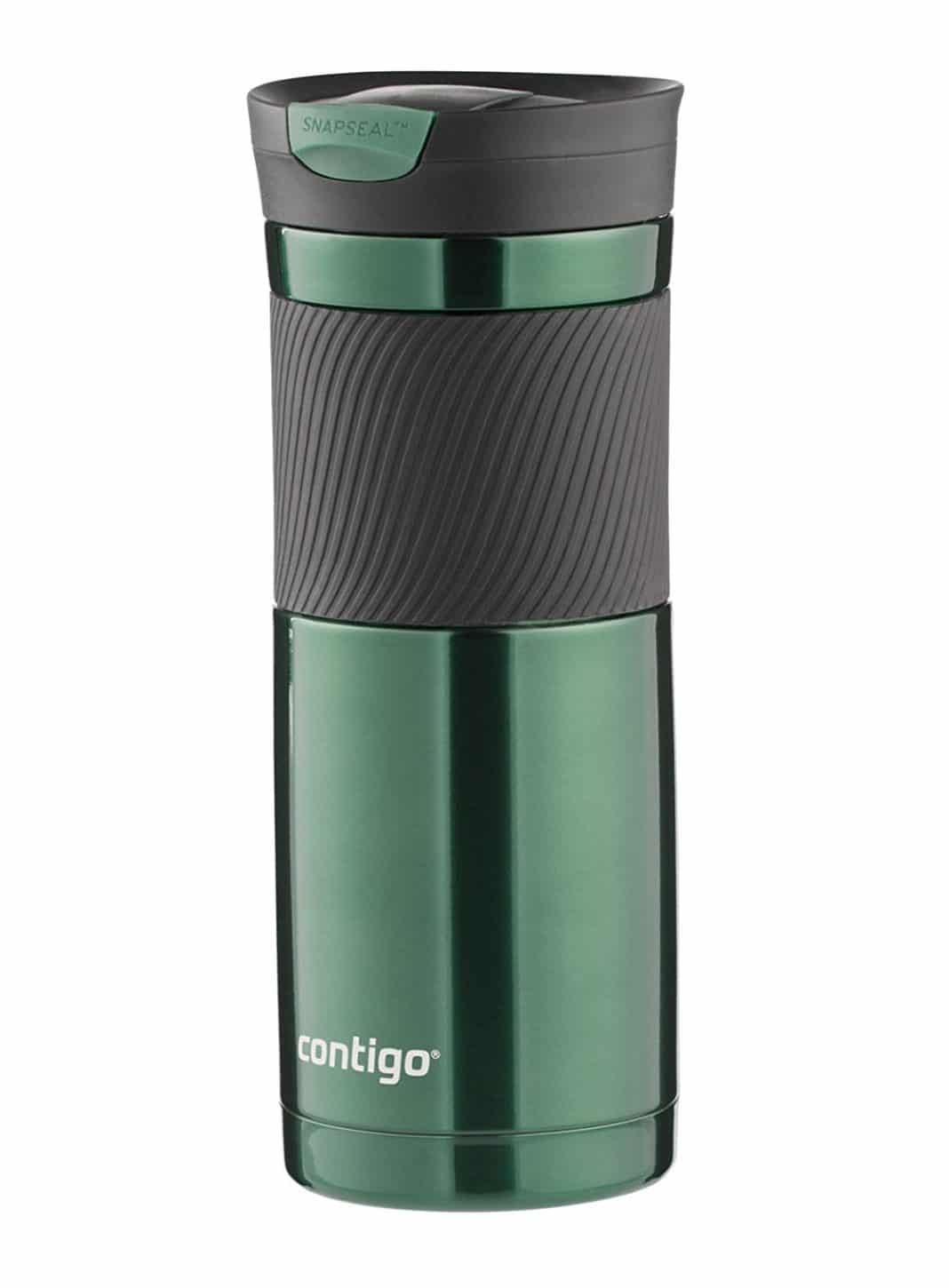 Very often, stainless-steel travel mugs only come in simple colors like plain silver or black. While many travelers enjoy having utilitarian mugs, this generic appearance can get boring. When you're going to use the same mug every day, you want it to look inspiring and exciting. Travelers might just want to pick out mugs with cool patterns or bright colors, rather than a plain shade. However, not every stainless-steel travel mug comes in a variety of shades, making it difficult to find a fun-looking mug.
With the Contigo Snapseal Byron Travel Mug, travelers will get to pick from a variety of enticing shades. Choose a bright red, named Vivacious, and you'll feel excited to take on your day when you use the mug. Other colors, like Grayed Jade and Monaco, have a mesmerizing, jeweled-tone appearance. These choices will look lively and sophisticated when you carry them around. Of course, if you really like black mugs, you can always choose the Matte Black option.
What Travelers Are Saying About the Contigo Snapseal Byron Travel Mug
Travelers who purchased the Contigo Snapseal Byron Travel Mug raved about the product's ability to maintain beverages' ideal drinking temperatures. Whether they enjoyed their coffee hot or iced, reviewers could sip on warm and cold beverages for hours and hours. Users also loved the Contigo Snapseal Byron Travel Mug's snap lid, which ensured liquids didn't leak during travels. The reviewers could place the mug inside their bag and not worry about it spilling all over their belongings. Most travelers who bought the Contigo Snapseal Byron Mug appreciated the stainless-steel structure, as it made the mug highly durable.
A few reviewers had trouble opening and closing the lid on the Contigo Travel Mug. The snap mechanism was a bit difficult to use, so travelers were unable to open it using just one hand. Another reviewer found that the mouth opening on the mug's lid was too small for their liking. However, other users related that this smaller opening was ideal for sipping on drinks, rather than gulping them down. Overall, the majority of travelers loved the Contigo Snapseal Byron Travel Mug, as it was perfect for everyday travels.
Alternative Travel Mugs You May Like
1.Yeti Rambler 20 oz Stainless Steel Vacuum Insulated Tumbler with Lid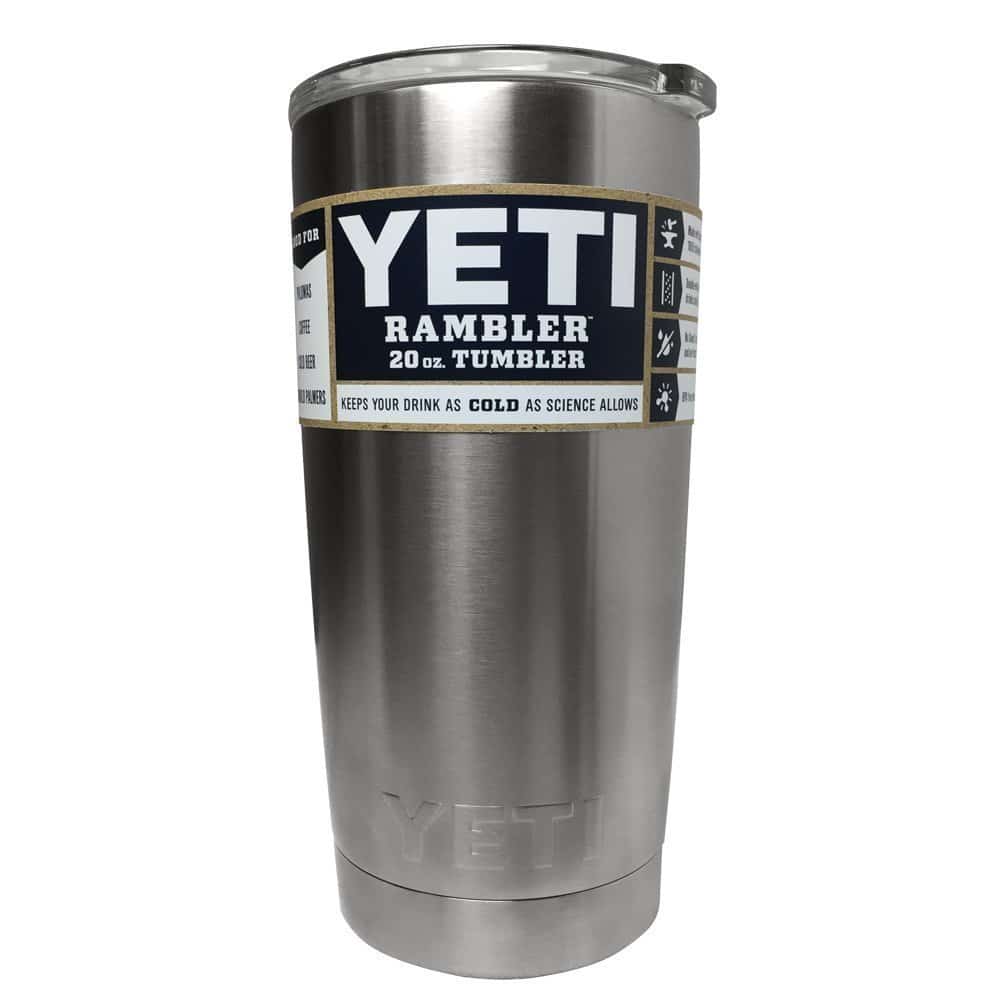 If you aren't completely satisfied with the Contigo Snapseal Byron Travel Mug, consider the Yeti Rambler Tumbler. This travel mug has many similar features to the Contigo product, such as the stainless-steel structure. Double-wall insulation ensures that your beverages remain at your preferred temperature for longer in comparison to other travel mugs. An exterior featuring a no-sweat design keeps condensation from forming, so the mug won't get wet. This means the mug will stay gripped in your hands as you travel from place to place. The BPA-free structure also allows users to drink happily, knowing that they're not risking their health or the environment. Another great aspect of this tumbler includes its dishwasher-safe structure. Busy travelers won't have to handwash this mug in order to drink from it. You may simply throw the tumbler in the top rack of the washer and go.
2. Thermos Stainless Steel 16 Ounce Travel Mug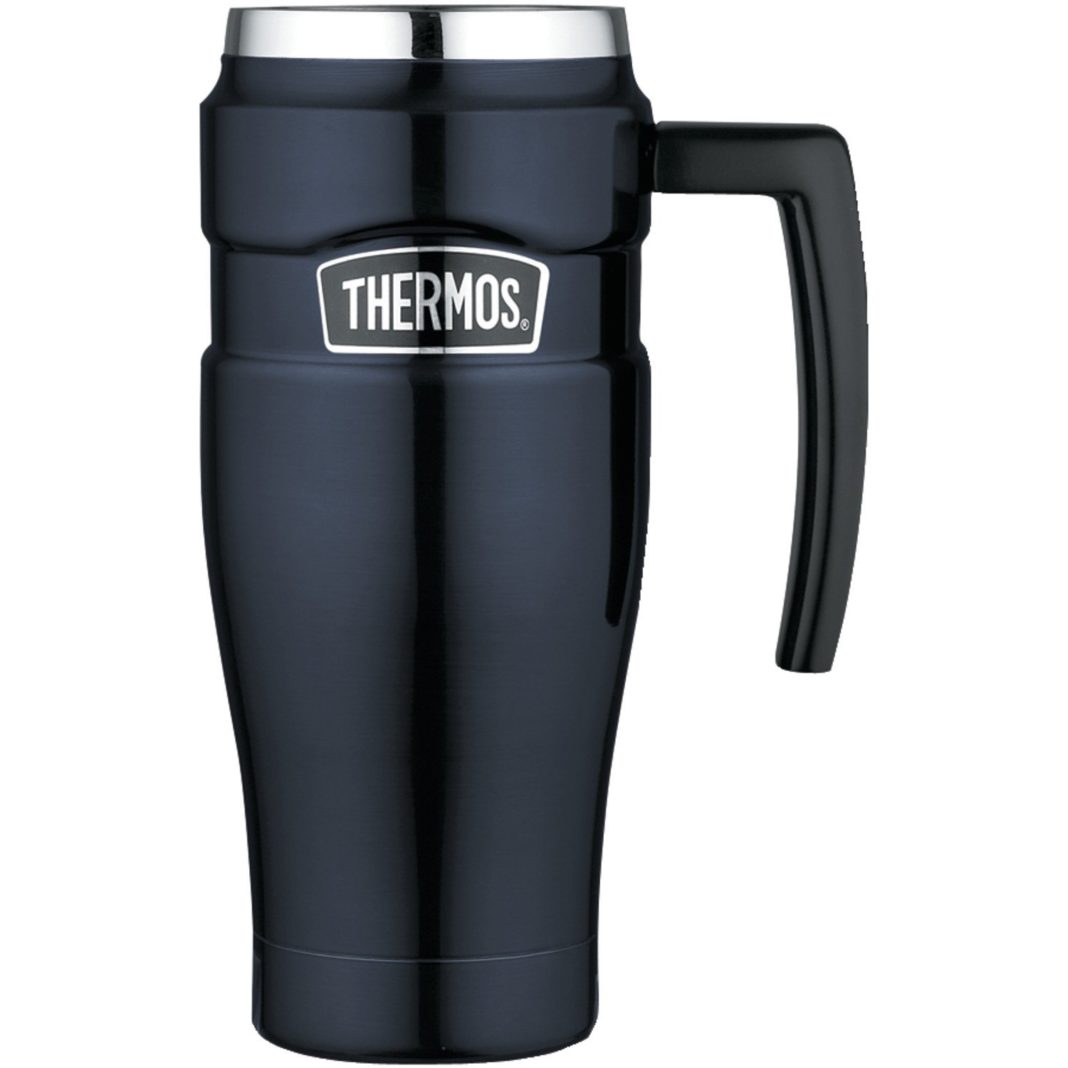 Another stainless-steel travel mug, the Thermos 16 Ounce Mug remains a great alternative to the Contigo Snapseal Byron Travel Mug. When you use this product, you won't need to worry about drinking lukewarm beverages while you're on the go. A highly resistant, stainless-steel interior keeps beverages cold or hot, depending on your specific desires. This product also has a handle for easier carrying and transport from your various travel destinations. The Drinklock sealing lid even ensures you won't leak liquids onto yourself as you drink from the mug. If you like fun-looking travel mugs, the Thermos product offers various different color choices to choose from. You don't have to get stuck using a plain black or silver mug. Pick vibrant shades like Electric Blue or Raspberry, and you'll stand out from other travelers with your bright mug.
3. AA Products Tumbler Vacuum Insulated Double-Walled 18/8 Stainless Steel Mug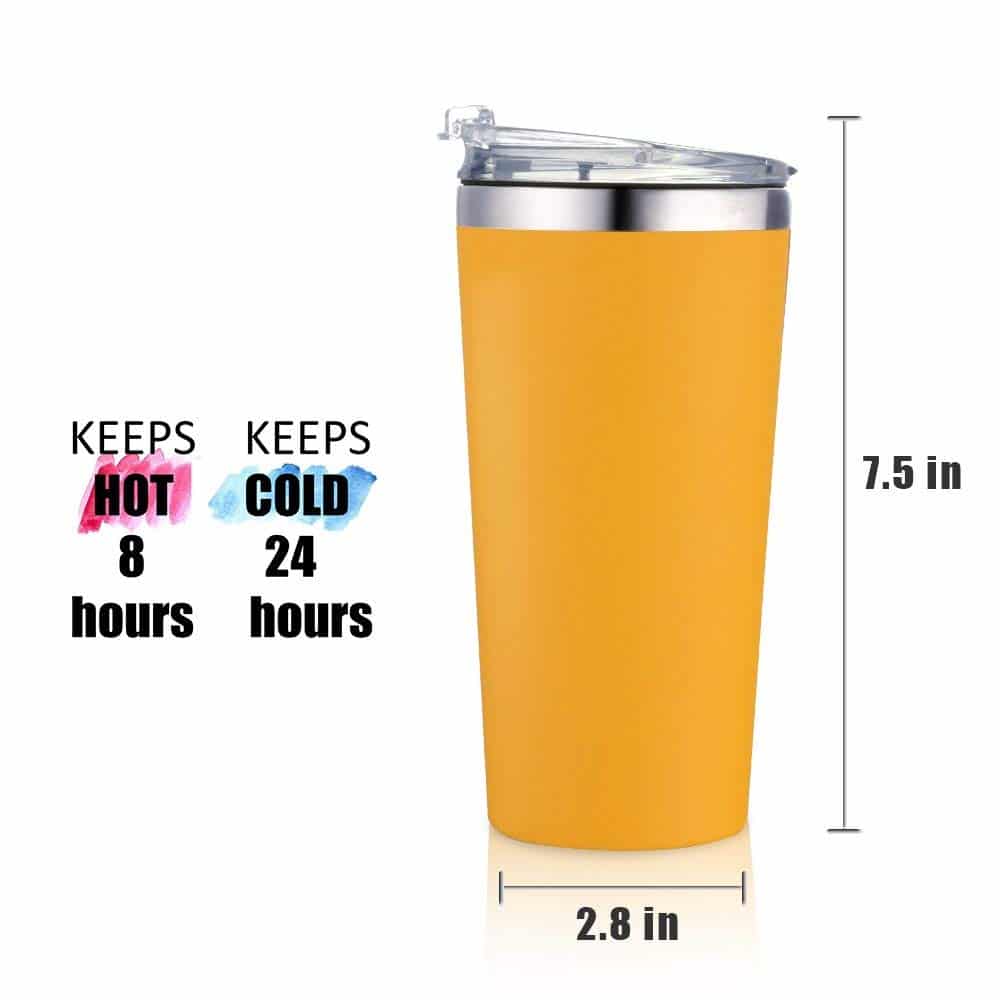 The AA Products Tumbler might be your perfect travel mug if you're not entirely sold on the Contigo mug. This product has a stainless-steel structure that makes it both durable and effective at maintaining beverage temperatures. Like the Contigo Snapseal Byron Travel Mug, the AA Products Tumbler has been designed with a double-walled, vacuum-insulated interior. This ensures drinks remain warm or cool for an entire work day or travel excursion. A clear lid differentiates this product from other mugs, as it allows users to see the contents of the tumbler. The AA Tumbler also comes in a huge variety of color options, from bright orange to turquoise blue. You'll love drinking from such a bright mug as you go about your daily travels.
Never leave home without your Contigo Snapseal Byron Travel Mug.
No matter where you go, you probably want to be able to bring your favorite drinks with you. Fresh coffee and refreshing smoothies taste delicious and satisfying, especially during a busy day of traveling. If you want to sip on drinks throughout your travels, you need a product like the Contigo Snapseal Byron Mug. This handy travel mug keeps hot beverages warm long after they've been brewed and maintains icy temperatures for cold drinks. With a stainless-steel structure, the mug will also be able to withstand any wear and tear that comes with traveling. Make sure to check out this mug the next time you're traveling and want tasty beverages at your fingertips.
Related Article: Choose the Best Travel Mug for Your Next Adventure | Review