Unparalleled quality meets a stunning, sophisticated watch in the Tudor Pelagos.
For the quality of a Rolex without the name-brand flash, look to the Tudor Pelagos. This outstanding dive watch is ready to accompany you on any adventure. From a taking on some of the best scuba dives in the world to charming your way through the crowds, this watch can do it all. Whether you go with the brilliant blue or charming and sleek black design, the sophistication of this watch will not go unnoticed. In no time, the Tudor Pelagos will be an essential piece of scuba diving gear and daily wear for you. So, if any of this has enticed you about the magic within the Tudor Pelagos, read on.
A Little About Tudor
Based in Geneva, Tudor sits side by side the other world-class watch brands. Tudor was established in 1926 as a subdivision of Rolex to provide the same quality for a different market. Being slightly more affordable, Tudor has gained quite a bit of traction with many communities. Since its birth, Tudor has specialized in phenomenal dive watches as well as specialty watches for the military. Their first dive watch came out in 1956, and they have been perfecting it ever since. So, look to Tudor if you want a truly top of the line watch without the pomp and circumstance of a Rolex.
Tudor Pelagos Features & Benefits
Snowflake Hands
Credit: Tudor
This might sound like something out of a fairytale, but the Tudor Pelagos' signature Snowflake Hands are quite exceptional. The hour hand has a square tip, allowing it to be easily distinguishable from the minute hand. Whether you're glancing at it during the day or deciphering the time on a deep sea dive, you won't have an issue seeing the time. This feature has been a signature of Tudor dive watches since 1969 and is a great aspect to look forward to.
SuperLuminova Lume
One of the most necessary parts of a great dive watch is the luminescence. It can be nearly pitch black at the bottom of a dive, but seeing your dive time is essential. So, having consistent, bright, and easy to read luminescence is key. The Tudor Pelagos is equipped with SuperLumiova Luma, providing the best and brightest reading light technology on the market. Both the ceramic disc of the titanium unidirectional rotating bezel and the snowflake hands are equipped with this lume. So, rest assured that you will not be left in the dark at any time with the Tudor Pelagos.
500 Meter Depth Rating with Helium Escape Valve
Credit: Tudor
The last thing you need on a dive is for your watch or dive computer to break under pressure. If you're relying on it for your life, it should be a pretty solid piece of gear. The Tudor Pelagos comes with a 500 meter, or 1640 feet depth rating. This means you can dive pretty deep without worrying about the pressure messing with your timing or watch face. The Tudor Pelagos is able to go so deep because of its exceptional Helium escape valve. A helium molecule is so small, they are able to get into watches and break even the smallest parts. However, this escape valve lets those molecules out before any damage is done. So, between the depth rating and no need to worry about an overpressured watch, the Tudor Pelagos is clearly an exceptional choice.
TUDOR Manufacture Calibre MT5612 Movement
One of the most essential things to beautifully crafted watches is their movement. Instead of the cheaper quartz movement, high-end watches are equipped with a mechanical movement. The Tudor Manufacture Calibre MT5612 Movement allows you to have impressive autonomy. The power reserve can last for seventy hours. That is an entire weekend of not having to wind up your watch. This movement tracks the second, minute, and hour functions perfectly, as well as the date display which is positioned at 3 o'clock.
How does this spectacular movement work? It beats at a frequency of 28,600 beats per hour which is regulated through an inertia oscillator and silicon balance spring. A traversing bridge holds it, fixed at both ends. This allows it to be shock resistant and unshakeable during vibrations and other outside movements. If you have any doubt about the Tudor Pelagos movement, be assured it has been certified by the Swiss Official Chronometer Testing Institute for its outstanding performance.
Auto-Adjustable Watchband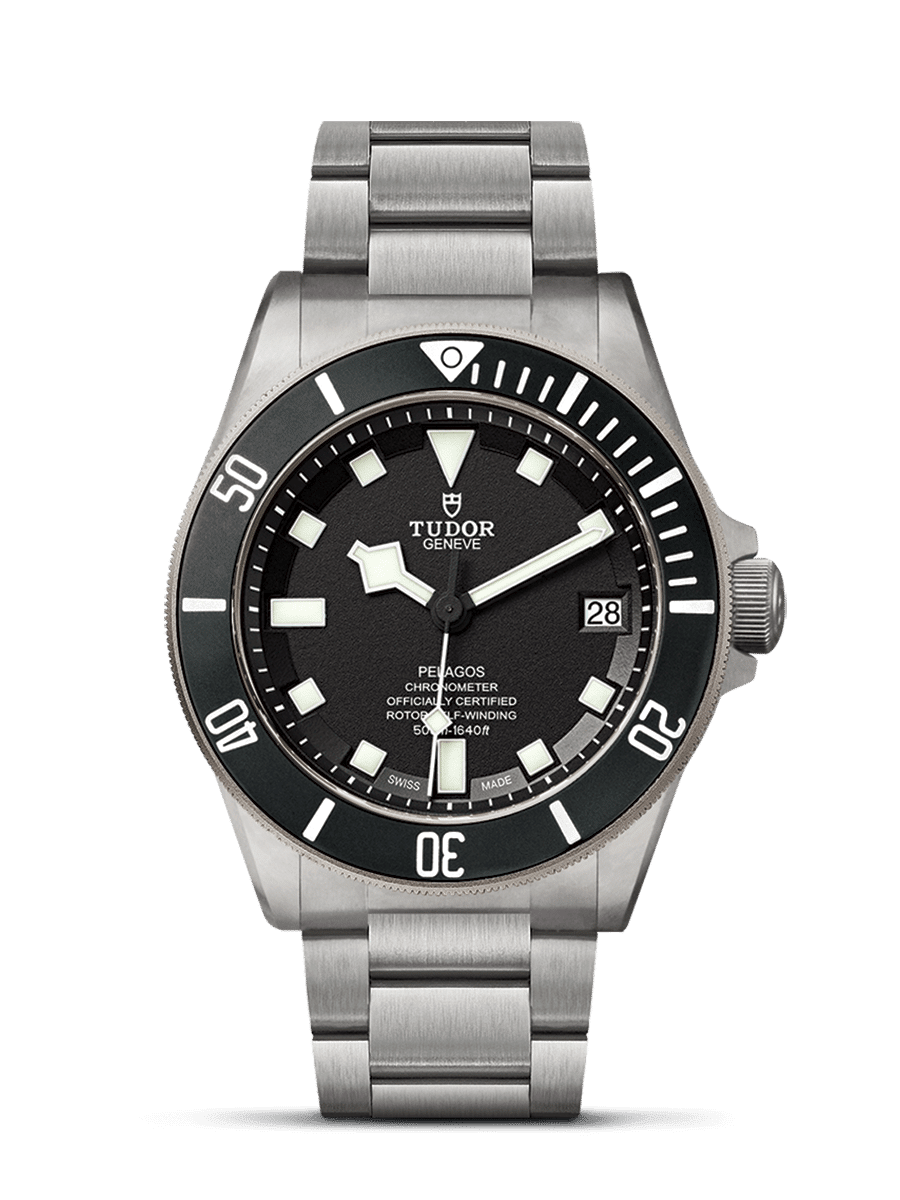 During a dive, everything changes size as the pressure gets more and more intense. This next feature is one that truly sets the Tudor Pelagos apart. The patented auto-adjustable buckle is woven into the titanium wristband. A spring mechanism is woven in, allowing the watch band to be adjusted during the dive. It contracts when the combination is compressed on deep dives, yet expands when the pressure decreases at the surface. So, you won't be worrying about this watch falling off with its self-adjusting band. Of course, you can always switch out the stainless steel and titanium band for the rubber wristband if that is more comfortable for you.
What Travelers Are Saying About the Tudor Pelagos
The most noticeable comment about the Tudor Pelagos is the brilliance of the color and style. In particular, the pristine blue shade that Tudor has integrated into their watch catches everyone's eye. Pictures can not do the deep ocean blue justice. Every diver and traveler that has the Tudor Pelagos is taken aback by its beauty. So, if you're looking for something that looks just as good as it works, this is it. Another well-loved aspect of the Tudor Pelagos is its durability. Reviewers have been incredibly tough and rough with the Tudor Pelagos, and yet the bezel and face show no signs of wear. This watch is clearly made to be a lifetime investment. Lastly, the Tudor Pelagos is incredibly lightweight for its size. You get a hearty watch face without feeling lopsided. Overall, the usability, durability, and features have all wrapped up to make a stellar dive watch.
Alternative Dive Watches You May Like
Stuhrling Aquadiver
For a beautiful blue dive watch at a much lower price, check out the Stuhrling Aquadiver as an alternative to the Tudor Pelagos. It is water resistant to 200 meters, or 660 feet. This is still ample depth for your average diver. This is kept water-tight through its threaded, screw down crown sealed with rubber gaskets. The case is made of surgical grade steel, and it is accompanied with an adjustable steel triple-row link bracelet. The protective and scratch resistant mineral crystal face can withstand quite a beating, too. It is powered by Swiss Quartz Stuhrling Original Ronda 515 movement. This will keep time precisely without the need for a wind. It is clear that it does not have the same top of the line materials and movement of the Tudor Pelagos, but for this price, its quite the steal.
Oris Divers Sixty-Five Mens
The Oris Divers Sixty-Five is one hands-down handsome dive watch. As an alternative to the Tudor Pelagos, it's quite tempting by coming in at under half the price. It has a brushed and polished stainless steel case that is 41 millimeters across. The black ceramic unidirectional rotating bezel compliments the blue dial, silver luminescent hands, and sweeping seconds hand. The domed sapphire crystal face is scratch resistant and has an anti-reflective coating inside. Top this all off with a screw-down crown, automatic Swiss movement, and a power reserve of 38 hours and you're set for any adventure. It is water resistant to 100 meters, or 330 feet. Lastly, it comes with a black rubber strap to keep this attractive watch on you. All in all, it is an exceptionally made watch for any diver who doesn't need to go too deep.
Citizen Men's Eco-Drive Promaster Diver Watch
Our final alternative to the Tudor Pelagos is the Citizen Eco-Drive Promaster. This is a gorgeous watch if we've ever seen one. The round face has a unidirectional bezel and blue dial. The luminous hands and hour markers will keep you knowing the time wherever you are, even on a deep dive. With that, it is water resistant to 200 meters, or 666 feet. The Eco-Drive technology, however, is what sets this dive watch apart. It is fueled by light and will never need a battery or a wind-up. It moves through the work of Japanese quartz and comes with a molded polyurethane band with buckle closure. This is a great high-end entry level diving watch to get you ready for diving. With its spectacular reviews, you can't go wrong choosing this as an alternative to the Tudor Pelagos.
Overall, the Tudor Pelagos dive watch is in a class of its own when it comes to seeking out the best dive watches.
Having been perfected for decades, the Tudor Pelagos rises above its competition with its exceptional workmanship and attention to detail. Using only the finest materials, Tudor has created an unbeatably durable, stunningly attractive, and entirely practical dive watch that will last. So, if you have the resources to invest in a Tudor Pelagos, you won't regret it. Having the right gear is one of the most essential steps to learning to dive and getting certified. So, go ahead and dive in.
Related Article: Best Dive Watches: 6 Stellar Options for Underwater Excursions