Dive in style with the Stuhrling Aquadiver watch.
Travelers who enjoy going diving know the importance of having the proper underwater gear. While you may have the proper clothing and breathing gear, you might not have thought about a diving watch. These accessories allow divers to check the time while they're under the water. However, even if you're not a diver, you'll benefit from having a durable and sophisticated watch. With the Stuhrling Aquadiver watch, travelers can always feel cool and stylish no matter where they go. Whether you like to go diving or simply want a fashionable watch, read our article below. You'll get to learn all about this awesome watch and its various features.
A Little About Stuhrling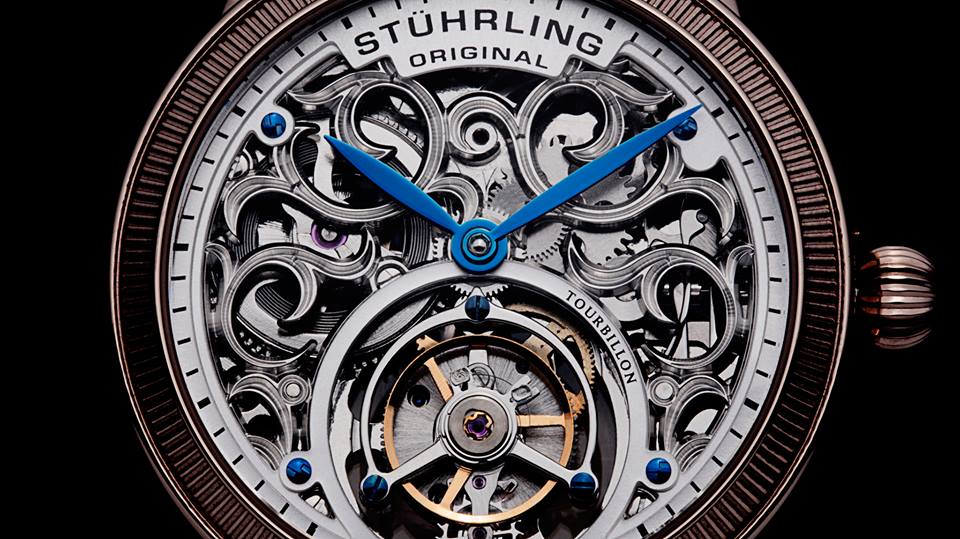 Stuhrling has been crafting high-quality watches since 2002. The company produces groundbreaking watches that maintain innovative and top-notch designs. This brand takes watchmaking seriously, ensuring all of their products have been crafted with the wearer in mind. If you don't want to spend lots of money on a luxury watch, Stuhrling has the products for you. Authentically built watches with beautiful constructions remain priorities with this company. Both men and women can also find the perfect watch when they choose this brand.
Stuhrling Aquadiver Features & Benefits
Classic Style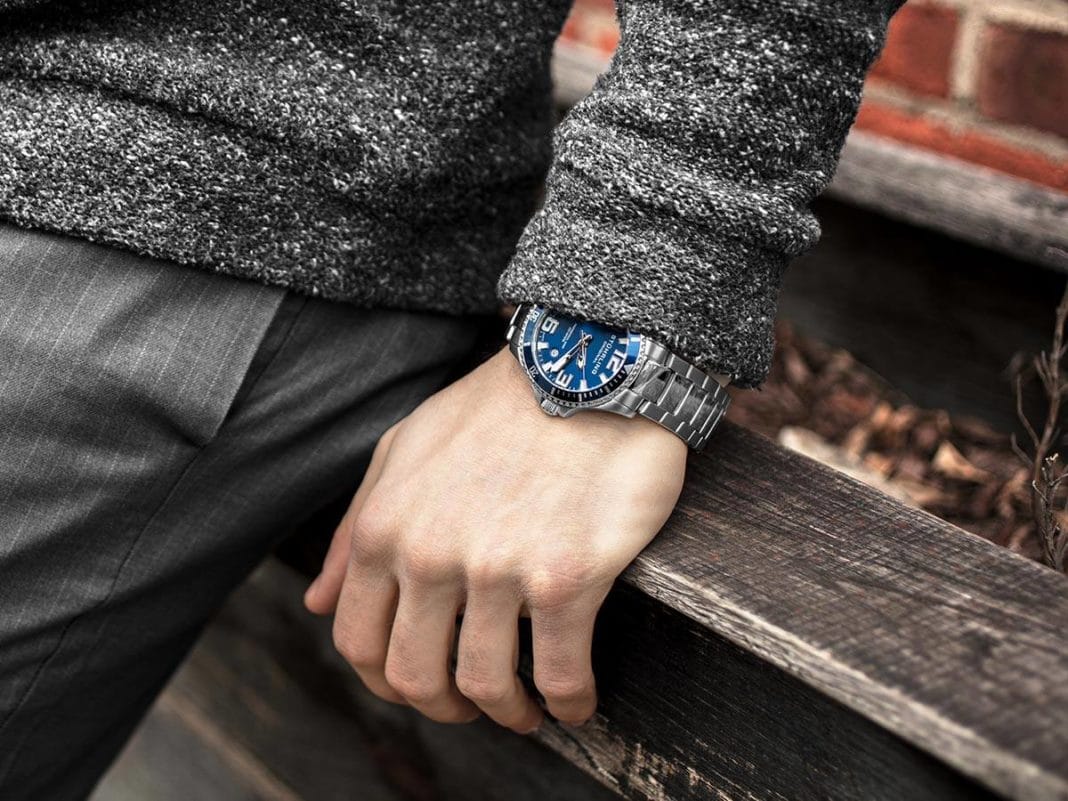 Credit: Stuhrling / Facebook
If you're looking for a watch you can wear every day, the accessory should maintain a classic look. Some watches have a specific appearance that won't match with all of your outfits. These types of watches may also not work in a variety of situations, from work to outdoors expeditions. You don't want to spend lots of money on multiple watches simply because one doesn't function for every situation. Similarly, the coolest watches tend to appear sleek and sophisticated, with simple designs.
Travelers won't be disappointed by the Stuhrling Aquadiver's classic appearance. This watch maintains a sleek and sharp look, making it ideal for wear in all types of life events. You could wear the stainless-steel watch to work and have it match every formal outfit you wear. Or, you might want to don the watch during informal events, like parties, as well as outdoors expeditions. Instead of switching between various watches, you can simply wear the Stuhrling Aquadiver for every occasion.
Durable
Credit: Stuhrling / Facebook
When you're going to be traveling frequently, you need accessories that won't break at the slightest touch. Certain watches can feel flimsy and fragile, leading to frustrations as watches fall apart easily. Travelers with an interest in exploring the outdoors also know that what you wear can affect your journey. Watches with breakable structures won't withstand the kind of active lifestyle you choose to maintain. Divers will especially require watches with durable designs, as they must be able to stay intact underwater.
If you're hoping to find a durable watch, look no further. The Stuhrling Aquadiver contains a super durable design, so you don't have to worry about it falling apart quickly. When you decide to go on an outdoors adventure, you can rest assured the watch will remain unbroken. Additionally, travelers can throw caution to the wind when they explore new environments and locations. Rather than accumulating scratches and nicks while you travel, the watch will stay pristine. Thanks to a stainless-steel construction, the watch has been designed to withstand all kinds of wear and tear. Scratch-resistant mineral crystal keeps the watch's face clear and easy to read.
Water-resistant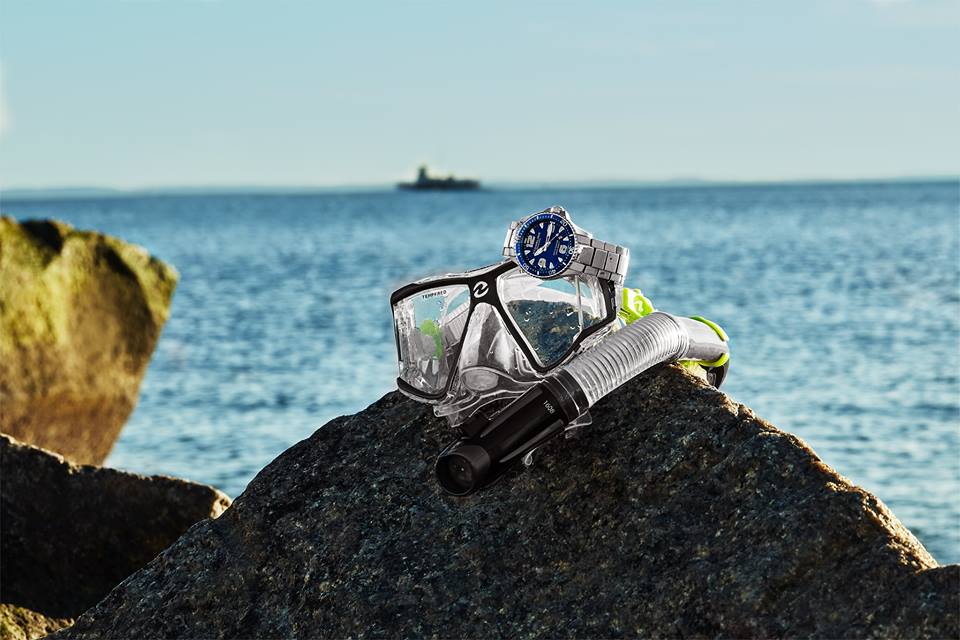 Credit: Stuhrling / Facebook
Those who enjoy going diving require a watch that remains waterproof. You don't want to go underwater only to find out that your watch has been completely ruined. Many diver watches claim to have waterproof constructions yet fail to comply with travelers' expectations. This leads to frustrations, as you'll have to keep purchasing watches until you find the ideal one. At the same time, the proper diving watch should continue functioning even after countless dives.
Thankfully, the Stuhrling Aquadiver has been crafted with divers' needs in mind. This special watch has a waterproof design, so you won't have to worry about it falling apart underwater. The watch stays water-resistant for up to 660 feet beneath the water. A threaded screw down crown remains sealed with rubber gaskets, preventing water from entering. Travelers who won't be diving can benefit from the waterproof features as well. Rain, snow, or even coffee spills will not affect the functionality or look of this watch.
Adjustable
Some watches don't have the ability to adjust based on the individual wearer's needs. When you purchase a watch online, you may not know how it will fit. This can cause issues if you receive the product and it feels too tight or loose on your wrist. Additionally, many watches have been designed for a few sizes with little room for adjustment. You don't want to receive your watch and have it fit improperly with no way of changing the size.
Accordingly, when you buy the Stuhrling Aquadiver, you'll have the chance to adjust the watch to your perfect fit. Instead of wearing a too tight watch, you can have the watch sit just right on your wrist. Some watches might also feel too loose, causing them to fall off or slid up and down the arm. With the Stuhrling watch, you'll get to adjust the steel, triple-row link bracelet so that it fits perfectly. Once you put this watch on, you might never want to take it off.
What Travelers Are Saying About the Stuhrling Aquadiver
Travelers who purchased the Stuhrling Aquadiver watch found the product ideal for everyday wear. This watch's classic design made it appealing to keep on wearer's wrists throughout countless daily occasions. Despite the relatively inexpensive price, the watch appeared luxurious and high-quality to travelers who had previously worn pricier items. With a stainless-steel construction, reviewers appreciated the watch's sleek and sharp look. Additionally, travelers also appreciated the watch's adjustability. This meant that reviewers with varying wrist sizes could adjust the watch to fit them perfectly. Similarly, the Stuhrling Aquadiver was extremely durable, resisting scratches and marks. Travelers could travel carefree as they didn't have to worry about damaging the watch while wearing it.
A few reviewers thought that the watch could have lasted a bit longer. After some months of wear, certain reviewers found that the watch didn't continue working properly. Similarly, despite the watch's waterproof construction, some reviewers had watches where water entered inside. However, overall, travelers considered the Stuhrling Aquadiver to be an ideal watch for daily wear.
Alternative Diving Watches You May Like
1. Oris Divers Sixty-Five
Those who weren't completely sold by the Stuhrling Aquadiver may want to consider the ​Oris Divers Sixty-Five. This brand has created a watch with similar features to the Stuhrling watch, such as a durable design and classic look. A brushed and polished stainless-steel case makes this watch appear cool and sleek. You won't have to worry about the watch working with a variety of outfits. This watch also utilizes more color than the Stuhrling watch, as it utilizes black, blue and silver. Silver-tone luminescent hands and yellow luminescent indices allow wearers to check the time in darker places. The scratch-resistant, domed sapphire crystal on the face makes the watch extremely durable. An anti-reflective coating inside the watch also helps visibility when looking at the time. Those who want to dive with this watch should note that the product remains water resistant up to 330 feet.
2. Tudor Pelagos
The Tudor Pelagos remains a great alternative watch to the Stuhrling Aquadiver. Like the Stuhrling product, the Tudor watch has a durable design. A stunning blue face on this watch makes it appealing to wear wherever you go. The blue color appears bright in the sunlight and takes on a deeper hue when the sun goes down. This watch also glows thanks to SuperLuminova Lume, meaning you can check the time at night. When you charge this watch properly, the face will stay bright and noticeable for hours at a time. An all-titanium case makes the watch appear classic and sleek, similarly to the Stuhrling Aquadiver. With the titanium construction, the watch feels light and comfortable to wear on the wrist. This also means the watch will remain intact despite countless adventures. Divers can also don this watch without worry, as it has been constructed to stay water-resistant up to 1640 feet.
3. Citizen Promaster Diver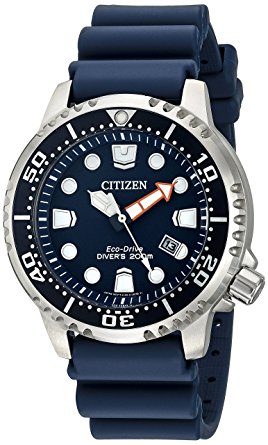 If you're looking to find one of the best watches for men, think about purchasing the ​Citizen Promaster Diver. This watch has a unique design compared to the Stuhrling Aquadiver, as it charges with light. You won't ever have to buy batteries to keep this watch working. The Eco-Drive technology found in the Citizen Promaster watch allows for light to charge the product. A stainless-steel case ensures you can wear this watch with every outfit and on every occasion. The molded polyurethane band makes this watch feel comfortable to wear on the wrist. Since the strap has a dark blue coloring, you'll stand out in a subtle way while wearing this watch. Swimmers and scuba divers can wear the watch without worry, as it remains water-resistant for 666 feet. Anti-reflective mineral crystal on the watch face makes this easy to read and check the time.
Never go diving with the Stuhrling Aquadiver on your wrist.
If you don't have an everyday travel watch, consider purchasing the Stuhrling Aquadiver. This classic and sophisticated watch remains ideal for everyday wear. Travelers can keep this on throughout all of their adventures and never worry about losing track of time. The watch maintains a durable and waterproof design, so it won't break despite experiencing rougher journeys. You'll love wearing the Stuhrling Aquadiver during underwater dives or vacations to faraway places. We hope you'll be inspired to buy this watch and wear it for every travel adventure.
Related Article: Best Dive Watches: 6 Stellar Options for Underwater Excursions