Fashionable and practical, the Oris Divers Sixty-Five is the perfect watch for the man on the go.
Oris really went above and beyond for this one. Evoking some of their older, more classic styles, the Oris Divers Sixty-Five definitely appeals to a nostalgia. Where else have you seen such a more elegant watch for the everyday? While it does look much like the original, there are a way changes that go beyond the term subtle. This contemporary style is made of a durable stainless steel, there is a unidirectional bezel, and an automatic mechanical movement.
About Oris
If you haven't heard of Oris before, it's about time you had. For those men who want style and a little bit of luxury, look no further. They are one of our favorite dive-related brands. As we previously mentioned, the Divers looks back to Oris's first styles of watches, particularly the iconic 1965 model. The new pieces are manufactured with nothing short of state of the art techniques.
For over one hundred years, Oris has been making watches in Switzerland. Their styles are purely mechanical in nature, marked by their distinctive design, and the company's symbol, the red rotor. From diving to jazz, aviation, and everything in between, all types of adventurers wear and love their unique creations. These folks have mechanical minds. This company is only one of a handful that designs such precise mechanical creations. A thing of beauty, these styles have been around for generations and will no doubt be around for countless more to come.
Since 1904, they have been making travelers happy. Whenever they develop new forms of movement and watch designs, it revolutionizes the industry. When you invest in an Oris watch, you know your item is built to last for a lifetime of enjoyment. This Swiss-made brand serves to guarantee quality. All are made according to the highest standards of production throughout their manufacturing process.
Innovative and genuine, they champion independence. When you see the red rotor, it signifies a genuine Oris watch. This little piece of ingenuity is crafted to bring joy for many years to come. As an independent company, Oris's values are in safe hands. They're free to innovate as they wish and dream up designs for travelers everywhere. We love this company.
Oris Divers Sixty-Five Features & Benefits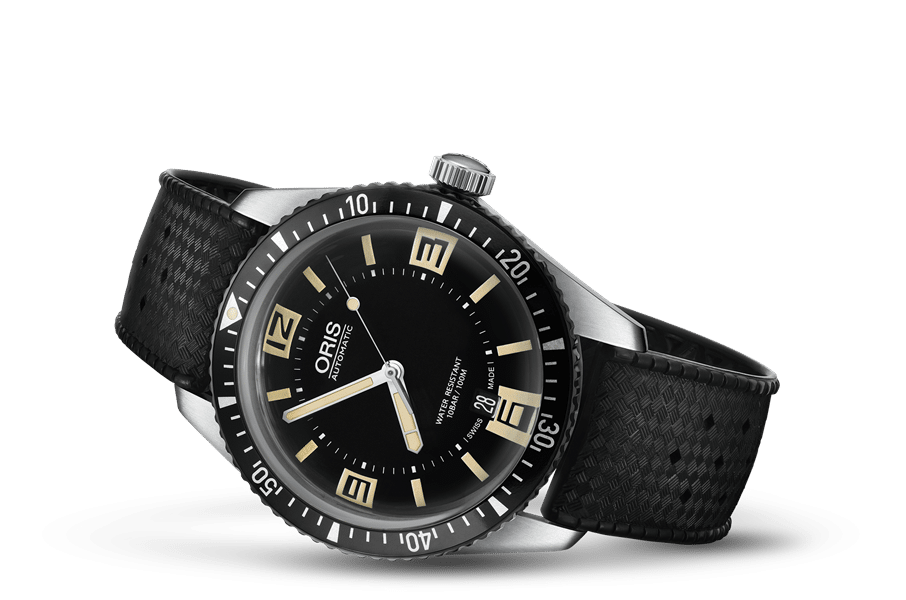 Credit: Amazon
So how is the Oris Divers Sixty-Five different from old styles? As we mentioned, the Oris Divers Sixty-Five is a nostalgia piece meant to evoke a longing for styles past. While it looks very much like some of the original Oris styles, there are also a few changes. The first thing you will notice is that the case is larger and much more contemporary. Made from a durable stainless steel, it features a unidirectional bezel, distinct mechanical movements, and a sapphire crystal.
Drawing a comparison with the old model, you will find that it was much smaller. The true vintage style was also composed of a chromium-brass case, sporting a plexiglas crystal. The bezel was bi-directional and the watch featured a black plastic strap.
According to the manufacturer, "One significant update is the watch's unidirectional rotating bezel, which has a black aluminum inlay with a 60-minute scale. The original's tritium-filled hands and indices have also been updated and are now filled with 'Light Old Radium' Superluminova that contrasts with the black dial and maximizes legibility."
Expanding onto the Divers family collection, the Oris Divers Sixty-Five joins two bronze model watches. With a two-tone black color and warm touches, it exudes a vintage appeal. We love watches that have an ongoing fascination with bronze. With both 40 mm and 36 mm diameters, the new Sixty-Five models offer the perfect size.
Watch Case
Let's take a closer look at the watch case for the Oris Divers Sixty-Five. Also crafted from a durable stainless steel, the case spans 40mm in diameter and measures out to be nearly 13 mm thick. The size is comparable to Oris's classic looks and for us, that's a good thing. The watch size is on the larger end of the spectrum without looking or feeling ostentatious. On the wrist, it sits so well. We also appreciate how comfortable it is to actually wear. The crown does not cut into your wrist, the dimensions are nearly flawless, and it is pretty lightweight.
Dial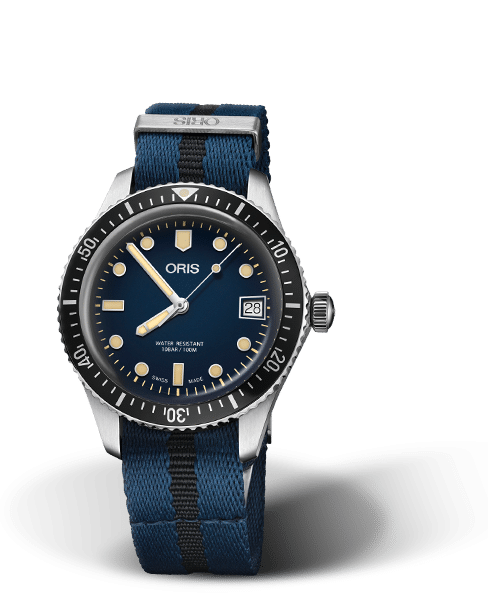 Credit: Oris
This is perhaps our favorite feature about the Oris Divers Sixty-Five. Curved and glossy, the dial showcases luminous numerals, similarly to the vintage model on which it is based. The hour, minute, and second hands all match the luminousness of the dial. When you're looking for the date, you'll find it just above the 6 o'clock numeral. It's so small, it nearly blends right into the minute track.
Water Resistant
We love that this watch is practical too. Sure it is fashionable but the function goes a long way too. When you're on vacation, you don't have to worry about getting it wet. Take it in the shower, go for a swim, take a jog in the rain. You can even go snorkeling with the Oris Divers Sixty-Five on your wrist. Since it is water resistant up to 100 meters (330 feet), you can enjoy yourself without worrying about damaging your new timepiece. Take it diving at the world's best scuba sites – take it anywhere. Are you PADI certified? If not, get some gear and get on your way. It's easier than you'd think! But we digress…
Additional Details
Back in the 1960s, Oris was selling a plastic tropical design strap with their watches. This has since been replaced with a thick rubber wristband piece. While the strap is not made of an expensive rubber, it is still soft to the touch and moveable. It's perfect for those warmer months of the year where a little bit of sweat is inevitable. Perforations on the watch band allow for more breathability. Comfort goes hand in hand with that. The loops hold up so well and do not move around.
There is, however, one downside to the wristband of the Oris Divers Sixty-Five. In the space where it attaches to the lugs, there's a gap of a few millimeters. This is a small intolerance but notable nonetheless. If this does bother you, there are always other straps that you can swap the rubber one out with.
Tech Specs:
Stainless steel case

1960s classic timepiece style

Unidirectional bezel

check

Sapphire crystal

check

Distinct mechanical movement
What Travelers Are Saying About the Oris Divers Sixty-Five
It's easy to see why travelers love the Oris Divers Sixty-Five so much. With a 4.5/5 star rating, this classic timepiece speaks for itself. What's not to love here? The consensus among reviewers is that this distinct style is both fashionable and functional. While it is expensive, many travelers considered it to be an investment.
To Oris, attention to detail and excelling in their craft is everything. One of the greatest compliments travelers listed about the Oris Divers Watch was its water resistant capabilities. Generally speaking, water resistant men's watches are not very fashionable. Oris broke the mold by crafting a luxurious piece you can take from the most elegant restaurant to the streets and then to a snorkeling trip. This watch is truly so versatile.
An Alternative Travel Watch You May Like: the Men's Vincero Kairos Wrist Watch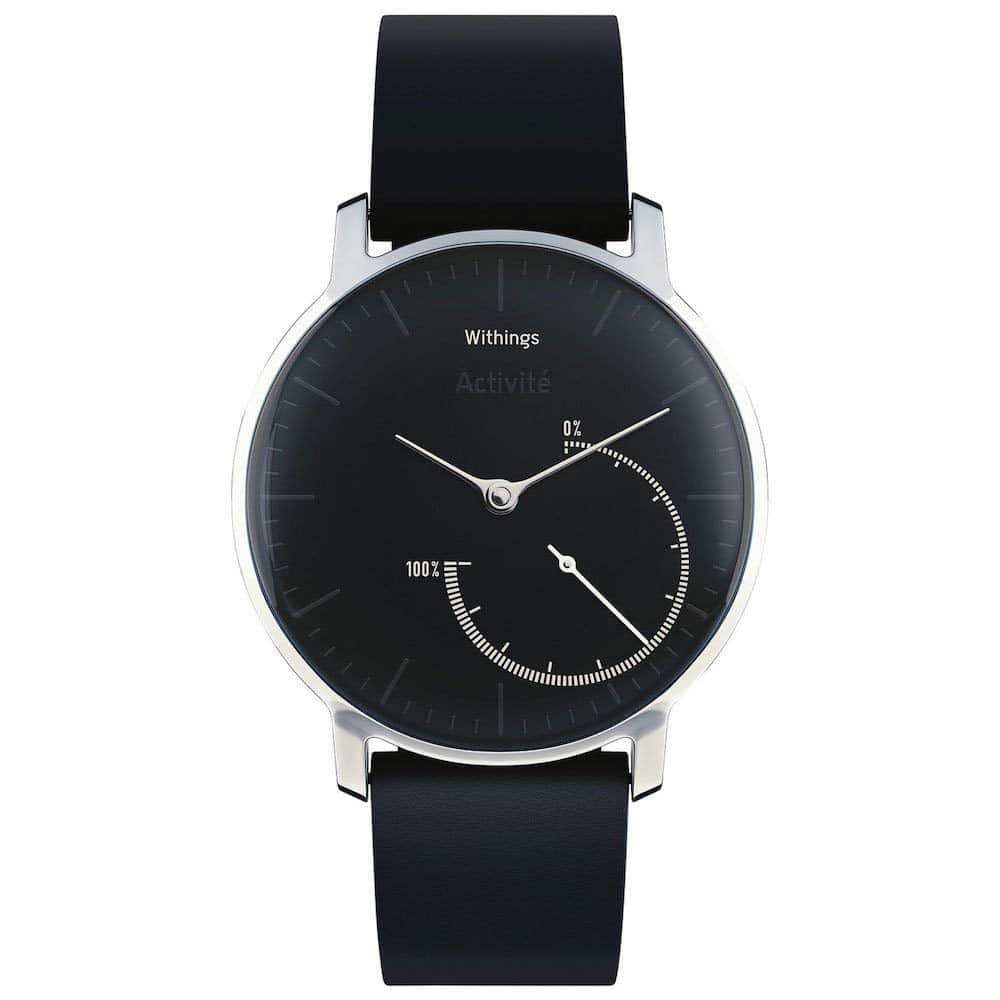 If you want luxury without breaking the bank, then the men's Vincero Kairos Wrist Watch is for you. If you haven't heard of this dynamic brand before, they craft luxury watches for the men with modern styles. At the core of their brand's philosophy is the belief is that you deserve the best quality product you can to look and feel at the top of your game. We all know that when you look good, you feel good, and when you feel good, you can do anything. Vincero's Kairos is one of the best men's watches.
On the back of the watch (and all the Kairos styles) is the motto "Live your legacy." This is a great reminder to never stop or settle. Endlessly pursue your goals. Every single caseback features gorgeous historic Italian marble. This timeless wrist piece is a reminder of persistence. Vincero's obsessive goal is to create pieces that match your hustle. And they definitely do just that. This watch certainly has a distinctive look and quality. You can feel it.
Luxury and quality are about so much more than prices or mere specs. It's all about value. It's also about attention to detail. They never take shortcuts and commit to always providing customers with nothing but the best.
Tech Specs:
Italian leather band

Surgical grade stainless steel

Scratch resistant and water resistant

check

Features historic Italian marble

check

Engraving on the back "live your legacy"
Invest in the Oris Divers Sixty-Five for Your Next Trip
We hope you enjoyed reading our article on the Oris Divers Sixty-Five and a few of our other favorite styles. As you can see, there are so many high-quality brands on the market to choose between. The type of watch you need as a traveler depends on where you want to go and what activities you are pursuing on your getaway.
The brands and watch styles we included all offer style and function. Sleek minimal looks meet practical design with waterproof elements and a durable design you can take just about anywhere. Watches that you can take on adventures like snorkeling and scuba diving are so useful.
Related Article: Best Dive Watches: 6 Stellar Options For Underwater Excursions