There is no shortage of places to explore in the great blue deep. Want to get PADI certified? Check out these sites for the best scuba diving in the world.
Whether you are just starting out on your journey or approaching your epic 100th dive, you'll fall in love with the locations on this list. What sites are on your bucket list? We're sure you have a few. We've searched all around for epic dive sites. From Hawaii to the Caribbean, national parks to small islands and cenotes, our choices run the gamut for the best scuba diving in the world. Here is our list of favorite places in no particular order.
Here Are Our Picks for the Best Scuba Diving in the World
1. Great Barrier Reef, Queensland, Australia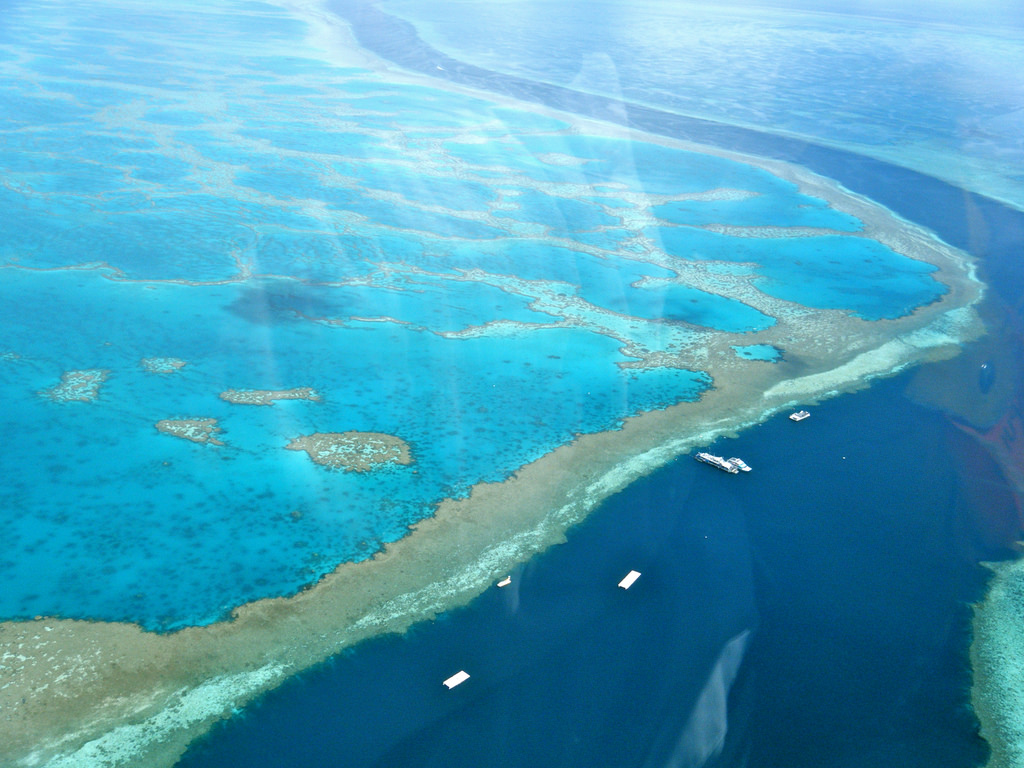 Go big or go home, right? The Great Barrier Reef is one of the most iconic sites for scuba diving in the entire world. Running for more than 1,400 miles off of Australia's northeast coast, it is teeming with diverse marine life. To put it in perspective, there are more than 1,400 species of clownfish alone that call the reef home. Talk about making it difficult to find Nemo.
Fun fact? The Great Barrier Reef is longer than the Great Wall of China and is the only living thing visible from space. These reasons alone should put it at the top of every diver's bucket list, there's even more to it. Did you know that it comprises over 3,000 different reef systems and some 100 islands?
More travelers than ever are visiting the Great Barrier Reef with a sense of urgency. Why? It has been dying. Rising ocean temperatures have led to mass coral bleaching. This leaves the reef bone-white and lifeless, eroding the habitat of countless marine creatures. Go while you can and see its marvels; the best scuba diving in the world can be done right here.
There is some good news though. Recent discoveries have shown that parts of the reef are showing significant signs of recovery from the mass bleaching. This recovery can be seen near Fitzroy Island, just 45 minutes from the diving hub of Cairns, Moore Reef, and Saxon Reef. With the right conditions and given at least ten years, reefs can heal from bleaching. Temperatures need to be stabilized though and pollutants removed.
2. The Great Blue Hole, Belize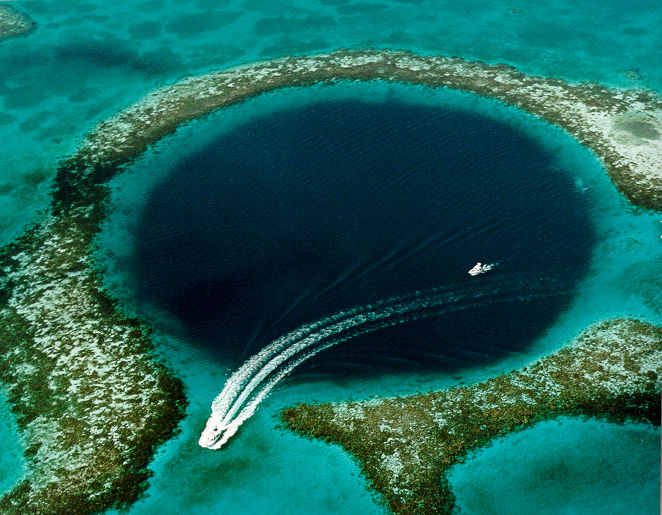 Have you seen anything more striking than these vibrant blues in Belize? A giant sea hole, Jacques Cousteau listed this natural phenomenon for the best scuba diving in the world. Who are we to say any different? Spanning some 300 meters wide and plummeting 125 meters deep, it holds the record as the world's largest natural formation of its kind. Furthermore, it's a part of the Great Belize Barrier Reef System.
Giant stalactites, columns, and dripstone sheets can be found inside. Scientists believe these structures were formed in the glacial periods when the cave was once a part of dry land. A detailed analysis of the stalactites shows that they were formed 153,000, 66,000, 60,000 and 15,000 years ago respectively. It's no wonder why the Great Blue Hole is listed as one of seven wonders of Belize's World Heritage Site.
If you're lucky enough to make it out here for a trip, you should take a full day adventure as offered by the coastal communities in Belize. This tour typically incorporates a dive in the Blue Hole and dive on Half Moon Wall too. This is one of our favorite places on the planet.
3. Barracuda Point, Sipadan Island, Malaysia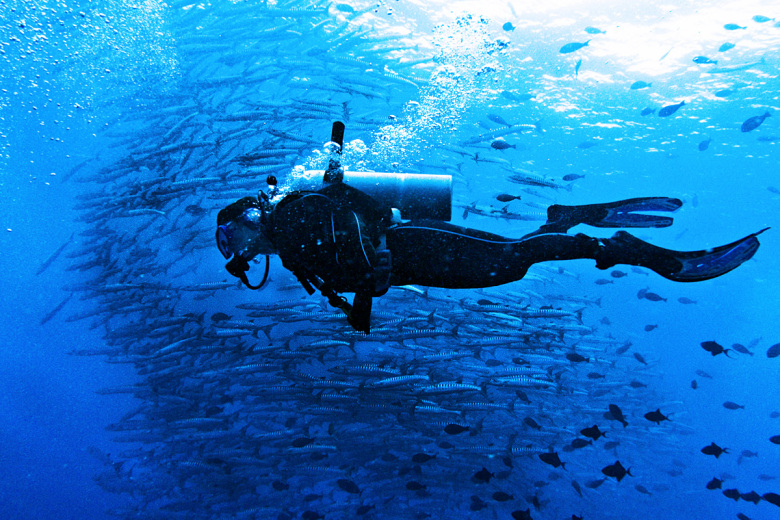 Travel far off to the extreme southwestern corner of the Pacific Ocean. Near Borneo, you will find the diver's paradise. It's called barracuda point for a reason. Here, the waters are teeming with these silver ray-finned fish, swimming in cyclone patterns. In other areas, you will find plenty of green turtles and reef shark.
Since Sipadan Island, Malaysia is a protected site, make sure that you contact a local dive shop before planning your travel. You will want to make sure you are abiding by any restrictions the local government has set up to preserve the integrity of the ecosystem. For the best scuba diving in the world, Sipadan is the place to be.
4. Darwin's Arch (El Arco), Galápagos, Ecuador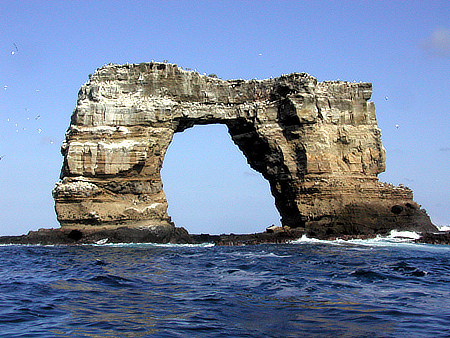 A spectacular rock arch rising out of the ocean, Darwin's marks the spot for the best scuba diving in the world. You'll find it located off the northernmost island in the Galapagos Archipelago. The remote location and lack of public access mean that this dive site is only accessible via a liveaboard. From here it gets even trickier.
There's also no predetermined entry or exit point. Since the currents here can be unpredictable, to say the least, there's a good chance that your guide will likely wait at the site to confirm the plan. This could take a good amount of time. Most of the time, you will find yourself dropping in just south of "the arch" in a protected shallow region. Here, there usually isn't much of a current but there is definitely somewhat of a surge. Make sure you bring a good underwater camera. This is where you'll find sea lions, turtles, hammerheads, and the majestic whale sharks.
After you've calmed down from the initial nerves and excitement, your guide will lead you down a descent of large boulders to a sharp ledge. The best time to visit is during the warm or rainy season (from January to May). During this time, dives go considerably deeper (around 80 to 100 feet) to maximize visibility. Prepare yourself for a whole world of excitement. The guides in the Galapagos know how to scope out all the best spots to scope out schools of hammerheads and passing whale sharks.
5. Ras Mohammed National Park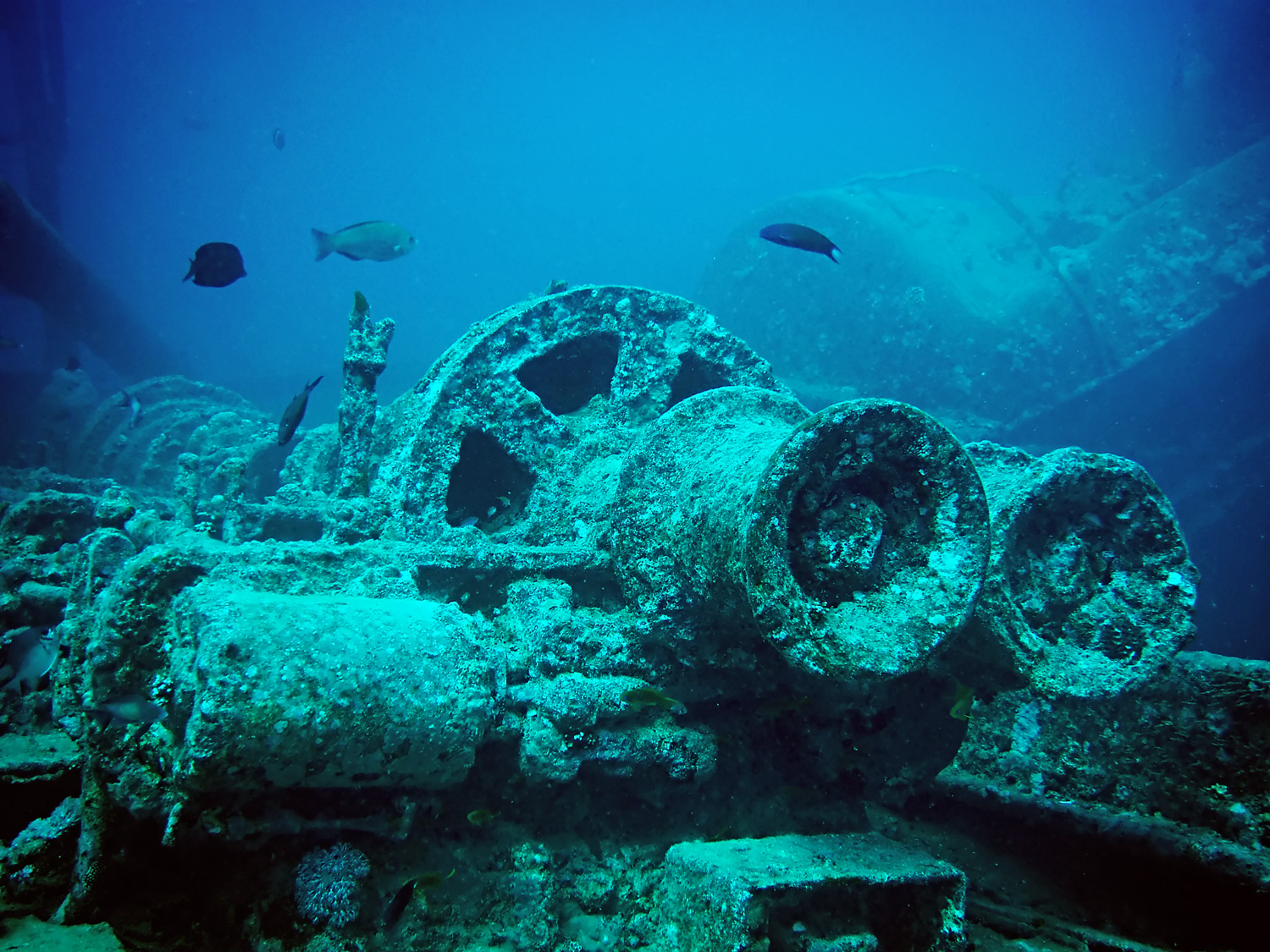 It's easy to forget that not all of the national parks are on land. Ras Mohammed offers some of the best scuba diving in the world. Wind your way through an Egyptian canal of cliffs and reefs with barracuda and blacktip sharks. One of the main attractions for adventurers is the chance to explore the shipwreck of the SS Thistlegorm, a British navy merchant ship bombed by Germans during WWII. While the ship's 419-foot hull is certainly impressive, it's the scattered weapons, motorcycles, and armored vehicles on the ocean floor that really are a sight to behold.
6. John Pennekamp Coral Reef State Park, Key Largo, Florida
Some of the best scuba diving in the world can be done just a few hours off the coast of Miami. Make your way down to Key Largo for some of the most amazing key lime pie and adventures you've ever had. When it comes to diving, snorkeling, and underwater exploration, John Pennekamp Coral Reef State Park is the place to be.
Reserve a tour in advance of your trip. When you arrive, check in to the location, rent your gear, and they'll give you directions on how to get to there. Here's a pro tip: Invest in underwater housing for your DSLR or a GoPro before you go.
Don't fall for the underwater camera bag trick. The bag will fog up underwater and you won't be able to get clear photos of all the gorgeous marine life. It's also very difficult to push the buttons on your phone to take a picture underwater due to the pressure of the ocean. Take it from us. Don't be cheap. It's worth it to spend a little more on gear here. The snorkel or scuba diving gear will be provided to you by your tour company.
While visiting John Pennekamp Coral Reef State Park, make sure to see the underwater Christ of the Deep Statue. This barnacle-ridden statue of Jesus stands around eighteen feet tall in twenty-five feet of water. Make sure this is one of the stops you take on your snorkel tour before booking. It is definitely worth it. Here's a heads up though. It's a popular spot – like a really popular spot. Sometimes, there are so many boats docking to the surrounding buoys that there is no place for your tour boat to dock and you to get off and swim. Make sure it's not too crowded of a day.
7. Cenote Aktun (Car Wash), Tulum, Mexico
We're completely captivated by the beauty and history of Mexico's cenotes. Did you know that the Mayans believed these underwater caverns were portals to the underworld? Often used for human sacrifice and burials, remains of civilizations and skeletons of the past can be found at the bottom of these waters. Below the surface, stalagmites and floors laden with tree roots and lily pads make for an unreal diving experience.
8. Gili Meno, Indonesia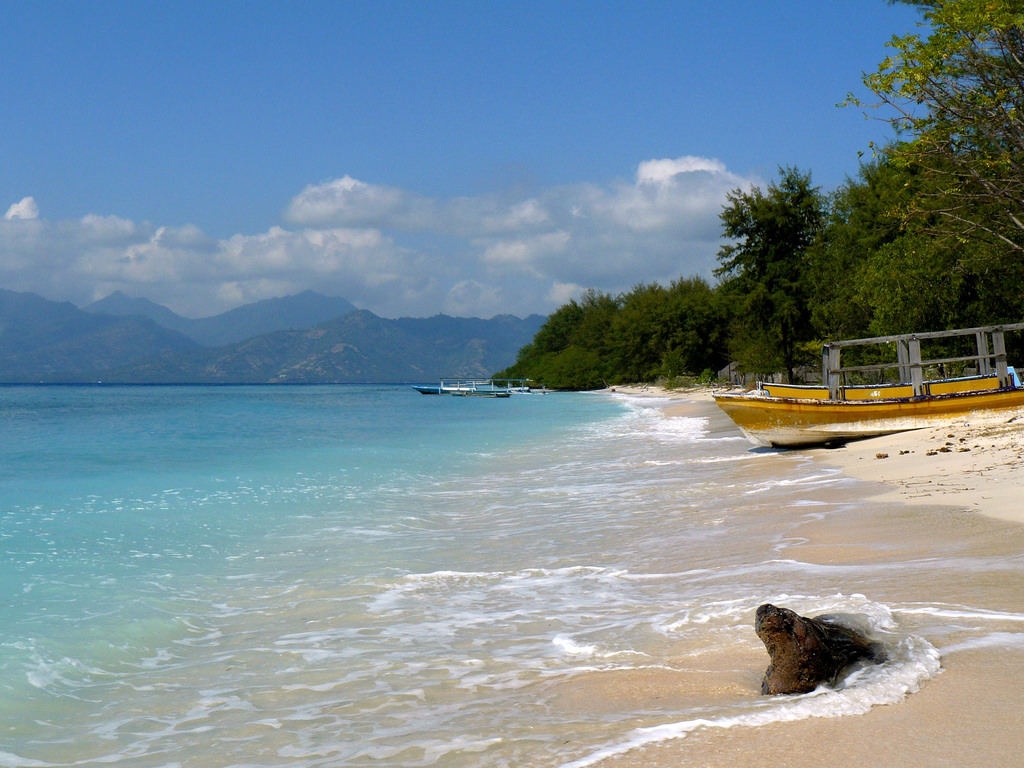 If you follow travel pages on Instagram, we're sure you've seen pictures of the haunting underwater statues in Gili Meno. This island between Bali and Lombok offers 48 life size figures standing together in a circle, covered in coral. These works of art were created by Jason DeCaires Taylor, a well-known sculptor of underwater exhibits. You can find some of his work scattered throughout the Caribbean, Canary Islands, and even in the Thames River in Britain.
The man-made reef of Gili Meno is something special. While it seems like it should be in a remote location at least ten miles off the coast, it's surprisingly easy to get to. Vacationers, you're in luck. It's within swimming distance of the soon-to-be-completed 2019 resort BASK Gili Meno. While the island itself only has a population of about 500 people, it is famous for its turtle population and rare ecosystem. These sculptures help to cultivate a healthy marine life. Made from a PH-neutral environmental-grade concrete, it is set to become a home for coral reefs and grow over time.
While the art installation is beautiful, its intent is to complement the marine space. Even the circular formation of the figures is symbolic of the circle of life. First, soft corals and sponges make their way into their new home. Shortly after, hard coral will follow, forming into a fully established reef. With forty percent of the world's coral reefs damaged, Taylor's hope is that this piece will remind people to take care of the planet.
9. Silfra Fissure, Thingvellir National Park, Iceland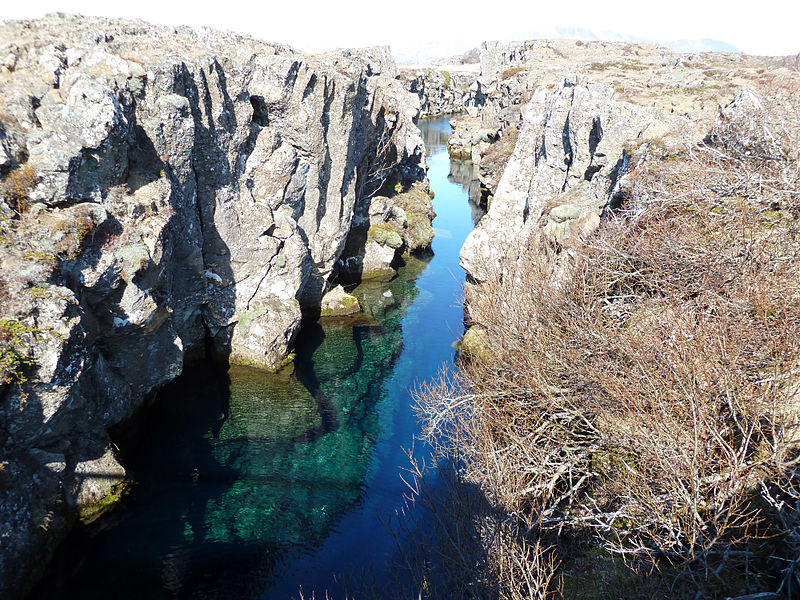 You would never think Iceland is home to the best scuba diving in the world. But here we are. Silfra is the result of a fissure in the tectonic boundary between the North American and Eurasian plates. This split is the result of the earthquakes of 1789 in the Thingvellir area.
Today, it is home to some of the clearest water on earth. When the fissure broke, it cut into the underground spring of glacial meltwater from the nearby Langjokull River. This water is filtered for some 30 – 100 years before reaching the spring feeding into Silfra. By the time the water reaches the northern end of the Thingvellir Lake, it allows for visibility over 100 meters.
Since Silfra is the very crux of the site between the tectonic plates, it is considered a "living" dive site, constantly undergoing change. As the fissure widens incrementally, drastic changes to its profile occur. Boulders and rocks fall into the cracks. The shifting earth gives way to new tunnels, caverns, and terrain. Think of this national park as a giant playground with ever-growing opportunities for adventure.
Book Your Adventure to Experience the Best Scuba Diving in the World
What are you waiting for? Adventure is just around the corner. Whether you're a novice or seasoned professional, there are so many amazing sites around the world where you can enjoy the wonder of diving. One of our favorite things about exploring new scuba diving sites is to get up close with rare kinds of marine life and learn about environmental conservation along the way.
Artists like Jason DeCaires Taylor are at the forefront of using unique artistic methods to preserve the planet and we are excited to see where else his works will lead. Which one of the sites on our list would you like to visit the most? Let us know in the comment section below.
Related Article: Best Dive Watches: 6 Stellar Options For Underwater Excursions