Enjoy clean drinking water on the go with the RUNACC Water Filter Camping Straw. 
If you haven't used RUNACC's travel tools before, you are really missing out. And if you don't know how to use a water filter when you're in the woods, it's time to learn. The RUNACC Water Filter Camping Straw can safely filter up to 2,000 liters of water with three different filtration stages. When you're on the go and exploring the great outdoors, having clean drinking water is critical. This travel tool helps to eliminate harmful contaminants like bacteria, heavy metal ions, harmful organic compounds, and other contaminants.  
In the event of an emergency or natural disaster, you can save yourself some stress with the RUNACC Water Filter Camping Straw.  You don't have to have a water collection or water storage handy. All you need to do is stick the straw in a body of fresh, unfiltered water and sip.
A Little About RUNACC
This dynamic brand is changing the way we think about drinking water on the go. Stop lugging around heavy gallon jugs. While it's important to stay hydrated on the go, you don't want to be weighed down when you're trekking with a heavy backpack through the backcountry. This is where the RUNACC Water Filter Camping Straw comes into play.
Why do we love RUNACC so much? It all starts with their brand philosophy. They just get it. Spending time in the great outdoors is so important. We all share those experiences that push us to be not only the best possible version of ourselves but also to invest in the best possible gear. This company started out as a backyard startup and has flourished into a global company with offices across three continents.
They understand that it's not just about engaging in sports and getting outdoors but it's also about having values and goals for the future. With this mindset, their gear features innovative designs that set the standard in numerous areas. You can count on them to deliver high-quality products that get the job done when you need it the most. More than that, they are a company of users. Because of this, their process of creation will never end. The company is dedicated to serving travelers all over the world.
RUNACC Water Filter Camping Straw Features & Benefits
A Great Filter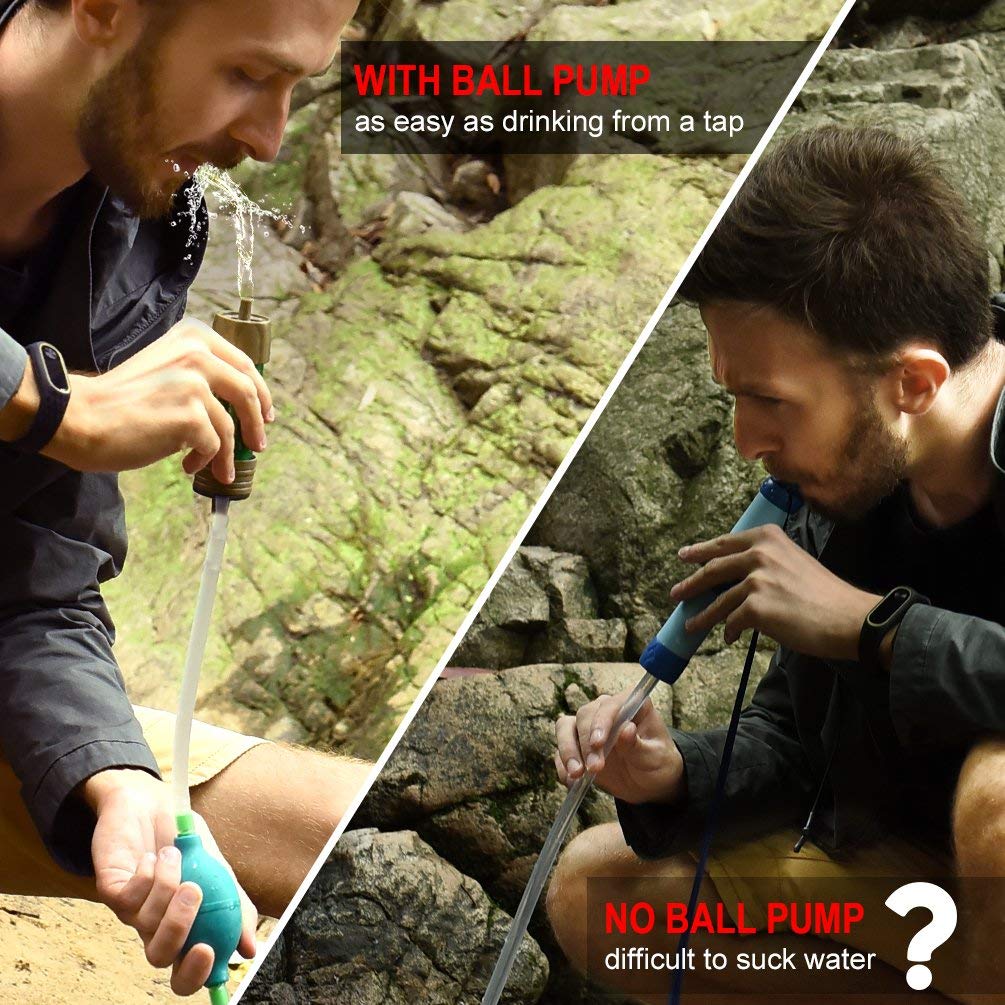 Credit: Amazon
When you're looking for outdoor hydration devices, you need to know your straw has a good filter. This is so important. Thanks to the purifier straw, this RUNACC Water Filter can kick out 99.99999% of harmful bacteria and contaminants. While the filter is small, it's mighty. So what exactly is in your water that the straw is filtering out? Well, Escherichia coli, Staphylococcus aureus, Salmonella typhi, Cholera bacteria, Legionella, and other pathogenic bacteria. Besides, the pre-filter effectively eliminates rust, silt and bloodworms are just a few.
The result is that you get water that is clear, refreshing, and good for your body. The RUNACC Water Filter Camping Straw is capable of filtering some 2,000 liters of natural fresh water without the use of any chemicals in the process. Simply stick your straw in a body of freshwater (e.g. lake, river, rainwater, etc.) and use it. It filters so much more than the average straw from competitor brands.
Squeezing Ball Pump for Filtration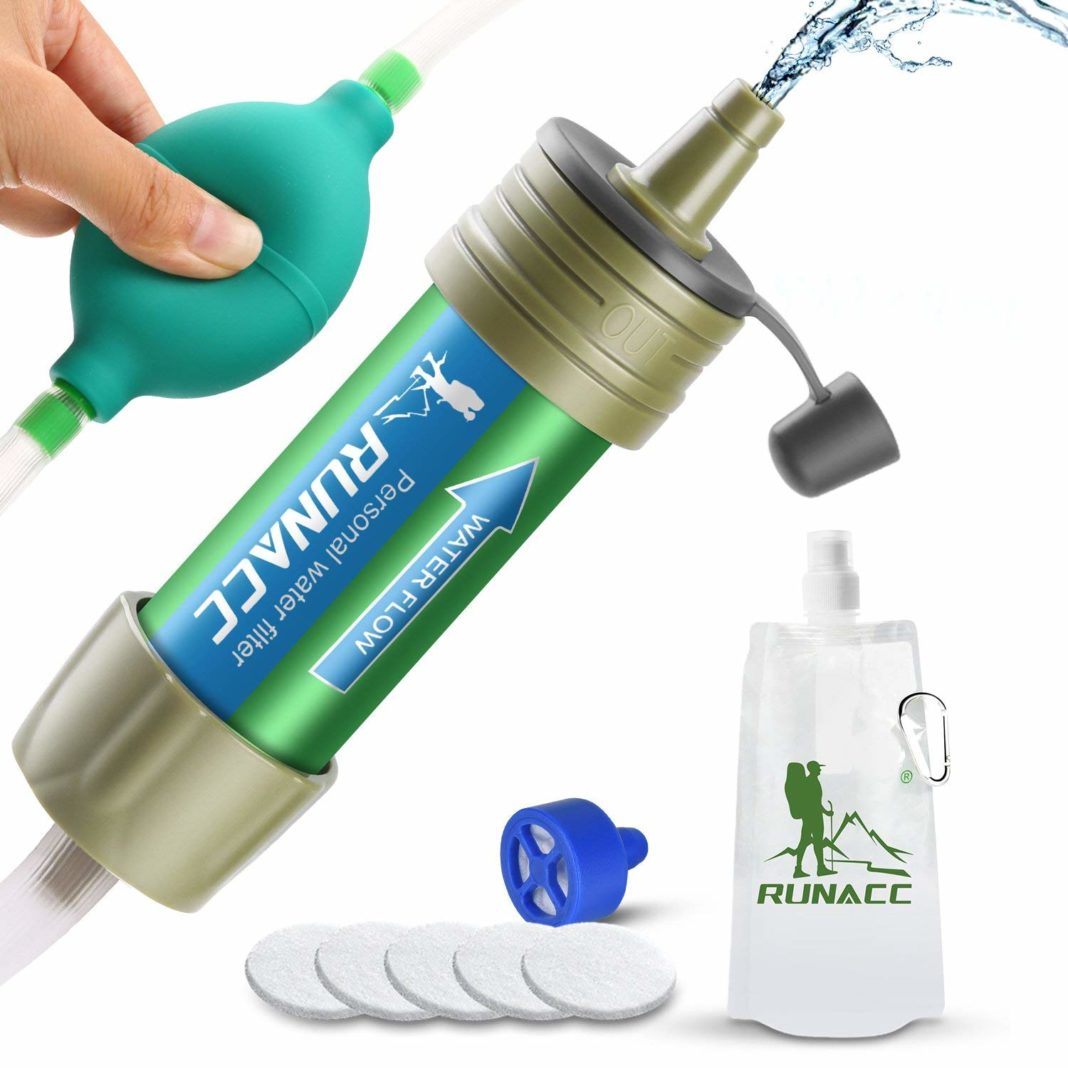 Credit: Amazon
The RUNACC Water Filter Camping Straw is a great choice for camping, hiking, fishing, backpacking, and more. Enjoy fast drinking and backflushing to extend the life of your clean water. Through the use of the ball pump, this filtration system make it easy for you to get clean water when you need it. The fast drinking capabilities and backflushing design come together to create a no-fuss drinking experience. This is particularly useful when you're going about outdoor activities and especially in the event of emergency use.
Safety Tested and Approved
Credit: Amazon
This design meets FDA requirements as well as a TUV and SGS test. Squeezing water up through the ball pump is faster than using a gravity-powered pump. You can attach the straw inline to a hydration pack, as the hose connector is built directly into a filter. Simply clip on the reusable squeeze pouch and drink from it directly. Drink directly from the river with a flow rate of 600 milliliters per minute.  
It Has a Wide Application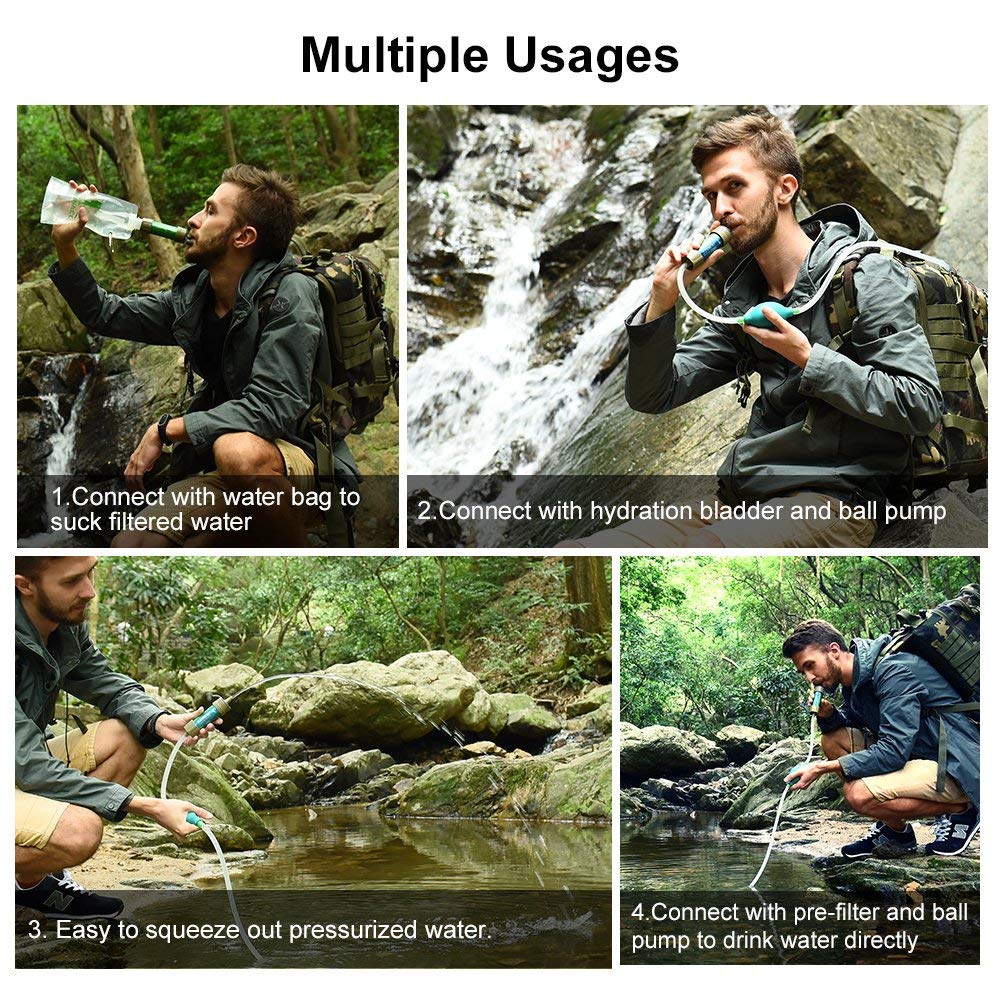 Credit: Amazon
One of the things that we appreciate the most about the RUNACC Water Filter Camping Straw is its wide application. You can use it in combination with a hydration bladder, water storage pouch, 28mm standard bottle, and more. It's the perfect travel accessory for hiking, camping, backpacking, and all the in between. The kit only weighs 10 ounces too so you won't be adding much weight to your pack.
Good Flow Rate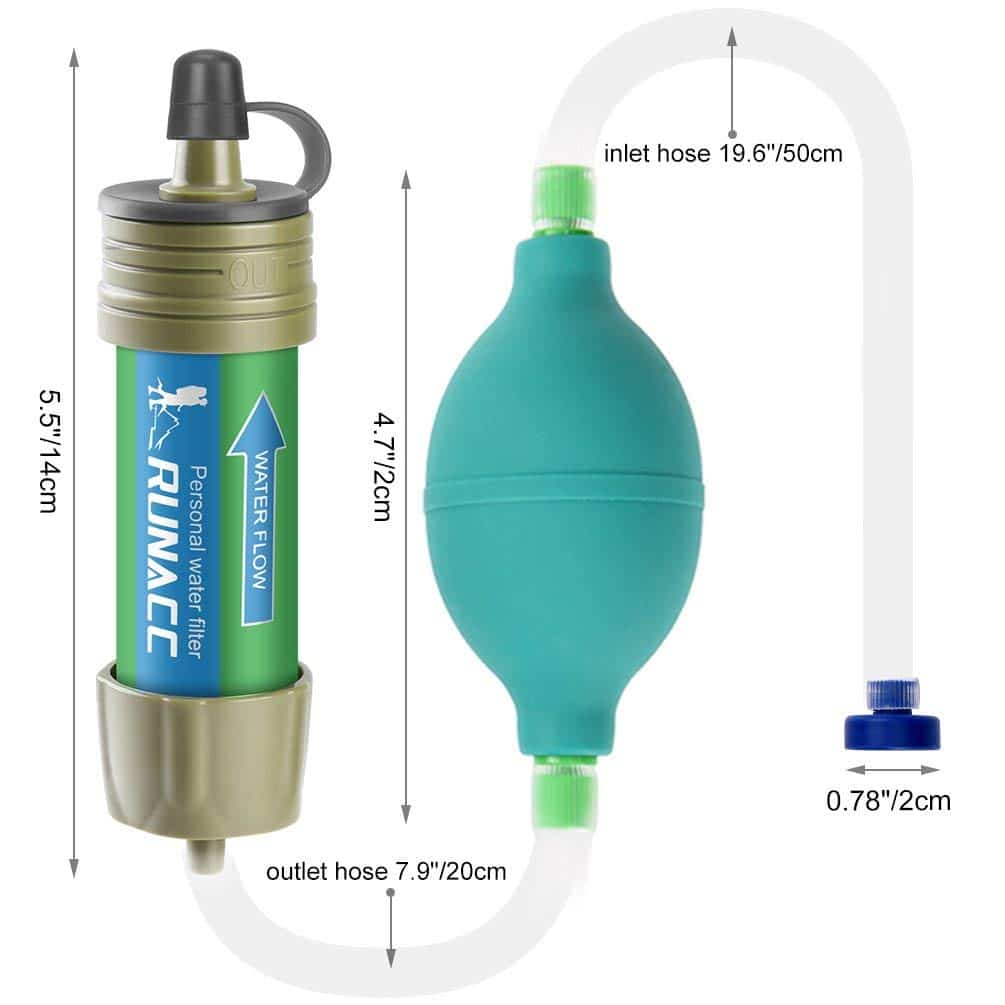 Credit: Amazon
Have you ever tried to squeeze water out of your bottle and barely anything comes out? When you're thirsty and tired after a hike, that can be frustrating. Luckily, the RUNACC Water Filter Camping Straw has a good flow rate. The fast drinking and backflushing design makes it easy to stay hydrated on the go and cool down when you need it the most. We can't overemphasize how important it is to have good, clean water to drink when you're in the wilderness. If you're sleeping in your car (aka going car camping), you'll find this is such a helpful accessory to have. You'll need to invest in a good tent too. Make a checklist. There are just some essentials you should keep in your car at all times. 
Tech Specs:
FDA tested and safety approved

Can filter up to 2,000 liters of water

Fast drinking and backflushing

check

Easy to use

check

Affordable

check

Removes 99.99999% of bacteria and other harmful contaminants
What Travelers Are Saying About the RUNACC Water Filter Camping Straw
You'll enjoy peace of mind when you're in the great outdoors. With 4.5/5 star rating, the RUNACC Water Filter Camping Straw speaks for itself. The most common appreciation among user's reviews is that they could rest easy knowing they would have clean drinking whatever wherever and whenever they need it. Most of the reviewers noted that on hiking trips and extended stays in developing nations, this straw came in particularly useful. It's also a popular travel accessory among missions trips and medical teams.
The RUNACC Water Filter Camping Straw has become synonymous with easy travel. If you want that peace of mind, then this is the filter for you. The ball pumping system is fast, convenient, and easy to use. You can also rest easy knowing that you can pump up to 2,000 liters of fresh water with this device before it needs to be replaced. We did not find any user complaints. The best part about using this travel device is that it is lightweight and easily portable. All in all, it weighs in at only ten ounces. For only $20.98, you'll be hard-pressed to find a better deal than this one.
Another Alternative Portable Water Filter You May Like: the Etekcity Water Filter Straw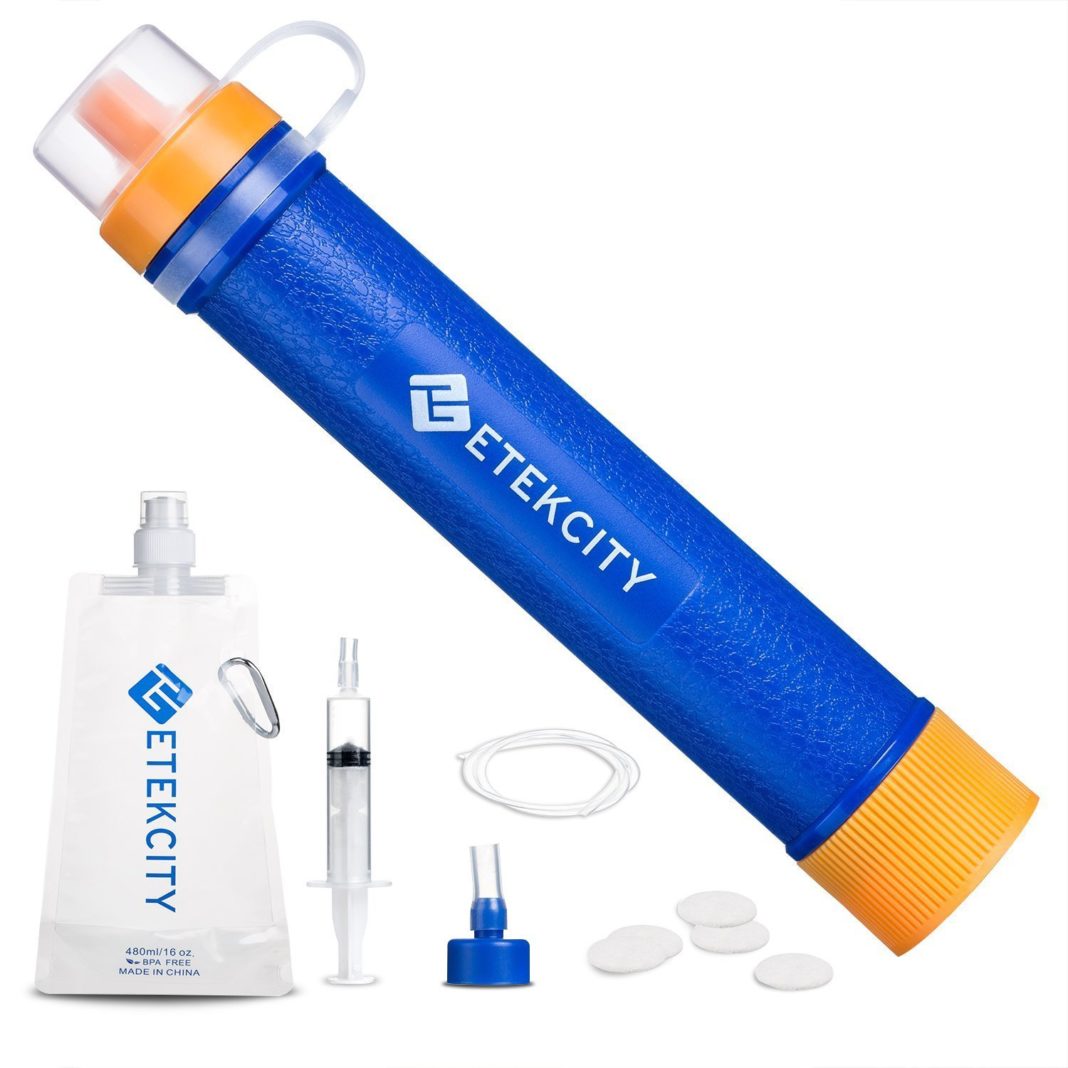 Here is another great portable water filter. Etekcity is a brand you can count on. If you're a thorough, conscientious person, you'll appreciate their three different filtration stages. Enjoy clean drinking water whenever you need it. This water filter straw from Etekcity can filter up to 1,500 liters of water. The first filtration stage eliminates contaminants like bacteria, metal ions, chlorine, and other pollutants. This is one of the best travel accessories for safe, drinkable water. There's no need to go thirsty. Just stick the straw in a body of fresh water and sip.
Access clean drinking water by taking it directly from the source. All you have to do is attached the pre-filter and extension tube to the purifier. Then, take a sip. When you're on the move, this 16-ounce water pouch can also be used as a hydration pack. Just clip it to your bag for easy access. Once you've drunk your fill, fill up the cleaning syringe with clean water to wash it out. This will not only keep the purifier ready for next time but also extend its lifetime.
Do you want to know more about the stages? The three stages of filtration are pre-filter, carbon filter, and micron hollow fiber membrane. First, the pre-filter removes any silt worms, rust, or large contaminants from the drinking source. Next, the carbon filter removes contaminants such as chlorine, heavy metal ions, and more potential carcinogens. Lastly, the hollow fiber UF membrane filters particles. It captures more than 99.9999% of bacteria, mold, protozoa, and more, leaving you with clean drinking water.
Tech Specs:
Advanced 3-stage filtration system

EPA Water Quality Standards tested

Comes with foldable 16 oz water pouch for collecting water

check

Small and lightweight

check

Provides up to 1,500 liters of safe drinking water

check

Easy to use and clean
Invest in the RUNACC Water Filter Camping Straw for Your Next Outdoor Adventure
We hope you enjoyed reading our review of the RUNACC Water Filter Camping Straw Filtration System and alternate filter. Now that you know about portable water filters and their features, you'll have a much easier time picking the right one you need. Good gear makes all the difference when you're exploring the great outdoors.
Bringing portable water filtration systems takes a lot of stress out of travel. You won't have to worry about lugging a heavy water jug or whether you'll get sick from drinking water somewhere. The filters we recommended are not only trustworthy but they are also affordable and easy to use. Whatever style of water filter you decide to buy, you will enjoy peace of mind knowing you will always have access to clean, fresh drinking water. Do you have a favorite portable water filter that isn't listed here? Let us know. We're always on the lookout for new, top-notch gear.
Related Article: 7 Best Portable Water Filters For Your Outdoor Adventures