Could the Etekcity Water Filter Straw be the best tool in your hiking bag?
Imagine, going out into the wild, dipping your water bottle into a stream, and then just like that, you have clean water. Well now, thanks to innovative travel gear, all that is more than possible. The world of hiking just keeps getting better and better. With new innovations and hiking gear coming out each season, there has never been a better time to go out and explore the wilderness. Today, we are going to take a look at one of the neatest tools that every hiker should have in their hiking bag. This tool is the Etekcity Water Filter Straw. This portable and packable straw has completely changed the game of hiking. Don't stress about how to make your own water filter to avoid drinking contaminated H2O. When you travel with this lightweight, portable straw, gone will be the days of figuring out how to pack along clean water. Let's take a look at all the neat things the Etekcity Water Filter Straw has to offer.
A Little About Etekcity
Etekcity is an online e-commerce retailer that was designed to make your life flow a lot more efficiently. You may have heard about Etekcity. And chances are if you have, you it is probably only good things that you have heard. Etekcity specializes in consumer sales that range from home improvement, electronic equipment, and outdoor gear. The central vision that Etekcity stands behind is the vision of creating the right tools for consumers so that their customers can experience what it means to live a better, more efficient life.
What makes Etekcity one of the most popular companies on the rise is the fact that they take a unique approach to the products they provide. Many of the products they provide might be better described as "gadgets." Each gadget offered has a unique way of enhancing your life and letting you experience the world in whole new light. One such gadget is the Etekcity Water Filter Straw which we will talk about in a detailed review.
One facet of Etekcity that the company prides itself on is their elite customer service. Not only does Etekcity have an incredibly user-friendly website that draws in thousands of customers, but they are so personable. Etekcity prides itself in having a strong support staff that is readily available if a customer needs to speak with someone. Not only that, but Etekcity has all the awesomeness of Amazon Prime without the label. The brand does a stellar job providing quality products that are shipped out and delivered in no time at all.
If you are ever looking to expand the products in your life, then it is worth visiting the Etekcity website. Browse through the eclectic range of product that they have available. Not only that, but you will get the opportunity to see what makes Etekcity one of the best home (and life) improvement companies that every consumer needs to experience at least once in their life. Now, without further ado, let's get started on our in depth review of one of their latest products that has been making a splash (literally); the Etekcity Water Filter Straw.
Etekcity Water Filter Straw Features & Benefits
For those who do not know, water filters have recently expanded in the way they are accessible to the public now. One of the neatest ways water filters have evolved is in the way consumers can use them. One way the travel world has benefited from the evolution of water filters is through portable water filters. Specifically, those that were designed to mimic straws. The Etekcity Water Filter Straw is essentially a portable straw that allows you to have access to clean water wherever it is that you go. Let's dive into all the features and benefits that make this one of the neatest tools to pack along on all your hiking adventures.
1. Portability and Practicality
When it comes to the overall size of the Etekcity Water Filter Straw, it is without a doubt one of the most portable things you can pack with you on your hiking adventures. While there are several portable drinking straws out on the market right now, the Etekcity Water Filter Straw is one of the best when it comes to the competition. One reason this is so is because of its size. It is neither too big nor too small. The size makes the Etekcity Water Filter Straw a great option to pack along if you are in need of saving space in your travel bag.
When it comes to the practicality of this product, this is a gadget that you will absolutely want to pack along. You do not have to worry about carrying around jugs of purified water with you. The Etekcity Water Filter Straw will literally provide you with clean water for as long as you have access to water. In hiking adventures that span days or weeks, this tool can essentially be a life saver.
2. Tech Specks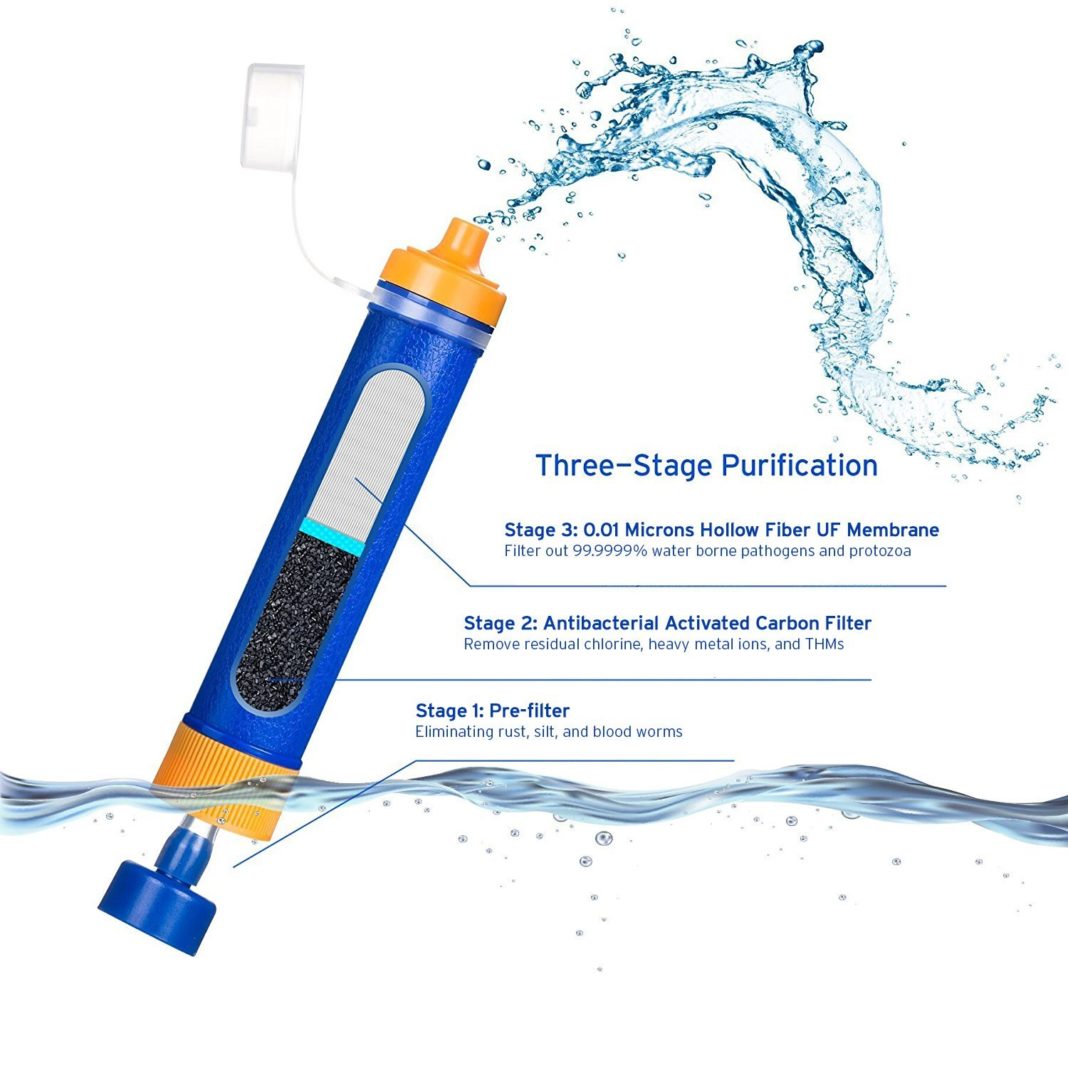 Essentially, the Etekcity Water Filter Straw is a three-stage portable water filtration system. Here is a detailed explanation of what each filtration stage has to offer.
Stage 1: Pre-Filter
The first stage of filtration is essentially the first contact you will make with water when you are getting ready to purify it. There is a prefilter attachment that easily goes on your personal water purifier. This attachment will help remove rust, debris, silt, worms, and other large contaminates when you are getting ready to take your first drink of naturally sourced water.
Stage 2: Carbon Filter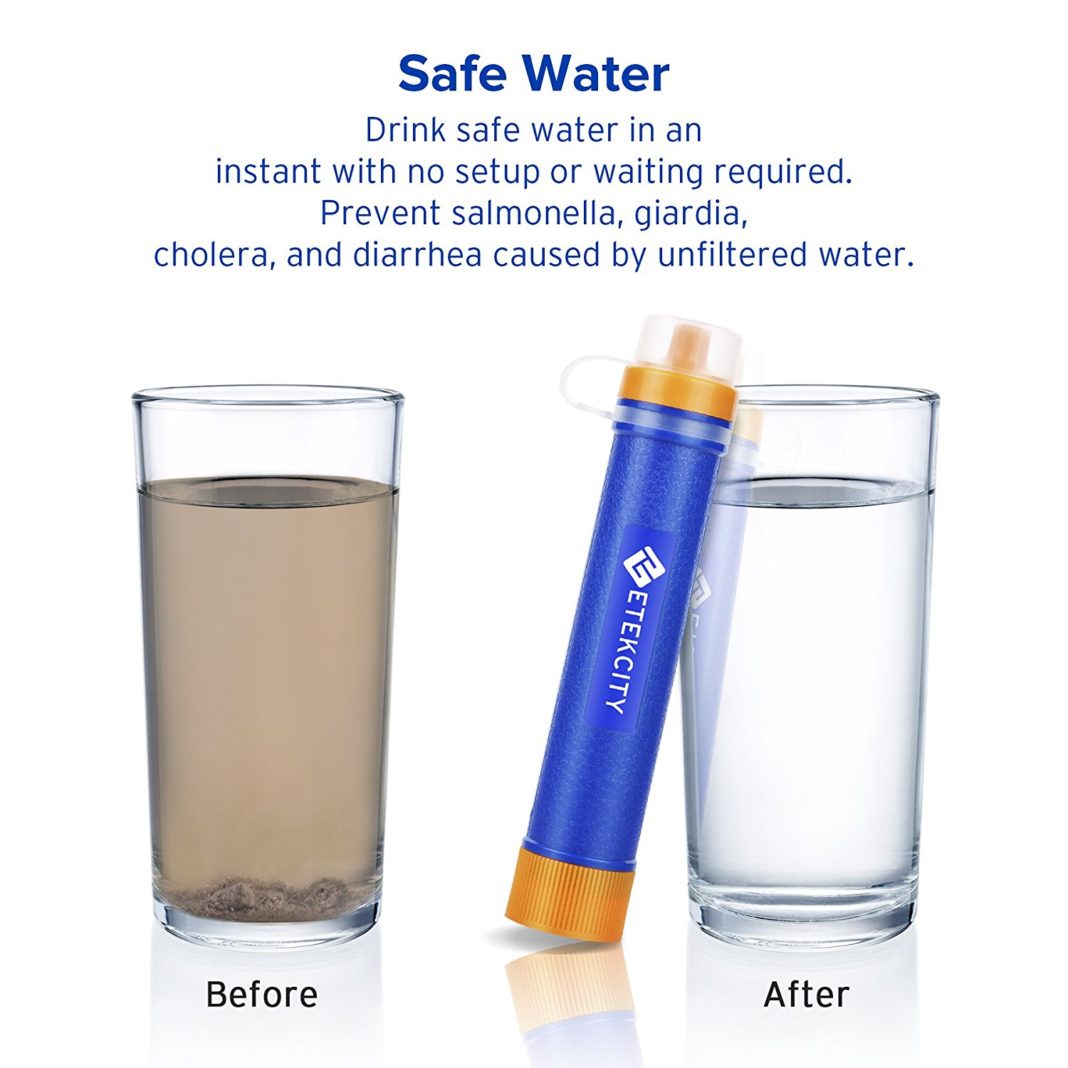 Your next line of defense is the stage two water filtration process This stage consists of an activated carbon that helps further purify the water that you will be getting ready to drink out of. The carbon filtration system works to remove contaminants such as chlorine, heavy metal ions, and trihalomethanes (THM's). Not only that, but the carbon filter is used as an overall method to disinfect the water from any other contaminants. You can expect a lot of the magic to happen in this stage of the filtration system.
Stage 3: 0.01 Micron Hollow Fiber UF Membrane
The final stage of filtration takes place in stage three of the filtration system. The final process of filtration includes an advanced hollow fiber UF membrane that continues to filter particles that are as tiny as 0.01 microns. Not only that, but this micron hollow fiber UF membrane is essential in capturing 99.9999% of waterborne viruses and bacteria. Some of these include mold, protozoa, and other volatile organic compounds that are responsible for giving life to deadly diseases. This final filtration system is what ensures that you are getting crystal clear drinking water every time. This is essential to staying properly hydrated when you are out and about on your hiking travels.
3. Durability
Because the Etekcity Water Filter Straw is so portable, this contributes to several reasons for why it is so durable. For starters, unlike many portable water filtration straws, the Etekcity Water Filter Straw can filter a lot. In fact, it can impressively filter up to 1500 liters of safe drinking water. This is regardless of whether or not the water you are filtering comes from a stream, creek, or is clean or dirty. The Etekcity Water Filter Straw will filter it all with a breeze.
4. Safety Standards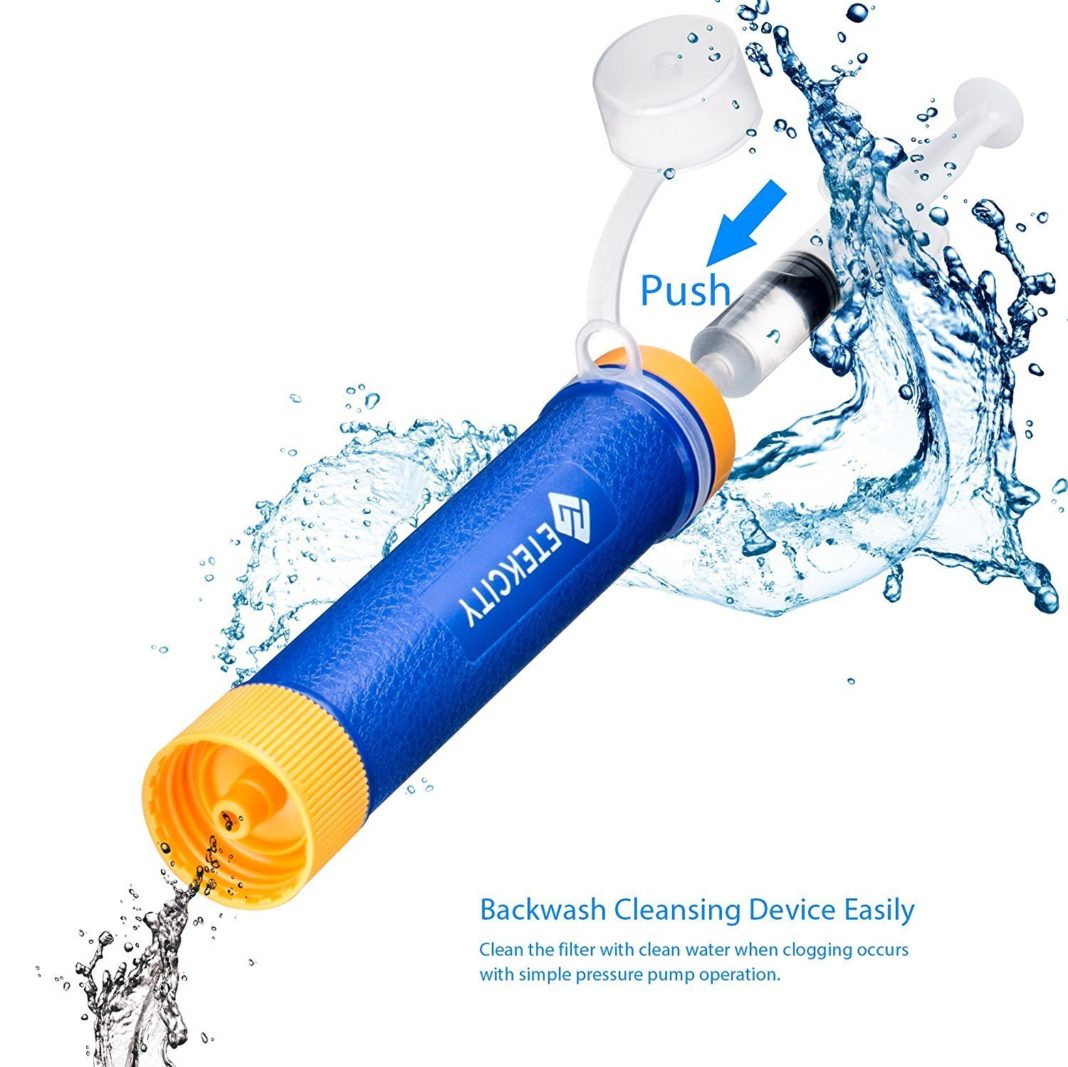 The Etekcity Water Filter Straw has been tested by the TüV SüD Institute to meet all the safety needs that you would expect out of a portable water filter that is on the market. Not only that, but the EPA has taken note of this product as well. The EPA ruled that the filtered water the Etekcity Water Filter Straw produces meets the EPA water quality standards. Finally, the FDA's Food Contact Test also gives its seal of approval.
Along with these impressive safety features, there is a tip that many hikers who have used this product suggest. When you open the product and assemble it for first use, you will not want to drink the first sip you get. Instead, spit out, or push back out the first couple of ounces of water that you collect. If you drink out of it the first time that you use it, you will likely taste some of the activated charcoal that is located in the filtration system. While this charcoal is not harmful, it can leave a rather unpleasant taste in your mouth.
5. Accessories
When you purchase an Etekcity Water Filter Straw, there are some handy accessories that come with it. For starters, you will get a 16 oz foldable water pouch. This pouch is great if you are looking for a way to carry around water with you after you have located a drinking source. Not only that, but you will get an extension tube too. The extension tube attaches itself directly to the straw. It also makes it easy for you to reach water that is located in far to reach places. Finally, the Etekcity Water Filter Straw comes with a backwash deceive and pre-filter as well. These accessories are especially handy so that you can keep your filter clean and clog-free. Not only that but when you keep up with the maintenance of your filter, you will be able to extend the life of it.
6. Essential Survival Gadget
If you are an extreme hiker, then this is one of the most essential hiking tools that you will need to bring along on your journeys. With the Etekcity Water Filter Straw, you do not have to worry about creating your own water filter from scratch. Travel with the comfort of knowing that you have a portable water filter with you wherever you go.
Having access to clean water and staying hydrated are crucial to having a successful adventure. Whether you are a hiker, camper, hunter, or fisherman, the Etekcity Water Filter Straw can come in handy in a variety of situations. Finally, we love that this essential hiking gadget can fit comfortably in any first aid kit. This makes carrying your Etekcity Water Filter Straw around an absolute breeze.
What Travelers Are Saying About the Etekcity Water Filter Straw
Travelers who have purchased the Etekcity Water Filter Straw are absolutely impressed with the product. When compared to its competition, the Etekcity Water Filter Straw can certainly hold its own. In fact, travelers love that the Etekcity Water Filter Straw can filter so much water. You can invest in a sound product and not have to worry about replacing it.
It is recommended that you replace the Etekcity Water Filter Straw one year after you take your first drink with it. However, with proper maintenance, you can extend its life so that it reaches that one year mark with ease. Because it is made with the carbon filter, however, there are some things to keep in mind. Safety standards recommend that you swap out your filter for a new one once you reach the one year mark.
Finally, one of the selling points that customers are absolutely impressed is its practicality. The fact of the matter is that this is the perfect tool to have with you in case of an emergency. Whether it is drinking clean water or needing purified water to wash off a scrape or cut. The Etekcity Water Filter Straw has proven to be nifty in times of need.
Alternative Portable Water Filters You May Like
If you are not completely impressed with the Etekcity Water Filter Straw, then we have some other awesome products that you should try out for size. These products will make your rugged outdoor experiences that much more comfortable. Try out some of these gadgets for size to see if there is a product that is a better fit for your needs.
1. LifeStraw Personal Water Filter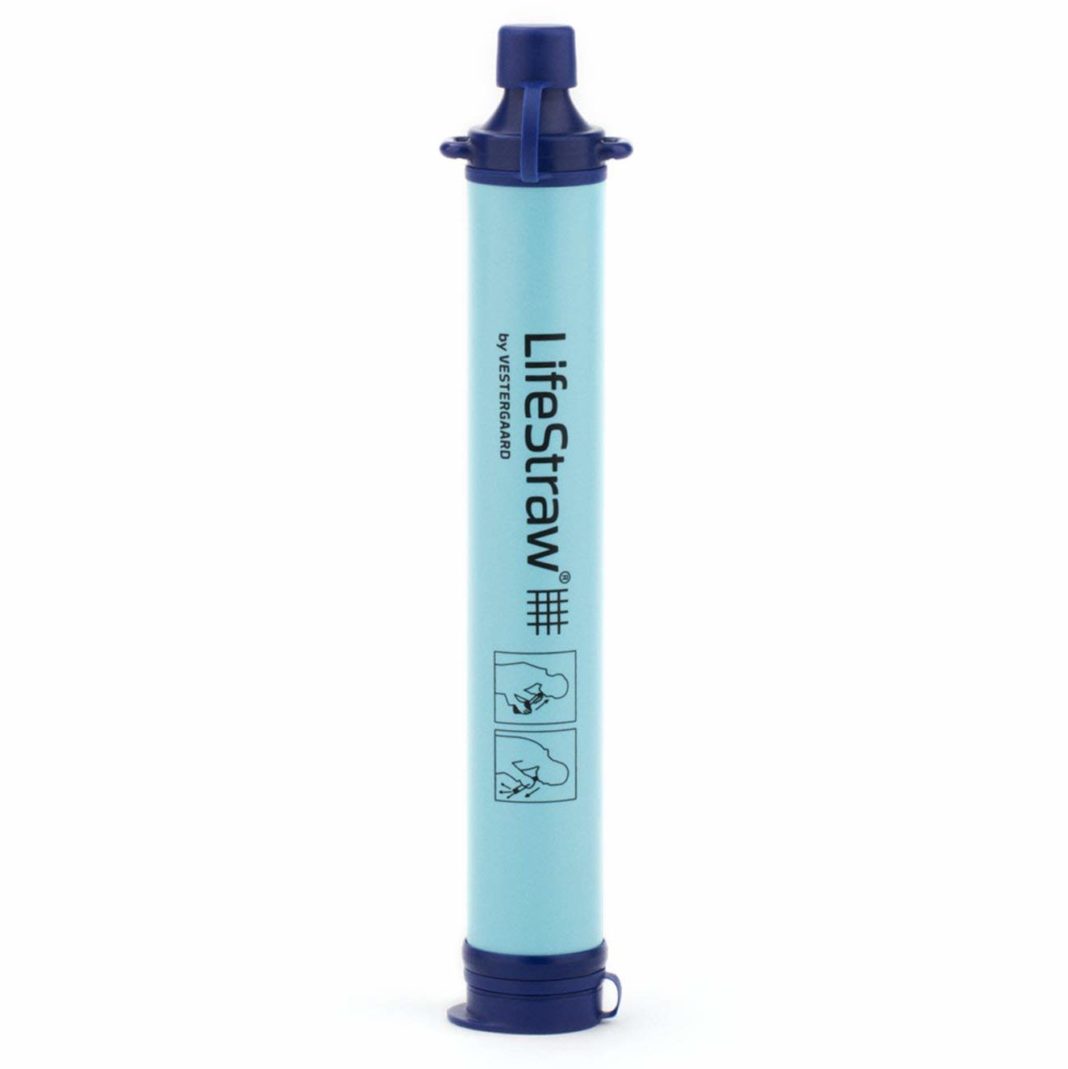 The LifeStraw Personal Water Filter is one of the original personal water filtration systems out there. This convenient water filtration system has a specially designed microfiltration membrane that removes 99.9999% of waterborne bacteria. Along with this, the LifeStraw personal water filtration system gets rid of e-coli and salmonella. There are plenty of other severe waterborne parasites it gets rid of as well. Not only that but this personal water filtration system has the capabilities of removing micro plastics down to 1 micron as well.
When it comes to testing the standards of this filtration system, it passes with flying colors. It has undergone rigorous testing in laboratories by adhering to the standard testing protocols. These are the same protocols that were put in place by the US EPA, NSF, and ASTM. When you invest in the LifeStraw, you can expect to have this product around for a long lifetime. The microbiological filter provides 100,000 liters of clean and safe drinking water. This is over 1,000 gallons of water. Now, of course, you can only reach this limit if you properly maintain and look after your filter.
One of the best features of purchasing this product will make you smile. This feature is the fact that LifeStraw believes in everything the product stands for. When you purchase a LifeStraw product, you essentially give back. Every product sold ensures a school child in need will receive safe drinking water for an entire school year. For a fabulous product that truly gives back to the community, the LifeStraw is a great option to go with.
2. Sawyer Products Mini Water Filtration System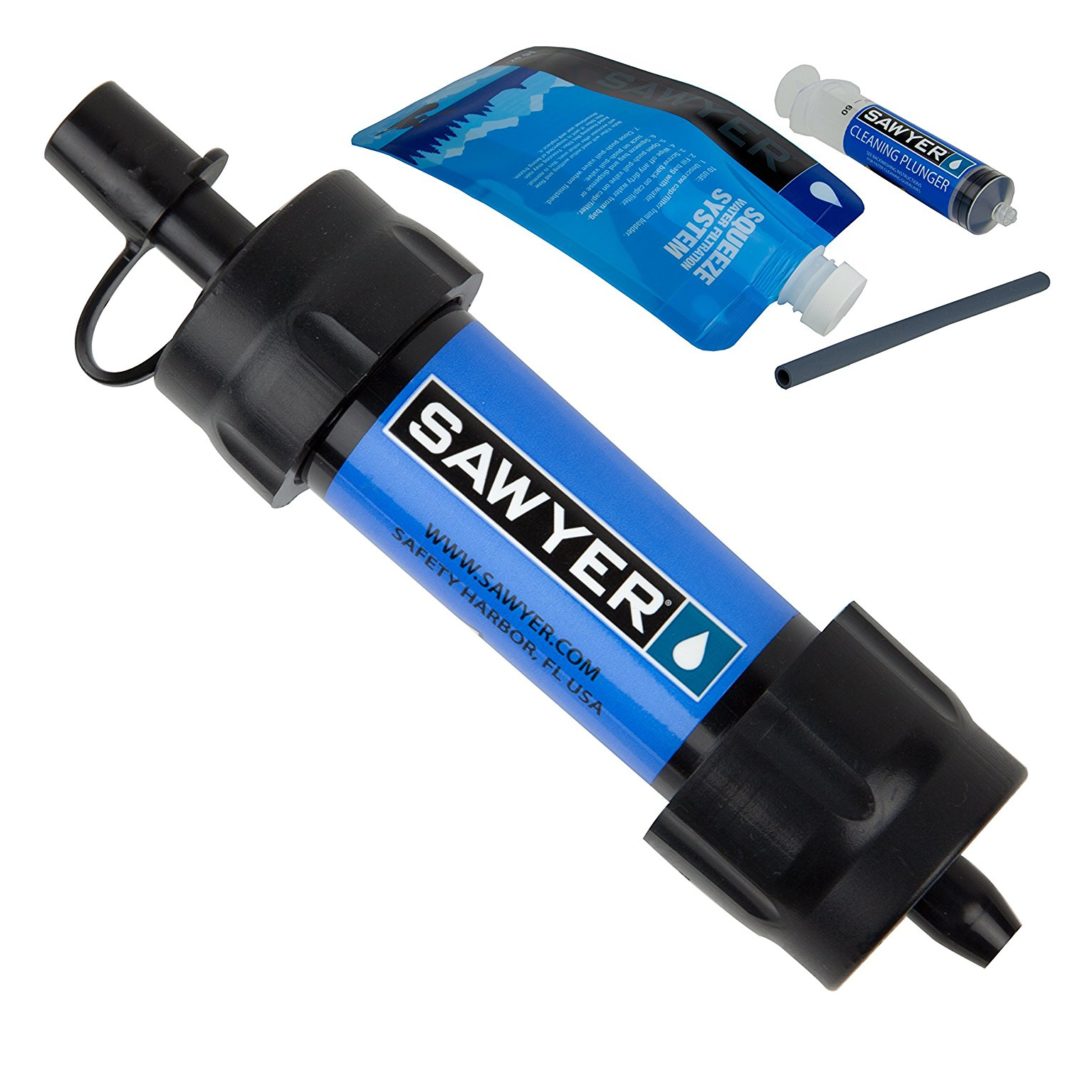 The Sawyer Products company is known for making optimal quality hiking products. One of these products is the Sawyer Mini Water Filtration System. This water filtration system is perfect for outdoor activities such as hiking, camping, scouting, as well as domestic and international travel. This high performance filter meets the standards of everything you would expect from a water filter. This water filter uses a micron absolute hollow fiber membrane inline filter to give you the cleanest drinking water possible.
The Sawyer portable water filter will remove 99.9999% percent of all bacteria. Such bacterias include salmonella, cholera, and e-coli. Not only that, but it can remove other harmful agents such as giardia and cryptosporidium. This quality product will filter up to 100,000 gallons of water. When you purchase this product you can look forward to your purchase coming with several accessories. Some of these accessories include two Sawyer mini filters, two 16 oz reusable squeeze pouches, and two 7 inch drinking straws. Your product will also come with two cleaning plungers that will help maintain the life of your Sawyer portable mini water filtration system.
3. Ultralight Water Purifier by GRAYL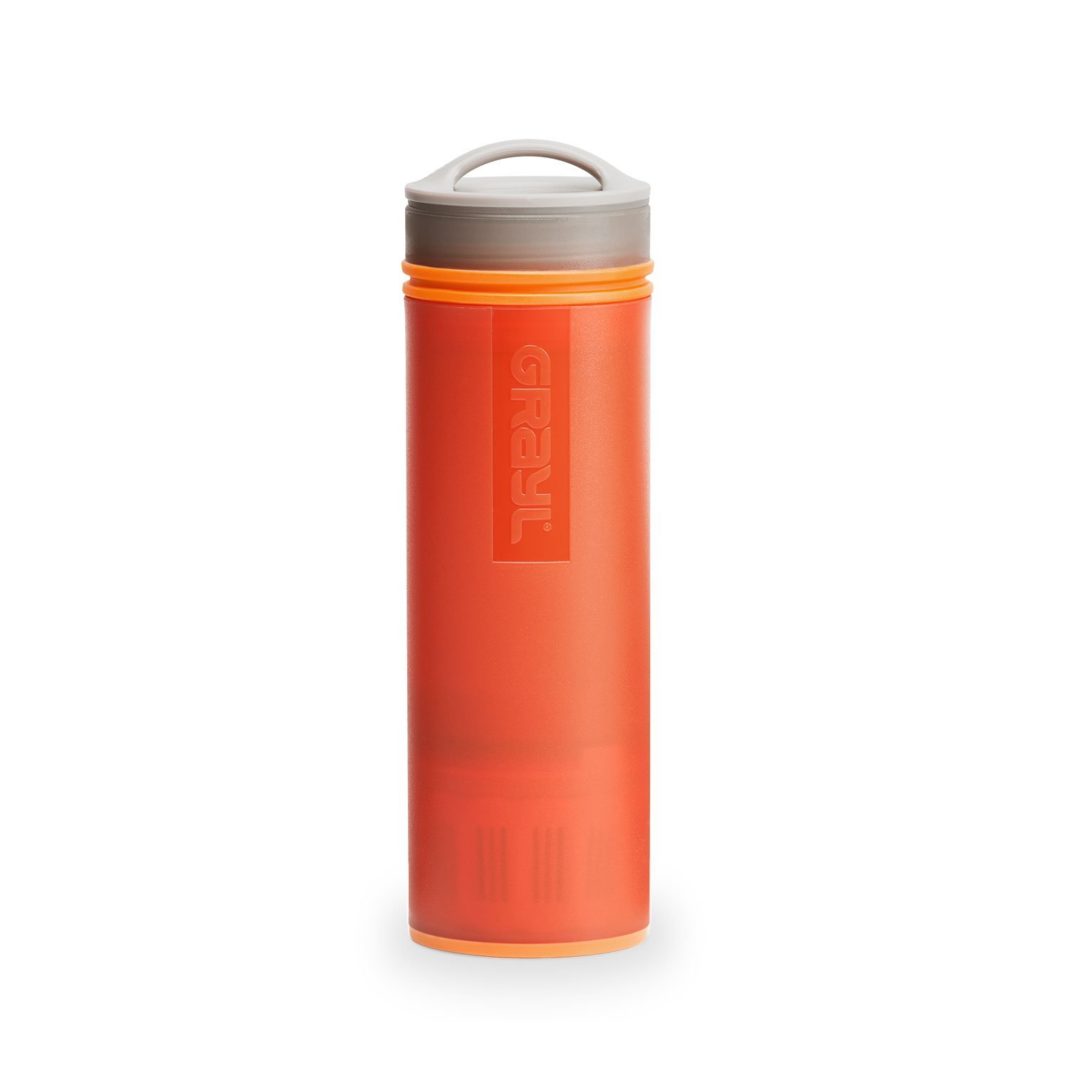 If you are not a big fan of the straws and are looking for more of a water bottle filtration system, then check this next product out. The Ultralight Water Purifier by GRAYL is an awesome portable water filtration system to invest in. This portable bottle is perfect for any outdoor adventure including hiking, backpacking, and camping. It is also the ideal product to have on hand in an emergency situation.
What makes this product so great is its ease of use. All you need to do is simply fill the bottle up for use and then drink. There is no need to squeeze, pump, or suck out any purified water. Not only that but you don't need any wait time for your water to become nice and clean. In fact, from start to finish it takes roughly about 15 seconds to get virtually fresh and clean water wherever you are. The filtration system removed 99.999% of viruses found in water including hepatitis A, SARS, and rotavirus. It will also get rid of any disease causing bacteria such as e-coli, salmonella, and cholera. Finally, you can look forward to this filtration system filtering out any chemicals and heavy metals for an improved clarity and flavor in your water.
Final Thoughts
Whether you are an avid hiker or are just getting started out. Having a portable water filtration system can make a huge difference in your travels. Hike with ease and peace of mind knowing that you will always be able to access clean water wherever you are. Click below to get your hands on the simply awesome Etekcity Water Filter Straw today.
Related Article: 7 Best Portable Water Filters for Your Outdoor Adventures