Filter Water from Creeks, Rivers, Lakes, and Sketchy Sinks with the Grayl Ultralight Water Bottle
Lovers of the outdoors, those whose playground is creation, you who travel internationally, those who like to be prepared for emergencies, come close. The Grayl Ultralight water bottle can purify water anywhere. That is, purify any fresh water source. The Ultralight is one of the most advanced water bottles on the market today that is capable of purification and filtration. It's the ultimate water purifier. 
Water filters like this water bottle comes in handy whether you are camping in Colorado and need to drink from a sketchy stream or you are traveling to a third world country where you are hesitant to ingest the tap water. The Ultralight is also useful when natural disasters strike and water systems are malfunctioning. Water systems are, after all, the first to go in disaster situations. For outdoor adventures, international travel, and emergency preparation, we highly recommend considering the Grayl Ultralight Purifier water bottle.
A Little About the Grayl Ultralight Water Bottle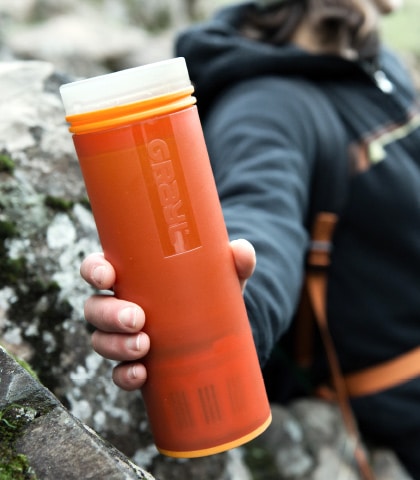 Credit: thegrayl.com
The Grayl water filter is impressive. Given that too many people around the world do not have access to safe drinking water and water purification systems, Grayl is trying to do its part to change that. In only 15 seconds, travelers can have purified water. What's more, is the Ultralight does not require any batteries and chemicals. There is nothing more convenient than a portable filtration system in water bottle form. 
By purchasing a Grayl ultralight, travelers aren't only helping the environment by reducing single-use plastic water bottle purchases, but they are receiving fresh, purified water right from the source! If you can skip out on buying bottled water, do it.
From creeks to rivers to lakes to sketchy sinks, the Grayl Ultralight is capable of eliminating viruses, bacteria, protozoa, and protozoan cysts. Not only does this water bottle protect against pathogens, but it also protects against particulates, chemicals, and heavy metals too.
This water bottle is chemical-free, BPA-free plastic, and an antimicrobial agent. If you desire to travel sustainably, we have a hunch that the Grayl Ultralight will be the ideal water bottle for you. To turn dirty, unsafe, unhealthy water into clean, safe, and healthy water, the Grayl Ultralight Purifier water bottle is the water bottle to consider.
Why Every Traveler Needs A Portable Water Filter Bottle
Can you remember a time you were thirsty but didn't want to risk drinking dirty water? Maybe you're at the gym and there's only one grimy water fountain. Or you could be in Pawnee where everyone sucks on the drinking fountains instead of sipping on them. Please tell us you got that reference.
Anyways, we digress. Whatever the situation you're in, there are quite a few good reasons to bring a portable water filter bottle with you wherever you go. 
1. It Helps You to Save Money
This one's a biggie. Think about how much money you could save instead of buying drinks a few times a day. On average, bottled water costs around $1.50. Even if you drink less than the recommended average fluid ounces, you could spend upwards of $6 a day. That might not sound like a lot but it adds up. When you purchase a portable filter water bottle like the Grayl Ultralight, you're guaranteed to save money. 
2. It Lessens the Chance of Ingesting Harmful Chemicals
Today, people have become much more health conscious when it comes to the quality of their drinking water. You won't have to look too hard to find examples of people who became very sick from drinking contaminated H20, even right from their own kitchen tap. By drinking out of a portable filtration water bottle, you significantly reduce your risk of ingesting harmful chemicals and heavy metals.
3. They're Designed for Outdoor Use
Whether you're into hiking, camping, fishing, or engage in sports, the Grayl Ultralight water bottle is perfect for outdoor use. Because of the high performance it offers, it can even gets rid of viruses and waterborne pathogens commonly found in creeks, streams, and rivers. If you're hiking and need to fill up your Grayl ultralight water bottle from a fresh source, you can feel safe doing so.
4. It Helps Prevent Illnesses While Traveling
When you travel in developing nations, you are highly susceptible to waterborne illnesses. In rural parts of India, for example, you will be hard pressed to find clean water. Even bottled water sold in stores and at markets can be contaminated. Some of the most common symptoms of waterborne illnesses include: diarrhea, vomiting, nausea, chills, fever, and muscle cramps.
These symptoms can not only dampen your travel plans but also pose a serious health risk. Many travelers have ended up hospitalized from waterborne illnesses. Because the Grayl Ultralight helps to filter out bacteria and is antimicrobial, it can prevent you from getting serious diseases.
5. You Can Have Clean Water to Drink for Life
Whether you want to enjoy great tasting clean water on a hike, at work, or abroad, the Grayl Ultralight water bottle has got you covered. Not only does it filter out a majority of harmful viruses, bacteria, and chemicals, it is BPA-free and leak free. 
6. It's Great for the Environment
We've said it once and we'll say it again. Another great reason to invest in the Grayl Ultralight is it's good for the environment. Just think about how many plastic bottles you'll save from ending up in landfills where they release toxins in the air. Many of the bottles never even make it there and end up polluting the oceans instead. Did you know that it can take more than 450 years for a plastic bottle to decompose?
Grayl Ultralight Water Bottle Features & Benefits
Bottle Design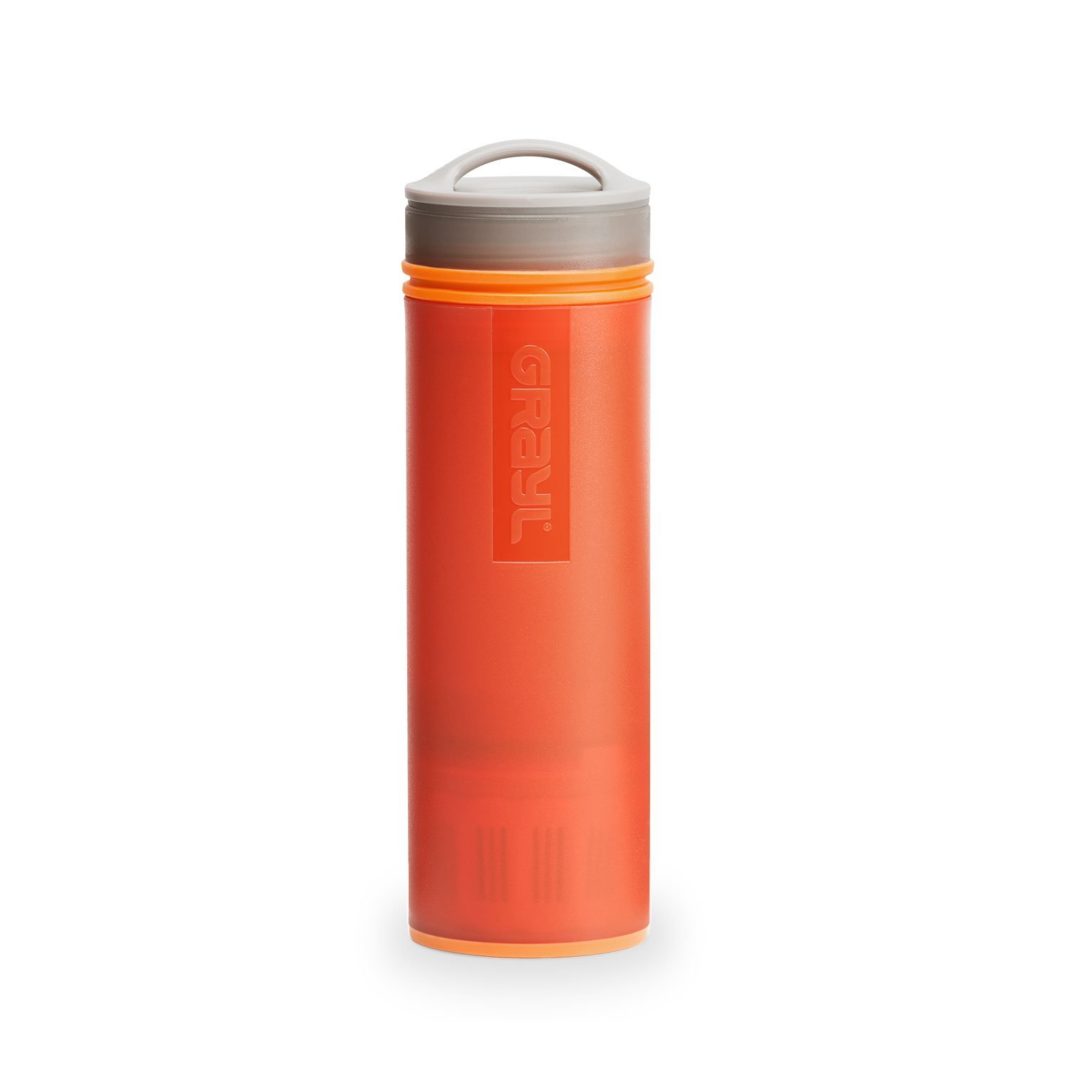 Credit: thegrayl.com
The Grayl Ultralight is ultralight at only 10.9 oz. The size of the bottle is 9.625 inches by 2.875 inches. It is remarkable how compact the Ultralight is, given the advanced purification and filtration technology that is housed inside the water filtration bottle.
The Grayl Ultralight can hold 16 oz. of water and is durable enough to handle harsh conditions. The top of the bottle has a loop that can easily clip onto any travel backpack. When it comes to color options, the Ultralight has a handful to choose from including orange, black, blue, and green.
For each color option, the screw-on top remains light grey. The water filter bottle includes the purifier and filter cartridges, which have a lifespan of 40 gallons. In other words, the cartridges are effective for up to 300 uses. When your 300 uses are up, customers can purchase replacement cartridges online.
Purification & Filtration Technology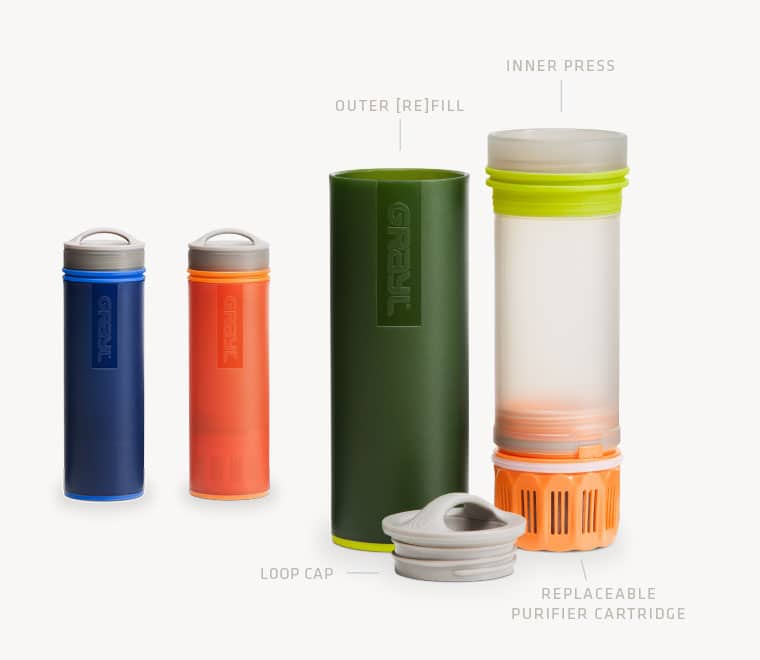 Credit: ​thegrayl.com
So, what exactly is happening internally? Within the Grayl Ultralight, there is technology that creates a submicron trap to remove pathogens, disease-causing bacteria, and inorganic compounds. The filter then sifts through and removes the toxins in the water, such as chemicals, particulates, and heavy metals. In everyday language, this means that the Ultralight purification technology is able to remove viruses like Hepatitis A and Benzene, bacteria like E.coli, Salmonella, and Cholera, and protozoa like Giardia. 
More specifically, Grayl vows that it removes 99.999% of protozoan cyst and 99.9999% of virus and bacteria. The built-in filtration system filters particulates, like sediment and silt, chemicals like chlorine and iodine, and heavy metals like lead. The Ultralight does it all, except treating and purifying ocean salt water. This water bottle is designed to only work with fresh water sources.
Fast & Easy to Operate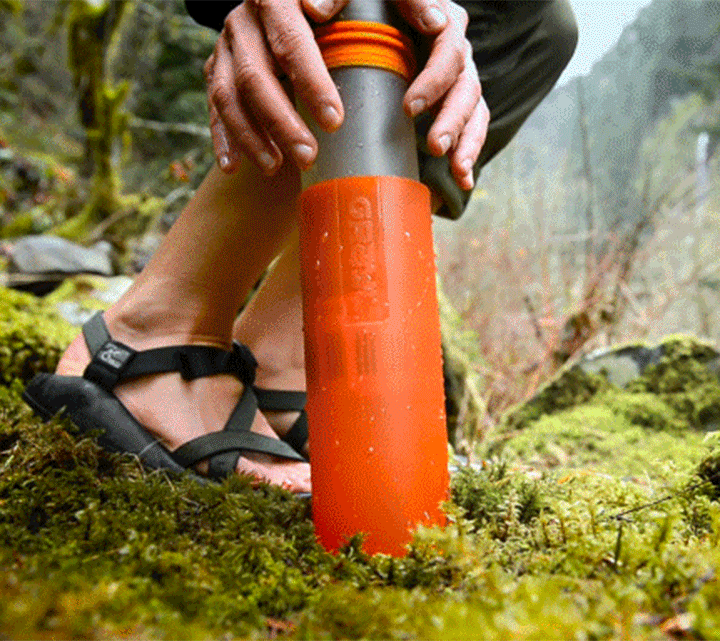 Credit: thegrayl.com
With all this high-tech purification and filtration technology, you may be curious how long it takes for water to go from dirty to clean. Get ready… It only takes 15 seconds. There will be no prolonged waiting when using the Grayl Ultralight. How it works is simple. The bottle is two pieces. All you must do is pull out the internal purifier and filter, fill the external bottle with water, press the purifier/filter into the external bottle, and drink. That's all – fill and press. Voilà, you have clean water to drink.
Sustainability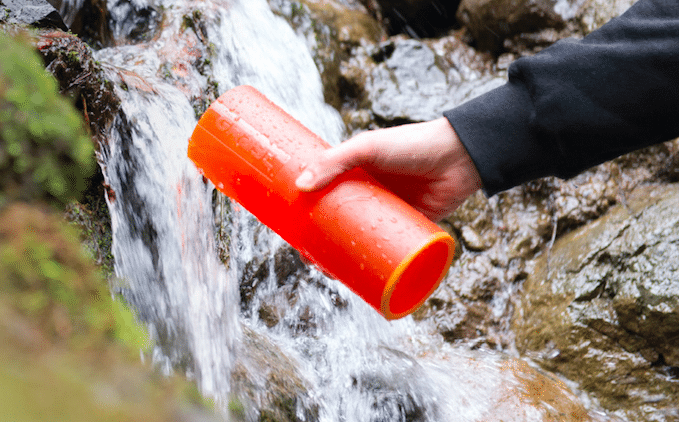 Credit: thegrayl.com
Sustainability is the heartbeat of Grayl water bottles. Purchasing plastic water bottles is nothing but harmful to the environment. Plus, the chemicals from the plastic that seep into the water is nothing but harmful to your health. And must we remind you that buying plastic water bottles over and over again is nothing but harmful to your wallet? The cost adds up. To avoid all of these things, purchasing a BPA-free reusable water bottle is the way to go.
 With the Grayl Ultralight, you can now travel internationally without worrying about access to purified water because you will be able to purify your own! The Grayl Ultralight may be an investment at around $60, but it is an investment that is worth it. The bottle is convenient, portable, and makes a very helpful travel buddy no matter where you are in the world.
Quick Facts
Ideal for global traveling, outdoor adventures, emergency preparedness, hiking, backpacking, camping, fishing, survival

Fast and easy-to-use, simply Fill. Press. Drink. No sucking, squeezing, pumping, prolonged waiting, ultraviolet bulbs, or batteries

Award winning [one press] design makes clean, purified drinking water in only 15 seconds from virtually any fresh water source in the world

check

Filters particulates (e.g. sediment, silt), many chemicals (e.g. chlorine, benzene) and heavy metals (e.g. lead, arsenic); zero aftertaste, eliminates bad odors, improves clarity and flavor

check

Removes 99.9999% of viruses (e.g. Hepatitis A, SARS, Rotavirus); 99.9999% of disease-causing bacteria (e.g. E. coli, Salmonella, Cholera); and 99.999% of protozoan cysts (e.g. Giardia, Cryptosporidium)
Purification + Filtration — Safe Water for Any Adventure
The GRAYL Ultralight Purifier Bottle goes beyond standard filtration, protecting against the full-spectrum of pathogens (bacteria, protozoa and virus) as well as many chemicals, heavy metals and flavor/odor. Whether you are on the trail needing to drink from a dirty stream, filling up at a questionable hotel sink in Peru, or making your emergency preparedness kit — GRAYL has you covered.
Outdoor Adventures: Whether your passion takes you into the high alpine forests, fly fishing on a gentle stream or just on a hike at your nearest state park, Grayl makes safe, clean water easy. Don't worry about bacteria or protozoa – or nasty chemicals that may be leaking out of that abandoned mine upstream!

International Travel: The Grayl Ultralight Purifier Bottle is the ultimate travel companion for travel where water isn't safe. The Bottle fits in standard backpack side pockets and passes through airport security in your carry-on (drink the water first). 

Emergency Preparation: Hurricanes, tornadoes, earthquakes (oh my). 
Each Grayl bottle comes equipped with a replaceable purifier cartridge that lasts for about 40gal (150L), enough for 2-3 months of drinking water. Replacement cartridges can extend the life of your bottle indefinitely.
Press, Fill, Drink
The Grayl Ultralight water bottle is fast, compact, and easy to use. Just press, fill, and drink. It's that simple. Their powerful, patented design allows you to use your body weight for mechanical advantage. Grayl makes safe water virtually effortless. Nothing could be more simple. There are no pumps and hoses. There's no sucking and squeezing either. Last but not least, there's no batteries, bulbs, and chemicals involved. What could be better?
This amazing water filtration bottle makes 500 ml of clean water in just 15 seconds. All you need to do is hydrate and keep moving. The bottle is also light and compact. It's easy to make room for them on your adventures; it easily fits in any backpack side pocket for easy access. Cleaning and storage is a breeze.
Also important to note – Grayl stands behind every water bottle they sell. If you're unhappy in any way, get in touch with them and they'll make it right.
Trusted Technology
Two layers of non-woven ceramic fiber, which provide a rugged and durable base

Positively charged mesh of ions snatch impurities as they flow by, using a scientific property known as 'ion exchange'. The positive ions in the media bind to negative charges on pathogens and chemicals. The impurities stay inside the cartridge and clean water flows through!

Activated Carbon absorbs flavor/odor and many chemicals and heavy metals, so your water safe and tastes great.
What Travelers Are Saying About the Grayl Ultralight Water Bottle
Globetrotters have had fantastic results using the Grayl Ultralight water bottle. From bikers to campers to international travelers, the Grayl Ultralight has been passing the test with flying colors. In terms of functionality, the Ultralight gets 5 stars. Some customers have complained about the cost, but we have to argue that in the long run, the investment ends up saving you money.
 A few travelers wish the bottle was larger since it can only hold 16 oz. of water. It may not hold a huge amount of water, but that's the price you pay for portability. Other travelers have mentioned that the filtration/purification system is difficult to press down in the "fill, press, drink" 15-second process. Your full body weight is required to press it down, so be prepared.
Alternative Water Bottles
Hydro Flask
The one downside of the Grayl Ultralight is that it is not made of stainless steel. Insulated stainless steel water bottles have many perks, including the ability to keep cold drinks cold and warm drinks warm for an extended period of time. Stainless steel water bottles, like the Hydro Flask, may be heavier in weight, but depending on what type of traveler you are, you may find that stainless steel bottles more appealing than plastic.
The Hydro Flask name is becoming more and more popular. And rightfully so. Hydro Flask water bottles never leak and always keep your drinks icy cold or steamy hot. These water bottles also come in an array of sizes and colors. Unlike the Grayl Ultralight that is all about purification and filtration, the Hydro Flask does not purify or filter water. A Hydro Flask water bottle is a top consideration for travelers who do not want or need a water bottle capable of purifying and filtering water.
S'well Water Bottle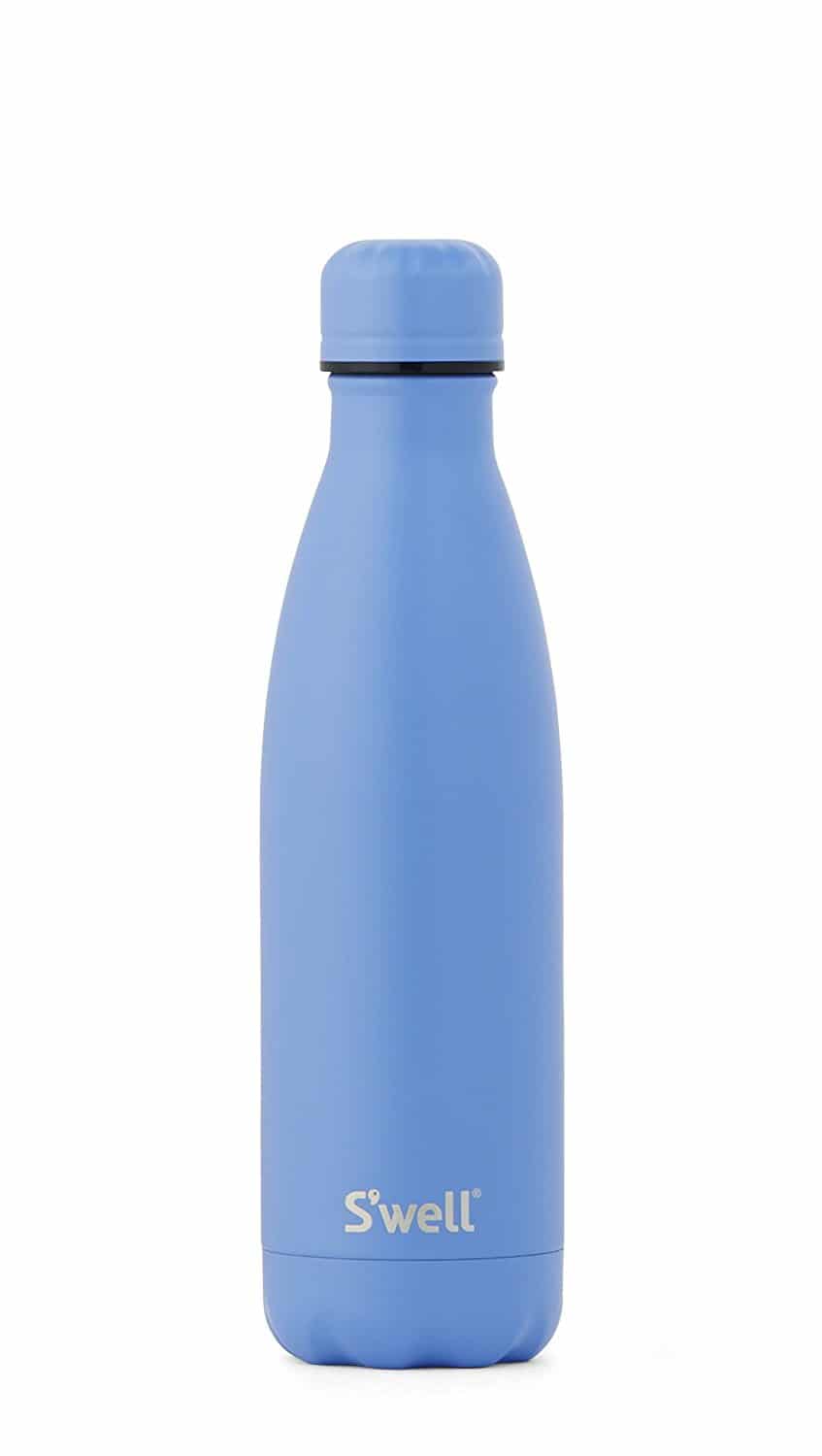 S'well water bottles are very similar to Hydro Flask water bottles. However, they have a distinct shape/color options that cause them to stand out. The insulated stainless steel nature of S'well bottles keep drinks cold for 24 hours and keeps drinks hot for 12 hours. These water bottles also come in a range of soft, pastel colors, marble patterns, wooden exteriors, and so many other colors and patterns.
One significant thing to mention is that S'well water bottles do not have a purification or filtration system. If that is a deal breaker for you and you are really wanting a water bottle that can purify and filter water, then the Grayl Ultralight is the best one out there. When choosing a water bottle, it is important to know what key features and functions you are looking for. That will help to narrow down your options.
Final Thoughts on the Grayl Ultralight Purifier Water Bottle
Whether are kayaking, flyfishing, camping, rafting, road-tripping, hiking, biking, traveling to countries with poor water systems, or in a disaster situation, the Grayl Ultralight ensures that you can access clean water anywhere you go. It will do all the work for you in no more than 15 seconds. Just fill up the bottle, press down, and you will have access to safe drinking water.
We cannot speak highly enough about the wonders of this water bottle. It is portable, efficient, and gets the job done. The most sustainable way to travel is to travel with a water bottle in hand. To take sustainability to a whole new level, get yourself a water bottle that can purify and filter water from creeks, streams, sinks, and lakes. Help the environment, help your health, and help your bank account (no more plastic water bottle purchases) by getting yourself a Grayl Ultralight water bottle.
What do you think about the Grayl Ultralight Purifier water bottle? Are you as impressed as we are? Let us know in the comments section below! And if you own this water bottle, share how you like it in the comments section as well.
Related Article: ​8 Cool Water Bottles For Your Next Adventure​​​