The Hydro Flask is nothing short of amazing.
Creating a container to keep hot drinks hot and cold drinks cold is not a new idea. But the Hydro Flask is revolutionary in how many things it does at an A+ level. Most importantly, you won't have to compromise with size in order to get the insulation you're looking for. This water bottle is great for anyone, who, well, drinks water. Outdoor enthusiasts love it since Hydro Flask bottles are durable and useful in a variety of climates. But don't worry, you won't need to be hanging off the side of a mountain in Yosemite to appreciate the Hydro Flask.
Hydro Flask Products Work Wonders
The Hydro Flask products seem to work wonders. It seems virtually impossible to pack a few ice cubes in a water bottle, hike for eight hours in the Tennessee heat, and still enjoy cold water at the end. But with the Hydro Flask, that's what you'll find. Even better, you'll still discover some ice cubes floating around in there. Or, here's another example from our personal experience: When flying from the west to east coast, we filled our Hydro Flask with a few ice cubes. Two planes and a long layover later, we could still hear those ice cubes clanking around when the plane touched down after about ten hours of travel.
Stroll down a water bottle aisle at a sporting goods store, and you'll see all the options presented to you. Hydro Flask has recently gained popularity on these shelves and for good reason. People want their drinks cold, or warm, for a lengthy amount of time. No more plastic taste, no more lukewarm that you're so desperate you'll drink anyway. No more cool coffee (yuck) on your snowy hike. If you're headed out for errands, keep a Hydro Flask in the car (even in the hot summer) and you'll return to some cold water. Or, bundle up for your winter backpacking trip, and enjoy some warm tea when you arrive at your camping spot that evening.
A Little About Hydro Flask
Credit: HF
When magic happens, you wonder "how did that happen?" Well, this secret is one we can tell. The Hydro Flask is vacuum insulated. It's also made with food grade stainless steel in two walls. This double wall is called the TempShield. To help keep the metal water bottle lightweight, Hydro Flask eliminates the heavy bottom weight for sealing the vacuum. Now, the top opening can pose a problem for keeping that barrier between the outside world and your cold water. Therefore, the screw on-off cap seals tightly, and the top piece fits deeply to solve this problem.
Hydro Flask first started by humble means in Bend, Oregon. In fact, their water bottles still boast on the bottom, "Designed in Bend, OR." They began in 2009, and a short two years later, they reached one million sales. They originally focused on the vacuum insulated water bottles, but since have added a variety of insulated products to their line. (We'll show you some of those below). In 2015, Hydro Flask expanded to Europe. They've also received awards for their fast-growing company and excellent work environment for their employees.
Hydro Flask Features and Benefits
An A+ Performance: Hot drinks hot, cold drinks cold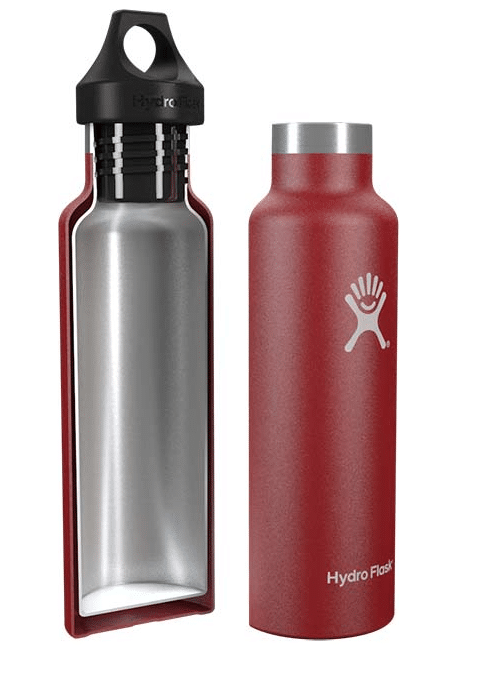 Credit: HF
When you look at the outside of the Hydro Flask water bottle, it just doesn't seem possible. You've heard their advertising spiel. This water bottle is supposed to do a really good job keeping your drinks cold. But upon first glance, the bottle just seems pretty average. With those low expectations, you'll definitely be blown away. Hydro flask advertises the "extensive time" that your drink will remain the optimum temperature. But how long, exactly, does a waterbottle have to stay cold in order to be truly amazing? In an indoor-temperature setting, you can expect 24 hours to still find ice in your Hydro Flask water bottle. Now, just because the ice is gone doesn't mean the drink immediately turns warm. You'll still have many hours of chilled water.
On the other hand, the Hydro Flask isn't as efficient at keeping hot drinks hot. (But that's a harder thing to do, so we're still impressed.) Hydro Flask advertises twelve hours for hot drinks outdoors in the winter. Realistically, the drink will hover the line of hot to warm in six hours, and warm to lukewarm after that.
So, if you're camping in the winter, you can count on a Hydro Flask product to stay warm even when outside temperatures are cold. Or, if you're just stocking up on morning coffee, you'll still have truly hot coffee even after your long commute in a Boston winter. And whether you're heading out for the day, or for an overnight, you can trust Hydro Flask to keep your water cold for the duration.
No Weird Taste
Many water bottles have to compromise when they choose a material. The choice often becomes lightweight and durable but with a unique taste, either metallic or plasticky. The Hydro Flask food grade stainless steel has no taste or scent. No funky tastes or scents means that this water bottle gives you all the great benefits with no drawbacks! Plus, BPA and Phthalate free means your health isn't in danger.
Easy to Clean
The wide-mouth Hydro Flask is incredibly easy to clean. There are no strange nooks for grungy things to get caught up on. The inside of the body is easy to rinse out, or swipe the mouth and inside with a bottle brush. Hydro Flask suggests using some white distilled vinegar to help remove potential stains or discolorations (though we haven't experienced that problem). Hydro Flask also suggests using baking soda in a similar manner for extra cleaning. Either way, hand washing your Hydro Flask water bottle is simple, and you won't find tricky places that collect dirt.
Easy to Take a Sip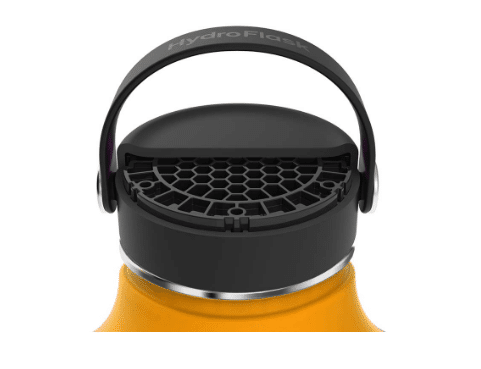 Credit: HF
The 21-ounce Hydro Flask features a really sturdy lid with a nice loop on the top. The Standard Mouth Flex Cap has a really durable grab handle. The standard mouth (both wide and slim) require you to twist off to take a sip. Perhaps slightly inconvenient, but necessary for creating that perfect seal to keep your drink so cold. You can choose the Sport Mouth or the straw lid which allows you to sip rather than totally unscrew.
Durable
Like most metal water bottles, the Hydro Flask will likely dent or paint will chip, especially if you're taking it on rugged adventures. However, this doesn't at all damage its performance. The water bottle can be dropped and survive many dents and chips. The 18/8 Pro grade stainless steel construction is too tough to be in danger after even rough use. To top everything off, Hydro Flask is so proud of their product that they offer a lifetime warranty.
Lightweight
We know that this isn't the lightest water bottle out there. But we do appreciate that Hydro Flask has done seemingly everything possible to ensure that this water bottle's weight doesn't deter you. The 12oz weighs 9.3 ounces, the 24oz standard weights 13.2 ounces and the 64oz water bottle weights 32.1 ounces.
No Condensation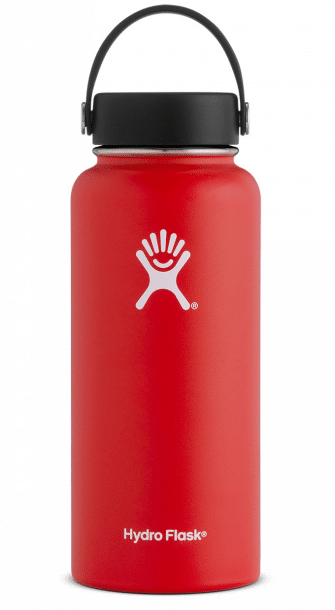 Credit: HF
Here's an unexpected bonus that we've come to really appreciate. The water bottle won't sweat, which means you have no soggy puddle when it's in your carry on bag, and no moisture to the touch. You won't have to wrap it in paper towels, or worry about that extra cold moisture. You'll still have some refreshingly cold water, just with no condensation on the outside of the bottle.
Color Choices
Choose from lots of fun colors such as "mango," "lime," "mint," or the more traditional black, white, chrome. That way, you can pick yours out from the crowd of Hydro Flasks, since you'll want to buy a Hydro Flask for your all your friends. Plus, the texture of these colored exteriors helps to make the bottle easy to grip. It's just the tiniest bit rough, which means it won't slip right through your hand.
Other Hydro Flask Products
Tumblers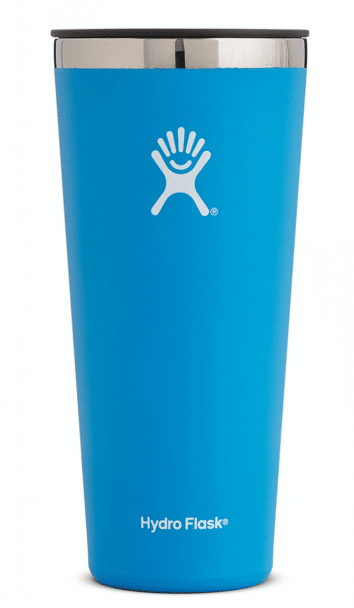 Credit: HF
The new Hydro Flask Tumblers comes in two size options: 22oz or 32oz. This tumbler offers the same great qualities of the water bottle. Tempshield two walled stainless steel works to insulate well because of the vacuum. Press the insulated lid in to keep the drink cold (or hot). The lid features honeycomb insulation so that the drink doesn't lose much heat out of the top. The tumbler's narrow design means that it's easy to hold and will fit in most cup holders. Hydro Flask promises that your drink will stay icy cold for 24 hours, or piping hot for 6 hours in this insulated tumbler. Choose from lots of fun colors so you can identify your cup in a group.
Coffee Flasks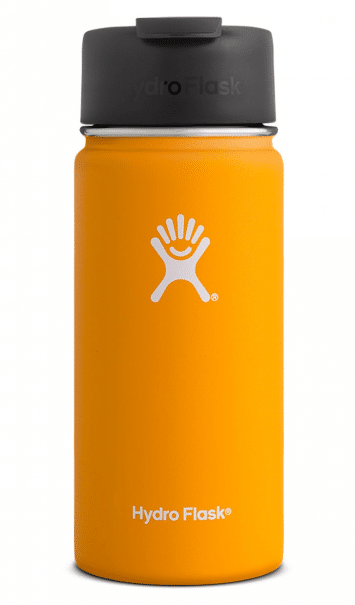 Credit: HF
Choose from three different sizes with the Hydro Flask Coffee: 12 oz, 16 oz, or 20 oz. These sizes even match many coffee shops, so you can refill without the disposable cup. Your cold brew will stay cold for over 24 hours. Your hot coffee will stay truly hot (none of this lukewarm stuff) for a good six hours, or maybe longer in relatively mild temperatures. The TempShield insulation is the same as the water bottles. The top flip lid is great for sipping coffee out of. You can even buy replacements or other colors of these Hydro Flip Lids. It's nice that you don't have to unscrew the cap in order to take a sip. Plus, choose from a great color assortment: about nine colors that will enhance that warm sip of coffee in your Hydro Flask Coffee cup.
Wine and Beer Tumblers, Pints, and More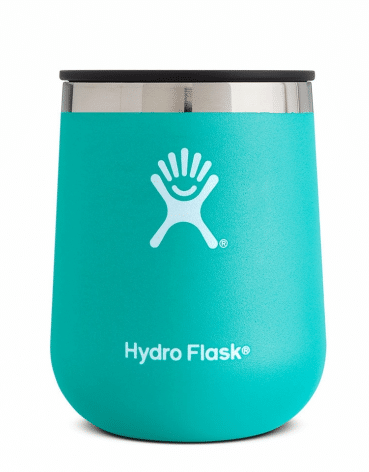 Credit: HF
Hydro Flask definitely has you covered with your water and coffee beverages, but now they haven't left out the adult drinks! They have growlers, wine bottles, tumblers and pints available. These various sizes and shapes are perfect for a camping trip, a visit to your friends' house, a backyard picnic or a backpacking trip. Growler options include various colors and your choice of size: 32oz or 64 oz. On these growlers, the screw off top is connected by the side loop to keep it attached. Hydro Flasks' Growler won the Reddot Design Award of 2016. In addition to the growler, you'll want to purchase the Hydro Flask 16oz pints to serve with.
For the wine lovers, Hydro Flask has a 25oz wine bottle in some luscious colors (you'll want to buy one for all your friends). Keep wine chilled at the perfect temperature in this Hydro Flask. When you're ready to sip on that wine, you'll want the 10oz wine tumbler. Its rounded edges hold nicely in your hand, and you can secure the lid to the top. Plus, each of your friends can choose from the variety of fun colors: raspberry, mint, sage, black or gray. In addition to the wine tumbler, you can also find the 10oz rocks insulated cup. This is shaped differently than the softer looking wine tumbler (it's stockier). It still has the special Hydro Flask magic that will keep your drink at just the right temperature.
Food Flasks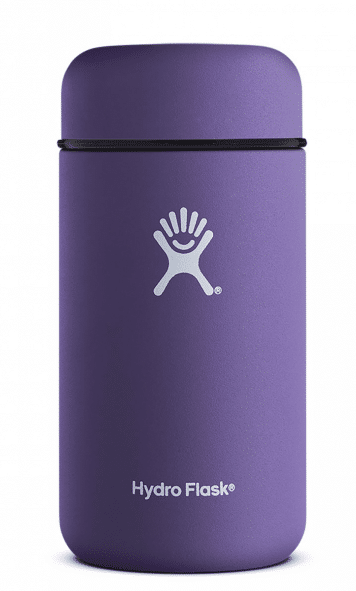 Credit: HF
Why stop after making amazing beverage products? Hydro Flasks now offers two sizes of food containers: the 12 oz food flask and the 18 oz food flask. You'll find the same high-quality stainless steel and double walled vacuum seal. This Hydro Flask is great for keeping soups piping hot, or for keeping smoothies ice cold after a jog in the summer. Or, if you're headed out on a long day of travel, pack some soup while you wait on your transportation! Because the 18/8 food-grade stainless steel doesn't retain scents or flavors, you don't have to worry about the food flask smelling funky. The lid is a super sealant, and since there's no straw or plastic on this cap, the food stays extra warm or cold.
What Other Travelers are Saying About Hydro Flasks
There's a reason Hydro Flask has used their innovative materials to create a new variety of products, beyond the standard water bottle. Their insulation works, and others love it too. Many people are huge fans of Hydro Flask, and purchase various sizes and colors of their water bottles, coffee containers, and food flasks. Customers rave about just how impressed they are at the quality of insulation thanks to that vacuum seal.
Hydro Flask users  around the world comment with the various environments that they love using their water bottle in. Some report carrying a Hydro Flask on a hot Florida bike ride, and always finding the sweet relief of icy water at the end. Some keep it in a car during the winters, and return to still hot coffee hours later. Even those who hate drinking lukewarm water love this for daily use, since no cup or bottle will do the same. Snowboarders can throw this in a backpack and not even have to make a pit stop back at the lodge. Hikers can take an ice water break at the top of the mountain.
We love the Hydro Flask water bottle specifically for days of travel, in addition to playing a role when you're at your vacation destination. Rather than refill at the water fountains only to have lukewarm water in thirty minutes, fill your Hydro Flask water bottle with ice at the beginning of the trip. Then, you can refill since that ice will take all day to melt in that Hydro Flask. No more waiting for the flight attendant to come around with your puny plastic cup of ice.
Some don't like the way the paint chips easily, nor the way the metal can dent easily. On the other hand, some reviewers really like the texture of the Hydro Flask exteriors. It's ever so slightly rough and matte, rather than shiny and slippery. This helps give it a good grip in your hand. Also, swinging this water bottle into other surfaces might damage those surfaces it bumps against. And, some people remain skeptical, though, because of the price. Sure, it's an "expensive" water bottle, but if your priority is "just the right temperature" drinks, then Hydro Flasks are for you.
Alternative Water Bottle Brands
Nalgene Wide Mouth
This water bottle has a similar shape to the Hydro Flask water bottle. However, the material is plastic rather than metal which implies many differences. The Nalgene Wide Mouth bottle is light, weighing less than half a pound actually. You can choose from a great variety of fun colors. The Nalgene water bottle promises to be virtually unbreakable. Plus, it is BPA free. The plastic screw on top is connected to the mouth with a loop that can be clipped to a carabiner or held.
Since the mouth is so wide, you can purchase splash guards or alternate tops for your sipping preference.  Some customers appreciate that the wide mouth makes the water bottle incredibly easy to clean. The measurements printed on the outside are helpful for keeping track of your water intake, or even measuring while preparing food camping. Additionally, as a traveler space is incredibly important. We've used an empty Nalgene bottle to store items when not in use; the clear plastic makes it easy to see inside.
​​​​​The Klean Kanteen Single Wall 18oz Stainless Steel Water Bottle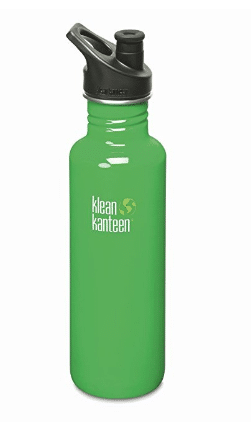 The Klean Kanteen Insulated Single Wall 18oz Stainless Steel water bottle is comparable to the Hydro Flask. They're both made of the stainless steel, but the Klean Kanteen features a single wall, as the title describes. This means that it's lighter and cheaper, but won't keep drinks hot or cold for any incredible length of time. Consider how many oz wide the bottle is. We appreciate the screw-on looped top, and the choice for other caps based on your preferences. The large opening (44mm) isn't considered wide mouth, but it's perfect for loading ice, and you can send a bottle brush through for easy cleaning. Or, even easier for cleaning, you can send your Klean Kanteen through the dishwasher. The container is BPA-free plastic. You won't experience a bad taste from the metal. The Klean Kanteen is made from 18/8 food-grade stainless steel.
The Yeti Rambler Insulated Stainless Steel Bottle
Yeti's bottle offers some great insulation for your hot or cold drink, too. It has a double wall vacuum flask insulation and a hydro flask handle that's easy to grasp. Thanks to the double wall insulation, you'll also find that the bottle won't sweat with condensation. The Yeti Rambler 26oz bottle is a great size. You'll find that Yeti's Duracoat color will ward off dings and chips pretty well. The Yeti bottle top screws off, and on the outside you'll find a squared-off handle. This makes the water bottle easy to grab, or easy to clip to other things. The Leakproof Triple Haul cap makes sure that there's no chance of a leak, and they mean that. Customers love how trustworthy that leak-free top is. It's a great water bottle (or drink bottle) option for outdoor activities, or simply headed to the gym or work. Who doesn't want icy cold water available all the time?
Let's Review
We have to admit, these bottles are a bit pricey. While it might be hard to justify spending this amount of money on a water bottle, do it. But if you need a gift for someone who is really tough to buy for, this is it. It's better than some gift cards which don't require a lot of thought. When you spend all day out in 90+ degree weather, you can thank us later. You'll refill it every night and bring it to his room at night (bedside ice water!)
Pros:
1) The Hydro Flask water bottle is unbelievably effective at holding temperature. We have yet to see an occasion when there is isn't ice in it at the end of the day, no matter how hot it's been: sitting in a hot car. We've even tested it going through a double class of Bikram yoga (four hours in a 105 degree room!)
2) They are Incredibly well made. We have had other metal water bottles; they dent; paint chips or peels.
3) Doesn't hold odors at all (unlike plastic bottles.)
4) Easy to clean (unlike most aluminum bottles.) I can actually get my (size 6.5) hand inside. Even the straw lid (bought separately) is constructed so that it is much easier to clean than, say, a Camelbak.
5) Dishwasher safe. Well, I'm not sure the company says that, but we've put it in the dishwasher over and over, and it still looks new.
6) Other available lids work well. Straw lid is easy to use, easy to clean, & watertight. Flip top lid is also easy to use & clean, but the company warns that it is not watertight, and it definitely isn't – bottle must be kept upright, or it spills.
7) Double wall means no condensation. It doesn't ever get slippery to hold. It won't form a little puddle or make water rings.
8) No BPAs
Cons:
1) It's a lot of money for a water bottle.
2) The screw on cap works great, but is not so convenient.
3) The 40 oz is a little inconvenient to carry. It's just slightly too big to fit in any of our cars' cup holders.
4) Since it's opaque, it's a little tricky to fill from a refrigerator water dispenser. Eventually you can gauge how full it is by sound, but it takes a little trial & error.
5) It is somewhat heavier than a plastic bottle of equivalent size. But it is not a big difference.
6) Ok this one is really, really minor, but we can see how it might matter to somebody, sometime… it's kind of loud. That is, if you have ice: when you walk around, you will be accompanied by the sound of the ice clinking against the metal walls. If you're drinking in a library, people will notice.
Overall, we absolutely recommend this to anyone who wants a great water bottle. For many people, it's probably in the category of "you don't know what you're missing until you've tried it." This should satisfy anyone who subscribes to the idea of having fewer things, of better quality.
The Hydro Flask Is So Worth It!
Credit: HF
Overall, we just love the Hydro Flask. We've witnessed this water bottle work wonders, and you'll want to see for yourself. It is more expensive than many water bottles out there, but it sure isn't a "regular water bottle." Websites like Retail Me Not offer some pretty good coupon codes too. Chances are, there's a discount code out there somewhere floating in the wild. P.S. It's a great Mother's Day gift too.
The Hydro Flasks's ability to keep drinks so cold for so long (or hot drinks hot) is amazing and definitely the best feature. In addition to an outstanding performance by Hydro Flasks for regulating temperature, the company still offers more! The quality of their products is durable, and backed with a lifetime guarantee. The fun colors are just an added bonus and the recent addition to their collection shows that Hydro Flask will not be slowing down.
Their innovative products will help you enjoy that bike ride, camping trip, hike, or motorcycle trip just a little bit more.  It is a great option for travel, since a refreshing drink is one less thing you have to worry about on busy travel days. We most definitely think Hydro Flasks are worth the price, for the wonders that this little bottle can work.
Related Article: ​8 Cool Water Bottles for Your Next Adventure​​​