Frost and cold have met their match in the Baffin Wolf Snow Boot. 
Travelers, do you need a solid pair of winter shoes for the chilly months to come? It's time to consider the Baffin Wolf Snow Boot. Just take one look at this book and you can tell it's heavy duty in nature. As a part of their reaction series, these boots offer a technical approach to everyday winter wear when the snow is deep.
The Men's Baffin Wolf Snow Boot Features & Benefits
Despite their bulky appearance, these shoes are actually surprisingly light to wear. Unlike most heavy duty style boots, the Men's Baffin Wolf Snow Boot won't weigh you down. Constructed from a lightweight synthetic rubber, it offers all the protection your feet need from the elements.
Twenty-five years ago, Baffin broke the mold for their insulated footwear products. Sure, you can wear traditional boots in the fall but some temperatures demand higher quality clothing. What sets them apart from the pack? Well, they mold their technology with a unique inner boot system. The result is a type of footwear very few others on the market can even come close to. 
There are so many components that go into choosing the best boots for winter wear. First off, shoes shouldn't break the bank. There are plenty of affordable boots for men and women. Style, materials, and cut are all important. But there are also other features you should not overlook.
In short, winter boots should keep your feet warm and dry. Arch and ankle support goes a long way too. Whether you are traveling to a mild climate or one with more extreme weather, you want a pair of shoes that will protect your feet from the elements. The Baffin Wolf Snow Boot does just that.
They offer great insulation properties, a more aggressive tread, and are water resistant. The fit is tight but not too snug, allowing for proper circulation and dynamic range of motion. Finding the right winter boot is critical. My bet is that the Baffin Wolf Snow Boot will become your dependable footwear choice. Now that you know what to look for, gear up to face the seasons and make some memories. 
Tried and True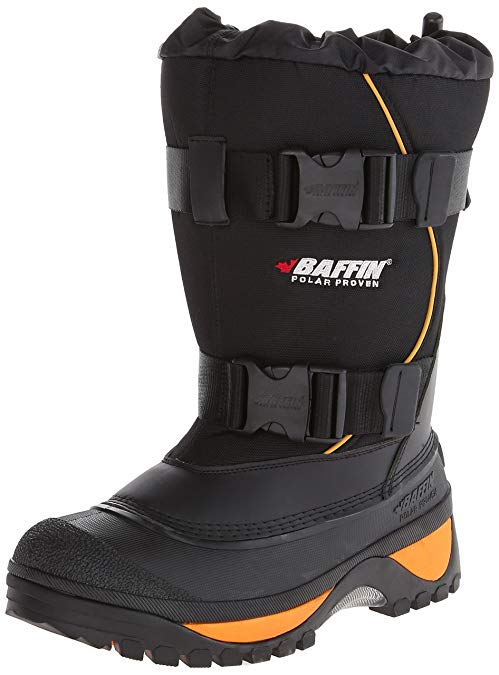 If you're anything like me, you don't have the patience for a lot of in-store shopping. I swear that 90% of all the shopping I do is done online. When you're scanning the web for the perfect pair of winter boots, it's important to thoroughly read through customer reviews. Thankfully, I've already done the work and had these shoes tested out for you. Baffin has been around for a long time and produced a pair of shoes you can really count on. The Baffin Wolf Snow Boot is top-notch quality in my book.
Design
These shoes are made for function, not fashion. But while they're a little clumsy looking in appearance, I appreciate the minimalist design. They can be easily paired with any other part of your winter clothing color palette. What gives these boots their thicker appearance? Baffin focused on creating a shoe with great insulation properties. Inside the Baffin Wolf Snow Boot, you will find a foam-based system. Pair them with some great winter socks and your feet will never know the cold exists.
The result of this hybrid-style footwear is more warmth, a better fit, and all-around great comfort. What differentiates these shoes from standard shoes and work boots are the sole and midsole. They're molded to the base in one fluid process. Even the sole is a marvel of engineering. It's composed of several sets of thermo-polymers. With these shoes, you get just the right amount of warmth, protection, and grip. It's clear that Baffin is dedicated to offering boots that maintain a high-level of performance.
Made for Movement
In the travel wear community, Baffin is known for their innovative product line. These shoes are nothing if not adaptable. Take them out in the snow, for winter road trips, hikes, and more. They will accommodate your movement well for a thick pair of winter boots. 
Insulation and Moisture Wicking Properties
We've touched a little bit on insulation but it's worth expanding upon. Take these shoes to the coldest place you can think of. Your feet will still have all the comfort and warmth that they need. The Baffin Wolf Snow Boot has seven layers of heat-reflecting insulation. As a result, they are able to provide protection even in temperatures of -40 degree Fahrenheit weather. A velvety-smooth Thermaplush lining moves moisture away from your skin, allowing the boots to breathe. Even though you're warm, you don't have to be sweaty.
Exterior Construction
What keeps the water, snow, and sleet out? The Baffin Wolf Snow Boot is made of some of the strongest materials. A 900 denier nylon upper coupled with Timberworld leather trim and reflective piping makes for a strong, comfortable, and flexible shoe. In addition, the crack-resistant two buckle closure makes taking these shoes off and putting them on a cinch (quite literally).  
At the top of the shoes, a snowcord offers a tighter fit, making sure that even in deep snow, the cold won't seep in through the opening of the shoes. Seal off the snow and keep out drafts. When it comes to the midsole, this is one of the best features for support. The EVA cushion provides all of the arch and ankle support you need to stay on your feet and walk for hours.
A premium rubber outsole cushions your feet from the hard impact on the ground. The result is reduced shock absorption and an overall better form of arch support than most winter boots seem to offer. This system provides a strong grip on slippery surfaces so you can face cold, icy roads with confidence.
Tech Specs:
Leather and textile materials

Imported

Synthetic sole

check

Dual buckle straps

check

EVA midsole

check

Removable insulated inner boot system

check

Good-gripping outsoles

check

Insulated -40F rating
What Travelers Are Saying About the Men's Baffin Wolf Snow Boot
Could the Baffin Wolf Snow Boot be the best overall snow boot on the market? In short, yes. Having tested these boots out in frigid temperatures, they have proved to stand strong. Not only are they supportive for long periods of time on your feet but they do a great job of keeping your feet warm and dry. What surprised me more, however, were some of the reviews I've read on Baffin and specifically, this product.
With a rating of 4.5 out of 5 stars and 348 reviews, it's clear to see that travelers love the Baffin Wolf Snow Boot. One user said he had his last pair of Baffin boots for a whopping sixteen years. Take them everywhere – from full day rides on the snowmobile, long winter road trip drives, playing in the snow, and more. Needless to say, I'm a big Baffin fan.
Double buckles keep your feet from sliding around inside the boots while the snow collar keeps the weather out. Similar to the snow monster Baffin Impact, this shoe offers just a little extra bit of insulation for your winter wear needs. The Baffin Wolf Snow Boot offers a lightweight cold resistant EVA base and integrated arch support for long days.
Removable liners offer layers of heat retaining yet moisture wicking fabric. And when it gets dark outside, you'll be able to fully appreciate the reflective safety lining. Overall, these shoes are comfortable, durable, and ready to take on even the most extreme temperatures for your winter adventure.
Alternative Winter Boots for Men You May Like
SOREL Men's Caribou
If you're looking for a winter shoe that's both fashionable and functional, consider the Men's Caribou style from SOREL. There's a reason why it's one of the brand's best-selling styles. Featuring a nubuck leather upper and waterproof construction, seam sealing, and a removable insulation liner, you will be prepared for whatever the cold brings.
As an all-weather boot, you can approach every adventure with confidence that you will feel comfortable and warm. The leather upper provides protection from cold and sleet. Heat retention is obtained by the metal lace-up and inner boot insulation help to retain heat and keep you dry even in the most extreme conditions. Finally, the rubber sole helps to wick away water and slush from melted ice. Thick soles and good treads are there to help you keep your balance on slick surfaces. 
Tech Specs:
Leather and Synthetic

Rubber sole

Rated to -40 degrees F

check

Waterproof leather

check

Removable inner boot lining

check

Sorel AeroTrac non-loading outsole
Rockport Men's Elkhart Snow Boot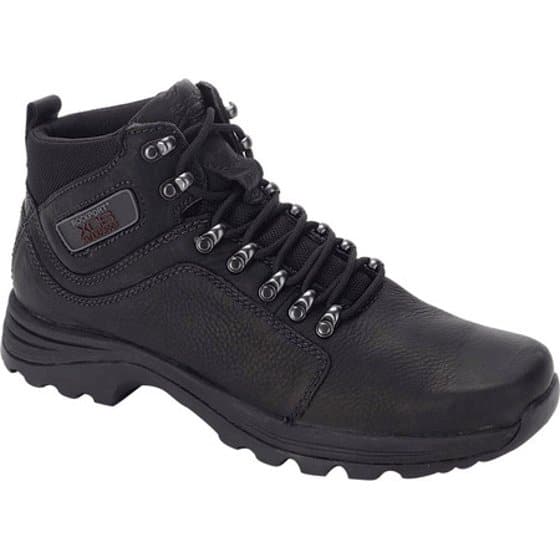 Don't let the cold stop you from exploring. Since winter is one of my favorite seasons, I'm always scoping out the best gear to stay warm. The Elkhart Snow Boot style from Rockport is one of my favorite menswear items. Each element is crafted in a way that brings about the ultimate function. While they aren't as heavy duty as the aforementioned styles, they bring a  hydro-shield waterproof tech and seam sealing, you can keep comfort in and the cold out. 
Another great feature is the breathable mesh panels. They keep your feet cool and dry. The rubber sole allows for comfort every step of the way. Rockport has always been leagues ahead of standard brands on the market. Since 1971, they have been using athletic technologies in casual footwear to achieve the utmost comfort and performance.
Tech Specs:
Leather

Rubber sole

check

Outdoor-style boot  

EVA midsole provides lightweight shock absorption

check

Breathable mesh tongue and collar

check

Traction Rubber outsole
Conclusion: The Men's Baffin Wolf Snow Boot
These boots go above and beyond what you expect of them. All in all, the Men's Baffin Wolf Snow Boot is a great choice for travelers who want comfort and ease of use. In terms of practical application, these shoes are great for day trips, city explorations in cold and wet weather, playing in the snow, and short winter hikes. I appreciate the quality that Baffin has been able to offer this style and at a solid price point.
Related Article: 9 Best Winter Boots For Men: Stylish, Functional Finds