Explore the outdoors in style while wearing the Suunto Ambit3 Peak watch.
If you're a traveler who loves spending time adventuring through the outdoors, you need a decent watch. Many high-tech watches come with a variety of amazing features, such as GPS and a heart rate monitor. By wearing one of these watches, you'll get to track your trips with ease, while also tracking your health. Instead of wandering through the woods and mapping your own trail, you can let your watch do the work. In this manner, watches like the Suunto Ambit3 Peak remain ideal for outdoors enthusiasts. This watch maintains an array of useful features that have been chosen especially for adventuring outside. When you put on this watch, you'll benefit from the device's various capabilities, as well as its stylish appearance. Read our article below to learn all about this device and its countless useful features.
Suunto Ambit3 Peak Features & Benefits
1. Navigation Capabilities
When you're hoping to buy a GPS watch, you expect the device to track your location. However, not every watch has been crafted with the same care and construction. Some devices may claim to provide GPS tracking capabilities, but fail to give you your positioning when necessary. This can cause frustrations when you're out adventuring and realize you don't know where you're located. If your watch suggests its ability to track your location, it should deliver on those promises. Otherwise, you may find yourself lost while out on the mountains or trekking through the woods.
With the Suunto Ambit3 Peak watch, you'll never have to worry about losing your sense of direction when outdoors. This device calculates your position on the globe whenever you're wearing it on your wrist. Robust tracking ensures you won't need to bring a compass along for the journey in order to find your way. You'll even get to discover your altitude, so you can know exactly how far up a mountain you have climbed. If you want something to track your position while outside, consider buying the Suunto Ambit3 Peak watch.
2. Climate Tracking
Since the weather can be unpredictable while outdoors, travelers may want to be prepared for anything. When you buy watches designed for outdoors wear, you'll discover many climate tracking capabilities. Some watches may allow you to check the weather or find out the air pressure of your chosen area. Others may also help you know when to head for shelter, as a storm may be approaching your location. Accordingly, you'll want a device that can do many things when it comes to analyzing weather patterns.
The Suunto Ambit3 Peak watch contains a variety of features that help you track the climate of your location. If you're climbing a mountain, you can check the altitude as well as the air pressure. These features will help you understand how far left you need to climb, or if you need to climb down. This watch also offers weather information, so you can be prepared in case of a storm. Travelers will be able to escape the rain or thunder and lightning when they heed the warnings of this watch. You can stay safe and sound while spending your time outdoors, thanks to this device.
3. Weatherproof Design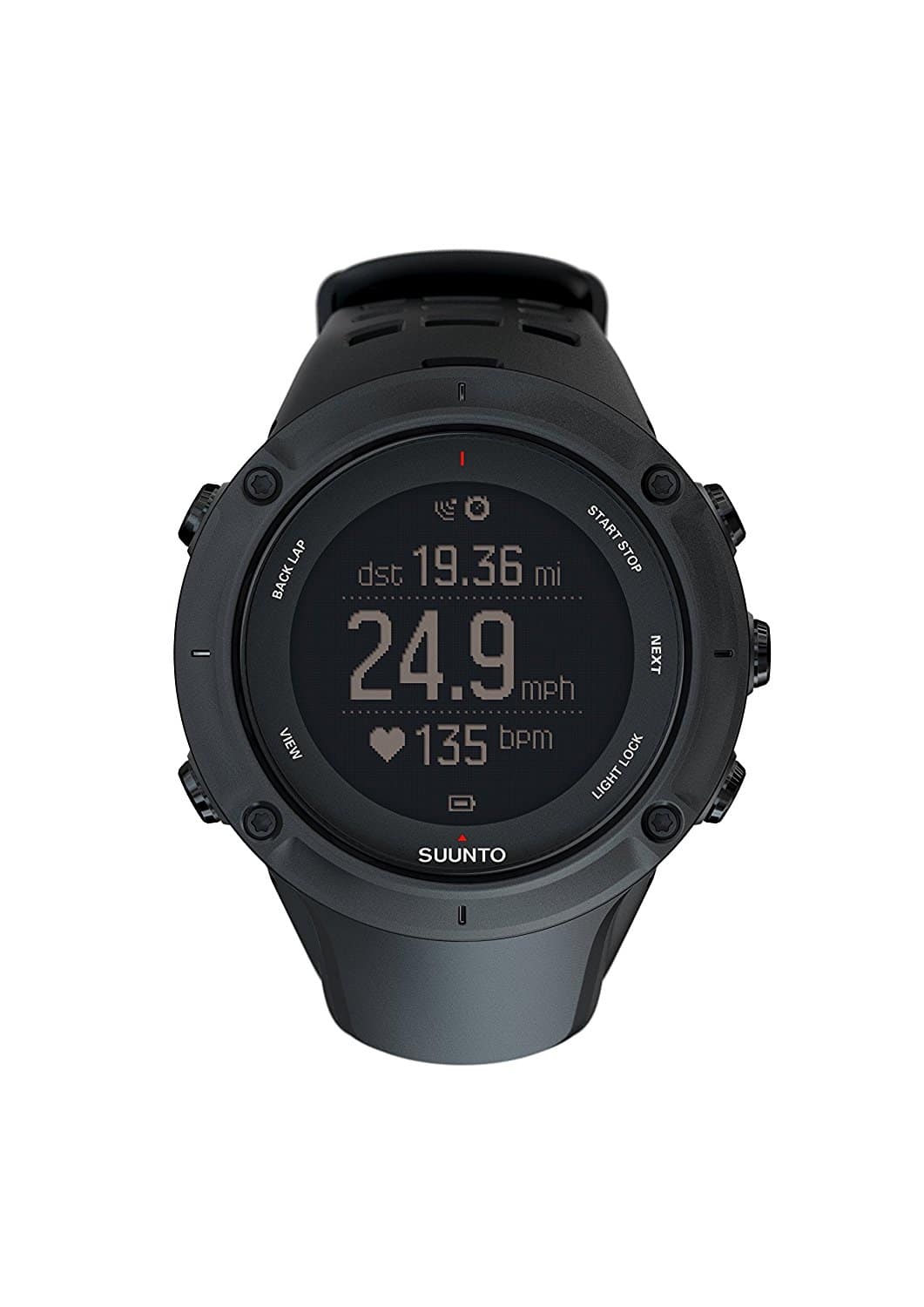 Many fancy watches appear attractive and stylish to wear with many outfits. However, these kinds of watches may not have the durable design that outdoors travelers require. Certain watches might appear to be constructed durably yet become damaged at the slightest touch. You don't want to bring your watch outdoors, only to find that it fails to withstand some wear and tear. Additionally, outdoors adventures inevitably mean unpredictable weather, such as rain. If your watch isn't waterproof, you may find it malfunctioning after it gets wet.
Thankfully, devices like the Suunto Ambit3 Peak have been crafted to withstand normal wear and tear. Outdoors travelers won't have to deal with dysfunctional watches just because the sky has started to release some rain. The Suunto Ambit3 Peak watch maintains a weatherproof construction, so it will stay functional despite the precipitation. You could even wear this device under water, as the watch remains intact for up to almost 330 feet. Accordingly, swimming travelers may appreciate the water-resistant nature of this watch. The sturdier construction of the Suunto device also means you can drop it on the ground without causing countless scratches.
4. Customizable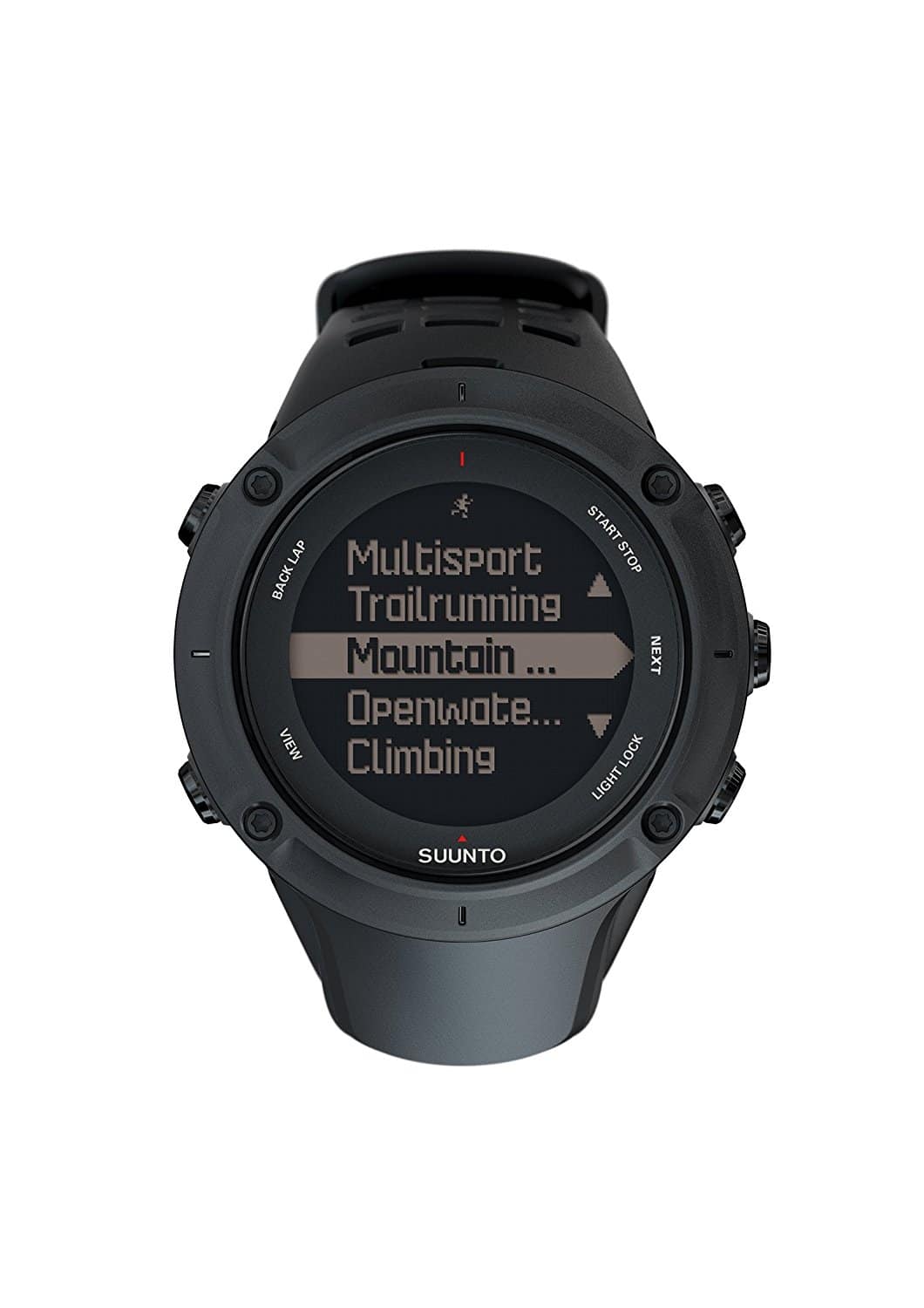 A lot of watches for outdoors adventures maintain fairly simple features and designs. While this might attract some travelers, others may like watches that can be customized. Certain watches only contain basic functionality, such as showing the time or offering a GPS location. However, if you want to change the device in any way, you may not have that ability. As such, the best watches allow travelers to transform the watches according to their tastes and desires.
When you purchase your very own Suunto Ambit3 Peak watch, you'll get to change it in countless ways. This watch allows users to customize the device even as they wander through the woods. Travelers need only connect their watch to their phones and utilize the Suunto Movescount App. Once connected, you can sync your various activities and change the watch's features to your heart's content. Similarly, the app allows travelers to view calls or notifications from their phone on the watch's display.
5. Sleek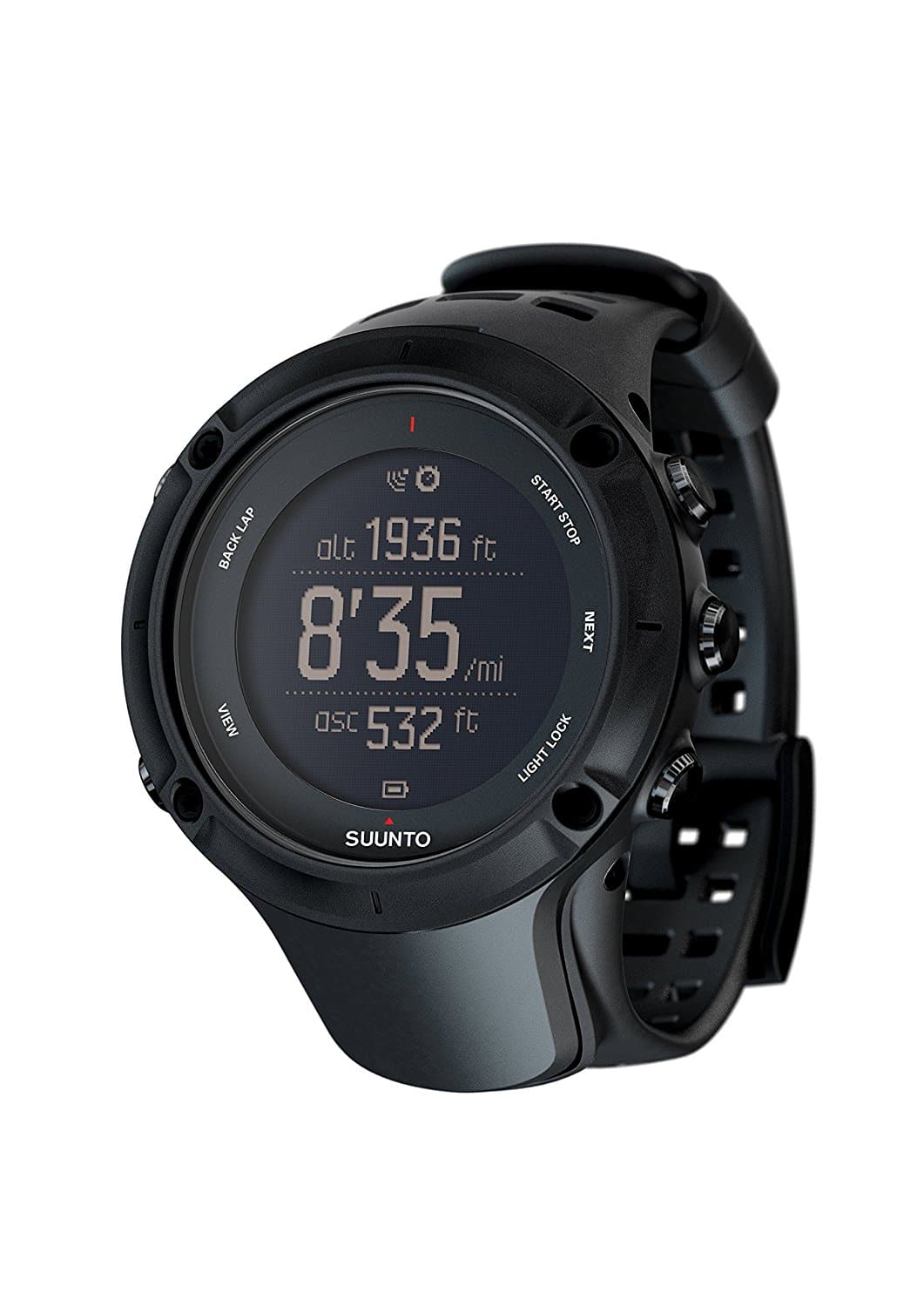 Travelers who want to wear an everyday watch need devices that don't feel too heavy. Some outdoors watches weigh down wrists, making them annoying to wear regularly. Though bulkier watches may remain extremely durable, they don't have a comfortable feel. Travelers should be able to wear their watch and not have to constantly acknowledge the device's presence on their wrists. At the same time, travelers interested in wearing stylish watches may prefer devices with less bulky constructions. Instead of wearing a hefty watch underneath your outfits, you may like a slimmer watch.
The Suunto Ambit3 Peak watch remains ideal for travelers who want a durable, yet still sleek watch to wear. This watch, while extremely durable, doesn't appear hefty and massive on the wrist. The watch maintains a slimmer, classic design, allowing travelers to feel unencumbered by the device while traveling. With a black and basic construction, the Suunto watch will match every outfit you don throughout your travels. This means you could wear the device for casual, everyday occasions as well as during intense outdoors expeditions. Don't buy another watch that feels over-sized on your wrist; instead, choose the Suunto device, and you'll feel comfortably light.
What Travelers Are Saying About the Suunto Ambit3 Peak
Travelers who purchased the Suunto Ambit3 Peak watch raved about the device's GPS tracking features. Instead of relying on compasses and maps, travelers could simply utilize the watch to navigate through the landscape. Reviewers loved having the ability to track their movements across mountains, fields, and forests during their various adventures. Those who spent time mountaineering also especially appreciated the watch's ability to determine speed and elevation. Many of the travelers additionally found the watch helpful for maintaining safety while outside. Features such as storm warnings assisted reviewers by letting them know when they should head for shelter. The watch was also easy to customize, thanks to the number of apps available to download and use on it. This meant travelers could tailor the watch to fit their needs, rather than remaining satisfied with the standard watch features.
A few reviewers found that the Suunto Ambit3 Peak watch had a limited battery life. After spending hours outdoors, some travelers found their watch losing its charge. This meant that travelers couldn't continue to utilize the watch and all of its features. However, most reviewers found the watch maintained an adequate battery life when used on travel expeditions. Additionally, some thought the temperature and heart rate readings were somewhat inaccurate. Travelers decided not to rely on these measurements in these instances. Yet, overall, most reviewers considered the Suunto Ambit3 Peak an ideal watch for outdoors adventures.
Alternative Hiking Watches You May Like
1. Casio ProTrek PRG-270-1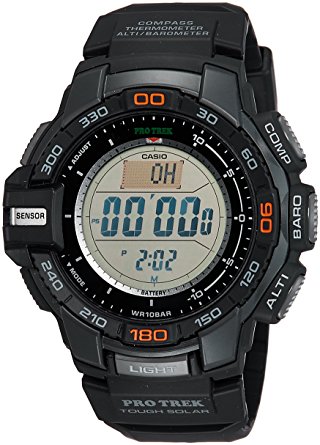 If you're weren't completely satisfied by the Suunto Ambit3 Peak watch, consider purchasing the Casio ProTrek instead. This watch maintains comparable features to the Suunto device, like navigation capabilities. A digital compass comes embedded within this watch, so you'll never have to worry about getting lost while wearing it. Instead of requiring electricity to power up this watch, you only need the sun. The solar rechargeable battery lets you wander outside on a sunny day and reboot the watch with ease. According to Casio, this device will last 9 months on a full charge when trying to save power. Even when the battery starts to decrease, you'll know, thanks to a battery level indicator. A barometer and thermometer allow travelers to check out the weather while they're exploring amazing outdoors locations. Additionally, if you're going to spend time in frigid conditions, the watch won't break down. The watch remains low-temperature-resistant, meaning the device will continue to function properly in chilly weather. Even when the weather grows rainy or snowy, this watch may stay intact and in working condition. The water-resistant design resists weathering due to unpredictable climate conditions, so you never have to worry about it working right.
2. Garmin Fenix 3 HR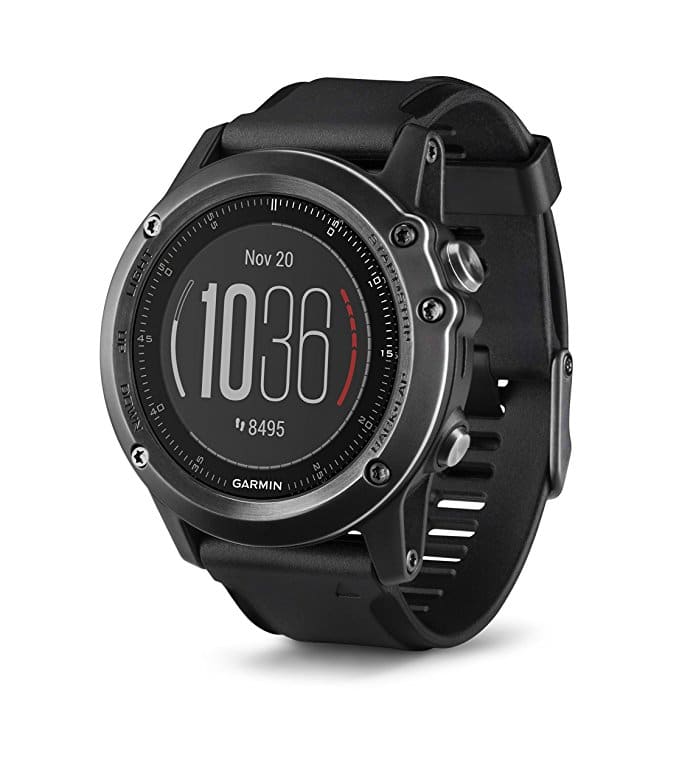 With the Garmin Fenix 3 HR watch, travelers can enjoy a variety of useful features when outdoors. You'll find the features of this watch comparable to the Suunto Ambit3 Peak. Travelers who like to test their athletic abilities will appreciate the heart rate monitor in this watch. This feature measures heart rate on the wrist, rather than requiring the use of a chest strap. You'll be able to easily check how hard your heart has been working after a long hike or mountain climb. The Garmin Fenix watch can be utilized for water workouts, so travelers interested in swimming can wear it too. With waterproof features, the watch won't stop working just because you've gone for a dip in the pool or sea. Various design features on the watch additionally make the Garmin device super simple and straightforward to use. A chroma display remains easy to see even during the brightest hours of the day. The soft, silicone band that wraps over your wrist also feels comfortable and won't rub against your skin.  If you decide to return to civilization, you'll find it effortless to connect Wi-Fi hot spots. Once you've gained your internet connection, you can sync any data or perform software updates.
3. Suunto Traverse Alpha
Another Suunto watch, the Traverse Alpha might be your top choice among outdoors technologies. Like the Suunto Ambit3 Peak, the Traverse Alpha watch allows travelers to track their position in the landscape. GPS navigational capabilities ensure you'll always know your location wherever you decide to roam. An automatic breadcrumb trail allows travelers to follow their path of travel exactly, so they can retrace their steps. While the Ambit3 Peak might be ideal for climbing, the Traverse Alpha remains perfect for fishing and hunting expeditions. A moon phase calendar, based on location, allows you to figure out the best times to go fishing and hunting. You won't have to guess the ideal time to fish and hunt thanks to this watch. Automatic shot detection technology tracks wherever you shoot and when, keeping the coordinates on the watch to view later. Travelers will have the peace of mind knowing their shots will remain discoverable due to the efforts of this watch. Since you're going to wear this watch outdoors, you'll want the device to remain durable. Accordingly, the Suunto Traverse Alpha has a stainless-steel bezel, water-repellent strap, scratch-resistant glass. This means your watch can handle every trek through the trees and down the mountainside without getting damaged.
Never embark on another hiking adventure without a Suunto Ambit3 Peak on your wrist.
Those who enjoy exploring the outdoors landscape will definitely benefit from wearing a GPS watch. These devices maintain countless features that assist travelers on their journeys outside. Beyond their navigation capabilities, these kinds of watches also contain other features, like health and weather tracking. However, not all GPS watches have been crafted with equal time and care, nor do they all appear especially attractive. Some watches look bulky and lack the sleek appearance travelers may desire in top-notch GPS watches. Thankfully, the Suunto Ambit3 Peak maintains both countless useful features for outdoors adventures as well as a stylish look. When you wear this watch outside, you'll never have to worry about getting lost or not looking your best. Before you plan your next expedition to famous mountains, make sure to snag a Suunto Ambit3 Peak watch. You won't regret it.
Related Article: The Best Hiking Watch: 6 Top Contenders and How to Pick the Right One