Keep your feet warm outdoors with the Men's SOREL Caribou Boots.
If you're a traveler who enjoys spending time outside, finding the right pair of boots can be very important. Hiking and camping adventures may sound fun, but if you're wearing uncomfortable shoes, you might not have an enjoyable time. Additionally, when you travel outdoors during the colder months, you'll require boots that offer adequate warmth. Certain boots might feel comfortable to wear during the summer and spring yet lack the insulation necessary for winter weather. Accordingly, travelers with an interest in winter outdoors adventures need shoes like the Men's SOREL Caribou Boots. These boots offer warmth and true comfort while you're spending hours in the mountains or other landscapes. Check out our article below to learn all about these boots and their awesome features.
The Men's SOREL Caribou Boots Features & Benefits
Warmth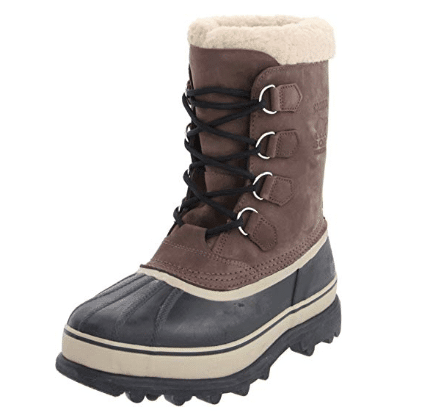 If you're trying to purchase decent hiking boots, a priority should be the shoes' ability to keep feet warm. Some boots might claim to keep you warm throughout chilly adventures yet fail to live up to those expectations. This can lead to frustrations as you purchase seemingly high-quality boots, only to later discover the shoes' lack of insulation. You don't want to get all the way to your outdoors location before noticing your boots fail to provide warmth. Additionally, your boots should offer extra room for occasions when you wear thicker socks. While the padding inside boots can feel nice and cozy, they may make wearing certain socks difficult.
Insulating features make the Men's SOREL Caribou Boots an ideal footwear choice for cold weather days. These boots offer tons of warmth for travelers spending time outdoors on chilly days of the year. A nubuck upper and removable felt liner allow your feet to remain completely toasty throughout your wearing time. Since the liner isn't permanently attached to the boot, you can remove it when your feet feel too hot. A Sherpa collar on these boots provides even more warmth, so ankles stay just as cozy as feet.
Durability
Hiking boots need to have durable structures in order to stay intact throughout various outdoors adventures. Some boots might claim to maintain their integrity while you trek up mountainsides and through dense forests. However, these same boots might end up with broken laces or cracks in the construction soon after you wear them. You don't want to spend money on cheap traveling footwear that start to fall apart at the first sign of wear. Rainy or snowy days may also cause improperly waterproofed shoes to grow soggy and unwearable. In these instances, you need hiking boots that keep their form even after you've worn them on many occasions.
With the Men's SOREL Caribou Boots, you'll never have to worry about your shoes falling apart. These boots maintain their well-built structures long after you've worn them. Instead of growing weak and experiencing deterioration, the Caribou Boots will stay almost brand-new. Materials like 100% leather and synthetic fibers enable these shoes to keep their original structures after countless outdoors adventures. A rubber sole ensures the bottom of the shoe will not experience tears and holes when stepping on rough terrain. Accordingly, the Men's Caribou boots will let you embark on various outdoors expeditions, without ever needing to repurchase more shoes.
Weatherproof Construction
As mentioned above, the best hiking boots for men should always maintain durable constructions. In a similar manner, the boots you buy should contain features that resist damage from the weather. If you're planning to take a trek through snowy mountains, you need boots that can withstand wet conditions. Since the weather remains unpredictable, you'll also need shoes with an ability to keep your feet dry despite the rain. You might plan for a sunny day outdoors, only to find that you're soon being drenched by the rain. This means your boots must also be versatile and waterproofed sufficiently to account for unpredictable weather patterns.
When you buy the Men's SOREL Caribou Boots, you'll maintain peace of mind in all kinds of conditions. Since these boots maintain weatherproofing features, you won't need to worry about rain ruining the shoes. Snowy days will not mean cancelled plans; rather, you'll be able to step outside your door confidently. These shoes live up to their weatherproofed expectations, as they have been crafted with waterproof leather. The rubber sole will also allow for treks through wet ground without any damage to the shoe. Once you've purchased a pair of the Men's SOREL Boots, you'll never need to buy another pair of hiking shoes.
Adjustable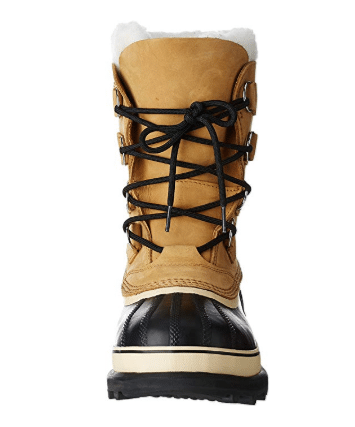 Sometimes, buying a pair of boots can be difficult due to a lack of opportunities for individualization. Many boots maintain one style and fit, meaning not everyone will be able to feel comfortable while wearing them. As not every traveler has the same shape and size of foot, not every boot may fit them properly. However, certain boots contain features that make them easy to adjust to the length and width of your feet. These shoes may also allow you to change the feel of the shoe depending on the weather and your clothing.
The Men's SOREL Caribou Boots let travelers adjust the fit and feel of the shoe according to their wishes. Instead of making do with a shoe that fits in a mediocre manner, these boots let you feel completely comfortable. Adjustable laces on these boots mean you can tighten or loosen them at will. This means anyone who likes to wear thicker socks can loosen the shoe and still feel cozy. On warmer days, you'll get to adjust the insulation features of these boots. A removable felt innerfoot means you can make the boots as warm or cool as you please. In this manner, the Men's SOREL Caribou Boots allow travelers to find their perfect fit while wearing the shoe.
Style Options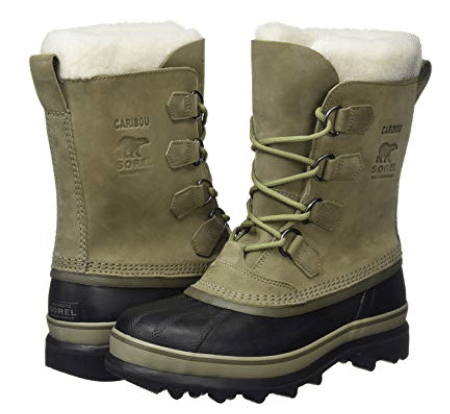 Many hiking boots maintain similar appearances and styles. For some men, the idea of buying the same pair of shoes as everyone else may not be an issue. However, others might wish to stand out from their peers as they trek through the landscape or explore new destinations. This means travelers will need to find boots that offer different looks, allowing the wearer to feel like an individual. A large number of hiking boots appear very plain, while some might maintain more distinct looks. You don't want to spend hours in order to find the perfect hiking footwear simply because every shoe appears the same.
With the Men's SOREL Caribou Boots, you'll get the chance to differentiate yourself from many other outdoors adventurers. These boots come in a variety of colors and styles, letting you pick your perfect shoe. You could pick shades that appeal to your individuality, or simply choose a plainer shade that feels understated. Colors such as Autumn Bronze, Prairie Sand and Maple, and Sage and Black appear cool and unique to other boots. Of course, travelers who prefer more classic and simple-looking boots can choose shades like Black or Black and Tusk.
Travelers who purchased the Men's SOREL Caribou Boots raved about the shoes' ability to keep feet warm. During cold weather days, the reviewers were able to remain warm and toasty. This meant they could stay outdoors for longer, instead of having to return indoors due to freezing feet. Even when travelers were trekking through landscapes in subzero temperatures, the boots maintained optimum heat levels. While wearing the boots, reviewers loved the soft feeling of the liners as they trekked up mountains. The padding within the boots offered tons of comfort, so moving around felt similar to walking on cushions. Similarly, the Men's SOREL Caribou Boots enabled travelers to climb easily without fear of slipping, thanks to the traction features. Travelers remained able to wear these boots throughout an entire winter season, without ever needing to buy another pair.
A few reviewers found the Men's SOREL Caribou Boots lacking in some waterproof features. For example, some discovered water entering the interior of the boots after walking in snow. This caused the travelers' feet to feel wet and cold when wearing the shoes. Additionally, a couple of travelers noticed cracks in the rubber of the boots after donning them outdoors. This meant the shoes didn't remain completely intact and provide feet with protection from the elements. However, most reviewers considered the SOREL Caribou Boots ideal shoes for spending time outdoors during the winter months.
Alternative Winter Boots for Men You May Like
1. Kamik Men's Greenbay 4 Cold-Weather Boot
Travelers who weren't completely floored by the Men's SOREL Caribou Boots should consider purchasing the Kamik Men's Greenbay 4 Boot. These cold-weather shoes remain comparable to the SOREL Caribout Boots, such as maintaining similar insulating features. The Kamik shoes contain a removable, 8mm thermal-guard liner, providing the warmth your feet crave. Since the liner isn't fixed onto the shoe, you can take it out when your feet feel uncomfortably hot. Additionally, the Kamik boot utilizes a waterproof upper, ensuring snow and rain won't make your feet damp. Instead, your feet will remain nice and dry no matter the precipitation outdoors. The length of the boot also offers more protection from the cold and weather. Your calves and ankles will remain covered and kept dry while wearing these boots. A drawstring at the top line of the boots also means you can adjust the fit to your liking. You'll also get to keep out wind and rain by tightening the string against your leg. Furthermore, a synthetic rubber sole on these boots allows you to remain stable across slippery ground. Travelers who like hiking won't need to worry about sliding down mountainsides if they don these boots.
2. Timberland White Ledge Men's Waterproof Boot
The Timberland White Ledge Men's Waterproof Boot remain comparable to the Men's SOREL Caribou Boots. This means if you don't particularly love the SOREL Boots, the Timberland shoes may satisfy you instead. If you're looking for boots to wear on and off the mountains, you'll love these shoes. The Timberland boots, with their ankle length, allow you wear them while outdoors or in more everyday settings. You could wear the boots with snow pants out on the slopes, or with jeans on a cold night out. These boots don't offer the same above ankle protection as the SOREL boots, however. Accordingly, you may need to wear tighter pants or thicker types of socks in order to keep ankles warm. With waterproof materials constructing the exterior of the boot, you won't need to worry about wet feet on rainy days. The rust-proof, speed lace hardware on the shoe also ensure the boots will remain attractive after wear in the rain. Hooks at the top of the laces keep the laces from getting untied while you're out and about. Rubber soles even make these wearable when the ground feels wet, as you won't slip and fall.
3. Helly Hansen Men's Garibaldi 2 Cold-Weather Boot
With the Helly Hansen Men's Garibaldi 2 Cold-Weather Boot, travelers will get to experience true comfort while outdoors. When you wear these boots, your feet will remain cozy and warm, even when they weather grows frigid. A faux fur lining within these shoes enables feet to stay insulated, so heat remains where you want it. The boots' padded tongue and collar also offer extra comfort, allowing feet to feel cushioned as you walk. A durable, lace-up vamp offers added stability to the shoe when you travel. This means if you're climbing up mountains or simply stepping down the street, you'll move with ease. Thanks to rubber soles, travelers will also benefit from shoes that don't let them slip and fall on wet ground. You can move at your own speed, despite the leave-covered ground or snowy, icy landscapes. Additionally, the Helly Hansen Boots have a slightly higher length than the Men's SOREL Caribou Boots. Since these boots rise higher on the leg, your ankles and calves will stay warmer.
Upgrade your outdoors adventures by wearing the Men's SOREL Caribou Boots.
Travelers who love spending time outdoors during the winter require boots that keep them warm during their adventures. This means the boots you buy need to maintain insulating qualities, as well as provide other things like traction. As such, travelers should consider purchasing a pair of the Men's SOREL Caribou Boots. These boots remain ideal for all sorts of outdoors wear, especially during cold weather days. As you don these boots during your treks across the landscape, your feet will never feel uncomfortable or chilly. Instead of paying for boots that don't provide various features like warmth and durability, think about buying a SOREL pair. Hopefully, you'll decide to choose these boots before beginning another great winter road trip or hiking adventure.
Related Article: 9 Best Winter Boots for Men: Stylish, Functional Finds