Looking for a great pair of hiking boots under $100? Check out the Arctiv8 Men's Nortiv8 Snow Boots.
Rather than splurging $300 – $400 on a pair of winter boots, we decided to seek out the best hiking boots under $100 that offered high quality. We were pleasantly surprised when we came across the Arctiv8 Men's Nortiv8 Snow Boots. Not only are these shoes waterproof and insulation to withstand temperatures down to -25 Fahrenheit, but they are also a steal!
Why You Need a Solid Pair of Shoes Like the Arctiv8 Men's Nortiv8 Snow Boots
While you may not know this, hiking in regular shoes can cause easily preventable injuries. Blisters and rolled ankles are the first types of easy injuries. These alone should be reasons to invest in some solid hiking footwear. Consider the long-term injuries that could develop as well.
Over time, people who do not wear properly-fitting and supportive footwear can suffer from foot and back problems. Wearing the right types of shoes not only protects your feet and ankles from unnecessary risks but it also helps with your posture too. We appreciate that the Arctiv8 Men's Nortiv8 Snow Boots offers a cushioned EVA footbed for support and a durable outsole for protection on all types of terrain.
The Arctiv8 Men's Nortiv8 Snow Boots Features & Benefits
For anyone seeking cold weather shoes, the men's Arctiv8 Men's Nortiv8 Snow Boots are the way to go. Pair them with some great wool socks for extra comfort and warmth. These shoes have great ankle support, overall padding, and slip-resistant soles. Given its price point, these shoes are such a great purchase.
Comfortable Design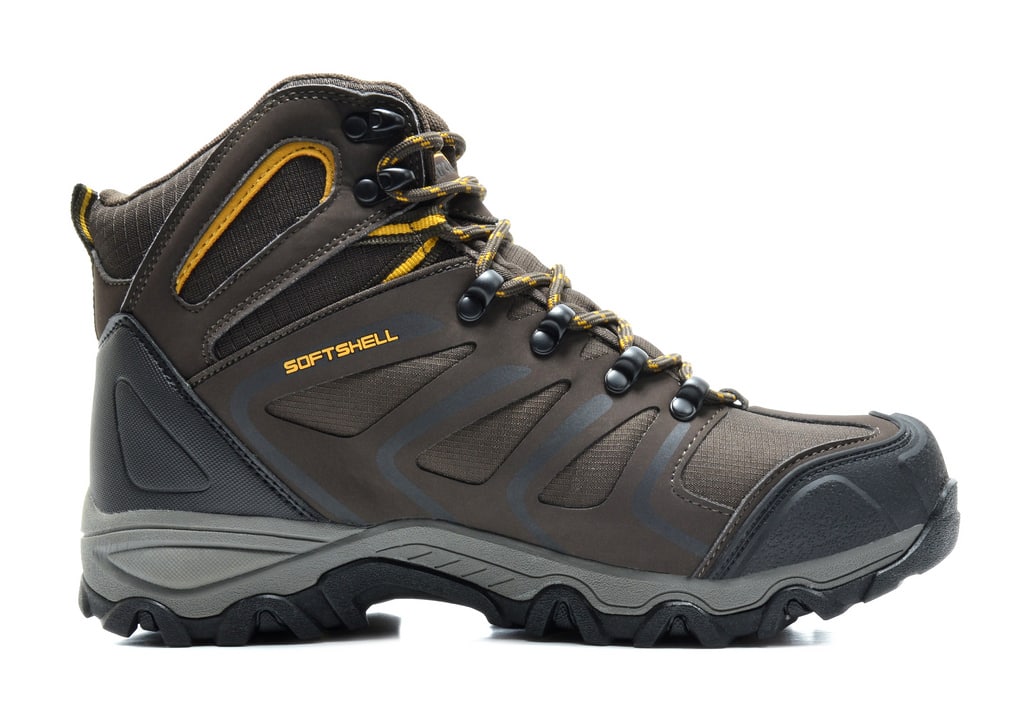 Let's face it. No one likes facing the winter cold. Now, you can walk around in the rain and snow without worrying about getting numb toes. These affordable snow boots are designed for the elements. So what makes this new and exciting technology possible? It's all thanks to the shoes' all-weather protection seal, warm insulation, and 200g thermolite style tech.
Did we mention that the Arctiv8 Men's Nortiv8 Snow Boots also have a water and oil resistant upper? With a boot shaft of six inches as well as a cushioned EVA footbed for easy movement, they have everything you could want in a pair of winter hiking boots.
Insulation Properties
A cozy and reflective lining maximizes the shoe's ability to retain body heat and an all-day comfort. Warmth is a critical factor when it comes to choosing the best winter boots. The Arctiv8 Men's Nortiv8 Snow Boots offer a shell bottom unit, 200g thermolite insulation rated to -25 degrees Fahrenheit, and all-around toasty insulation.
In addition, we have found that the EVA footbed offers a comfortable insole. Whether you're heading up to the mountains for the day or braving the cold during a European winter, these boots will keep you feeling warm and happy. The great insulation properties attest to the overall quality provided by Arctiv8 in their product lines.
While these boots do not have a built-in lining, the thick ankle pad provides plenty of support. The only thing we wish we could change as that the opening of the shoes is a little taller. This would have provided a little more support and warmth. However, if you add in extra layers like wool socks, you can get additional warmth to face the snow.
Durable Rubber Outsole
For winter hikes, you need shoes with good traction. With multi-directional lugs and slip resistant soles, the Arctiv8 Men's Nortiv8 Snow Boots make a great candidate for your new go-to style. Since they are designed for wet and cold conditions, you can accept the challenge and face the wilderness. When you are hiking in slippery conditions, it is always smart to take extra precautions. If you need to, use a walking stick.
Several Color Options
We like to say variety is the essence of life. Having options is never a bad thing. That's why we appreciate all the color choices we have in the Arctiv8 Men's Nortiv8 Snow Boots. As a winter wardrobe staple, you will want to pair them with your clothes every day. Thankfully, they come in six different color styles. Pairing these with a good pair of wool hiking socks adds an extra layer of coziness. So, if you're looking for a pair of high quality boots that doesn't sacrifice fashion for function, look no further than this style from Arctiv8.
Style
With a minimal style, the Arctiv8 Men's Nortiv8 Snow Boots go with just about any type of outdoor wear. It's clear that Arctiv8 aims to create stylish and comfortable footwear designs. No matter what season you are hiking in, they have a style to suit your needs. Their quality control team oversees every part of the manufacturing process. It's clear to see that Arctiv8 prides themselves on attention to detail without sacrificing comfort.
What Travelers Are Saying About the Arctiv8 Men's Nortiv8 Snow Boots
It's clear to see that travelers love the Arctiv8 Men's Nortiv8 Snow Boots. With a 4.1 out of 5-star rating and over 400 customer reviews, these shoes speak for themselves. While there are many hiking boots on the market, these are some of the most comfortable ones we have tested. Users say the same thing. For one thing, they the soles are curved at the heel and toe which will make walking more natural and comfortable, especially on longer hikes.
When it comes to width, these shoes have just the right amount of space. Many reviews noted that the boots fit snugly with a thick pair of socks. Right out of the box, they come pre-laced with a spare pair of laces. Considering how quickly most laces get dirty, this is a definite plus. The boots are made of durable rubber lowers and man-made simulated leather uppers around the laces. Animal lovers appreciate that no leather was used in the manufacturing of these boots.
We have no doubt your feet will remain dry and warm in cold wet weather. The soles are hard rubber with sharp edges and multiple angles of tread which appear as if they will have no problem providing traction in wet or even snow and icy conditions. At a reasonable starting price of $45, there's a good chance you will want a second pair. We highly recommend these boots.
Tech Specs:
Synthetic material

13" boot opening all around

Durable rubber outsole

check

Multi-directional lugs for traction on various types of terrain

check

Waterproof shell

check

Thermolite insulation rated to -25 degrees Fahrenheit

check

Cushioned EVA footbed

check

All-weather protection

check

Premium waterproof, oil-proof, and slip resistant
Alternative Winter Boots for Men You May Like
Kamik Men's Greenbay 4 Cold-Weather Boot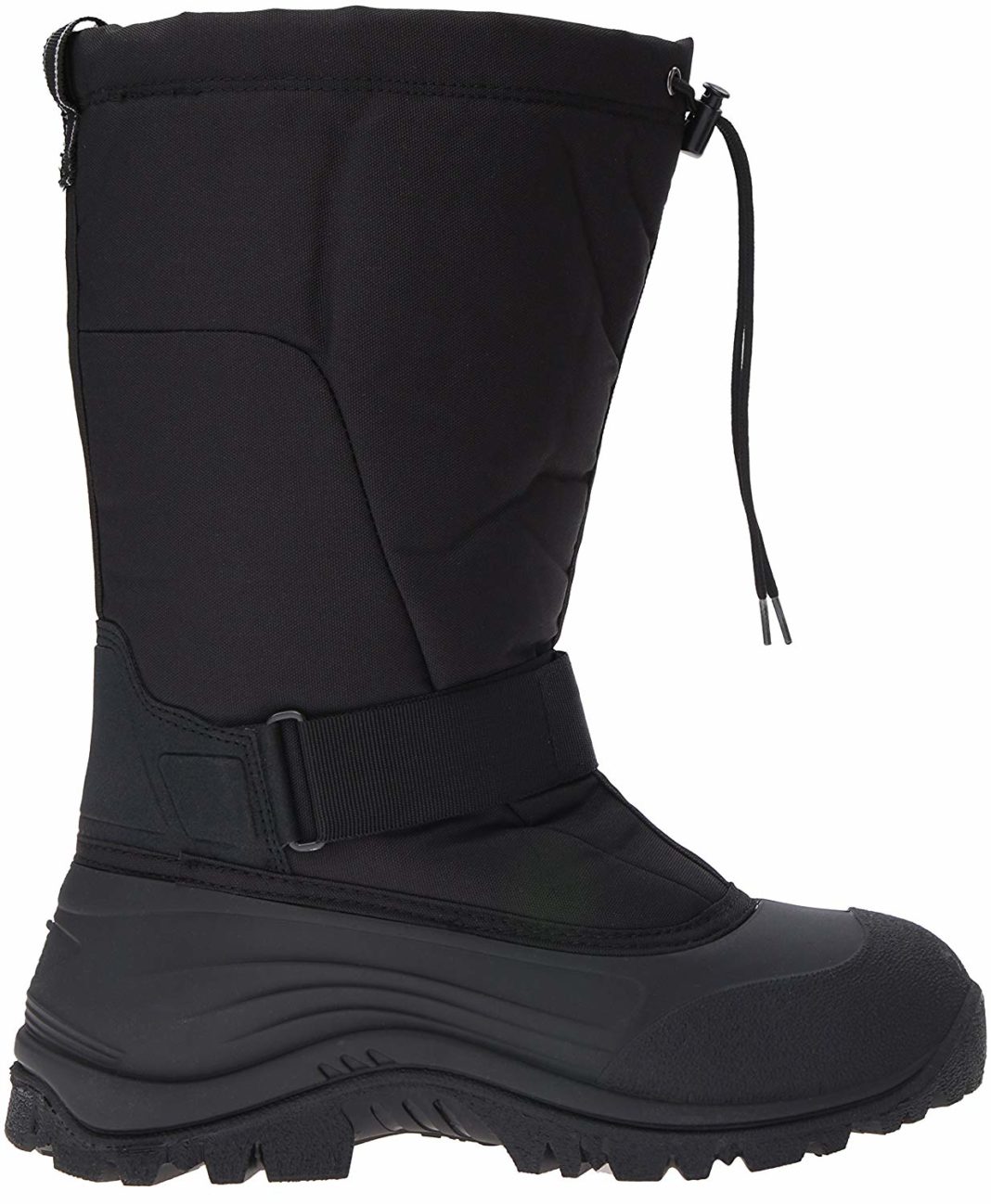 If you're looking for an even more extreme pair of winter boots, this style from Kamik checks all of the boxes. Talk about heavy duty. They'll keep you warm do freezing temperatures of -40 Fahrenheit. You can take these Kamik boots literally anywhere. If they can keep you warm when you're treading on the frozen tundra in the Arctic Circle in the dead of winter, they can keep you warm anywhere. After all, the 600-denier nylon uppers are completely waterproof. In addition, the 8mm thermal guard liner is in place to keep you toasty in temperatures down to -40 degree Fahrenheit.
Even in the cold, the rubber outsole remains flexible and offers great traction. While the removable thermal guard liner keeps heat in, it's also moisture wicking. So, you'll never have to worry about sitting in uncomfortable, moist shoes. Last but certainly not least, the velcro closure strap helps to keep the foot snug. A thick tread rubber outsole is great for slippery surfaces.
Tech Specs:
600-denier nylon

Made in the USA

Rubber sole great for ice and other slippery surfaces

check

Cold-weather boot

check

8mm thermal-guard liner and hook-and-loop strap

check

Drawstring at top
Timberland White Ledge Men's Waterproof Boot
Maybe you don't need very heavy duty boots. If you're seeking something classic and rugged for the trail, Timberland is always a great go-to. We can't say enough good things about their White Ledge Men's Waterproof Boot. With these shoes, you can count on sturdy construction and durable fabric. Rubber outsoles keep you warm and comfortable.
The perforated EVA footbed offers air circulation for breathability when you need it most. A durable rubber outsole and lugs follow the natural motions of your foot. You can break, flex, and propel with ease. You're the master of the terrain in the Timberland White Ledge Mid Waterproof. These are some of the best winter boots for men. With a full-grain waterproof leather and seam-sealed protection, you're safe from raindrops and water crossings. Add in those multi directional lugs we talked about and you can get around with ease.
Tech Specs:
100% full-grain leather

Imported

Flexible sole

check

Waterproof exterior

check

Lightweight body

check

Perforated EVA cushion insole

check

Durable construction
Our Take on the Arctiv8 Men's Nortiv8 Snow Boots
With a starting price of $45 and a durable construction, you won't find more affordable hiking shoes. After testing these shoes out and reading countless user reviews, it's clear to see that the Arctiv8 Men's Nortiv8 Snow Boots rise to the occasion. These cold weather boots offer protection to -25 degrees Fahrenheit, are waterproof, have a cushioned EVA footbed for optimal support, great traction and just about everything else you might need. Take these on your next winter road trip. We highly recommend them for your winter shoe go-to.
Related Article: 9 Best Winter Boots For Men: Stylish, Functional Finds