From scenic beaches to private infinity pools overlooking the lush jungle, we've found the best Thailand resorts.
It's about that time of the year. We're all wanting a little getaway. Whether you've been saving up for that dream holiday or you're just feeling spontaneous, we've listed all the Thailand resorts you're going to want to book. Is it just us or is romance in the air?
Put down your phone and pick up a mai tai. These Thailand resorts are a perfect choice for travelers seeking a beach getaway. Where better to work on your tan than a slew of luxurious stays that dot the island? It's time to put your calls on hold and enjoy nothing but the pure bliss of blue skies and crystalline waters. When you're ready for the VIP treatment, these beautiful places are waiting for you. Think room service, luxurious rooms and suites, posh dining, and incredible views. We've searched the globe to find resorts that truly stand out from the rest.
Here Are Our Picks for the Most Romantic and Beautiful Thailand Resorts
Are you ready for the vacation of a lifetime? These Thailand resorts have it all. We dare you to find a more beautiful place to spend your PTO under the sun. Lounge around, eat your weight in fresh fruit at the hotel's on-site restaurants, and adventure around the coast. You've earned it. Here are our picks for the best Thailand resorts in no particular order.
1. Four Seasons Resort Koh Samui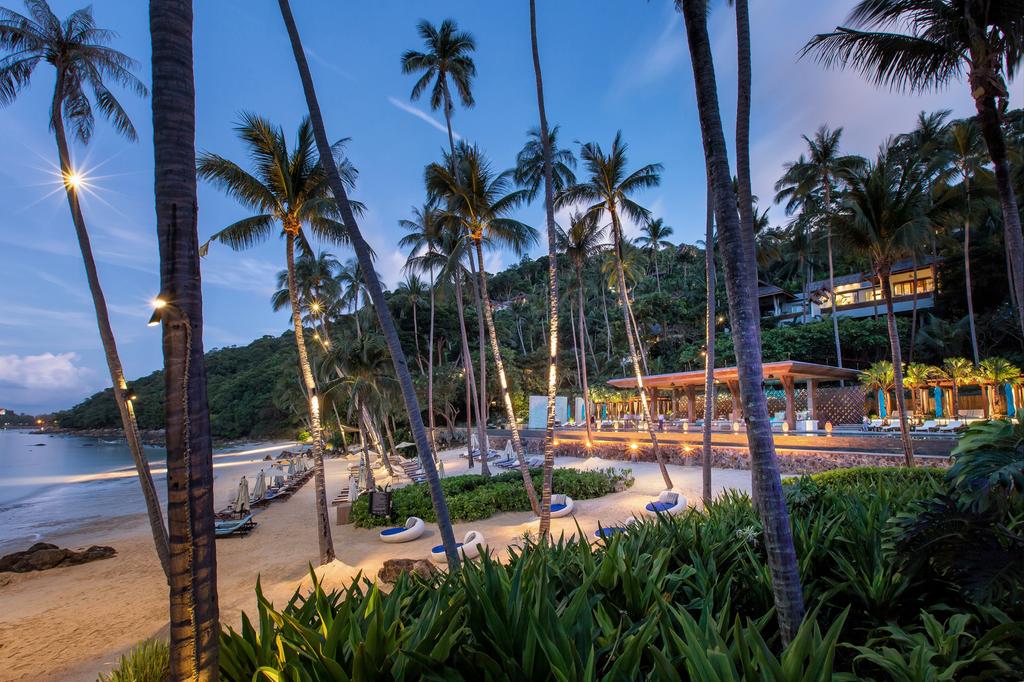 Credit: Four Seasons Resort Koh Samui
Located on the dreamy island of Koh Samui, the Four Seasons Resort offers sun-seeking travelers a beautiful private beach, comfortable rooms, and a pool with prime views of the blue sea. Here, you'll find all of the amenities you would expect of a luxury stay. For your convenience, there are a few on-site restaurants, wellness spa, and even childcare options to give you sleep-deprived parents a break. Comfortable, shady seating areas provide plenty of areas to lounge around and soak up the beauty of your surroundings. This is one of our favorite Thailand resorts.
2. Banyan Tree Samui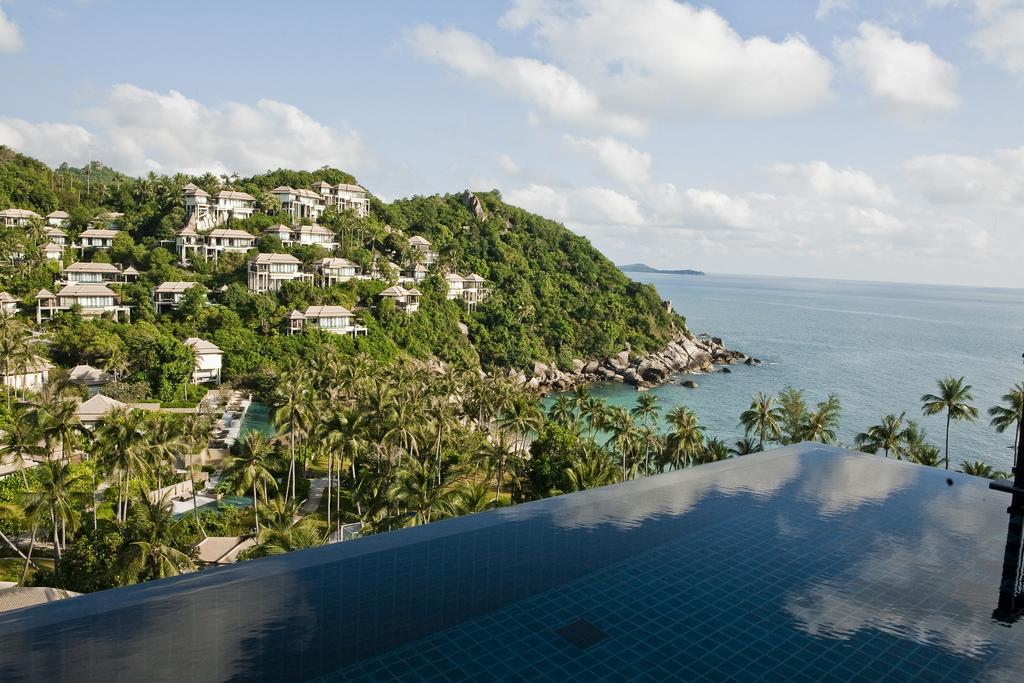 Credit: Banyan Tree Samui
Have you seen a more dreamy destination? Paradise awaits you at Banyan Tree Samui. Perched above the azure blue waters of the Gulf of Thailand, Banyan Tree Samui is nestled amidst the beauty of a private bay in Lamai. As a gorgeous all-villa stay, Banyan brings the best elements of a tropical getaway with pristine beaches to lounge on, blissful spa escapes, excellent dining, a personal concierge, and unparalleled views.
Retreat to this haven and your stress will disappear the moment you arrive. If you're looking for a couple's getaway, their honeymoon package in a villa sanctuary is just the thing you need. This lovely package includes a 90-minute spa treatment for two, a romantic villa set up during your stay, daily breakfast at the Edge for two, and optional honeymoon activity, and more.
3. Dhara Dhevi Chiang Mai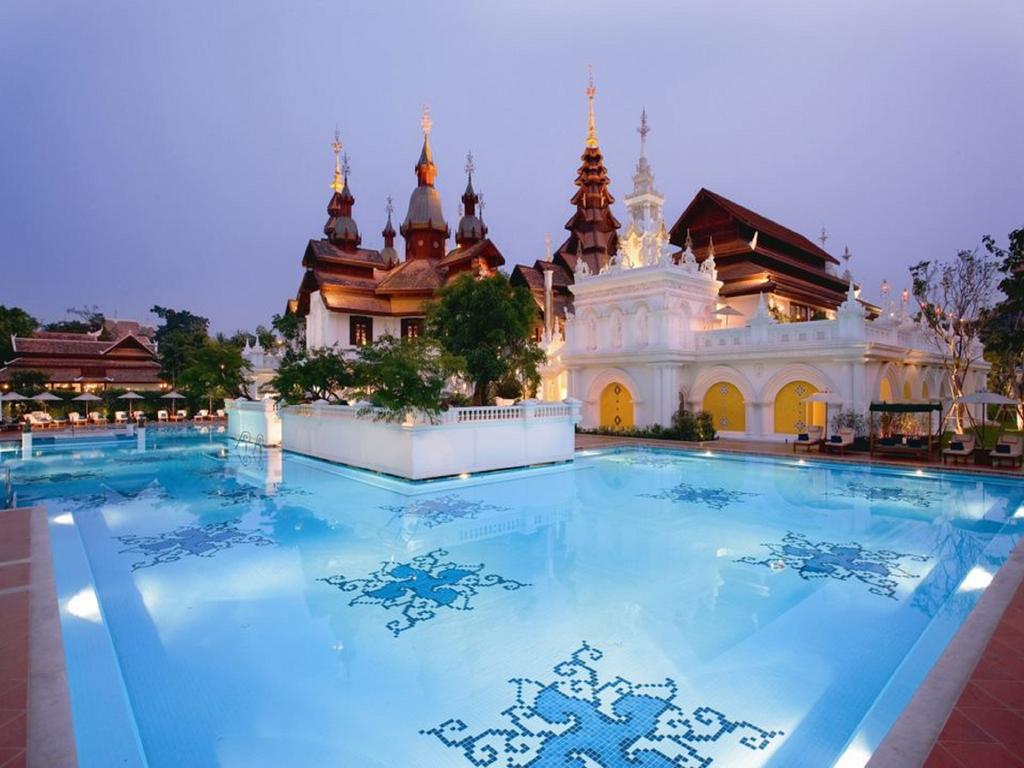 Credit: Dhara Dhevi Chiang Mai
Welcome to Chiang Mai's top luxury property and one of the most beautiful Thailand resorts. Built in the style of an ancient Lanna kingdom, this temple-like complex features a horse and carriage transport service from the gate, a huge swimming pool, and jaw-dropping faux ruins. Throughout the property, scattered villas made from reconstructed rice barns offer serene escapes and stunning private plunge pools. Looking over to the Colonial Wing, you'll find simple yet elegantly-appointed rooms.
Prepare to be pampered. One of the country's best spas can be found right here. With a whole host of amenities and activities, there is something sure to please the heart of every guest. Did you know that Dhara Dhevi Chiang Mai is the only resort in the region that offers a regular daily program for arts and crafts? But that's not all. You also have the opportunity to join in on classes in the cooking academy, work out in the state of the art health and fitness center, peruse designer stores in the Shopping Village, and experience rice planting hands on.
4. Santiburi Koh Samui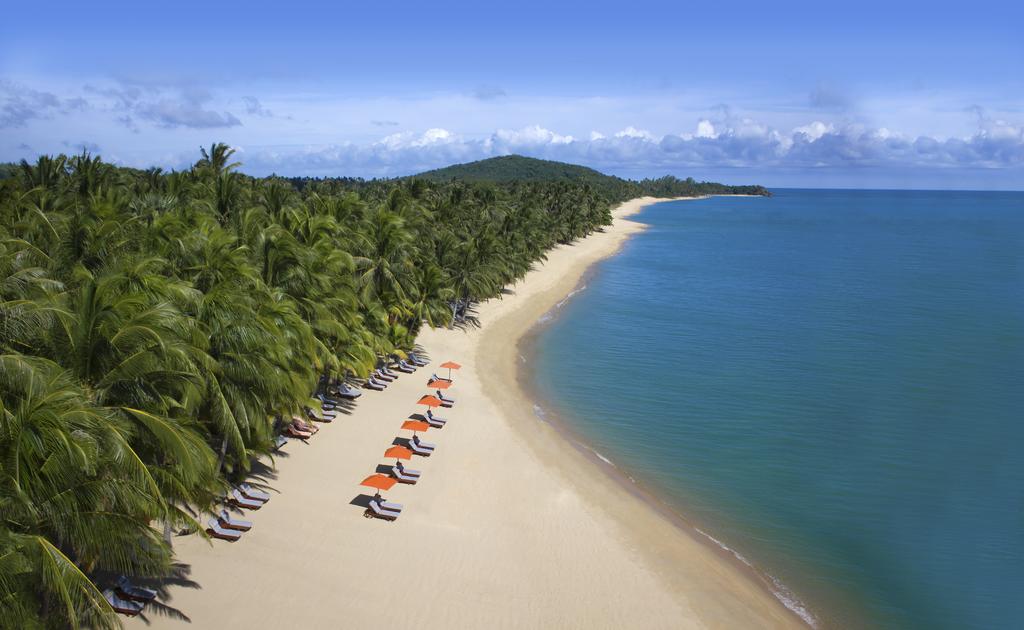 Credit: Santiburi Koh Samui
Find your peaceful, happy place at Santiburi Koh Samui. A distinctive, elegant escape on the north shore, it offers 300 meters of private beach on the pristine white sand. Soothing turquoise waters stretch as far as your eyes can see framed by pure botanical beauty. Each of their villas and suites offers a sleek, modern design with contemporary local decor. All of them come packed with amenities.
As one of the best Thailand resorts, it offers a large swimming pool, kids' pool, billiards, yoga, mountain bikes to take out, and a sports complex with a tennis. And when you've worked up an appetite, head over to one of the hotel's on-site restaurants and bars. For the final mic drop, Santiburi also owns the nearby championship 18-hole country club where guests can play with tee-time priority. Everything you could ever want is right here at your fingertips.
5. Siam Kempinski Hotel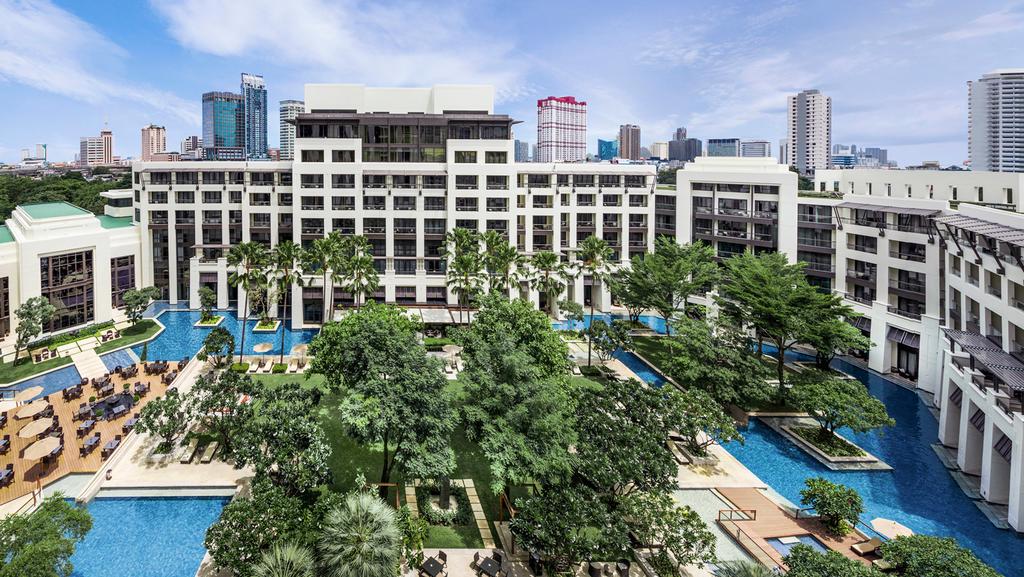 Credit: Siam Kempinski Hotel
Experience a stay like no other at Bangkok's only luxury hotel in the city center. With direct access to the Siam Paragon Shopping Mall, the Siam Kempinski Hotel Bangkok is an ideal destination for both leisure and adventure travelers alike. Each of the hotel's 401 rooms and suites offers contemporary interiors complemented with unique Thai elements.
Want our recommendation? Request a room with a private balcony. We can't think of a better way to start off the morning than sipping your coffee outside overlooking the property's lush gardens and sparkling swimming pools. Daily refillable snacks, drinks, and wifi are complimentary.
6. Four Seasons Tented Camp Golden Triangle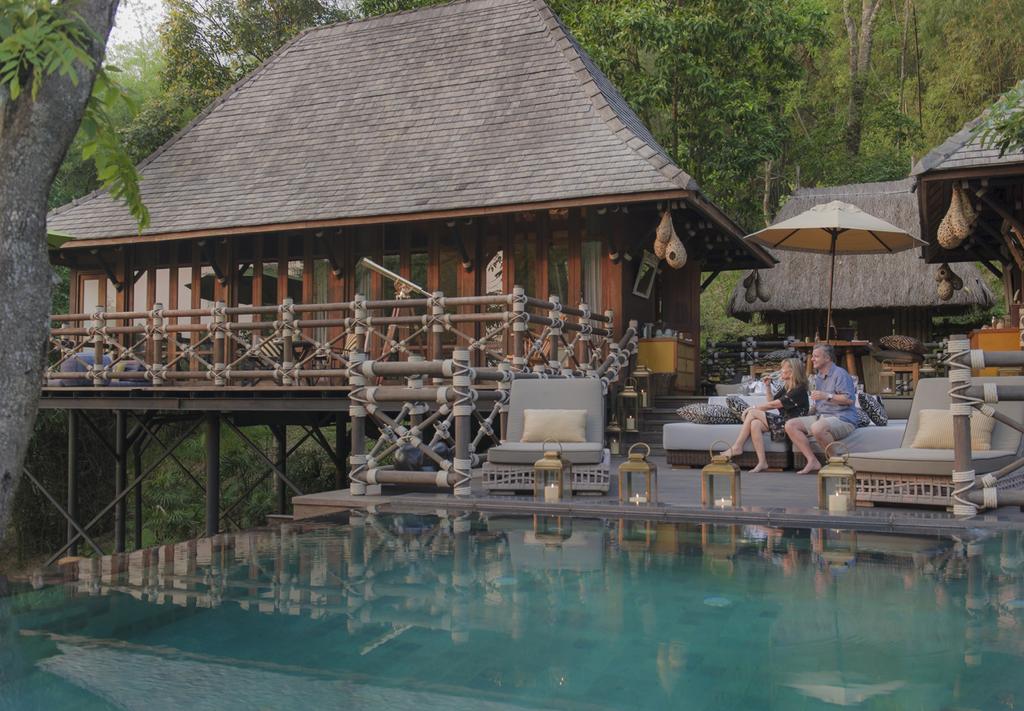 Credit: Four Seasons Tented Camp Golden Triangle
Experience the adventure of a lifetime in the beauty of the northern island, near Burma and Laos. If you're looking to get in on some exploring, you can choose from interacting with rescued elephants, exploring spectacular mountain trails and bamboo jungles. Or simply unwind in your tent and take it all in. If you're looking for an authentic, private escape, you've found it here. This is one of the few Thailand resorts that is only accessible by boat.
Fifteen luxury tents offer huge antique-style bathtubs, unlimited mini bar choices and free bottles of champagne, lovely outdoor rainfall showers, and sweeping balconies overlooking the Ruak River and lush jungle scene. As if that wasn't enough, there's a large swimming pool tucked away in the forest itself along with a hot tub.
As amazing as this all-inclusive property is, our favorite experiences are the elephant interactions and educational lessons they give. A minimum of two nights here is required to book, you wouldn't want to stay for only one magical evening anyways. Good luck pulling yourself away. Four Seasons Golden Triangle is one of the most stunning Thailand resorts.
7. The Naka Island, A Luxury Collection Resort & Spa, Phuket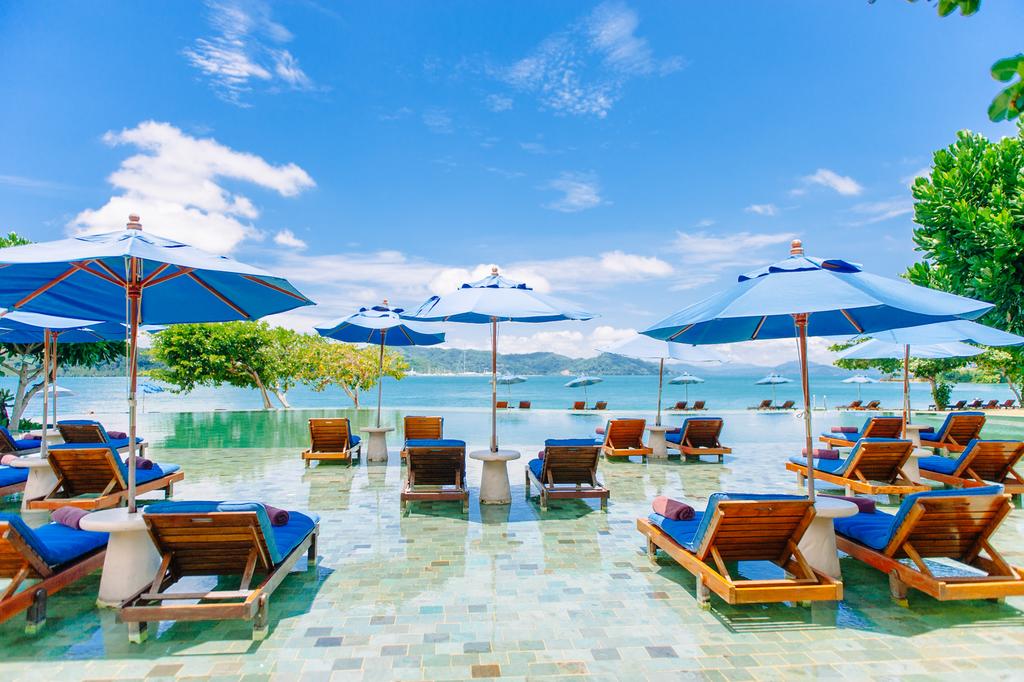 Credit: The Naka Island, A Luxury Collection Resort & Spa, Phuket
A five-minute speedboat ride away from Phuket, you'll find this Marriott-owned resort on the beautiful Naka Island. This five-pearl property offers sixty-seven villas with private courtyards, stunning plunge pools, and large outdoor soaking tubs. Their spa is arguably one of the best on the island, including not only an ice room but also a Watsu pool. While there isn't much on the island besides natural jungles and a small fishing village, you'll find everything you need on site. Private sand beach? Check. Stunning two-tier swimming pool and on-site restaurants? Check and check.
8. The St. Regis Bangkok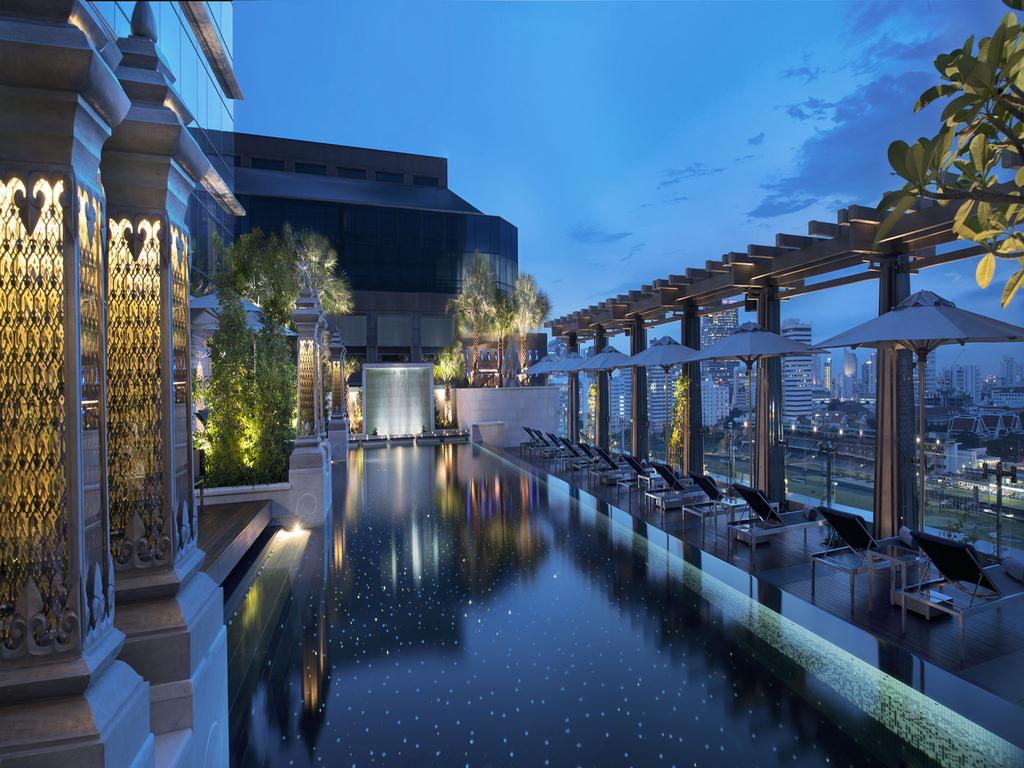 Credit: The St. Regis Bangkok
Book your luxury vacation and escape to the St. Regis Bangkok. An impressive five-pearl resort, this stay offers a convenient location to the city's high-end shopping and dining scene. If you'd rather stay on-site, the hotel has everything you need to keep you happy and entertained. When you're looking to relax, you can choose from lounging by the huge outdoor pool, heading to the full-service spa, hitting up the top-notch fitness center, or enjoying the on-site eateries and afternoon tea. All 228 rooms are decorated with a sophisticated style, complemented by minimalist tones, and marble bathrooms. Each of the rooms come with butler service as well.
9. BaanBooLoo Traditional Thai Guest House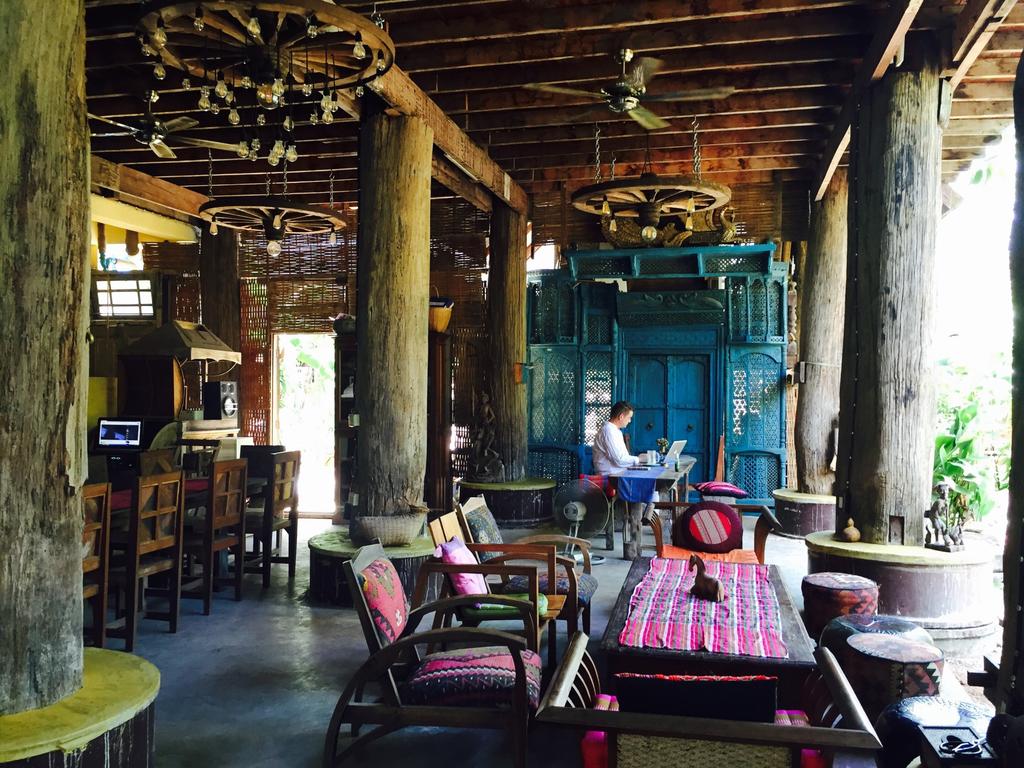 Credit: BaanBooLoo Traditional Thai Guest House
Who doesn't want to sleep in a tree house? While this hotel doesn't scream luxury, it's still got all the comforts of home in an idyll tropical paradise. A rustic guesthouse, you'll find BaanBooLoo tucked away behind an old temple in the heart of the city. And while you enjoy close proximity to all the livelihood of Chiang Mai, you can't help but feel a world away.
The owners have done a fantastic job of creating a serene ambiance true to the region's culture with plenty of local charm to go around. Six rooms offer beautiful open-air and treehouse designs, with thoughtful touches like outdoor bathtubs and mosquito netting (because no one wants bugs in their room). While there is no restaurant on-site, guests are encouraged to cook and eat with the family and each other. What a great way to experience true Thai culture and hospitality!
Treat Yourself and Book Your Stay at One of These Beautiful Thailand Resorts
Come and escape the hustle and bustle of life at one of the romantic and beautiful Thailand resorts. Thailand is a country teeming with beauty and adventure. As you can see, this island offers so many opportunities for those seeking a trip of both relaxation and adventure. These hotels are right in the middle of it all, offering not only a unique place to experience the local wonders but also a home away from home.
Our choices for the top accommodations offer the best of both worlds – both rest and time for exploration. Whatever type of vacation you are seeking, you will find it here. There are so many things to do in Thailand. From adults-only resorts all about romance to family fun-options, we've helped you narrow down your choices to only the highest caliber places of accommodation. If you've been to Thailand before and have a favorite place to stay that's not on our list, let us know. We'd love to hear about your top picks and adventures!
Related Article: 7 Dreamy Maldives All Inclusive Resorts