Fall asleep faster with these best-selling sleep masks (plus ear plugs and eye masks for sleep).
If you're taking a red-eye to Europe, you'll want to make sure you actually sleep on that eight-hour flight. Maybe you're spending a weekend in New York City, and you want to get that power nap before your night out. Or, perhaps you're stuck in the unfortunate case of spending the night in the airport under those bright lights. Either way, we'll review the best sleep masks to help you fall asleep, stay asleep, and be recharged for your days of travel. Perhaps you're looking for a simple, lightweight eye mask for sleep. Alternatively, you can find thickly padded memory foam sleep masks. Sometimes, too, sleep masks include ear plugs. Additionally, you'll have choices for contoured sleep masks, silk or cotton sleep masks, and a full face mask. However you sleep best, there is a sleep mask to help you fall asleep faster!
Things to Consider Before Buying a Sleep Mask
Maybe you're wondering "do eye masks work?" Or maybe you're on board with the sleep mask benefits and looking to purchase just the right one. If you've ever online shopped for sleep masks, you'll understand a number of variations in sleep masks. Some are sleep masks for sleep apnea, such as CPAP masks. There are also nasal pillows and bipap masks, but these aren't ideal for a normal-sleeper who is simply looking to comfortably block out some light. No need to be overwhelmed with those options; we are here for you! Basically, your options for eye sleep masks involve your preference for fabric materials, thickness, weight, and shape.
16 Best Sleep Masks for Every Traveler
Jersey Slumber 100% Silk Sleep Mask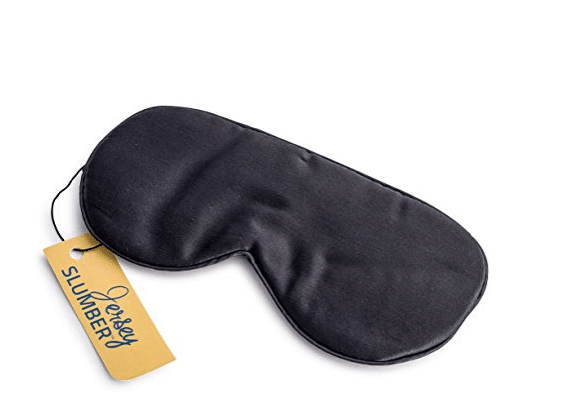 Credit: Amazon
First up is the Jersey Slumber 100% silk sleep mask for a full night's sleep. We appreciate this sleep mask's simplicity. There's nothing too fancy here. It's a reliable and comfortable. Reviewers appreciate the good coverage. This comfortable sleep mask will not impede breathing, but doesn't leave gaps under your eyes for light. Since it's 100% silk, you'll find the material nice against your face. Use the adjustable elastic strap to keep tight against your face, or allow a loose fit for long eyelashes.
Alaska Bear Natural Silk Sleep Mask and Blindfold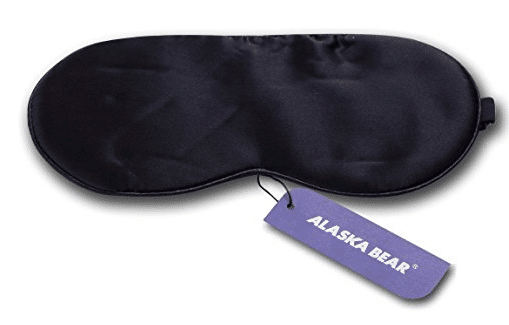 Credit: Amazon
Natural Mulberry silk covers both sides of this sleep masks, so you'll find it comfortable against your face. No Velcro means that the elastic band won't get tangled in your hair (hooray!) The adjustable strap ensures that you get just the right fit. Simply slide through the plastic clasp to pull tighter, or make looser. Many reviewers have found that after a long search for sleep masks, this is the one that scores high! Plus, we like the cool color selection available. This sleep masks earns its spot in our favorites, because it's simple, effective, and comfortable.
Bedtime Bliss: Best Contoured, Comfortable, Luxury, Black Eye Mask for Sleeping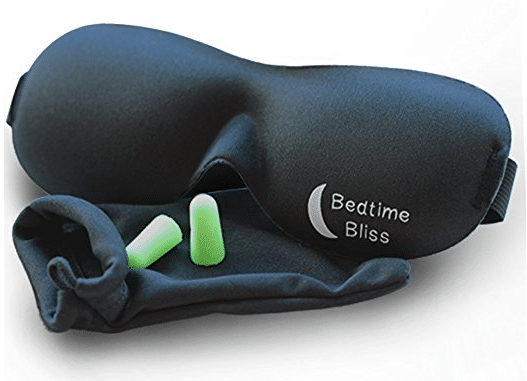 Credit: Amazon
This a great eye mask for sleeping.  The shape (contour) helps to keep your eyelashes free. Therefore, you can open your eyes under them without smashing your eyelashes. However, the contour allows some room without letting in light; you'll find that perfect dark for deep sleep.  We appreciate that Bedtime Bliss throws in some foam ear plugs along with your purchase (definitely useful for the crying plane babies).  Wear this mask and you'll find yourself in pitch black, even with lights on in the middle of the day!
Sleeping Eye Mask by Simple Health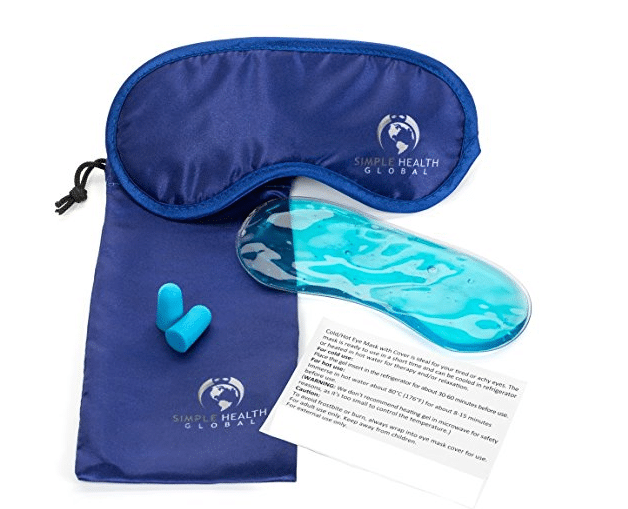 Credit: Amazon
This gel eye mask for sleeping offers a unique addition to the more standard sleeping mask: a gel insert that provides you with cooling/heating relief. As a traveler, you'll want to make sure you can catch up on sleep during those train or plane rides. This sleeping masks goes the extra step for you. You can warm or cool the gel insert. However, if you're not interested in dealing with the gel insert on the plane ride, you could always pack it to help you sleep better while you're away from home. This is also helpful as a sleep mask for puffy eyes. The adjustable part on the bridge of the nose makes this a great sleeping mask for men, women or kids. And lastly, this light blocking eye mask comes with foam ear plugs! Therefore, you can truly block out your surroundings.
Luxury Patented Sleep Mask, Nidra® Deep Rest Eye Mask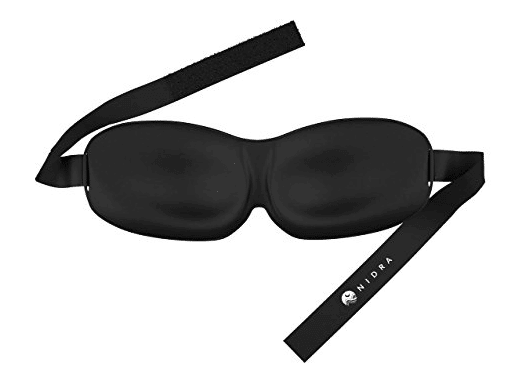 Credit: Amazon
This mask promises that deep rest you're looking for. The nose bridge is nice and high. Therefore, if you've struggled with feeling that other sleep masks are too overbearing on your nose, this may be the mask for you. The molded cups allow you to blink freely. It's especially lightweight, without compromising at being a good light blocking sleep mask. This Nidra Sleep mask has found a nice balance. That is, the material is thick enough to provide good quality and good light-blocking, yet remains breathable. We like this one because it's a contoured sleep mask. Falling asleep is easier, since the contour helps prevent light from seeping in.
Sleep Master Sleep Mask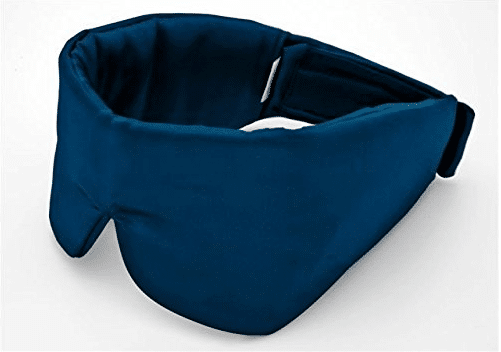 Credit: Amazon
Travelers are amazed at the great quality of sleep that the Sleep Master Sleep Mask provides. This next-level, luxury sleep mask provides great coverage, and even helps block out sound for an overall restful plane, train or car ride. It's breathable and satin, and completely eliminates any chance of light ruining your rest. It is not quite a total face mask, but it provides a good amount of coverage. This eye sleep mask is thick enough to support its shape. Additionally, this sleep masks velcros in the back which means that it won't affect back sleepers.
Lewis and Clark Comfort Eye Mask
Credit: Amazon
Here's another option that is slightly different than the standard eye mask. Therefore, it's especially great if you've found the classic eye mask unhelpful or even too flimsy. The larger size make it easier to cover your eyes while sleeping. The extra padding makes this sleep eye mask comfortable, and a thick, padded "lip" under the eye means that no light can seep in. It's more substantial than the typical sleep mask, yet not obtrusive when you have to pack it away. The elastic straps pull more from the top, rather than only the sides, so this may provide a variation you appreciate.
UtechSmart Deep Rest Contoured Sleep Eye Mask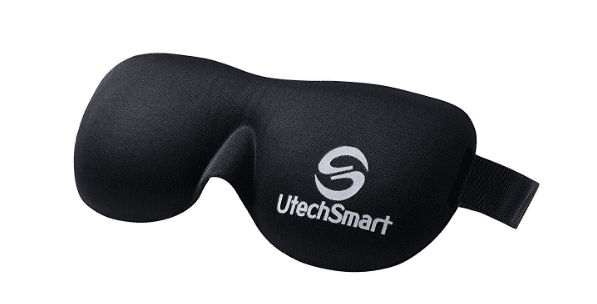 Credit: Amazon
The contoured shape gives your eyes each a little black cave to sleep in (it's like a hibernate sleep mask). An additional pad surrounds your eye so there's no interference with your eyelashes. This definitely beats sleeping with a blindfold, and is a great travel sleep mask. It's simple, yet engineered to provide you with complete coverage. The nose piece helps prevent light from seeping in. Therefore, this is a great light-blocking sleep mask.
Proteove Cotton Sleep Mask
Credit: Amazon
Many travelers appreciate the silk material for sleep masks, but this one provides a welcome alternative: cotton. Made from 100% cotton as well as milk silk floss, this eye mask will feel nice on your face. Therefore, your face won't be sweltering underneath it since the material is breathable. We like the gray color and the travel pouch it comes with. The inside is foam padding, and the elastic strap is adjustable. We appreciate the extra little nose cover on this sleep mask; it truly helps block out the light.
TEMPUR Sleep Mask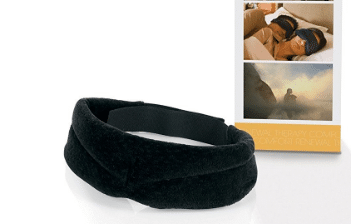 Credit: Amazon
You can sleep or nap in complete darkness with this incredibly comfortable eye mask. This is truly a luxurious sleep mask. The material is incredibly comfortable, The TEMPUR material molds to your face, The wrap-around strap is more substantial than other designs, but this helps to ensure light doesn't creep in.  (Who knew there was a whole new level of sleeping blindfolds?)  This Tempur-pedic sleep mask is just so comfortable.
Masters of Mayfair Sleeping Mask with Silk and Lavender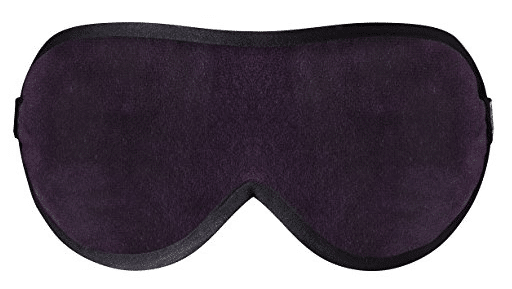 Credit: Amazon
There are lots of good reasons to appreciate about this luxurious sleeping mask. If you're serious about catching some good sleep while traveling, this is the mask for you. The quality is in the details. This is a silk eye mask, and therefore it feels nice against your skin. The binding and edges are gentle and soft, meaning there's no uncomfortable rubbing on your face. Since silk is a natural fabric, the mask prevents overheating underneath the mask. Many call this the "best eye mask" they've found. Bonus: there's even a light lavender smell, to help soothe you into instant sleep.
Belongsci 3D Sleep Mask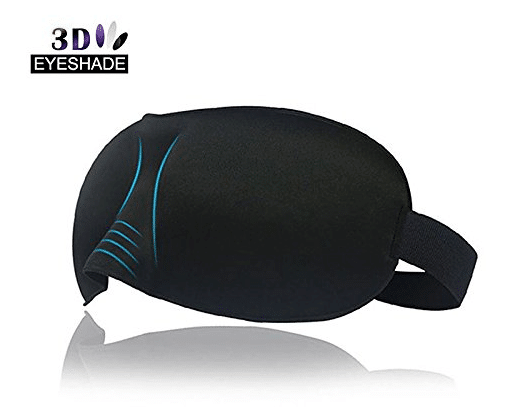 Credit: Amazon
Inner memory foam is just one reason that this sleep mask is so comfortable. The contouring allows for nice little eye pockets. Extra cushioning helps the mask to stay in place, and feel comfortable against your cheeks. If wondering about sleep masks for men, we'd suggest this one. It's lightweight and breathable, yet dense to block out light. Plus, a memory foam sleep mask just seems to guarantee comfort.
Dream Essentials Escape Luxury Travel and Sleep Mask
Credit: Amazon
We love how comfortable this sleep mask is! The eye cavity means you won't hit your eyelashes against this mask. You can fully adjust the elastic band to make sure the fit is comfortable and all light is blocked. The strategic extra cushioning on the bridge of the nose sets this mask apart from others! Many reviewers have had this sleeping mask for years, and even suggest keeping one at home and one on the go for travel.
Maison Maxx Fox Silk Sleep Eye Mask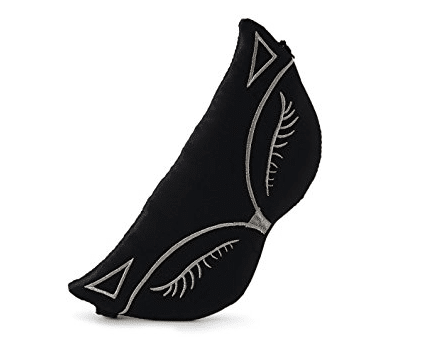 Credit: Amazon
With this sleep mask, you'll find the traditional fit and style, but with a super cute bonus choice of a fox or cat face. The elastic band is especially comfortable. Since the adjustable band mimics a lace look, it's not obtrusive around your ears and head. This eye mask won't take up much space when packing, and the price is right if you're planning to use it occasionally.
Therapia Plus Eye Mask for Airplane Travel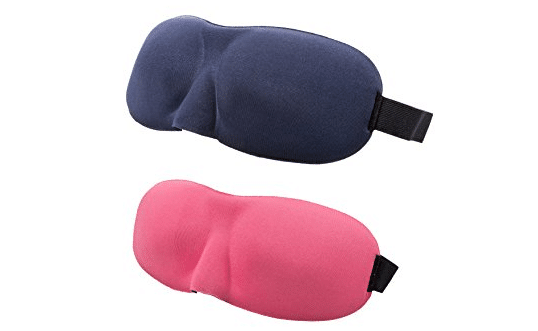 Credit: Amazon
This eye sleeping mask has earned itself some great reviews! You'll appreciate the amount of light that it blocks, without being overwhelming on your face. These eye covers are breathable and light. You can get a two-pack for your color choice. They promise quality fabric, and therefore no odd synthetic smell. The nose piece helps to make sure that light won't seep in under your eyes. Therefore, you can be sure to block out all light and nap well on the plane!
Travelicons 3D Travel Sleep Mask
Credit: Amazon
We appreciate this welcome alternative to silk sleeping masks. This eye mask is an incredibly soft plush material that will feel nice on your face. The extra material around the nose helps to block out light from underneath. It's nicely padded and thick. The Velcro strap allows you to pull it to your desired fit across your face. We feel this is especially good for plane sleeping when you'll be sleeping upright.
We understand that being well-rested is important when traveling. Therefore, spending money on products that ensure good sleep can really make a difference. People swear by the many benefits of wearing an eye mask to sleep. From the various materials, fit, size, additional features, you have plenty of options for finding your comfort. Fall asleep quickly and stay asleep with these little "pillows for your eyes." It's worth it, for you to be the well-rested traveler!
Related Article: Best Walking Shoes for Women That Are Travel Friendly