Bluesmart Luggage is Smart Luggage for Smart Travel
Smart luggage is taking over the luggage industry. With smart luggage, you can always know where your bag is (location tracker), always be able to charge your electronics (USB charging ports), and always keep your belongings secure (TSA lock system). The Blacksmart Black Edition International Carry-On has all these features and so much more. With so many smart luggage brands cropping up, it can be a difficult task finding the right one for you. However, there is a great reason to pay attention to Bluesmart luggage. Why? It was the first company to roll out smart, connected luggage. Bluesmart is a pioneer brand.
With the holiday season approaching, travelers may want to think about investing in a new piece of luggage. Maybe even a smart luggage piece! If you are curious about smart luggage, then stay tuned because we have all the details concerning the Bluesmart Black Edition carry-on suitcase. In this review, you will learn about the key features and benefits of this bag, as well as what fellow travelers are saying about the suitcase.
A Little About Bluesmart Luggage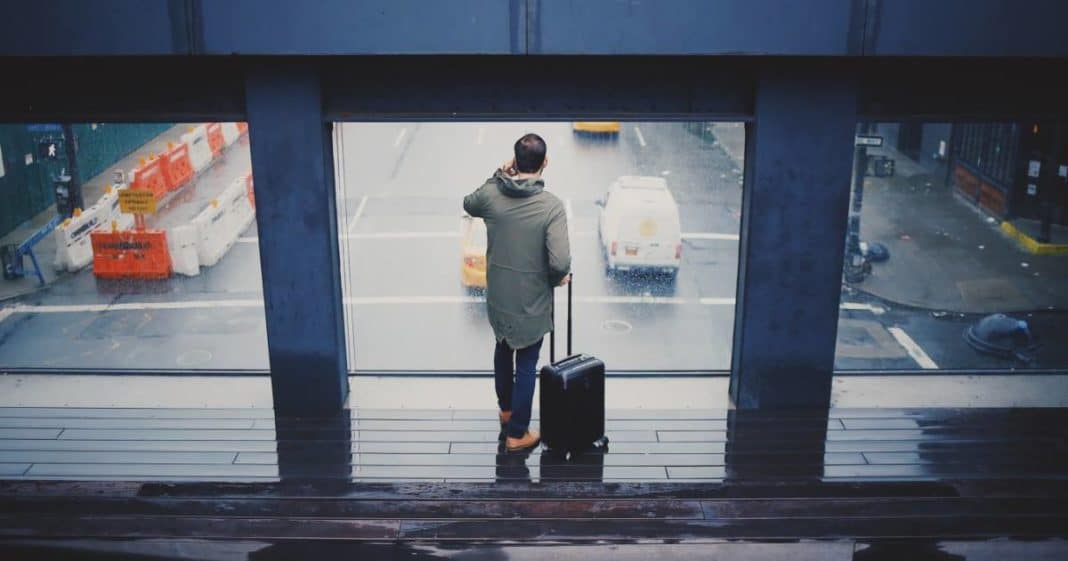 Credit: Bluesmart
Bluesmart luggage strives to help travelers travel as efficiently as possible. In other words, the goal is to help travelers travel smart. Smart luggage companies, such as Bluesmart luggage, tailor their products to meet the needs of technologically connected travelers. That is why their suitcases strive to be the most technologically advanced and functional bags. It seems that nowadays every luggage brand is claiming to be the "most technologically advanced," but Bluesmart outdoes them all. We are breaking down exactly what that means in this review of the Bluesmart Black Edition International Suitcase. This carry-on bag has a laptop compartment, a charging battery, a remote digital lock, a built-in scale, and a location tracking system. Let's talk more in depth about all these Bluesmart features.
Bluesmart Luggage Features & Benefits
Bluesmart Black Edition International Suitcase Specifications
Credit: Bluesmart
The Bluesmart Black Edition is 22″ x 14″ x 9″. These specifications meet international carry-on size requirements, so travelers will have no issues bringing this suitcase onboard and hauling it in the overhead bin. As far as color options, there is only one. Can you guess what it is? The Bluesmart Black Edition carry-on only comes in a sleek black color.
As for the material, this Bluesmart luggage piece is made of Class A Makrolon and reinforced nylon. The Class A Makrolon means the suitcase has a hardshell body with a nylon front compartment. The hardshell exterior is built to be very resistant. This Bluesmart luggage piece is scratch-resistant and water-resistant.
Front Pocket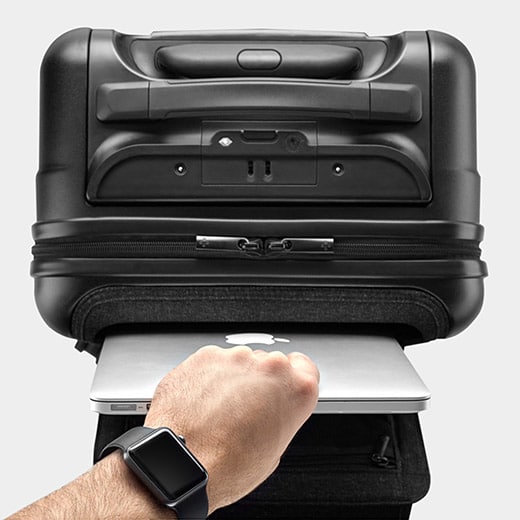 The front compartment of this carry-on suitcase is made of reinforced nylon. The nylon material keeps internal belongings protected and safe. This front pocket it most commonly used as a place for laptop storage. However, that is not all it can be used for. Travelers can toss books, brochures, folders, boarding passes, and other items into the front compartment as well. The front pocket is as versatile as you make it. It is also deep, so there is plenty of space to store extra belongings.
USB Charging Port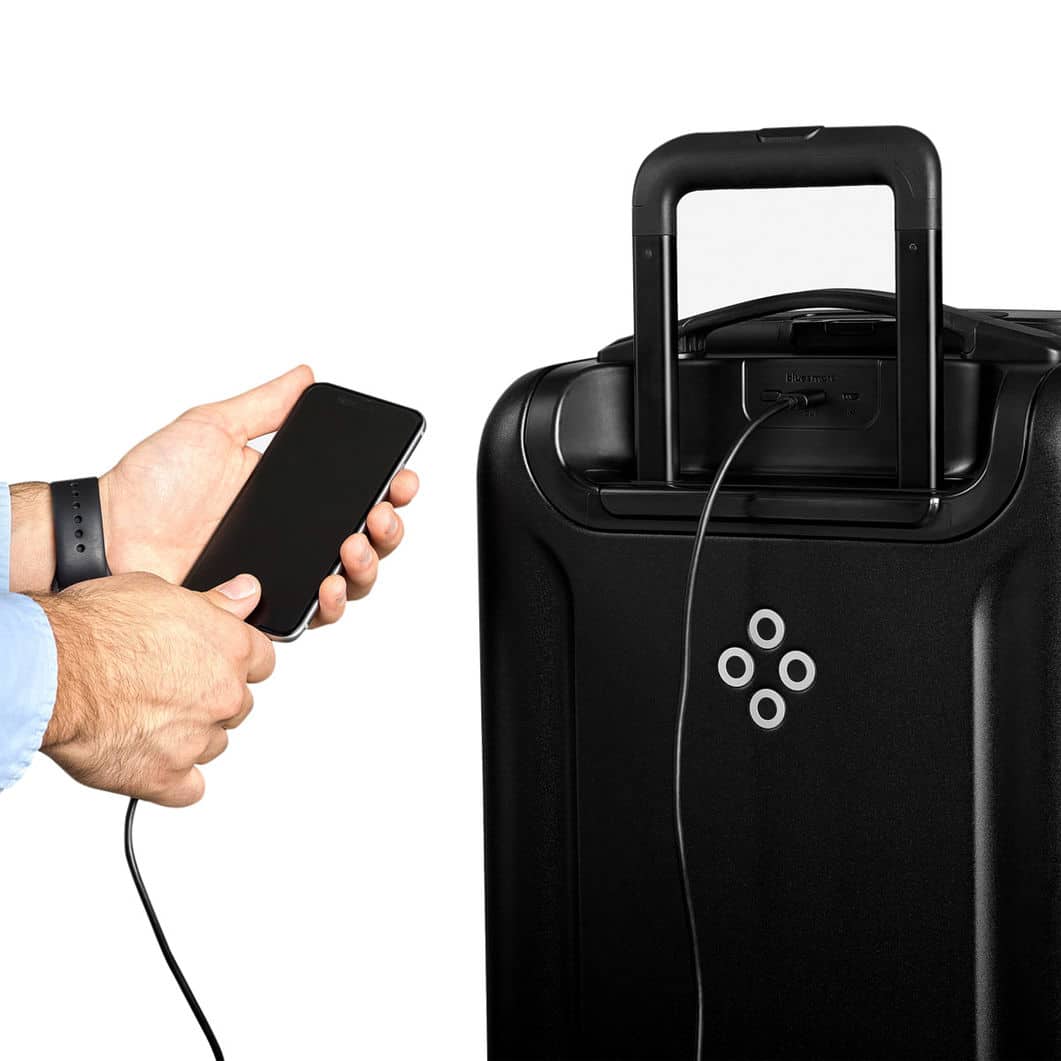 This Bluesmart luggage piece has a built-in battery pack with USB charging ports. The battery is TSA-compliant and it can charge your electronic devices up to six times. To charge and recharge while on-the-go, the USB ports are very handy. While traveling, it is important for phones to stay fueled up. To access your mobile boarding pass, gather hotel/hostel information, get an Uber, and connect with family and friends while on the road, it is vital that your gadgets stay charged. The Bluesmart Black Edition International Suitcase will, thankfully, keep your phones powered up.
Remote Digital Lock & Suitcase Tracking System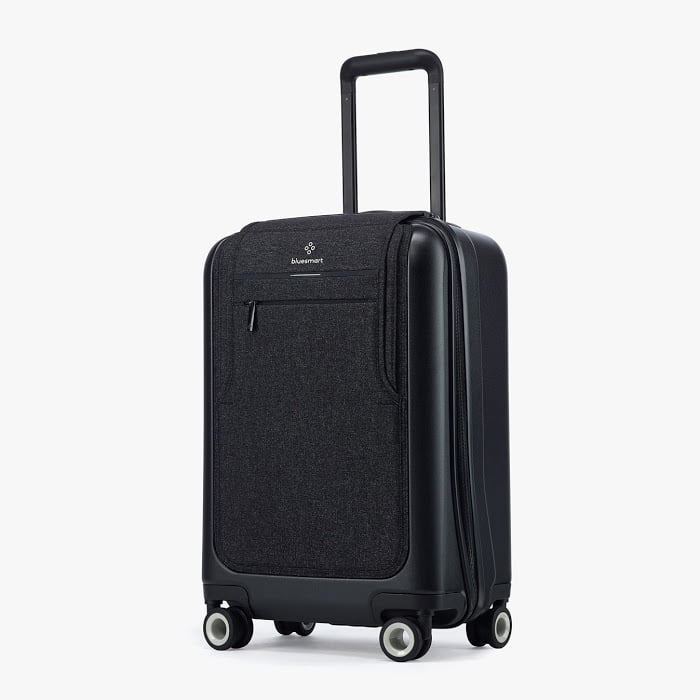 TSA-approved locks on suitcases are becoming more and more popular. Locks are obviously a great way to keep belongings safe and secure while traveling. However, Bluesmart does things a bit different than most luggage brands. Their Bluesmart Black Edition suitcase has a remote digital lock that links to the Bluesmart App. This feature allows travelers to lock and unlock their bag from the convenience of their cell phone. Bonus: If the bag even leaves your side, it will also automatically lock itself and send a notification to your phone. Now that is a smart piece of luggage… Well done, Bluesmart.
This Bluesmart suitcase is also equipped with 3G+GPS capabilities. Free of charge (we repeat, free of charge), travelers get access to global location tracking with their purchase of this suitcase. Bluesmart's partnership is with Telefonica, so anywhere Telefonica has coverage, travelers can track the location of their bag. Using the Bluesmart App, travelers can connect their suitcase and get updates on their bag's whereabouts. You won't even have to connect to Bluetooth to use the tracking system. This is different from many other smart luggage pieces who require a Bluetooth connection. Also, we must remind you that the location tracking system is free. Other smart luggage brands make travelers pay an extra fee/subscription to use location tracking. But this is not the case with Bluesmart luggage.
Bluesmart App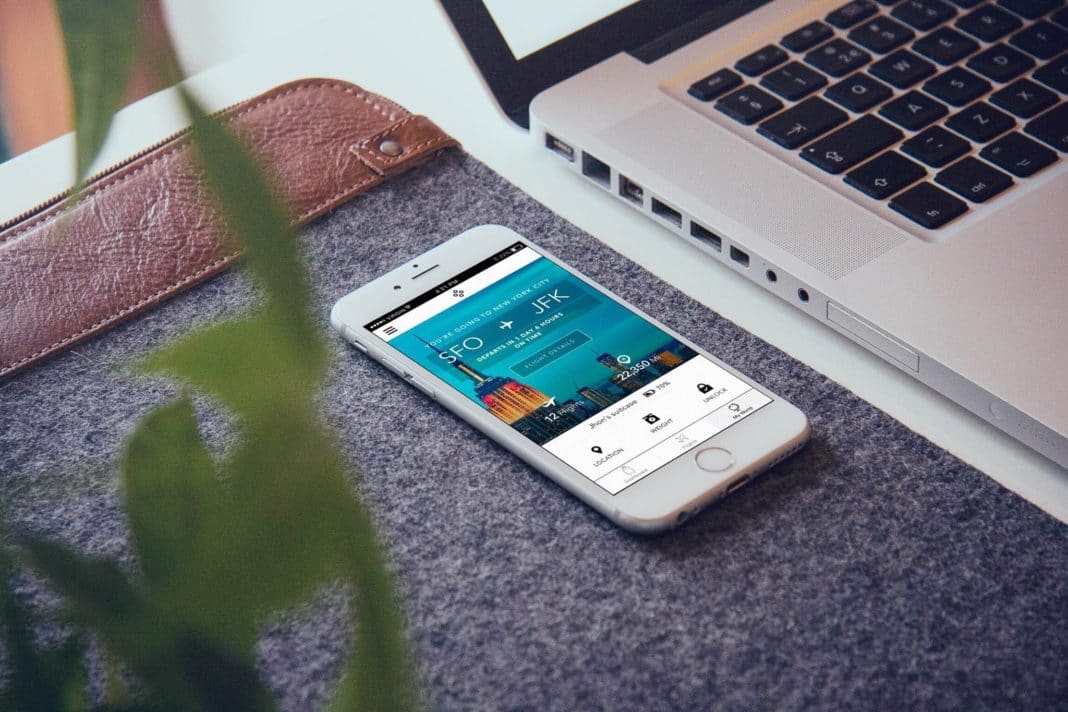 Credit: Bluesmart
Speaking of the Bluesmart App, travelers can do more on the app than just digitally lock your bag and track the location of their suitcase. Even though those are brilliant features, the Bluesmart App can still do more. With the Bluesmart App, you can also store your trip itinerary and receive details about your destination. The app can keep a record of where you have been around the world too. Plus, the carry-on's built-in scale links to the app to provide travelers with the bag's weight.
What Travelers Are Saying About Bluesmart Luggage
What travelers appreciate about this bag is its carry-on capability, free location tracking system, and interior storage space. The carry-on bag also lives up to its claim of being scratch-resistant. If upgrading from an average spinner, the Bluesmart Black Edition has been known to impress travelers. Plus, who can be upset with built-in USB charging ports?
However, several of the other smart luggage features have caused issues for travelers. For starters, the remote digital lock–while brilliant in theory–is not very functional. More than one traveler reported being locked out of their bag. Also, if your cell phone happens to die and the suitcase's built-in charging battery is out of juice (and you, therefore, cannot charge your phone), then you have a serious problem on your hands. That problem being: No way of unlocking your bag. Other travelers mentioned that the folks at TSA had never seen a locking system like that of Bluesmart luggage and it, therefore, caused a backup at airport security. The majority of travelers looking for super smart luggage agree that the Bluesmart Black Edition is a great concept, but the bag itself is not the most effective.
Alternative Smart Luggage Products
G-RO 22″ Carry-On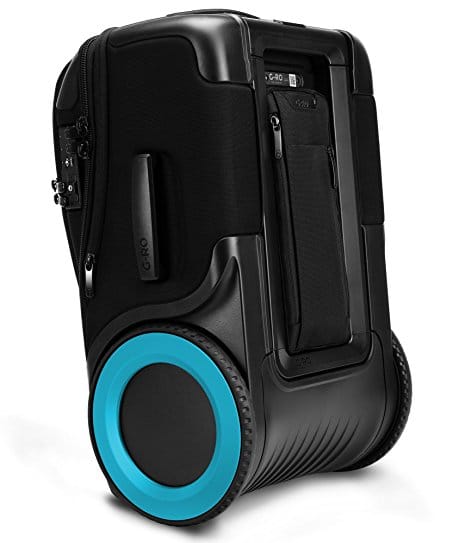 The G-RO 22″ Carry-On is the same size at the Bluesmart Black Edition International Suitcase. Both can be easily stored in the overhead compartment to make airplane travel a breeze. Like the Bluesmart Black Edition, the G-RO Carry-On has built-in TSA approved locks and USB charging ports. However, the TSA locks must be manually locked and unlocked. This differs from the Bluesmart which can be remotely locked and unlocked via your cell phone. Another difference between these two bags are the wheels. Just look at the size of the wheels on the G-RO. These massive and durable wheels can handle any terrain, making it easy for the bag to travel through snow, sand, ice, puddles, cobblestone streets, and even up the stairs.
If you are looking for a bag comparable in size to the Bluesmart, the G-RO 22″ Carry-On is one alternative. Though these two suitcases have different features, they both fall into the category of "smart luggage." In our opinion, the Bluesmart outdoes the G-RO because of the extravagant features that come with the bag. However, if you want a carry-on that is less expensive, but still has USB ports, locks, and GPS tracking capabilities (an additional fee/subscription), then the G-RO 22″ Carry-On is one to consider.
Travel Smart with Bluesmart Luggage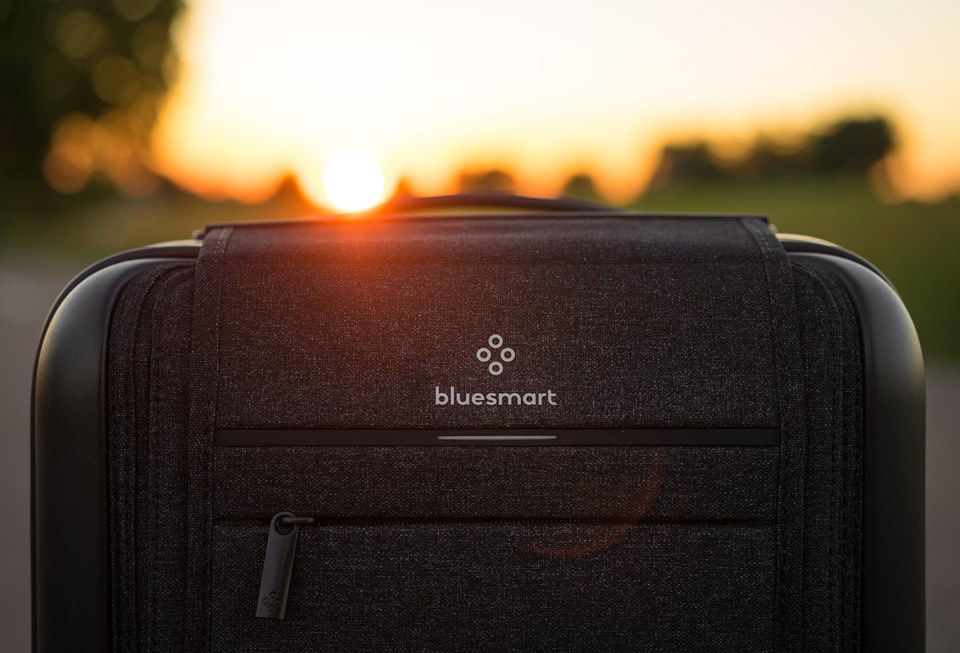 Credit: Bluesmart
As we mentioned, the Bluesmart Black Edition International Suitcase has mixed reviews. While it provides neat and innovative features, not all of the features live up to their claims. Some travelers thoroughly enjoyed their Bluesmart carry-on luggage piece, while others returned it right away. In large part, your experience with the bag will depend on how that particular suitcase was manufactured. Some have defects, while others were designed as they said they would be. On the bright side, this Bluesmart luggage piece is certainly durable, scratch-resistant, water-resistant, and sleek. Plus, the USB charging port works effectively, as does the GPS tracking system. Issues with the bag boil down to the remote digital lock and the bag's cost.
What do you think about Bluesmart luggage? Would you purchase this bag? If you already own this carry-on suitcase, then we want to hear from you too! Tell us about your experience in the comments section below.
Related Article: ​Top Smart Luggage Products (Plus How To Choose Yours)​​​