Adidas and Parley are back at it with another hit eco-friendly style. Enter the Adidas by Stella Mccartney Ultraboost Parley Shoes.
When you're ready to go, slip on these shoes and you'll feel like you're walking on a cloud. No joke. This ingenious collaboration is the brainchild of Adidas and Parley from the Oceans, a company that specializes in re-purposing materials from recycled plastics.
Yarn made from these recycled materials makes up the upper knit. We just can't say enough about the Adidas by Stella McCartney Ultraboost Parley Shoes.
Updates Made From the Original Adidas Ultraboost X Parley Release
Furthermore, only a true shoeaholic will notice the difference between the style of the Adidas by Stella Mccartney Ultraboost Parley Shoes and its predecessor. While the appearance remains largely unchanged, there are two small albeit important differences.
The Specifics
First, a floating arch allows the upper fabric to encompass the whole foot, delivering a comfortable and secure fit. Second, the midsole utilizes the Boost technology, a high-quality foam material comprised of thousands of pellets. Moreover, this full-length cushion unit serves for shock absorption when you're pounding the pavement.
Adidas by Stella Mccartney Ultraboost Parley Shoes Features & Benefits
Style meets with performance on these Adidas by Stella McCartney sneakers. With a feather-light upper and forgiving Boost cushioning, this pair will take you through your travel days with ease.
Fit and Size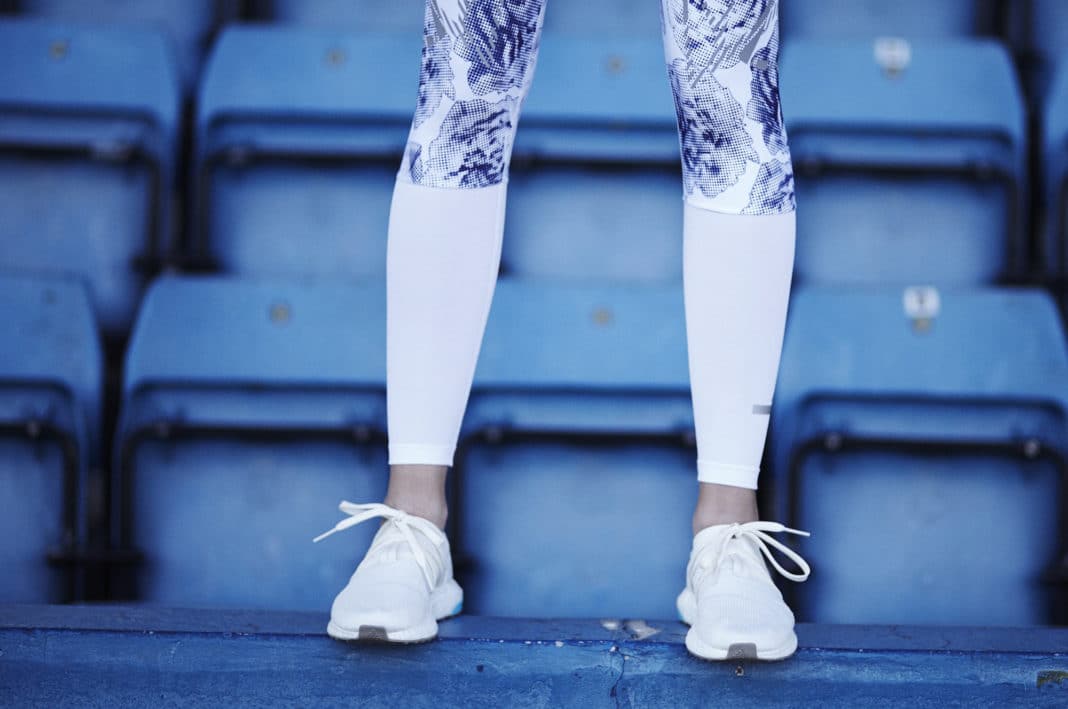 Credit: Adidas
The Adidas by Stella Mccartney Ultraboost Parley Shoes come in a standard fit and length. You shouldn't have any problems with them being too narrow or having to size up or down. Like Goldilocks and the three bears, Adidas and Parley sized these just right. It is equally important to note that these shoes are meant for a women's only design.
Outsole
It is equally important to check out the outsole of these shoes. The Adidas X Parley utilizes continental rubber, a brand specializing in tire treads. Moreover, these shoes are well-constructed and durable, suited for ultimate surface control in just about every environment. Furthermore, a stretchweb design allows the platform to flex and move along with the motion of the wearer.
Midsole
The Adidas by Stella Mccartney Ultraboost Parley Shoes offers a full-length boost unit constructed from thousands of small pellets. As a result, the shoes carry your feet with care, delivering a cushioned feel and a spring in every step.
Upper Body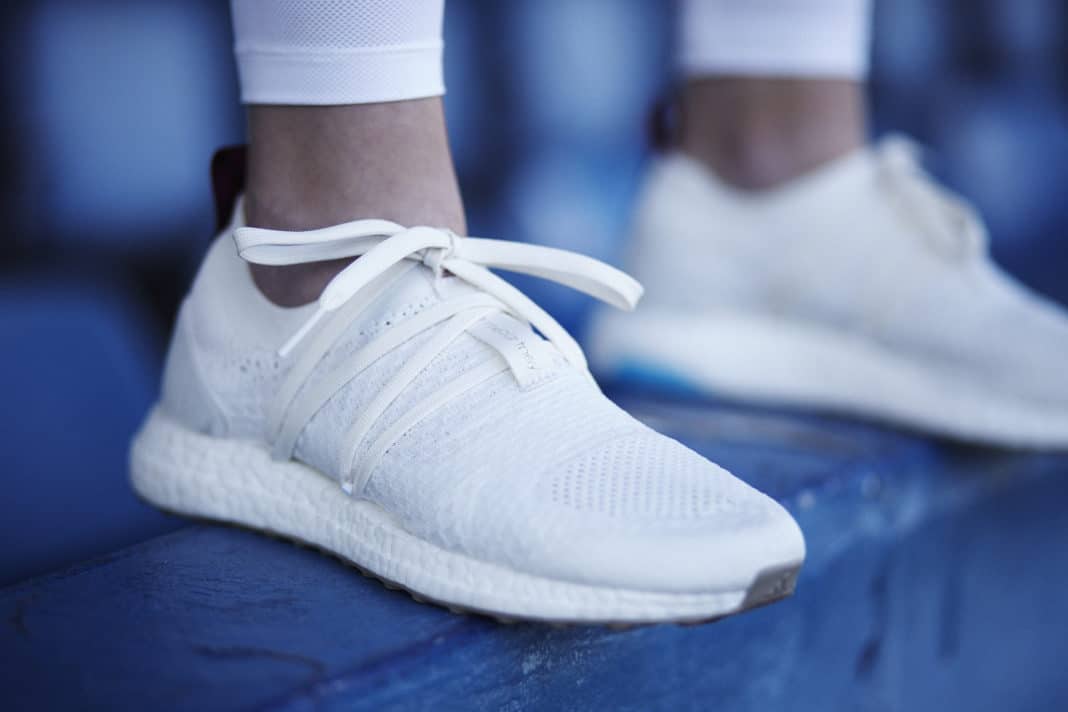 Credit: Adidas
To say nothing of the uniquely constructed Primeknit would be a shame. This material has the texture of a lightly woven cloth and an amazing breathability factor. The yarn used in the Adidas by Stella Mccartney Ultraboost Parley Shoes features the genius of Parley Ocean Plastics. Not only will you look fashionable wearing them but you'll help save the environment too. We can't praise them enough.
The Details
Stitched overlays add a cute touch and solid construction to the sides of the shoe. Since they are connected to the lacing system, they assist the upper in adjusting to the wearer's preference. A floating arch on the inside of the shoe lends support for feet prone to aches and pains. In essence, it separates the mid-foot section from the mid-main sole section.
Furthermore, an external cap holds the rear part of the shoe in place and prevents your feet from moving around when you walk. A pull tab in the heel area makes it easy to slide your shoes on and off too.
Pros and Cons:
To help you get a better idea of the shoe, here is a list of pros and cons travelers have given in reviews. In the light of their opinions, you will get a holistic view of the product.
Pros
plus

When you're wearing these shoes feels like walking on a cloud. See, we told you.

plus

The upper body of the shoe fits like a glove in the best of ways.

plus

According to testers, the fabric of the shoes offered great breathability.

plus

These shoes are stylish and can be worn in a lot of different places.

plus

The shoes run true to size.

plus

A lightweight nature goes a long way.

plus

The use of recycled plastic for fashionable, practical travel sneakers has earned Adidas and Parley well-deserved accolades.
Cons
close

These shoes are a bit expensive.

The outsole rubber can be slick on wet surfaces.
What Travelers Are Saying About the Adidas by Stella Mccartney Ultraboost Parley Shoes
Overall, travelers love the Adidas by Stella Mccartney Ultraboost Parley Shoes. It is a great choice for those seeking both a comfortable and stylish experience. While there are those who think the price is too high, it is worth it if you want a chic durable pair of travel shoes. You'll find yourself reaching for them again and again.
Other Comfortable Sneakers That Are Perfect for Traveling
Do you want to shop around a little more? Here are some alternative comfy sneakers that are perfect for all your adventures. We made sure to include shoes of different styles and prices.
Adidas Original Prophere Shoes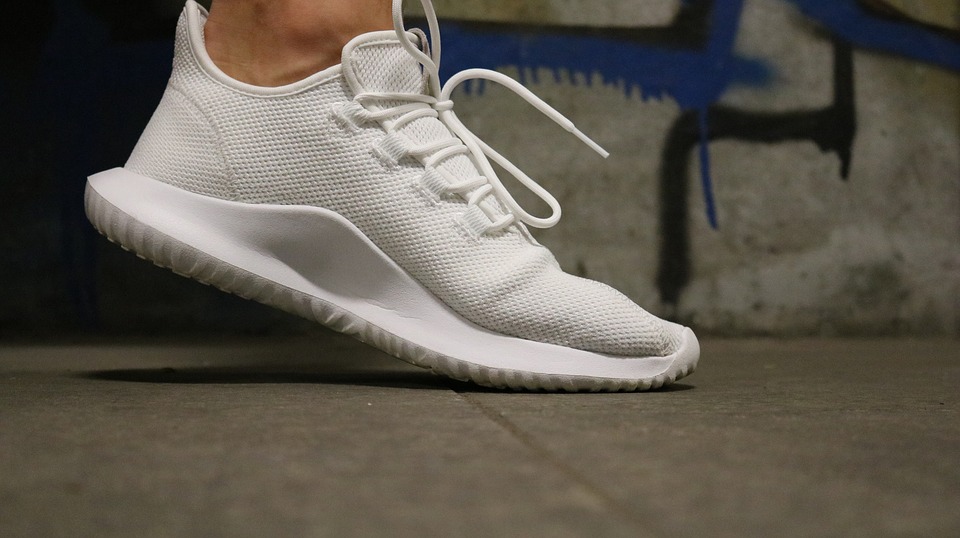 Credit: Adidas
The athleisure trend is alive and well. These sleek Adidas shoes prove that. Just because you want to be comfy doesn't mean you shouldn't look cute too, right? We've surveyed the streets of some of the trendiest places for you. The verdict?
When you're in any major city in Europe, you can pair these trendy Prophere Shoes with some tailored jeans and a nice coat and fit right in. When you're picking what to wear, think minimal, neutral colors and a nice fit.
They're Practical Too
These shoes are also very practical. The price isn't too steep and you know Adidas is a top-name brand you can rely on for quality. Furthermore, the shoes feature a comfortable OrthoLite sock liner, a knit upper fabric that adapts to the shape of your foot and ankle, and a durable rubber outsole.
Nike Air Max 97 Ultra 17 LX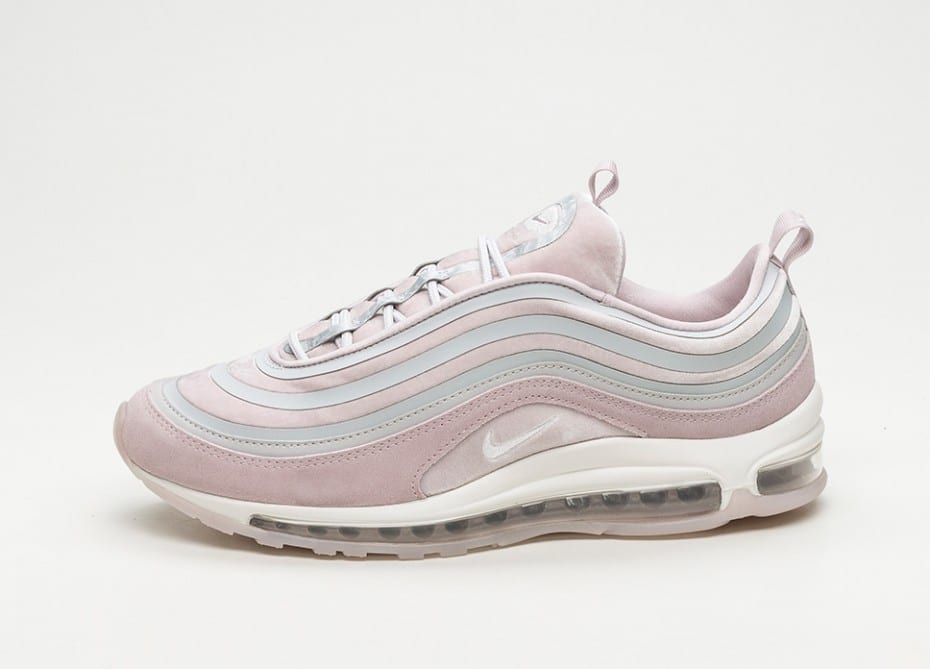 Credit: Amazon
Are you looking for both style and a good travel shoe, you're in luck. The unisex Nike Air Max is an amazing buy. We're absolutely in love with the vintage 90s and futuristic blend. Compare the new Nike Air Max 97 Ultra 17 LX to the original model and you can easily distinguish they belong to different eras.
The Details
Nike's Ultra employs the use of synthetic materials attached to the upper to keep it clean and sleek. The older model featured a heavily-stitched multi-layered element. Last but certainly not least, the new Nike Air Max style sports reduced volume in the midsole, putting your feet closer to the ground.
Another Key Point
Furthermore, another key point is that the upper body of the Nike Air Max 97 Ultra 17 LX is made from a jacquard fabric. The material's woven texture design has a much more intricate appearance than your standard printed fabric. An interlaced solid pattern makes the upper shoe very durable. Don't even get us started on the arch support and shock absorption of these shoes. You'll feel like you're walking on a dream.
Tiosebon Casual Women's Walking Sneakers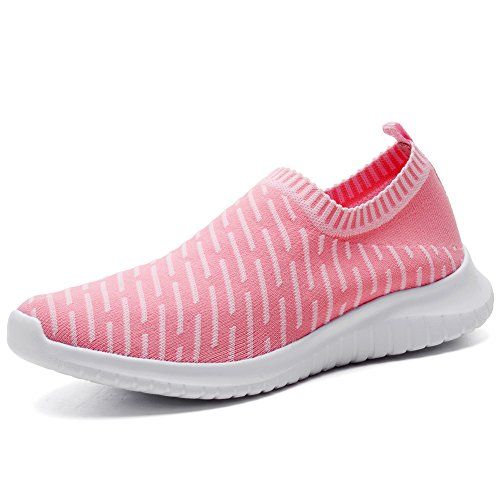 Credit: Amazon
Cruise the streets for hours while your feet breathe easy. Tiosebon has created a simple, natural, comfortable, environmental shoe. They offer perfect accord with human body engineering, these casual mesh walking shoes sport a green, healthy concept design.
The Details
Have you seen the price? It's crazy cheap. Take a look and you can tell a stretchy upper fabric makes the Tioesbon a very comfortable shoe. They're sleek and sophisticated-looking too. Since they don't have a zipper, you might need a finger to slide them on. You might even need to go up a half a size. This is a wonderful shoe and at only $19.99 – $29.99, you can't beat the price.
Wear Them Anywhere
Wear these anywhere. These shoes will hold up great for spring through fall travels. The only downer about them is that they won't be as sturdy as top-notch brands. Check out our full review of the Tiosebon sneakers.
Things to Think About When You're Looking for Good Travel Shoes
Make sure you pick at least one pair of sneakers that could be dressed up or down. Versatility is key. Before you settle down on your purchase for the most comfortable sneakers, there are a few questions you should ask yourself.
Are you going for more comfort or style? How much are you able to spend? Do you have any favorite brands? What qualities are you unable to live without?
Make Sure to Purchase the Most Comfortable Sneakers for Your Travels
When you're traveling, it is so helpful to have a good pair of shoes. The comfortable sneakers we showcased offer amazing picks in both style and comfort. Make sure to consider both when picking the best sneakers for your travels. We hope this article helped to narrow down your selection as you go to choose a good pair of travel sneakers for your next big trip.
Questions and Comments
Do you have a favorite pair of comfy sneakers you take everywhere you go? We want to hear all about your top travel shoe picks. Additionally, if you have any questions or comments for us, please feel free to leave us a message below. We love hearing from you!
Related Article: Most Comfortable Sneakers For Fashion-Conscious Travelers