Charge up your power hungry phone with the Benanna Portable Charger 10000 mAh.
When you're on the go, it's necessary to keep your power levels high. Keep your phone running without any interference. The stylish Benanna Portable Charger 10000 mAh checks all of the boxes. So what makes this charger so special? It's slim (aka portable), stylish, and packs a punch.
The Benanna Portable Charger 10000 mAh Features & Benefits
Design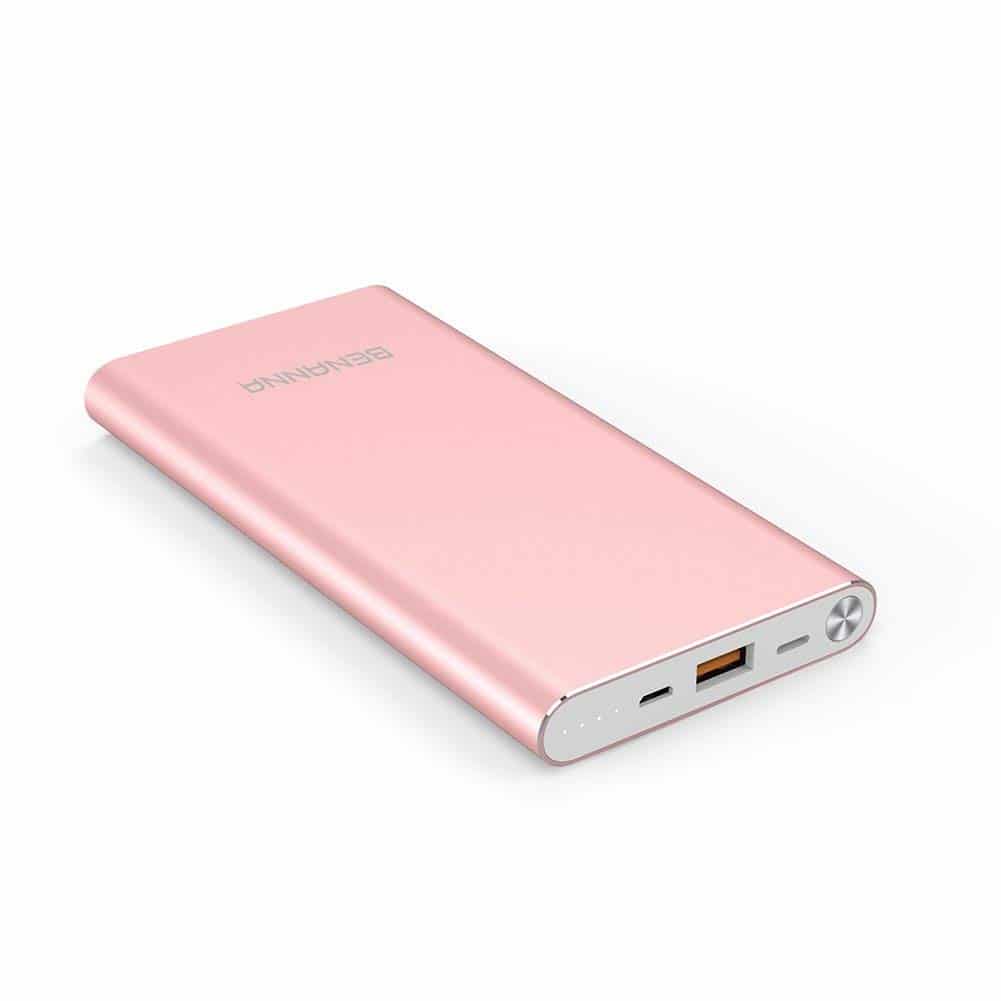 Credit: Amazon
If you're looking for something both stylish and functional, you've found it in the Benanna Portable Charger 10000 mAh. This power bank comes in rose gold, gray, red, and silver. With a charging capacity of 10000 mAh, it is well-equipped to handle your phone's needs for the road. But that's not all, the price is great too. The aluminum body offers a strong construction made to handle the bumps that happen along the way.
So, you can go ahead and toss it in your backpack without worrying about it breaking. And when you use it, you don't have to worry about it overheating. The Protect Smart Safety System is put in place to ensure that both you and your electronics stay safe in the process.
Power Capacity and Charging Speed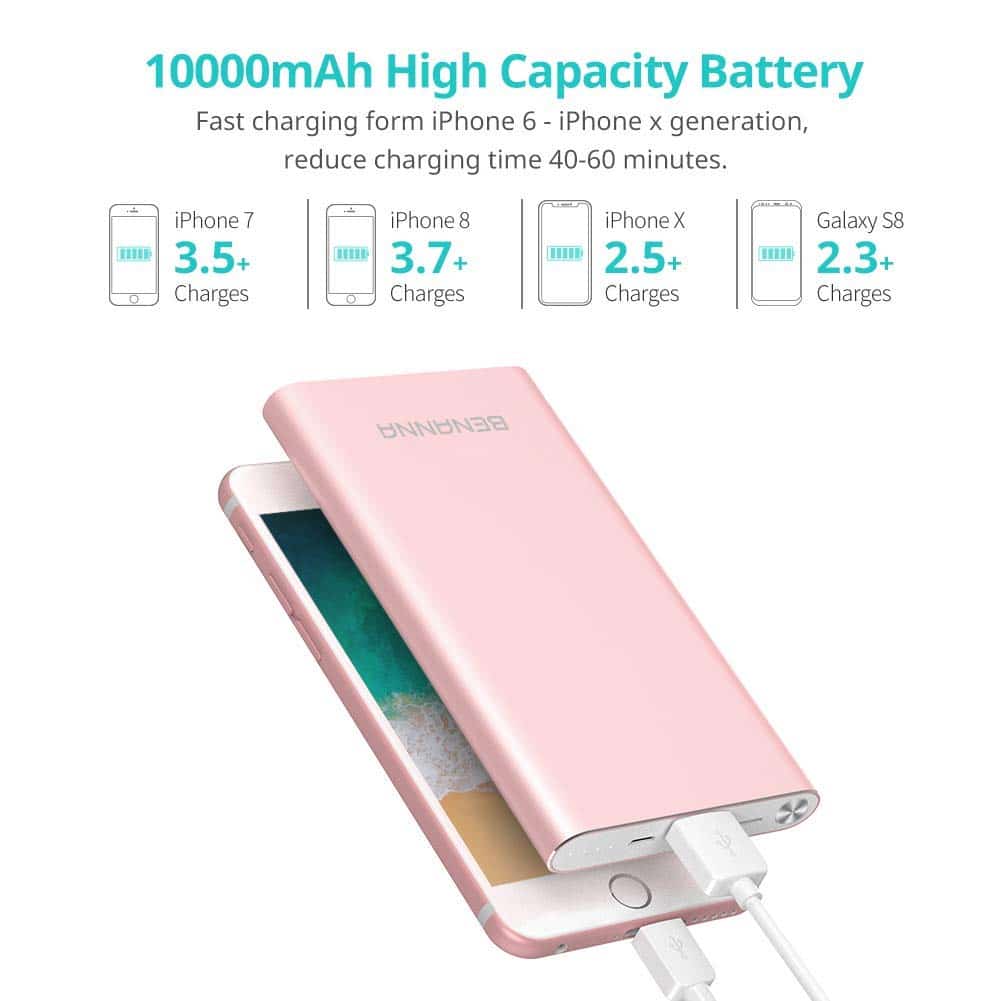 Credit: Amazon
As we mentioned earlier, the Benanna Portable Charger 10000 mAh packs a punch. While it's not quite as portable as the lipstick-sized Jackery Mini, it's a lot smaller than chargers like the Anker PowerCore. While it only has one USB port, you can take turns charging with a friend. The fast speed charging capabilities make it easier than ever to refill your depleted battery without wasting time charging at a coffee shop. After all, when you're in a new city, you want to explore – not be stuck inside a cafe. P.S. We have some tips for you on how to extend that battery life. One of them involves an app.
With a 10,000 mAh capacity and with the quality Benanna has to offer, you can expect a long lifespan for this portable charger. The testing shows that the Benanna Portable Charger 10000 mAh does its job well. So, when you're ready to leave the hostel and roam the city streets – or go off the grid, you can rest easy knowing your communication needs are secure.
Look, Feel, and More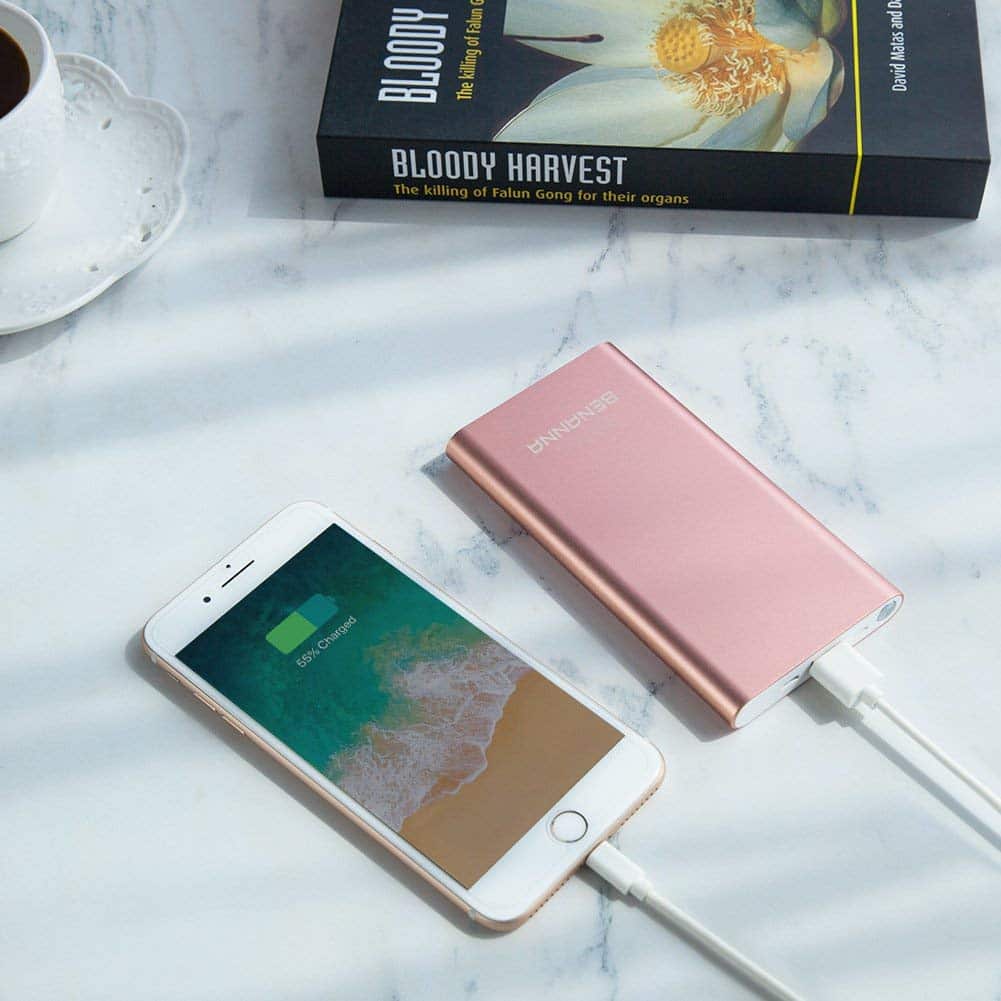 Credit: Amazon
With the Benanna Portable Charger 10000 mAh, you don't have to sacrifice style for function. We love the options they give us. Sporting a slim, sleek design, this power bank comes in several color choices. While the rose gold is definitely the most popular option, you can also choose from colors like gray, red, and silver. When it comes to size, it's so lightweight, you can easily slip it in your bag and forget about it until you need it.
Durability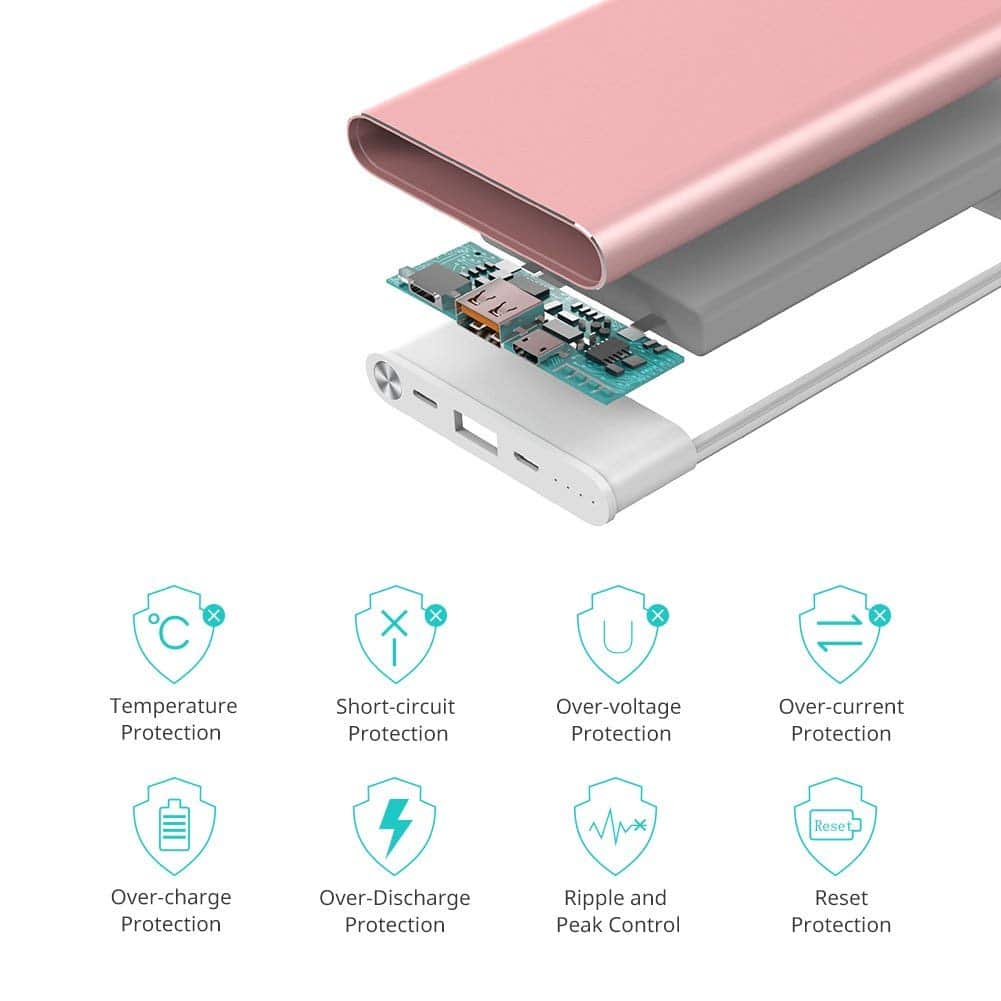 Credit: Amazon
Constructed from premium li-polymer material, it's safe to say that the Benanna Portable Charger 10000 mAh can hold its own. While it's still smart to be careful with your devices, it can certainly handle some scrapes and drops. Thanks to the Protect Smart Safety System, you can enjoy complete protection for both your portable charger and devices.
In short, this means you don't have to worry about it overheating. There are systems in place to keep your device working well. Even in the event that something is to go wrong, Benanna offers an 18 month warranty.
Portability
Credit: Amazon
Thanks to a slim design, it's easy to slide the Benanna Portable Charger 10000 mAh into your bag without it looking lumpy. Measuring in at 5.5 x2.9 x 0.5 inches, it's definitely one of the most portable medium capacity chargers on the market. Furthermore, it only weighs 9.1 ounces.
Tech Specs:
Lightning and Micro USB dial ports

Max 10000 mAh

Ultra slim aluminum alloy body

check

24-month product replacement warranty

check

High-speed charging

check

Not included: Wall adapter, lightning cable, USB-C cable

check

Apple devices need to be charged with your own cable
What Travelers Are Saying About the Benanna Portable Charger 10000 mAh
When it comes to happy customers, Bennanna is the wizard of companies. With a 4.2 out of 5 star rating and 440 customer reviews, it's clear to see that the Benanna Portable Charger 10000 mAh is a solid choice. When there is an issue arising with their products, they offer fast and reliable customer service. In addition, there is an eighteen month warranty that comes along with your purchase. With this said, the critical reviews of this product are far and few between.
What we have found most of all is that travelers are impressed by its fast charging capability. Most users have mentioned that they can get multiple charges on their iPhone or Android while on a weekend getaway. So, if you want some reassurance that you can still charge your phone and take family photos on a camping trip, bring the Benanna Portable Charger 10000 mAh. Your battery life depends on what type of phone you have.
Other reviewers yet praised its portability. After all, when you're backpacking or hiking, the last type of travel device you want is one that adds unnecessary weight to your bag. Compared to other chargers of this size, you're getting quite a deal. This kind of quality can only come from a truly established and innovative brand. Last but not least, the durability ranks well. Many travelers have noted how well it has held up over the months and even in a full year of travel usage. All in all, the Benanna Portable Charger 10000 mAh works like a charm.
Alternative Portable Phone Chargers You May Like
Anker PowerCore+ mini, 3350mAh Lipstick-Sized Portable Charger
If you're not looking for a bigger, more powerful charger, this little device is a gem. Who doesn't want a lipstick-sized portable phone charger in their life? The PowerCore+ mini is so slim and light that you can easily slip it into your bag and pocket and forget that it's even there. It's tiny but mighty.
Here's what it can do on a full charge. Expect a 130% charge to an iPhone 6 and an 80% charge to a Galaxy S. Unlike your standard portable charger, the PowerCore+ mini offers adaptive high-speed charging tech. So, you won't be slowed down while you're on the go. Safety comes first.
The MultiProtect Safety System is designed to keep both you and your devices fully protected against shorts, surges, and other hazards. With only premium materials used, quality is guaranteed. Not all batteries deliver equally. However, the PowerCore+ mini contains high-grade lithium-ion ones, ensuring that you will get the ultimate power, performance, and efficiency that you need. Anker is one of the best travel accessory companies on the market.
Tech Specs:
30 million + users powered by Anker Core technology

High-speed charging capabilities

Ultra sleek and compact

check

Recharges in 3-4 hours

check

High capacity – chargers an iPhone 8 to at least 80%

check

18-month warranty

check

Comes with micro USB cable, travel pouch, welcome guide

check

Lightning cable sold separately
Mogix External Battery Phone Charger 10400 mAh
Here's another slim power bank with medium capacity charge. If you've never heard of the brand Mogix, it's about time you had. A family-owned business, they are based here in the US. Weighing in at just 6.5 ounces, the Mogix External Battery Phone Charger 10400 mAh is the lightest external battery you will find with this kind of a power rating. Smart Battery technology ensures that your devices are safe with temperature control and cutting edge circuitry. You have the option to charge two devices at once if you'd like (psst… we have some tips on how to charge your phone faster).
Universal compatibility has got that covered for you. Charge any phone you would like. In fact, it can also charge other devices like a Kindle, ereader, and tablet if you want to. The thin design comes in two different battery sizes.
Tech Specs:
List 10400 mAh charges phones three to five times depending on the battery size

4 LEDS so that you can monitor the power supply

Thin and lightweight design (6.5 ounces)

check

Dual high-speed charging ports

check

Smart Battery technology with surge protection, temperature control, and more

check

Drop safety protection due to double coated case
Invest in the Benanna Portable Charger 10000 mAh for Your Next Trip
We hope you enjoyed reading our review of the Benanna Portable Charger 10000 mAh. A lightweight, durable travel option, it's great for when you need to fill up on the go. This brand offers quality you can count on. Our alternate choices run the spectrum of lightweight quick fixes when you need a charge to heavier, more durable ones for when you need to fill up all the juice.
Related Article: Best Portable Phone Charger: A Travel Accessory For Your On The Go Lifestyle