​

Running out of juice in your electronics put you in quite the predicament, so we've collected the phones with the best battery life.

You might want to snap pictures at the top of your grueling hike or be waiting for a phone call from your mountain biking partner. Either way, you can't afford to have your phone dying at inopportune times. While there is a myriad of tricks you can try and extend your battery life, sometimes it would be better to just have a long lasting battery. On top of that, there are so many battery saving apps on the market these days. But, what if you didn't have to deal with these extra accessories? Instead, you just had a legitimately good phone with a great battery life? Well, you can have just that. We've put together a list of the six phones with the best battery life for you. So, if you're ready to get your life off of hold, grab one of these phones today. 
1. Galaxy S9 Plus
You might be concerned that having one of the phones with the best battery life would make you compromise on speed or the camera. That's not so with the Galaxy S9 Plus. With this phone, you are getting a battery capacity of 3500mAh. When it comes down to it, that means you have ninety-four hours of audio playback or eighteen hours of video playback. That is enough to watch multiple movies on a transatlantic flight. If you are a talker, it lasts up to twenty-five hours. So you're more into surfing the web to read the latest travel blogs? The Galaxy S9 Plus will last up to fifteen hours if you're on WiFi or using 4G. If you're needing even a little more, bump up to the Galaxy Note 9 for a larger screen, more features, and a slightly extended battery life. 
The Galaxy S9 Plus doesn't hone down its other features to bring you the best battery life. It has 6GB RAM and 64GB of memory for storing all of those pictures your phone will be charged to take. It has plenty of zoom and a flash on its multiple cameras. On top of that, there is a stellar portrait mode and photo editing included. You can also record 4K video with the Galaxy S9 Plus. The front camera comes in at twelve megapixels while the selfie camera has eight. Both will give you brilliant photos. Lastly, it runs on the Android 8 operating system, so you'll be quick to surf the web and receive calls without any interruptions. Overall, the Samsung Galaxy S9 Plus is one of the phones with the best battery life that still delivers top-notch features.
2. OnePlus 6
So, this next option on our list of the phones with the best battery life limits you a little bit. It is not certified to work on the Sprint or Verizon networks in America, but if you have a service like T-Mobile, you're in luck. The OnePlus 6 is a phenomenal phone that delivers stellar battery life, unparalleled cameras, and quick speed at a gorgeous price point. The 6.28-inch display gives you plenty of room for gaming or watching videos. Meanwhile, the sixteen and twenty megapixel rear cameras take stunning photos. It still has a normal headphone jack, although it is Bluetooth compatible.
On top of this, it's dust and water resistant so you don't have to fret over the occasional spill. The battery is 3300mAh, so it is just about equivalent to the Samsung Galaxy S9 Plus. But, if you're able to have this phone work on your network, you'll save yourself hundreds of dollars and have a better camera.
3. Huawei P20 Pro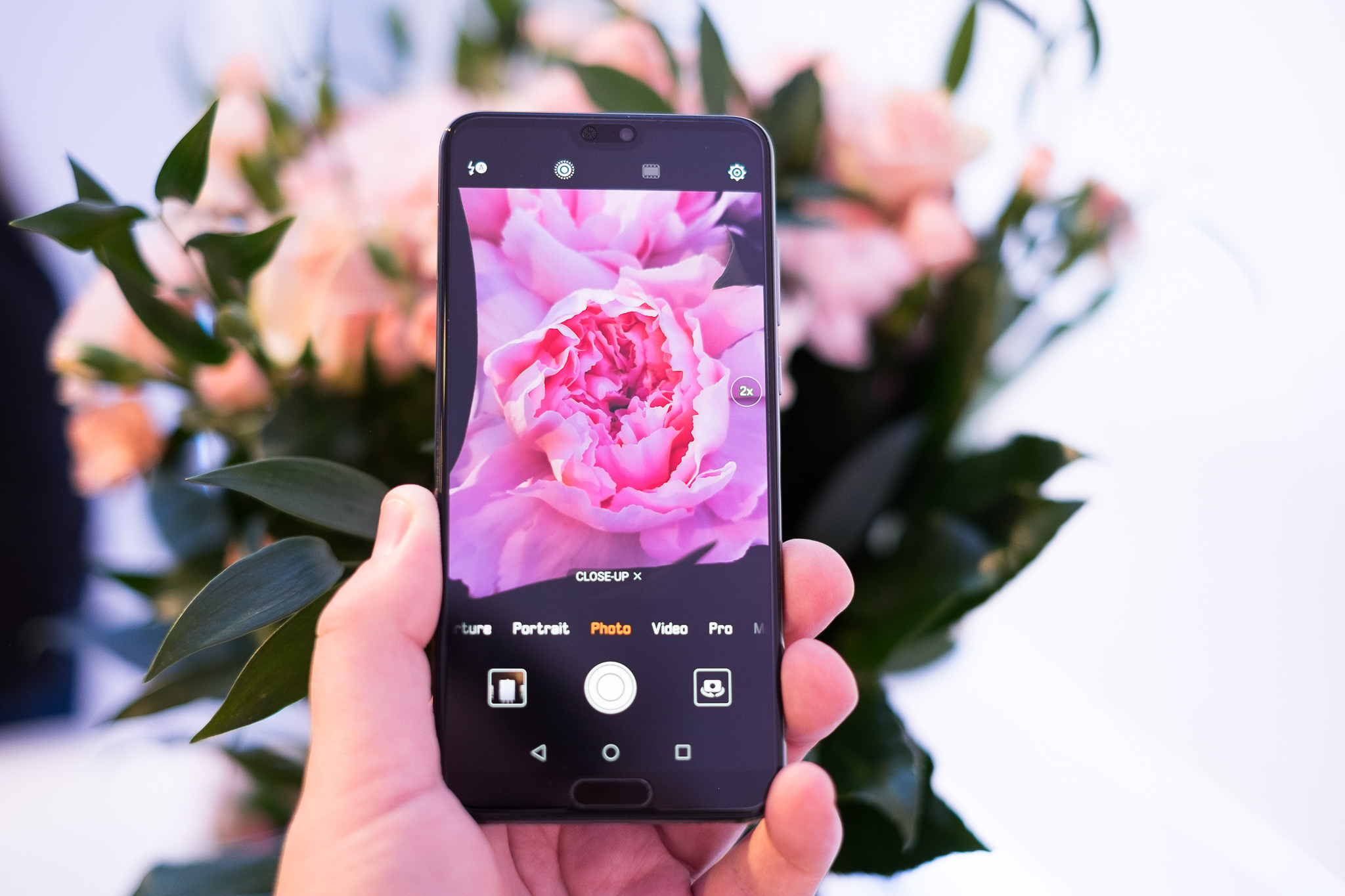 Credit: Flickr / Kārlis Dambrāns
Another one of the phones with the best battery life, the Huawei P20 Pro has some great features. Options like natural tone make the colors congruent with the lighting around you. So, the phone can feel more like a Kindle screen of paper if you'd like. The Huawei P20 Pro takes the cake when it comes to photo and video technology as well. It has three rear cameras at eight, twenty, and forty megapixels. These work together for you to get any picture, at any distance, in any light. With all of these features, you might worry about the battery life. But the Huawei P20 Pro packs in a 4000 mAh battery, taking the top spot of all the phones with the best battery life.
4. LG V30
Credit: Flickr / Aaron Yoo
Next up is a phone that can be used anywhere and is a little bit more affordable, making it a perfect adventure phone. Of all the phones with the best battery life, the LG V30 is a happy middle ground when you look at all the features it offers. It is water and dust resistant, having passed a military standard durability test. You have a Google assistant built in with this phone, making hands-free working easier. The cameras and audio settings are also extremely customizable. The rear camera is sixteen megapixels while the front if a simple five. The battery size is 3,300 mAh, which is the same as the Galaxy S9 and the OnePlus.
However, with a smaller camera and less bulk, it goes through the battery a little slower, giving you just a little more life in this phone. So, if you're not needing the highest functioning camera but want one of the phones with the best battery life, check out the LG V30.
5. CAT S61
Are you one who seeks out high adventures and needs a phone that can keep up? In that case, you'll be wanting a solid, durable phone that doesn't compromise on battery life either. This company has long been associated with large machinery, so you can understand how this phone is built like a tank. Meant to be used without a case, the CAT S61 is ready for anything you throw at it. Yes, it is a little bulky, but that makes sense when you feel the hearty aluminum frame. It comes with a Gorilla Glass display as well as many small features for added protection. Three actual buttons are included on the CAT S61 so you can access the camera and home screen when your hands are wet or dirty, which we love. It does have a sixteen megapixel camera, so you won't compromise on photos by pursuing this phone.
Other unique features included on the CAT S61 are thermal imaging, laser measurement, and even air quality sensors. If you are truly getting into some sticky situations, these could be incredibly helpful. But, this last mention is really what you all are here for. The CAT S61 has a 4,500mAh battery. This means it can last two or even three days with light use. This large battery will make the CAT S61 a little larger and heavier, but it does have the absolute longest stamina on our list of phones with the best battery life. So, if that's the main criteria you're searching on, dig in more to the CAT S61.
6. iPhone 8 Plus
If you're a diehard Apple connoisseur, you might be wondering which of their phones have the best battery life. Well, believe it or not, it's not the latest iPhone X. The iPhone 8 Plus actually takes the cake when it comes to Apple phones with the best battery life. It even has a glass back which allows for wireless charging when your juice is running low. The twelve megapixel camera is a staple in the iPhone world, so you can know that you will have consistent and reliable photos as with any other iPhone.
The iPhone 8 Plus made our list of the phones with the best battery life not due to an impressively large battery, but because of the A11 Bionic chip inside that greatly increases its efficiency. This being said, most iPhones have a tendency to have their battery life decrease after six to twelve months of use. But, by following healthy battery tips, you should be able to make this last a little longer. Overall, if you're dead set on an iPhone, then the iPhone 8 Plus will be your best choice for an extensive battery life.
All in all, phones with the best battery life tent to be the latest and greatest from the name brands. But, there are quite a few lesser known ones that still pack a punch when it comes to the longest battery life.
If you are stuck in the major carrier cycle, the easiest option will be to stick with the Samsung Galaxy S9 Plus or an iPhone. The LG V30 is also widely available through the major carriers. But, if you're willing to buy your phone elsewhere or use a less popular network, there are some great options for you. The phones with the best battery life are more easily accessed in other countries, so maybe its time to travel. Whether you head east to get the Avengers' model of the Huawei P20 Pro or invest in the nearly indestructible CAT S61, we're excited for you to no longer have to quickly charge your phone halfway through the day. So, get ready for more adventure, fun, and less stress in your day by having any of these phones with the best battery life. 
Related Article: Best Portable Phone Charger: A Travel Accessory for Your on the Go Lifestyle