The JOBY GripTight GorillaPod allows you to shoot photos from angles, positions, and views that would otherwise be unreachable.
If you have a small smartphone, the JOBY GripTight GorillaPod is ready to bring your photography to the next level. Rather than precariously setting your phone on rocks, chairs, or something else you rig up, this phone stand will do the holding for you. Whether you attach it to a tree or set it professionally on a stage, the JOBY GripTight GorillaPod is a steady, durable, and versatile little stand. With a flexible tripod, you will be able to push your photography to the next level and enjoy the hassle-free videos. This stand is not bulky to carry around, so you'll be upping your photography game in no time at all.
JOBY GripTight GorillaPod Stand Features & Benefits
Universal Smartphone Compatibility​
The JOBY GripTight GorillaPod Stand can hold quite a variety of phones and smartphones. It can fit phones with or without a case, as long as they are between 2.1 and 2.8-inches wide. This could also be construed as between 54 and 72-millimeters wide. The grip that holds the phones is a spring mount that clamps down on the smartphone. This provides you a secure grip so you know your phone won't drop from whatever precarious looking position you mount the JOBY GripTight GorillaPod Stand in.
Ready to Grip & Flip for the Ultimate Angles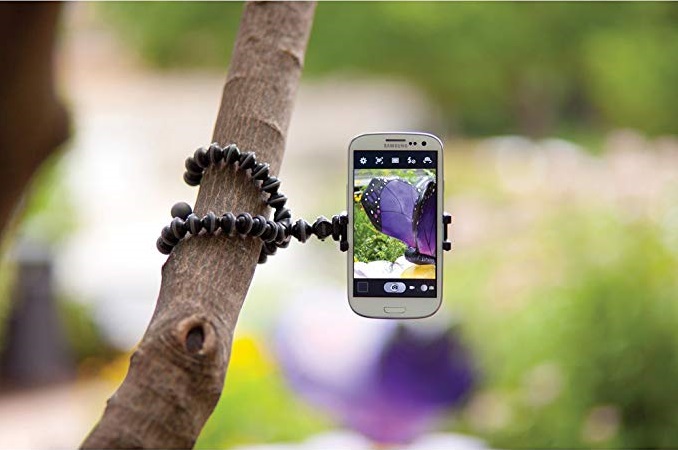 The JOBY GripTight GorillaPod Stand has been designed with multiple features to optimize your photos or videos. The rubber foot grips securely hold onto whatever you wrap the legs around. These ensure that your phone will mount to any surface, from a slick metal pole to a tree branch. It will securely stay on wet rocks, just as well as it would on a table top. This reliable grip allows for unsurpassed stability, bringing you crystal clear images. In addition, you can easily change the angle of your phone. With the quickly adjustable locking screw, you can maneuver your phone into the most desired position. If you find yourself needing a little more from your JOBY GripTight GorillaPod Stand, you can add many other products. As long as they have a ¼"-20 thread standard tripod mount, they can attach right on to this great phone stand.
Durable Design & Materials
You want a traveling phone stand to be strong and durable but lightweight and packable. With the JOBY GripTight GorillaPod Stand, you get just that. It is constructed with ABS plastic, thermoplastic rubber, and stainless steel. Each of these alone is super durable, so when you put them together, you have an outstanding product. The JOBY GripTight GorillaPod Stand can withstand the everyday wear and tear or a grand adventure into the jungle. Either way, this phone stand has been thoughtfully engineered to bring you the utmost in quality and durability.
Lightweight & Portable
If you're running around the city or woods, you don't want to be held back by weighty equipment. Perhaps that's why you invested in a great smartphone camera rather than an expensive DSLR or something else. Well, you can also be happy with getting away with a much lighter tripod than is needed for those bulkier cameras. The JOBY GripTight GorillaPod stand weighs just 0.14 pounds. This is barely noticeable as you toss it in your new cool backpack. On top of that, it is quite small. Measuring just 0.47 by 0.47 by 3.56 inches, this can slip into just about any pocket. So, if you're ready to go further and faster with your smartphone photography, grab the JOBY GripTight GorillaPod as soon as you can.
What Travelers Are Saying About the JOBY GripTight GorillaPod Stand
First off, be wary of getting an inauthentic JOBY GripTight GorillaPod Stand. Many reviewers have given this item poor stars because they have received a knock off brand. Instead, make sure to order from JOBY, rather than another one of the companies offered on Amazon. But, even with the myriad of bad reviews from counterfeit phone stands, the JOBY GripTight GorillaPod Stand still manages to hold a 3.8 out of 5 stars average. Imagine how much higher that would be if they were all authentic. But, these photographers and travelers do have a good bit to say about this stellar phone stand.
The main downside that travelers point out is that they wish the legs were longer. They can wrap along small branches and such, but for anything larger, you need more leg length. But, if unless you are always wanting to attach your phone to large trees, this shouldn't be an issue. The best use for the JOBY GripTight GorillaPod Stand is holding your phone in relaxed situations. A few adventurers are hesitant when it comes to the strength and stability when they're out and about on an excursion. So, as long as you don't get too aggressive with this, you should be more than happy with this versatile phone tripod.
Other iPhone Tripods You May Like
Arkon iPhone Tripod Mount
For an alternative that is quite similar to the JOBY GripTight GorillaPod Stand, check out Akron's options. Their iPhone Tripod Mount has the same design as JOBY, but larger. It holds phones up to 4 inches wide and even has a bubble level so you can make sure your photos don't come out crooked. The 7-inch bendable legs and rubber non-slip feet give you the extra length that a few had wished they had when using the JOBY.
A quick release button and a tilt level give you even more control over the positioning and stability of your phone while it's in the tripod. When you're putting such an expensive piece of tech in something else's hands, you want to make sure its safe. That's what all the additional features on this alternative do, and it's even a lower price. It weighs in at just four ounces and is a total of fifteen inches tall. So, while it is still incredibly portable, it's not quite as small and packable as the JOBY GripTight GorillaPod Stand. But, you'll be getting a spectacular product either way you go.
Fotopro Phone Tripod
If you're hoping for a much larger tripod, the Fotopro Phone Tripod is a great option. The eight-section legs can extend from eleven inches to almost forty for the ultimate versatility. It only weighs .85 pounds so it is still more than portable with a folded height of eleven inches. If you travel often, the Fotopro Phone Tripod comes with a travel bag to keep it safe. It opens very quickly due to the sticking point type leg locks, so you won't ever miss the perfect moment. In addition, there is a Bluetooth trigger for you to hold and choose your position, pose, and timing. The three-way mount can hold your phone, GoPro, or digital camera vertically or horizontally for the most options. All in all, this is a larger phone tripod stand that provides you with more stability in the long run.
Xenvo SquidGrip iPhone Tripod
For a different build with a similar purpose to the JOBY stand, look to the Xenvo SquidGrip iPhone Tripod. The Neo-Rubber legs provide an all-around solid grip with their sticky rubber. Pair that with the long legs and you're ready for any adventure. The holding power of the phone clamp is rock-solid, and that's one main reason why it boasts 4.8 out of 5 stars as an average. This phone stand is unsurpassed when it comes to portability and durability. Because of this, Xenvo backs their product with a lifetime warranty which is one of our favorite parts of this alternative.
On top of that, it is truly universally compatible, fitting phones from the iPhone X to the smallest Galaxy S6 you could find. The infinitely adjustable head lets you choose any 360-degree angle. So, if you're willing to spend a few extra dollars for the best phone tripod on the market, look no further than the Xenvo SquidGrip iPhone Tripod.
All in all, the JOBY GripTight GorillaPod Stand is a simple and straightforward phone stand that will keep you pushing the limits of your phone photography.
If you're tired of figuring out how to rig a safe stand for your phone when taking group photos, it might be time to invest in a flexible tripod. Or, if you're a parent who has gotten more than one arm workout holding up a camera to video your kids game or performance, this can ease your workout woes. The JOBY GripTight GorillaPod Stand can truly attach to just about any surface, leaving your hands free to do more cheering, clapping, adventuring, or posing. Just make sure your phone is charged when you're on the go. The freedom and versatility you can experience with this will make your days that much more enjoyable. So, if you're willing to make the jump into the phone stand world, keep JOBY GripTight GorillaPod Stand at the top of your list.
Related Article: The 7 Best iPhone Tripods to Buy in 2018