Travel ultra light and assured with the Travelpro Maxlite 4.
Are you traveling with the family? If you have kids, investing in a travel luggage set is a good way to get the most bang for your buck. Plus, you'll have matching pieces. How cute is that? This travel set from Maxlite offers a durable construction at a price you can afford. Why do we love it? This is one of the best spinner luggage sets on the market.
The Travelpro Maxlite 4 extensive collection features singularly lightweight and durable Spinners and Rollaboards with the look and quality of much more expensive luggage. The International carry on Spinner Features: They have a water-repellent coating, inside and out. 360-degree spinners roll effortlessly in any direction you want to move. A patented Contour Grip ensures more comfort. The telescoping handle adds length and strength. It stops at 38 inches and the extra-tall is 42.5 inches.
About Travelpro
For more than thirty-one years now, Travelpro has dedicated their craft to making innovative, durable designs that travelers can count on. They began in 1987 at a time when airline travel was picking up. Their company began when the concept of Original Rollaboard luggage was invented by a 747 pilot with Northwest Airline. This innovation transformed everyday travel in a huge way.
Their product line runs the gamut from computer briefcases to totes, garment bags, backpacks, and rolling luggage sets. Over the years, Travelpro has made a name for itself providing more than 500,000 frequent travelers with durable luggage all around the world. The Travelpro Maxlite 4 is among the company's premier luggage series. It's spacious, affordable, and incredibly lightweight. While it doesn't offer major changes from the Maxlite 3, you'll appreciate the subtleties in this advanced model. For example, it comes in a variety of designs. Choose from two-wheel or four-wheel spinners and from softside or hardside options.
The Travelpro Maxlite 4 2-Piece Set Features & Benefits
Simple, Classic Style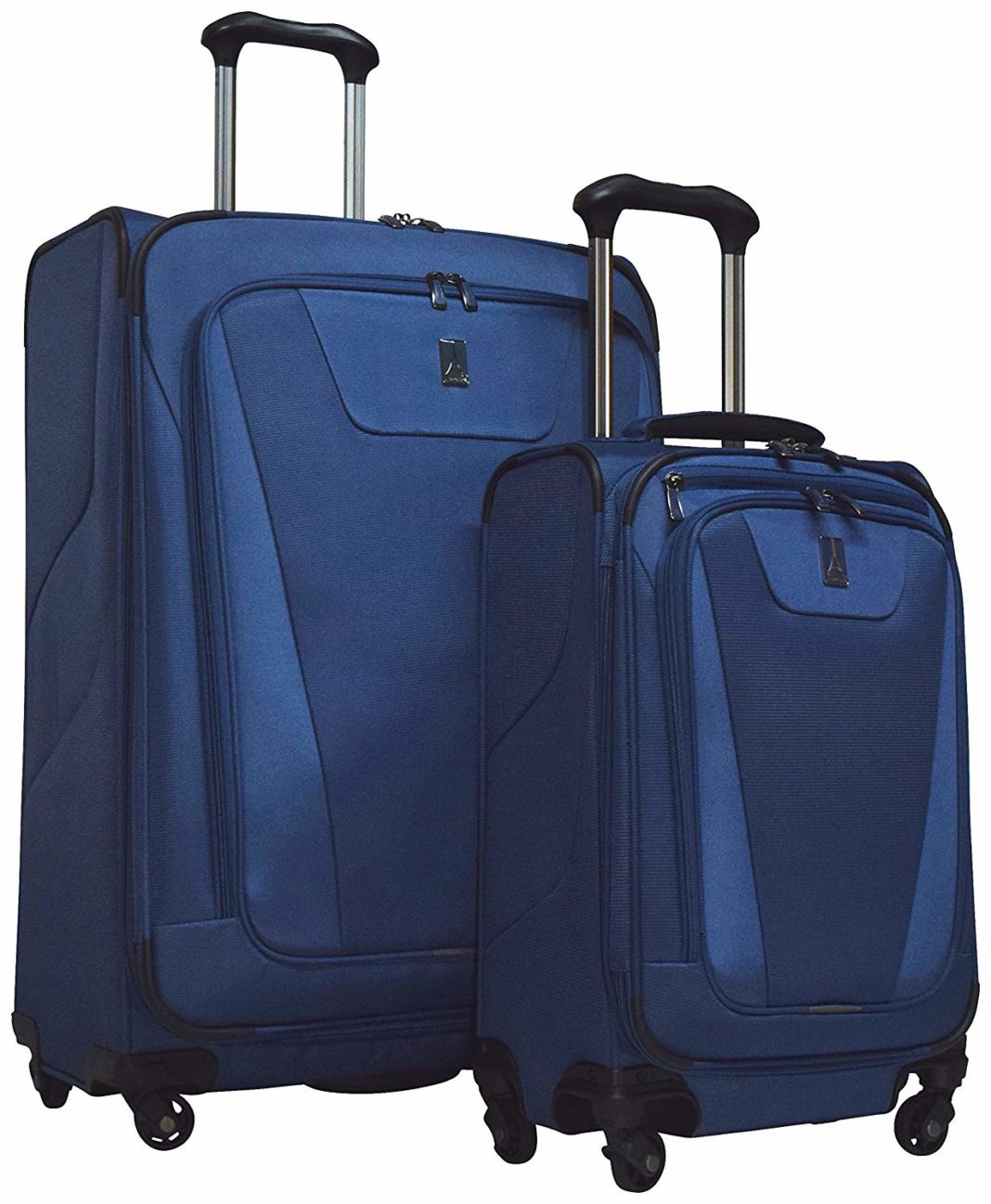 Credit: Amazon
One of the things we appreciate the most about the Travelpro Maxlite 4 2-Piece Set is its classic, nondescript style. Nothing says 'tourist' more than a flashy bag. Traveling with a simple, minimalist style is sure to help you blend in with the locals wherever you go. There are always ways to make the bag feel more your style too. Add some fun personalized luggage tags or luggage straps for a small pop of color.
Tried and true, the 4-wheel spinner and 2-wheel style both offer handles on the side and top as well as an outside pocket for additional storage. This is a handy space for storing any loose items you need to grab quickly. They come in four color options: black, blue, merlot, and purple. After a few months of testing, it's easy to see why this is a top-rated luggage set. Sometimes, it's best to stick with the classics and Travelpro does just that. We highly recommend the Travelpro Maxlite 4 if you're looking for understated pieces for your collection.
Durability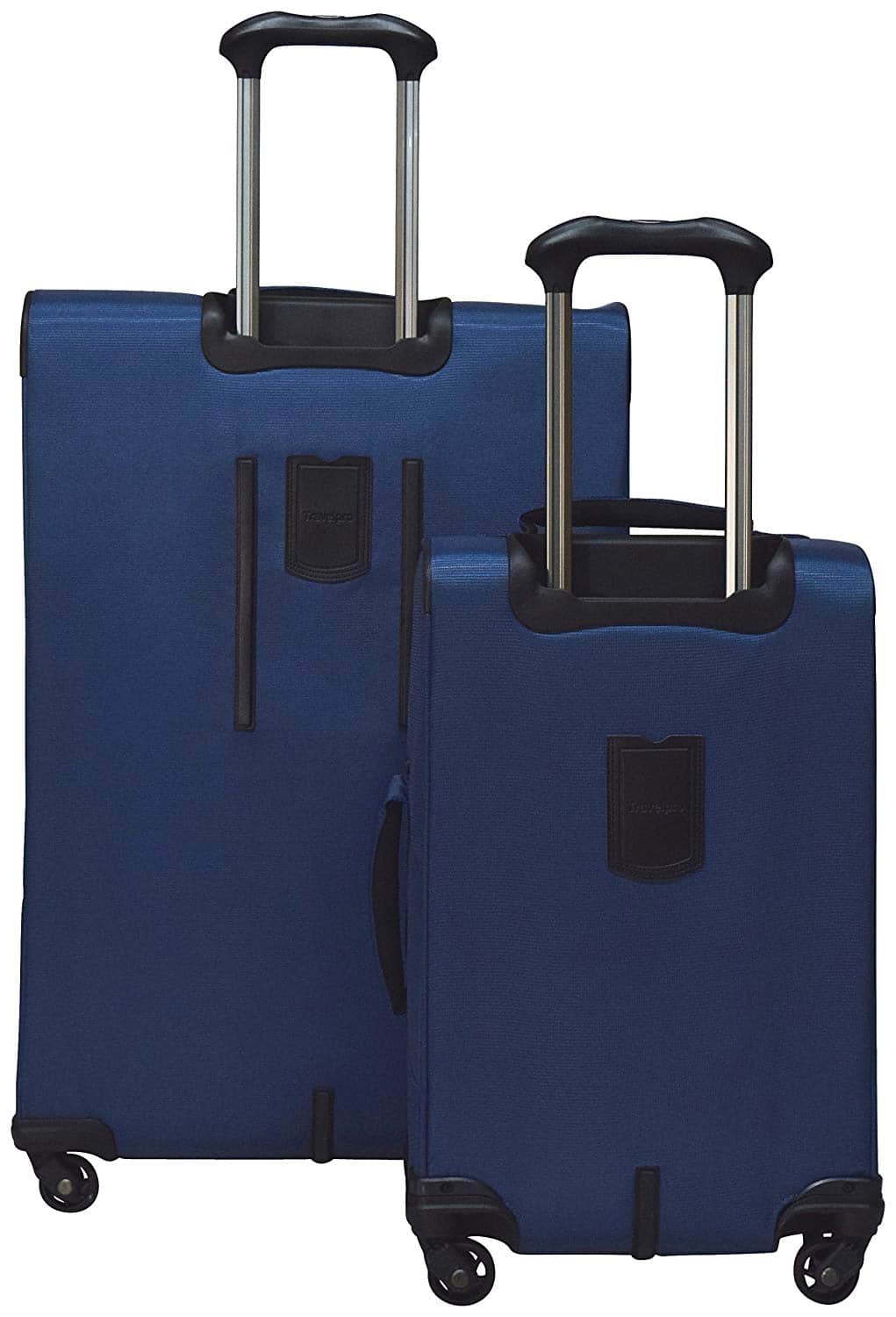 Credit: Amazon
While the Travelpro Maxlite 4 has a semi-soft shell, you'd be surprised at just how well it holds up. The flexible canvas makes it easy to fit your needed items into the luggage without it bulging at the seams. Packing cubes are a huge help with this too. Thanks to the honeycomb frame and foam top made layer, you can rest easy knowing that these bags can hold up to bumps of the road that travel will bring.
We also appreciate that Travelpro added extra protection in areas that normally get a lot of wear and tear. Both the interior and exterior are treated with a water repellent coating. This provides for abrasion and stain protection. It's clear to see that the Travelpro Maxlite 4 2-Piece Set is designed with durability in mind. The sturdy telescoping handle not only makes it easy to maneuver when you're rushing to catch a flight but supports the overall structure of the bag. Durable, self-repairing zippers make this bag ideal for airline travel.
Last but certainly not least, one of the best things about Travelpro and the Travelpro Maxlite 4 2-Piece Set is that it comes with a lifetime warranty. This covers any damages which might result in a defect in the craft or polyester fabric materials. It is important to know that damage that comes over time with normal wear and tear of the luggage is not covered. But hey, if you're a frequent traveler, it's bound to happen sometime. Just know that this set will have you covered for years down the road.
Functionality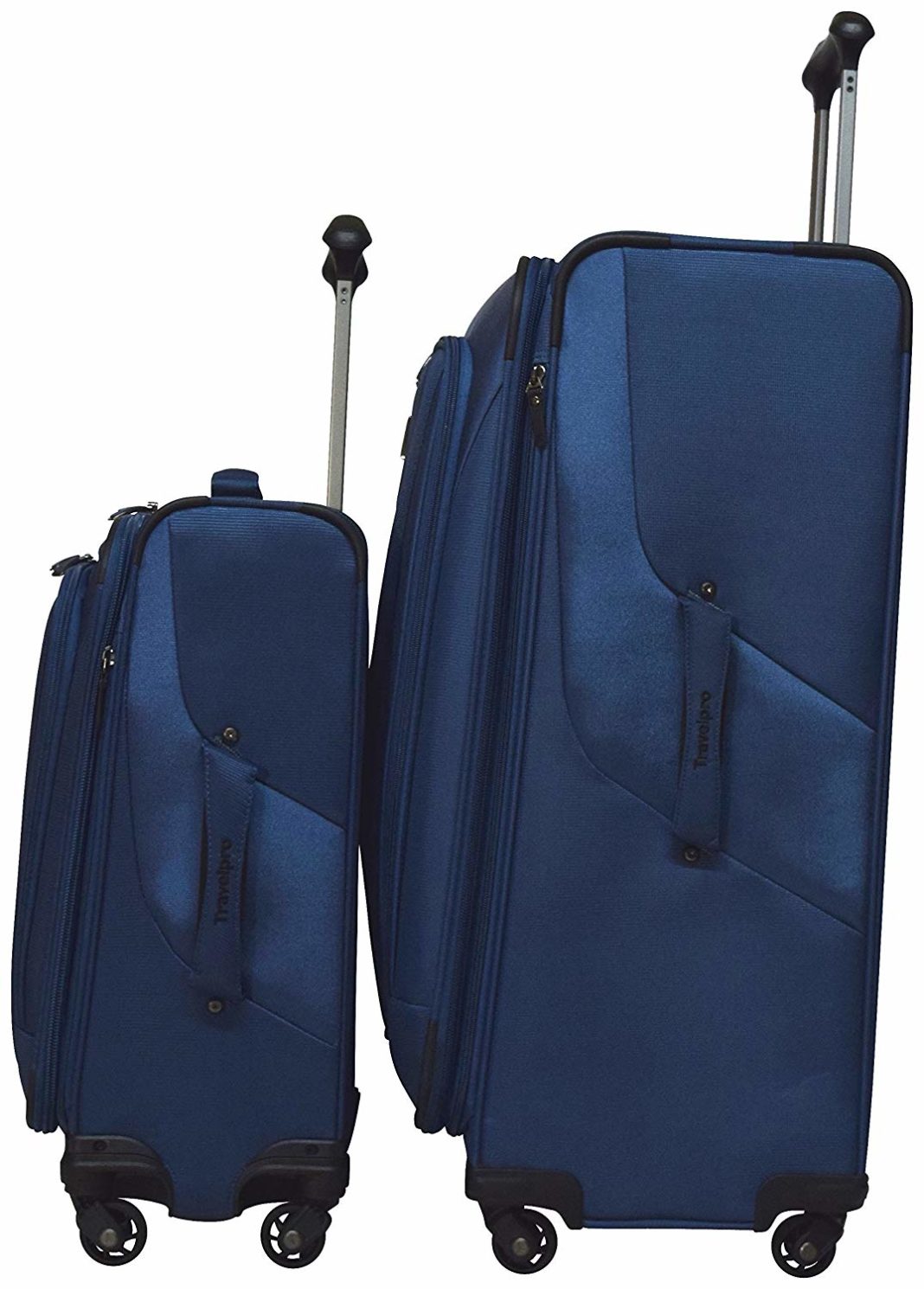 Credit: Amazon
The Travelpro Maxlite 4 2-Piece Set has so many helpful features. In terms of functionality, it checks all the boxes. First and foremost, the grooved shape of the set makes it easy to carry and for the smaller piece to fit in an overhead compartment. You can opt to pull it by the extendable handle through the airport or grab it by the side handle if you need to go up or down some stairs.
One of the best features is its expandability. When you're traveling, it can be difficult to pack and unpack, trying to fit everything back in your bag the way it was before. The expanding zipper on these bags makes it easy to fit and pack what you need without overstuffing your luggage. All you have to do is unzip the expansion zipper and just like magic, you have more room.
In the main interior compartment, you will find two mesh pockets and non-elastic compression straps. While these compartments offer plenty of space for packing, you may want to consider investing in garment bags or packing cubes to stay more organized and keep your clothes wrinkle-free. The Travelpro Maxlite 4 also has a deep enough exterior pocket that can carry a laptop up to 16 inches. Since filling the pocket makes the bag more prone to tipping over on its own, we would recommend using a padded laptop sleeve.
Finally, the wheels of the Travelpro Maxlite 4 2-Piece Set make it easy to pull along rough and bumpy terrain. Whether you're navigating through a train station or walking along a bumpy cobblestone road in search of your hotel, these wheels will get you through. As we mentioned earlier the bags also have top and side handles which make it easy to pick up your luggage and tackle a flight of stairs if you need to.
Tech Specs:
Stain and water resistant polyester fabric coating

Ergonomic self-repairing zippers

Zippered exterior pockets at the front of the bag (large enough to hold a 16" laptop)

4-wheel spinner system design

A honeycomb frame system for durability

Aluminum telescoping handle

Wheel housings

Top and side carry handles

Fully lined waterproof interior

Lifetime warranty for product defects
What Travelers Are Saying About the Travelpro Maxlite 4 2-Piece Set
With a 4.6 out of 5-star rating, the Travelpro Maxlite 4 2-Piece Set really does speak for itself. All in all, it is ideal for airline travel, offering just the flexibility, space, and durability you need for your travels. The expandable features prove to be incredibly useful. Whether you want more space to pack a few extra changes of clothes or to stuff your bags with souvenirs on the way back home, a little extra space is never a bad thing.
In addition, this set is friendly on your wallet. You're getting a great deal for such a durable two-piece set. These bags give adequate support for frequent travelers. Travelers appreciate the durable fabric used, water-resistant fabric, and easy maneuverability.
Alternative Spinner Luggage That Might Be More Your Style
Traveler's Choice Freedom 3-Piece Lightweight Luggage Set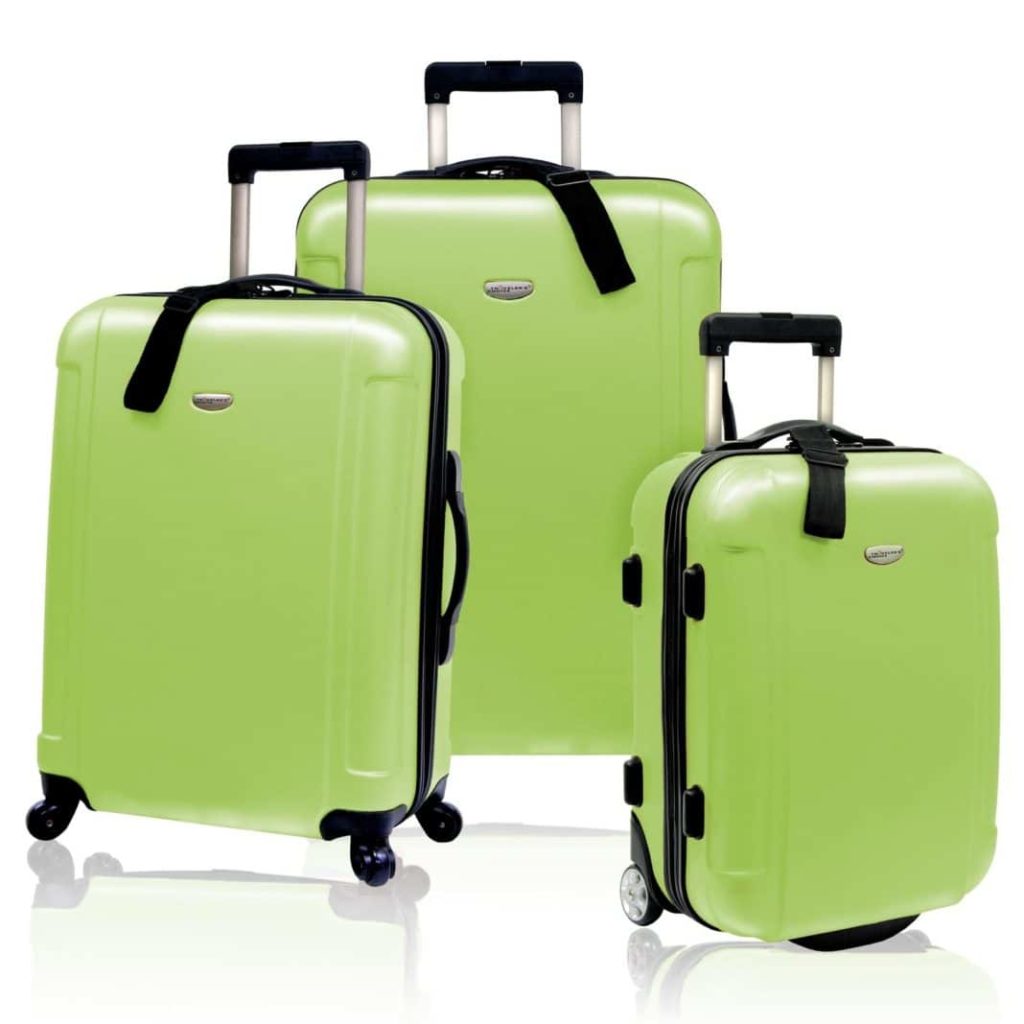 Here is another one of our favorite luggage sets. If you're looking for the best spinner luggage, you've found it in this style from Traveler's Choice. Isn't this a fun color? There's no way you'll lose your baggage on the carousel. The color is not only stylish but easy to pick out in a crowd. We love how lightweight each piece is. Even the kids will be able to pull their mini style around with ease.This bag is designed to provide travelers with the utmost in comfort.
All of the bags are made to last. The set comes with the Freedom 3-Piece Lightweight Hard-Shell Spinning Rolling Luggage Set includes a 29-inch, 25-inch, and 21-inch spinner. Designed with a polycarbonate ABS hard shell materials. They are geared for maximum impact resistance.
The polycarbonate allows the shell to absorb impact by flexing when under heavy pressure while the ABS materials give the shell greater rigidity so that it will not permanently deform when under pressure. It also features a multiple-stage self-locking retractable aluminum telescopic handle system.
The 29-inch and 25-inch hard shell spinners feature state of the art 360-degree spinner wheels, allowing effortless maneuverability in all directions.The 21-inch hard shell rolling carry on features 2 recessed in-line skate wheels with aluminum ball bearings for smooth and quiet rolling.
Enjoy one of the best luggage sets out there.Pack all of your essentials in the spacious main compartment with full interior lining. It has top and side carry handles for easy lifting, an interior zippered garment compartment, and interior straps that compress and secure the load for easy packing, Plus, a detachable quick clip offers add-a-bag versatility.
Tech Specs:
100% Abs

Imported

Polyester lining

Hand Wash

Durable ABS shell material

Lightweight telescopic handle with push button system

Full interior lining

Zipper garment compartment

Four multi-directional spinner wheels

Two recessed inline skate wheels for easy maneuverability

Add-a-bag strap for easy carrying on multiple luggage
Victorinox Spectra 2.0 Medium Expandable Spinner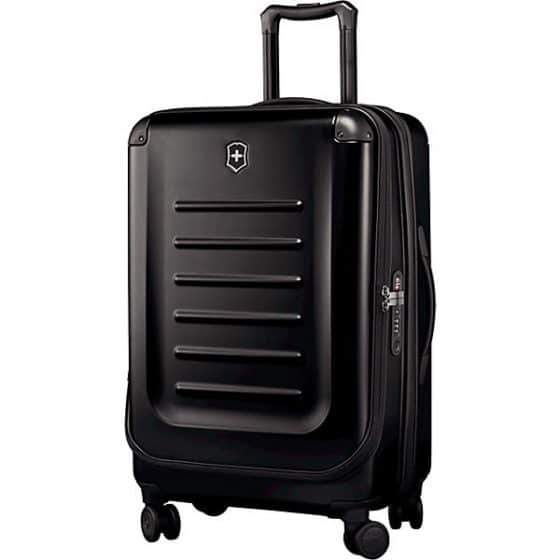 Not a minimalist or an overpacker? That's not a problem. The best spinner luggage for you could very well be the Spectra style from Victorinox. If you're in the market for a medium-size checked bag, this could very well be the style you need. Did you know that it can expand up to 47%? You don't have to stress about which items to leave behind.
Exterior compression bags allow you to customize your case size. Even if you pack this bag pretty full, it's still easy to wheel around. A comfortable, adjustable handle offers three different height positions for travelers. Made from 100% Bayer polycarbonate, it is scratch and puncture resistant. Strategically-placed corner guards and zipper bumpers provide an extra layer of protection to areas that could otherwise be vulnerable to wear and tear. Enter your text here…
You'll have plenty of space. Similarly to the aforementioned style, the Spectra can also expand for more capacity – up to 47% (4.3 inches) in fact. This is what makes it one of the best Victorinox luggage pieces. Compression straps will help you ensure the bag does not look lumpy or overstuffed from the outside.
Mesh divider walls help you to separate your items into a way that's easy to sort through and find what you need. Other similarities to the Etherius style (mentioned above) include the Swiss Tracker Bag Tracking Program, Access Lock Combination Recovery Program, TSA-approved combination lock, and Victorinox warranty program.
Tech Specs:
47% expansion capacity (4.3")

Exterior compression straps

Extra durable material

Water resistant

Break and scratch resistant polycarbonate shell

Dual caster wheels for easy rolling and maneuverability

Interior zippered mesh divider walls

Access Lock Combination Recovery Program

TSA-approved combination lock

Victorinox warranty program

Swiss Tracker Bag Tracking Program
Invest In the Best Victorinox Luggage Pieces for Your Next Big Adventure
We hope you enjoyed reading our article on the Travelpro Maxlite 4 2-Piece Set. As you can see, this dynamic travel company offers plenty of durable options. Whether you're a solo traveler, bringing the family, or traveling with your significant other, there is something on this list to meet any need. To avoid any bumps in the road on your trip, make sure your packing items meet the TSA-approved criteria for a checked bag. Know what not to pack too.
Related Article: 8 Best Spinner Luggage Styles For Frequent Travelers