High tech backpacks make your life easier; the TRAKK Armor makes your life fun!
What does a high tech backpack even mean, you might ask? Well, it's really a regular (or in this case, an even better-than-regular) backpack with some really cool tech-related. Since you're almost definitely carrying your phone with you as well as this pack, a high tech backpack will likely have the option to sync with your phone. High tech backpacks usually present an option for keeping your phone charged, so you may be looking for a phone charging backpack. And, as is the case with the TRAKK Armor, you might even find a totally cool music and light bonus. A high tech backpack not only looks modern on the outside, but it's also woven with some perks that only today's modern world could offer.
Since our lives involve the use of technology so frequently, the TRAKK Armor backpack supports that on-the-go lifestyle. The TRAKK Armor high tech backpack allows you the space to pack for your adventure, makes sure your phone won't die, and offers safety and fun with LED lighting. The TRAKK Armor sits high on the list of top tech-savvy backpacks. It makes a great gift for your gadget-loving friends, and serves as a great travel backpack, too.
A Little About TRAKK Tech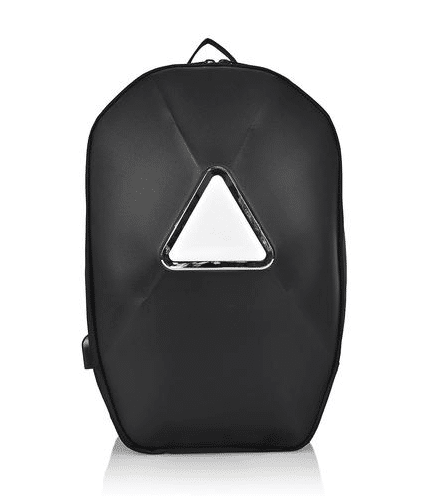 Credit: TRAKK
TRAKK Tech specializes in backpacks, speakers, earphones, and headphones. They advertise "modern technology infused with timeless style." TRAKK Tech seeks to help travelers and adventurers on their outdoor activities, or daily commutes. They offer a variety of backpacks that are high tech because they offer phone charging capabilities and other tech features. These phone charging backpacks are also "high tech" because of the materials that make them durable, such as heat-dissipation technology. TRAKK stays up with the latest trends in the gadget world and offers products with neat features to aid your daily tasks. For the tech-lover in your life, TRAKK products will be sure to please.
TRAKK Armor Backpack Features and Benefits
LED Lights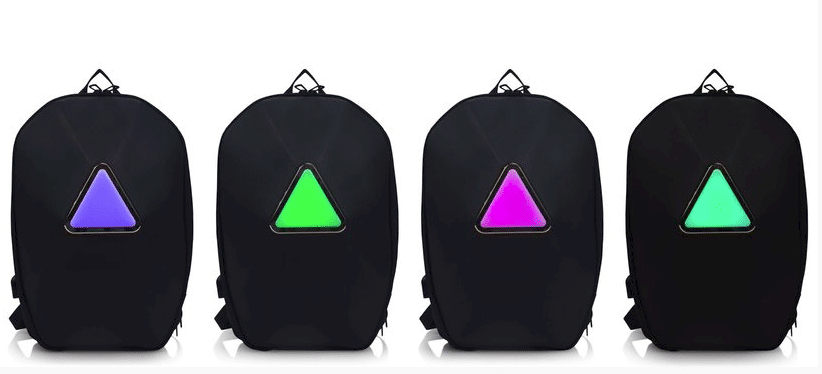 Credit: TRAKK
The LED light illuminates the triangle on the outside of the backpack. Now, this serves a couple purposes. First, it makes the backpack really cool. When you download the app to your phone, your phone becomes a sort of remote control for the backpack. From here you can change your music, and this, in turn, will change the lighting of that LED light according to the beat. Or, you can set the light to whatever color you want, right from your phone. So, while your backpack is on your back, you can continue walking with your phone in your hand and change that LED light on the back. How cool! So, when you're camping and want some background music, start the party and the LED light will bring the fun. Not only is the LED light simply fun, but it also keeps you safe. When biking at night, the light on this high tech backpack will help make you more visible to cars. Or spot your friends ahead of you when you're out on a hiking adventure.
Weather-proof and Tough
Credit: TRAKK
Titling this high tech backpack "Armor" was no overstatement. The tough outer shell is waterproof and includes heat dissipation technology. Therefore, the backpack is like armor. It's nylon and lightweight, yet shockproof. This means your laptop will be protected when the whole backpack hits the ground. Despite the black color, the heat dissipation technology means that the material won't become sticky and your belongings won't overheat. This is especially useful for a long bike ride with the sun on your back, since the backpack won't absorb as much of the heat. And of course, if you get caught in a thunderstorm on your adventure, this high tech backpack will keep your belongings dry. Of course, that's especially important when you're carrying your phone, laptop and camera gear, for example. This high tech backpack also includes quick-dry technology.
Made With Your Devices in Mind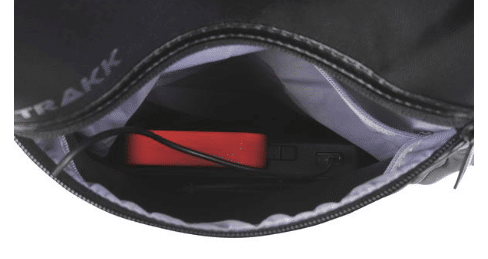 Credit: TRAKK
This high tech backpack offers an external USB port. Place your power bank in the pocket and you can charge your phone or other devices whenever you need to. Inside, you'll find excellent organization for your devices and accessories: a laptop sleeve, compartments for cords, headphones and small items. Plus, there's enough space in the TRAKK Armor backpack for an extra change of clothes, or whatever else you might need. Plus, the TRAKK Armor backpack will connect to your device up to thirty-three feet away! That means you can control the LED light and choose to have it set randomly or to sync with the music you're playing.
Comfortable and Adjustable
Of course, a big selling point for the TRAKK Armor backpack is the sweet LED light. But, behind that neat feature is a quality backpack, too. The backpack has a hard shell on the outside, and a softer, more flexible side against your back. The shoulder straps are adjustable and cushioned nicely with webbing that helps distribute the weight across your shoulders. In addition to the shoulder straps, this high tech backpack also has a chest strap and a waist strap. Each of these three straps is adjustable.
Spacious, Yet Not Overbearing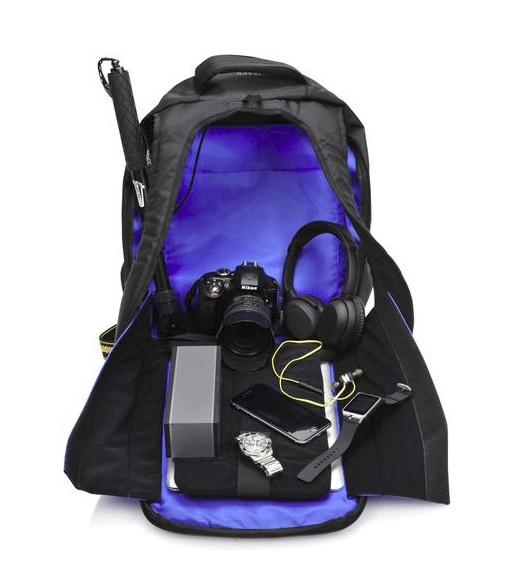 Credit: TRAKK
This high tech backpack features two main compartments. Both are accessed from the outside with zippers. In one of the large compartments, you'll find the laptop sleeve. It's padded and open at the top which makes for easy access to your laptop. In this first main compartment, there's still plenty of space for other books, or a keyboard or other computer accessories. The second compartment has a similar amount of body space, as well as smaller pockets for power banks, or smaller accessories.
What Other Travelers are Saying About the TRAKK Armor Backpack
Most are thrilled with the fun LED light feature and compatible app with the TRAKK Armor Backpack. The triangle lights up around the rim, or color can fill the whole triangle. Plus, the colors change, randomly, according to the music or can be set on one particular color. Customers love the fun addition that this LED light offers. Kids and adults alike find this to be a welcome bonus to a great backpack, or the very reason they choose this high tech backpack.
Many also appreciate the "armor" that the TRAKK Armor Backpack boasts. This aids them in their outdoor adventures in the rain or heat. Customers note that the heat dissipation technology does seem to make a difference in keeping the backpack's contents from cooking when the hot sun is out. The waterproof quality is nice regardless if you're just commuting, or out on the side of a mountain. Plus, travelers appreciate that the outer shell is rigid, and therefore keeps its shape. This helps to protect the belongings inside, and even has a bit of a "hard side" luggage feel when traveling with this high tech backpack.
Some customers report disappointment when discovering that TRAKK does not include a power bank with the Armor Backpack. This is needed to power the LED light, so this feature won't work unless you connect your own power supply. Some customers feel that for the price of the backpack, this part should be included. Some others don't feel the high tech backpack is adequately waterproof for long periods of time, but rather water resistant. However, customers do love the sleek look and the fact that it "feels" quality.
Other Smart Backpacks from Trakk Tech
TRAKK Shell Weatherproof Bluetooth Speaker Backpack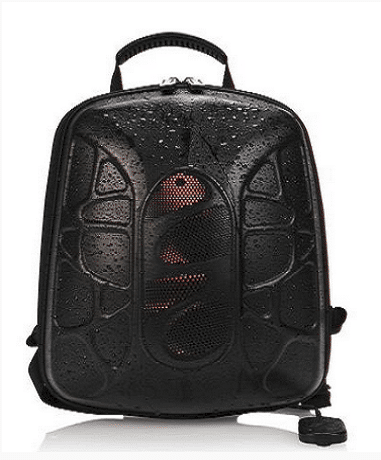 Credit: TRAKK
This high tech backpack is a powerful Bluetooth speaker backpack! Its rugged design means that you won't have to worry about weather or damage. It's waterproof and shockproof. You can charge your devices with the USB port. Plus, you can connect your phone and pair from up to 65 feet away. The backpack features comfortable shoulder straps and a waist strap. The tough, outer shell is durable and keeps its shape, to better protect your belongings. This high tech backpack emits great audio sound right from the backpack itself. Plus, it has an LED light. The controller function in the backpack itself makes it easy to have the backpack change music, pause, turn on and off, and take incoming calls from your phone. Inside, you'll find a compartment for your laptop, smaller organizational pockets for your accessories, and space in the body for headphones or books.
TRAKK Fuel Anti-Theft Durable Power-Charging Backpack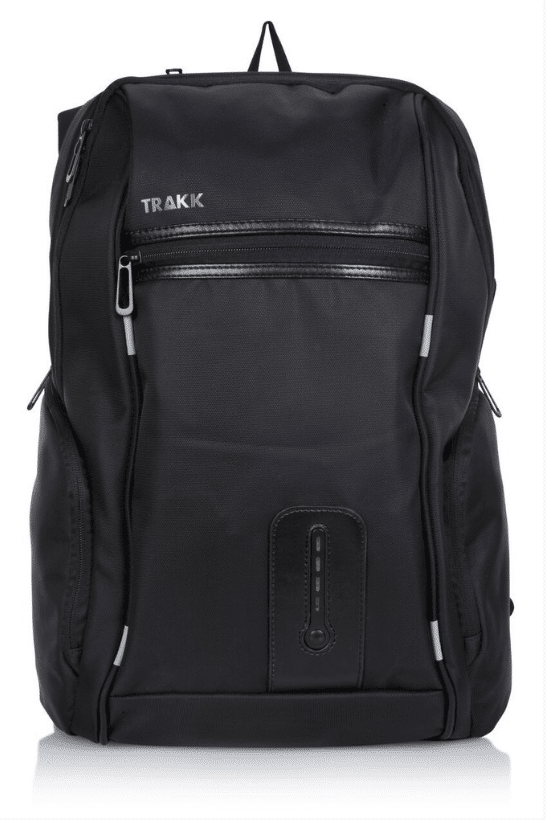 Credit: TRAKK
The TRAKK Fuel high tech backpack features an external USB so you can charge your phone on the go. It has a built-in 7000 mAh power bank. The extra cool feature in the light indicator on the backpack itself. This very clearly tells you how much battery power is left. This TRAKK backpack is made from high-quality Jacquard Nylon with leather finishes. Therefore, it's waterproof and shockproof. The TRAKK Fuel includes hidden storage pockets inside the backpack to help prevent theft. These hidden pockets are a plus for travelers, and so are the easy access pockets for moving through security lines quickly. The backpack has comfortable, padded shoulder straps, and two compartments with various smaller pockets, too.
TRAKK Vigor Water Resistant Power Charging Travel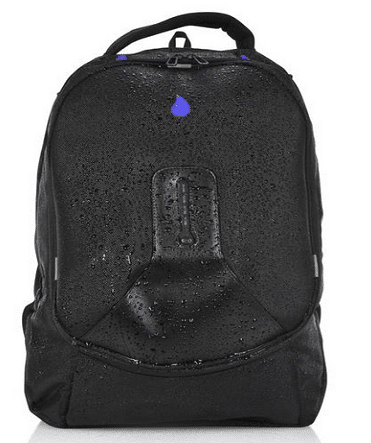 Credit:TRAKK
This backpack includes a 7000 mAh power bank included, as well as an external USB port for charging. Like the TRAKK Fuel, this high tech backpack includes a light bar to indicate battery level. The TRAKK Vigor is made with high-quality Jacquard nylon with a leather finish. It's waterproof and shockproof. This bag is very similar to the TRAKK Fuel, but offers a different design and look. It offers plenty of space in the main compartments. The waterproof quality means you can carry your electronics without having to worry about the weather, even if they're in the outermost pocket.
Alternative High Tech Backpacks
Tzowla Laptop Backpack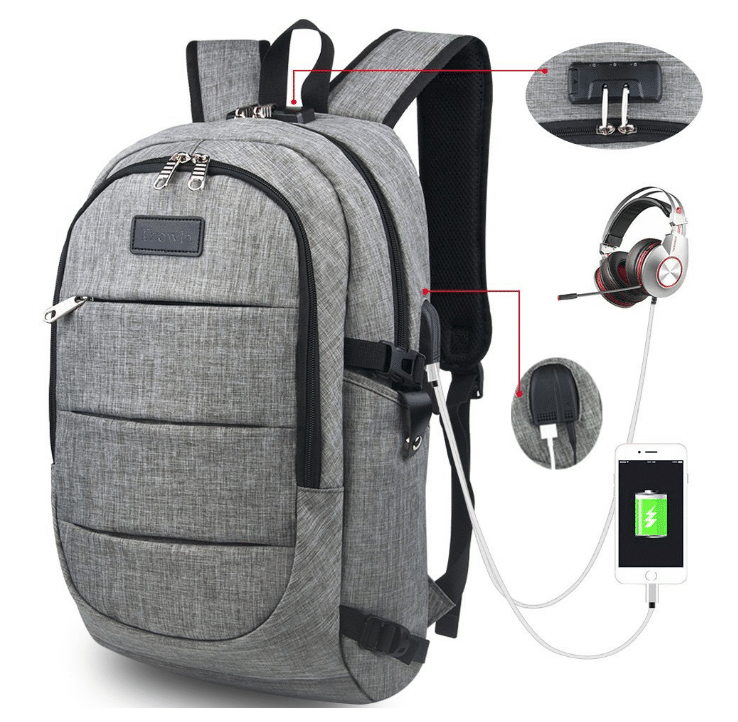 This high tech backpack is ready to help you charge your phone and listen to music while wearing your backpack. It's made from high-quality water-resistant polyester fabric. The backpack features comfortable shoulder straps and two large main compartments. Hidden pockets inside the backpack help you stow away valuables that you don't want to get stolen. In addition to all the great features, this backpack comes with a lifetime warranty. It's a good laptop backpack, and will comfortably fit most 15.6 inch laptops. The backpack offers over twelve different compartments, proving that it's great for organizing your belongings. The capacity of this high tech backpack is 34L.
Ibagbar Laptop Backpack with USB charging port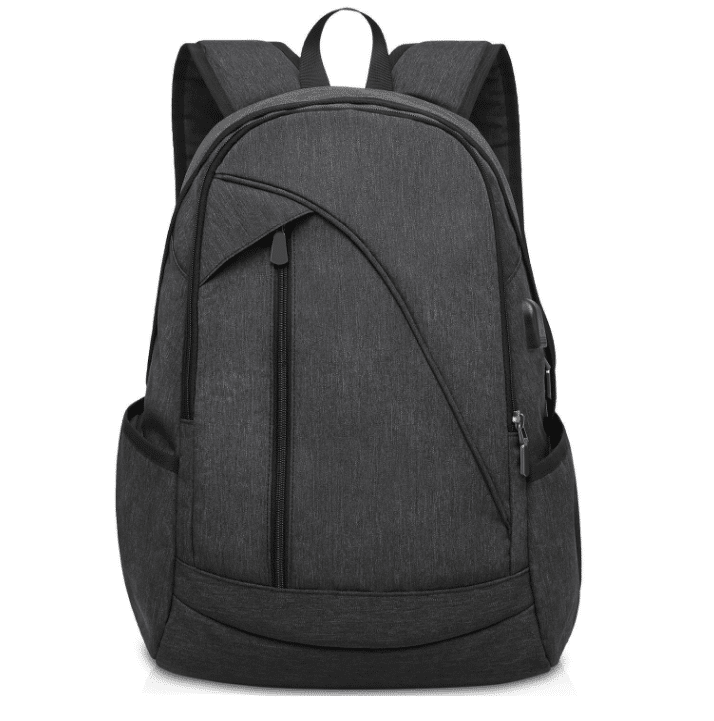 This high tech backpack has three main compartments as well as plenty of smaller pockets for organization. The side pockets are just right for a water bottle or even an umbrella. Your laptop gets its own compartment. The backpack's capacity is 35L and it has a sleek design with a front, diagonal zipper. It's made from durable nylon and it's water resistant! The "smart" part of this backpack features an external USB port with built-in charging cable. This high tech backpack is designed to carry various devices, and to help keep you charged up while on the go.
Yorepek Laptop Backpack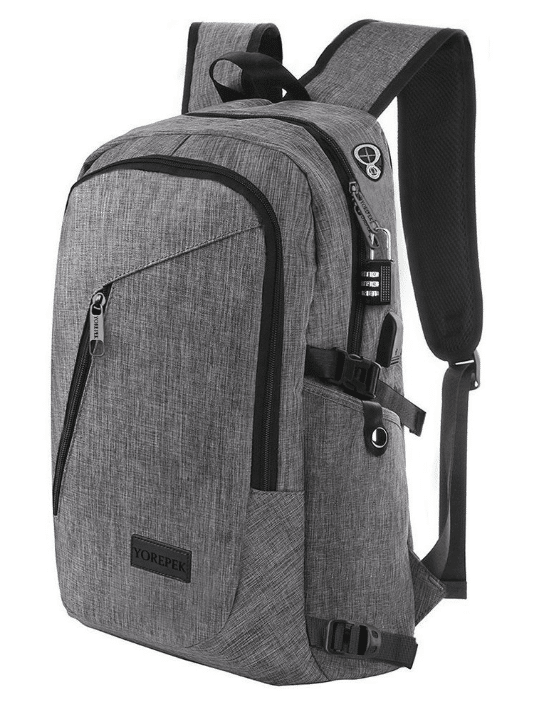 The gray, sleek design of this backpack makes it a cool gift for any tech-loving friend or family member. The high tech backpack comes equipped with an external USB charging port, as well as a hole for headphones, so you can thread them through the backpack. It's an anti-theft backpack, and durable. In fact, it's made from nylon that is tear-resistant, yet soft. The outside is water resistant, and the inside is made with a polyester lining. The padded laptop compartment keeps your laptop separate from the main body. This backpack advertises theft protection, and even comes with a combination lock.
This high tech backpack keeps up with your busy lifestyle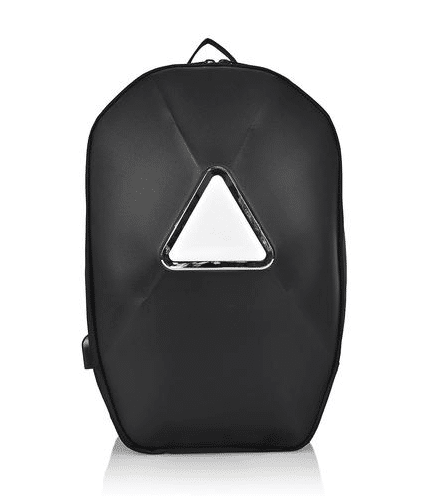 Credit: TRAKK
The Trakk Armor Backpack makes sure that your laptop gets to ride in style. The LED lights are a pretty cool feature and they "dance" to the beat of your music. This phone charging backpack is also backed by a quality regarding compartment space, durability, and comfort. You can easily carry your laptop, iPad, tablet, etc. in the various compartments. Plus, the LED lights means that you'll always have the option for some musical fun. The option to download the app and control the lights from your phone makes it really easy to use. The waterproof quality is especially helpful, considering that TRAKK Armor Backpack designers know that you'll likely be carrying electronics with you. Overall, this high tech backpack is a quality backpack with perks that aid life in the modern world, and even add some fun along the way!
Related Article: ​Kopack Anti-Theft Backpack Review: A Business Backpack that Doesn't Mess Around​​​