Some people say that there's no such thing as bad weather, just bad gear. We agree.
Finding a knee length, lightweight down jacket to keep you warm through the winter can be hard these days without breaking the bank. The company Wantdo has tried to step into this gap to provide people living in cold places with a little bit of relief, Their Wantdo Hooded Ultra Light Packable Down Jacket is ready to take on cold, windy home cities as well as adventures to the frozen tundra. So, if you have a last minute trip this winter to somewhere marvelous, consider bringing this jacket along. For under sixty dollars, you'll get a decent down jacket that can go just about anywhere.
The Women's Wantdo Hooded Ultra Light Packable Down Jacket Features & Benefits
Warm & Fluffy Down Filling
Credit: Wantdo
Down is known to keep you warm all winter long. Down captures your own warmth and keeps it trapped in the space in between the feathers. So, usually, you can abide by the rule that the fluffier a jacket is, the warmer it will be. This jacket will fully fluff up to nice, puffy size two hours after you've taken it out of its packaging. While this jacket cannot magically make you warm, it will be plenty to keep you warm if you're doing any sort of even light physical activity. So, if you're looking for a solid walking, hiking, strolling, or fashionable packable down jacket, this is a great place to start.
Lightweight, Water Resistant Nylon Exterior
Do you like being cold and wet? Yea, we don't like that either. Thankfully, Wantdo agrees! They have made their lightweight nylon exterior on the Women's Wantdo Hooded Ultra Light Packable Down Jacket water resistant. This means that a light sprinkle of rain will just bead up and fall off. This being said, don't get caught in a downpour. Getting fully wet will compress the down inside and lose a lot of the heat you have captured. But, if you tend to be clumsy as you grab your coffee on the way to work, this jacket will resist even that stain. So, to both the wet and rainy climates as well as the klutzy people, Wantdo has a packable down jacket for you.
Slimming, Cinch-Waist Design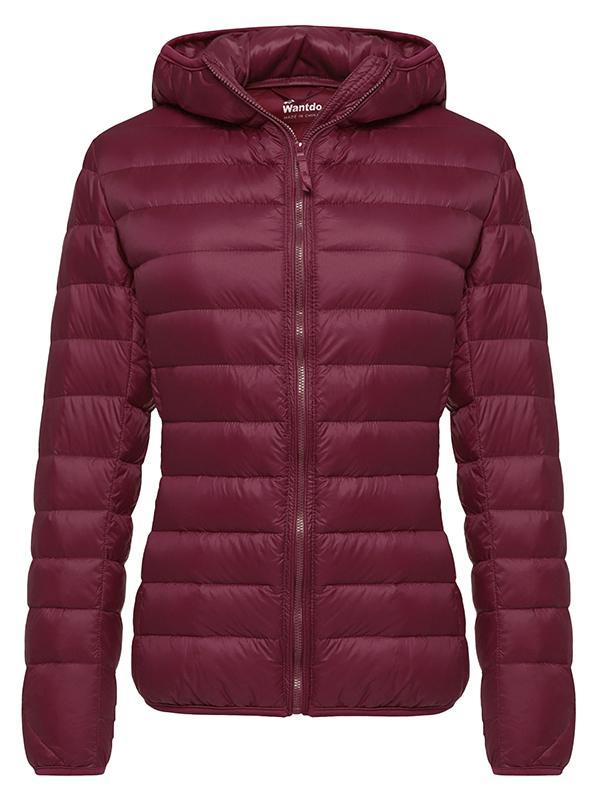 Credit: Wantdo
With every down jacket comes the possibility of looking like a marshmallow. It is hard to not look like that when down is so fluffy. Thankfully, Wantdo has included a cinch cord inside their packable down jacket, so you can choose just the shape you want. By pulling the cinch cord located inside at the waist just a little more, the jacket will slim you down. If you don't like things cozy up against you, let out the cinch cord and you have a little extra room inside for that cute sweater you wanted to wear tonight anyway. So, if you need a knee-length, packable down jacket that keeps you looking good, the Wantdo Hooded Ultra Light Packable Down Jacket is worth a second look.
Attached Hood & Elastic Cuffs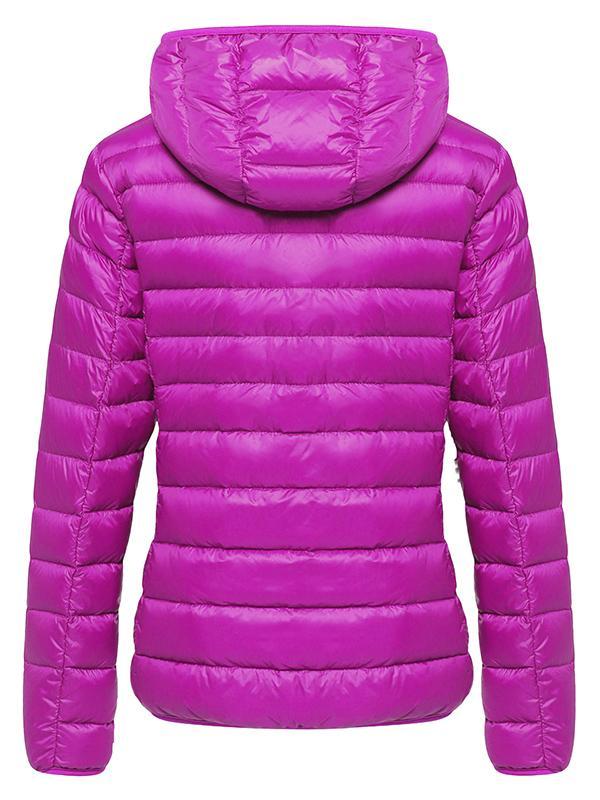 Credit: Wantdo
Did you know that most of your warmth escapes through your head? Wantdo does, and that's why they put a marvelous and warm hood on their packable down jacket! This will keep a light mist off your head as well, which is always appreciated. In addition, there is elastic around the wrist cuffs to help keep the wind out. The zipper is also sturdy enough to keep the wind at bay. When you pair the hood, elastic cuffs, and solid zipper together, you have a sturdy and windproof design for this Wantdo jacket.
Packable for Any Excursion
Have you ever gone from somewhere quite warm to somewhere quite cold, say, in February? Packing for that travel day and trip can be pretty confusing and exhausting if you don't have the right gear. Lucky for you, the Wantdo Hooded Ultra Light Packable Down Jacket can put itself into a small little ball just a few inches long. This will fit easily in your purse, backpack, or carry on. It won't add much weight either. It weighs only as much as one and a half lemons! Make sure to not store your packable down jacket in the stuff sack, though. Compressing the down for long periods of time will break down the loft, creating a less warm jacket.
What Travelers Are Saying About the Women's Wantdo Hooded Ultra Light Packable Down Jacket
Averaging 3.8 out of 5 stars, this packable down jacket gets the job done but doesn't have many bells and whistles. The favorite aspects of this jacket are how lightweight it is while still providing exceptional warmth. By going all the way to the knees, it keeps most of your body safe from wind, light rain, and the biting cold. This being said, this jacket isn't made for rough situations. The nylon is thin to keep this jacket lightweight, so it may easily snag or tear. This shouldn't be an issue though if you just need to wear it out and about in the city.
Many reviewers say the jacket ran large, while others say it ran small. Sizing may depend a lot on your body shape. Most travelers agree that the size chart is quite accurate, so choose your size based on the largest category you fit. The last thing to note that all reviewers enjoyed is the variety of colors to choose from. Whether you want to stay classy in black or branch out to different blues, greens, and reds, there is plenty to choose from. So, if you're on the fence about the Wantdo Hooded Ultra Light Packable Down Jacket, it's worth a shot. For under sixty dollars, you'll get a warm, packable down jacket.
Alternative Women's Down Jackets
Amazon Essentials Women's Lightweight Water-Resistant Hooded Packable Down Jacket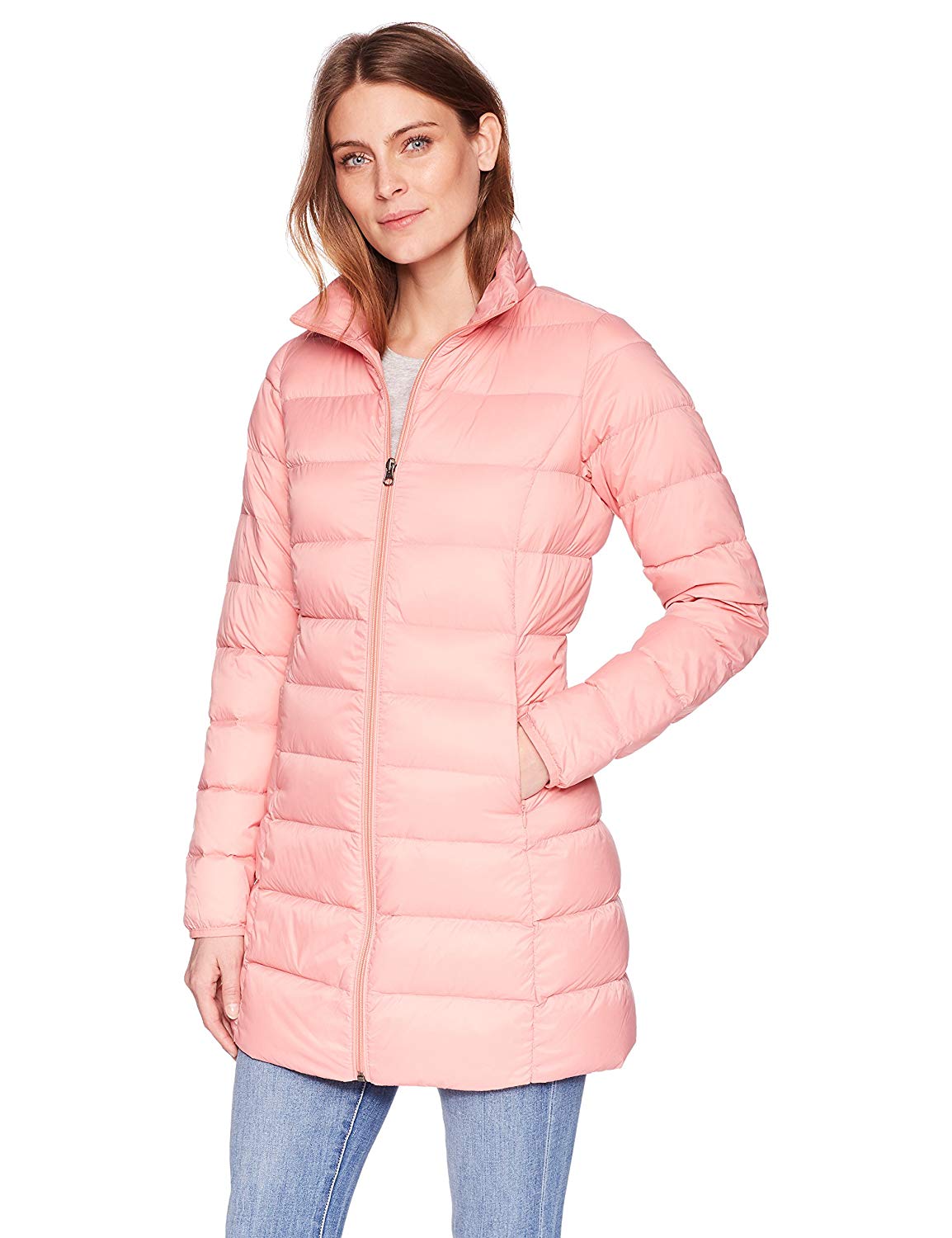 For a shorter, packable down jacket that is just as stylish and warm as the Wantdo option, look to Amazon Essentials. They've taken the best aspects of a solid down jacket and boiled it down to this simple form. This jacket is filled with ninety percent duck down and ten percent feathers. This gives you plenty of loft to keep you warm all winter long. The contoured seams give a nice, fitted shape to this jacket to keep you away from that marshmallow look we mentioned earlier.
This jacket also has a hood and is water resistant, so the wind and the rain will have nothing on you if you grab this alternative packable down jacket. The two outer pockets zip shut, and the cuffs have elastic to keep the rain out. Lastly, this bag packs down nicely into its carrying bag for easy transport. So, if you want a shorter version in just as many color options as the Wantdo jacket, check out the Amazon Essentials Women's Lightweight Water-Resistant Hooded Packable Down Jacket.
Marmot Aruna Women's Down Puffer Jacket
If you're ready to spend a few extra dollars on a truly amazing down jacket, the Marmot Aruna is a great alternative to Wantdo's down jacket. With moisture-resistant down, you will be warm even in wet conditions. That is music to the ears for many of you cold-climate dwellers! In addition, it has 600 fill power down, easily being the warmest jacket on our list. The zippered hand warmer pockets will keep those digits warm even on frigid days, too. The elastic bound cuffs and hem keep every ounce of heat you've generated inside, which is a marvelous thing to know. Lastly, the attached hood can be adjusted for better coverage. So, if it's a windy day or a rainy day, the Marmot Aruna Down Puffer Jacket is waiting to keep you safe, happy, and warm.
Columbia Sportswear Women's Hexbreaker Long Down Jacket​
For another long, packable down jacket, we've included the Columbia Sportswear Women's Hexbreaker Long Down Jacket in our list of alternatives. While it is quite a bit pricier than the Wantdo jacket, you will get what you pay for. The quilted goose down is 600 fill power, providing unmatched warmth to you. It is quilted well to keep the down in place for years to come as well. The removable hood and standing collar will keep the wind, snow, and rain from getting to you. With Omni-Heath Thermal Reflective technology, you won't love a bit of your body heat to outside. With 4.3 out of 5 stars overall from various adventurers and travelers, you can't go wrong with this packable down jacket.
​

If you're looking for a budget-friendly, packable down jacket, you've found it in the Wantdo Ultra Light Jacket.

If you're wondering when the best time to buy winter clothes is, well, now is a great time to invest in this Wantdo jacket! With a variety of colors available, you'll want to snag one while you still have options. Down jackets truly provide a warmth that is unparalleled when it comes to a cold winter day. So, if you're ready to dive into the down world, the Wantdo jacket is a great item to dip your toe in the water. Measure well as you see what size to order, as it can get a little odd in the sizing. But, we hope you absolutely adore you fashionable and low-cost Wantdo jacket!

Related Article: 11 Best Down Jackets for Women You Need for Your Next Trip