Endure the cold in style with the Eddie Bauer Women's Lodge Down Duffle Coat.
Finding the perfect winter coat can be a challenge. Travelers need outerwear that keeps them warm and cozy during the most extreme conditions, like snowy days and icy nights. These coats require weather-resistant exteriors and warm lining on the inside to maintain heat. At the same time, the ideal winter coat should appeal to the wearer's personal style. Many winter jackets look bulky and unflattering, making them a chore to wear. However, the Eddie Bauer Women's Lodge Down Duffle Coat combines heat-sealing capabilities with a stylish design. When you wear this coat, you'll get to enjoy the winter weather for hours, without feeling cold or unfashionable. Read our article below to learn all about this amazing piece of outerwear.
Eddie Bauer Women's Lodge Down Duffle Coat Features & Benefits
Maintains Optimum Warmth
Credit: Eddie Bauer
When you're looking to buy a winter coat, your number one priority should be heat retention. The best winter coats for outdoors travels utilize layers of thick material to keep you toasty all day long. Some coats might promise warmth but fail to maintain heat when the weather grows chilly. Certain winter jackets appear attractive yet feel light and airy when wearing them. For example, if you travel to new places in February, light jackets just won't provide proper warmth. Whether you're traveling to a freezing climate or want to prepare for the upcoming winter, you need a warm jacket.
With the Eddie Bauer Women's Lodge Down Duffle Coat, travelers will remain cozy throughout all their cold weather expeditions. This coat utilizes 650 fill, premium down insulation, ensuring that the wearer stays warm despite the frigid temperatures. The 100% polyester used to craft the jacket also provides extra heat-sealing capabilities, helping travelers remain unperturbed by the cold. Additionally, the longer length of the coat allows greater bodily coverage while traveling. If you're taking a last minute winter vacation, buy this coat instead of wasting time looking for other jackets.
Stylish Fit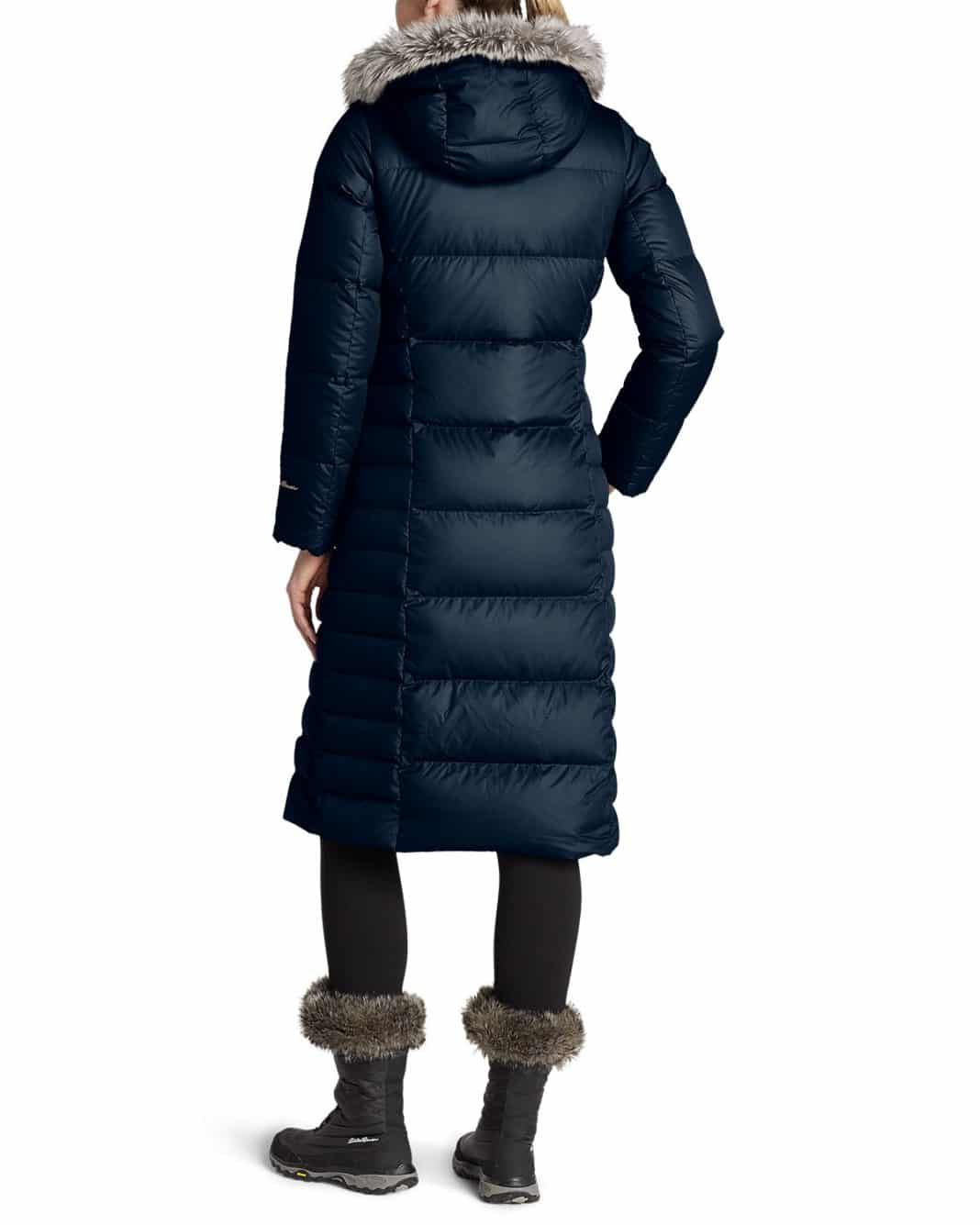 Credit: Eddie Bauer
While travelers need winter coats that provide warmth, they also don't want to feel unattractive and bulky. Lots of jackets designed for cold weather appear hefty and lack a fitted form, making the wearer look shapeless. Though some people will sacrifice style for functionality, this shouldn't be a necessity. You can find coats that combine heat retention with a fashionable design, instead of settling for an unflattering jacket.
The Eddie Bauer Women's Lodge Down Duffle Coat maintains a stylish design that appeals to a wide range of travelers. This coat has a unique length, covering the upper legs, that makes it look elegant while providing greater warmth. The Classic fit of this coat means it won't look too tight or too loose. A drawcord waist lets wearers accentuate their waists if they so choose. Almost every body type can look great while wearing the Eddie Bauer Duffle Coat. While you can find a variety of down winter jackets for women, this coat remains a top option.
Adjustable Features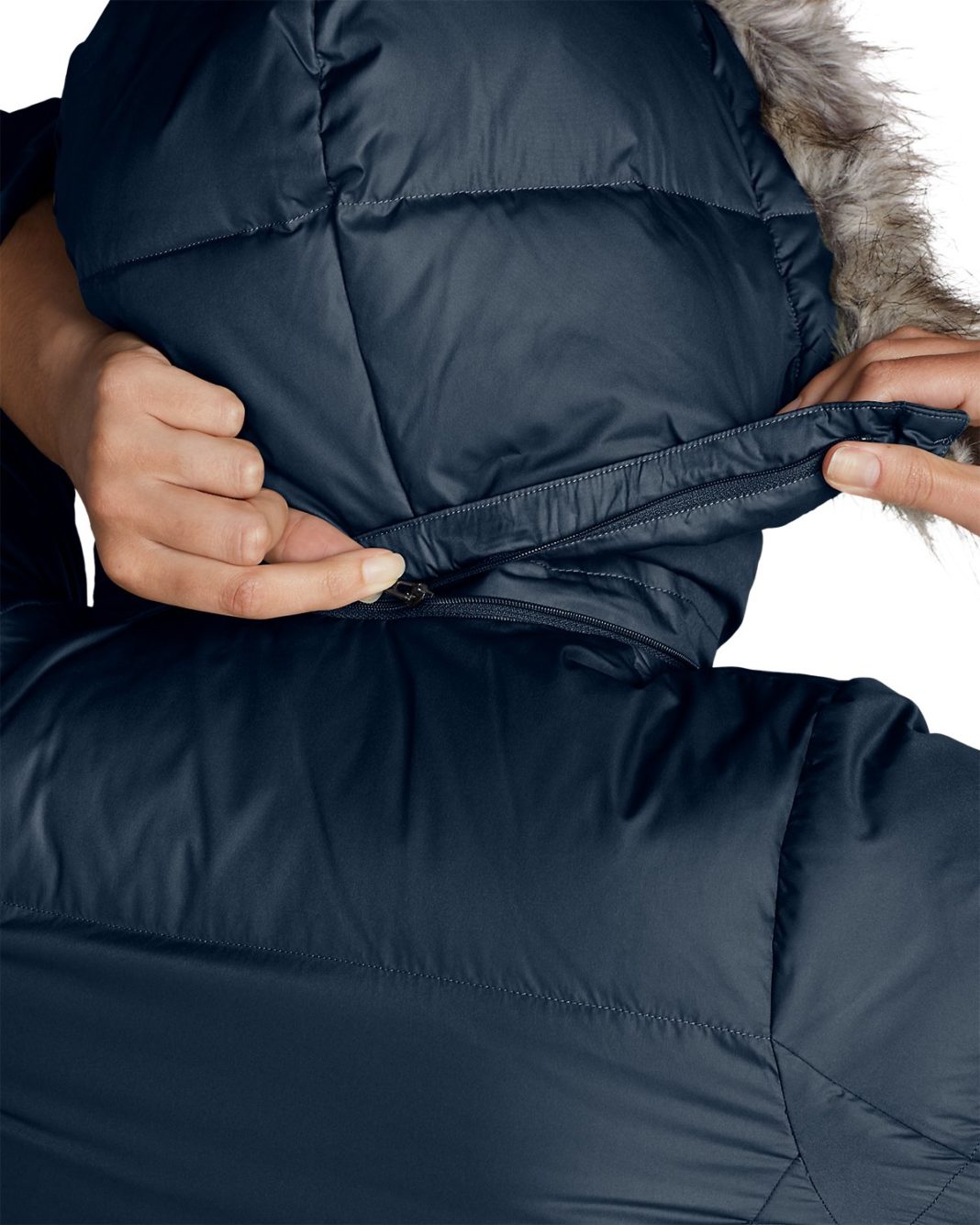 Credit: Eddie Bauer
Since not every traveler has the same tastes and style, coats that can be adjusted remain ideal. While you might be happy with the jacket you purchased, you may want to make small changes. Or, your winter coat might not need the extra heat retention during warmer days. In this case, features like furry hoods won't be necessary to keep you warm. Similarly, if you're wearing layers under your jacket, you need to be able to loosen the jacket at will.
Adjustable aspects of the Eddie Bauer Women's Lodge Down Duffle Coat make it transformable for travelers with have varying needs. A removable hood and faux fur ruff make it easy to take the hood on and off when desired. If you don't need the hood or the extra warmth, you don't have to wear it. An adjustable, drawcord waist also lets travelers tighten or loosen the coat when they want. You can tighten the coat for a cinched-in look or loosen it when wearing bulkier layers underneath.
Extra Storage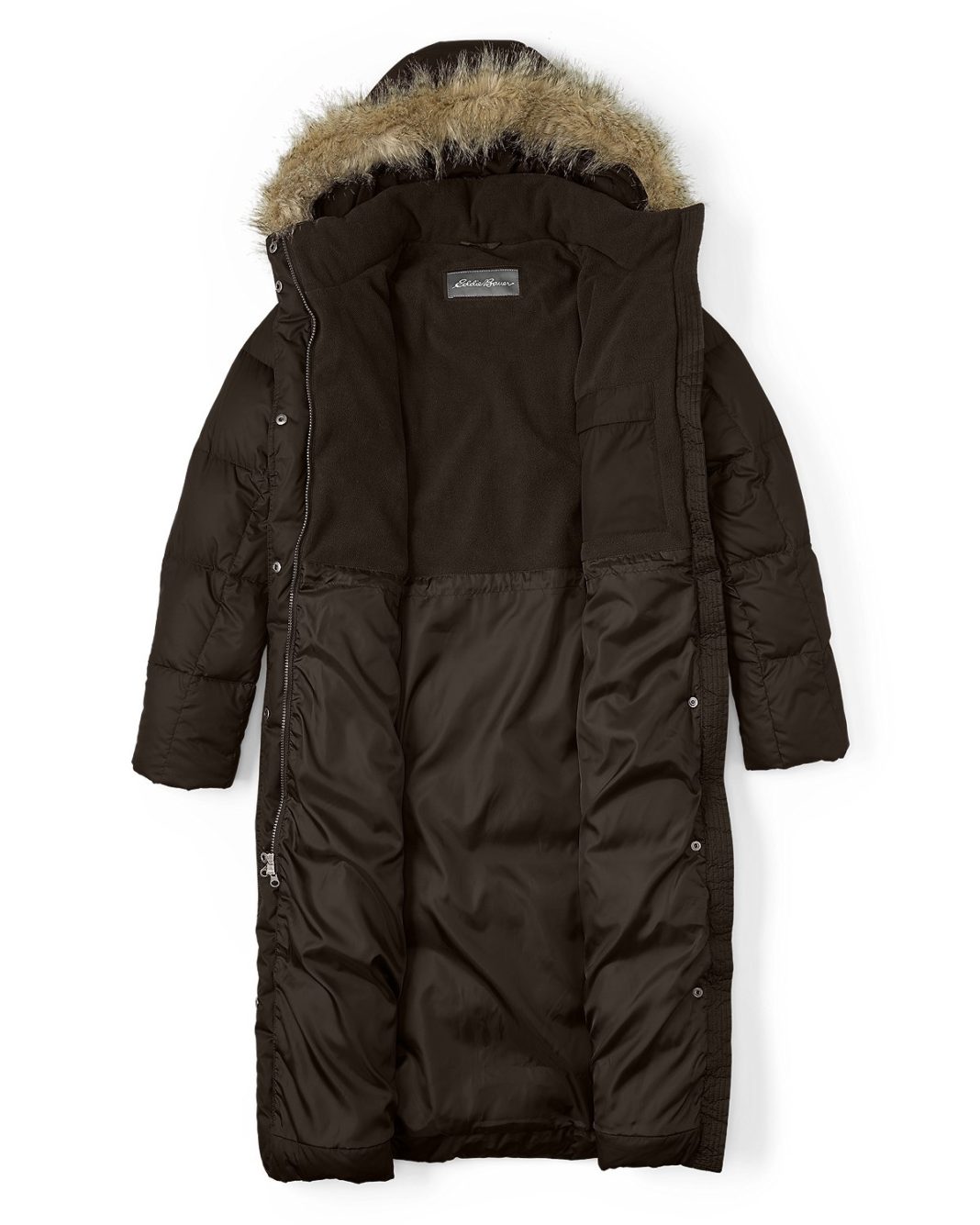 Credit: Eddie Bauer
Outdoors travelers know the usefulness of extra pockets in winter coats and jackets. Sometimes, carrying around an extra bag can be an annoyance. If you're going on a walk, you don't want to be encumbered by heavy backpacks or wallets. Winter sports enthusiasts might also need a place to store important items, like phones, while remaining active. Strolls through the city don't require lots of travel gear, so bringing a bag shouldn't be necessary.
Inside the Eddie Bauer Women's Lodge Down Duffle Coat, travelers will find multiple places to store their belongings. An interior zip pocket provides the perfect location to keep phones, wallets, passports, and other important items. On the exterior, two large pockets let you hide your hands from the cold. You could also keep keys and licenses inside these handy pockets, so the items are easy to grab.
Easy to Clean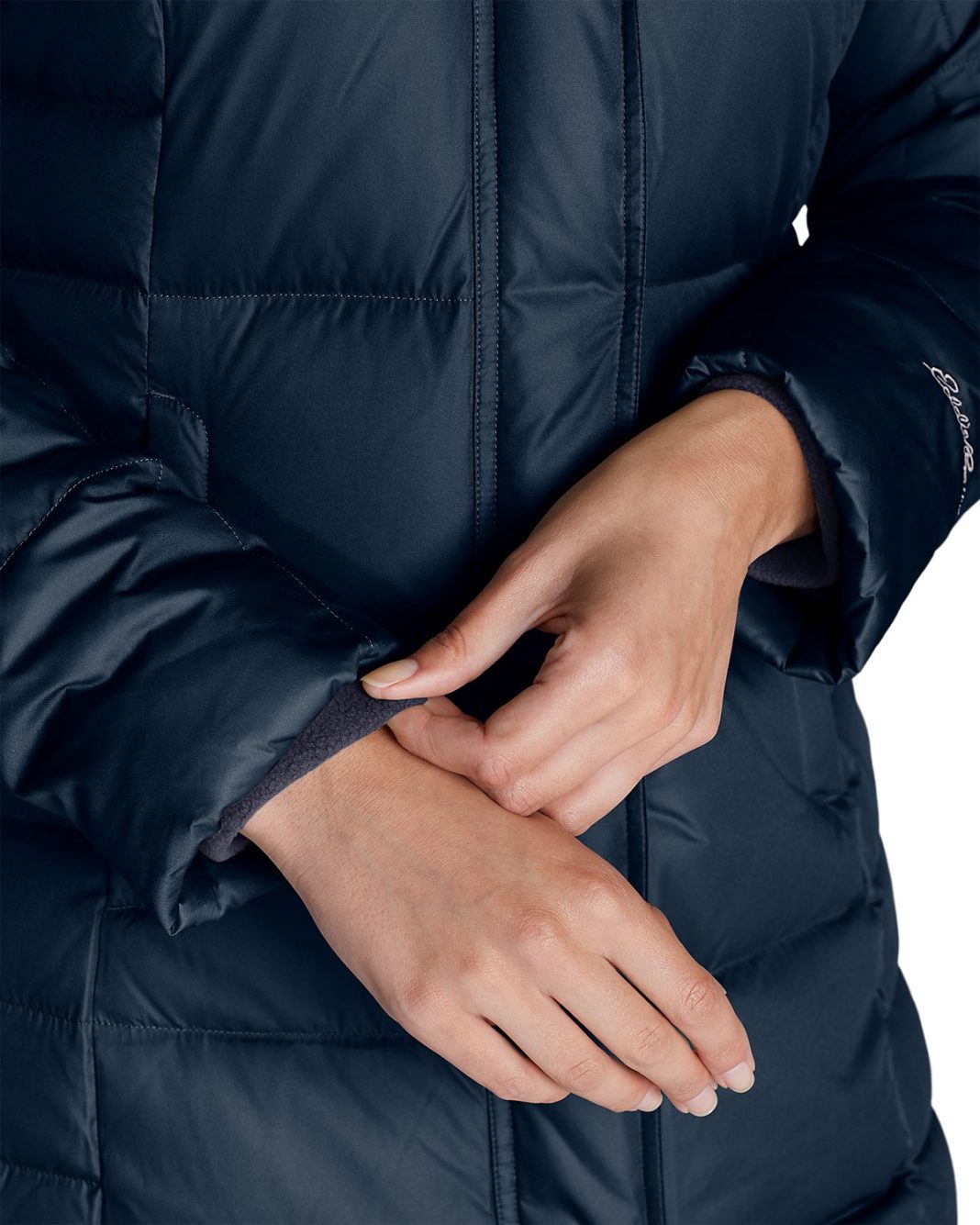 Credit: Eddie Bauer
Large and bulky winter coats tend to be difficult to clean. Either you have to get them dry-cleaned, or risk damaging them inside your washing machine. If you're a winter sports fan, you'll probably end up dirtying your coat fairly often. This means paying for expensive washing, or hand-washing the coat, which can take a long time. You don't want to waste time or money on a simple activity like cleaning your winter coat.
Luckily, the Eddie Bauer Women's Lodge Down Duffle Coat has been designed for machine-washing. This means you can simply throw the coat in your washer and go. No more scrubbing down the coat with your hands or paying extra funds at the dry cleaner's. You'll save time and money when you decide to wear this coat during your outdoors adventures.
What Travelers Are Saying About the Eddie Bauer Women's Lodge Down Duffle Coat
Travelers who purchased the Eddie Bauer Women's Lodge Down Duffle Coat raved about the outerwear's ability to retain heat. Women could wear the coat for hours in the freezing cold, and still feel warm and toasty. The coat's length was an additional bonus, as it meant that more of the reviewers' bodies could stay covered. Similarly, the product felt soft and comfortable to wear, even when wearing layers underneath. According to reviewers, the coat appeared stylish enough for daily wear, while providing extra warmth for extended outdoors activities.
A few reviewers recommended buying a size up, as the coat seemed to run slightly small. This meant that those who wanted to layer the coat atop sweaters felt a little restricted in movement. Additionally, some travelers found that the cuffs on the sleeves were unfilled, leaving the hands cold. However, most reviewers considered the Eddie Bauer Women's Lodge Down Duffle Coat the ideal winter jacket for outdoors adventures.
Alternative Women's Winter Coats
1. Wantdo Women's Mountain Waterproof Windproof Jacket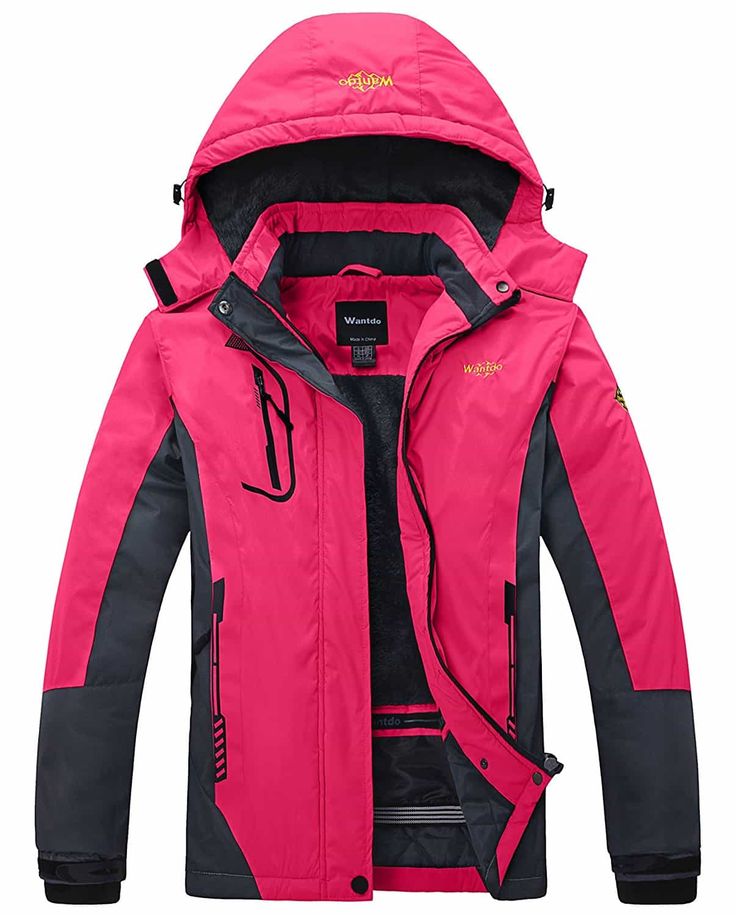 Travelers who don't need a heavy-duty winter coat, but still want to keep warm, should check out the Wantdo Jacket. This alternative to the Eddie Bauer Women's Lodge Down Duffle Coat maintains weather-resistant features, making it ideal for outdoors escapades. Water-repellant coating on the exterior of the jacket ensures wearers will remain dry even while it rains or snows. An incredibly fuzzy lining, made of 2400 polyester fiber, keeps travelers warm in chilly climates. The quick-dry materials used to craft the jacket also mean you won't have to sit in soaking wet clothes. If you're going to hike up a mountain, this jacket will be your best friend. The windproof design of the Wantdo Women's Mountain Jacket means that the freezing air won't reach inside the coat. You'll remain undisturbed by brisk winds with the drawstring hood and adjustable cuffs on the sleeves. Those who partake in winter sports like skiing, snowboarding, and hiking will find this to be their ideal coat.
2. Orolay Women's Down Jacket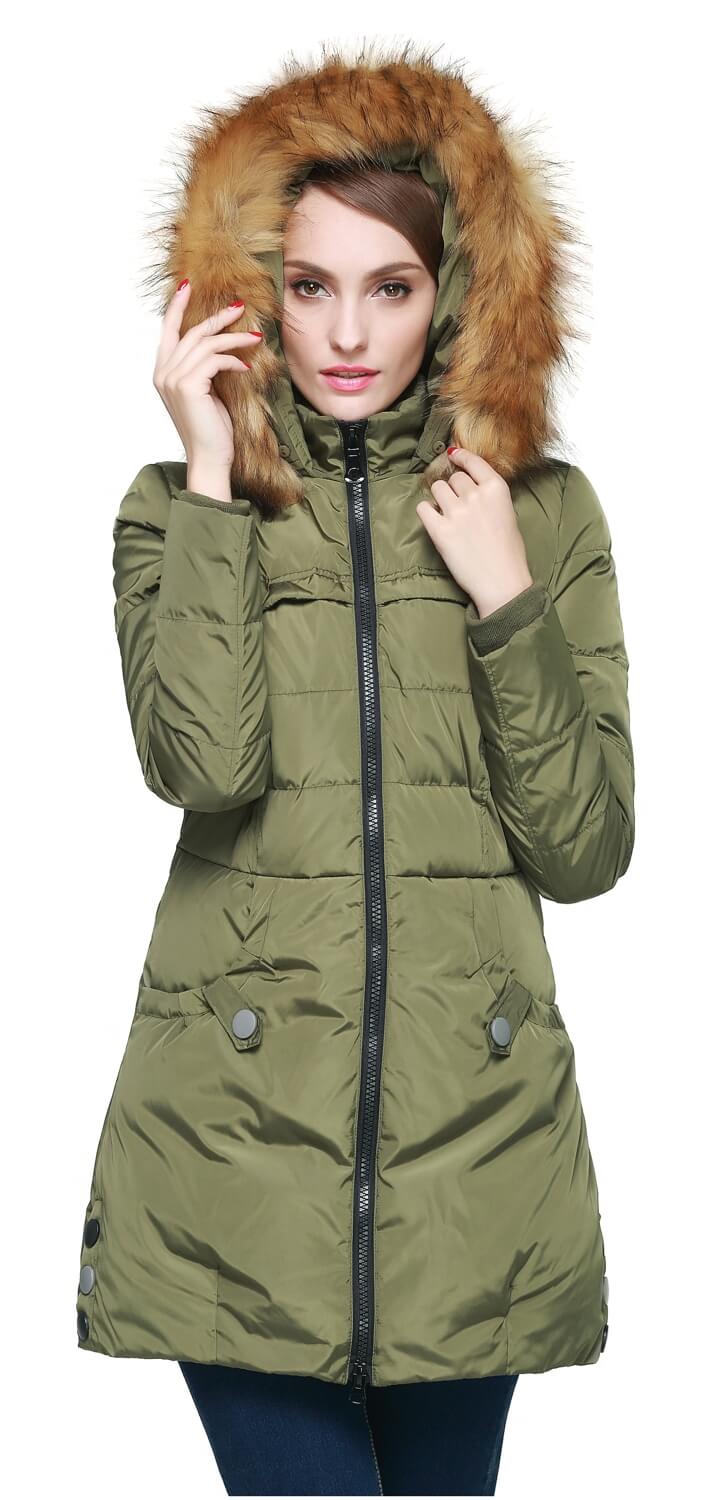 Credit: Orolay
If you want a slimmer-looking jacket for slightly warmer weather, consider the Orolay Women's Down Jacket. This alternative to the Eddie Bauer Women's Lodge Down Duffle Coat remains thinner and more form-fitting. A waist-tightening and slim-fit design allow the coat to cinch at the waist, highlighting your curves. Your figure will be accentuated, rather than hidden beneath a bulky, unflattering jacket. This jacket utilizes white duck down to provide warmth during colder days of the year. However, the Eddie Bauer coat remains superior in heat retention capabilities. The Orolay Women's Down Jacket would be ideal for fall and winter days that aren't freezing cold. A large hood will keep your ears and head warm as you roam the landscape or explore a new city. Detachable fur on the hood lets you decide whether or not you require the extra warmth. Since the jacket has been crafted with windproof materials, the breeze will blow by you instead of freezing your body.
3. The North Face Women's Metropolis Parka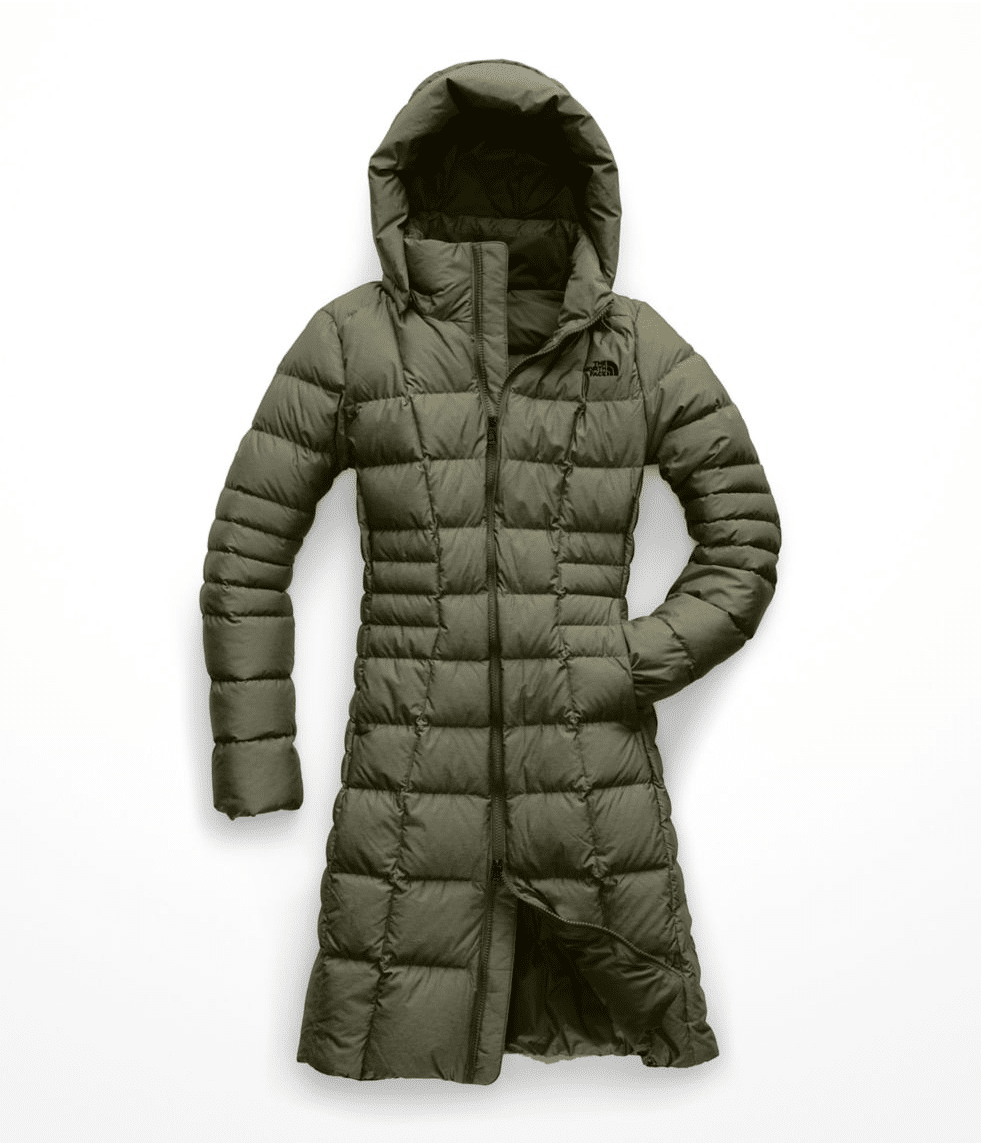 Credit: The North Face
Those who liked the length of the Eddie Bauer Women's Lodge Down Duffle Coat will also appreciate this alternative jacket. The North Face Women's Metropolis Parka maintains a similar design to the Eddie Bauer product, measuring just above the knees. Your body will remain warm and toasty while you wear this winter jacket. Like the Eddie Bauer coat, the North Face parka has a classic fit that's neither too bulky nor too tight. You can easily wear additional layers underneath this coat with feeling constricted in your movements. Whereas the Eddie Baur jacket only offers a few color choices, this parka comes in a wide range of shades. Pick white, gray, or black if you like having neutral-looking jackets to match with every outfit you own. If you like to stand out in a crowd, choose red, teal, purple, or forest green. These shades will match your vibrant, unique style more so than other typical coat colors.
Enjoy the winter weather while wearing the Eddie Bauer Women's Lodge Down Duffle Coat.
The best time to buy winter clothes might be during the summer, before the cold weather arrives. Whether you're traveling somewhere cold or preparing for the winter season, you need a coat that can keep you warm. Lots of winter coats fail to provide optimum levels of heat retention, despite appearing bulky and heavy. These jackets don't live up to promises, causing frustrations for travelers who desire top-notch outerwear. Other coats might offer extra warmth, but make the wearer look puffy and lacking a defined shape. Thankfully, the Eddie Bauer Women's Lodge Down Duffle Coat maintains warmth while still appearing attractive. Make sure to check out this winter coat before you embark on a wintry adventure.
Related Article: Best Winter Coats for Women (Plus How to Choose Yours)