Are you looking for the best pair of hiking shoes? Check out the men's Merrell Moab Ventilator.
We're sure you've heard of Merrell before. If you've ever stepped foot into an REI or another sporting goods store, you've seen that this brand is everywhere and it comes highly recommended. It's with good reason too. For a quality, durable style, you won't find a better brand on the market. The men's Merrell Moab Ventilator lives up to the company's standards.
Pull it straight out of the box and you're ready to go. There is no 'breaking in period' required. Even without a waterproof membrane, the shoes breathe well and offers great traction for your on the trail needs. While the shoe does run on the more expensive side of the price spectrum, you'll be investing in a quality product that will last for years to come.
It is a solid shoe for shorter, moderate hikes. The thick upper is made from mesh and suede leather, features an EVA midsole, nylon shank, and a Vibram TC5+ midsole. Let's take a closer look at its features and see what it has to offer.
Men's Merrell Moab Ventilator Hiking Shoes Features & Benefits
We're going to cover all the bases here. From comfort to weight, fit, support, and traction, all are important features when it comes to finding the best hiking shoes for the job. Luckily, we've found that the men's Merrell Moab Ventilator has just what you need to get the job done.
Comfort
When it comes to choosing the right pair of hiking shoes, know that comfort is key. As we previously mentioned, the Merrell Moab Ventilator shoes are incredibly comfortable. Testers took them straight out of the box to wear. You won't have to take them on a weekend trip to break them in.
Just make sure you get a good pair of hiking socks and you'll be good to go. Thanks to the spacious footbox, you won't experience any pressure points or hot spots on your feet. However, it is important to note that they do fit slightly loose. Make sure you buy socks that are a little on the thicker side. That way, your feet won't slide around when you walk. For those with slightly wider feet, the shoes should fit well.
Taking a look at the laces, you'll notice that they're rounded similar to a cord. They do come untied a little more easily than with other models. So, just make sure to double tie them. Or you could always swap them out with other laces if needed. Last but certainly not least, the breathability of the Merrell Moab Ventilator adds an extra degree of comfort.
Weight
We're just going to put it out here. The Men's Merrell Moab Ventilator are some of the heaviest hiking shoes we've reviewed. Since these are geared for moderate hikes, it might take some getting used to when you initially hit the trail. However, they're made to last and you can't skimp out on durability. If low weight is your priority, hang tight. We have a few alternate styles we'll show you in just a bit here.
Support
The men's Merrell Moab Ventilator offers sufficient support for your light to moderate hiking needs. With a wide forefoot, you can increase your balance when powering off. Coupled with a flexible forefoot, you can enjoy full range of motion and stability. Similarly to its waterproof counterpart, these shoes offer a very beefy insole.
However, even in spite of its nylon shank and the midsole and outsole, this shoe is only slightly rigid in the torso. While the low ankle collar makes it easy to pair in regards to style, it doesn't offer a whole lot of ankle protection. If you're going on a day hike with a minimal pack, these shoes will do great. More seasoned hikers with strong ankles can use the men's Merrell Moab Ventilator for overnight adventures. Just make sure to bring a medium pack.
Traction
We've got to say – these shoes have some great grips. Featuring the same type of sole as the Merrell Moab 2 Waterproof, you can take them on just about any type of terrain. Vibram TC5+ lugs are the best. To put it in perspective, these shoes do just as well with traction as any good pair of mud and snow boots. The only shoe that might do better for traction is the Salomon X Ultra 3 GTX.
Water Resistance
While the men's Merrell Moab Ventilator does not have a waterproof membrane, it holds up in other ways. It's probably best to take this pair out when the trail is dry. When submerged water flows in quickly and they can take some time to dry out. If you frequently hike in dewy or wet conditions, the Salomon X Ultra 3 GTX is the better buy for you.
Versatility
As we mentioned, the men's Merrell Moab Ventilator is perfect for the light to moderate hiker. While it doesn't excel in the versatility department, it is able to hold its own on moderate and day hikes. The weight and bulk might feel a little heavy at first but at least it provides good foot protection.
Durability
We've touched a little on this already but it's worth expanding on. From reading reviews and testing out the shoes, we've found that the Ventilators can withstand a lot of wear and tear on the trail. In fact, they should be able to last you hundreds of miles. Thanks to the leather overlay on the upper body, the shoes offer a strong body to combat the elements.
With this said, the mesh factors in perfectly, offering much-needed breathability from a thick shoe. One common complaint we found though is that the seams in the forefront are double stitched, which limits flexibility a little bit more than we'd like.
Best Applications
This is a great shoe for warm weather day hikes. For light to moderate trails, it will get the job done well. The only thing you will have to get used to is the little extra weight in the shoe body. But after you begin to walk around and explore, you'll forget all about it. Unless the hiking becomes very rugged, extends for long trips (e.g. a few days in the Rockies), or conditions become wet, the shoe's durability and comfort hold up well.
Value for the Price
We're sure you already know but hiking shoes can be expensive. While the men's Merrell Moab Ventilator is not easy on the wallet, it is a worthwhile investment. For leisure hikers seeking a comfortable outdoor shoe, these get the job done.
Tech Specs:
Suede leather and mesh body

Suede leather and mesh body

Protective toe cap

check

Mesh lining
What Travelers Are Saying About the Men's Merrell Moab Ventilator Hiking Shoes
Overall, travelers have great things to say about the men's Merrell Moab Ventilator hiking shoes. Throughout many of the reviews, travelers noted that they have always had a good experience when wearing Merrell shoes. This style has proven to be a durable trail companion. While they are a fairly new style on the market, the quality is apparent.
Interestingly enough, users conflicted as to whether or not the shoes are heavy. Some users even wrote that they could wear them all day – whether hiking or just standing. One review that particularly stuck out to us was from a user with neuropathy (very sensitive feet). Typically with this condition, fitting is a bit of a challenge. However, he found that with the Merrell Moab Ventilator it had never been easier.
The only major concerns that came up were the traction on slippery surfaces and the somewhat loose lacing system. If you stick to dry trails you will be alright. We actually like the range of movement that the lacing system gives. But if you are looking for something a little more airtight, you can always swap out the laces.
Alternative Men's Hiking Shoes You May Like
Do you want to take a look at some additional styles? Don't sweat it. We've got you covered.
Men's Salomon X Ultra 3 GTX
The Salomon X Ultra 3 GTX are prepared to support you through every journey. Flexible and water resistant, you will stay cool, dry, and comfy on your travels. While these kinds of shoes remain durable in cold or rocky environments, they don't provide the best support or comfort. This leads to discomfort and frustrations while you're trying to enjoy exploring the outdoors. You don't want your trip to be ruined by a pair of painful shoes.
These shoes offer the perfect option for hiking in optimum comfort. These shoes maintain a well-designed structure that has been crafted to provide the ideal support for wearers. Utilizing the Salomon Advanced Chassis, the soles of these shoes connect to your heel for better stabilization. Foam cushioning surrounds the sole of these shoes, ensuring your feet will feel cushioned and comfy as you walk. You'll have an extra spring in your step when you wear the Salomon X Ultra 3 GTX shoes.
These shoes need to withstand all kinds of wear and tear in order to remain intact. You'll be wearing these shoes while hiking, mountain biking, running, and doing other activities outside. This will consequently lead to some scuffing and deterioration of the shoes after wearing them for a while. If your shoes have been designed properly, they should remain intact through months and months of usage. Improperly manufactured hiking shoes won't last as you wear them on multiple outdoors expeditions.
Looking for a durable pair of hiking shoes? The Salomon X Ultra 3 GTX shoes remain a top choice for travelers spending much of their time outdoors. This product has a very strong design, utilizing rubber soles and materials that keep the shoe intact throughout every adventure. You won't have to worry about your shoes falling apart after just a few treks down the mountainside.
Tech Specs:
Highly durable

Water resistant

Synthetic sole; Vibram TC5+

check

Great treads

check

Rubber toe cap

check

Breathable mesh lining
TFO California Breathing Low Trekking Shoes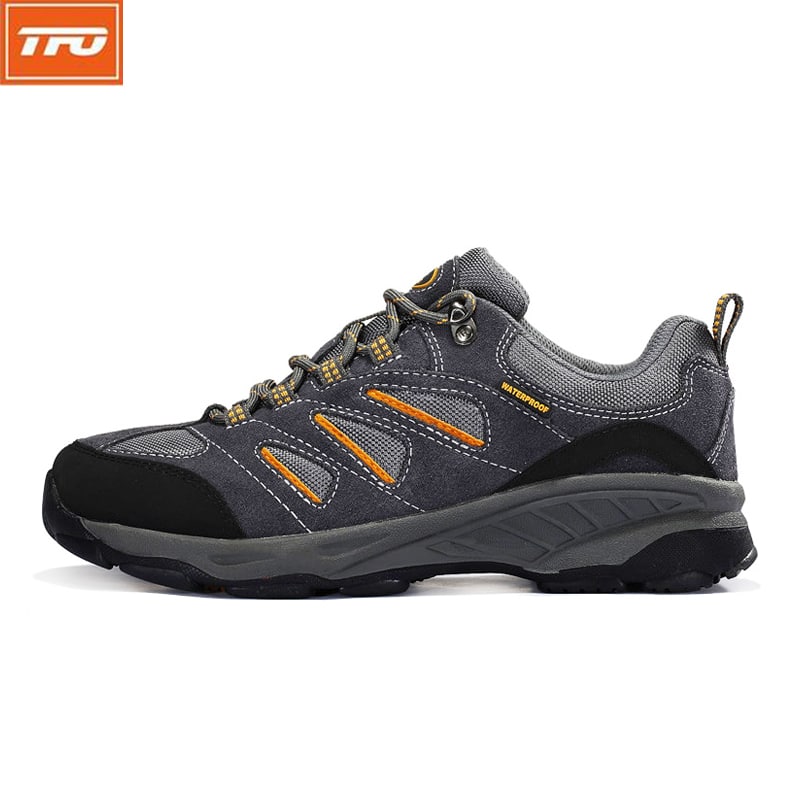 Okay, for this price you won't find a better deal. When else do you find a great pair of hiking shoes for only 60 bucks? Made from an anti fur leather and nylon mesh upper, the shoe combines style and breathability. When you're out and about on the trail, you'll stay cool, comfy, and dry.
When you're hiking in arid conditions, breathability is such a big deal. Air circulation provides freshness, dehumidification, and more. The rubber grip design provides a non-slip holding sole. So, you can climb and walk on all kinds of surfaces safely.
Optimized for support and extra ventilation, the TFO lightweight trekking shoes are designed to last. Most seasoned hikers will say that bulky boots weigh them down. While heavier ones are certainly more durable, they're designed for more intense hikes and terrain. If you're going to be doing some easier hikes, the TFO California Trekking shoes get the job done. We love that they are not only supportive but lightweight too.
Most hiking shoes are outfitted with a weather resistant membrane. The TFO California style offers not only a durable construction but also protects you from the elements. The rubber outsole and nylon material are comfortable and well-constructed. Generally speaking, when you're hiking, you want shoes that will keep your feet cool as opposed to dry. With this said, opt for plenty of moisture wicking material and mesh that will let the sweat out from your footbed. The removable EVA foam cushion and mesh lining do just that.
Tech Specs:
Imported

Rubber sole

Anti fur leather and mesh upper

check

Breathable

check

Lightweight

check

Removable insole

check

Shock Absorption
RAX Men's Quick Drying Slip-Resistant Aqua Water Hiking Shoes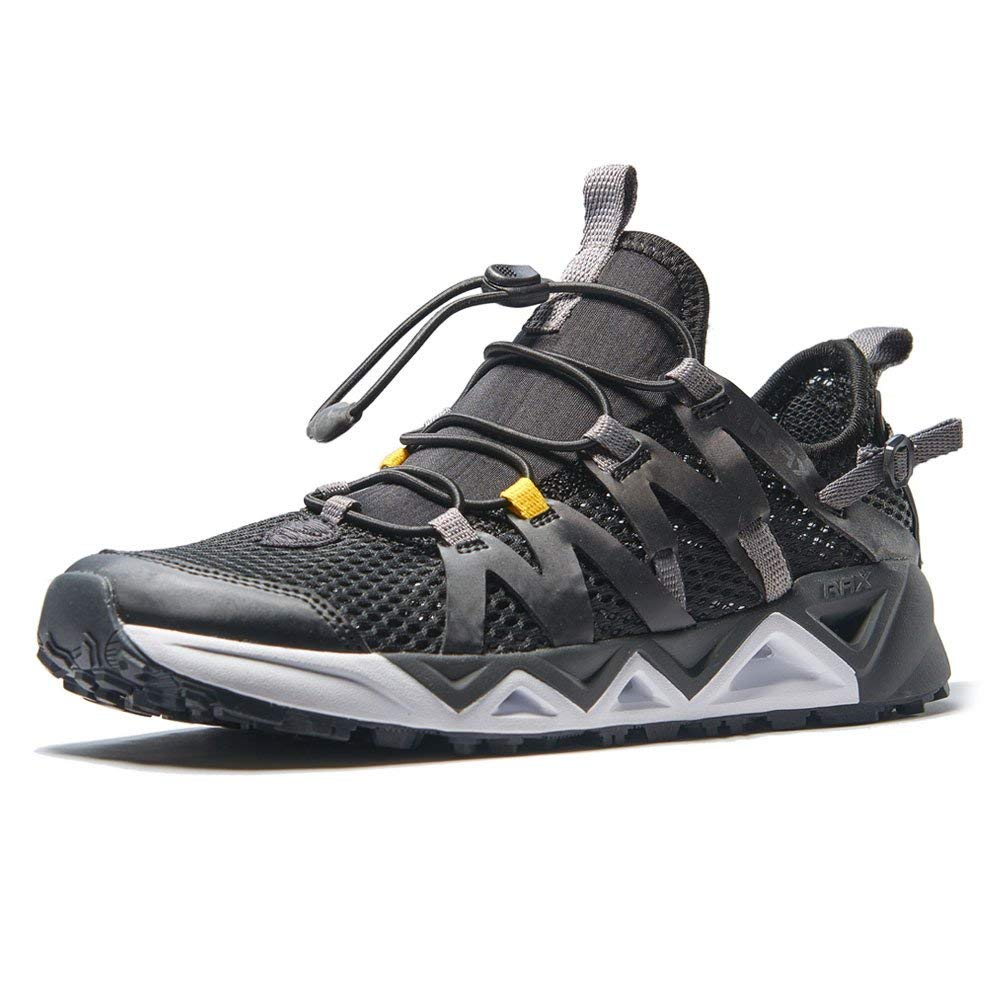 This quick-dry shoe from RAX is one of our favorites. As you will see, it has so many qualities that set it apart from the rest of the styles on the market. First, it has double-slope drainage. the triangular hole on sole's side can drain away water, and enhance air convection, quick dry. A hollow insole also can dry the water quickly and provide good permeability.
In addition, the shoe is built for maximum comfort. The cushioning EVA midsole comes with high density EVA material and a triangular design. It can improve stability by up to 30%, elevate damping capacity by 20%. A quick lace-up system offers an easy fastener to keep your feet from sliding around when you're adventuring in the great outdoors.
You can take these shoes anywhere. A rubber slip-resistant outsole is wear-resistant, similar to a car's tire. The polygon lugs make it antiskid too – perfect for outdoor walking and exploring. These are some of the best hiking shoes for men.
Tech Specs:
Imported

Rubber sole

Slip-resistant

check

Shoe toe protected by rubber

check

Cushioned EVA midsole
Men's Ecco Cheja Sandals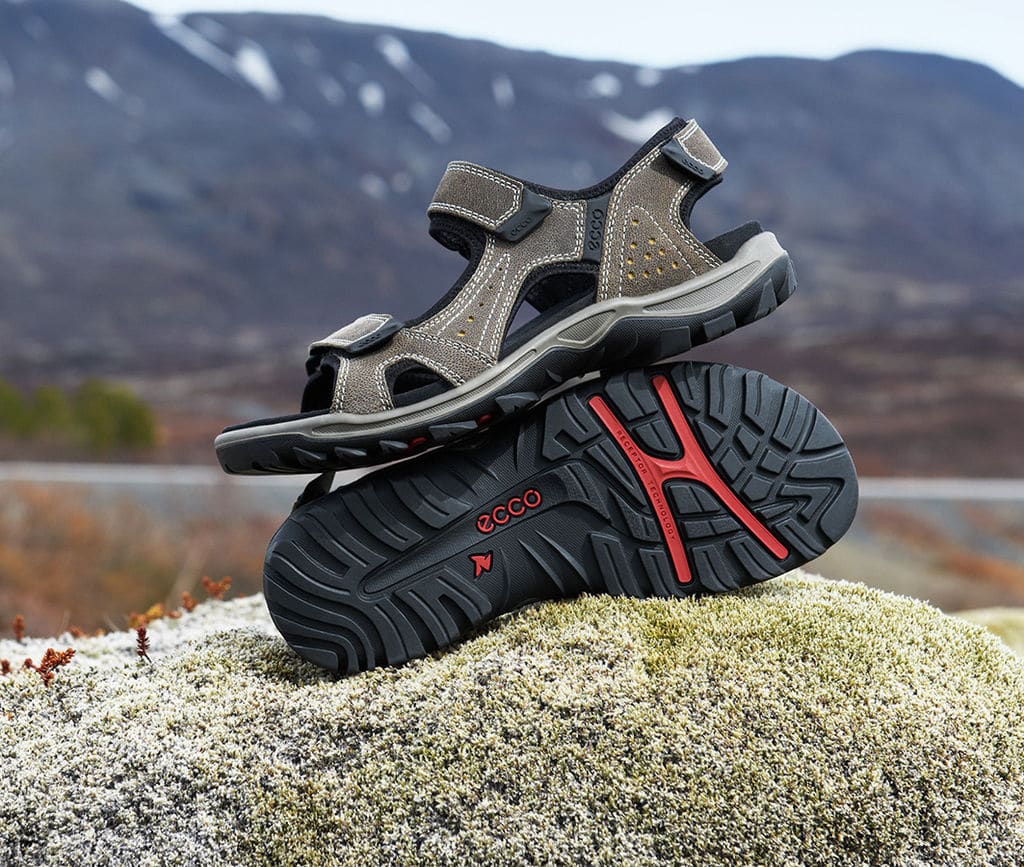 These are the perfect summer and hot weather hiking shoes. Amphibious, they provide plenty of flexibility. A durable outsole provides great grip and traction for outdoor use and slippery surfaces. Thanks to the midsole, the wearer can also enjoy great flexibility and shock absorption. These sandals feature a direct-injected PU midsole, a cushioned microfiber footbed, and receptor technology.
Regular fit across your feet at the toes, restricting your feet when you walk. However, the Ecco Chejas sandals freedom fit is completely different. You will enjoy a roomy toe box and a good medium with across the shoes from heel to instep. This allows your toes to spread naturally and support your weight evenly for a comfortable experience. Enjoy comfort straight out of the box.
Tech Specs:
Secure fit

Leather

Amphibious

check

Flexible

check

Shock Absorption

check

Cushioned microfiber footbed

check

Roomy toe box
Invest in a Great Pair of Men's Hiking Shoes – aka the Merrell Moab Ventilator
We hope you enjoyed reading our feature on the men's Merrell Moab Ventilator shoes. As you can see, these shoes offer a great pick for a day trip hike and similar moderate hikes. The durability and traction are particularly great stand out features. You can wear these shoes hundreds of times and they'll still hold up. It looks like you have a go-to style for a long time.
Common Questions
Are you looking for some more information on hiking, camping, and good outdoor gear? Check out these articles for some tips:
Questions and Comments
Do you have any questions or comments for us? If so, we would love to hear them. Feel free to leave us a message in the comment section below. We will be sure to get back with you soon.
Related Article: The Best Hiking Shoes For Men: Durable, Lightweight Picks