Whether you are ready to take a trip around the globe or just up the street, there's something to be said about rekindling romance.
Romantic vacations and honeymoons can be quite simple or over-the-top extravagant. From the first 'I Love You' to the proposal, you will want to make sure each little piece of the story fits just so. Location, atmosphere, and activities have so much to do with that. So, fall in love for the first time or celebrate fifty years of bliss at any of these romantic hotels. From igniting passion again in the City of Love to choosing the most affordable getaway on the list, we have the perfect romantic hotel for you and your beloved. So, if you want to give them the romantic getaway of a lifetime, and choose from our list of the most romantic hotels around the world.

1. Belamere Suites in Perrysburg, Ohio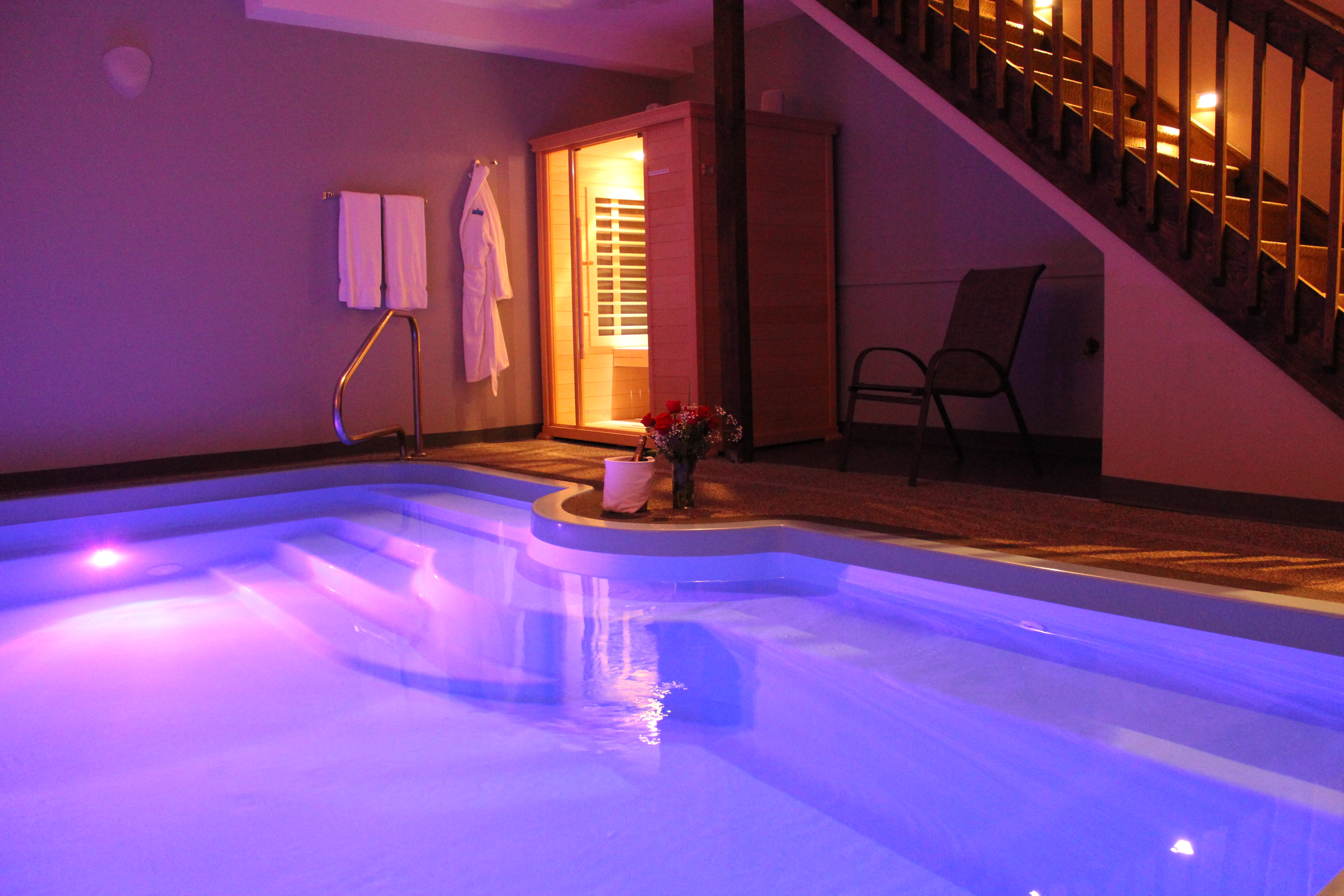 Credit: Belamere Suites
Who would have thought that the most romantic hotels could be found in the smallest towns? Well, Belamere Suites has known this since its opening in 2003. This boutique hotel is a kids-free zone. It is reserved for romantic getaways ready to unplug. The owners of the hotel have been in the industry for over thirty years. So, they understand service and providing an experience rather than just a place to stay. With pre-lit candles or rose petals on the bed, you can get as gushy romantic as you'd like. If you want to stay away from that, simply grab the Fiesta package with salsa, queso, and chips to keep your getaway low key. From aromatherapy baths to couples massages, anything you could want from even the most romantic hotels is available here.
Something we absolutely love about Belamere Suites is its price point. In the off-season, you can get rooms as low as $159. That will go above $200 on the busy weekends, but let's remind you everything you're getting. You will choose from one of several stunning suites: the Ultimate Jacuzzi Suite, the Presidential Pool Suite the Royal Pool Suite, and the Grand Royal Pool Suite. All but the Ultimate Jacuzzi Suit comes with your own indoor swimming pool. So, imagine this decadent and pristine king size bed next to your jacuzzi tub, three-way fireplace, and walk-in showers. To top it all off, you will have breakfast delivered right to your door whenever you choose. So, for the most affordable of all romantic hotels without sacrificing one bit of service, look to Belamere Suites in Perrysburg, Ohio.
2. Perivolas in Santorini, Greece
Credit: Perivolas
Built into the Grecian cliffs, Perivolas finds it home nestled in the rocks. The stunning but laid back luxury of this getaway oozes romance and relaxation. The secluded location paired with the architecture will give each quite an overwhelming view of the Aegean Sea. This panoramic view easily makes this one of the most scenic romantic hotels on our list. Terraced gardens surround the infinity pool. This will let you feel like you're on the edge of the ocean, lost in a sea of love. But, the location and spa isn't the only thing you'll fall for here. There are boat and island tours to coax you out of your suite, along with spectacular food. The Perivolas Restaurant and Chef Theodoros Kakoulis caters only to the guests at Perivolas, giving you an unrivaled, five-star dining experience.
When deciding where to stay at Perivolas, there are many things to consider. First off, how much room do you truly need when it comes to a romantic getaway with the love of your life? If you don't need much and are on a budget, check out the lifestyle studio. You will still have a gorgeous view from your alcove, while the pops of color around the room enliven your spirit. But, Perivolas doesn't stop there to earn a spot on as one of the most romantic hotels. There is a myriad of suites, the largest and most luxurious being the Perivolas Suite. With an en-suite steam bath and a hydrotherapy massage pool, you can't go wrong. A heated caved swimming pool looks out over the sea for an unparalleled view. So, for true decadence and unbelievable service, look to Perivolas as a top choice of all of our romantic hotels.

3. Desert Riviera Hotel in Palm Springs, California
Credit: Desert Riviera Hotel / Facebook
Don't let the logo keep you from putting the Desert Riviera Hotel at the top of your list for the best romantic hotels. When it comes to romance, sometimes the most important thing is high quality service. With that, you things exactly as you'd like. That is what the Desert Riviera Hotel is all about. With unfaltering five-star reviews, the second best hotel for service in the world, and the first best hotel for service in America, you will understand why it is one of our favorite romantic hotels ever. One of our favorite things here is the number of amenities. If you are a pair who loves doing things together, this is a spectacular choice for you.
The Desert Riviera Hotel has a year-round, 24-hour heated pool and spa for your use. There are two barbecues you can use tucked away on either side with candlelit tables. This will help you create the perfect evening for yourself. There are bicycles for cruising around Palm Springs, as well as a multitude of hiking trails to get away even more. If you'd like, you can even cook your own pizza in the hotel's pizza oven. Does that sound like an activity to remember or what? With the retro decor and adult-only accommodations, you will be more relaxed than ever at this romantic hotel.
4. Lani's Suites de Luxe in Puerto Del Carmen, Spain
Credit: Lani's Suites de Luxe
Modern and luxurious suites are married with the breathtaking natural landscape at Lani's Suites de Luxe in Spain. With direct access to the beach and incorporating nature into the design, owner D. Kumar Dadlani has created a one of a kind getaway. This spot easily made our list of the most romantic hotels around the world for its seamless beauty and utmost decadence. There are twenty five suites to choose from during your stay here. The pristine white decor and amazing service showcase this luxury hotels' spectacular devotion to guests.
If you care more about seeing the island and dipping in the pool than a huge room, the Suite Ocean is for you. With a large walk-in shower, private terrace, king-size bed, tv, and music players, you can set the mood anyway you'd like. There is a multitude of suites in between these two, but the Suite Deluxe is the highest level of luxury one could imagine. These suites embody luxury and have direct solarium access with the best pool access as well. From plenty of extra room to lounge in your suite to a private jacuzzi on your terrace, you won't be disappointed. When you're ready to escape from your room, Lani's Suites de Luxe will help you. Choose from a private wine tasting tour or give yourselves a marvelous spa day. Whatever you are looking for in these romantic hotels, we would bet that Lani's fits the bill.
5. Hotel Union Øye in Norangsfjorden, Norway
Credit: Hotel Union Oye
When kings and queens have stayed somewhere, you can only begin to imagine how wonderful it is. At Hotel Union Øye in Norangsfjorden, Norway, you will not doubt for a second why it is known as one of the most romantic hotels in the world. It is nestled on the most majestic and secluded fjord in Norway, Hjørundfjord. You will have a chance to truly reconnect with your love here. To fill your time, if you need help filling it, the hotel will schedule kayak excursions and summit hikes. You can tour the tranquil local villages if strolling old streets is more your style. There are options as well if you're up for a high adventure. You can take a helicopter ride around the mountains or enjoy some world class alpine skiing. Whatever it is, at the end of the day, you will be served scrumptious things at the dining room overlooking a cascading waterfall.
When choosing rooms, you will understand part of the history of Hotel Union Øye. Names such as Kaiser Wilhelm, King Oscar, Queen Maud and Princess Victoria grace the halls, all having stayed on the grounds at some point. Sir Arthur Conan Doyle, the author, and the composer Edvard Grieg, along with playwright Henrik Ibsen and the explorer Roald Amundsen have all earned their names here as well. So, if you like to feel a part of history while being surrounded by breathtaking beauty, this is the best choice for you on the list of romantic hotels.
The best romantic hotels will know what you need before you even ask and you will have you leave more in love than when you came.
Whether it's the high mountains of Norway or the utmost attention to detail you've experienced, our romantic hotels will easily win you over. There are a few affordable options on the list, especially if you're already stateside and looking for the best place to relax and get unplugged with your beloved. If you're ready to go on an excursion and find the most romantic destinations around the world, then so be it. Spain, Norway, and Greece are all spectacular destinations to rekindle romance at any of these romantic hotels. So, get that ring ready, because these romantic hotels will have you proposing again and again as you fall more deeply in love.

Related Article: 6 Best Cruises for Couples in Need of a Romantic Getaway