Turtle Bay Resort turns your Hawaii vacation into a luxurious adventure.
It's easy to daydream about a vacation to Hawaii. The lush vegetation, turquoise waters and island life beckons you when you're sitting at your desk. When you get the chance to go, you'll find yourself confronted with many options. Which islands will you head to? Which of the many, many resorts are going to make (or break) your stay? The wild, natural North Shore of Oahu hosts the Turtle Bay Resort. This luxurious resort features a variety of room, suite, villa and cottage options. Their amenities and dining make sure that your vacation to Hawaii is stress-free and purely enjoyable.
A Little About Turtle Bay Resort
Credit: Turtle Bay Resort
Turtle Bay Resort in Hawaii rests on top of a major outcropping, jutting into the Pacific. Therefore, the surrounding, panoramic ocean views are everywhere. The resort extends over 800 acres of property, so there's plenty of room to explore. Since opening in 1972, the Turtle Bay Resort has prided itself as a leader of best resorts in the area. Plus, celebrities have (and continue to) make appearances at the Turtle Bay Resort. Turtle Bay Resort encourages you to explore the island of Oahu.
Local guides and hosts will help you explore the surrounding destinations, if you want to adventure beyond the resort. Within fifteen minutes, you can arrive in the historic town of Haleiwa for some shopping and dining. Plus, it's easy to plan your trip ahead of time with the helpful Turtle Bay Resort website. The interactive map allows you to see webcams, and images throughout the resort. Their packages and offerings help make it really easy to choose this resort as your next vacation in Hawaii.
Let's Talk Accommodations
Guestrooms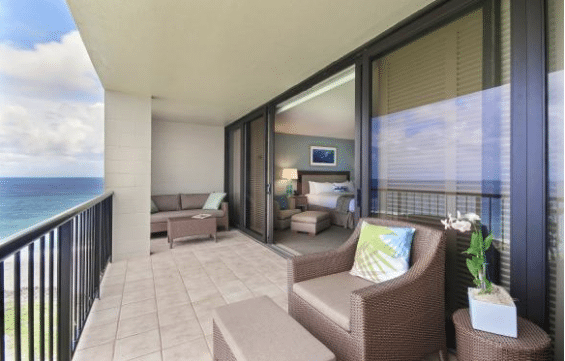 Credit: Turtle Bay Resort
Turtle Bay Resort offers rooms featuring ocean views, or partial ocean views. You'll have your private lanai, where you can sit and relax before heading down to dinner. Keep the glass sliding doors open for the ocean breeze through your room. Choose from a variety of room set-ups, from King beds to family suites. Enjoy the tasteful decor with the turquoise accents (the signature color of the Turtle Bay Resort) to match the ocean right outside your windows.
Ocean Vista Level
Credit: Turtle Bay Resort
Upgrading to stay on the Ocean Vista Level allows you to enjoy benefits all around the resort. You'll enjoy a balcony with unobstructed ocean views. A continental breakfast is free for Vista Level guests. Enjoy other perks such as free snorkeling equipment rentals. You'll enjoy the plush robes, free snacks in the afternoon, and a daily appetizer special.
Beach Cottages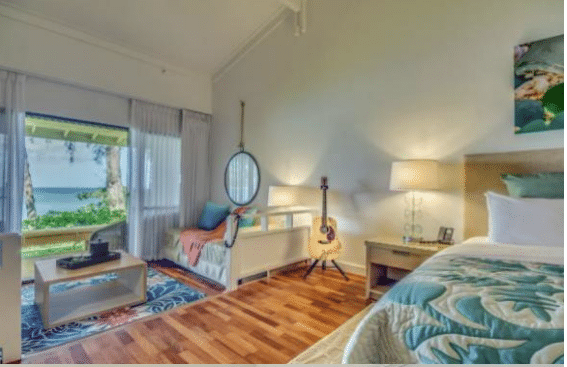 Credit: Turtle Bay Resort
Choose to stay in a luxurious beach cottage and you'll find yourself positioned right on the coast, with the ocean extending as your front yard. Wake up to the pink sunrises and finish your day with the amber sunsets. Additionally, the beach cottage isn't a desired destination just because of its location. Inside, you'll get to enjoy 15-foot ceilings, Brazilian walnut floors, a Kalista deep-soaking tub, amidst the serene, modern decor inside. The cottages are arranged in little clusters of six, and you'll have a front-row seat for the natural beaches of the Pacific.
Ocean Villas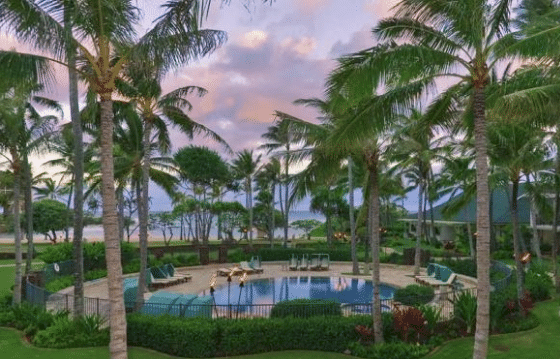 Credit: Turtle Bay Resort
Stay in these spacious accommodations while in Hawaii. To provide the luxury of staying in a home, these Turtle Bay Resort ocean villas include a washer and dryer and complete, top-of-the-line kitchen. Choose from studio villas, or up to four bedrooms and share the space with your family or friends. Brazilian chestnut floors, high ceilings and delicate modern decor welcome you upon arrival. Enjoy the soaking tub, separate shower, and marble counter tops in the bathrooms. The small community of Villas at Turtle Bay Resort share a private pool, jacuzzi, courtyard and barbeque area, and gated parking lot. You'll enjoy sitting out on your private lanai. A short walk brings you right out to the Bay View Beach.
Let's Talk Dining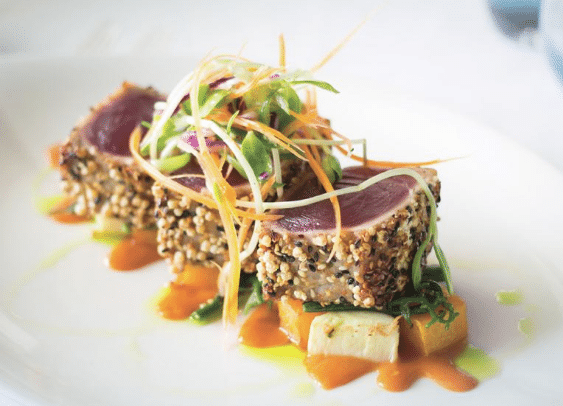 Credit: Turtle Bay Resort
Turtle Bay Resort offers seven dining venues for you to experience some delicious cuisine while on your vacation. The chefs seek out local options, so you'll find farm-to-table fresh ingredients on your plate. Try out the fresh seafood at Pa'akai, which has won the Tripadvisor Excellence Award and the Open Table Diner's Choice Award. You'll find beautifully decorated arrangements on your plate.
Poolside Drinks and Casual Dining
Enjoy the ocean breeze while eating outside in the relaxed atmosphere of Roy's Beach House. The Point Pool Bar serves drinks and food and overlooks the famous surfing destination. Surfer, The Bar offers another cool atmosphere to grab a drink or some bar food, and you might even find some fun events going on here.
Breakfast
Kula Grille is open for breakfast and dinner. Its stunning views and scrumptious food will have you returning multiple times during your stay. Enjoy the panoramic views of Turtle Bay and taste what the local farms have produced! Additionally, Lei Lei's is an option which serves breakfast, as well as lunch and dinner. If you want to head right out to explore the island, you can grab your morning coffee and pastry at the Lobby Lounge.
Let's Talk Amenities and Activities
Surf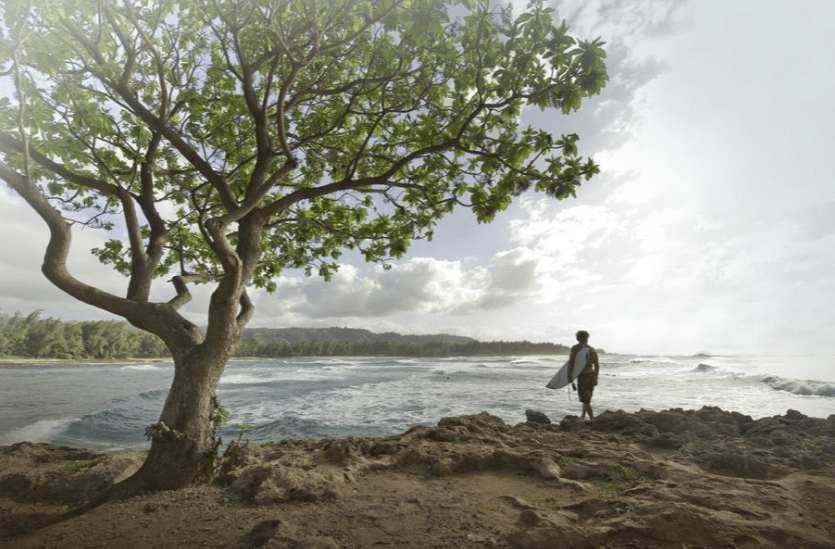 Credit: Turtle Bay Resort
Oahu's North Shore is famous for its surfing, and even hosts surfing events that you might get to see. Local surfing legends might be out surfing, or at least some of them have contributed to the surfing activities at Turtle Bay Resort. Book some surfing lessons and/or rent some surfboards. Plus, how cool is this: you can surf with Rocky and his friendly surfing dogs! "Man's Best Friend" will surf with you!
Kayak and Paddleboard
Credit: Turtle Bay Resort
Explore the areas of Kawela Bay that would be otherwise inaccessible. Guides will take you on a two hour kayak tour. Watch the vivid colors of the marine life through your clear-bottomed kayak. Or, try out the paddle boards available to rent. The bay offers some calm waters to skim across on your paddle board.
Take a Helicopter Tour
Credit: Turtle Bay Resort
Turtle Bay Resort has helicopter tours available for you right onsite; it's the only resort around that does! You'll get a stunning aerial view of Oahu's mountains and coastlines. It's a great way to see the island, and Turtle Bay Resort makes it extra convenient for you.
Snorkel
Credit: Turtle Bay Resort
Explore life underwater by snorkeling. Turtle Bay Resort makes it easy to rent snorkel gear. Plus, snorkel gear is free to Ocean Vista Level guests. You'll see coral reefs, and plenty of marine life since this section of the coast is a good home to many sea creatures.
Go Horseback Riding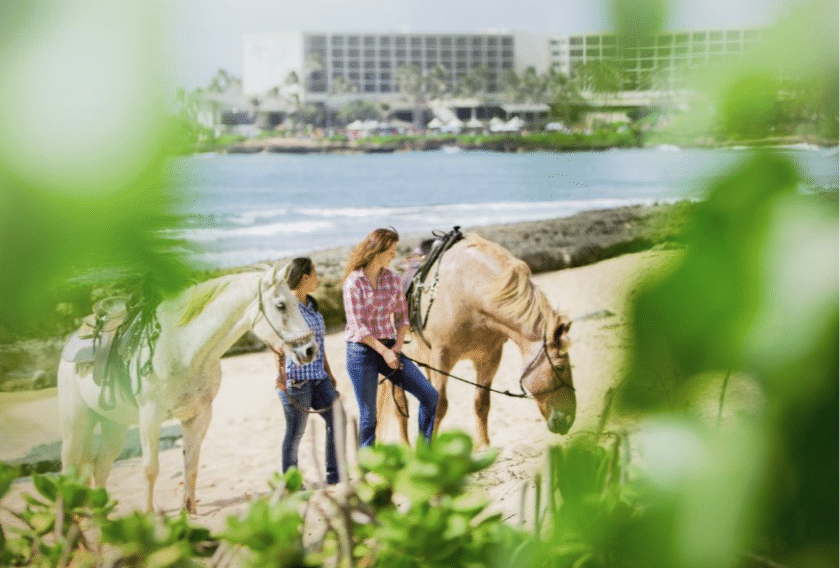 Credit: Turtle Bay Resort
Make an appointment for a horseback ride through the island point. You'll get to ride along oceanfront trails and through the shaded woods. Plus, pony rides are available for the kids! All this is available right on the Turtle Bay Resort.
Bike, Golf, or Play Tennis
Credit: Turtle Bay Resort
Turtle Bay Resort offers plenty of sports. Bike through the mountain trails, play some golf on the nice course, or play tennis. Plus, the resort has a disc golf course; a fun thing to do when you're not on the beach! Enjoy the scenery while you play a game!
Take an Off-Road Segway Tour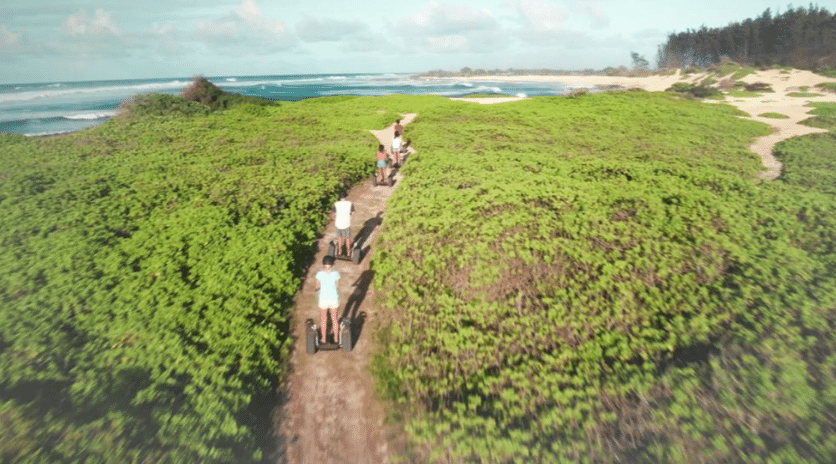 Credit: Turtle Bay Resort
Explore the island on a segway, but not just any segway! These are off-road segways, so you'll be cruising through dirt trails along the coastlines. Don't worry; you'll get comfortable on your segway with a little lesson before you head out! Tour the five mile stretch and take in the scenery.
Relax Poolside or Oceanside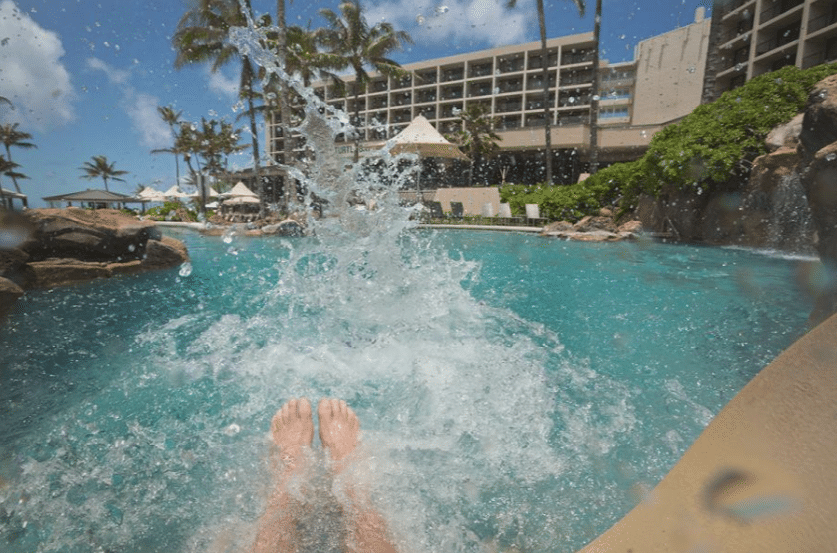 Credit: Turtle Bay Resort
Bask in the sun and float in the water; this is the Hawaiian vacation you came for! Turtle Bay Resort offers some beautiful pools with views, if you prefer not to get all sandy. The bay and ocean have some beautiful beaches. You'll want to make sure you catch the sunsets out here.
What Other Travelers are Saying about The Turtle Bay Resort
Many travelers to the Turtle Bay Resort are honeymooners, but this sweet vacation spot also draws families and friends! Travelers appreciate the friendliness of the staff, from the front desk to the housekeepers, who seem willing to provide you with any requested "extras." The North Shore draws many vacationers to the area, and many travelers are glad for how secluded and natural this area of Hawaii is. The beauty of this area is exactly what travelers were hoping for. Since the hotel sits right on top of the outcropping, the ocean and bay views surround you and are spectacular. Therefore, the Turtle Bay Resort is a great place to enjoy the less-touristy destination of Oahu's north shore. Since it's a luxurious resort, you'll pay some resort fees like at most other places. Some feel that the dining options on the premises are reasonably priced, and offer delicious and fair portions. Some also feel that the rental equipment is fairly priced as well. On the other hand, some guests are unhappy with what they feel are high resort fees.
Also, some travelers wish that the nightlife provided more options. The local towns don't have much in this regard. Many of the resort bars close between 10 and midnight. If you're traveling here in the winter months, be aware that the pools are not heated. While you won't find true winter temperatures in Hawaii, some guests wish that the pool water was warmer during this slightly cooler weather. Overall, other travelers generally find that the Turtle Bay Resort offers reasonable pricing, considering it's a resort in Hawaii. Their options for activities during the day are plentiful. Hotel staff is courteous, and the standard rooms are well-sized and decently equipped.
The Turtle Bay Resort, situated to allow breathtaking views, will make you want to explore Oahu's North Shore.
Credit: Turtle Bay Resort
If you're interested in the less-touristy, natural beauty that Oahu's north shore offers you, then Turtle Bay Resort is the place to stay! Enjoy the secluded beaches and bay. Walk or ride along the coastlines. For ultimate luxury, stay at the Ocean Vista Level and join the club. Gather your friends to rent out a villa, or honeymoon in the beach cottage. Either way, this gem of a resort in Hawaii will make you want to start planning now!
Related Article: Oahu is a Surfer's Dream Come True