Come and experience all the luxury that is the Ritz-Carlton Coconut Grove. Nestled between the beauty of Biscayne Bay and the lively culture of downtown Miami, this lovely hotel provides a chic, urban escape to travelers seeking a little rest & relaxation.
What's nearby? In a nutshell, everything. Just steps away from the Ritz-Carlton Coconut Grove, Miami lies charming cafe-lined streets, hidden-gem boutiques, and pristine white sand beaches. Welcome to your perfect paradise. The hotel puts you right in the center of Miami's pulse.
First and foremost, the city is known for its glitz and glamor. Equally important, the Coconut Grove serves up its cultural soul. In this Florida neighborhood, there is no shortage of art galleries, museums, boutiques, and the hottest restaurants.
Second, we've got to talk about the location. Inspired by local colors, the hotel's bright colors stand in unique contrast with the lush surroundings of its Biscayne Bay enclave. Enjoy fine dining that exemplifies Miami's local flavors. Discover a whole new level of inner tranquility with a customized spa experience. Enjoy the night sky by the glow of a fire pit from the comfort of an overstuffed couch.
Third, the Ritz-Carlton Coconut Grove is just minutes away from first-class shopping and dining in Brickell, Miami. This is the ideal hotel location for those seeking a vacation within a vacation. With this in mind, try not to spend too much. It's easier than you'd think.
Furthermore, guests will have world-class amenities at their disposal. In one of the most luxurious hotels in the heart of Miami, Florida guests can experience:
115 guest rooms and suites, each with a private balcony and floor-to-ceiling windows
​

Well-manicured gardens and a refreshing pool

A 6,000 square foot Boutique Spa and fitness center

Extensive event and pre-function space including a 3,200 square foot garden courtyard and a 5,200 square foot Ritz-Carlton Ballroom
Let's Talk Accommodations
Escape it all in the middle of it all. Accommodations at the Ritz-Carlton Coconut Grove not only capture the essence of the city but also bridge the gap between your desires for exploration and relaxation. Just like the hotel's careful atmosphere, thoughtful staff stock amenities throughout your room. Just come and relax. Then, you can indulge your desire for the finer things in life. By all means, please do.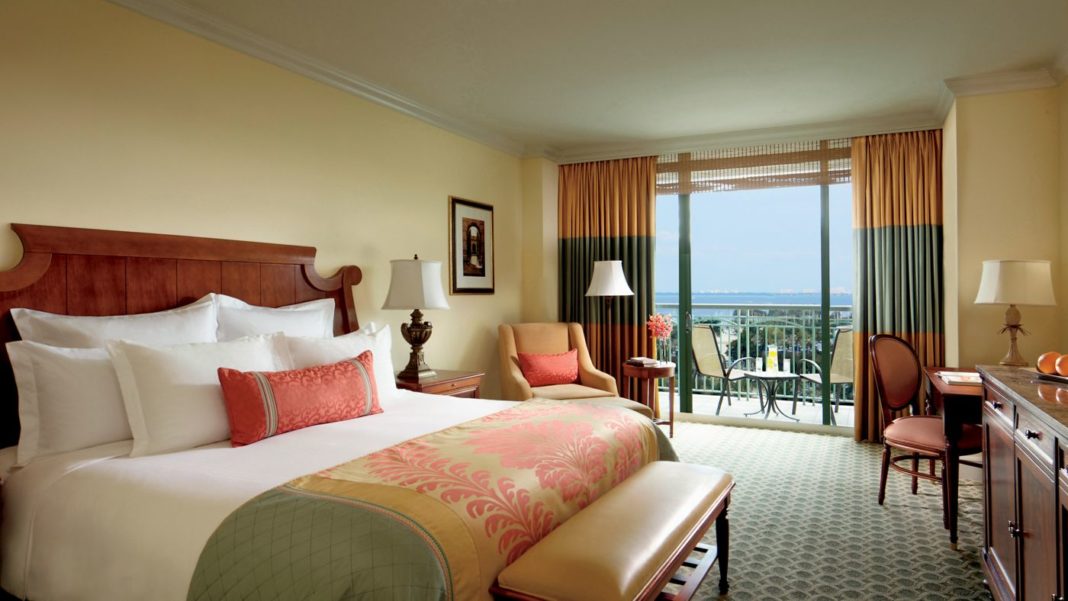 Credit: Ritz-Carlton Coconut Grove
The Ritz-Carlton offers three different types of suites and two different types of standard hotel rooms. The three suites are a City View Suite, Partial Bay View Suite, and the Ritz-Carlton Suite. Suites range from 900 square feet to 2,450 square feet. Furthermore, standard rooms include the Deluxe City View and the Deluxe Partial Bay View Room.
It's important to realize what type of view you're booking. With this in mind, make sure you read the full room description and/or call the hotel ahead of time for special accommodations. As simple as it sounds, it's a point often overlooked. Both rooms measure at 450 square feet. Equally important, all guest rooms offer the following features and amenities:
All rooms are non-smoking (fee will be assessed for smoking in the room)

Goose down and non-allergenic foam pillows

Luxurious, 100% Frette linens

European bath amenities

Plush terry bathrobes and towels

Wireless Internet

In-room, laptop-compatible safe

iPod docking station

LCD flat screen television

Complimentary overnight shoeshine service

Daily housekeeping service

Complimentary coffee and tea selection

Iron and full-size ironing board

Lighted makeup mirror, hair dryer, and scale

Sumptuous marble bath with separate shower
Let's Talk Dining
Come and indulge in cuisine with a Floridian touch. Restaurants at the Ritz-Carlton Coconut Grove draw from local ingredients and flavors, offering fresh seafood, tropically-inspired cocktails, and dishes that particularly demonstrate the city's coastal and Latin influences. Moreover, the ambiance plays an equally important role. Not surprisingly, whether you're poolside or overlooking the lovely terrace fountain, we guarantee you will enjoy your experience.
Lazuli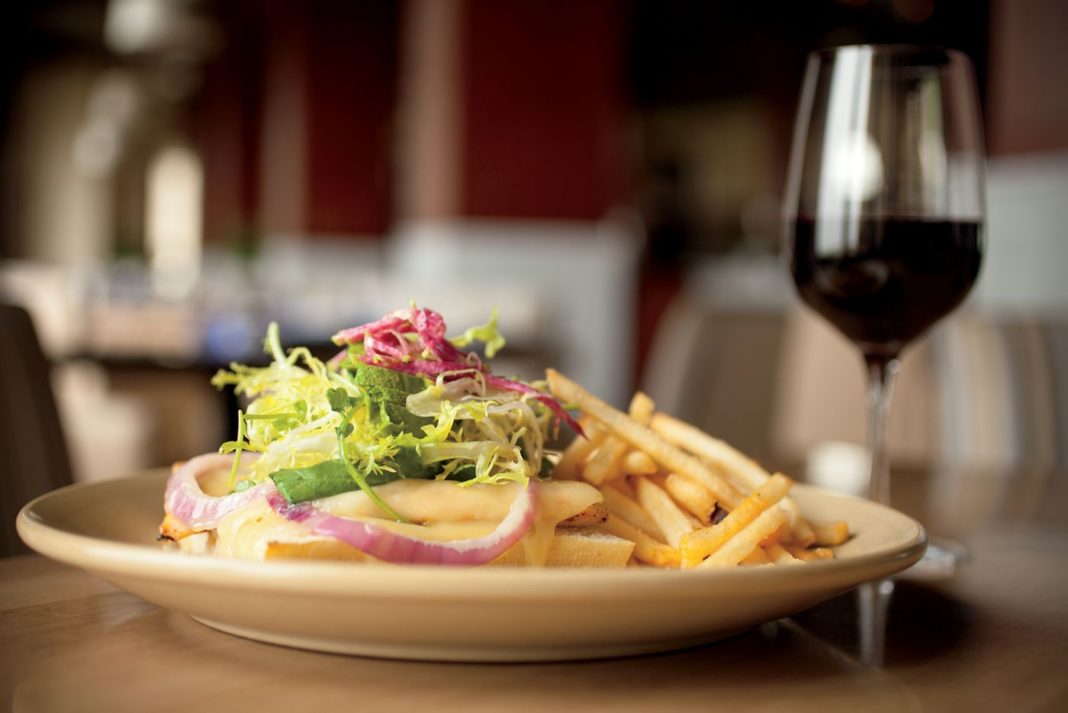 Credit: Ritz-Carlton Coconut Grove
At the Lazuli, the world is at your fingertips. Order some crispy pomme frites with a side of Chardonnay (obviously). In a word, they're amazing. This restaurant combines the excitement of fresh seafood together with local organic ingredients. The result is a mouth-watering cuisine with international influences. In addition, you'll enjoy open-air dining with a lush garden, soothing cascading waterfall, and cozy candlelit tables for year-round dining. Breakfast is served from 7 AM to 11 AM, a breakfast buffet is available on weekends, and lunch is served up daily from 11 AM to 3 PM.
The Commodore
Credit: Ritz-Carlton Coconut Grove
Come and grab a drink at the Commodore. Named after Coconut Grove's Ralph Munroe Middleton (an early settler of the area), this classic cocktail bar serves up live music, delicious beverages, and a strong belief that every one of their classic creations is meant to tell a story. Likewise, the Commodore truly exhibits the craft of the cocktail world with a team of passionate bartenders who showcase their overall talents through a creative, rotating nightly cocktail menu. Be adventurous and order something a little unique. While it might be tempting to stick with your usual go-to, the story just might surprise you.
A Poolside Cafe
Credit: Ritz-Carlton Coconut Grove
Although there are plenty of restaurant options to choose from, if you just can't seem to pull yourself away from the pool, that's okay. In spite of the city's many places to grab a bite, (and as much as we are foodies) we've to got to say sometimes we prefer the hotel's convenient snack options. The Ritz-Carlton Coconut Grove offers scrumptious bites from their poolside cafe. Surrounded by verdant landscape, this sun-kissed pool deck has the most comfortable plush sofas and chaise lounges you'll find anywhere.
Furthermore, you can lounge from your chair and watch TV on one of the many flat screens or from the comfort of your pool floatie too. Then for a little extra luxury, enjoy a dining gazebo and one of four private, VIP cabanas. Ordinarily, we'd recommend exploring but this pool makes you want to spend the whole day in the sun. If you wake up half the day later and still find yourself there, don't be surprised. These can be reserved up to 24 hours in advance, for an afternoon of ultimate relaxation.
Private Dining Experiences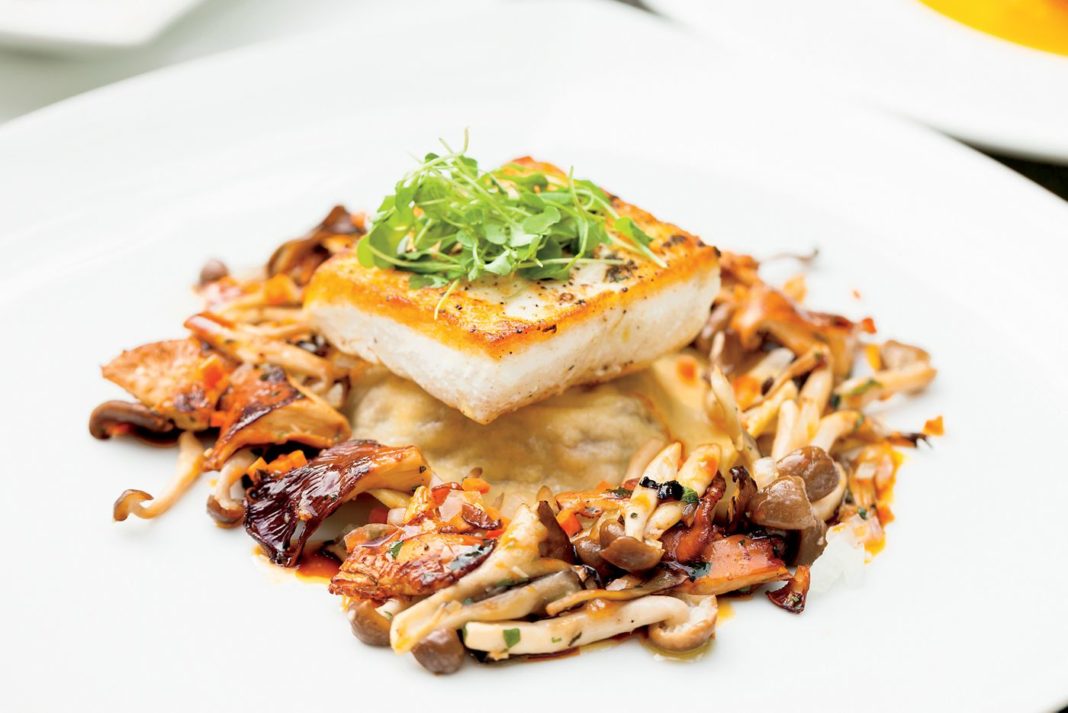 Credit: Ritz-Carlton Coconut Grove
The Ritz-Carlton Coconut Grove strives to make every dining experience a memorable one. If you would rather enjoy a private dinner or a romantic cuisine for two, they've got just the thing. Savor classic, gourmet cuisine infused with delightful Mediterranean flavors in one of the hotel's best-kept secrets – Bizcaya at Coconut Grove. Here, chef Ramesh Kaduru has created specialty menus sourcing the finest ingredients of fish and produce. In fact, they're often sourced out of town to find the freshest ingredients. The hotel's private dining options include:
Elegant yet relaxed setting

Private dining room with seating for up to 15 guests

Semi-private dining room with seating for up to 60 guests

A varied selection of lunch and dinner menus
City casual attire recommended

48 hours advance reservations request

An 18% taxable service charge and 9% sales tax will be applied to all food and beverage pricing
Let's Talk Amenities and Activities
On the whole, from luxury spas, golf resorts, and a kid's zone, the Ritz-Carlton Coconut Grove has it all. Let's explore your options for amenities and activities.
The Spa at Ritz-Carlton Coconut Grove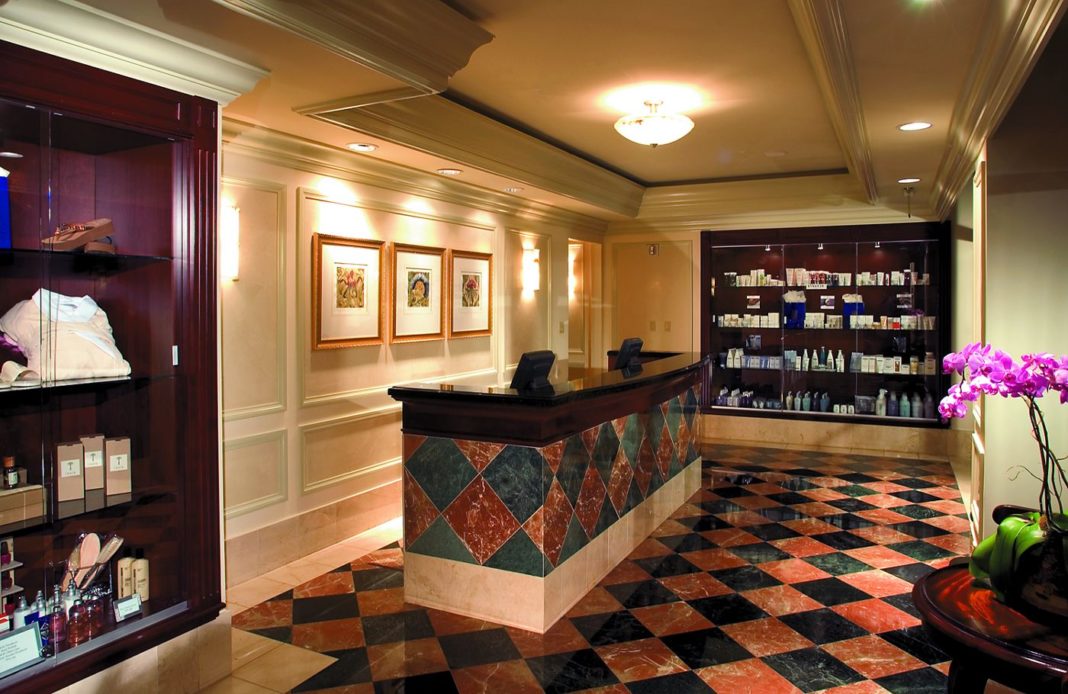 Credit: Ritz Carlton Coconut Grove
Replace your concerns with a whole new realm of comfort at the Ritz-Carlton Coconut Grove Spa. Escape to the peaceful, rejuvenating solitude of this Miami spa resort. Here, in-room and poolside spa services, hot stone massages, signature pedicures, and other relaxing treatments are customized to meet your needs and desires. In addition, this luxury spa offers special services for moms-to-be, gentlemen, couples and bridal parties, along with a variety of invigorating spa packages. By and large, this spa is leagues apart from even local city favorites.
Featured Treatments
Let the  Ritz-Carlton Coconut Grove help you escape to a state of solitude and complete comfort at the spa and deluxe fitness center. The spa treatments are uniquely signature to the hotel.
Honey Dream
This full body treatment provides a whole new level of relaxation through rhythmic massaging techniques. Through balancing the body's vital energy, it not only activates your reflex zones, boosting the body's overall immune system but also enhances metabolic activities.
This treatment includes a full body massage with a beeswax thermal pad and organic honey masque treatment. Additionally, you can enjoy some hot tea served up with locally-sourced honey. This 80-minute massage package is priced at $260.
Organic Vichy Shower Wrap
Embark on a complete transformation of both body and spirit. An exfoliation and masque treatment eliminates harmful toxins and provides essential vitamins and minerals to the skin. Once the body wrap is removed, warm showers from the Vichy rain bar cleanse your skin.
This immune-boosting service will leave you feeling refreshed and revitalized. This treatment includes a full salt body scrub, mango detox masque, organic body butter massage, and Vichy raindrop therapy. This 80-minute full-body treatment is priced at $260.
Organic Honey Coco Mango Body Treatment
Experience rejuvenation through a relaxing salt body scrub. Intoxicating smells of sweet honey and rich coco gently exfoliate, nourish, and detoxify your skin. Afterward, your skin will look so healthy and radiant. This 50-minute body treatment is priced at $165.
Area and Activities
Allow the Ritz-Carlton Coconut Grove to introduce you to an enchanting neighborhood through an artist's eyes. Since it was first-settled in 1825, Coconut Grove has attracted travelers and artists who flock to enjoy its welcoming climate and vibrant culture. Begin your artful journey in this neighborhood at Ritz-Carlton Coconut Grove, a luxury hotel that enchants guests with its own creative expression.
Set upon four acres of lush green grounds in the heart of Coconut Grove, the hotel is also located within just minutes from the Coral Gables shopping district, the international business and banking centers on Brickell Avenue, and the vibrancy of downtown Miami. Not far away, exciting nightlife, fine restaurants, upscale attractions, and iconic beaches beacon travelers to enjoy the quintessential experience of the Magic City.
If you are interested in acquiring additional tourist information, including the host of annual art festival times and the Orange Bowl Parade details, please contact the hotel concierge.
Golf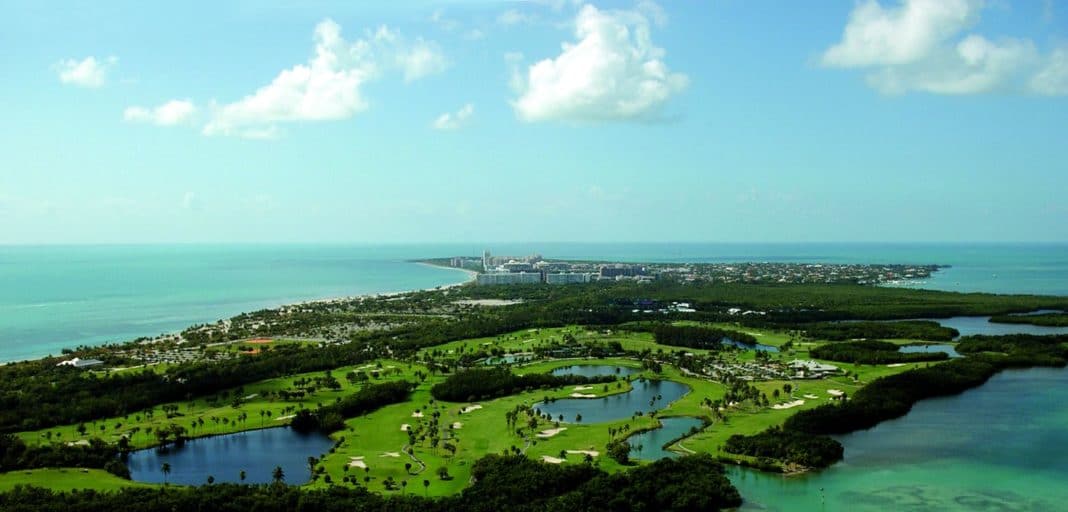 Credit: Ritz-Carlton Coconut Grove
To say nothing of this course would be a shame. Come play golf at Key Biscayne and spend a day in awe of the breathtaking barrier island. There's nothing quite like spending a day in the sun out in the tropics. Private yet inviting, surrounded by turquoise water, grove forests, and green foliage, this is a golfer's paradise.
Beauty isn't the only perk here. This public 18-hole championship-designed golf course offer friendly and knowledgeable staff, professionals for on-site instruction, a full-service restaurant and bar, a lighted driving range, practice greens for chipping and putting, club rentals, GPS-equipped golf carts, and more, not to mention a newly remodeled Pro Shop. In the light of its location and terrain, this is considered one of the most difficult par 72 courses in Florida.
Ritz Kids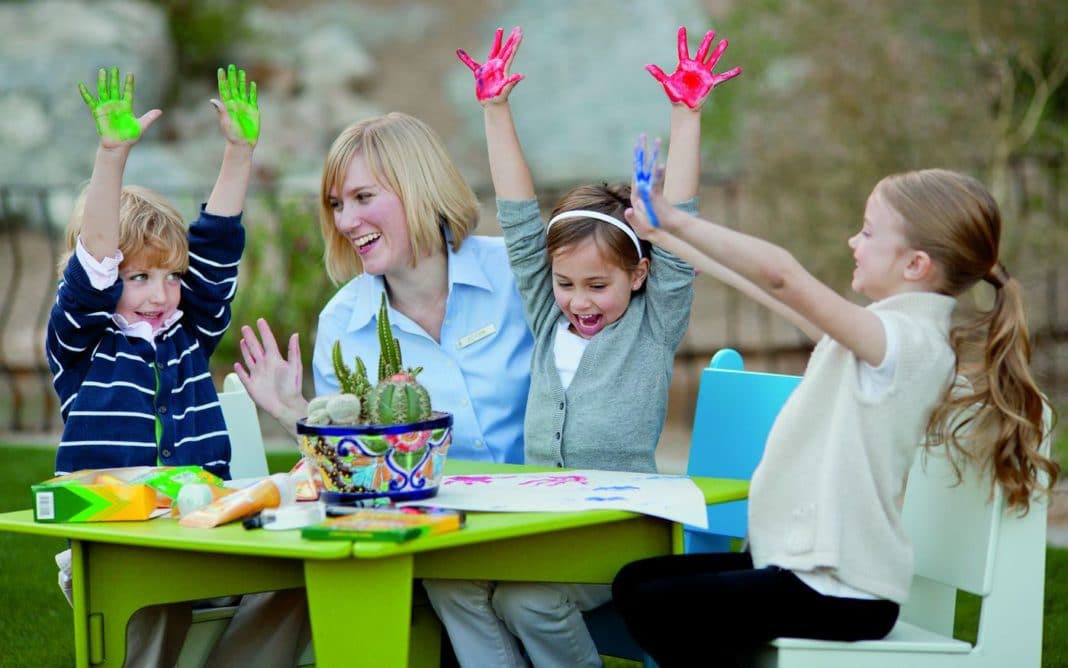 Credit: Ritz-Carlton Coconut Grove
In the event that you're looking for a place for kids, you're in luck. Parents can rest easy knowing the Ritz-Carlton Coconut Grove is family-friendly. From the moment you arrive, the hotel welcomes kids by encouraging them to explore the sights and sounds of their environment. Ritz Kids delights and engages your kids, all the while introducing them to the four important pillars of Ritz Kids Discovery: water, land, environmental responsibility, and culture.
What Travelers Are Saying About the Ritz-Carlton Coconut Grove, Miami
Overall, guests love their stay at the Ritz-Carlton Coconut Grove. Among their favorite features were the views of Biscayne Bay and the 5-mile proximity to downtown Miami. Staff are friendly and personable and the room quality is superb. The only complaint guests seemed to point out were that the kid's section could cause some noise. With this in mind, if you're seeking a little extra quiet, try and book a room away from the kid's activity corner.
Even so, others particularly appreciated that the hotel offered a place for kids. . Guests are definitely getting more for their money when compared to other properties in the city; comparatively speaking, this property is rated the best value in Miami.
The Ritz-Carlton Coconut Grove Speaks Your Language
Come and get the celebrity treatment with world-class service at the Ritz-Carlton Coconut Grove. Overall, this hotel offers the perfect escape for travelers seeking rest, relaxation, and luxury within close proximity to downtown Miami. For this reason, it is often booked up quickly, especially in the spring and summer seasons. For this reason, we recommend booking at least a few weeks in advance of your stay.
This is the ideal setting to enjoy picturesque views of Biscayne Bay, Coral Gables, and the city's glittering skyline. As it is located in one of the most enchanting neighborhoods, travelers will find a myriad of options and adventures just outside their door. From superb dining, beautiful rooms, attentive staff, and of course a stunning location, the Ritz-Carlton Coconut Grove really does have it all.
Related Article: The 10 Best Hotels In Miami